Ask any New Yorker, and they'll say that one of the things they love the most is the convenience of not having to own a car.  If you're in the midst of choosing a new place to call your business home, this article will inform you of the major conveniences each neighborhood has to offer and how these efficiencies will improve your business productivity and branding. Read on to hear about some of the most popular locations for office space in NYC, one Manhattan business zone at a time.
The New York City Commute, a Force to be Reckoned With
For most Manhattan workers, the commute to work is the slowest part of a fast moving day. Statistics corroborate this concept, showing that the average commute time in NYC tops the national average by almost a quarter of an hour (Forman, 2016). To see a map of the commute by neighborhood, visit this study by the Center for Urban Future.
Many fed up workers have resorted to seek employment within their own neighborhood or pursing freelance or remote work, the latter of which has been facilitated by the advent of the NYC virtual office. But what do you do if this isn't an option? For many types of work, such as healthcare or retail, being there in person isn't negotiable. Choosing a strategically positioned workspace in NYC is half the battle. It won't reduce the time spent commuting but can help create more time during the day to devote to your work.
Read about the 8 Manhattan locations where being at a Corporate Suites workspace in NYC will bring this much-needed convenience and liberate free time.
1001 Avenue of the Americas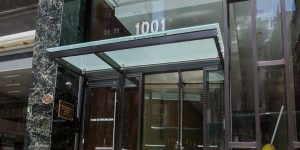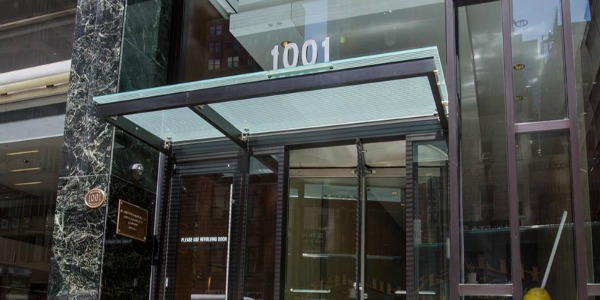 Most people who have worked in NYC for a few years are already aware that the area surrounding Penn Station is a nexus of transportation, offering excellent access to the LIRR, NJ Transit and Amtrak railroads, and Port Authority Bus Terminal. But they may not know about Keens Steakhouse, a classic restaurant located at 72 West 36th Street. But it's more than a fancy place to eat – this historical monument, home of the highly exclusive Pipe Club (the artifacts are hanging from the ceiling), harkens back to the golden days of the Herald Square Theatre District (Keens, n.d.).
How can bringing a client to a place like Keen's make an impact on your business brand? It's not your run of the mill dining establishment. The ambiance creates the impression that clients will remember. And from what we can gather, the mutton chops are to die for. Isn't there some saying that the way to a person's heart is through the stomach?
Corporate Suites' business center at 1001 Avenue of the Americas is also located close to Soul Cycle, which is a good counterbalancing element if you're interested in working off all the extra calories you'll consume.
825 Third Avenue
An office at 825 Third Avenue in Midtown East presents more dining options than you'll know what to do with. But here's the real advantage. Being located close to the W Hotel is a tremendous benefit for business productivity. Not only would you be able to accommodate any personal or professional visitors, but you'd also have access to business amenities that the hotel provides. The hotel will frequently act as a host for conferences, and if you're looking to impress a client by whisking them off to an elegant location for an after-work happy hour then you won't have to travel far. Making it easier for those you want to do business with to reach you, and cutting down on your commute time in the process, is a great time saver.
22 Cortland Street
Downtown Manhattan is a great location for lawyers, as it's located close to the courts. But don't forget about the great shopping that is available in such locale as the Brookfield Place Shopping Center, Fulton Center, or Oculus Shopping Center.  Cell phone having problems? Visit the Apple Store. Suitcase on the skids? Pick up some new luggage on your way to a meeting at Samsonite. And for the choosier tastes, visit Hugo Boss, Kate Spade, Vince Camuto, and Cole Haan.
Quick access to shopping is important for folks who work out of downtown centric workspace in NYC area as many are commuters from New Jersey or Brooklyn. Or even for lower Manhattan residents, having the ability to shop on the way to or from your workspace in NYC is a major time saver.
1180 Ave of the Americas
The area surrounding Rockefeller Center is known best for attractions such as Radio City, but Blue Bottle Coffee is one of the best-kept secrets. What's interesting about this company is their commitment to freshness; they resolve to sell the coffee within 48 hours of roasting. Now, you may think that having access to high-quality coffee nearby is inconsequential, but here's a little known fact. According to a Zagat study, the average American consumes a little over two coffees on a daily basis (Treadwell, 2015). It's great to have a classy place nearby to take clients for a casual meeting, as it's clear what the beverage of choice is. Latte, anyone?
2 Park Avenue
When most New Yorkers hear Manhattan South, business is not what comes to mind. This popping area, home to Koreatown, is known more for its social opportunities than anything else. But with the inflow of TAMI (tech, advertising, media, and information) companies, the area is hyping up like crazy. As we've said before, Park Avenue South is one of the most up and coming areas in New York City. While perhaps the area doesn't have all the retail amenities that a business could desire at the moment, once they arrive you'll see a considerably higher price per square foot.
Bottom Line: How to Play the Workspace in NYC Game (the Smart Way)
While nothing will change the sorry state of the New York MTA, there are ways to reduce the typical pains of being a NYC business. Companies should consider not only the amenities located within an office space, but those surrounding. What's your favorite work space in NYC, and why? Comment below.
Sources
Forman, Adam. (March 2016). Fast City, Slow Commute. Center for an Urban Future. Retrieved from https://nycfuture.org/data/fast-city-slow-commute
Keens Steakhouse. (n.d.) Keens History. Retrieved on August 9, 2017 from http://www.keens.com/AboutKeens/History/
Treadwell, Jamie. (25 February, 2015). National Coffee Trends Revealed. [Web log post]. Retrieved on August 9, 2017 from https://zagat.googleblog.com/2015/02/national-coffee-trends-revealed.html