');mask-image:url('data:image/svg+xml;utf8,');mask-mode:alpha;-webkit-mask-repeat:no-repeat;mask-repeat:no-repeat;-webkit-mask-size:contain;mask-size:contain;-webkit-mask-position:center;mask-position:center;border-radius:0}}.wp-block-latest-comments__comment{line-height:1.1;list-style:none;margin-bottom:1em}.has-avatars .wp-block-latest-comments__comment{min-height:2.25em;list-style:none}.has-avatars .wp-block-latest-comments__comment .wp-block-latest-comments__comment-excerpt,.has-avatars .wp-block-latest-comments__comment .wp-block-latest-comments__comment-meta{margin-left:3.25em}.has-dates .wp-block-latest-comments__comment,.has-excerpts .wp-block-latest-comments__comment{line-height:1.5}.wp-block-latest-comments__comment-excerpt p{font-size:.875em;line-height:1.8;margin:.36em 0 1.4em}.wp-block-latest-comments__comment-date{display:block;font-size:.75em}.wp-block-latest-comments .avatar,.wp-block-latest-comments__comment-avatar{border-radius:1.5em;display:block;float:left;height:2.5em;margin-right:.75em;width:2.5em}.wp-block-latest-posts.alignleft{margin-right:2em}.wp-block-latest-posts.alignright{margin-left:2em}.wp-block-latest-posts.wp-block-latest-posts__list{list-style:none}.wp-block-latest-posts.wp-block-latest-posts__list li{clear:both}.wp-block-latest-posts.is-grid{display:flex;flex-wrap:wrap;padding:0}.wp-block-latest-posts.is-grid li{margin:0 1.25em 1.25em 0;width:100%}@media (min-width:600px){.wp-block-latest-posts.columns-2 li{width:calc(50% - .625em)}.wp-block-latest-posts.columns-2 li:nth-child(2n){margin-right:0}.wp-block-latest-posts.columns-3 li{width:calc(33.33333% - .83333em)}.wp-block-latest-posts.columns-3 li:nth-child(3n){margin-right:0}.wp-block-latest-posts.columns-4 li{width:calc(25% - .9375em)}.wp-block-latest-posts.columns-4 li:nth-child(4n){margin-right:0}.wp-block-latest-posts.columns-5 li{width:calc(20% - 1em)}.wp-block-latest-posts.columns-5 li:nth-child(5n){margin-right:0}.wp-block-latest-posts.columns-6 li{width:calc(16.66667% - 1.04167em)}.wp-block-latest-posts.columns-6 li:nth-child(6n){margin-right:0}}.wp-block-latest-posts__post-author,.wp-block-latest-posts__post-date{display:block;color:#555;font-size:.8125em}.wp-block-latest-posts__post-excerpt{margin-top:.5em;margin-bottom:1em}.wp-block-latest-posts__featured-image a{display:inline-block}.wp-block-latest-posts__featured-image img{height:auto;width:auto}.wp-block-latest-posts__featured-image.alignleft{margin-right:1em}.wp-block-latest-posts__featured-image.alignright{margin-left:1em}.wp-block-latest-posts__featured-image.aligncenter{margin-bottom:1em;text-align:center}.block-editor-image-alignment-control__row .components-base-control__field{display:flex;justify-content:space-between;align-items:center}.block-editor-image-alignment-control__row .components-base-control__field .components-base-control__label{margin-bottom:0}ol.has-background,ul.has-background{padding:1.25em 2.375em}.wp-block-media-text{ /*!rtl:begin:ignore*/direction:ltr; /*!rtl:end:ignore*/display:-ms-grid;display:grid;-ms-grid-columns:50% 1fr;grid-template-columns:50% 1fr;-ms-grid-rows:auto;grid-template-rows:auto}.wp-block-media-text.has-media-on-the-right{-ms-grid-columns:1fr 50%;grid-template-columns:1fr 50%}.wp-block-media-text.is-vertically-aligned-top .wp-block-media-text__content,.wp-block-media-text.is-vertically-aligned-top .wp-block-media-text__media{-ms-grid-row-align:start;align-self:start}.wp-block-media-text.is-vertically-aligned-center .wp-block-media-text__content,.wp-block-media-text.is-vertically-aligned-center .wp-block-media-text__media,.wp-block-media-text .wp-block-media-text__content,.wp-block-media-text .wp-block-media-text__media{-ms-grid-row-align:center;align-self:center}.wp-block-media-text.is-vertically-aligned-bottom .wp-block-media-text__content,.wp-block-media-text.is-vertically-aligned-bottom .wp-block-media-text__media{-ms-grid-row-align:end;align-self:end}.wp-block-media-text .wp-block-media-text__media{ /*!rtl:begin:ignore*/-ms-grid-column:1;grid-column:1;-ms-grid-row:1;grid-row:1; /*!rtl:end:ignore*/margin:0}.wp-block-media-text .wp-block-media-text__content{direction:ltr; /*!rtl:begin:ignore*/-ms-grid-column:2;grid-column:2;-ms-grid-row:1;grid-row:1; /*!rtl:end:ignore*/padding:0 8%;word-break:break-word}.wp-block-media-text.has-media-on-the-right .wp-block-media-text__media{ /*!rtl:begin:ignore*/-ms-grid-column:2;grid-column:2;-ms-grid-row:1;grid-row:1 /*!rtl:end:ignore*/}.wp-block-media-text.has-media-on-the-right .wp-block-media-text__content{ /*!rtl:begin:ignore*/-ms-grid-column:1;grid-column:1;-ms-grid-row:1;grid-row:1 /*!rtl:end:ignore*/}.wp-block-media-text__media img,.wp-block-media-text__media video{max-width:unset;width:100%;vertical-align:middle}.wp-block-media-text.is-image-fill figure.wp-block-media-text__media{height:100%;min-height:250px;background-size:cover}.wp-block-media-text.is-image-fill figure.wp-block-media-text__media>img{position:absolute;width:1px;height:1px;padding:0;margin:-1px;overflow:hidden;clip:rect(0,0,0,0);border:0}@media (max-width:600px){.wp-block-media-text.is-stacked-on-mobile{-ms-grid-columns:100%!important;grid-template-columns:100%!important}.wp-block-media-text.is-stacked-on-mobile .wp-block-media-text__media{-ms-grid-column:1;grid-column:1;-ms-grid-row:1;grid-row:1}.wp-block-media-text.is-stacked-on-mobile .wp-block-media-text__content{-ms-grid-column:1;grid-column:1;-ms-grid-row:2;grid-row:2}}.wp-block-navigation:not(.has-background) .wp-block-navigation__container .wp-block-navigation-link:not(.has-text-color){color:#1e1e1e}.wp-block-navigation:not(.has-background) .wp-block-navigation__container .wp-block-navigation__container{background-color:#fff}.items-justified-left>ul{justify-content:flex-start}.items-justified-center>ul{justify-content:center}.items-justified-right>ul{justify-content:flex-end}.wp-block-navigation-link{display:flex;align-items:center;position:relative;margin:0}.wp-block-navigation-link .wp-block-navigation__container:empty{display:none}.wp-block-navigation__container{list-style:none;margin:0;padding-left:0;display:flex;flex-wrap:wrap}.is-vertical .wp-block-navigation__container{display:block}.has-child>.wp-block-navigation-link__content{padding-right:.5em}.has-child .wp-block-navigation__container{border:1px solid rgba(0,0,0,.15);background-color:inherit;color:inherit;position:absolute;left:0;top:100%;width:-webkit-fit-content;width:-moz-fit-content;width:fit-content;z-index:2;opacity:0;transition:opacity .1s linear;visibility:hidden}.has-child .wp-block-navigation__container>.wp-block-navigation-link>.wp-block-navigation-link__content{flex-grow:1}.has-child .wp-block-navigation__container>.wp-block-navigation-link>.wp-block-navigation-link__submenu-icon{padding-right:.5em}@media (min-width:782px){.has-child .wp-block-navigation__container{left:1.5em}.has-child .wp-block-navigation__container .wp-block-navigation__container{left:100%;top:-1px}.has-child .wp-block-navigation__container .wp-block-navigation__container:before{content:"";position:absolute;right:100%;height:100%;display:block;width:.5em;background:transparent}.has-child .wp-block-navigation__container .wp-block-navigation-link__submenu-icon svg{transform:rotate(0)}}.has-child:hover{cursor:pointer}.has-child:hover>.wp-block-navigation__container{visibility:visible;opacity:1;display:flex;flex-direction:column}.has-child:focus-within{cursor:pointer}.has-child:focus-within>.wp-block-navigation__container{visibility:visible;opacity:1;display:flex;flex-direction:column}.wp-block-navigation-link__content{color:inherit;text-decoration:none;padding:.5em 1em}.wp-block-navigation-link__content+.wp-block-navigation-link__content{padding-top:0}.has-text-color .wp-block-navigation-link__content{color:inherit}.wp-block-navigation-link__label{word-break:normal;overflow-wrap:break-word}.wp-block-navigation-link__submenu-icon{height:inherit;padding:.375em 1em .375em 0}.wp-block-navigation-link__submenu-icon svg{fill:currentColor}@media (min-width:782px){.wp-block-navigation-link__submenu-icon svg{transform:rotate(90deg)}}.is-small-text{font-size:.875em}.is-regular-text{font-size:1em}.is-large-text{font-size:2.25em}.is-larger-text{font-size:3em}.has-drop-cap:not(:focus):first-letter{float:left;font-size:8.4em;line-height:.68;font-weight:100;margin:.05em .1em 0 0;text-transform:uppercase;font-style:normal}p.has-background{padding:1.25em 2.375em}p.has-text-color a{color:inherit}.wp-block-post-author{display:flex;flex-wrap:wrap}.wp-block-post-author__byline{width:100%;margin-top:0;margin-bottom:0;font-size:.5em}.wp-block-post-author__avatar{margin-right:1em}.wp-block-post-author__bio{margin-bottom:.7em;font-size:.7em}.wp-block-post-author__content{flex-grow:1;flex-basis:0}.wp-block-post-author__name{font-weight:700;margin:0}.wp-block-pullquote{padding:3em 0;margin-left:0;margin-right:0;text-align:center}.wp-block-pullquote.alignleft,.wp-block-pullquote.alignright{max-width:290px}.wp-block-pullquote.alignleft p,.wp-block-pullquote.alignright p{font-size:1.25em}.wp-block-pullquote p{font-size:1.75em;line-height:1.6}.wp-block-pullquote cite,.wp-block-pullquote footer{position:relative}.wp-block-pullquote .has-text-color a{color:inherit}.wp-block-pullquote:not(.is-style-solid-color){background:none}.wp-block-pullquote.is-style-solid-color{border:none}.wp-block-pullquote.is-style-solid-color blockquote{margin-left:auto;margin-right:auto;text-align:left;max-width:60%}.wp-block-pullquote.is-style-solid-color blockquote p{margin-top:0;margin-bottom:0;font-size:2em}.wp-block-pullquote.is-style-solid-color blockquote cite{text-transform:none;font-style:normal}.wp-block-pullquote cite{color:inherit}.wp-block-quote.is-large,.wp-block-quote.is-style-large{margin-bottom:1em;padding:0 1em}.wp-block-quote.is-large p,.wp-block-quote.is-style-large p{font-size:1.5em;font-style:italic;line-height:1.6}.wp-block-quote.is-large cite,.wp-block-quote.is-large footer,.wp-block-quote.is-style-large cite,.wp-block-quote.is-style-large footer{font-size:1.125em;text-align:right}.wp-block-rss.alignleft{margin-right:2em}.wp-block-rss.alignright{margin-left:2em}.wp-block-rss.is-grid{display:flex;flex-wrap:wrap;padding:0;list-style:none}.wp-block-rss.is-grid li{margin:0 1em 1em 0;width:100%}@media (min-width:600px){.wp-block-rss.columns-2 li{width:calc(50% - 1em)}.wp-block-rss.columns-3 li{width:calc(33.33333% - 1em)}.wp-block-rss.columns-4 li{width:calc(25% - 1em)}.wp-block-rss.columns-5 li{width:calc(20% - 1em)}.wp-block-rss.columns-6 li{width:calc(16.66667% - 1em)}}.wp-block-rss__item-author,.wp-block-rss__item-publish-date{display:block;color:#555;font-size:.8125em}.wp-block-search .wp-block-search__inside-wrapper{display:flex;flex:auto;flex-wrap:nowrap;max-width:100%}.wp-block-search .wp-block-search__label{width:100%}.wp-block-search .wp-block-search__input{flex-grow:1;min-width:3em;border:1px solid #949494}.wp-block-search .wp-block-search__button{margin-left:.625em;word-break:normal}.wp-block-search .wp-block-search__button svg{min-width:1.5em;min-height:1.5em}.wp-block-search.wp-block-search__button-only .wp-block-search__button{margin-left:0}.wp-block-search.wp-block-search__button-inside .wp-block-search__inside-wrapper{padding:4px;border:1px solid #949494}.wp-block-search.wp-block-search__button-inside .wp-block-search__inside-wrapper .wp-block-search__input{border-radius:0;border:none;padding:0 0 0 .25em}.wp-block-search.wp-block-search__button-inside .wp-block-search__inside-wrapper .wp-block-search__input:focus{outline:none}.wp-block-search.wp-block-search__button-inside .wp-block-search__inside-wrapper .wp-block-search__button{padding:.125em .5em}.wp-block-separator.is-style-wide{border-bottom-width:1px}.wp-block-separator.is-style-dots{background:none!important;border:none;text-align:center;max-width:none;line-height:1;height:auto}.wp-block-separator.is-style-dots:before{content:"\00b7 \00b7 \00b7";color:currentColor;font-size:1.5em;letter-spacing:2em;padding-left:2em;font-family:serif}.wp-block-custom-logo .aligncenter{display:table}.wp-block-social-links{display:flex;flex-wrap:wrap;justify-content:flex-start;padding-left:0;padding-right:0;text-indent:0;margin-left:0}.wp-block-social-links .wp-social-link a,.wp-block-social-links .wp-social-link a:hover{text-decoration:none;border-bottom:0;box-shadow:none}.wp-social-link{display:block;width:36px;height:36px;border-radius:9999px;margin:0 8px 8px 0;transition:transform .1s ease}@media (prefers-reduced-motion:reduce){.wp-social-link{transition-duration:0s}}.wp-social-link a{padding:6px;display:block;line-height:0;transition:transform .1s ease}.wp-social-link a,.wp-social-link a:active,.wp-social-link a:hover,.wp-social-link a:visited,.wp-social-link svg{color:currentColor;fill:currentColor}.wp-social-link:hover{transform:scale(1.1)}.wp-block-social-links.aligncenter{justify-content:center;display:flex}.wp-block-social-links:not(.is-style-logos-only) .wp-social-link{background-color:#f0f0f0;color:#444}.wp-block-social-links:not(.is-style-logos-only) .wp-social-link-amazon{background-color:#f90;color:#fff}.wp-block-social-links:not(.is-style-logos-only) .wp-social-link-bandcamp{background-color:#1ea0c3;color:#fff}.wp-block-social-links:not(.is-style-logos-only) .wp-social-link-behance{background-color:#0757fe;color:#fff}.wp-block-social-links:not(.is-style-logos-only) .wp-social-link-codepen{background-color:#1e1f26;color:#fff}.wp-block-social-links:not(.is-style-logos-only) .wp-social-link-deviantart{background-color:#02e49b;color:#fff}.wp-block-social-links:not(.is-style-logos-only) .wp-social-link-dribbble{background-color:#e94c89;color:#fff}.wp-block-social-links:not(.is-style-logos-only) .wp-social-link-dropbox{background-color:#4280ff;color:#fff}.wp-block-social-links:not(.is-style-logos-only) .wp-social-link-etsy{background-color:#f45800;color:#fff}.wp-block-social-links:not(.is-style-logos-only) .wp-social-link-facebook{background-color:#1778f2;color:#fff}.wp-block-social-links:not(.is-style-logos-only) .wp-social-link-fivehundredpx{background-color:#000;color:#fff}.wp-block-social-links:not(.is-style-logos-only) .wp-social-link-flickr{background-color:#0461dd;color:#fff}.wp-block-social-links:not(.is-style-logos-only) .wp-social-link-foursquare{background-color:#e65678;color:#fff}.wp-block-social-links:not(.is-style-logos-only) .wp-social-link-github{background-color:#24292d;color:#fff}.wp-block-social-links:not(.is-style-logos-only) .wp-social-link-goodreads{background-color:#eceadd;color:#382110}.wp-block-social-links:not(.is-style-logos-only) .wp-social-link-google{background-color:#ea4434;color:#fff}.wp-block-social-links:not(.is-style-logos-only) .wp-social-link-instagram{background-color:#f00075;color:#fff}.wp-block-social-links:not(.is-style-logos-only) .wp-social-link-lastfm{background-color:#e21b24;color:#fff}.wp-block-social-links:not(.is-style-logos-only) .wp-social-link-linkedin{background-color:#0d66c2;color:#fff}.wp-block-social-links:not(.is-style-logos-only) .wp-social-link-mastodon{background-color:#3288d4;color:#fff}.wp-block-social-links:not(.is-style-logos-only) .wp-social-link-medium{background-color:#02ab6c;color:#fff}.wp-block-social-links:not(.is-style-logos-only) .wp-social-link-meetup{background-color:#f6405f;color:#fff}.wp-block-social-links:not(.is-style-logos-only) .wp-social-link-pinterest{background-color:#e60122;color:#fff}.wp-block-social-links:not(.is-style-logos-only) .wp-social-link-pocket{background-color:#ef4155;color:#fff}.wp-block-social-links:not(.is-style-logos-only) .wp-social-link-reddit{background-color:#fe4500;color:#fff}.wp-block-social-links:not(.is-style-logos-only) .wp-social-link-skype{background-color:#0478d7;color:#fff}.wp-block-social-links:not(.is-style-logos-only) .wp-social-link-snapchat{background-color:#fefc00;color:#fff;stroke:#000}.wp-block-social-links:not(.is-style-logos-only) .wp-social-link-soundcloud{background-color:#ff5600;color:#fff}.wp-block-social-links:not(.is-style-logos-only) .wp-social-link-spotify{background-color:#1bd760;color:#fff}.wp-block-social-links:not(.is-style-logos-only) .wp-social-link-tumblr{background-color:#011835;color:#fff}.wp-block-social-links:not(.is-style-logos-only) .wp-social-link-twitch{background-color:#6440a4;color:#fff}.wp-block-social-links:not(.is-style-logos-only) .wp-social-link-twitter{background-color:#1da1f2;color:#fff}.wp-block-social-links:not(.is-style-logos-only) .wp-social-link-vimeo{background-color:#1eb7ea;color:#fff}.wp-block-social-links:not(.is-style-logos-only) .wp-social-link-vk{background-color:#4680c2;color:#fff}.wp-block-social-links:not(.is-style-logos-only) .wp-social-link-wordpress{background-color:#3499cd;color:#fff}.wp-block-social-links:not(.is-style-logos-only) .wp-social-link-yelp{background-color:#d32422;color:#fff}.wp-block-social-links:not(.is-style-logos-only) .wp-social-link-youtube{background-color:red;color:#fff}.wp-block-social-links.is-style-logos-only .wp-social-link{background:none;padding:4px}.wp-block-social-links.is-style-logos-only .wp-social-link svg{width:28px;height:28px}.wp-block-social-links.is-style-logos-only .wp-social-link-amazon{color:#f90}.wp-block-social-links.is-style-logos-only .wp-social-link-bandcamp{color:#1ea0c3}.wp-block-social-links.is-style-logos-only .wp-social-link-behance{color:#0757fe}.wp-block-social-links.is-style-logos-only .wp-social-link-codepen{color:#1e1f26}.wp-block-social-links.is-style-logos-only .wp-social-link-deviantart{color:#02e49b}.wp-block-social-links.is-style-logos-only .wp-social-link-dribbble{color:#e94c89}.wp-block-social-links.is-style-logos-only .wp-social-link-dropbox{color:#4280ff}.wp-block-social-links.is-style-logos-only .wp-social-link-etsy{color:#f45800}.wp-block-social-links.is-style-logos-only .wp-social-link-facebook{color:#1778f2}.wp-block-social-links.is-style-logos-only .wp-social-link-fivehundredpx{color:#000}.wp-block-social-links.is-style-logos-only .wp-social-link-flickr{color:#0461dd}.wp-block-social-links.is-style-logos-only .wp-social-link-foursquare{color:#e65678}.wp-block-social-links.is-style-logos-only .wp-social-link-github{color:#24292d}.wp-block-social-links.is-style-logos-only .wp-social-link-goodreads{color:#382110}.wp-block-social-links.is-style-logos-only .wp-social-link-google{color:#ea4434}.wp-block-social-links.is-style-logos-only .wp-social-link-instagram{color:#f00075}.wp-block-social-links.is-style-logos-only .wp-social-link-lastfm{color:#e21b24}.wp-block-social-links.is-style-logos-only .wp-social-link-linkedin{color:#0d66c2}.wp-block-social-links.is-style-logos-only .wp-social-link-mastodon{color:#3288d4}.wp-block-social-links.is-style-logos-only .wp-social-link-medium{color:#02ab6c}.wp-block-social-links.is-style-logos-only .wp-social-link-meetup{color:#f6405f}.wp-block-social-links.is-style-logos-only .wp-social-link-pinterest{color:#e60122}.wp-block-social-links.is-style-logos-only .wp-social-link-pocket{color:#ef4155}.wp-block-social-links.is-style-logos-only .wp-social-link-reddit{color:#fe4500}.wp-block-social-links.is-style-logos-only .wp-social-link-skype{color:#0478d7}.wp-block-social-links.is-style-logos-only .wp-social-link-snapchat{color:#fff;stroke:#000}.wp-block-social-links.is-style-logos-only .wp-social-link-soundcloud{color:#ff5600}.wp-block-social-links.is-style-logos-only .wp-social-link-spotify{color:#1bd760}.wp-block-social-links.is-style-logos-only .wp-social-link-tumblr{color:#011835}.wp-block-social-links.is-style-logos-only .wp-social-link-twitch{color:#6440a4}.wp-block-social-links.is-style-logos-only .wp-social-link-twitter{color:#1da1f2}.wp-block-social-links.is-style-logos-only .wp-social-link-vimeo{color:#1eb7ea}.wp-block-social-links.is-style-logos-only .wp-social-link-vk{color:#4680c2}.wp-block-social-links.is-style-logos-only .wp-social-link-wordpress{color:#3499cd}.wp-block-social-links.is-style-logos-only .wp-social-link-yelp{background-color:#d32422;color:#fff}.wp-block-social-links.is-style-logos-only .wp-social-link-youtube{color:red}.wp-block-social-links.is-style-pill-shape .wp-social-link{width:auto}.wp-block-social-links.is-style-pill-shape .wp-social-link a{padding-left:16px;padding-right:16px}.wp-block-spacer{clear:both}p.wp-block-subhead{font-size:1.1em;font-style:italic;opacity:.75}.wp-block-table{overflow-x:auto}.wp-block-table table{width:100%}.wp-block-table .has-fixed-layout{table-layout:fixed;width:100%}.wp-block-table .has-fixed-layout td,.wp-block-table .has-fixed-layout th{word-break:break-word}.wp-block-table.aligncenter,.wp-block-table.alignleft,.wp-block-table.alignright{display:table;width:auto}.wp-block-table.aligncenter td,.wp-block-table.aligncenter th,.wp-block-table.alignleft td,.wp-block-table.alignleft th,.wp-block-table.alignright td,.wp-block-table.alignright th{word-break:break-word}.wp-block-table .has-subtle-light-gray-background-color{background-color:#f3f4f5}.wp-block-table .has-subtle-pale-green-background-color{background-color:#e9fbe5}.wp-block-table .has-subtle-pale-blue-background-color{background-color:#e7f5fe}.wp-block-table .has-subtle-pale-pink-background-color{background-color:#fcf0ef}.wp-block-table.is-style-stripes{border-spacing:0;border-collapse:inherit;background-color:transparent;border-bottom:1px solid #f0f0f0}.wp-block-table.is-style-stripes tbody tr:nth-child(odd){background-color:#f0f0f0}.wp-block-table.is-style-stripes.has-subtle-light-gray-background-color tbody tr:nth-child(odd){background-color:#f3f4f5}.wp-block-table.is-style-stripes.has-subtle-pale-green-background-color tbody tr:nth-child(odd){background-color:#e9fbe5}.wp-block-table.is-style-stripes.has-subtle-pale-blue-background-color tbody tr:nth-child(odd){background-color:#e7f5fe}.wp-block-table.is-style-stripes.has-subtle-pale-pink-background-color tbody tr:nth-child(odd){background-color:#fcf0ef}.wp-block-table.is-style-stripes td,.wp-block-table.is-style-stripes th{border-color:transparent}.wp-block-text-columns,.wp-block-text-columns.aligncenter{display:flex}.wp-block-text-columns .wp-block-column{margin:0 1em;padding:0}.wp-block-text-columns .wp-block-column:first-child{margin-left:0}.wp-block-text-columns .wp-block-column:last-child{margin-right:0}.wp-block-text-columns.columns-2 .wp-block-column{width:50%}.wp-block-text-columns.columns-3 .wp-block-column{width:33.33333%}.wp-block-text-columns.columns-4 .wp-block-column{width:25%}.wp-block-video{margin-left:0;margin-right:0}.wp-block-video video{max-width:100%}@supports ((position:-webkit-sticky) or (position:sticky)){.wp-block-video [poster]{object-fit:cover}}.wp-block-video.aligncenter{text-align:center}.wp-block-video figcaption{margin-top:.5em;margin-bottom:1em}.wp-block-post-featured-image a{display:inline-block}:root .has-pale-pink-background-color{background-color:#f78da7}:root .has-vivid-red-background-color{background-color:#cf2e2e}:root .has-luminous-vivid-orange-background-color{background-color:#ff6900}:root .has-luminous-vivid-amber-background-color{background-color:#fcb900}:root .has-light-green-cyan-background-color{background-color:#7bdcb5}:root .has-vivid-green-cyan-background-color{background-color:#00d084}:root .has-pale-cyan-blue-background-color{background-color:#8ed1fc}:root .has-vivid-cyan-blue-background-color{background-color:#0693e3}:root .has-vivid-purple-background-color{background-color:#9b51e0}:root .has-white-background-color{background-color:#fff}:root .has-very-light-gray-background-color{background-color:#eee}:root .has-cyan-bluish-gray-background-color{background-color:#abb8c3}:root .has-very-dark-gray-background-color{background-color:#313131}:root .has-black-background-color{background-color:#000}:root .has-pale-pink-color{color:#f78da7}:root .has-vivid-red-color{color:#cf2e2e}:root .has-luminous-vivid-orange-color{color:#ff6900}:root .has-luminous-vivid-amber-color{color:#fcb900}:root .has-light-green-cyan-color{color:#7bdcb5}:root .has-vivid-green-cyan-color{color:#00d084}:root .has-pale-cyan-blue-color{color:#8ed1fc}:root .has-vivid-cyan-blue-color{color:#0693e3}:root .has-vivid-purple-color{color:#9b51e0}:root .has-white-color{color:#fff}:root .has-very-light-gray-color{color:#eee}:root .has-cyan-bluish-gray-color{color:#abb8c3}:root .has-very-dark-gray-color{color:#313131}:root .has-black-color{color:#000}:root .has-vivid-cyan-blue-to-vivid-purple-gradient-background{background:linear-gradient(135deg,#0693e3,#9b51e0)}:root .has-vivid-green-cyan-to-vivid-cyan-blue-gradient-background{background:linear-gradient(135deg,#00d084,#0693e3)}:root .has-light-green-cyan-to-vivid-green-cyan-gradient-background{background:linear-gradient(135deg,#7adcb4,#00d082)}:root .has-luminous-vivid-amber-to-luminous-vivid-orange-gradient-background{background:linear-gradient(135deg,#fcb900,#ff6900)}:root .has-luminous-vivid-orange-to-vivid-red-gradient-background{background:linear-gradient(135deg,#ff6900,#cf2e2e)}:root .has-very-light-gray-to-cyan-bluish-gray-gradient-background{background:linear-gradient(135deg,#eee,#a9b8c3)}:root .has-cool-to-warm-spectrum-gradient-background{background:linear-gradient(135deg,#4aeadc,#9778d1 20%,#cf2aba 40%,#ee2c82 60%,#fb6962 80%,#fef84c)}:root .has-blush-light-purple-gradient-background{background:linear-gradient(135deg,#ffceec,#9896f0)}:root .has-blush-bordeaux-gradient-background{background:linear-gradient(135deg,#fecda5,#fe2d2d 50%,#6b003e)}:root .has-purple-crush-gradient-background{background:linear-gradient(135deg,#34e2e4,#4721fb 50%,#ab1dfe)}:root .has-luminous-dusk-gradient-background{background:linear-gradient(135deg,#ffcb70,#c751c0 50%,#4158d0)}:root .has-hazy-dawn-gradient-background{background:linear-gradient(135deg,#faaca8,#dad0ec)}:root .has-pale-ocean-gradient-background{background:linear-gradient(135deg,#fff5cb,#b6e3d4 50%,#33a7b5)}:root .has-electric-grass-gradient-background{background:linear-gradient(135deg,#caf880,#71ce7e)}:root .has-subdued-olive-gradient-background{background:linear-gradient(135deg,#fafae1,#67a671)}:root .has-atomic-cream-gradient-background{background:linear-gradient(135deg,#fdd79a,#004a59)}:root .has-nightshade-gradient-background{background:linear-gradient(135deg,#330968,#31cdcf)}:root .has-midnight-gradient-background{background:linear-gradient(135deg,#020381,#2874fc)}:root .has-link-color a{color:#00e;color:var(--wp--style--color--link,#00e)}.has-small-font-size{font-size:.8125em}.has-normal-font-size,.has-regular-font-size{font-size:1em}.has-medium-font-size{font-size:1.25em}.has-large-font-size{font-size:2.25em}.has-huge-font-size,.has-larger-font-size{font-size:2.625em}.has-text-align-center{text-align:center}.has-text-align-left{text-align:left}.has-text-align-right{text-align:right}#end-resizable-editor-section{display:none}.aligncenter{clear:both} .wpcf7 .screen-reader-response{position:absolute;overflow:hidden;clip:rect(1px,1px,1px,1px);height:1px;width:1px;margin:0;padding:0;border:0}.wpcf7 form .wpcf7-response-output{margin:2em .5em 1em;padding:.2em 1em;border:2px solid #00a0d2}.wpcf7 form.init .wpcf7-response-output{display:none}.wpcf7 form.sent .wpcf7-response-output{border-color:#46b450}.wpcf7 form.failed .wpcf7-response-output,.wpcf7 form.aborted .wpcf7-response-output{border-color:#dc3232}.wpcf7 form.spam .wpcf7-response-output{border-color:#f56e28}.wpcf7 form.invalid .wpcf7-response-output,.wpcf7 form.unaccepted .wpcf7-response-output{border-color:#ffb900}.wpcf7-form-control-wrap{position:relative}.wpcf7-not-valid-tip{color:#dc3232;font-size:1em;font-weight:400;display:block}.use-floating-validation-tip .wpcf7-not-valid-tip{position:absolute;top:20%;left:20%;z-index:100;border:1px solid #dc3232;background:#fff;padding:.2em .8em}span.wpcf7-list-item{display:inline-block;margin:0 0 0 1em}span.wpcf7-list-item-label:before,span.wpcf7-list-item-label:after{content:" "}div.wpcf7 .ajax-loader{visibility:hidden;display:inline-block;background-image:url(data:image/gif;base64,R0lGODlhEAAQAPQAAP///3d3d/r6+pSUlL29vXp6eouLi+jo6NDQ0IKCgrW1ta2trfDw8MfHx+Dg4J2dnaSkpAAAAAAAAAAAAAAAAAAAAAAAAAAAAAAAAAAAAAAAAAAAAAAAAAAAAAAAAAAAACH/C05FVFNDQVBFMi4wAwEAAAAh/hpDcmVhdGVkIHdpdGggYWpheGxvYWQuaW5mbwAh+QQJCgAAACwAAAAAEAAQAAAFUCAgjmRpnqUwFGwhKoRgqq2YFMaRGjWA8AbZiIBbjQQ8AmmFUJEQhQGJhaKOrCksgEla+KIkYvC6SJKQOISoNSYdeIk1ayA8ExTyeR3F749CACH5BAkKAAAALAAAAAAQABAAAAVoICCKR9KMaCoaxeCoqEAkRX3AwMHWxQIIjJSAZWgUEgzBwCBAEQpMwIDwY1FHgwJCtOW2UDWYIDyqNVVkUbYr6CK+o2eUMKgWrqKhj0FrEM8jQQALPFA3MAc8CQSAMA5ZBjgqDQmHIyEAIfkECQoAAAAsAAAAABAAEAAABWAgII4j85Ao2hRIKgrEUBQJLaSHMe8zgQo6Q8sxS7RIhILhBkgumCTZsXkACBC+0cwF2GoLLoFXREDcDlkAojBICRaFLDCOQtQKjmsQSubtDFU/NXcDBHwkaw1cKQ8MiyEAIfkECQoAAAAsAAAAABAAEAAABVIgII5kaZ6AIJQCMRTFQKiDQx4GrBfGa4uCnAEhQuRgPwCBtwK+kCNFgjh6QlFYgGO7baJ2CxIioSDpwqNggWCGDVVGphly3BkOpXDrKfNm/4AhACH5BAkKAAAALAAAAAAQABAAAAVgICCOZGmeqEAMRTEQwskYbV0Yx7kYSIzQhtgoBxCKBDQCIOcoLBimRiFhSABYU5gIgW01pLUBYkRItAYAqrlhYiwKjiWAcDMWY8QjsCf4DewiBzQ2N1AmKlgvgCiMjSQhACH5BAkKAAAALAAAAAAQABAAAAVfICCOZGmeqEgUxUAIpkA0AMKyxkEiSZEIsJqhYAg+boUFSTAkiBiNHks3sg1ILAfBiS10gyqCg0UaFBCkwy3RYKiIYMAC+RAxiQgYsJdAjw5DN2gILzEEZgVcKYuMJiEAOwAAAAAAAAAAAA==);width:16px;height:16px;border:none;padding:0;margin:0 0 0 4px;vertical-align:middle}div.wpcf7 .ajax-loader.is-active{visibility:visible}div.wpcf7 div.ajax-error{display:none}div.wpcf7 .placeheld{color:#888}div.wpcf7 input[type=file]{cursor:pointer}div.wpcf7 input[type=file]:disabled{cursor:default}div.wpcf7 .wpcf7-submit:disabled{cursor:not-allowed}.wpcf7 input[type=url],.wpcf7 input[type=email],.wpcf7 input[type=tel]{direction:ltr} @charset "UTF-8";.slide-in-down.mui-enter{transition-duration:.5s;transition-timing-function:linear;transform:translateY(-100%);transition-property:transform,opacity;backface-visibility:hidden}.slide-in-down.mui-enter.mui-enter-active{transform:translateY(0)}.slide-in-left.mui-enter{transition-duration:.5s;transition-timing-function:linear;transform:translateX(-100%);transition-property:transform,opacity;backface-visibility:hidden}.slide-in-left.mui-enter.mui-enter-active{transform:translateX(0)}.slide-in-up.mui-enter{transition-duration:.5s;transition-timing-function:linear;transform:translateY(100%);transition-property:transform,opacity;backface-visibility:hidden}.slide-in-up.mui-enter.mui-enter-active{transform:translateY(0)}.slide-in-right.mui-enter{transition-duration:.5s;transition-timing-function:linear;transform:translateX(100%);transition-property:transform,opacity;backface-visibility:hidden}.slide-in-right.mui-enter.mui-enter-active{transform:translateX(0)}.slide-out-down.mui-leave{transition-duration:.5s;transition-timing-function:linear;transform:translateY(0);transition-property:transform,opacity;backface-visibility:hidden}.slide-out-down.mui-leave.mui-leave-active{transform:translateY(100%)}.slide-out-right.mui-leave{transition-duration:.5s;transition-timing-function:linear;transform:translateX(0);transition-property:transform,opacity;backface-visibility:hidden}.slide-out-right.mui-leave.mui-leave-active{transform:translateX(100%)}.slide-out-up.mui-leave{transition-duration:.5s;transition-timing-function:linear;transform:translateY(0);transition-property:transform,opacity;backface-visibility:hidden}.slide-out-up.mui-leave.mui-leave-active{transform:translateY(-100%)}.slide-out-left.mui-leave{transition-duration:.5s;transition-timing-function:linear;transform:translateX(0);transition-property:transform,opacity;backface-visibility:hidden}.slide-out-left.mui-leave.mui-leave-active{transform:translateX(-100%)}.fade-in.mui-enter{transition-duration:.5s;transition-timing-function:linear;opacity:0;transition-property:opacity}.fade-in.mui-enter.mui-enter-active{opacity:1}.fade-out.mui-leave{transition-duration:.5s;transition-timing-function:linear;opacity:1;transition-property:opacity}.fade-out.mui-leave.mui-leave-active{opacity:0}.hinge-in-from-top.mui-enter{transition-duration:.5s;transition-timing-function:linear;transform:perspective(2000px) rotateX(-90deg);transform-origin:top;transition-property:transform,opacity;opacity:0}.hinge-in-from-top.mui-enter.mui-enter-active{transform:perspective(2000px) rotate(0deg);opacity:1}.hinge-in-from-right.mui-enter{transition-duration:.5s;transition-timing-function:linear;transform:perspective(2000px) rotateY(-90deg);transform-origin:right;transition-property:transform,opacity;opacity:0}.hinge-in-from-right.mui-enter.mui-enter-active{transform:perspective(2000px) rotate(0deg);opacity:1}.hinge-in-from-bottom.mui-enter{transition-duration:.5s;transition-timing-function:linear;transform:perspective(2000px) rotateX(90deg);transform-origin:bottom;transition-property:transform,opacity;opacity:0}.hinge-in-from-bottom.mui-enter.mui-enter-active{transform:perspective(2000px) rotate(0deg);opacity:1}.hinge-in-from-left.mui-enter{transition-duration:.5s;transition-timing-function:linear;transform:perspective(2000px) rotateY(90deg);transform-origin:left;transition-property:transform,opacity;opacity:0}.hinge-in-from-left.mui-enter.mui-enter-active{transform:perspective(2000px) rotate(0deg);opacity:1}.hinge-in-from-middle-x.mui-enter{transition-duration:.5s;transition-timing-function:linear;transform:perspective(2000px) rotateX(-90deg);transform-origin:center;transition-property:transform,opacity;opacity:0}.hinge-in-from-middle-x.mui-enter.mui-enter-active{transform:perspective(2000px) rotate(0deg);opacity:1}.hinge-in-from-middle-y.mui-enter{transition-duration:.5s;transition-timing-function:linear;transform:perspective(2000px) rotateY(-90deg);transform-origin:center;transition-property:transform,opacity;opacity:0}.hinge-in-from-middle-y.mui-enter.mui-enter-active{transform:perspective(2000px) rotate(0deg);opacity:1}.hinge-out-from-top.mui-leave{transition-duration:.5s;transition-timing-function:linear;transform:perspective(2000px) rotate(0deg);transform-origin:top;transition-property:transform,opacity;opacity:1}.hinge-out-from-top.mui-leave.mui-leave-active{transform:perspective(2000px) rotateX(90deg);opacity:0}.hinge-out-from-right.mui-leave{transition-duration:.5s;transition-timing-function:linear;transform:perspective(2000px) rotate(0deg);transform-origin:right;transition-property:transform,opacity;opacity:1}.hinge-out-from-right.mui-leave.mui-leave-active{transform:perspective(2000px) rotateY(90deg);opacity:0}.hinge-out-from-bottom.mui-leave{transition-duration:.5s;transition-timing-function:linear;transform:perspective(2000px) rotate(0deg);transform-origin:bottom;transition-property:transform,opacity;opacity:1}.hinge-out-from-bottom.mui-leave.mui-leave-active{transform:perspective(2000px) rotateX(-90deg);opacity:0}.hinge-out-from-left.mui-leave{transition-duration:.5s;transition-timing-function:linear;transform:perspective(2000px) rotate(0deg);transform-origin:left;transition-property:transform,opacity;opacity:1}.hinge-out-from-left.mui-leave.mui-leave-active{transform:perspective(2000px) rotateY(-90deg);opacity:0}.hinge-out-from-middle-x.mui-leave{transition-duration:.5s;transition-timing-function:linear;transform:perspective(2000px) rotate(0deg);transform-origin:center;transition-property:transform,opacity;opacity:1}.hinge-out-from-middle-x.mui-leave.mui-leave-active{transform:perspective(2000px) rotateX(90deg);opacity:0}.hinge-out-from-middle-y.mui-leave{transition-duration:.5s;transition-timing-function:linear;transform:perspective(2000px) rotate(0deg);transform-origin:center;transition-property:transform,opacity;opacity:1}.hinge-out-from-middle-y.mui-leave.mui-leave-active{transform:perspective(2000px) rotateY(90deg);opacity:0}.scale-in-up.mui-enter{transition-duration:.5s;transition-timing-function:linear;transform:scale(.5);transition-property:transform,opacity;opacity:0}.scale-in-up.mui-enter.mui-enter-active{transform:scale(1);opacity:1}.scale-in-down.mui-enter{transition-duration:.5s;transition-timing-function:linear;transform:scale(1.5);transition-property:transform,opacity;opacity:0}.scale-in-down.mui-enter.mui-enter-active{transform:scale(1);opacity:1}.scale-out-up.mui-leave{transition-duration:.5s;transition-timing-function:linear;transform:scale(1);transition-property:transform,opacity;opacity:1}.scale-out-up.mui-leave.mui-leave-active{transform:scale(1.5);opacity:0}.scale-out-down.mui-leave{transition-duration:.5s;transition-timing-function:linear;transform:scale(1);transition-property:transform,opacity;opacity:1}.scale-out-down.mui-leave.mui-leave-active{transform:scale(.5);opacity:0}.spin-in.mui-enter{transition-duration:.5s;transition-timing-function:linear;transform:rotate(-.75turn);transition-property:transform,opacity;opacity:0}.spin-in.mui-enter.mui-enter-active{transform:rotate(0);opacity:1}.spin-out.mui-leave{transition-duration:.5s;transition-timing-function:linear;transform:rotate(0);transition-property:transform,opacity;opacity:1}.spin-out.mui-leave.mui-leave-active{transform:rotate(.75turn);opacity:0}.spin-in-ccw.mui-enter{transition-duration:.5s;transition-timing-function:linear;transform:rotate(.75turn);transition-property:transform,opacity;opacity:0}.spin-in-ccw.mui-enter.mui-enter-active{transform:rotate(0);opacity:1}.spin-out-ccw.mui-leave{transition-duration:.5s;transition-timing-function:linear;transform:rotate(0);transition-property:transform,opacity;opacity:1}.spin-out-ccw.mui-leave.mui-leave-active{transform:rotate(-.75turn);opacity:0}.slow{transition-duration:.75s!important}.fast{transition-duration:.25s!important}.linear{transition-timing-function:linear!important}.ease{transition-timing-function:ease!important}.ease-in{transition-timing-function:ease-in!important}.ease-out{transition-timing-function:ease-out!important}.ease-in-out{transition-timing-function:ease-in-out!important}.bounce-in{transition-timing-function:cubic-bezier(.485,.155,.24,1.245)!important}.bounce-out{transition-timing-function:cubic-bezier(.485,.155,.515,.845)!important}.bounce-in-out{transition-timing-function:cubic-bezier(.76,-.245,.24,1.245)!important}.short-delay{transition-delay:.3s!important}.long-delay{transition-delay:.7s!important}.shake{animation-name:shake-7}@keyframes shake-7{0%,10%,20%,30%,40%,50%,60%,70%,80%,90%{transform:translateX(7%)}15%,25%,35%,45%,5%,55%,65%,75%,85%,95%{transform:translateX(-7%)}}.spin-cw{animation-name:spin-cw-1turn}@keyframes spin-cw-1turn{0%{transform:rotate(-1turn)}100%{transform:rotate(0)}}.spin-ccw{animation-name:spin-ccw-1turn}@keyframes spin-ccw-1turn{0%{transform:rotate(0)}100%{transform:rotate(-1turn)}}.wiggle{animation-name:wiggle-7deg}@keyframes wiggle-7deg{40%,50%,60%{transform:rotate(7deg)}35%,45%,55%,65%{transform:rotate(-7deg)}0%,100%,30%,70%{transform:rotate(0)}}.shake,.spin-ccw,.spin-cw,.wiggle{animation-duration:.5s}.infinite{animation-iteration-count:infinite}.slow{animation-duration:.75s!important}.fast{animation-duration:.25s!important}.linear{animation-timing-function:linear!important}.ease{animation-timing-function:ease!important}.ease-in{animation-timing-function:ease-in!important}.ease-out{animation-timing-function:ease-out!important}.ease-in-out{animation-timing-function:ease-in-out!important}.bounce-in{animation-timing-function:cubic-bezier(.485,.155,.24,1.245)!important}.bounce-out{animation-timing-function:cubic-bezier(.485,.155,.515,.845)!important}.bounce-in-out{animation-timing-function:cubic-bezier(.76,-.245,.24,1.245)!important}.short-delay{animation-delay:.3s!important}.long-delay{animation-delay:.7s!important}#ocvb-container{display:none}#ocvb-container.ocvb-display-type-banner #ocvb-body{padding:20px;position:relative}#ocvb-container.ocvb-display-type-overlay{position:fixed;top:0;left:0;right:0;bottom:0;background:rgba(0,0,0,.8);z-index:999999}#ocvb-container.ocvb-display-type-overlay #ocvb-body{position:absolute;padding:20px;left:20%;right:20%;top:50%;border-radius:10px}@media screen and (max-width:480px){#ocvb-container.ocvb-display-type-overlay #ocvb-body{left:2%;right:2%}}#ocvb-container.ocvb-display-type-leaderboard{position:fixed;left:0;right:0;bottom:0;background:rgba(0,0,0,.8);z-index:999999}#ocvb-container.ocvb-display-type-leaderboard #ocvb-body{padding:20px}#ocvb-container #ocvb-container-notice-text{overflow:hidden;transition:opacity .3s ease-in-out,transform .3s ease-in-out}#ocvb-container.not-ready{display:none}#ocvb-container.not-ready #ocvb-container-notice-text{opacity:0;transform:scaleY(0)}#ocvb-container.ready{display:block}#ocvb-container.ready #ocvb-container-notice-text{opacity:0;transform:scaleY(0)}#ocvb-container.ready-and-display{display:block}#ocvb-container.ready-and-display #ocvb-container-notice-text{opacity:1;transform:scaleY(1)}#ocvb-container.ocvb--center{text-align:center}#ocvb-container .ocvb-enabled{opacity:1}#ocvb-container .ocvb-disabled{opacity:.7}#ocvb-container p{margin:0;font-size:.9em}#ocvb-container #ocvb-container-notice-link{margin:40px auto 20px}#ocvb-container #ocvb-container-notice-link.ocvb-enabled{display:block}#ocvb-container #ocvb-container-notice-link.ocvb-disabled{display:none}#ocvb-container #ocvb-container-notice-link a{padding:10px 30px;border:1px solid #fff;border-radius:4px;text-decoration:none;font-size:.9em}#ocvb-container #ocvb-container-close-button{position:absolute;right:1px;top:-5px;transform:scaleY(.8);z-index:1}#ocvb-container #ocvb-container-close-button.ocvb-enabled{display:block;opacity:1}#ocvb-container #ocvb-container-close-button.ocvb-disabled{display:none}#ocvb-container #ocvb-container-close-button a{text-decoration:none;font-size:40px;padding:10px;display:block;line-height:.8}#ocvb-shortcode-container{background:url(/assets/images/data-shortcode-big-box-background.jpg) no-repeat;color:#fff;font-family:"Open Sans",sans-serif;border-radius:6px;overflow:hidden;width:300px}#ocvb-shortcode-container .grid-container{padding-right:.625rem;padding-left:.625rem;max-width:75rem;margin-left:auto;margin-right:auto}@media print,screen and (min-width:40em){#ocvb-shortcode-container .grid-container{padding-right:.9375rem;padding-left:.9375rem}}#ocvb-shortcode-container .grid-container.fluid{padding-right:.625rem;padding-left:.625rem;max-width:100%;margin-left:auto;margin-right:auto}@media print,screen and (min-width:40em){#ocvb-shortcode-container .grid-container.fluid{padding-right:.9375rem;padding-left:.9375rem}}#ocvb-shortcode-container .grid-container.full{padding-right:0;padding-left:0;max-width:100%;margin-left:auto;margin-right:auto}#ocvb-shortcode-container .grid-x{display:flex;flex-flow:row wrap}#ocvb-shortcode-container .cell{flex:0 0 auto;min-height:0;min-width:0;width:100%}#ocvb-shortcode-container .cell.auto{flex:1 1 0}#ocvb-shortcode-container .cell.shrink{flex:0 0 auto}#ocvb-shortcode-container .grid-x>.auto,#ocvb-shortcode-container .grid-x>.shrink{width:auto}#ocvb-shortcode-container .grid-x>.small-1,#ocvb-shortcode-container .grid-x>.small-10,#ocvb-shortcode-container .grid-x>.small-11,#ocvb-shortcode-container .grid-x>.small-12,#ocvb-shortcode-container .grid-x>.small-2,#ocvb-shortcode-container .grid-x>.small-3,#ocvb-shortcode-container .grid-x>.small-4,#ocvb-shortcode-container .grid-x>.small-5,#ocvb-shortcode-container .grid-x>.small-6,#ocvb-shortcode-container .grid-x>.small-7,#ocvb-shortcode-container .grid-x>.small-8,#ocvb-shortcode-container .grid-x>.small-9,#ocvb-shortcode-container .grid-x>.small-full,#ocvb-shortcode-container .grid-x>.small-shrink{flex-basis:auto}@media print,screen and (min-width:40em){#ocvb-shortcode-container .grid-x>.medium-1,#ocvb-shortcode-container .grid-x>.medium-10,#ocvb-shortcode-container .grid-x>.medium-11,#ocvb-shortcode-container .grid-x>.medium-12,#ocvb-shortcode-container .grid-x>.medium-2,#ocvb-shortcode-container .grid-x>.medium-3,#ocvb-shortcode-container .grid-x>.medium-4,#ocvb-shortcode-container .grid-x>.medium-5,#ocvb-shortcode-container .grid-x>.medium-6,#ocvb-shortcode-container .grid-x>.medium-7,#ocvb-shortcode-container .grid-x>.medium-8,#ocvb-shortcode-container .grid-x>.medium-9,#ocvb-shortcode-container .grid-x>.medium-full,#ocvb-shortcode-container .grid-x>.medium-shrink{flex-basis:auto}}@media print,screen and (min-width:64em){#ocvb-shortcode-container .grid-x>.large-1,#ocvb-shortcode-container .grid-x>.large-10,#ocvb-shortcode-container .grid-x>.large-11,#ocvb-shortcode-container .grid-x>.large-12,#ocvb-shortcode-container .grid-x>.large-2,#ocvb-shortcode-container .grid-x>.large-3,#ocvb-shortcode-container .grid-x>.large-4,#ocvb-shortcode-container .grid-x>.large-5,#ocvb-shortcode-container .grid-x>.large-6,#ocvb-shortcode-container .grid-x>.large-7,#ocvb-shortcode-container .grid-x>.large-8,#ocvb-shortcode-container .grid-x>.large-9,#ocvb-shortcode-container .grid-x>.large-full,#ocvb-shortcode-container .grid-x>.large-shrink{flex-basis:auto}}#ocvb-shortcode-container .grid-x>.small-1,#ocvb-shortcode-container .grid-x>.small-10,#ocvb-shortcode-container .grid-x>.small-11,#ocvb-shortcode-container .grid-x>.small-12,#ocvb-shortcode-container .grid-x>.small-2,#ocvb-shortcode-container .grid-x>.small-3,#ocvb-shortcode-container .grid-x>.small-4,#ocvb-shortcode-container .grid-x>.small-5,#ocvb-shortcode-container .grid-x>.small-6,#ocvb-shortcode-container .grid-x>.small-7,#ocvb-shortcode-container .grid-x>.small-8,#ocvb-shortcode-container .grid-x>.small-9{flex:0 0 auto}#ocvb-shortcode-container .grid-x>.small-1{width:8.3333333333%}#ocvb-shortcode-container .grid-x>.small-2{width:16.6666666667%}#ocvb-shortcode-container .grid-x>.small-3{width:25%}#ocvb-shortcode-container .grid-x>.small-4{width:33.3333333333%}#ocvb-shortcode-container .grid-x>.small-5{width:41.6666666667%}#ocvb-shortcode-container .grid-x>.small-6{width:50%}#ocvb-shortcode-container .grid-x>.small-7{width:58.3333333333%}#ocvb-shortcode-container .grid-x>.small-8{width:66.6666666667%}#ocvb-shortcode-container .grid-x>.small-9{width:75%}#ocvb-shortcode-container .grid-x>.small-10{width:83.3333333333%}#ocvb-shortcode-container .grid-x>.small-11{width:91.6666666667%}#ocvb-shortcode-container .grid-x>.small-12{width:100%}@media print,screen and (min-width:40em){#ocvb-shortcode-container .grid-x>.medium-auto{flex:1 1 0;width:auto}#ocvb-shortcode-container .grid-x>.medium-1,#ocvb-shortcode-container .grid-x>.medium-10,#ocvb-shortcode-container .grid-x>.medium-11,#ocvb-shortcode-container .grid-x>.medium-12,#ocvb-shortcode-container .grid-x>.medium-2,#ocvb-shortcode-container .grid-x>.medium-3,#ocvb-shortcode-container .grid-x>.medium-4,#ocvb-shortcode-container .grid-x>.medium-5,#ocvb-shortcode-container .grid-x>.medium-6,#ocvb-shortcode-container .grid-x>.medium-7,#ocvb-shortcode-container .grid-x>.medium-8,#ocvb-shortcode-container .grid-x>.medium-9,#ocvb-shortcode-container .grid-x>.medium-shrink{flex:0 0 auto}#ocvb-shortcode-container .grid-x>.medium-shrink{width:auto}#ocvb-shortcode-container .grid-x>.medium-1{width:8.3333333333%}#ocvb-shortcode-container .grid-x>.medium-2{width:16.6666666667%}#ocvb-shortcode-container .grid-x>.medium-3{width:25%}#ocvb-shortcode-container .grid-x>.medium-4{width:33.3333333333%}#ocvb-shortcode-container .grid-x>.medium-5{width:41.6666666667%}#ocvb-shortcode-container .grid-x>.medium-6{width:50%}#ocvb-shortcode-container .grid-x>.medium-7{width:58.3333333333%}#ocvb-shortcode-container .grid-x>.medium-8{width:66.6666666667%}#ocvb-shortcode-container .grid-x>.medium-9{width:75%}#ocvb-shortcode-container .grid-x>.medium-10{width:83.3333333333%}#ocvb-shortcode-container .grid-x>.medium-11{width:91.6666666667%}#ocvb-shortcode-container .grid-x>.medium-12{width:100%}}@media print,screen and (min-width:64em){#ocvb-shortcode-container .grid-x>.large-auto{flex:1 1 0;width:auto}#ocvb-shortcode-container .grid-x>.large-1,#ocvb-shortcode-container .grid-x>.large-10,#ocvb-shortcode-container .grid-x>.large-11,#ocvb-shortcode-container .grid-x>.large-12,#ocvb-shortcode-container .grid-x>.large-2,#ocvb-shortcode-container .grid-x>.large-3,#ocvb-shortcode-container .grid-x>.large-4,#ocvb-shortcode-container .grid-x>.large-5,#ocvb-shortcode-container .grid-x>.large-6,#ocvb-shortcode-container .grid-x>.large-7,#ocvb-shortcode-container .grid-x>.large-8,#ocvb-shortcode-container .grid-x>.large-9,#ocvb-shortcode-container .grid-x>.large-shrink{flex:0 0 auto}#ocvb-shortcode-container .grid-x>.large-shrink{width:auto}#ocvb-shortcode-container .grid-x>.large-1{width:8.3333333333%}#ocvb-shortcode-container .grid-x>.large-2{width:16.6666666667%}#ocvb-shortcode-container .grid-x>.large-3{width:25%}#ocvb-shortcode-container .grid-x>.large-4{width:33.3333333333%}#ocvb-shortcode-container .grid-x>.large-5{width:41.6666666667%}#ocvb-shortcode-container .grid-x>.large-6{width:50%}#ocvb-shortcode-container .grid-x>.large-7{width:58.3333333333%}#ocvb-shortcode-container .grid-x>.large-8{width:66.6666666667%}#ocvb-shortcode-container .grid-x>.large-9{width:75%}#ocvb-shortcode-container .grid-x>.large-10{width:83.3333333333%}#ocvb-shortcode-container .grid-x>.large-11{width:91.6666666667%}#ocvb-shortcode-container .grid-x>.large-12{width:100%}}#ocvb-shortcode-container .grid-margin-x:not(.grid-x)>.cell{width:auto}#ocvb-shortcode-container .grid-margin-y:not(.grid-y)>.cell{height:auto}#ocvb-shortcode-container .grid-margin-x{margin-left:-.625rem;margin-right:-.625rem}@media print,screen and (min-width:40em){#ocvb-shortcode-container .grid-margin-x{margin-left:-.9375rem;margin-right:-.9375rem}}#ocvb-shortcode-container .grid-margin-x>.cell{width:calc(100% - 1.25rem);margin-left:.625rem;margin-right:.625rem}@media print,screen and (min-width:40em){#ocvb-shortcode-container .grid-margin-x>.cell{width:calc(100% - 1.875rem);margin-left:.9375rem;margin-right:.9375rem}}#ocvb-shortcode-container .grid-margin-x>.auto,#ocvb-shortcode-container .grid-margin-x>.shrink{width:auto}#ocvb-shortcode-container .grid-margin-x>.small-1{width:calc(8.3333333333% - 1.25rem)}#ocvb-shortcode-container .grid-margin-x>.small-2{width:calc(16.6666666667% - 1.25rem)}#ocvb-shortcode-container .grid-margin-x>.small-3{width:calc(25% - 1.25rem)}#ocvb-shortcode-container .grid-margin-x>.small-4{width:calc(33.3333333333% - 1.25rem)}#ocvb-shortcode-container .grid-margin-x>.small-5{width:calc(41.6666666667% - 1.25rem)}#ocvb-shortcode-container .grid-margin-x>.small-6{width:calc(50% - 1.25rem)}#ocvb-shortcode-container .grid-margin-x>.small-7{width:calc(58.3333333333% - 1.25rem)}#ocvb-shortcode-container .grid-margin-x>.small-8{width:calc(66.6666666667% - 1.25rem)}#ocvb-shortcode-container .grid-margin-x>.small-9{width:calc(75% - 1.25rem)}#ocvb-shortcode-container .grid-margin-x>.small-10{width:calc(83.3333333333% - 1.25rem)}#ocvb-shortcode-container .grid-margin-x>.small-11{width:calc(91.6666666667% - 1.25rem)}#ocvb-shortcode-container .grid-margin-x>.small-12{width:calc(100% - 1.25rem)}@media print,screen and (min-width:40em){#ocvb-shortcode-container .grid-margin-x>.auto,#ocvb-shortcode-container .grid-margin-x>.shrink{width:auto}#ocvb-shortcode-container .grid-margin-x>.small-1{width:calc(8.3333333333% - 1.875rem)}#ocvb-shortcode-container .grid-margin-x>.small-2{width:calc(16.6666666667% - 1.875rem)}#ocvb-shortcode-container .grid-margin-x>.small-3{width:calc(25% - 1.875rem)}#ocvb-shortcode-container .grid-margin-x>.small-4{width:calc(33.3333333333% - 1.875rem)}#ocvb-shortcode-container .grid-margin-x>.small-5{width:calc(41.6666666667% - 1.875rem)}#ocvb-shortcode-container .grid-margin-x>.small-6{width:calc(50% - 1.875rem)}#ocvb-shortcode-container .grid-margin-x>.small-7{width:calc(58.3333333333% - 1.875rem)}#ocvb-shortcode-container .grid-margin-x>.small-8{width:calc(66.6666666667% - 1.875rem)}#ocvb-shortcode-container .grid-margin-x>.small-9{width:calc(75% - 1.875rem)}#ocvb-shortcode-container .grid-margin-x>.small-10{width:calc(83.3333333333% - 1.875rem)}#ocvb-shortcode-container .grid-margin-x>.small-11{width:calc(91.6666666667% - 1.875rem)}#ocvb-shortcode-container .grid-margin-x>.small-12{width:calc(100% - 1.875rem)}#ocvb-shortcode-container .grid-margin-x>.medium-auto,#ocvb-shortcode-container .grid-margin-x>.medium-shrink{width:auto}#ocvb-shortcode-container .grid-margin-x>.medium-1{width:calc(8.3333333333% - 1.875rem)}#ocvb-shortcode-container .grid-margin-x>.medium-2{width:calc(16.6666666667% - 1.875rem)}#ocvb-shortcode-container .grid-margin-x>.medium-3{width:calc(25% - 1.875rem)}#ocvb-shortcode-container .grid-margin-x>.medium-4{width:calc(33.3333333333% - 1.875rem)}#ocvb-shortcode-container .grid-margin-x>.medium-5{width:calc(41.6666666667% - 1.875rem)}#ocvb-shortcode-container .grid-margin-x>.medium-6{width:calc(50% - 1.875rem)}#ocvb-shortcode-container .grid-margin-x>.medium-7{width:calc(58.3333333333% - 1.875rem)}#ocvb-shortcode-container .grid-margin-x>.medium-8{width:calc(66.6666666667% - 1.875rem)}#ocvb-shortcode-container .grid-margin-x>.medium-9{width:calc(75% - 1.875rem)}#ocvb-shortcode-container .grid-margin-x>.medium-10{width:calc(83.3333333333% - 1.875rem)}#ocvb-shortcode-container .grid-margin-x>.medium-11{width:calc(91.6666666667% - 1.875rem)}#ocvb-shortcode-container .grid-margin-x>.medium-12{width:calc(100% - 1.875rem)}}@media print,screen and (min-width:64em){#ocvb-shortcode-container .grid-margin-x>.large-auto,#ocvb-shortcode-container .grid-margin-x>.large-shrink{width:auto}#ocvb-shortcode-container .grid-margin-x>.large-1{width:calc(8.3333333333% - 1.875rem)}#ocvb-shortcode-container .grid-margin-x>.large-2{width:calc(16.6666666667% - 1.875rem)}#ocvb-shortcode-container .grid-margin-x>.large-3{width:calc(25% - 1.875rem)}#ocvb-shortcode-container .grid-margin-x>.large-4{width:calc(33.3333333333% - 1.875rem)}#ocvb-shortcode-container .grid-margin-x>.large-5{width:calc(41.6666666667% - 1.875rem)}#ocvb-shortcode-container .grid-margin-x>.large-6{width:calc(50% - 1.875rem)}#ocvb-shortcode-container .grid-margin-x>.large-7{width:calc(58.3333333333% - 1.875rem)}#ocvb-shortcode-container .grid-margin-x>.large-8{width:calc(66.6666666667% - 1.875rem)}#ocvb-shortcode-container .grid-margin-x>.large-9{width:calc(75% - 1.875rem)}#ocvb-shortcode-container .grid-margin-x>.large-10{width:calc(83.3333333333% - 1.875rem)}#ocvb-shortcode-container .grid-margin-x>.large-11{width:calc(91.6666666667% - 1.875rem)}#ocvb-shortcode-container .grid-margin-x>.large-12{width:calc(100% - 1.875rem)}}#ocvb-shortcode-container .grid-padding-x .grid-padding-x,.grid-container:not(.full)>#ocvb-shortcode-container .grid-padding-x{margin-right:-.625rem;margin-left:-.625rem}@media print,screen and (min-width:40em){#ocvb-shortcode-container .grid-padding-x .grid-padding-x{margin-right:-.9375rem;margin-left:-.9375rem}}@media print,screen and (min-width:40em){.grid-container:not(.full)>#ocvb-shortcode-container .grid-padding-x{margin-right:-.9375rem;margin-left:-.9375rem}}#ocvb-shortcode-container .grid-padding-x>.cell{padding-right:.625rem;padding-left:.625rem}@media print,screen and (min-width:40em){#ocvb-shortcode-container .grid-padding-x>.cell{padding-right:.9375rem;padding-left:.9375rem}}#ocvb-shortcode-container .small-up-1>.cell{width:100%}#ocvb-shortcode-container .small-up-2>.cell{width:50%}#ocvb-shortcode-container .small-up-3>.cell{width:33.3333333333%}#ocvb-shortcode-container .small-up-4>.cell{width:25%}#ocvb-shortcode-container .small-up-5>.cell{width:20%}#ocvb-shortcode-container .small-up-6>.cell{width:16.6666666667%}#ocvb-shortcode-container .small-up-7>.cell{width:14.2857142857%}#ocvb-shortcode-container .small-up-8>.cell{width:12.5%}@media print,screen and (min-width:40em){#ocvb-shortcode-container .medium-up-1>.cell{width:100%}#ocvb-shortcode-container .medium-up-2>.cell{width:50%}#ocvb-shortcode-container .medium-up-3>.cell{width:33.3333333333%}#ocvb-shortcode-container .medium-up-4>.cell{width:25%}#ocvb-shortcode-container .medium-up-5>.cell{width:20%}#ocvb-shortcode-container .medium-up-6>.cell{width:16.6666666667%}#ocvb-shortcode-container .medium-up-7>.cell{width:14.2857142857%}#ocvb-shortcode-container .medium-up-8>.cell{width:12.5%}}@media print,screen and (min-width:64em){#ocvb-shortcode-container .large-up-1>.cell{width:100%}#ocvb-shortcode-container .large-up-2>.cell{width:50%}#ocvb-shortcode-container .large-up-3>.cell{width:33.3333333333%}#ocvb-shortcode-container .large-up-4>.cell{width:25%}#ocvb-shortcode-container .large-up-5>.cell{width:20%}#ocvb-shortcode-container .large-up-6>.cell{width:16.6666666667%}#ocvb-shortcode-container .large-up-7>.cell{width:14.2857142857%}#ocvb-shortcode-container .large-up-8>.cell{width:12.5%}}#ocvb-shortcode-container .grid-margin-x.small-up-1>.cell{width:calc(100% - 1.25rem)}#ocvb-shortcode-container .grid-margin-x.small-up-2>.cell{width:calc(50% - 1.25rem)}#ocvb-shortcode-container .grid-margin-x.small-up-3>.cell{width:calc(33.3333333333% - 1.25rem)}#ocvb-shortcode-container .grid-margin-x.small-up-4>.cell{width:calc(25% - 1.25rem)}#ocvb-shortcode-container .grid-margin-x.small-up-5>.cell{width:calc(20% - 1.25rem)}#ocvb-shortcode-container .grid-margin-x.small-up-6>.cell{width:calc(16.6666666667% - 1.25rem)}#ocvb-shortcode-container .grid-margin-x.small-up-7>.cell{width:calc(14.2857142857% - 1.25rem)}#ocvb-shortcode-container .grid-margin-x.small-up-8>.cell{width:calc(12.5% - 1.25rem)}@media print,screen and (min-width:40em){#ocvb-shortcode-container .grid-margin-x.small-up-1>.cell{width:calc(100% - 1.875rem)}#ocvb-shortcode-container .grid-margin-x.small-up-2>.cell{width:calc(50% - 1.875rem)}#ocvb-shortcode-container .grid-margin-x.small-up-3>.cell{width:calc(33.3333333333% - 1.875rem)}#ocvb-shortcode-container .grid-margin-x.small-up-4>.cell{width:calc(25% - 1.875rem)}#ocvb-shortcode-container .grid-margin-x.small-up-5>.cell{width:calc(20% - 1.875rem)}#ocvb-shortcode-container .grid-margin-x.small-up-6>.cell{width:calc(16.6666666667% - 1.875rem)}#ocvb-shortcode-container .grid-margin-x.small-up-7>.cell{width:calc(14.2857142857% - 1.875rem)}#ocvb-shortcode-container .grid-margin-x.small-up-8>.cell{width:calc(12.5% - 1.875rem)}#ocvb-shortcode-container .grid-margin-x.medium-up-1>.cell{width:calc(100% - 1.875rem)}#ocvb-shortcode-container .grid-margin-x.medium-up-2>.cell{width:calc(50% - 1.875rem)}#ocvb-shortcode-container .grid-margin-x.medium-up-3>.cell{width:calc(33.3333333333% - 1.875rem)}#ocvb-shortcode-container .grid-margin-x.medium-up-4>.cell{width:calc(25% - 1.875rem)}#ocvb-shortcode-container .grid-margin-x.medium-up-5>.cell{width:calc(20% - 1.875rem)}#ocvb-shortcode-container .grid-margin-x.medium-up-6>.cell{width:calc(16.6666666667% - 1.875rem)}#ocvb-shortcode-container .grid-margin-x.medium-up-7>.cell{width:calc(14.2857142857% - 1.875rem)}#ocvb-shortcode-container .grid-margin-x.medium-up-8>.cell{width:calc(12.5% - 1.875rem)}}@media print,screen and (min-width:64em){#ocvb-shortcode-container .grid-margin-x.large-up-1>.cell{width:calc(100% - 1.875rem)}#ocvb-shortcode-container .grid-margin-x.large-up-2>.cell{width:calc(50% - 1.875rem)}#ocvb-shortcode-container .grid-margin-x.large-up-3>.cell{width:calc(33.3333333333% - 1.875rem)}#ocvb-shortcode-container .grid-margin-x.large-up-4>.cell{width:calc(25% - 1.875rem)}#ocvb-shortcode-container .grid-margin-x.large-up-5>.cell{width:calc(20% - 1.875rem)}#ocvb-shortcode-container .grid-margin-x.large-up-6>.cell{width:calc(16.6666666667% - 1.875rem)}#ocvb-shortcode-container .grid-margin-x.large-up-7>.cell{width:calc(14.2857142857% - 1.875rem)}#ocvb-shortcode-container .grid-margin-x.large-up-8>.cell{width:calc(12.5% - 1.875rem)}}#ocvb-shortcode-container .small-margin-collapse,#ocvb-shortcode-container .small-margin-collapse>.cell{margin-right:0;margin-left:0}#ocvb-shortcode-container .small-margin-collapse>.small-1{width:8.3333333333%}#ocvb-shortcode-container .small-margin-collapse>.small-2{width:16.6666666667%}#ocvb-shortcode-container .small-margin-collapse>.small-3{width:25%}#ocvb-shortcode-container .small-margin-collapse>.small-4{width:33.3333333333%}#ocvb-shortcode-container .small-margin-collapse>.small-5{width:41.6666666667%}#ocvb-shortcode-container .small-margin-collapse>.small-6{width:50%}#ocvb-shortcode-container .small-margin-collapse>.small-7{width:58.3333333333%}#ocvb-shortcode-container .small-margin-collapse>.small-8{width:66.6666666667%}#ocvb-shortcode-container .small-margin-collapse>.small-9{width:75%}#ocvb-shortcode-container .small-margin-collapse>.small-10{width:83.3333333333%}#ocvb-shortcode-container .small-margin-collapse>.small-11{width:91.6666666667%}#ocvb-shortcode-container .small-margin-collapse>.small-12{width:100%}@media print,screen and (min-width:40em){#ocvb-shortcode-container .small-margin-collapse>.medium-1{width:8.3333333333%}#ocvb-shortcode-container .small-margin-collapse>.medium-2{width:16.6666666667%}#ocvb-shortcode-container .small-margin-collapse>.medium-3{width:25%}#ocvb-shortcode-container .small-margin-collapse>.medium-4{width:33.3333333333%}#ocvb-shortcode-container .small-margin-collapse>.medium-5{width:41.6666666667%}#ocvb-shortcode-container .small-margin-collapse>.medium-6{width:50%}#ocvb-shortcode-container .small-margin-collapse>.medium-7{width:58.3333333333%}#ocvb-shortcode-container .small-margin-collapse>.medium-8{width:66.6666666667%}#ocvb-shortcode-container .small-margin-collapse>.medium-9{width:75%}#ocvb-shortcode-container .small-margin-collapse>.medium-10{width:83.3333333333%}#ocvb-shortcode-container .small-margin-collapse>.medium-11{width:91.6666666667%}#ocvb-shortcode-container .small-margin-collapse>.medium-12{width:100%}}@media print,screen and (min-width:64em){#ocvb-shortcode-container .small-margin-collapse>.large-1{width:8.3333333333%}#ocvb-shortcode-container .small-margin-collapse>.large-2{width:16.6666666667%}#ocvb-shortcode-container .small-margin-collapse>.large-3{width:25%}#ocvb-shortcode-container .small-margin-collapse>.large-4{width:33.3333333333%}#ocvb-shortcode-container .small-margin-collapse>.large-5{width:41.6666666667%}#ocvb-shortcode-container .small-margin-collapse>.large-6{width:50%}#ocvb-shortcode-container .small-margin-collapse>.large-7{width:58.3333333333%}#ocvb-shortcode-container .small-margin-collapse>.large-8{width:66.6666666667%}#ocvb-shortcode-container .small-margin-collapse>.large-9{width:75%}#ocvb-shortcode-container .small-margin-collapse>.large-10{width:83.3333333333%}#ocvb-shortcode-container .small-margin-collapse>.large-11{width:91.6666666667%}#ocvb-shortcode-container .small-margin-collapse>.large-12{width:100%}}#ocvb-shortcode-container .small-padding-collapse{margin-right:0;margin-left:0}#ocvb-shortcode-container .small-padding-collapse>.cell{padding-right:0;padding-left:0}@media print,screen and (min-width:40em){#ocvb-shortcode-container .medium-margin-collapse,#ocvb-shortcode-container .medium-margin-collapse>.cell{margin-right:0;margin-left:0}}@media print,screen and (min-width:40em){#ocvb-shortcode-container .medium-margin-collapse>.small-1{width:8.3333333333%}#ocvb-shortcode-container .medium-margin-collapse>.small-2{width:16.6666666667%}#ocvb-shortcode-container .medium-margin-collapse>.small-3{width:25%}#ocvb-shortcode-container .medium-margin-collapse>.small-4{width:33.3333333333%}#ocvb-shortcode-container .medium-margin-collapse>.small-5{width:41.6666666667%}#ocvb-shortcode-container .medium-margin-collapse>.small-6{width:50%}#ocvb-shortcode-container .medium-margin-collapse>.small-7{width:58.3333333333%}#ocvb-shortcode-container .medium-margin-collapse>.small-8{width:66.6666666667%}#ocvb-shortcode-container .medium-margin-collapse>.small-9{width:75%}#ocvb-shortcode-container .medium-margin-collapse>.small-10{width:83.3333333333%}#ocvb-shortcode-container .medium-margin-collapse>.small-11{width:91.6666666667%}#ocvb-shortcode-container .medium-margin-collapse>.small-12{width:100%}}@media print,screen and (min-width:40em){#ocvb-shortcode-container .medium-margin-collapse>.medium-1{width:8.3333333333%}#ocvb-shortcode-container .medium-margin-collapse>.medium-2{width:16.6666666667%}#ocvb-shortcode-container .medium-margin-collapse>.medium-3{width:25%}#ocvb-shortcode-container .medium-margin-collapse>.medium-4{width:33.3333333333%}#ocvb-shortcode-container .medium-margin-collapse>.medium-5{width:41.6666666667%}#ocvb-shortcode-container .medium-margin-collapse>.medium-6{width:50%}#ocvb-shortcode-container .medium-margin-collapse>.medium-7{width:58.3333333333%}#ocvb-shortcode-container .medium-margin-collapse>.medium-8{width:66.6666666667%}#ocvb-shortcode-container .medium-margin-collapse>.medium-9{width:75%}#ocvb-shortcode-container .medium-margin-collapse>.medium-10{width:83.3333333333%}#ocvb-shortcode-container .medium-margin-collapse>.medium-11{width:91.6666666667%}#ocvb-shortcode-container .medium-margin-collapse>.medium-12{width:100%}}@media print,screen and (min-width:64em){#ocvb-shortcode-container .medium-margin-collapse>.large-1{width:8.3333333333%}#ocvb-shortcode-container .medium-margin-collapse>.large-2{width:16.6666666667%}#ocvb-shortcode-container .medium-margin-collapse>.large-3{width:25%}#ocvb-shortcode-container .medium-margin-collapse>.large-4{width:33.3333333333%}#ocvb-shortcode-container .medium-margin-collapse>.large-5{width:41.6666666667%}#ocvb-shortcode-container .medium-margin-collapse>.large-6{width:50%}#ocvb-shortcode-container .medium-margin-collapse>.large-7{width:58.3333333333%}#ocvb-shortcode-container .medium-margin-collapse>.large-8{width:66.6666666667%}#ocvb-shortcode-container .medium-margin-collapse>.large-9{width:75%}#ocvb-shortcode-container .medium-margin-collapse>.large-10{width:83.3333333333%}#ocvb-shortcode-container .medium-margin-collapse>.large-11{width:91.6666666667%}#ocvb-shortcode-container .medium-margin-collapse>.large-12{width:100%}}@media print,screen and (min-width:40em){#ocvb-shortcode-container .medium-padding-collapse{margin-right:0;margin-left:0}#ocvb-shortcode-container .medium-padding-collapse>.cell{padding-right:0;padding-left:0}}@media print,screen and (min-width:64em){#ocvb-shortcode-container .large-margin-collapse,#ocvb-shortcode-container .large-margin-collapse>.cell{margin-right:0;margin-left:0}}@media print,screen and (min-width:64em){#ocvb-shortcode-container .large-margin-collapse>.small-1{width:8.3333333333%}#ocvb-shortcode-container .large-margin-collapse>.small-2{width:16.6666666667%}#ocvb-shortcode-container .large-margin-collapse>.small-3{width:25%}#ocvb-shortcode-container .large-margin-collapse>.small-4{width:33.3333333333%}#ocvb-shortcode-container .large-margin-collapse>.small-5{width:41.6666666667%}#ocvb-shortcode-container .large-margin-collapse>.small-6{width:50%}#ocvb-shortcode-container .large-margin-collapse>.small-7{width:58.3333333333%}#ocvb-shortcode-container .large-margin-collapse>.small-8{width:66.6666666667%}#ocvb-shortcode-container .large-margin-collapse>.small-9{width:75%}#ocvb-shortcode-container .large-margin-collapse>.small-10{width:83.3333333333%}#ocvb-shortcode-container .large-margin-collapse>.small-11{width:91.6666666667%}#ocvb-shortcode-container .large-margin-collapse>.small-12{width:100%}}@media print,screen and (min-width:64em){#ocvb-shortcode-container .large-margin-collapse>.medium-1{width:8.3333333333%}#ocvb-shortcode-container .large-margin-collapse>.medium-2{width:16.6666666667%}#ocvb-shortcode-container .large-margin-collapse>.medium-3{width:25%}#ocvb-shortcode-container .large-margin-collapse>.medium-4{width:33.3333333333%}#ocvb-shortcode-container .large-margin-collapse>.medium-5{width:41.6666666667%}#ocvb-shortcode-container .large-margin-collapse>.medium-6{width:50%}#ocvb-shortcode-container .large-margin-collapse>.medium-7{width:58.3333333333%}#ocvb-shortcode-container .large-margin-collapse>.medium-8{width:66.6666666667%}#ocvb-shortcode-container .large-margin-collapse>.medium-9{width:75%}#ocvb-shortcode-container .large-margin-collapse>.medium-10{width:83.3333333333%}#ocvb-shortcode-container .large-margin-collapse>.medium-11{width:91.6666666667%}#ocvb-shortcode-container .large-margin-collapse>.medium-12{width:100%}}@media print,screen and (min-width:64em){#ocvb-shortcode-container .large-margin-collapse>.large-1{width:8.3333333333%}#ocvb-shortcode-container .large-margin-collapse>.large-2{width:16.6666666667%}#ocvb-shortcode-container .large-margin-collapse>.large-3{width:25%}#ocvb-shortcode-container .large-margin-collapse>.large-4{width:33.3333333333%}#ocvb-shortcode-container .large-margin-collapse>.large-5{width:41.6666666667%}#ocvb-shortcode-container .large-margin-collapse>.large-6{width:50%}#ocvb-shortcode-container .large-margin-collapse>.large-7{width:58.3333333333%}#ocvb-shortcode-container .large-margin-collapse>.large-8{width:66.6666666667%}#ocvb-shortcode-container .large-margin-collapse>.large-9{width:75%}#ocvb-shortcode-container .large-margin-collapse>.large-10{width:83.3333333333%}#ocvb-shortcode-container .large-margin-collapse>.large-11{width:91.6666666667%}#ocvb-shortcode-container .large-margin-collapse>.large-12{width:100%}}@media print,screen and (min-width:64em){#ocvb-shortcode-container .large-padding-collapse{margin-right:0;margin-left:0}#ocvb-shortcode-container .large-padding-collapse>.cell{padding-right:0;padding-left:0}}#ocvb-shortcode-container .small-offset-0{margin-left:0}#ocvb-shortcode-container .grid-margin-x>.small-offset-0{margin-left:calc(0% + .625rem)}#ocvb-shortcode-container .small-offset-1{margin-left:8.3333333333%}#ocvb-shortcode-container .grid-margin-x>.small-offset-1{margin-left:calc(8.3333333333% + .625rem)}#ocvb-shortcode-container .small-offset-2{margin-left:16.6666666667%}#ocvb-shortcode-container .grid-margin-x>.small-offset-2{margin-left:calc(16.6666666667% + .625rem)}#ocvb-shortcode-container .small-offset-3{margin-left:25%}#ocvb-shortcode-container .grid-margin-x>.small-offset-3{margin-left:calc(25% + .625rem)}#ocvb-shortcode-container .small-offset-4{margin-left:33.3333333333%}#ocvb-shortcode-container .grid-margin-x>.small-offset-4{margin-left:calc(33.3333333333% + .625rem)}#ocvb-shortcode-container .small-offset-5{margin-left:41.6666666667%}#ocvb-shortcode-container .grid-margin-x>.small-offset-5{margin-left:calc(41.6666666667% + .625rem)}#ocvb-shortcode-container .small-offset-6{margin-left:50%}#ocvb-shortcode-container .grid-margin-x>.small-offset-6{margin-left:calc(50% + .625rem)}#ocvb-shortcode-container .small-offset-7{margin-left:58.3333333333%}#ocvb-shortcode-container .grid-margin-x>.small-offset-7{margin-left:calc(58.3333333333% + .625rem)}#ocvb-shortcode-container .small-offset-8{margin-left:66.6666666667%}#ocvb-shortcode-container .grid-margin-x>.small-offset-8{margin-left:calc(66.6666666667% + .625rem)}#ocvb-shortcode-container .small-offset-9{margin-left:75%}#ocvb-shortcode-container .grid-margin-x>.small-offset-9{margin-left:calc(75% + .625rem)}#ocvb-shortcode-container .small-offset-10{margin-left:83.3333333333%}#ocvb-shortcode-container .grid-margin-x>.small-offset-10{margin-left:calc(83.3333333333% + .625rem)}#ocvb-shortcode-container .small-offset-11{margin-left:91.6666666667%}#ocvb-shortcode-container .grid-margin-x>.small-offset-11{margin-left:calc(91.6666666667% + .625rem)}@media print,screen and (min-width:40em){#ocvb-shortcode-container .medium-offset-0{margin-left:0}#ocvb-shortcode-container .grid-margin-x>.medium-offset-0{margin-left:calc(0% + .9375rem)}#ocvb-shortcode-container .medium-offset-1{margin-left:8.3333333333%}#ocvb-shortcode-container .grid-margin-x>.medium-offset-1{margin-left:calc(8.3333333333% + .9375rem)}#ocvb-shortcode-container .medium-offset-2{margin-left:16.6666666667%}#ocvb-shortcode-container .grid-margin-x>.medium-offset-2{margin-left:calc(16.6666666667% + .9375rem)}#ocvb-shortcode-container .medium-offset-3{margin-left:25%}#ocvb-shortcode-container .grid-margin-x>.medium-offset-3{margin-left:calc(25% + .9375rem)}#ocvb-shortcode-container .medium-offset-4{margin-left:33.3333333333%}#ocvb-shortcode-container .grid-margin-x>.medium-offset-4{margin-left:calc(33.3333333333% + .9375rem)}#ocvb-shortcode-container .medium-offset-5{margin-left:41.6666666667%}#ocvb-shortcode-container .grid-margin-x>.medium-offset-5{margin-left:calc(41.6666666667% + .9375rem)}#ocvb-shortcode-container .medium-offset-6{margin-left:50%}#ocvb-shortcode-container .grid-margin-x>.medium-offset-6{margin-left:calc(50% + .9375rem)}#ocvb-shortcode-container .medium-offset-7{margin-left:58.3333333333%}#ocvb-shortcode-container .grid-margin-x>.medium-offset-7{margin-left:calc(58.3333333333% + .9375rem)}#ocvb-shortcode-container .medium-offset-8{margin-left:66.6666666667%}#ocvb-shortcode-container .grid-margin-x>.medium-offset-8{margin-left:calc(66.6666666667% + .9375rem)}#ocvb-shortcode-container .medium-offset-9{margin-left:75%}#ocvb-shortcode-container .grid-margin-x>.medium-offset-9{margin-left:calc(75% + .9375rem)}#ocvb-shortcode-container .medium-offset-10{margin-left:83.3333333333%}#ocvb-shortcode-container .grid-margin-x>.medium-offset-10{margin-left:calc(83.3333333333% + .9375rem)}#ocvb-shortcode-container .medium-offset-11{margin-left:91.6666666667%}#ocvb-shortcode-container .grid-margin-x>.medium-offset-11{margin-left:calc(91.6666666667% + .9375rem)}}@media print,screen and (min-width:64em){#ocvb-shortcode-container .large-offset-0{margin-left:0}#ocvb-shortcode-container .grid-margin-x>.large-offset-0{margin-left:calc(0% + .9375rem)}#ocvb-shortcode-container .large-offset-1{margin-left:8.3333333333%}#ocvb-shortcode-container .grid-margin-x>.large-offset-1{margin-left:calc(8.3333333333% + .9375rem)}#ocvb-shortcode-container .large-offset-2{margin-left:16.6666666667%}#ocvb-shortcode-container .grid-margin-x>.large-offset-2{margin-left:calc(16.6666666667% + .9375rem)}#ocvb-shortcode-container .large-offset-3{margin-left:25%}#ocvb-shortcode-container .grid-margin-x>.large-offset-3{margin-left:calc(25% + .9375rem)}#ocvb-shortcode-container .large-offset-4{margin-left:33.3333333333%}#ocvb-shortcode-container .grid-margin-x>.large-offset-4{margin-left:calc(33.3333333333% + .9375rem)}#ocvb-shortcode-container .large-offset-5{margin-left:41.6666666667%}#ocvb-shortcode-container .grid-margin-x>.large-offset-5{margin-left:calc(41.6666666667% + .9375rem)}#ocvb-shortcode-container .large-offset-6{margin-left:50%}#ocvb-shortcode-container .grid-margin-x>.large-offset-6{margin-left:calc(50% + .9375rem)}#ocvb-shortcode-container .large-offset-7{margin-left:58.3333333333%}#ocvb-shortcode-container .grid-margin-x>.large-offset-7{margin-left:calc(58.3333333333% + .9375rem)}#ocvb-shortcode-container .large-offset-8{margin-left:66.6666666667%}#ocvb-shortcode-container .grid-margin-x>.large-offset-8{margin-left:calc(66.6666666667% + .9375rem)}#ocvb-shortcode-container .large-offset-9{margin-left:75%}#ocvb-shortcode-container .grid-margin-x>.large-offset-9{margin-left:calc(75% + .9375rem)}#ocvb-shortcode-container .large-offset-10{margin-left:83.3333333333%}#ocvb-shortcode-container .grid-margin-x>.large-offset-10{margin-left:calc(83.3333333333% + .9375rem)}#ocvb-shortcode-container .large-offset-11{margin-left:91.6666666667%}#ocvb-shortcode-container .grid-margin-x>.large-offset-11{margin-left:calc(91.6666666667% + .9375rem)}}#ocvb-shortcode-container .grid-y{display:flex;flex-flow:column nowrap}#ocvb-shortcode-container .grid-y>.cell{height:auto;max-height:none}#ocvb-shortcode-container .grid-y>.auto,#ocvb-shortcode-container .grid-y>.shrink{height:auto}#ocvb-shortcode-container .grid-y>.small-1,#ocvb-shortcode-container .grid-y>.small-10,#ocvb-shortcode-container .grid-y>.small-11,#ocvb-shortcode-container .grid-y>.small-12,#ocvb-shortcode-container .grid-y>.small-2,#ocvb-shortcode-container .grid-y>.small-3,#ocvb-shortcode-container .grid-y>.small-4,#ocvb-shortcode-container .grid-y>.small-5,#ocvb-shortcode-container .grid-y>.small-6,#ocvb-shortcode-container .grid-y>.small-7,#ocvb-shortcode-container .grid-y>.small-8,#ocvb-shortcode-container .grid-y>.small-9,#ocvb-shortcode-container .grid-y>.small-full,#ocvb-shortcode-container .grid-y>.small-shrink{flex-basis:auto}@media print,screen and (min-width:40em){#ocvb-shortcode-container .grid-y>.medium-1,#ocvb-shortcode-container .grid-y>.medium-10,#ocvb-shortcode-container .grid-y>.medium-11,#ocvb-shortcode-container .grid-y>.medium-12,#ocvb-shortcode-container .grid-y>.medium-2,#ocvb-shortcode-container .grid-y>.medium-3,#ocvb-shortcode-container .grid-y>.medium-4,#ocvb-shortcode-container .grid-y>.medium-5,#ocvb-shortcode-container .grid-y>.medium-6,#ocvb-shortcode-container .grid-y>.medium-7,#ocvb-shortcode-container .grid-y>.medium-8,#ocvb-shortcode-container .grid-y>.medium-9,#ocvb-shortcode-container .grid-y>.medium-full,#ocvb-shortcode-container .grid-y>.medium-shrink{flex-basis:auto}}@media print,screen and (min-width:64em){#ocvb-shortcode-container .grid-y>.large-1,#ocvb-shortcode-container .grid-y>.large-10,#ocvb-shortcode-container .grid-y>.large-11,#ocvb-shortcode-container .grid-y>.large-12,#ocvb-shortcode-container .grid-y>.large-2,#ocvb-shortcode-container .grid-y>.large-3,#ocvb-shortcode-container .grid-y>.large-4,#ocvb-shortcode-container .grid-y>.large-5,#ocvb-shortcode-container .grid-y>.large-6,#ocvb-shortcode-container .grid-y>.large-7,#ocvb-shortcode-container .grid-y>.large-8,#ocvb-shortcode-container .grid-y>.large-9,#ocvb-shortcode-container .grid-y>.large-full,#ocvb-shortcode-container .grid-y>.large-shrink{flex-basis:auto}}#ocvb-shortcode-container .grid-y>.small-1,#ocvb-shortcode-container .grid-y>.small-10,#ocvb-shortcode-container .grid-y>.small-11,#ocvb-shortcode-container .grid-y>.small-12,#ocvb-shortcode-container .grid-y>.small-2,#ocvb-shortcode-container .grid-y>.small-3,#ocvb-shortcode-container .grid-y>.small-4,#ocvb-shortcode-container .grid-y>.small-5,#ocvb-shortcode-container .grid-y>.small-6,#ocvb-shortcode-container .grid-y>.small-7,#ocvb-shortcode-container .grid-y>.small-8,#ocvb-shortcode-container .grid-y>.small-9{flex:0 0 auto}#ocvb-shortcode-container .grid-y>.small-1{height:8.3333333333%}#ocvb-shortcode-container .grid-y>.small-2{height:16.6666666667%}#ocvb-shortcode-container .grid-y>.small-3{height:25%}#ocvb-shortcode-container .grid-y>.small-4{height:33.3333333333%}#ocvb-shortcode-container .grid-y>.small-5{height:41.6666666667%}#ocvb-shortcode-container .grid-y>.small-6{height:50%}#ocvb-shortcode-container .grid-y>.small-7{height:58.3333333333%}#ocvb-shortcode-container .grid-y>.small-8{height:66.6666666667%}#ocvb-shortcode-container .grid-y>.small-9{height:75%}#ocvb-shortcode-container .grid-y>.small-10{height:83.3333333333%}#ocvb-shortcode-container .grid-y>.small-11{height:91.6666666667%}#ocvb-shortcode-container .grid-y>.small-12{height:100%}@media print,screen and (min-width:40em){#ocvb-shortcode-container .grid-y>.medium-auto{flex:1 1 0;height:auto}#ocvb-shortcode-container .grid-y>.medium-1,#ocvb-shortcode-container .grid-y>.medium-10,#ocvb-shortcode-container .grid-y>.medium-11,#ocvb-shortcode-container .grid-y>.medium-12,#ocvb-shortcode-container .grid-y>.medium-2,#ocvb-shortcode-container .grid-y>.medium-3,#ocvb-shortcode-container .grid-y>.medium-4,#ocvb-shortcode-container .grid-y>.medium-5,#ocvb-shortcode-container .grid-y>.medium-6,#ocvb-shortcode-container .grid-y>.medium-7,#ocvb-shortcode-container .grid-y>.medium-8,#ocvb-shortcode-container .grid-y>.medium-9,#ocvb-shortcode-container .grid-y>.medium-shrink{flex:0 0 auto}#ocvb-shortcode-container .grid-y>.medium-shrink{height:auto}#ocvb-shortcode-container .grid-y>.medium-1{height:8.3333333333%}#ocvb-shortcode-container .grid-y>.medium-2{height:16.6666666667%}#ocvb-shortcode-container .grid-y>.medium-3{height:25%}#ocvb-shortcode-container .grid-y>.medium-4{height:33.3333333333%}#ocvb-shortcode-container .grid-y>.medium-5{height:41.6666666667%}#ocvb-shortcode-container .grid-y>.medium-6{height:50%}#ocvb-shortcode-container .grid-y>.medium-7{height:58.3333333333%}#ocvb-shortcode-container .grid-y>.medium-8{height:66.6666666667%}#ocvb-shortcode-container .grid-y>.medium-9{height:75%}#ocvb-shortcode-container .grid-y>.medium-10{height:83.3333333333%}#ocvb-shortcode-container .grid-y>.medium-11{height:91.6666666667%}#ocvb-shortcode-container .grid-y>.medium-12{height:100%}}@media print,screen and (min-width:64em){#ocvb-shortcode-container .grid-y>.large-auto{flex:1 1 0;height:auto}#ocvb-shortcode-container .grid-y>.large-1,#ocvb-shortcode-container .grid-y>.large-10,#ocvb-shortcode-container .grid-y>.large-11,#ocvb-shortcode-container .grid-y>.large-12,#ocvb-shortcode-container .grid-y>.large-2,#ocvb-shortcode-container .grid-y>.large-3,#ocvb-shortcode-container .grid-y>.large-4,#ocvb-shortcode-container .grid-y>.large-5,#ocvb-shortcode-container .grid-y>.large-6,#ocvb-shortcode-container .grid-y>.large-7,#ocvb-shortcode-container .grid-y>.large-8,#ocvb-shortcode-container .grid-y>.large-9,#ocvb-shortcode-container .grid-y>.large-shrink{flex:0 0 auto}#ocvb-shortcode-container .grid-y>.large-shrink{height:auto}#ocvb-shortcode-container .grid-y>.large-1{height:8.3333333333%}#ocvb-shortcode-container .grid-y>.large-2{height:16.6666666667%}#ocvb-shortcode-container .grid-y>.large-3{height:25%}#ocvb-shortcode-container .grid-y>.large-4{height:33.3333333333%}#ocvb-shortcode-container .grid-y>.large-5{height:41.6666666667%}#ocvb-shortcode-container .grid-y>.large-6{height:50%}#ocvb-shortcode-container .grid-y>.large-7{height:58.3333333333%}#ocvb-shortcode-container .grid-y>.large-8{height:66.6666666667%}#ocvb-shortcode-container .grid-y>.large-9{height:75%}#ocvb-shortcode-container .grid-y>.large-10{height:83.3333333333%}#ocvb-shortcode-container .grid-y>.large-11{height:91.6666666667%}#ocvb-shortcode-container .grid-y>.large-12{height:100%}}#ocvb-shortcode-container .grid-padding-y .grid-padding-y{margin-top:-.625rem;margin-bottom:-.625rem}@media print,screen and (min-width:40em){#ocvb-shortcode-container .grid-padding-y .grid-padding-y{margin-top:-.9375rem;margin-bottom:-.9375rem}}#ocvb-shortcode-container .grid-padding-y>.cell{padding-top:.625rem;padding-bottom:.625rem}@media print,screen and (min-width:40em){#ocvb-shortcode-container .grid-padding-y>.cell{padding-top:.9375rem;padding-bottom:.9375rem}}@media print,screen and (min-width:40em){#ocvb-shortcode-container .grid-margin-y{margin-top:-.9375rem;margin-bottom:-.9375rem}}@media print,screen and (min-width:40em){#ocvb-shortcode-container .grid-margin-y>.cell{height:calc(100% - 1.875rem);margin-top:.9375rem;margin-bottom:.9375rem}}@media print,screen and (min-width:40em){#ocvb-shortcode-container .grid-margin-y>.auto,#ocvb-shortcode-container .grid-margin-y>.shrink{height:auto}#ocvb-shortcode-container .grid-margin-y>.small-1{height:calc(8.3333333333% - 1.875rem)}#ocvb-shortcode-container .grid-margin-y>.small-2{height:calc(16.6666666667% - 1.875rem)}#ocvb-shortcode-container .grid-margin-y>.small-3{height:calc(25% - 1.875rem)}#ocvb-shortcode-container .grid-margin-y>.small-4{height:calc(33.3333333333% - 1.875rem)}#ocvb-shortcode-container .grid-margin-y>.small-5{height:calc(41.6666666667% - 1.875rem)}#ocvb-shortcode-container .grid-margin-y>.small-6{height:calc(50% - 1.875rem)}#ocvb-shortcode-container .grid-margin-y>.small-7{height:calc(58.3333333333% - 1.875rem)}#ocvb-shortcode-container .grid-margin-y>.small-8{height:calc(66.6666666667% - 1.875rem)}#ocvb-shortcode-container .grid-margin-y>.small-9{height:calc(75% - 1.875rem)}#ocvb-shortcode-container .grid-margin-y>.small-10{height:calc(83.3333333333% - 1.875rem)}#ocvb-shortcode-container .grid-margin-y>.small-11{height:calc(91.6666666667% - 1.875rem)}#ocvb-shortcode-container .grid-margin-y>.small-12{height:calc(100% - 1.875rem)}#ocvb-shortcode-container .grid-margin-y>.medium-auto,#ocvb-shortcode-container .grid-margin-y>.medium-shrink{height:auto}#ocvb-shortcode-container .grid-margin-y>.medium-1{height:calc(8.3333333333% - 1.875rem)}#ocvb-shortcode-container .grid-margin-y>.medium-2{height:calc(16.6666666667% - 1.875rem)}#ocvb-shortcode-container .grid-margin-y>.medium-3{height:calc(25% - 1.875rem)}#ocvb-shortcode-container .grid-margin-y>.medium-4{height:calc(33.3333333333% - 1.875rem)}#ocvb-shortcode-container .grid-margin-y>.medium-5{height:calc(41.6666666667% - 1.875rem)}#ocvb-shortcode-container .grid-margin-y>.medium-6{height:calc(50% - 1.875rem)}#ocvb-shortcode-container .grid-margin-y>.medium-7{height:calc(58.3333333333% - 1.875rem)}#ocvb-shortcode-container .grid-margin-y>.medium-8{height:calc(66.6666666667% - 1.875rem)}#ocvb-shortcode-container .grid-margin-y>.medium-9{height:calc(75% - 1.875rem)}#ocvb-shortcode-container .grid-margin-y>.medium-10{height:calc(83.3333333333% - 1.875rem)}#ocvb-shortcode-container .grid-margin-y>.medium-11{height:calc(91.6666666667% - 1.875rem)}#ocvb-shortcode-container .grid-margin-y>.medium-12{height:calc(100% - 1.875rem)}}@media print,screen and (min-width:64em){#ocvb-shortcode-container .grid-margin-y>.large-auto,#ocvb-shortcode-container .grid-margin-y>.large-shrink{height:auto}#ocvb-shortcode-container .grid-margin-y>.large-1{height:calc(8.3333333333% - 1.875rem)}#ocvb-shortcode-container .grid-margin-y>.large-2{height:calc(16.6666666667% - 1.875rem)}#ocvb-shortcode-container .grid-margin-y>.large-3{height:calc(25% - 1.875rem)}#ocvb-shortcode-container .grid-margin-y>.large-4{height:calc(33.3333333333% - 1.875rem)}#ocvb-shortcode-container .grid-margin-y>.large-5{height:calc(41.6666666667% - 1.875rem)}#ocvb-shortcode-container .grid-margin-y>.large-6{height:calc(50% - 1.875rem)}#ocvb-shortcode-container .grid-margin-y>.large-7{height:calc(58.3333333333% - 1.875rem)}#ocvb-shortcode-container .grid-margin-y>.large-8{height:calc(66.6666666667% - 1.875rem)}#ocvb-shortcode-container .grid-margin-y>.large-9{height:calc(75% - 1.875rem)}#ocvb-shortcode-container .grid-margin-y>.large-10{height:calc(83.3333333333% - 1.875rem)}#ocvb-shortcode-container .grid-margin-y>.large-11{height:calc(91.6666666667% - 1.875rem)}#ocvb-shortcode-container .grid-margin-y>.large-12{height:calc(100% - 1.875rem)}}#ocvb-shortcode-container .grid-frame{overflow:hidden;position:relative;flex-wrap:nowrap;align-items:stretch;width:100vw}#ocvb-shortcode-container .cell .grid-frame{width:100%}#ocvb-shortcode-container .cell-block{overflow-x:auto;max-width:100%;-webkit-overflow-scrolling:touch;-ms-overflow-style:-ms-autohiding-scrollbar}#ocvb-shortcode-container .cell-block-y{overflow-y:auto;max-height:100%;min-height:100%;-webkit-overflow-scrolling:touch;-ms-overflow-style:-ms-autohiding-scrollbar}#ocvb-shortcode-container .cell-block-container{display:flex;flex-direction:column;max-height:100%}#ocvb-shortcode-container .cell-block-container>.grid-x{max-height:100%;flex-wrap:nowrap}@media print,screen and (min-width:40em){#ocvb-shortcode-container .medium-grid-frame{overflow:hidden;position:relative;flex-wrap:nowrap;align-items:stretch;width:100vw}#ocvb-shortcode-container .cell .medium-grid-frame{width:100%}#ocvb-shortcode-container .medium-cell-block{overflow-x:auto;max-width:100%;-webkit-overflow-scrolling:touch;-ms-overflow-style:-ms-autohiding-scrollbar}#ocvb-shortcode-container .medium-cell-block-container{display:flex;flex-direction:column;max-height:100%}#ocvb-shortcode-container .medium-cell-block-container>.grid-x{max-height:100%;flex-wrap:nowrap}#ocvb-shortcode-container .medium-cell-block-y{overflow-y:auto;max-height:100%;min-height:100%;-webkit-overflow-scrolling:touch;-ms-overflow-style:-ms-autohiding-scrollbar}}@media print,screen and (min-width:64em){#ocvb-shortcode-container .large-grid-frame{overflow:hidden;position:relative;flex-wrap:nowrap;align-items:stretch;width:100vw}#ocvb-shortcode-container .cell .large-grid-frame{width:100%}#ocvb-shortcode-container .large-cell-block{overflow-x:auto;max-width:100%;-webkit-overflow-scrolling:touch;-ms-overflow-style:-ms-autohiding-scrollbar}#ocvb-shortcode-container .large-cell-block-container{display:flex;flex-direction:column;max-height:100%}#ocvb-shortcode-container .large-cell-block-container>.grid-x{max-height:100%;flex-wrap:nowrap}#ocvb-shortcode-container .large-cell-block-y{overflow-y:auto;max-height:100%;min-height:100%;-webkit-overflow-scrolling:touch;-ms-overflow-style:-ms-autohiding-scrollbar}}#ocvb-shortcode-container .grid-y.grid-frame{width:auto;overflow:hidden;position:relative;flex-wrap:nowrap;align-items:stretch;height:100vh}@media print,screen and (min-width:40em){#ocvb-shortcode-container .grid-y.medium-grid-frame{width:auto;overflow:hidden;position:relative;flex-wrap:nowrap;align-items:stretch;height:100vh}}@media print,screen and (min-width:64em){#ocvb-shortcode-container .grid-y.large-grid-frame{width:auto;overflow:hidden;position:relative;flex-wrap:nowrap;align-items:stretch;height:100vh}}#ocvb-shortcode-container .cell .grid-y.grid-frame{height:100%}@media print,screen and (min-width:40em){#ocvb-shortcode-container .cell .grid-y.medium-grid-frame{height:100%}}@media print,screen and (min-width:64em){#ocvb-shortcode-container .cell .grid-y.large-grid-frame{height:100%}}#ocvb-shortcode-container .grid-margin-y{margin-top:-.625rem;margin-bottom:-.625rem}@media print,screen and (min-width:40em){#ocvb-shortcode-container .grid-margin-y{margin-top:-.9375rem;margin-bottom:-.9375rem}}#ocvb-shortcode-container .grid-margin-y>.cell{height:calc(100% - 1.25rem);margin-top:.625rem;margin-bottom:.625rem}@media print,screen and (min-width:40em){#ocvb-shortcode-container .grid-margin-y>.cell{height:calc(100% - 1.875rem);margin-top:.9375rem;margin-bottom:.9375rem}}#ocvb-shortcode-container .grid-margin-y>.auto,#ocvb-shortcode-container .grid-margin-y>.shrink{height:auto}#ocvb-shortcode-container .grid-margin-y>.small-1{height:calc(8.3333333333% - 1.25rem)}#ocvb-shortcode-container .grid-margin-y>.small-2{height:calc(16.6666666667% - 1.25rem)}#ocvb-shortcode-container .grid-margin-y>.small-3{height:calc(25% - 1.25rem)}#ocvb-shortcode-container .grid-margin-y>.small-4{height:calc(33.3333333333% - 1.25rem)}#ocvb-shortcode-container .grid-margin-y>.small-5{height:calc(41.6666666667% - 1.25rem)}#ocvb-shortcode-container .grid-margin-y>.small-6{height:calc(50% - 1.25rem)}#ocvb-shortcode-container .grid-margin-y>.small-7{height:calc(58.3333333333% - 1.25rem)}#ocvb-shortcode-container .grid-margin-y>.small-8{height:calc(66.6666666667% - 1.25rem)}#ocvb-shortcode-container .grid-margin-y>.small-9{height:calc(75% - 1.25rem)}#ocvb-shortcode-container .grid-margin-y>.small-10{height:calc(83.3333333333% - 1.25rem)}#ocvb-shortcode-container .grid-margin-y>.small-11{height:calc(91.6666666667% - 1.25rem)}#ocvb-shortcode-container .grid-margin-y>.small-12{height:calc(100% - 1.25rem)}@media print,screen and (min-width:40em){#ocvb-shortcode-container .grid-margin-y>.auto,#ocvb-shortcode-container .grid-margin-y>.shrink{height:auto}#ocvb-shortcode-container .grid-margin-y>.small-1{height:calc(8.3333333333% - 1.875rem)}#ocvb-shortcode-container .grid-margin-y>.small-2{height:calc(16.6666666667% - 1.875rem)}#ocvb-shortcode-container .grid-margin-y>.small-3{height:calc(25% - 1.875rem)}#ocvb-shortcode-container .grid-margin-y>.small-4{height:calc(33.3333333333% - 1.875rem)}#ocvb-shortcode-container .grid-margin-y>.small-5{height:calc(41.6666666667% - 1.875rem)}#ocvb-shortcode-container .grid-margin-y>.small-6{height:calc(50% - 1.875rem)}#ocvb-shortcode-container .grid-margin-y>.small-7{height:calc(58.3333333333% - 1.875rem)}#ocvb-shortcode-container .grid-margin-y>.small-8{height:calc(66.6666666667% - 1.875rem)}#ocvb-shortcode-container .grid-margin-y>.small-9{height:calc(75% - 1.875rem)}#ocvb-shortcode-container .grid-margin-y>.small-10{height:calc(83.3333333333% - 1.875rem)}#ocvb-shortcode-container .grid-margin-y>.small-11{height:calc(91.6666666667% - 1.875rem)}#ocvb-shortcode-container .grid-margin-y>.small-12{height:calc(100% - 1.875rem)}#ocvb-shortcode-container .grid-margin-y>.medium-auto,#ocvb-shortcode-container .grid-margin-y>.medium-shrink{height:auto}#ocvb-shortcode-container .grid-margin-y>.medium-1{height:calc(8.3333333333% - 1.875rem)}#ocvb-shortcode-container .grid-margin-y>.medium-2{height:calc(16.6666666667% - 1.875rem)}#ocvb-shortcode-container .grid-margin-y>.medium-3{height:calc(25% - 1.875rem)}#ocvb-shortcode-container .grid-margin-y>.medium-4{height:calc(33.3333333333% - 1.875rem)}#ocvb-shortcode-container .grid-margin-y>.medium-5{height:calc(41.6666666667% - 1.875rem)}#ocvb-shortcode-container .grid-margin-y>.medium-6{height:calc(50% - 1.875rem)}#ocvb-shortcode-container .grid-margin-y>.medium-7{height:calc(58.3333333333% - 1.875rem)}#ocvb-shortcode-container .grid-margin-y>.medium-8{height:calc(66.6666666667% - 1.875rem)}#ocvb-shortcode-container .grid-margin-y>.medium-9{height:calc(75% - 1.875rem)}#ocvb-shortcode-container .grid-margin-y>.medium-10{height:calc(83.3333333333% - 1.875rem)}#ocvb-shortcode-container .grid-margin-y>.medium-11{height:calc(91.6666666667% - 1.875rem)}#ocvb-shortcode-container .grid-margin-y>.medium-12{height:calc(100% - 1.875rem)}}@media print,screen and (min-width:64em){#ocvb-shortcode-container .grid-margin-y>.large-auto,#ocvb-shortcode-container .grid-margin-y>.large-shrink{height:auto}#ocvb-shortcode-container .grid-margin-y>.large-1{height:calc(8.3333333333% - 1.875rem)}#ocvb-shortcode-container .grid-margin-y>.large-2{height:calc(16.6666666667% - 1.875rem)}#ocvb-shortcode-container .grid-margin-y>.large-3{height:calc(25% - 1.875rem)}#ocvb-shortcode-container .grid-margin-y>.large-4{height:calc(33.3333333333% - 1.875rem)}#ocvb-shortcode-container .grid-margin-y>.large-5{height:calc(41.6666666667% - 1.875rem)}#ocvb-shortcode-container .grid-margin-y>.large-6{height:calc(50% - 1.875rem)}#ocvb-shortcode-container .grid-margin-y>.large-7{height:calc(58.3333333333% - 1.875rem)}#ocvb-shortcode-container .grid-margin-y>.large-8{height:calc(66.6666666667% - 1.875rem)}#ocvb-shortcode-container .grid-margin-y>.large-9{height:calc(75% - 1.875rem)}#ocvb-shortcode-container .grid-margin-y>.large-10{height:calc(83.3333333333% - 1.875rem)}#ocvb-shortcode-container .grid-margin-y>.large-11{height:calc(91.6666666667% - 1.875rem)}#ocvb-shortcode-container .grid-margin-y>.large-12{height:calc(100% - 1.875rem)}}#ocvb-shortcode-container .grid-frame.grid-margin-y{height:calc(100vh + 1.25rem)}@media print,screen and (min-width:40em){#ocvb-shortcode-container .grid-frame.grid-margin-y{height:calc(100vh + 1.875rem)}}@media print,screen and (min-width:64em){#ocvb-shortcode-container .grid-frame.grid-margin-y{height:calc(100vh + 1.875rem)}}@media print,screen and (min-width:40em){#ocvb-shortcode-container .grid-margin-y.medium-grid-frame{height:calc(100vh + 1.875rem)}}@media print,screen and (min-width:64em){#ocvb-shortcode-container .grid-margin-y.large-grid-frame{height:calc(100vh + 1.875rem)}}#ocvb-shortcode-container .button{display:inline-block;vertical-align:middle;margin:0 0 1rem;padding:.85em 1em;border:1px solid transparent;border-radius:0;transition:background-color .25s ease-out,color .25s ease-out;font-family:inherit;font-size:.9rem;-webkit-appearance:none;line-height:1;text-align:center;cursor:pointer}[data-whatinput=mouse] #ocvb-shortcode-container .button{outline:0}#ocvb-shortcode-container .button.tiny{font-size:.6rem}#ocvb-shortcode-container .button.small{font-size:.75rem}#ocvb-shortcode-container .button.large{font-size:1.25rem}#ocvb-shortcode-container .button.expanded{display:block;width:100%;margin-right:0;margin-left:0}#ocvb-shortcode-container .button,#ocvb-shortcode-container .button.disabled,#ocvb-shortcode-container .button.disabled:focus,#ocvb-shortcode-container .button.disabled:hover,#ocvb-shortcode-container .button[disabled],#ocvb-shortcode-container .button[disabled]:focus,#ocvb-shortcode-container .button[disabled]:hover{background-color:#1779ba;color:#fefefe}#ocvb-shortcode-container .button:focus,#ocvb-shortcode-container .button:hover{background-color:#14679e;color:#fefefe}#ocvb-shortcode-container .button.primary,#ocvb-shortcode-container .button.primary.disabled,#ocvb-shortcode-container .button.primary.disabled:focus,#ocvb-shortcode-container .button.primary.disabled:hover,#ocvb-shortcode-container .button.primary[disabled],#ocvb-shortcode-container .button.primary[disabled]:focus,#ocvb-shortcode-container .button.primary[disabled]:hover{background-color:#1779ba;color:#fefefe}#ocvb-shortcode-container .button.primary:focus,#ocvb-shortcode-container .button.primary:hover{background-color:#126195;color:#fefefe}#ocvb-shortcode-container .button.secondary,#ocvb-shortcode-container .button.secondary.disabled,#ocvb-shortcode-container .button.secondary.disabled:focus,#ocvb-shortcode-container .button.secondary.disabled:hover,#ocvb-shortcode-container .button.secondary[disabled],#ocvb-shortcode-container .button.secondary[disabled]:focus,#ocvb-shortcode-container .button.secondary[disabled]:hover{background-color:#767676;color:#fefefe}#ocvb-shortcode-container .button.secondary:focus,#ocvb-shortcode-container .button.secondary:hover{background-color:#5e5e5e;color:#fefefe}#ocvb-shortcode-container .button.success,#ocvb-shortcode-container .button.success.disabled,#ocvb-shortcode-container .button.success.disabled:focus,#ocvb-shortcode-container .button.success.disabled:hover,#ocvb-shortcode-container .button.success[disabled],#ocvb-shortcode-container .button.success[disabled]:focus,#ocvb-shortcode-container .button.success[disabled]:hover{background-color:#3adb76;color:#0a0a0a}#ocvb-shortcode-container .button.success:focus,#ocvb-shortcode-container .button.success:hover{background-color:#22bb5b;color:#0a0a0a}#ocvb-shortcode-container .button.warning,#ocvb-shortcode-container .button.warning.disabled,#ocvb-shortcode-container .button.warning.disabled:focus,#ocvb-shortcode-container .button.warning.disabled:hover,#ocvb-shortcode-container .button.warning[disabled],#ocvb-shortcode-container .button.warning[disabled]:focus,#ocvb-shortcode-container .button.warning[disabled]:hover{background-color:#ffae00;color:#0a0a0a}#ocvb-shortcode-container .button.warning:focus,#ocvb-shortcode-container .button.warning:hover{background-color:#cc8b00;color:#0a0a0a}#ocvb-shortcode-container .button.alert,#ocvb-shortcode-container .button.alert.disabled,#ocvb-shortcode-container .button.alert.disabled:focus,#ocvb-shortcode-container .button.alert.disabled:hover,#ocvb-shortcode-container .button.alert[disabled],#ocvb-shortcode-container .button.alert[disabled]:focus,#ocvb-shortcode-container .button.alert[disabled]:hover{background-color:#cc4b37;color:#fefefe}#ocvb-shortcode-container .button.alert:focus,#ocvb-shortcode-container .button.alert:hover{background-color:#a53b2a;color:#fefefe}#ocvb-shortcode-container .button.hollow,#ocvb-shortcode-container .button.hollow.disabled,#ocvb-shortcode-container .button.hollow.disabled:focus,#ocvb-shortcode-container .button.hollow.disabled:hover,#ocvb-shortcode-container .button.hollow:focus,#ocvb-shortcode-container .button.hollow:hover,#ocvb-shortcode-container .button.hollow[disabled],#ocvb-shortcode-container .button.hollow[disabled]:focus,#ocvb-shortcode-container .button.hollow[disabled]:hover{background-color:transparent}#ocvb-shortcode-container .button.hollow,#ocvb-shortcode-container .button.hollow.disabled,#ocvb-shortcode-container .button.hollow.disabled:focus,#ocvb-shortcode-container .button.hollow.disabled:hover,#ocvb-shortcode-container .button.hollow[disabled],#ocvb-shortcode-container .button.hollow[disabled]:focus,#ocvb-shortcode-container .button.hollow[disabled]:hover{border:1px solid #1779ba;color:#1779ba}#ocvb-shortcode-container .button.hollow:focus,#ocvb-shortcode-container .button.hollow:hover{border-color:#0c3d5d;color:#0c3d5d}#ocvb-shortcode-container .button.hollow.primary,#ocvb-shortcode-container .button.hollow.primary.disabled,#ocvb-shortcode-container .button.hollow.primary.disabled:focus,#ocvb-shortcode-container .button.hollow.primary.disabled:hover,#ocvb-shortcode-container .button.hollow.primary[disabled],#ocvb-shortcode-container .button.hollow.primary[disabled]:focus,#ocvb-shortcode-container .button.hollow.primary[disabled]:hover{border:1px solid #1779ba;color:#1779ba}#ocvb-shortcode-container .button.hollow.primary:focus,#ocvb-shortcode-container .button.hollow.primary:hover{border-color:#0c3d5d;color:#0c3d5d}#ocvb-shortcode-container .button.hollow.secondary,#ocvb-shortcode-container .button.hollow.secondary.disabled,#ocvb-shortcode-container .button.hollow.secondary.disabled:focus,#ocvb-shortcode-container .button.hollow.secondary.disabled:hover,#ocvb-shortcode-container .button.hollow.secondary[disabled],#ocvb-shortcode-container .button.hollow.secondary[disabled]:focus,#ocvb-shortcode-container .button.hollow.secondary[disabled]:hover{border:1px solid #767676;color:#767676}#ocvb-shortcode-container .button.hollow.secondary:focus,#ocvb-shortcode-container .button.hollow.secondary:hover{border-color:#3b3b3b;color:#3b3b3b}#ocvb-shortcode-container .button.hollow.success,#ocvb-shortcode-container .button.hollow.success.disabled,#ocvb-shortcode-container .button.hollow.success.disabled:focus,#ocvb-shortcode-container .button.hollow.success.disabled:hover,#ocvb-shortcode-container .button.hollow.success[disabled],#ocvb-shortcode-container .button.hollow.success[disabled]:focus,#ocvb-shortcode-container .button.hollow.success[disabled]:hover{border:1px solid #3adb76;color:#3adb76}#ocvb-shortcode-container .button.hollow.success:focus,#ocvb-shortcode-container .button.hollow.success:hover{border-color:#157539;color:#157539}#ocvb-shortcode-container .button.hollow.warning,#ocvb-shortcode-container .button.hollow.warning.disabled,#ocvb-shortcode-container .button.hollow.warning.disabled:focus,#ocvb-shortcode-container .button.hollow.warning.disabled:hover,#ocvb-shortcode-container .button.hollow.warning[disabled],#ocvb-shortcode-container .button.hollow.warning[disabled]:focus,#ocvb-shortcode-container .button.hollow.warning[disabled]:hover{border:1px solid #ffae00;color:#ffae00}#ocvb-shortcode-container .button.hollow.warning:focus,#ocvb-shortcode-container .button.hollow.warning:hover{border-color:#805700;color:#805700}#ocvb-shortcode-container .button.hollow.alert,#ocvb-shortcode-container .button.hollow.alert.disabled,#ocvb-shortcode-container .button.hollow.alert.disabled:focus,#ocvb-shortcode-container .button.hollow.alert.disabled:hover,#ocvb-shortcode-container .button.hollow.alert[disabled],#ocvb-shortcode-container .button.hollow.alert[disabled]:focus,#ocvb-shortcode-container .button.hollow.alert[disabled]:hover{border:1px solid #cc4b37;color:#cc4b37}#ocvb-shortcode-container .button.hollow.alert:focus,#ocvb-shortcode-container .button.hollow.alert:hover{border-color:#67251a;color:#67251a}#ocvb-shortcode-container .button.clear,#ocvb-shortcode-container .button.clear.disabled,#ocvb-shortcode-container .button.clear.disabled:focus,#ocvb-shortcode-container .button.clear.disabled:hover,#ocvb-shortcode-container .button.clear:focus,#ocvb-shortcode-container .button.clear:hover,#ocvb-shortcode-container .button.clear[disabled],#ocvb-shortcode-container .button.clear[disabled]:focus,#ocvb-shortcode-container .button.clear[disabled]:hover{border-color:transparent;background-color:transparent}#ocvb-shortcode-container .button.clear,#ocvb-shortcode-container .button.clear.disabled,#ocvb-shortcode-container .button.clear.disabled:focus,#ocvb-shortcode-container .button.clear.disabled:hover,#ocvb-shortcode-container .button.clear[disabled],#ocvb-shortcode-container .button.clear[disabled]:focus,#ocvb-shortcode-container .button.clear[disabled]:hover{color:#1779ba}#ocvb-shortcode-container .button.clear:focus,#ocvb-shortcode-container .button.clear:hover{color:#0c3d5d}#ocvb-shortcode-container .button.clear.primary,#ocvb-shortcode-container .button.clear.primary.disabled,#ocvb-shortcode-container .button.clear.primary.disabled:focus,#ocvb-shortcode-container .button.clear.primary.disabled:hover,#ocvb-shortcode-container .button.clear.primary[disabled],#ocvb-shortcode-container .button.clear.primary[disabled]:focus,#ocvb-shortcode-container .button.clear.primary[disabled]:hover{color:#1779ba}#ocvb-shortcode-container .button.clear.primary:focus,#ocvb-shortcode-container .button.clear.primary:hover{color:#0c3d5d}#ocvb-shortcode-container .button.clear.secondary,#ocvb-shortcode-container .button.clear.secondary.disabled,#ocvb-shortcode-container .button.clear.secondary.disabled:focus,#ocvb-shortcode-container .button.clear.secondary.disabled:hover,#ocvb-shortcode-container .button.clear.secondary[disabled],#ocvb-shortcode-container .button.clear.secondary[disabled]:focus,#ocvb-shortcode-container .button.clear.secondary[disabled]:hover{color:#767676}#ocvb-shortcode-container .button.clear.secondary:focus,#ocvb-shortcode-container .button.clear.secondary:hover{color:#3b3b3b}#ocvb-shortcode-container .button.clear.success,#ocvb-shortcode-container .button.clear.success.disabled,#ocvb-shortcode-container .button.clear.success.disabled:focus,#ocvb-shortcode-container .button.clear.success.disabled:hover,#ocvb-shortcode-container .button.clear.success[disabled],#ocvb-shortcode-container .button.clear.success[disabled]:focus,#ocvb-shortcode-container .button.clear.success[disabled]:hover{color:#3adb76}#ocvb-shortcode-container .button.clear.success:focus,#ocvb-shortcode-container .button.clear.success:hover{color:#157539}#ocvb-shortcode-container .button.clear.warning,#ocvb-shortcode-container .button.clear.warning.disabled,#ocvb-shortcode-container .button.clear.warning.disabled:focus,#ocvb-shortcode-container .button.clear.warning.disabled:hover,#ocvb-shortcode-container .button.clear.warning[disabled],#ocvb-shortcode-container .button.clear.warning[disabled]:focus,#ocvb-shortcode-container .button.clear.warning[disabled]:hover{color:#ffae00}#ocvb-shortcode-container .button.clear.warning:focus,#ocvb-shortcode-container .button.clear.warning:hover{color:#805700}#ocvb-shortcode-container .button.clear.alert,#ocvb-shortcode-container .button.clear.alert.disabled,#ocvb-shortcode-container .button.clear.alert.disabled:focus,#ocvb-shortcode-container .button.clear.alert.disabled:hover,#ocvb-shortcode-container .button.clear.alert[disabled],#ocvb-shortcode-container .button.clear.alert[disabled]:focus,#ocvb-shortcode-container .button.clear.alert[disabled]:hover{color:#cc4b37}#ocvb-shortcode-container .button.clear.alert:focus,#ocvb-shortcode-container .button.clear.alert:hover{color:#67251a}#ocvb-shortcode-container .button.disabled,#ocvb-shortcode-container .button[disabled]{opacity:.25;cursor:not-allowed}#ocvb-shortcode-container .button.dropdown:after{width:0;height:0;border:inset .4em;content:"";border-bottom-width:0;border-top-style:solid;border-color:#fefefe transparent transparent;position:relative;top:.4em;display:inline-block;float:right;margin-left:1em}#ocvb-shortcode-container .button.dropdown.clear.primary:after,#ocvb-shortcode-container .button.dropdown.clear:after,#ocvb-shortcode-container .button.dropdown.hollow.primary:after,#ocvb-shortcode-container .button.dropdown.hollow:after{border-top-color:#1779ba}#ocvb-shortcode-container .button.dropdown.clear.secondary:after,#ocvb-shortcode-container .button.dropdown.hollow.secondary:after{border-top-color:#767676}#ocvb-shortcode-container .button.dropdown.clear.success:after,#ocvb-shortcode-container .button.dropdown.hollow.success:after{border-top-color:#3adb76}#ocvb-shortcode-container .button.dropdown.clear.warning:after,#ocvb-shortcode-container .button.dropdown.hollow.warning:after{border-top-color:#ffae00}#ocvb-shortcode-container .button.dropdown.clear.alert:after,#ocvb-shortcode-container .button.dropdown.hollow.alert:after{border-top-color:#cc4b37}#ocvb-shortcode-container .button.arrow-only:after{top:-.1em;float:none;margin-left:0}#ocvb-shortcode-container a.button:focus,#ocvb-shortcode-container a.button:hover{text-decoration:none}#ocvb-shortcode-container .button-group{margin-bottom:1rem;display:flex;flex-wrap:nowrap;align-items:stretch}#ocvb-shortcode-container .button-group:after,#ocvb-shortcode-container .button-group:before{display:table;content:" ";flex-basis:0;order:1}#ocvb-shortcode-container .button-group:after{clear:both}#ocvb-shortcode-container .button-group .button{margin:0;margin-right:1px;margin-bottom:1px;font-size:.9rem;flex:0 0 auto}#ocvb-shortcode-container .button-group .button:last-child{margin-right:0}#ocvb-shortcode-container .button-group.tiny .button{font-size:.6rem}#ocvb-shortcode-container .button-group.small .button{font-size:.75rem}#ocvb-shortcode-container .button-group.large .button{font-size:1.25rem}#ocvb-shortcode-container .button-group.expanded .button{flex:1 1 0}#ocvb-shortcode-container .button-group.primary .button,#ocvb-shortcode-container .button-group.primary .button.disabled,#ocvb-shortcode-container .button-group.primary .button.disabled:focus,#ocvb-shortcode-container .button-group.primary .button.disabled:hover,#ocvb-shortcode-container .button-group.primary .button[disabled],#ocvb-shortcode-container .button-group.primary .button[disabled]:focus,#ocvb-shortcode-container .button-group.primary .button[disabled]:hover{background-color:#1779ba;color:#fefefe}#ocvb-shortcode-container .button-group.primary .button:focus,#ocvb-shortcode-container .button-group.primary .button:hover{background-color:#126195;color:#fefefe}#ocvb-shortcode-container .button-group.secondary .button,#ocvb-shortcode-container .button-group.secondary .button.disabled,#ocvb-shortcode-container .button-group.secondary .button.disabled:focus,#ocvb-shortcode-container .button-group.secondary .button.disabled:hover,#ocvb-shortcode-container .button-group.secondary .button[disabled],#ocvb-shortcode-container .button-group.secondary .button[disabled]:focus,#ocvb-shortcode-container .button-group.secondary .button[disabled]:hover{background-color:#767676;color:#fefefe}#ocvb-shortcode-container .button-group.secondary .button:focus,#ocvb-shortcode-container .button-group.secondary .button:hover{background-color:#5e5e5e;color:#fefefe}#ocvb-shortcode-container .button-group.success .button,#ocvb-shortcode-container .button-group.success .button.disabled,#ocvb-shortcode-container .button-group.success .button.disabled:focus,#ocvb-shortcode-container .button-group.success .button.disabled:hover,#ocvb-shortcode-container .button-group.success .button[disabled],#ocvb-shortcode-container .button-group.success .button[disabled]:focus,#ocvb-shortcode-container .button-group.success .button[disabled]:hover{background-color:#3adb76;color:#0a0a0a}#ocvb-shortcode-container .button-group.success .button:focus,#ocvb-shortcode-container .button-group.success .button:hover{background-color:#22bb5b;color:#0a0a0a}#ocvb-shortcode-container .button-group.warning .button,#ocvb-shortcode-container .button-group.warning .button.disabled,#ocvb-shortcode-container .button-group.warning .button.disabled:focus,#ocvb-shortcode-container .button-group.warning .button.disabled:hover,#ocvb-shortcode-container .button-group.warning .button[disabled],#ocvb-shortcode-container .button-group.warning .button[disabled]:focus,#ocvb-shortcode-container .button-group.warning .button[disabled]:hover{background-color:#ffae00;color:#0a0a0a}#ocvb-shortcode-container .button-group.warning .button:focus,#ocvb-shortcode-container .button-group.warning .button:hover{background-color:#cc8b00;color:#0a0a0a}#ocvb-shortcode-container .button-group.alert .button,#ocvb-shortcode-container .button-group.alert .button.disabled,#ocvb-shortcode-container .button-group.alert .button.disabled:focus,#ocvb-shortcode-container .button-group.alert .button.disabled:hover,#ocvb-shortcode-container .button-group.alert .button[disabled],#ocvb-shortcode-container .button-group.alert .button[disabled]:focus,#ocvb-shortcode-container .button-group.alert .button[disabled]:hover{background-color:#cc4b37;color:#fefefe}#ocvb-shortcode-container .button-group.alert .button:focus,#ocvb-shortcode-container .button-group.alert .button:hover{background-color:#a53b2a;color:#fefefe}#ocvb-shortcode-container .button-group.hollow .button,#ocvb-shortcode-container .button-group.hollow .button.disabled,#ocvb-shortcode-container .button-group.hollow .button.disabled:focus,#ocvb-shortcode-container .button-group.hollow .button.disabled:hover,#ocvb-shortcode-container .button-group.hollow .button:focus,#ocvb-shortcode-container .button-group.hollow .button:hover,#ocvb-shortcode-container .button-group.hollow .button[disabled],#ocvb-shortcode-container .button-group.hollow .button[disabled]:focus,#ocvb-shortcode-container .button-group.hollow .button[disabled]:hover{background-color:transparent}#ocvb-shortcode-container .button-group.hollow .button,#ocvb-shortcode-container .button-group.hollow .button.disabled,#ocvb-shortcode-container .button-group.hollow .button.disabled:focus,#ocvb-shortcode-container .button-group.hollow .button.disabled:hover,#ocvb-shortcode-container .button-group.hollow .button[disabled],#ocvb-shortcode-container .button-group.hollow .button[disabled]:focus,#ocvb-shortcode-container .button-group.hollow .button[disabled]:hover{border:1px solid #1779ba;color:#1779ba}#ocvb-shortcode-container .button-group.hollow .button:focus,#ocvb-shortcode-container .button-group.hollow .button:hover{border-color:#0c3d5d;color:#0c3d5d}#ocvb-shortcode-container .button-group.hollow .button.primary,#ocvb-shortcode-container .button-group.hollow .button.primary.disabled,#ocvb-shortcode-container .button-group.hollow .button.primary.disabled:focus,#ocvb-shortcode-container .button-group.hollow .button.primary.disabled:hover,#ocvb-shortcode-container .button-group.hollow .button.primary[disabled],#ocvb-shortcode-container .button-group.hollow .button.primary[disabled]:focus,#ocvb-shortcode-container .button-group.hollow .button.primary[disabled]:hover,#ocvb-shortcode-container .button-group.hollow.primary .button,#ocvb-shortcode-container .button-group.hollow.primary .button.disabled,#ocvb-shortcode-container .button-group.hollow.primary .button.disabled:focus,#ocvb-shortcode-container .button-group.hollow.primary .button.disabled:hover,#ocvb-shortcode-container .button-group.hollow.primary .button[disabled],#ocvb-shortcode-container .button-group.hollow.primary .button[disabled]:focus,#ocvb-shortcode-container .button-group.hollow.primary .button[disabled]:hover{border:1px solid #1779ba;color:#1779ba}#ocvb-shortcode-container .button-group.hollow .button.primary:focus,#ocvb-shortcode-container .button-group.hollow .button.primary:hover,#ocvb-shortcode-container .button-group.hollow.primary .button:focus,#ocvb-shortcode-container .button-group.hollow.primary .button:hover{border-color:#0c3d5d;color:#0c3d5d}#ocvb-shortcode-container .button-group.hollow .button.secondary,#ocvb-shortcode-container .button-group.hollow .button.secondary.disabled,#ocvb-shortcode-container .button-group.hollow .button.secondary.disabled:focus,#ocvb-shortcode-container .button-group.hollow .button.secondary.disabled:hover,#ocvb-shortcode-container .button-group.hollow .button.secondary[disabled],#ocvb-shortcode-container .button-group.hollow .button.secondary[disabled]:focus,#ocvb-shortcode-container .button-group.hollow .button.secondary[disabled]:hover,#ocvb-shortcode-container .button-group.hollow.secondary .button,#ocvb-shortcode-container .button-group.hollow.secondary .button.disabled,#ocvb-shortcode-container .button-group.hollow.secondary .button.disabled:focus,#ocvb-shortcode-container .button-group.hollow.secondary .button.disabled:hover,#ocvb-shortcode-container .button-group.hollow.secondary .button[disabled],#ocvb-shortcode-container .button-group.hollow.secondary .button[disabled]:focus,#ocvb-shortcode-container .button-group.hollow.secondary .button[disabled]:hover{border:1px solid #767676;color:#767676}#ocvb-shortcode-container .button-group.hollow .button.secondary:focus,#ocvb-shortcode-container .button-group.hollow .button.secondary:hover,#ocvb-shortcode-container .button-group.hollow.secondary .button:focus,#ocvb-shortcode-container .button-group.hollow.secondary .button:hover{border-color:#3b3b3b;color:#3b3b3b}#ocvb-shortcode-container .button-group.hollow .button.success,#ocvb-shortcode-container .button-group.hollow .button.success.disabled,#ocvb-shortcode-container .button-group.hollow .button.success.disabled:focus,#ocvb-shortcode-container .button-group.hollow .button.success.disabled:hover,#ocvb-shortcode-container .button-group.hollow .button.success[disabled],#ocvb-shortcode-container .button-group.hollow .button.success[disabled]:focus,#ocvb-shortcode-container .button-group.hollow .button.success[disabled]:hover,#ocvb-shortcode-container .button-group.hollow.success .button,#ocvb-shortcode-container .button-group.hollow.success .button.disabled,#ocvb-shortcode-container .button-group.hollow.success .button.disabled:focus,#ocvb-shortcode-container .button-group.hollow.success .button.disabled:hover,#ocvb-shortcode-container .button-group.hollow.success .button[disabled],#ocvb-shortcode-container .button-group.hollow.success .button[disabled]:focus,#ocvb-shortcode-container .button-group.hollow.success .button[disabled]:hover{border:1px solid #3adb76;color:#3adb76}#ocvb-shortcode-container .button-group.hollow .button.success:focus,#ocvb-shortcode-container .button-group.hollow .button.success:hover,#ocvb-shortcode-container .button-group.hollow.success .button:focus,#ocvb-shortcode-container .button-group.hollow.success .button:hover{border-color:#157539;color:#157539}#ocvb-shortcode-container .button-group.hollow .button.warning,#ocvb-shortcode-container .button-group.hollow .button.warning.disabled,#ocvb-shortcode-container .button-group.hollow .button.warning.disabled:focus,#ocvb-shortcode-container .button-group.hollow .button.warning.disabled:hover,#ocvb-shortcode-container .button-group.hollow .button.warning[disabled],#ocvb-shortcode-container .button-group.hollow .button.warning[disabled]:focus,#ocvb-shortcode-container .button-group.hollow .button.warning[disabled]:hover,#ocvb-shortcode-container .button-group.hollow.warning .button,#ocvb-shortcode-container .button-group.hollow.warning .button.disabled,#ocvb-shortcode-container .button-group.hollow.warning .button.disabled:focus,#ocvb-shortcode-container .button-group.hollow.warning .button.disabled:hover,#ocvb-shortcode-container .button-group.hollow.warning .button[disabled],#ocvb-shortcode-container .button-group.hollow.warning .button[disabled]:focus,#ocvb-shortcode-container .button-group.hollow.warning .button[disabled]:hover{border:1px solid #ffae00;color:#ffae00}#ocvb-shortcode-container .button-group.hollow .button.warning:focus,#ocvb-shortcode-container .button-group.hollow .button.warning:hover,#ocvb-shortcode-container .button-group.hollow.warning .button:focus,#ocvb-shortcode-container .button-group.hollow.warning .button:hover{border-color:#805700;color:#805700}#ocvb-shortcode-container .button-group.hollow .button.alert,#ocvb-shortcode-container .button-group.hollow .button.alert.disabled,#ocvb-shortcode-container .button-group.hollow .button.alert.disabled:focus,#ocvb-shortcode-container .button-group.hollow .button.alert.disabled:hover,#ocvb-shortcode-container .button-group.hollow .button.alert[disabled],#ocvb-shortcode-container .button-group.hollow .button.alert[disabled]:focus,#ocvb-shortcode-container .button-group.hollow .button.alert[disabled]:hover,#ocvb-shortcode-container .button-group.hollow.alert .button,#ocvb-shortcode-container .button-group.hollow.alert .button.disabled,#ocvb-shortcode-container .button-group.hollow.alert .button.disabled:focus,#ocvb-shortcode-container .button-group.hollow.alert .button.disabled:hover,#ocvb-shortcode-container .button-group.hollow.alert .button[disabled],#ocvb-shortcode-container .button-group.hollow.alert .button[disabled]:focus,#ocvb-shortcode-container .button-group.hollow.alert .button[disabled]:hover{border:1px solid #cc4b37;color:#cc4b37}#ocvb-shortcode-container .button-group.hollow .button.alert:focus,#ocvb-shortcode-container .button-group.hollow .button.alert:hover,#ocvb-shortcode-container .button-group.hollow.alert .button:focus,#ocvb-shortcode-container .button-group.hollow.alert .button:hover{border-color:#67251a;color:#67251a}#ocvb-shortcode-container .button-group.clear .button,#ocvb-shortcode-container .button-group.clear .button.disabled,#ocvb-shortcode-container .button-group.clear .button.disabled:focus,#ocvb-shortcode-container .button-group.clear .button.disabled:hover,#ocvb-shortcode-container .button-group.clear .button:focus,#ocvb-shortcode-container .button-group.clear .button:hover,#ocvb-shortcode-container .button-group.clear .button[disabled],#ocvb-shortcode-container .button-group.clear .button[disabled]:focus,#ocvb-shortcode-container .button-group.clear .button[disabled]:hover{border-color:transparent;background-color:transparent}#ocvb-shortcode-container .button-group.clear .button,#ocvb-shortcode-container .button-group.clear .button.disabled,#ocvb-shortcode-container .button-group.clear .button.disabled:focus,#ocvb-shortcode-container .button-group.clear .button.disabled:hover,#ocvb-shortcode-container .button-group.clear .button[disabled],#ocvb-shortcode-container .button-group.clear .button[disabled]:focus,#ocvb-shortcode-container .button-group.clear .button[disabled]:hover{color:#1779ba}#ocvb-shortcode-container .button-group.clear .button:focus,#ocvb-shortcode-container .button-group.clear .button:hover{color:#0c3d5d}#ocvb-shortcode-container .button-group.clear .button.primary,#ocvb-shortcode-container .button-group.clear .button.primary.disabled,#ocvb-shortcode-container .button-group.clear .button.primary.disabled:focus,#ocvb-shortcode-container .button-group.clear .button.primary.disabled:hover,#ocvb-shortcode-container .button-group.clear .button.primary[disabled],#ocvb-shortcode-container .button-group.clear .button.primary[disabled]:focus,#ocvb-shortcode-container .button-group.clear .button.primary[disabled]:hover,#ocvb-shortcode-container .button-group.clear.primary .button,#ocvb-shortcode-container .button-group.clear.primary .button.disabled,#ocvb-shortcode-container .button-group.clear.primary .button.disabled:focus,#ocvb-shortcode-container .button-group.clear.primary .button.disabled:hover,#ocvb-shortcode-container .button-group.clear.primary .button[disabled],#ocvb-shortcode-container .button-group.clear.primary .button[disabled]:focus,#ocvb-shortcode-container .button-group.clear.primary .button[disabled]:hover{color:#1779ba}#ocvb-shortcode-container .button-group.clear .button.primary:focus,#ocvb-shortcode-container .button-group.clear .button.primary:hover,#ocvb-shortcode-container .button-group.clear.primary .button:focus,#ocvb-shortcode-container .button-group.clear.primary .button:hover{color:#0c3d5d}#ocvb-shortcode-container .button-group.clear .button.secondary,#ocvb-shortcode-container .button-group.clear .button.secondary.disabled,#ocvb-shortcode-container .button-group.clear .button.secondary.disabled:focus,#ocvb-shortcode-container .button-group.clear .button.secondary.disabled:hover,#ocvb-shortcode-container .button-group.clear .button.secondary[disabled],#ocvb-shortcode-container .button-group.clear .button.secondary[disabled]:focus,#ocvb-shortcode-container .button-group.clear .button.secondary[disabled]:hover,#ocvb-shortcode-container .button-group.clear.secondary .button,#ocvb-shortcode-container .button-group.clear.secondary .button.disabled,#ocvb-shortcode-container .button-group.clear.secondary .button.disabled:focus,#ocvb-shortcode-container .button-group.clear.secondary .button.disabled:hover,#ocvb-shortcode-container .button-group.clear.secondary .button[disabled],#ocvb-shortcode-container .button-group.clear.secondary .button[disabled]:focus,#ocvb-shortcode-container .button-group.clear.secondary .button[disabled]:hover{color:#767676}#ocvb-shortcode-container .button-group.clear .button.secondary:focus,#ocvb-shortcode-container .button-group.clear .button.secondary:hover,#ocvb-shortcode-container .button-group.clear.secondary .button:focus,#ocvb-shortcode-container .button-group.clear.secondary .button:hover{color:#3b3b3b}#ocvb-shortcode-container .button-group.clear .button.success,#ocvb-shortcode-container .button-group.clear .button.success.disabled,#ocvb-shortcode-container .button-group.clear .button.success.disabled:focus,#ocvb-shortcode-container .button-group.clear .button.success.disabled:hover,#ocvb-shortcode-container .button-group.clear .button.success[disabled],#ocvb-shortcode-container .button-group.clear .button.success[disabled]:focus,#ocvb-shortcode-container .button-group.clear .button.success[disabled]:hover,#ocvb-shortcode-container .button-group.clear.success .button,#ocvb-shortcode-container .button-group.clear.success .button.disabled,#ocvb-shortcode-container .button-group.clear.success .button.disabled:focus,#ocvb-shortcode-container .button-group.clear.success .button.disabled:hover,#ocvb-shortcode-container .button-group.clear.success .button[disabled],#ocvb-shortcode-container .button-group.clear.success .button[disabled]:focus,#ocvb-shortcode-container .button-group.clear.success .button[disabled]:hover{color:#3adb76}#ocvb-shortcode-container .button-group.clear .button.success:focus,#ocvb-shortcode-container .button-group.clear .button.success:hover,#ocvb-shortcode-container .button-group.clear.success .button:focus,#ocvb-shortcode-container .button-group.clear.success .button:hover{color:#157539}#ocvb-shortcode-container .button-group.clear .button.warning,#ocvb-shortcode-container .button-group.clear .button.warning.disabled,#ocvb-shortcode-container .button-group.clear .button.warning.disabled:focus,#ocvb-shortcode-container .button-group.clear .button.warning.disabled:hover,#ocvb-shortcode-container .button-group.clear .button.warning[disabled],#ocvb-shortcode-container .button-group.clear .button.warning[disabled]:focus,#ocvb-shortcode-container .button-group.clear .button.warning[disabled]:hover,#ocvb-shortcode-container .button-group.clear.warning .button,#ocvb-shortcode-container .button-group.clear.warning .button.disabled,#ocvb-shortcode-container .button-group.clear.warning .button.disabled:focus,#ocvb-shortcode-container .button-group.clear.warning .button.disabled:hover,#ocvb-shortcode-container .button-group.clear.warning .button[disabled],#ocvb-shortcode-container .button-group.clear.warning .button[disabled]:focus,#ocvb-shortcode-container .button-group.clear.warning .button[disabled]:hover{color:#ffae00}#ocvb-shortcode-container .button-group.clear .button.warning:focus,#ocvb-shortcode-container .button-group.clear .button.warning:hover,#ocvb-shortcode-container .button-group.clear.warning .button:focus,#ocvb-shortcode-container .button-group.clear.warning .button:hover{color:#805700}#ocvb-shortcode-container .button-group.clear .button.alert,#ocvb-shortcode-container .button-group.clear .button.alert.disabled,#ocvb-shortcode-container .button-group.clear .button.alert.disabled:focus,#ocvb-shortcode-container .button-group.clear .button.alert.disabled:hover,#ocvb-shortcode-container .button-group.clear .button.alert[disabled],#ocvb-shortcode-container .button-group.clear .button.alert[disabled]:focus,#ocvb-shortcode-container .button-group.clear .button.alert[disabled]:hover,#ocvb-shortcode-container .button-group.clear.alert .button,#ocvb-shortcode-container .button-group.clear.alert .button.disabled,#ocvb-shortcode-container .button-group.clear.alert .button.disabled:focus,#ocvb-shortcode-container .button-group.clear.alert .button.disabled:hover,#ocvb-shortcode-container .button-group.clear.alert .button[disabled],#ocvb-shortcode-container .button-group.clear.alert .button[disabled]:focus,#ocvb-shortcode-container .button-group.clear.alert .button[disabled]:hover{color:#cc4b37}#ocvb-shortcode-container .button-group.clear .button.alert:focus,#ocvb-shortcode-container .button-group.clear .button.alert:hover,#ocvb-shortcode-container .button-group.clear.alert .button:focus,#ocvb-shortcode-container .button-group.clear.alert .button:hover{color:#67251a}#ocvb-shortcode-container .button-group.no-gaps .button{margin-right:-.0625rem}#ocvb-shortcode-container .button-group.no-gaps .button+.button{border-left-color:transparent}#ocvb-shortcode-container .button-group.stacked,#ocvb-shortcode-container .button-group.stacked-for-medium,#ocvb-shortcode-container .button-group.stacked-for-small{flex-wrap:wrap}#ocvb-shortcode-container .button-group.stacked .button,#ocvb-shortcode-container .button-group.stacked-for-medium .button,#ocvb-shortcode-container .button-group.stacked-for-small .button{flex:0 0 100%}#ocvb-shortcode-container .button-group.stacked .button:last-child,#ocvb-shortcode-container .button-group.stacked-for-medium .button:last-child,#ocvb-shortcode-container .button-group.stacked-for-small .button:last-child{margin-bottom:0}#ocvb-shortcode-container .button-group.stacked-for-medium.expanded .button,#ocvb-shortcode-container .button-group.stacked-for-small.expanded .button,#ocvb-shortcode-container .button-group.stacked.expanded .button{flex:1 1 0}@media print,screen and (min-width:40em){#ocvb-shortcode-container .button-group.stacked-for-small .button{flex:0 0 auto;margin-bottom:0}}@media print,screen and (min-width:64em){#ocvb-shortcode-container .button-group.stacked-for-medium .button{flex:0 0 auto;margin-bottom:0}}@media print,screen and (max-width:39.99875em){#ocvb-shortcode-container .button-group.stacked-for-small.expanded{display:block}#ocvb-shortcode-container .button-group.stacked-for-small.expanded .button{display:block;margin-right:0}}@media print,screen and (max-width:63.99875em){#ocvb-shortcode-container .button-group.stacked-for-medium.expanded{display:block}#ocvb-shortcode-container .button-group.stacked-for-medium.expanded .button{display:block;margin-right:0}}#ocvb-shortcode-container .close-button{position:absolute;z-index:10;color:#8a8a8a;cursor:pointer}[data-whatinput=mouse] #ocvb-shortcode-container .close-button{outline:0}#ocvb-shortcode-container .close-button:focus,#ocvb-shortcode-container .close-button:hover{color:#0a0a0a}#ocvb-shortcode-container .close-button.small{right:.66rem;top:.33em;font-size:1.5em;line-height:1}#ocvb-shortcode-container .close-button,#ocvb-shortcode-container .close-button.medium{right:1rem;top:.5rem;font-size:2em;line-height:1}#ocvb-shortcode-container .switch{height:2rem;position:relative;margin-bottom:1rem;outline:0;font-size:.875rem;font-weight:700;color:#fefefe;user-select:none}#ocvb-shortcode-container .switch-input{position:absolute;margin-bottom:0;opacity:0}#ocvb-shortcode-container .switch-paddle{position:relative;display:block;width:4rem;height:2rem;border-radius:0;background:#cacaca;transition:all .25s ease-out;font-weight:inherit;color:inherit;cursor:pointer}input+#ocvb-shortcode-container .switch-paddle{margin:0}#ocvb-shortcode-container .switch-paddle:after{position:absolute;top:.25rem;left:.25rem;display:block;width:1.5rem;height:1.5rem;transform:translate3d(0,0,0);border-radius:0;background:#fefefe;transition:all .25s ease-out;content:""}input:checked~#ocvb-shortcode-container .switch-paddle{background:#1779ba}input:checked~#ocvb-shortcode-container .switch-paddle:after{left:2.25rem}input:disabled~#ocvb-shortcode-container .switch-paddle{cursor:not-allowed;opacity:.5}[data-whatinput=mouse] input:focus~#ocvb-shortcode-container .switch-paddle{outline:0}#ocvb-shortcode-container .switch-active,#ocvb-shortcode-container .switch-inactive{position:absolute;top:50%;transform:translateY(-50%)}#ocvb-shortcode-container .switch-active{left:8%;display:none}input:checked+label>#ocvb-shortcode-container .switch-active{display:block}#ocvb-shortcode-container .switch-inactive{right:15%}input:checked+label>#ocvb-shortcode-container .switch-inactive{display:none}#ocvb-shortcode-container .switch.tiny{height:1.5rem}#ocvb-shortcode-container .switch.tiny .switch-paddle{width:3rem;height:1.5rem;font-size:.625rem}#ocvb-shortcode-container .switch.tiny .switch-paddle:after{top:.25rem;left:.25rem;width:1rem;height:1rem}#ocvb-shortcode-container .switch.tiny input:checked~.switch-paddle:after{left:1.75rem}#ocvb-shortcode-container .switch.small{height:1.75rem}#ocvb-shortcode-container .switch.small .switch-paddle{width:3.5rem;height:1.75rem;font-size:.75rem}#ocvb-shortcode-container .switch.small .switch-paddle:after{top:.25rem;left:.25rem;width:1.25rem;height:1.25rem}#ocvb-shortcode-container .switch.small input:checked~.switch-paddle:after{left:2rem}#ocvb-shortcode-container .switch.large{height:2.5rem}#ocvb-shortcode-container .switch.large .switch-paddle{width:5rem;height:2.5rem;font-size:1rem}#ocvb-shortcode-container .switch.large .switch-paddle:after{top:.25rem;left:.25rem;width:2rem;height:2rem}#ocvb-shortcode-container .switch.large input:checked~.switch-paddle:after{left:2.75rem}#ocvb-shortcode-container .callout{position:relative;margin:0 0 1rem;padding:1rem;border:1px solid rgba(10,10,10,.25);border-radius:0;background-color:#fff;color:#0a0a0a}#ocvb-shortcode-container .callout>:first-child{margin-top:0}#ocvb-shortcode-container .callout>:last-child{margin-bottom:0}#ocvb-shortcode-container .callout.primary{background-color:#d7ecfa;color:#0a0a0a}#ocvb-shortcode-container .callout.secondary{background-color:#eaeaea;color:#0a0a0a}#ocvb-shortcode-container .callout.success{background-color:#e1faea;color:#0a0a0a}#ocvb-shortcode-container .callout.warning{background-color:#fff3d9;color:#0a0a0a}#ocvb-shortcode-container .callout.alert{background-color:#f7e4e1;color:#0a0a0a}#ocvb-shortcode-container .callout.small{padding-top:.5rem;padding-right:.5rem;padding-bottom:.5rem;padding-left:.5rem}#ocvb-shortcode-container .callout.large{padding-top:3rem;padding-right:3rem;padding-bottom:3rem;padding-left:3rem}#ocvb-shortcode-container .card{display:flex;flex-direction:column;flex-grow:1;margin-bottom:1rem;border:1px solid #e6e6e6;border-radius:0;background:#fefefe;box-shadow:none;overflow:hidden;color:#0a0a0a}#ocvb-shortcode-container .card>:last-child{margin-bottom:0}#ocvb-shortcode-container .card-divider{display:flex;flex:0 1 auto;padding:1rem;background:#e6e6e6}#ocvb-shortcode-container .card-divider>:last-child{margin-bottom:0}#ocvb-shortcode-container .card-section{flex:1 0 auto;padding:1rem}#ocvb-shortcode-container .card-section>:last-child{margin-bottom:0}#ocvb-shortcode-container .card-image{min-height:1px}#ocvb-shortcode-container .dropdown-pane{position:absolute;z-index:10;display:none;width:300px;padding:1rem;visibility:hidden;border:1px solid #cacaca;border-radius:0;background-color:#fefefe;font-size:1rem}#ocvb-shortcode-container .dropdown-pane.is-opening{display:block}#ocvb-shortcode-container .dropdown-pane.is-open{display:block;visibility:visible}#ocvb-shortcode-container .dropdown-pane.tiny{width:100px}#ocvb-shortcode-container .dropdown-pane.small{width:200px}#ocvb-shortcode-container .dropdown-pane.large{width:400px}#ocvb-shortcode-container .has-tip{position:relative;display:inline-block;border-bottom:dotted 1px #8a8a8a;font-weight:700;cursor:help}#ocvb-shortcode-container .tooltip{position:absolute;top:calc(100% + .6495rem);z-index:1200;max-width:10rem;padding:.75rem;border-radius:0;background-color:#0a0a0a;font-size:80%;color:#fefefe}#ocvb-shortcode-container .tooltip:before{position:absolute}#ocvb-shortcode-container .tooltip.bottom:before{display:block;width:0;height:0;border:inset .75rem;content:"";border-top-width:0;border-bottom-style:solid;border-color:transparent transparent #0a0a0a;bottom:100%}#ocvb-shortcode-container .tooltip.bottom.align-center:before{left:50%;transform:translateX(-50%)}#ocvb-shortcode-container .tooltip.top:before{display:block;width:0;height:0;border:inset .75rem;content:"";border-bottom-width:0;border-top-style:solid;border-color:#0a0a0a transparent transparent;top:100%;bottom:auto}#ocvb-shortcode-container .tooltip.top.align-center:before{left:50%;transform:translateX(-50%)}#ocvb-shortcode-container .tooltip.left:before{display:block;width:0;height:0;border:inset .75rem;content:"";border-right-width:0;border-left-style:solid;border-color:transparent transparent transparent #0a0a0a;left:100%}#ocvb-shortcode-container .tooltip.left.align-center:before{bottom:auto;top:50%;transform:translateY(-50%)}#ocvb-shortcode-container .tooltip.right:before{display:block;width:0;height:0;border:inset .75rem;content:"";border-left-width:0;border-right-style:solid;border-color:transparent #0a0a0a transparent transparent;right:100%;left:auto}#ocvb-shortcode-container .tooltip.right.align-center:before{bottom:auto;top:50%;transform:translateY(-50%)}#ocvb-shortcode-container .tooltip.align-top:before{bottom:auto;top:10%}#ocvb-shortcode-container .tooltip.align-bottom:before{bottom:10%;top:auto}#ocvb-shortcode-container .tooltip.align-left:before{left:10%;right:auto}#ocvb-shortcode-container .tooltip.align-right:before{left:auto;right:10%}#ocvb-shortcode-container .accordion{margin-left:0;background:#fefefe;list-style-type:none}#ocvb-shortcode-container .accordion[disabled] .accordion-title{cursor:not-allowed}#ocvb-shortcode-container .accordion-item:first-child>:first-child,#ocvb-shortcode-container .accordion-item:last-child>:last-child{border-radius:0}#ocvb-shortcode-container .accordion-title{position:relative;display:block;padding:1.25rem 1rem;border:1px solid #e6e6e6;border-bottom:0;font-size:.75rem;line-height:1;color:#1779ba}:last-child:not(.is-active)>#ocvb-shortcode-container .accordion-title{border-bottom:1px solid #e6e6e6;border-radius:0}#ocvb-shortcode-container .accordion-title:focus,#ocvb-shortcode-container .accordion-title:hover{background-color:#e6e6e6}#ocvb-shortcode-container .accordion-title:before{position:absolute;top:50%;right:1rem;margin-top:-.5rem;content:"+"}.is-active>#ocvb-shortcode-container .accordion-title:before{content:"–"}#ocvb-shortcode-container .accordion-content{display:none;padding:1rem;border:1px solid #e6e6e6;border-bottom:0;background-color:#fefefe;color:#0a0a0a}:last-child>#ocvb-shortcode-container .accordion-content:last-child{border-bottom:1px solid #e6e6e6}#ocvb-shortcode-container .tabs{margin:0;border:1px solid transparent;background:0 0;list-style-type:none}#ocvb-shortcode-container .tabs:after,#ocvb-shortcode-container .tabs:before{display:table;content:" ";flex-basis:0;order:1}#ocvb-shortcode-container .tabs:after{clear:both}#ocvb-shortcode-container .tabs.vertical>li{display:block;float:none;width:auto}#ocvb-shortcode-container .tabs.simple>li>a{padding:0}#ocvb-shortcode-container .tabs.simple>li>a:hover{background:0 0}#ocvb-shortcode-container .tabs.primary{background:#1779ba}#ocvb-shortcode-container .tabs.primary>li>a{color:#fefefe}#ocvb-shortcode-container .tabs.primary>li>a:focus,#ocvb-shortcode-container .tabs.primary>li>a:hover{background:#1673b1}#ocvb-shortcode-container .tabs-title{float:left}#ocvb-shortcode-container .tabs-title>a{display:block;padding:1rem 1.2rem;font-size:1rem;line-height:1;color:#a0a0a0}[data-whatinput=mouse] #ocvb-shortcode-container .tabs-title>a{outline:0}#ocvb-shortcode-container .tabs-title>a:hover{background:#fefefe;color:#8a8a8a}#ocvb-shortcode-container .tabs-title>a:focus,#ocvb-shortcode-container .tabs-title>a[aria-selected=true]{background:0 0;color:#23282d}#ocvb-shortcode-container .tabs-content{border:1px solid transparent;border-top:0;background:0 0;color:#0a0a0a;transition:all .5s ease}#ocvb-shortcode-container .tabs-content.vertical{border:1px solid transparent;border-left:0}#ocvb-shortcode-container .tabs-panel{display:none;padding:0}#ocvb-shortcode-container .tabs-panel.is-active{display:block}#ocvb-shortcode-container .label{display:inline-block;padding:.33333rem .5rem;border-radius:0;font-size:.8rem;line-height:1;white-space:nowrap;cursor:default;background:#1779ba;color:#fefefe}#ocvb-shortcode-container .label.primary{background:#1779ba;color:#fefefe}#ocvb-shortcode-container .label.secondary{background:#767676;color:#fefefe}#ocvb-shortcode-container .label.success{background:#3adb76;color:#0a0a0a}#ocvb-shortcode-container .label.warning{background:#ffae00;color:#0a0a0a}#ocvb-shortcode-container .label.alert{background:#cc4b37;color:#fefefe}#ocvb-shortcode-container .float-left{float:left!important}#ocvb-shortcode-container .float-right{float:right!important}#ocvb-shortcode-container .float-center{display:block;margin-right:auto;margin-left:auto}#ocvb-shortcode-container .clearfix:after,#ocvb-shortcode-container .clearfix:before{display:table;content:" ";flex-basis:0;order:1}#ocvb-shortcode-container .clearfix:after{clear:both}#ocvb-shortcode-container .align-left{justify-content:flex-start}#ocvb-shortcode-container .align-right{justify-content:flex-end}#ocvb-shortcode-container .align-center{justify-content:center}#ocvb-shortcode-container .align-justify{justify-content:space-between}#ocvb-shortcode-container .align-spaced{justify-content:space-around}#ocvb-shortcode-container .align-left.vertical.menu>li>a{justify-content:flex-start}#ocvb-shortcode-container .align-right.vertical.menu>li>a{justify-content:flex-end}#ocvb-shortcode-container .align-center.vertical.menu>li>a{justify-content:center}#ocvb-shortcode-container .align-top{align-items:flex-start}#ocvb-shortcode-container .align-self-top{align-self:flex-start}#ocvb-shortcode-container .align-bottom{align-items:flex-end}#ocvb-shortcode-container .align-self-bottom{align-self:flex-end}#ocvb-shortcode-container .align-middle{align-items:center}#ocvb-shortcode-container .align-self-middle{align-self:center}#ocvb-shortcode-container .align-stretch{align-items:stretch}#ocvb-shortcode-container .align-self-stretch{align-self:stretch}#ocvb-shortcode-container .align-center-middle{justify-content:center;align-items:center;align-content:center}#ocvb-shortcode-container .small-order-1{order:1}#ocvb-shortcode-container .small-order-2{order:2}#ocvb-shortcode-container .small-order-3{order:3}#ocvb-shortcode-container .small-order-4{order:4}#ocvb-shortcode-container .small-order-5{order:5}#ocvb-shortcode-container .small-order-6{order:6}@media print,screen and (min-width:40em){#ocvb-shortcode-container .medium-order-1{order:1}#ocvb-shortcode-container .medium-order-2{order:2}#ocvb-shortcode-container .medium-order-3{order:3}#ocvb-shortcode-container .medium-order-4{order:4}#ocvb-shortcode-container .medium-order-5{order:5}#ocvb-shortcode-container .medium-order-6{order:6}}@media print,screen and (min-width:64em){#ocvb-shortcode-container .large-order-1{order:1}#ocvb-shortcode-container .large-order-2{order:2}#ocvb-shortcode-container .large-order-3{order:3}#ocvb-shortcode-container .large-order-4{order:4}#ocvb-shortcode-container .large-order-5{order:5}#ocvb-shortcode-container .large-order-6{order:6}}#ocvb-shortcode-container .flex-container{display:flex}#ocvb-shortcode-container .flex-child-auto{flex:1 1 auto}#ocvb-shortcode-container .flex-child-grow{flex:1 0 auto}#ocvb-shortcode-container .flex-child-shrink{flex:0 1 auto}#ocvb-shortcode-container .flex-dir-row{flex-direction:row}#ocvb-shortcode-container .flex-dir-row-reverse{flex-direction:row-reverse}#ocvb-shortcode-container .flex-dir-column{flex-direction:column}#ocvb-shortcode-container .flex-dir-column-reverse{flex-direction:column-reverse}@media print,screen and (min-width:40em){#ocvb-shortcode-container .medium-flex-container{display:flex}#ocvb-shortcode-container .medium-flex-child-auto{flex:1 1 auto}#ocvb-shortcode-container .medium-flex-child-grow{flex:1 0 auto}#ocvb-shortcode-container .medium-flex-child-shrink{flex:0 1 auto}#ocvb-shortcode-container .medium-flex-dir-row{flex-direction:row}#ocvb-shortcode-container .medium-flex-dir-row-reverse{flex-direction:row-reverse}#ocvb-shortcode-container .medium-flex-dir-column{flex-direction:column}#ocvb-shortcode-container .medium-flex-dir-column-reverse{flex-direction:column-reverse}}@media print,screen and (min-width:64em){#ocvb-shortcode-container .large-flex-container{display:flex}#ocvb-shortcode-container .large-flex-child-auto{flex:1 1 auto}#ocvb-shortcode-container .large-flex-child-grow{flex:1 0 auto}#ocvb-shortcode-container .large-flex-child-shrink{flex:0 1 auto}#ocvb-shortcode-container .large-flex-dir-row{flex-direction:row}#ocvb-shortcode-container .large-flex-dir-row-reverse{flex-direction:row-reverse}#ocvb-shortcode-container .large-flex-dir-column{flex-direction:column}#ocvb-shortcode-container .large-flex-dir-column-reverse{flex-direction:column-reverse}}#ocvb-shortcode-container .hide{display:none!important}#ocvb-shortcode-container .invisible{visibility:hidden}@media print,screen and (max-width:39.99875em){#ocvb-shortcode-container .hide-for-small-only{display:none!important}}@media screen and (max-width:0),screen and (min-width:40em){#ocvb-shortcode-container .show-for-small-only{display:none!important}}@media print,screen and (min-width:40em){#ocvb-shortcode-container .hide-for-medium{display:none!important}}@media screen and (max-width:39.99875em){#ocvb-shortcode-container .show-for-medium{display:none!important}}@media print,screen and (min-width:40em) and (max-width:63.99875em){#ocvb-shortcode-container .hide-for-medium-only{display:none!important}}@media screen and (max-width:39.99875em),screen and (min-width:64em){#ocvb-shortcode-container .show-for-medium-only{display:none!important}}@media print,screen and (min-width:64em){#ocvb-shortcode-container .hide-for-large{display:none!important}}@media screen and (max-width:63.99875em){#ocvb-shortcode-container .show-for-large{display:none!important}}@media print,screen and (min-width:64em) and (max-width:74.99875em){#ocvb-shortcode-container .hide-for-large-only{display:none!important}}@media screen and (max-width:63.99875em),screen and (min-width:75em){#ocvb-shortcode-container .show-for-large-only{display:none!important}}#ocvb-shortcode-container .show-for-sr,#ocvb-shortcode-container .show-on-focus{position:absolute!important;width:1px!important;height:1px!important;padding:0!important;overflow:hidden!important;clip:rect(0,0,0,0)!important;white-space:nowrap!important;border:0!important}#ocvb-shortcode-container .show-on-focus:active,#ocvb-shortcode-container .show-on-focus:focus{position:static!important;width:auto!important;height:auto!important;overflow:visible!important;clip:auto!important;white-space:normal!important}#ocvb-shortcode-container .hide-for-portrait,#ocvb-shortcode-container .show-for-landscape{display:block!important}@media screen and (orientation:landscape){#ocvb-shortcode-container .hide-for-portrait,#ocvb-shortcode-container .show-for-landscape{display:block!important}}@media screen and (orientation:portrait){#ocvb-shortcode-container .hide-for-portrait,#ocvb-shortcode-container .show-for-landscape{display:none!important}}#ocvb-shortcode-container .hide-for-landscape,#ocvb-shortcode-container .show-for-portrait{display:none!important}@media screen and (orientation:landscape){#ocvb-shortcode-container .hide-for-landscape,#ocvb-shortcode-container .show-for-portrait{display:none!important}}@media screen and (orientation:portrait){#ocvb-shortcode-container .hide-for-landscape,#ocvb-shortcode-container .show-for-portrait{display:block!important}}#ocvb-shortcode-container .slide-in-down.mui-enter{transition-duration:.5s;transition-timing-function:linear;transform:translateY(-100%);transition-property:transform,opacity;backface-visibility:hidden}#ocvb-shortcode-container .slide-in-down.mui-enter.mui-enter-active{transform:translateY(0)}#ocvb-shortcode-container .slide-in-left.mui-enter{transition-duration:.5s;transition-timing-function:linear;transform:translateX(-100%);transition-property:transform,opacity;backface-visibility:hidden}#ocvb-shortcode-container .slide-in-left.mui-enter.mui-enter-active{transform:translateX(0)}#ocvb-shortcode-container .slide-in-up.mui-enter{transition-duration:.5s;transition-timing-function:linear;transform:translateY(100%);transition-property:transform,opacity;backface-visibility:hidden}#ocvb-shortcode-container .slide-in-up.mui-enter.mui-enter-active{transform:translateY(0)}#ocvb-shortcode-container .slide-in-right.mui-enter{transition-duration:.5s;transition-timing-function:linear;transform:translateX(100%);transition-property:transform,opacity;backface-visibility:hidden}#ocvb-shortcode-container .slide-in-right.mui-enter.mui-enter-active{transform:translateX(0)}#ocvb-shortcode-container .slide-out-down.mui-leave{transition-duration:.5s;transition-timing-function:linear;transform:translateY(0);transition-property:transform,opacity;backface-visibility:hidden}#ocvb-shortcode-container .slide-out-down.mui-leave.mui-leave-active{transform:translateY(100%)}#ocvb-shortcode-container .slide-out-right.mui-leave{transition-duration:.5s;transition-timing-function:linear;transform:translateX(0);transition-property:transform,opacity;backface-visibility:hidden}#ocvb-shortcode-container .slide-out-right.mui-leave.mui-leave-active{transform:translateX(100%)}#ocvb-shortcode-container .slide-out-up.mui-leave{transition-duration:.5s;transition-timing-function:linear;transform:translateY(0);transition-property:transform,opacity;backface-visibility:hidden}#ocvb-shortcode-container .slide-out-up.mui-leave.mui-leave-active{transform:translateY(-100%)}#ocvb-shortcode-container .slide-out-left.mui-leave{transition-duration:.5s;transition-timing-function:linear;transform:translateX(0);transition-property:transform,opacity;backface-visibility:hidden}#ocvb-shortcode-container .slide-out-left.mui-leave.mui-leave-active{transform:translateX(-100%)}#ocvb-shortcode-container .fade-in.mui-enter{transition-duration:.5s;transition-timing-function:linear;opacity:0;transition-property:opacity}#ocvb-shortcode-container .fade-in.mui-enter.mui-enter-active{opacity:1}#ocvb-shortcode-container .fade-out.mui-leave{transition-duration:.5s;transition-timing-function:linear;opacity:1;transition-property:opacity}#ocvb-shortcode-container .fade-out.mui-leave.mui-leave-active{opacity:0}#ocvb-shortcode-container .hinge-in-from-top.mui-enter{transition-duration:.5s;transition-timing-function:linear;transform:perspective(2000px) rotateX(-90deg);transform-origin:top;transition-property:transform,opacity;opacity:0}#ocvb-shortcode-container .hinge-in-from-top.mui-enter.mui-enter-active{transform:perspective(2000px) rotate(0deg);opacity:1}#ocvb-shortcode-container .hinge-in-from-right.mui-enter{transition-duration:.5s;transition-timing-function:linear;transform:perspective(2000px) rotateY(-90deg);transform-origin:right;transition-property:transform,opacity;opacity:0}#ocvb-shortcode-container .hinge-in-from-right.mui-enter.mui-enter-active{transform:perspective(2000px) rotate(0deg);opacity:1}#ocvb-shortcode-container .hinge-in-from-bottom.mui-enter{transition-duration:.5s;transition-timing-function:linear;transform:perspective(2000px) rotateX(90deg);transform-origin:bottom;transition-property:transform,opacity;opacity:0}#ocvb-shortcode-container .hinge-in-from-bottom.mui-enter.mui-enter-active{transform:perspective(2000px) rotate(0deg);opacity:1}#ocvb-shortcode-container .hinge-in-from-left.mui-enter{transition-duration:.5s;transition-timing-function:linear;transform:perspective(2000px) rotateY(90deg);transform-origin:left;transition-property:transform,opacity;opacity:0}#ocvb-shortcode-container .hinge-in-from-left.mui-enter.mui-enter-active{transform:perspective(2000px) rotate(0deg);opacity:1}#ocvb-shortcode-container .hinge-in-from-middle-x.mui-enter{transition-duration:.5s;transition-timing-function:linear;transform:perspective(2000px) rotateX(-90deg);transform-origin:center;transition-property:transform,opacity;opacity:0}#ocvb-shortcode-container .hinge-in-from-middle-x.mui-enter.mui-enter-active{transform:perspective(2000px) rotate(0deg);opacity:1}#ocvb-shortcode-container .hinge-in-from-middle-y.mui-enter{transition-duration:.5s;transition-timing-function:linear;transform:perspective(2000px) rotateY(-90deg);transform-origin:center;transition-property:transform,opacity;opacity:0}#ocvb-shortcode-container .hinge-in-from-middle-y.mui-enter.mui-enter-active{transform:perspective(2000px) rotate(0deg);opacity:1}#ocvb-shortcode-container .hinge-out-from-top.mui-leave{transition-duration:.5s;transition-timing-function:linear;transform:perspective(2000px) rotate(0deg);transform-origin:top;transition-property:transform,opacity;opacity:1}#ocvb-shortcode-container .hinge-out-from-top.mui-leave.mui-leave-active{transform:perspective(2000px) rotateX(90deg);opacity:0}#ocvb-shortcode-container .hinge-out-from-right.mui-leave{transition-duration:.5s;transition-timing-function:linear;transform:perspective(2000px) rotate(0deg);transform-origin:right;transition-property:transform,opacity;opacity:1}#ocvb-shortcode-container .hinge-out-from-right.mui-leave.mui-leave-active{transform:perspective(2000px) rotateY(90deg);opacity:0}#ocvb-shortcode-container .hinge-out-from-bottom.mui-leave{transition-duration:.5s;transition-timing-function:linear;transform:perspective(2000px) rotate(0deg);transform-origin:bottom;transition-property:transform,opacity;opacity:1}#ocvb-shortcode-container .hinge-out-from-bottom.mui-leave.mui-leave-active{transform:perspective(2000px) rotateX(-90deg);opacity:0}#ocvb-shortcode-container .hinge-out-from-left.mui-leave{transition-duration:.5s;transition-timing-function:linear;transform:perspective(2000px) rotate(0deg);transform-origin:left;transition-property:transform,opacity;opacity:1}#ocvb-shortcode-container .hinge-out-from-left.mui-leave.mui-leave-active{transform:perspective(2000px) rotateY(-90deg);opacity:0}#ocvb-shortcode-container .hinge-out-from-middle-x.mui-leave{transition-duration:.5s;transition-timing-function:linear;transform:perspective(2000px) rotate(0deg);transform-origin:center;transition-property:transform,opacity;opacity:1}#ocvb-shortcode-container .hinge-out-from-middle-x.mui-leave.mui-leave-active{transform:perspective(2000px) rotateX(90deg);opacity:0}#ocvb-shortcode-container .hinge-out-from-middle-y.mui-leave{transition-duration:.5s;transition-timing-function:linear;transform:perspective(2000px) rotate(0deg);transform-origin:center;transition-property:transform,opacity;opacity:1}#ocvb-shortcode-container .hinge-out-from-middle-y.mui-leave.mui-leave-active{transform:perspective(2000px) rotateY(90deg);opacity:0}#ocvb-shortcode-container .scale-in-up.mui-enter{transition-duration:.5s;transition-timing-function:linear;transform:scale(.5);transition-property:transform,opacity;opacity:0}#ocvb-shortcode-container .scale-in-up.mui-enter.mui-enter-active{transform:scale(1);opacity:1}#ocvb-shortcode-container .scale-in-down.mui-enter{transition-duration:.5s;transition-timing-function:linear;transform:scale(1.5);transition-property:transform,opacity;opacity:0}#ocvb-shortcode-container .scale-in-down.mui-enter.mui-enter-active{transform:scale(1);opacity:1}#ocvb-shortcode-container .scale-out-up.mui-leave{transition-duration:.5s;transition-timing-function:linear;transform:scale(1);transition-property:transform,opacity;opacity:1}#ocvb-shortcode-container .scale-out-up.mui-leave.mui-leave-active{transform:scale(1.5);opacity:0}#ocvb-shortcode-container .scale-out-down.mui-leave{transition-duration:.5s;transition-timing-function:linear;transform:scale(1);transition-property:transform,opacity;opacity:1}#ocvb-shortcode-container .scale-out-down.mui-leave.mui-leave-active{transform:scale(.5);opacity:0}#ocvb-shortcode-container .spin-in.mui-enter{transition-duration:.5s;transition-timing-function:linear;transform:rotate(-.75turn);transition-property:transform,opacity;opacity:0}#ocvb-shortcode-container .spin-in.mui-enter.mui-enter-active{transform:rotate(0);opacity:1}#ocvb-shortcode-container .spin-out.mui-leave{transition-duration:.5s;transition-timing-function:linear;transform:rotate(0);transition-property:transform,opacity;opacity:1}#ocvb-shortcode-container .spin-out.mui-leave.mui-leave-active{transform:rotate(.75turn);opacity:0}#ocvb-shortcode-container .spin-in-ccw.mui-enter{transition-duration:.5s;transition-timing-function:linear;transform:rotate(.75turn);transition-property:transform,opacity;opacity:0}#ocvb-shortcode-container .spin-in-ccw.mui-enter.mui-enter-active{transform:rotate(0);opacity:1}#ocvb-shortcode-container .spin-out-ccw.mui-leave{transition-duration:.5s;transition-timing-function:linear;transform:rotate(0);transition-property:transform,opacity;opacity:1}#ocvb-shortcode-container .spin-out-ccw.mui-leave.mui-leave-active{transform:rotate(-.75turn);opacity:0}#ocvb-shortcode-container .slow{transition-duration:.75s!important}#ocvb-shortcode-container .fast{transition-duration:.25s!important}#ocvb-shortcode-container .linear{transition-timing-function:linear!important}#ocvb-shortcode-container .ease{transition-timing-function:ease!important}#ocvb-shortcode-container .ease-in{transition-timing-function:ease-in!important}#ocvb-shortcode-container .ease-out{transition-timing-function:ease-out!important}#ocvb-shortcode-container .ease-in-out{transition-timing-function:ease-in-out!important}#ocvb-shortcode-container .bounce-in{transition-timing-function:cubic-bezier(.485,.155,.24,1.245)!important}#ocvb-shortcode-container .bounce-out{transition-timing-function:cubic-bezier(.485,.155,.515,.845)!important}#ocvb-shortcode-container .bounce-in-out{transition-timing-function:cubic-bezier(.76,-.245,.24,1.245)!important}#ocvb-shortcode-container .short-delay{transition-delay:.3s!important}#ocvb-shortcode-container .long-delay{transition-delay:.7s!important}#ocvb-shortcode-container .shake{animation-name:shake-7}@keyframes shake-7{0%,10%,20%,30%,40%,50%,60%,70%,80%,90%{transform:translateX(7%)}15%,25%,35%,45%,5%,55%,65%,75%,85%,95%{transform:translateX(-7%)}}#ocvb-shortcode-container .spin-cw{animation-name:spin-cw-1turn}@keyframes spin-cw-1turn{0%{transform:rotate(-1turn)}100%{transform:rotate(0)}}#ocvb-shortcode-container .spin-ccw{animation-name:spin-ccw-1turn}@keyframes spin-ccw-1turn{0%{transform:rotate(0)}100%{transform:rotate(-1turn)}}#ocvb-shortcode-container .wiggle{animation-name:wiggle-7deg}@keyframes wiggle-7deg{40%,50%,60%{transform:rotate(7deg)}35%,45%,55%,65%{transform:rotate(-7deg)}0%,100%,30%,70%{transform:rotate(0)}}#ocvb-shortcode-container .shake,#ocvb-shortcode-container .spin-ccw,#ocvb-shortcode-container .spin-cw,#ocvb-shortcode-container .wiggle{animation-duration:.5s}#ocvb-shortcode-container .infinite{animation-iteration-count:infinite}#ocvb-shortcode-container .slow{animation-duration:.75s!important}#ocvb-shortcode-container .fast{animation-duration:.25s!important}#ocvb-shortcode-container .linear{animation-timing-function:linear!important}#ocvb-shortcode-container .ease{animation-timing-function:ease!important}#ocvb-shortcode-container .ease-in{animation-timing-function:ease-in!important}#ocvb-shortcode-container .ease-out{animation-timing-function:ease-out!important}#ocvb-shortcode-container .ease-in-out{animation-timing-function:ease-in-out!important}#ocvb-shortcode-container .bounce-in{animation-timing-function:cubic-bezier(.485,.155,.24,1.245)!important}#ocvb-shortcode-container .bounce-out{animation-timing-function:cubic-bezier(.485,.155,.515,.845)!important}#ocvb-shortcode-container .bounce-in-out{animation-timing-function:cubic-bezier(.76,-.245,.24,1.245)!important}#ocvb-shortcode-container .short-delay{animation-delay:.3s!important}#ocvb-shortcode-container .long-delay{animation-delay:.7s!important}#ocvb-shortcode-container .ocvb-shortcode{height:500px;padding:30px 20px 10px}#ocvb-shortcode-container *,#ocvb-shortcode-container :after,#ocvb-shortcode-container :before{box-sizing:inherit;line-height:1.2em}#ocvb-shortcode-container .ocvb-shortcode-headline{font-size:14px;text-align:center;margin-bottom:0;font-weight:700;text-transform:uppercase}#ocvb-shortcode-container .ocvb-shortcode-country{font-size:24px;text-align:center;line-height:1.2em;overflow:hidden;text-overflow:ellipsis;white-space:nowrap}#ocvb-shortcode-container .ocvb-shortcode-stats{font-size:16px}#ocvb-shortcode-container .ocvb-shortcode-stats-label{font-weight:700;text-transform:uppercase}#ocvb-shortcode-container .ocvb-shortcode-stats-value{text-align:right}#ocvb-shortcode-container .ocvb-shortcode-credit{font-size:10px}#ocvb-shortcode-container .ocvb-shortcode-credit a{color:#fff}#ocvb-shortcode-container .ocvb-shortcode-last-run-date{font-size:14px} .popup-template .modal { opacity: 0; -webkit-transition: all 250ms ease; -o-transition: all 250ms ease; transition: all 250ms ease; } .popup-template .modal.is-open { opacity: 1; -webkit-transition: all 250ms ease; -o-transition: all 250ms ease; transition: all 250ms ease; } @charset "UTF-8"; /*! * Bootstrap Reboot v4.1.1 (https://getbootstrap.com/) * Copyright 2011-2018 The Bootstrap Authors * Copyright 2011-2018 Twitter, Inc. * Licensed under MIT (https://github.com/twbs/bootstrap/blob/master/LICENSE) * Forked from Normalize.css, licensed MIT (https://github.com/necolas/normalize.css/blob/master/LICENSE.md) */ *, *::before, *::after { -webkit-box-sizing: border-box; box-sizing: border-box; } html { font-family: sans-serif; line-height: 1.15; -webkit-text-size-adjust: 100%; -ms-text-size-adjust: 100%; -ms-overflow-style: scrollbar; -webkit-tap-highlight-color: rgba(0, 0, 0, 0); } @-ms-viewport { width: device-width; } article, aside, figcaption, figure, footer, header, hgroup, main, nav, section { display: block; } body { margin: 0; font-family: -apple-system, BlinkMacSystemFont, "Segoe UI", Roboto, "Helvetica Neue", Arial, sans-serif, "Apple Color Emoji", "Segoe UI Emoji", "Segoe UI Symbol"; font-size: 1rem; font-weight: 400; line-height: 1.5; color: #212529; text-align: left; background-color: #fff; } [tabindex="-1"]:focus { outline: 0 !important; } hr { -webkit-box-sizing: content-box; box-sizing: content-box; height: 0; overflow: visible; } h1, h2, h3, h4, h5, h6 { margin-top: 0; margin-bottom: 2rem; } p { margin-top: 0; margin-bottom: 1rem; } abbr[title], abbr[data-original-title] { text-decoration: underline; -webkit-text-decoration: underline dotted; text-decoration: underline dotted; cursor: help; border-bottom: 0; } address { margin-bottom: 1rem; font-style: normal; line-height: inherit; } ol, ul, dl { margin-top: 0; margin-bottom: 1rem; } ol ol, ul ul, ol ul, ul ol { margin-bottom: 0; } dt { font-weight: 700; } dd { margin-bottom: 0.5rem; margin-left: 0; } blockquote { margin: 0 0 1rem; } dfn { font-style: italic; } b, strong { font-weight: bolder; } small { font-size: 80%; } sub, sup { position: relative; font-size: 75%; line-height: 0; vertical-align: baseline; } sub { bottom: -0.25em; } sup { top: -0.5em; } a { color: #007bff; text-decoration: none; background-color: transparent; -webkit-text-decoration-skip: objects; } a:hover { color: #0056b3; text-decoration: underline; } a:not([href]):not([tabindex]) { color: inherit; text-decoration: none; } a:not([href]):not([tabindex]):hover, a:not([href]):not([tabindex]):focus { color: inherit; text-decoration: none; } a:not([href]):not([tabindex]):focus { outline: 0; } pre, code, kbd, samp { font-family: SFMono-Regular, Menlo, Monaco, Consolas, "Liberation Mono", "Courier New", monospace; font-size: 1em; } pre { margin-top: 0; margin-bottom: 1rem; overflow: auto; -ms-overflow-style: scrollbar; } figure { margin: 0 0 1rem; } img { vertical-align: middle; border-style: none; } svg:not(:root) { overflow: hidden; } table { border-collapse: collapse; } caption { padding-top: 0.75rem; padding-bottom: 0.75rem; color: #6c757d; text-align: left; caption-side: bottom; } th { text-align: inherit; } label { display: inline-block; margin-bottom: 0.5rem; } button { border-radius: 0; } button:focus { outline: 1px dotted; outline: 5px auto -webkit-focus-ring-color; } input, button, select, optgroup, textarea { margin: 0; font-family: inherit; font-size: inherit; line-height: inherit; } button, input { overflow: visible; } button, select { text-transform: none; } button, html [type=button], [type=reset], [type=submit] { -webkit-appearance: button; } button::-moz-focus-inner, [type=button]::-moz-focus-inner, [type=reset]::-moz-focus-inner, [type=submit]::-moz-focus-inner { padding: 0; border-style: none; } input[type=radio], input[type=checkbox] { -webkit-box-sizing: border-box; box-sizing: border-box; padding: 0; } input[type=date], input[type=time], input[type=datetime-local], input[type=month] { -webkit-appearance: listbox; } textarea { overflow: auto; resize: vertical; } fieldset { min-width: 0; padding: 0; margin: 0; border: 0; } legend { display: block; width: 100%; max-width: 100%; padding: 0; margin-bottom: 0.5rem; font-size: 1.5rem; line-height: inherit; color: inherit; white-space: normal; } progress { vertical-align: baseline; } [type=number]::-webkit-inner-spin-button, [type=number]::-webkit-outer-spin-button { height: auto; } [type=search] { outline-offset: -2px; -webkit-appearance: none; } [type=search]::-webkit-search-cancel-button, [type=search]::-webkit-search-decoration { -webkit-appearance: none; } ::-webkit-file-upload-button { font: inherit; -webkit-appearance: button; } output { display: inline-block; } summary { display: list-item; cursor: pointer; } template { display: none; } [hidden] { display: none !important; } /*! * Bootstrap v4.1.1 (https://getbootstrap.com/) * Copyright 2011-2018 The Bootstrap Authors * Copyright 2011-2018 Twitter, Inc. * Licensed under MIT (https://github.com/twbs/bootstrap/blob/master/LICENSE) */ :root { --blue: #007bff; --indigo: #6610f2; --purple: #6f42c1; --pink: #e83e8c; --red: #dc3545; --orange: #fd7e14; --yellow: #ffc107; --green: #28a745; --teal: #20c997; --cyan: #17a2b8; --white: #fff; --gray: #6c757d; --gray-dark: #343a40; --primary: #007bff; --secondary: #6c757d; --success: #28a745; --info: #17a2b8; --warning: #ffc107; --danger: #dc3545; --light: #f8f9fa; --dark: #343a40; --breakpoint-xs: 0; --breakpoint-sm: 576px; --breakpoint-md: 768px; --breakpoint-lg: 992px; --breakpoint-xl: 1200px; --font-family-sans-serif: -apple-system, BlinkMacSystemFont, "Segoe UI", Roboto, "Helvetica Neue", Arial, sans-serif, "Apple Color Emoji", "Segoe UI Emoji", "Segoe UI Symbol"; --font-family-monospace: SFMono-Regular, Menlo, Monaco, Consolas, "Liberation Mono", "Courier New", monospace; } *, *::before, *::after { -webkit-box-sizing: border-box; box-sizing: border-box; } html { font-family: sans-serif; line-height: 1.15; -webkit-text-size-adjust: 100%; -ms-text-size-adjust: 100%; -ms-overflow-style: scrollbar; -webkit-tap-highlight-color: rgba(0, 0, 0, 0); } @-ms-viewport { width: device-width; } article, aside, figcaption, figure, footer, header, hgroup, main, nav, section { display: block; } body { margin: 0; font-family: -apple-system, BlinkMacSystemFont, "Segoe UI", Roboto, "Helvetica Neue", Arial, sans-serif, "Apple Color Emoji", "Segoe UI Emoji", "Segoe UI Symbol"; font-size: 1rem; font-weight: 400; line-height: 1.5; color: #212529; text-align: left; background-color: #fff; } [tabindex="-1"]:focus { outline: 0 !important; } hr { -webkit-box-sizing: content-box; box-sizing: content-box; height: 0; overflow: visible; } h1, h2, h3, h4, h5, h6 { margin-top: 0; margin-bottom: 2rem; } p { margin-top: 0; margin-bottom: 1rem; } abbr[title], abbr[data-original-title] { text-decoration: underline; -webkit-text-decoration: underline dotted; text-decoration: underline dotted; cursor: help; border-bottom: 0; } address { margin-bottom: 1rem; font-style: normal; line-height: inherit; } ol, ul, dl { margin-top: 0; margin-bottom: 1rem; } ol ol, ul ul, ol ul, ul ol { margin-bottom: 0; } dt { font-weight: 700; } dd { margin-bottom: 0.5rem; margin-left: 0; } blockquote { margin: 0 0 1rem; } dfn { font-style: italic; } b, strong { font-weight: bolder; } small { font-size: 80%; } sub, sup { position: relative; font-size: 75%; line-height: 0; vertical-align: baseline; } sub { bottom: -0.25em; } sup { top: -0.5em; } a { color: #007bff; text-decoration: none; background-color: transparent; -webkit-text-decoration-skip: objects; } a:hover { color: #0056b3; text-decoration: underline; } a:not([href]):not([tabindex]) { color: inherit; text-decoration: none; } a:not([href]):not([tabindex]):hover, a:not([href]):not([tabindex]):focus { color: inherit; text-decoration: none; } a:not([href]):not([tabindex]):focus { outline: 0; } pre, code, kbd, samp { font-family: SFMono-Regular, Menlo, Monaco, Consolas, "Liberation Mono", "Courier New", monospace; font-size: 1em; } pre { margin-top: 0; margin-bottom: 1rem; overflow: auto; -ms-overflow-style: scrollbar; } figure { margin: 0 0 1rem; } img { vertical-align: middle; border-style: none; } svg:not(:root) { overflow: hidden; } table { border-collapse: collapse; } caption { padding-top: 0.75rem; padding-bottom: 0.75rem; color: #6c757d; text-align: left; caption-side: bottom; } th { text-align: inherit; } label { display: inline-block; margin-bottom: 0.5rem; } button { border-radius: 0; } button:focus { outline: 1px dotted; outline: 5px auto -webkit-focus-ring-color; } input, button, select, optgroup, textarea { margin: 0; font-family: inherit; font-size: inherit; line-height: inherit; } button, input { overflow: visible; } button, select { text-transform: none; } button, html [type=button], [type=reset], [type=submit] { -webkit-appearance: button; } button::-moz-focus-inner, [type=button]::-moz-focus-inner, [type=reset]::-moz-focus-inner, [type=submit]::-moz-focus-inner { padding: 0; border-style: none; } input[type=radio], input[type=checkbox] { -webkit-box-sizing: border-box; box-sizing: border-box; padding: 0; } input[type=date], input[type=time], input[type=datetime-local], input[type=month] { -webkit-appearance: listbox; } textarea { overflow: auto; resize: vertical; } fieldset { min-width: 0; padding: 0; margin: 0; border: 0; } legend { display: block; width: 100%; max-width: 100%; padding: 0; margin-bottom: 0.5rem; font-size: 1.5rem; line-height: inherit; color: inherit; white-space: normal; } progress { vertical-align: baseline; } [type=number]::-webkit-inner-spin-button, [type=number]::-webkit-outer-spin-button { height: auto; } [type=search] { outline-offset: -2px; -webkit-appearance: none; } [type=search]::-webkit-search-cancel-button, [type=search]::-webkit-search-decoration { -webkit-appearance: none; } ::-webkit-file-upload-button { font: inherit; -webkit-appearance: button; } output { display: inline-block; } summary { display: list-item; cursor: pointer; } template { display: none; } [hidden] { display: none !important; } h1, h2, h3, h4, h5, h6, .h1, .h2, .h3, .h4, .h5, .h6 { margin-bottom: 2rem; font-family: inherit; font-weight: 500; line-height: 1.2; color: inherit; } h1, .h1 { font-size: 2.5rem; } h2, .h2 { font-size: 2rem; } h3, .h3 { font-size: 1.75rem; } h4, .h4 { font-size: 1.5rem; } h5, .h5 { font-size: 1.25rem; } h6, .h6 { font-size: 1rem; } .lead { font-size: 1.25rem; font-weight: 300; } .display-1 { font-size: 6rem; font-weight: 300; line-height: 1.2; } .display-2 { font-size: 5.5rem; font-weight: 300; line-height: 1.2; } .display-3 { font-size: 4.5rem; font-weight: 300; line-height: 1.2; } .display-4 { font-size: 3.5rem; font-weight: 300; line-height: 1.2; } hr { margin-top: 4rem; margin-bottom: 4rem; border: 0; border-top: 1px solid rgba(0, 0, 0, 0.1); } small, .small { font-size: 80%; font-weight: 400; } mark, .mark { padding: 0.2em; background-color: #fcf8e3; } .list-unstyled { padding-left: 0; list-style: none; } .list-inline { padding-left: 0; list-style: none; } .list-inline-item { display: inline-block; } .list-inline-item:not(:last-child) { margin-right: 0.5rem; } .initialism { font-size: 90%; text-transform: uppercase; } .blockquote { margin-bottom: 4rem; font-size: 1.25rem; } .blockquote-footer { display: block; font-size: 80%; color: #6c757d; } .blockquote-footer::before { content: "— "; } .img-fluid { max-width: 100%; height: auto; } .img-thumbnail { padding: 0.25rem; background-color: #fff; border: 1px solid #dee2e6; border-radius: 0.25rem; max-width: 100%; height: auto; } .figure { display: inline-block; } .figure-img { margin-bottom: 2rem; line-height: 1; } .figure-caption { font-size: 90%; color: #6c757d; } code { font-size: 87.5%; color: #e83e8c; word-break: break-word; } a > code { color: inherit; } kbd { padding: 0.2rem 0.4rem; font-size: 87.5%; color: #fff; background-color: #212529; border-radius: 0.2rem; } kbd kbd { padding: 0; font-size: 100%; font-weight: 700; } pre { display: block; font-size: 87.5%; color: #212529; } pre code { font-size: inherit; color: inherit; word-break: normal; } .pre-scrollable { max-height: 340px; overflow-y: scroll; } .container { width: 100%; padding-right: 15px; padding-left: 15px; margin-right: auto; margin-left: auto; } @media (min-width: 576px) { .container { max-width: 540px; } } @media (min-width: 768px) { .container { max-width: 720px; } } @media (min-width: 992px) { .container { max-width: 960px; } } @media (min-width: 1200px) { .container { max-width: 1140px; } } .container-fluid { width: 100%; padding-right: 15px; padding-left: 15px; margin-right: auto; margin-left: auto; } .row { display: -webkit-box; display: -ms-flexbox; display: flex; -ms-flex-wrap: wrap; flex-wrap: wrap; margin-right: -15px; margin-left: -15px; } .no-gutters { margin-right: 0; margin-left: 0; } .no-gutters > .col, .no-gutters > [class*=col-] { padding-right: 0; padding-left: 0; } .col-xl, .col-xl-auto, .col-xl-12, .col-xl-11, .col-xl-10, .col-xl-9, .col-xl-8, .col-xl-7, .col-xl-6, .col-xl-5, .col-xl-4, .col-xl-3, .col-xl-2, .col-xl-1, .col-lg, .col-lg-auto, .col-lg-12, .col-lg-11, .col-lg-10, .col-lg-9, .col-lg-8, .col-lg-7, .col-lg-6, .col-lg-5, .col-lg-4, .col-lg-3, .col-lg-2, .col-lg-1, .col-md, .col-md-auto, .col-md-12, .col-md-11, .col-md-10, .col-md-9, .col-md-8, .col-md-7, .col-md-6, .col-md-5, .col-md-4, .col-md-3, .col-md-2, .col-md-1, .col-sm, .col-sm-auto, .col-sm-12, .col-sm-11, .col-sm-10, .col-sm-9, .col-sm-8, .col-sm-7, .col-sm-6, .col-sm-5, .col-sm-4, .col-sm-3, .col-sm-2, .col-sm-1, .col, .col-auto, .col-12, .col-11, .col-10, .col-9, .col-8, .col-7, .col-6, .col-5, .col-4, .col-3, .col-2, .col-1 { position: relative; width: 100%; min-height: 1px; padding-right: 15px; padding-left: 15px; } .col { -ms-flex-preferred-size: 0; flex-basis: 0; -webkit-box-flex: 1; -ms-flex-positive: 1; flex-grow: 1; max-width: 100%; } .col-auto { -webkit-box-flex: 0; -ms-flex: 0 0 auto; flex: 0 0 auto; width: auto; max-width: none; } .col-1 { -webkit-box-flex: 0; -ms-flex: 0 0 8.3333333333%; flex: 0 0 8.3333333333%; max-width: 8.3333333333%; } .col-2 { -webkit-box-flex: 0; -ms-flex: 0 0 16.6666666667%; flex: 0 0 16.6666666667%; max-width: 16.6666666667%; } .col-3 { -webkit-box-flex: 0; -ms-flex: 0 0 25%; flex: 0 0 25%; max-width: 25%; } .col-4 { -webkit-box-flex: 0; -ms-flex: 0 0 33.3333333333%; flex: 0 0 33.3333333333%; max-width: 33.3333333333%; } .col-5 { -webkit-box-flex: 0; -ms-flex: 0 0 41.6666666667%; flex: 0 0 41.6666666667%; max-width: 41.6666666667%; } .col-6 { -webkit-box-flex: 0; -ms-flex: 0 0 50%; flex: 0 0 50%; max-width: 50%; } .col-7 { -webkit-box-flex: 0; -ms-flex: 0 0 58.3333333333%; flex: 0 0 58.3333333333%; max-width: 58.3333333333%; } .col-8 { -webkit-box-flex: 0; -ms-flex: 0 0 66.6666666667%; flex: 0 0 66.6666666667%; max-width: 66.6666666667%; } .col-9 { -webkit-box-flex: 0; -ms-flex: 0 0 75%; flex: 0 0 75%; max-width: 75%; } .col-10 { -webkit-box-flex: 0; -ms-flex: 0 0 83.3333333333%; flex: 0 0 83.3333333333%; max-width: 83.3333333333%; } .col-11 { -webkit-box-flex: 0; -ms-flex: 0 0 91.6666666667%; flex: 0 0 91.6666666667%; max-width: 91.6666666667%; } .col-12 { -webkit-box-flex: 0; -ms-flex: 0 0 100%; flex: 0 0 100%; max-width: 100%; } .order-first { -webkit-box-ordinal-group: 0; -ms-flex-order: -1; order: -1; } .order-last { -webkit-box-ordinal-group: 14; -ms-flex-order: 13; order: 13; } .order-0 { -webkit-box-ordinal-group: 1; -ms-flex-order: 0; order: 0; } .order-1 { -webkit-box-ordinal-group: 2; -ms-flex-order: 1; order: 1; } .order-2 { -webkit-box-ordinal-group: 3; -ms-flex-order: 2; order: 2; } .order-3 { -webkit-box-ordinal-group: 4; -ms-flex-order: 3; order: 3; } .order-4 { -webkit-box-ordinal-group: 5; -ms-flex-order: 4; order: 4; } .order-5 { -webkit-box-ordinal-group: 6; -ms-flex-order: 5; order: 5; } .order-6 { -webkit-box-ordinal-group: 7; -ms-flex-order: 6; order: 6; } .order-7 { -webkit-box-ordinal-group: 8; -ms-flex-order: 7; order: 7; } .order-8 { -webkit-box-ordinal-group: 9; -ms-flex-order: 8; order: 8; } .order-9 { -webkit-box-ordinal-group: 10; -ms-flex-order: 9; order: 9; } .order-10 { -webkit-box-ordinal-group: 11; -ms-flex-order: 10; order: 10; } .order-11 { -webkit-box-ordinal-group: 12; -ms-flex-order: 11; order: 11; } .order-12 { -webkit-box-ordinal-group: 13; -ms-flex-order: 12; order: 12; } .offset-1 { margin-left: 8.3333333333%; } .offset-2 { margin-left: 16.6666666667%; } .offset-3 { margin-left: 25%; } .offset-4 { margin-left: 33.3333333333%; } .offset-5 { margin-left: 41.6666666667%; } .offset-6 { margin-left: 50%; } .offset-7 { margin-left: 58.3333333333%; } .offset-8 { margin-left: 66.6666666667%; } .offset-9 { margin-left: 75%; } .offset-10 { margin-left: 83.3333333333%; } .offset-11 { margin-left: 91.6666666667%; } @media (min-width: 576px) { .col-sm { -ms-flex-preferred-size: 0; flex-basis: 0; -webkit-box-flex: 1; -ms-flex-positive: 1; flex-grow: 1; max-width: 100%; } .col-sm-auto { -webkit-box-flex: 0; -ms-flex: 0 0 auto; flex: 0 0 auto; width: auto; max-width: none; } .col-sm-1 { -webkit-box-flex: 0; -ms-flex: 0 0 8.3333333333%; flex: 0 0 8.3333333333%; max-width: 8.3333333333%; } .col-sm-2 { -webkit-box-flex: 0; -ms-flex: 0 0 16.6666666667%; flex: 0 0 16.6666666667%; max-width: 16.6666666667%; } .col-sm-3 { -webkit-box-flex: 0; -ms-flex: 0 0 25%; flex: 0 0 25%; max-width: 25%; } .col-sm-4 { -webkit-box-flex: 0; -ms-flex: 0 0 33.3333333333%; flex: 0 0 33.3333333333%; max-width: 33.3333333333%; } .col-sm-5 { -webkit-box-flex: 0; -ms-flex: 0 0 41.6666666667%; flex: 0 0 41.6666666667%; max-width: 41.6666666667%; } .col-sm-6 { -webkit-box-flex: 0; -ms-flex: 0 0 50%; flex: 0 0 50%; max-width: 50%; } .col-sm-7 { -webkit-box-flex: 0; -ms-flex: 0 0 58.3333333333%; flex: 0 0 58.3333333333%; max-width: 58.3333333333%; } .col-sm-8 { -webkit-box-flex: 0; -ms-flex: 0 0 66.6666666667%; flex: 0 0 66.6666666667%; max-width: 66.6666666667%; } .col-sm-9 { -webkit-box-flex: 0; -ms-flex: 0 0 75%; flex: 0 0 75%; max-width: 75%; } .col-sm-10 { -webkit-box-flex: 0; -ms-flex: 0 0 83.3333333333%; flex: 0 0 83.3333333333%; max-width: 83.3333333333%; } .col-sm-11 { -webkit-box-flex: 0; -ms-flex: 0 0 91.6666666667%; flex: 0 0 91.6666666667%; max-width: 91.6666666667%; } .col-sm-12 { -webkit-box-flex: 0; -ms-flex: 0 0 100%; flex: 0 0 100%; max-width: 100%; } .order-sm-first { -webkit-box-ordinal-group: 0; -ms-flex-order: -1; order: -1; } .order-sm-last { -webkit-box-ordinal-group: 14; -ms-flex-order: 13; order: 13; } .order-sm-0 { -webkit-box-ordinal-group: 1; -ms-flex-order: 0; order: 0; } .order-sm-1 { -webkit-box-ordinal-group: 2; -ms-flex-order: 1; order: 1; } .order-sm-2 { -webkit-box-ordinal-group: 3; -ms-flex-order: 2; order: 2; } .order-sm-3 { -webkit-box-ordinal-group: 4; -ms-flex-order: 3; order: 3; } .order-sm-4 { -webkit-box-ordinal-group: 5; -ms-flex-order: 4; order: 4; } .order-sm-5 { -webkit-box-ordinal-group: 6; -ms-flex-order: 5; order: 5; } .order-sm-6 { -webkit-box-ordinal-group: 7; -ms-flex-order: 6; order: 6; } .order-sm-7 { -webkit-box-ordinal-group: 8; -ms-flex-order: 7; order: 7; } .order-sm-8 { -webkit-box-ordinal-group: 9; -ms-flex-order: 8; order: 8; } .order-sm-9 { -webkit-box-ordinal-group: 10; -ms-flex-order: 9; order: 9; } .order-sm-10 { -webkit-box-ordinal-group: 11; -ms-flex-order: 10; order: 10; } .order-sm-11 { -webkit-box-ordinal-group: 12; -ms-flex-order: 11; order: 11; } .order-sm-12 { -webkit-box-ordinal-group: 13; -ms-flex-order: 12; order: 12; } .offset-sm-0 { margin-left: 0; } .offset-sm-1 { margin-left: 8.3333333333%; } .offset-sm-2 { margin-left: 16.6666666667%; } .offset-sm-3 { margin-left: 25%; } .offset-sm-4 { margin-left: 33.3333333333%; } .offset-sm-5 { margin-left: 41.6666666667%; } .offset-sm-6 { margin-left: 50%; } .offset-sm-7 { margin-left: 58.3333333333%; } .offset-sm-8 { margin-left: 66.6666666667%; } .offset-sm-9 { margin-left: 75%; } .offset-sm-10 { margin-left: 83.3333333333%; } .offset-sm-11 { margin-left: 91.6666666667%; } } @media (min-width: 768px) { .col-md { -ms-flex-preferred-size: 0; flex-basis: 0; -webkit-box-flex: 1; -ms-flex-positive: 1; flex-grow: 1; max-width: 100%; } .col-md-auto { -webkit-box-flex: 0; -ms-flex: 0 0 auto; flex: 0 0 auto; width: auto; max-width: none; } .col-md-1 { -webkit-box-flex: 0; -ms-flex: 0 0 8.3333333333%; flex: 0 0 8.3333333333%; max-width: 8.3333333333%; } .col-md-2 { -webkit-box-flex: 0; -ms-flex: 0 0 16.6666666667%; flex: 0 0 16.6666666667%; max-width: 16.6666666667%; } .col-md-3 { -webkit-box-flex: 0; -ms-flex: 0 0 25%; flex: 0 0 25%; max-width: 25%; } .col-md-4 { -webkit-box-flex: 0; -ms-flex: 0 0 33.3333333333%; flex: 0 0 33.3333333333%; max-width: 33.3333333333%; } .col-md-5 { -webkit-box-flex: 0; -ms-flex: 0 0 41.6666666667%; flex: 0 0 41.6666666667%; max-width: 41.6666666667%; } .col-md-6 { -webkit-box-flex: 0; -ms-flex: 0 0 50%; flex: 0 0 50%; max-width: 50%; } .col-md-7 { -webkit-box-flex: 0; -ms-flex: 0 0 58.3333333333%; flex: 0 0 58.3333333333%; max-width: 58.3333333333%; } .col-md-8 { -webkit-box-flex: 0; -ms-flex: 0 0 66.6666666667%; flex: 0 0 66.6666666667%; max-width: 66.6666666667%; } .col-md-9 { -webkit-box-flex: 0; -ms-flex: 0 0 75%; flex: 0 0 75%; max-width: 75%; } .col-md-10 { -webkit-box-flex: 0; -ms-flex: 0 0 83.3333333333%; flex: 0 0 83.3333333333%; max-width: 83.3333333333%; } .col-md-11 { -webkit-box-flex: 0; -ms-flex: 0 0 91.6666666667%; flex: 0 0 91.6666666667%; max-width: 91.6666666667%; } .col-md-12 { -webkit-box-flex: 0; -ms-flex: 0 0 100%; flex: 0 0 100%; max-width: 100%; } .order-md-first { -webkit-box-ordinal-group: 0; -ms-flex-order: -1; order: -1; } .order-md-last { -webkit-box-ordinal-group: 14; -ms-flex-order: 13; order: 13; } .order-md-0 { -webkit-box-ordinal-group: 1; -ms-flex-order: 0; order: 0; } .order-md-1 { -webkit-box-ordinal-group: 2; -ms-flex-order: 1; order: 1; } .order-md-2 { -webkit-box-ordinal-group: 3; -ms-flex-order: 2; order: 2; } .order-md-3 { -webkit-box-ordinal-group: 4; -ms-flex-order: 3; order: 3; } .order-md-4 { -webkit-box-ordinal-group: 5; -ms-flex-order: 4; order: 4; } .order-md-5 { -webkit-box-ordinal-group: 6; -ms-flex-order: 5; order: 5; } .order-md-6 { -webkit-box-ordinal-group: 7; -ms-flex-order: 6; order: 6; } .order-md-7 { -webkit-box-ordinal-group: 8; -ms-flex-order: 7; order: 7; } .order-md-8 { -webkit-box-ordinal-group: 9; -ms-flex-order: 8; order: 8; } .order-md-9 { -webkit-box-ordinal-group: 10; -ms-flex-order: 9; order: 9; } .order-md-10 { -webkit-box-ordinal-group: 11; -ms-flex-order: 10; order: 10; } .order-md-11 { -webkit-box-ordinal-group: 12; -ms-flex-order: 11; order: 11; } .order-md-12 { -webkit-box-ordinal-group: 13; -ms-flex-order: 12; order: 12; } .offset-md-0 { margin-left: 0; } .offset-md-1 { margin-left: 8.3333333333%; } .offset-md-2 { margin-left: 16.6666666667%; } .offset-md-3 { margin-left: 25%; } .offset-md-4 { margin-left: 33.3333333333%; } .offset-md-5 { margin-left: 41.6666666667%; } .offset-md-6 { margin-left: 50%; } .offset-md-7 { margin-left: 58.3333333333%; } .offset-md-8 { margin-left: 66.6666666667%; } .offset-md-9 { margin-left: 75%; } .offset-md-10 { margin-left: 83.3333333333%; } .offset-md-11 { margin-left: 91.6666666667%; } } @media (min-width: 992px) { .col-lg { -ms-flex-preferred-size: 0; flex-basis: 0; -webkit-box-flex: 1; -ms-flex-positive: 1; flex-grow: 1; max-width: 100%; } .col-lg-auto { -webkit-box-flex: 0; -ms-flex: 0 0 auto; flex: 0 0 auto; width: auto; max-width: none; } .col-lg-1 { -webkit-box-flex: 0; -ms-flex: 0 0 8.3333333333%; flex: 0 0 8.3333333333%; max-width: 8.3333333333%; } .col-lg-2 { -webkit-box-flex: 0; -ms-flex: 0 0 16.6666666667%; flex: 0 0 16.6666666667%; max-width: 16.6666666667%; } .col-lg-3 { -webkit-box-flex: 0; -ms-flex: 0 0 25%; flex: 0 0 25%; max-width: 25%; } .col-lg-4 { -webkit-box-flex: 0; -ms-flex: 0 0 33.3333333333%; flex: 0 0 33.3333333333%; max-width: 33.3333333333%; } .col-lg-5 { -webkit-box-flex: 0; -ms-flex: 0 0 41.6666666667%; flex: 0 0 41.6666666667%; max-width: 41.6666666667%; } .col-lg-6 { -webkit-box-flex: 0; -ms-flex: 0 0 50%; flex: 0 0 50%; max-width: 50%; } .col-lg-7 { -webkit-box-flex: 0; -ms-flex: 0 0 58.3333333333%; flex: 0 0 58.3333333333%; max-width: 58.3333333333%; } .col-lg-8 { -webkit-box-flex: 0; -ms-flex: 0 0 66.6666666667%; flex: 0 0 66.6666666667%; max-width: 66.6666666667%; } .col-lg-9 { -webkit-box-flex: 0; -ms-flex: 0 0 75%; flex: 0 0 75%; max-width: 75%; } .col-lg-10 { -webkit-box-flex: 0; -ms-flex: 0 0 83.3333333333%; flex: 0 0 83.3333333333%; max-width: 83.3333333333%; } .col-lg-11 { -webkit-box-flex: 0; -ms-flex: 0 0 91.6666666667%; flex: 0 0 91.6666666667%; max-width: 91.6666666667%; } .col-lg-12 { -webkit-box-flex: 0; -ms-flex: 0 0 100%; flex: 0 0 100%; max-width: 100%; } .order-lg-first { -webkit-box-ordinal-group: 0; -ms-flex-order: -1; order: -1; } .order-lg-last { -webkit-box-ordinal-group: 14; -ms-flex-order: 13; order: 13; } .order-lg-0 { -webkit-box-ordinal-group: 1; -ms-flex-order: 0; order: 0; } .order-lg-1 { -webkit-box-ordinal-group: 2; -ms-flex-order: 1; order: 1; } .order-lg-2 { -webkit-box-ordinal-group: 3; -ms-flex-order: 2; order: 2; } .order-lg-3 { -webkit-box-ordinal-group: 4; -ms-flex-order: 3; order: 3; } .order-lg-4 { -webkit-box-ordinal-group: 5; -ms-flex-order: 4; order: 4; } .order-lg-5 { -webkit-box-ordinal-group: 6; -ms-flex-order: 5; order: 5; } .order-lg-6 { -webkit-box-ordinal-group: 7; -ms-flex-order: 6; order: 6; } .order-lg-7 { -webkit-box-ordinal-group: 8; -ms-flex-order: 7; order: 7; } .order-lg-8 { -webkit-box-ordinal-group: 9; -ms-flex-order: 8; order: 8; } .order-lg-9 { -webkit-box-ordinal-group: 10; -ms-flex-order: 9; order: 9; } .order-lg-10 { -webkit-box-ordinal-group: 11; -ms-flex-order: 10; order: 10; } .order-lg-11 { -webkit-box-ordinal-group: 12; -ms-flex-order: 11; order: 11; } .order-lg-12 { -webkit-box-ordinal-group: 13; -ms-flex-order: 12; order: 12; } .offset-lg-0 { margin-left: 0; } .offset-lg-1 { margin-left: 8.3333333333%; } .offset-lg-2 { margin-left: 16.6666666667%; } .offset-lg-3 { margin-left: 25%; } .offset-lg-4 { margin-left: 33.3333333333%; } .offset-lg-5 { margin-left: 41.6666666667%; } .offset-lg-6 { margin-left: 50%; } .offset-lg-7 { margin-left: 58.3333333333%; } .offset-lg-8 { margin-left: 66.6666666667%; } .offset-lg-9 { margin-left: 75%; } .offset-lg-10 { margin-left: 83.3333333333%; } .offset-lg-11 { margin-left: 91.6666666667%; } } @media (min-width: 1200px) { .col-xl { -ms-flex-preferred-size: 0; flex-basis: 0; -webkit-box-flex: 1; -ms-flex-positive: 1; flex-grow: 1; max-width: 100%; } .col-xl-auto { -webkit-box-flex: 0; -ms-flex: 0 0 auto; flex: 0 0 auto; width: auto; max-width: none; } .col-xl-1 { -webkit-box-flex: 0; -ms-flex: 0 0 8.3333333333%; flex: 0 0 8.3333333333%; max-width: 8.3333333333%; } .col-xl-2 { -webkit-box-flex: 0; -ms-flex: 0 0 16.6666666667%; flex: 0 0 16.6666666667%; max-width: 16.6666666667%; } .col-xl-3 { -webkit-box-flex: 0; -ms-flex: 0 0 25%; flex: 0 0 25%; max-width: 25%; } .col-xl-4 { -webkit-box-flex: 0; -ms-flex: 0 0 33.3333333333%; flex: 0 0 33.3333333333%; max-width: 33.3333333333%; } .col-xl-5 { -webkit-box-flex: 0; -ms-flex: 0 0 41.6666666667%; flex: 0 0 41.6666666667%; max-width: 41.6666666667%; } .col-xl-6 { -webkit-box-flex: 0; -ms-flex: 0 0 50%; flex: 0 0 50%; max-width: 50%; } .col-xl-7 { -webkit-box-flex: 0; -ms-flex: 0 0 58.3333333333%; flex: 0 0 58.3333333333%; max-width: 58.3333333333%; } .col-xl-8 { -webkit-box-flex: 0; -ms-flex: 0 0 66.6666666667%; flex: 0 0 66.6666666667%; max-width: 66.6666666667%; } .col-xl-9 { -webkit-box-flex: 0; -ms-flex: 0 0 75%; flex: 0 0 75%; max-width: 75%; } .col-xl-10 { -webkit-box-flex: 0; -ms-flex: 0 0 83.3333333333%; flex: 0 0 83.3333333333%; max-width: 83.3333333333%; } .col-xl-11 { -webkit-box-flex: 0; -ms-flex: 0 0 91.6666666667%; flex: 0 0 91.6666666667%; max-width: 91.6666666667%; } .col-xl-12 { -webkit-box-flex: 0; -ms-flex: 0 0 100%; flex: 0 0 100%; max-width: 100%; } .order-xl-first { -webkit-box-ordinal-group: 0; -ms-flex-order: -1; order: -1; } .order-xl-last { -webkit-box-ordinal-group: 14; -ms-flex-order: 13; order: 13; } .order-xl-0 { -webkit-box-ordinal-group: 1; -ms-flex-order: 0; order: 0; } .order-xl-1 { -webkit-box-ordinal-group: 2; -ms-flex-order: 1; order: 1; } .order-xl-2 { -webkit-box-ordinal-group: 3; -ms-flex-order: 2; order: 2; } .order-xl-3 { -webkit-box-ordinal-group: 4; -ms-flex-order: 3; order: 3; } .order-xl-4 { -webkit-box-ordinal-group: 5; -ms-flex-order: 4; order: 4; } .order-xl-5 { -webkit-box-ordinal-group: 6; -ms-flex-order: 5; order: 5; } .order-xl-6 { -webkit-box-ordinal-group: 7; -ms-flex-order: 6; order: 6; } .order-xl-7 { -webkit-box-ordinal-group: 8; -ms-flex-order: 7; order: 7; } .order-xl-8 { -webkit-box-ordinal-group: 9; -ms-flex-order: 8; order: 8; } .order-xl-9 { -webkit-box-ordinal-group: 10; -ms-flex-order: 9; order: 9; } .order-xl-10 { -webkit-box-ordinal-group: 11; -ms-flex-order: 10; order: 10; } .order-xl-11 { -webkit-box-ordinal-group: 12; -ms-flex-order: 11; order: 11; } .order-xl-12 { -webkit-box-ordinal-group: 13; -ms-flex-order: 12; order: 12; } .offset-xl-0 { margin-left: 0; } .offset-xl-1 { margin-left: 8.3333333333%; } .offset-xl-2 { margin-left: 16.6666666667%; } .offset-xl-3 { margin-left: 25%; } .offset-xl-4 { margin-left: 33.3333333333%; } .offset-xl-5 { margin-left: 41.6666666667%; } .offset-xl-6 { margin-left: 50%; } .offset-xl-7 { margin-left: 58.3333333333%; } .offset-xl-8 { margin-left: 66.6666666667%; } .offset-xl-9 { margin-left: 75%; } .offset-xl-10 { margin-left: 83.3333333333%; } .offset-xl-11 { margin-left: 91.6666666667%; } } .table { width: 100%; max-width: 100%; margin-bottom: 4rem; background-color: transparent; } .table th, .table td { padding: 0.75rem; vertical-align: top; border-top: 1px solid #dee2e6; } .table thead th { vertical-align: bottom; border-bottom: 2px solid #dee2e6; } .table tbody + tbody { border-top: 2px solid #dee2e6; } .table .table { background-color: #fff; } .table-sm th, .table-sm td { padding: 0.3rem; } .table-bordered { border: 1px solid #dee2e6; } .table-bordered th, .table-bordered td { border: 1px solid #dee2e6; } .table-bordered thead th, .table-bordered thead td { border-bottom-width: 2px; } .table-borderless th, .table-borderless td, .table-borderless thead th, .table-borderless tbody + tbody { border: 0; } .table-striped tbody tr:nth-of-type(odd) { background-color: rgba(0, 0, 0, 0.05); } .table-hover tbody tr:hover { background-color: rgba(0, 0, 0, 0.075); } .table-primary, .table-primary > th, .table-primary > td { background-color: #b8daff; } .table-hover .table-primary:hover { background-color: #9fcdff; } .table-hover .table-primary:hover > td, .table-hover .table-primary:hover > th { background-color: #9fcdff; } .table-secondary, .table-secondary > th, .table-secondary > td { background-color: #d6d8db; } .table-hover .table-secondary:hover { background-color: #c8cbcf; } .table-hover .table-secondary:hover > td, .table-hover .table-secondary:hover > th { background-color: #c8cbcf; } .table-success, .table-success > th, .table-success > td { background-color: #c3e6cb; } .table-hover .table-success:hover { background-color: #b1dfbb; } .table-hover .table-success:hover > td, .table-hover .table-success:hover > th { background-color: #b1dfbb; } .table-info, .table-info > th, .table-info > td { background-color: #bee5eb; } .table-hover .table-info:hover { background-color: #abdde5; } .table-hover .table-info:hover > td, .table-hover .table-info:hover > th { background-color: #abdde5; } .table-warning, .table-warning > th, .table-warning > td { background-color: #ffeeba; } .table-hover .table-warning:hover { background-color: #ffe8a1; } .table-hover .table-warning:hover > td, .table-hover .table-warning:hover > th { background-color: #ffe8a1; } .table-danger, .table-danger > th, .table-danger > td { background-color: #f5c6cb; } .table-hover .table-danger:hover { background-color: #f1b0b7; } .table-hover .table-danger:hover > td, .table-hover .table-danger:hover > th { background-color: #f1b0b7; } .table-light, .table-light > th, .table-light > td { background-color: #fdfdfe; } .table-hover .table-light:hover { background-color: #ececf6; } .table-hover .table-light:hover > td, .table-hover .table-light:hover > th { background-color: #ececf6; } .table-dark, .table-dark > th, .table-dark > td { background-color: #c6c8ca; } .table-hover .table-dark:hover { background-color: #b9bbbe; } .table-hover .table-dark:hover > td, .table-hover .table-dark:hover > th { background-color: #b9bbbe; } .table-active, .table-active > th, .table-active > td { background-color: rgba(0, 0, 0, 0.075); } .table-hover .table-active:hover { background-color: rgba(0, 0, 0, 0.075); } .table-hover .table-active:hover > td, .table-hover .table-active:hover > th { background-color: rgba(0, 0, 0, 0.075); } .table .thead-dark th { color: #fff; background-color: #212529; border-color: #32383e; } .table .thead-light th { color: #495057; background-color: #e9ecef; border-color: #dee2e6; } .table-dark { color: #fff; background-color: #212529; } .table-dark th, .table-dark td, .table-dark thead th { border-color: #32383e; } .table-dark.table-bordered { border: 0; } .table-dark.table-striped tbody tr:nth-of-type(odd) { background-color: rgba(255, 255, 255, 0.05); } .table-dark.table-hover tbody tr:hover { background-color: rgba(255, 255, 255, 0.075); } @media (max-width: 575.98px) { .table-responsive-sm { display: block; width: 100%; overflow-x: auto; -webkit-overflow-scrolling: touch; -ms-overflow-style: -ms-autohiding-scrollbar; } .table-responsive-sm > .table-bordered { border: 0; } } @media (max-width: 767.98px) { .table-responsive-md { display: block; width: 100%; overflow-x: auto; -webkit-overflow-scrolling: touch; -ms-overflow-style: -ms-autohiding-scrollbar; } .table-responsive-md > .table-bordered { border: 0; } } @media (max-width: 991.98px) { .table-responsive-lg { display: block; width: 100%; overflow-x: auto; -webkit-overflow-scrolling: touch; -ms-overflow-style: -ms-autohiding-scrollbar; } .table-responsive-lg > .table-bordered { border: 0; } } @media (max-width: 1199.98px) { .table-responsive-xl { display: block; width: 100%; overflow-x: auto; -webkit-overflow-scrolling: touch; -ms-overflow-style: -ms-autohiding-scrollbar; } .table-responsive-xl > .table-bordered { border: 0; } } .table-responsive { display: block; width: 100%; overflow-x: auto; -webkit-overflow-scrolling: touch; -ms-overflow-style: -ms-autohiding-scrollbar; } .table-responsive > .table-bordered { border: 0; } .form-control { display: block; width: 100%; padding: 0.375rem 0.75rem; font-size: 1rem; line-height: 1.5; color: #495057; background-color: #fff; background-clip: padding-box; border: 1px solid #ced4da; border-radius: 0.25rem; -webkit-transition: border-color 0.15s ease-in-out, -webkit-box-shadow 0.15s ease-in-out; transition: border-color 0.15s ease-in-out, -webkit-box-shadow 0.15s ease-in-out; -o-transition: border-color 0.15s ease-in-out, box-shadow 0.15s ease-in-out; transition: border-color 0.15s ease-in-out, box-shadow 0.15s ease-in-out; transition: border-color 0.15s ease-in-out, box-shadow 0.15s ease-in-out, -webkit-box-shadow 0.15s ease-in-out; } @media screen and (prefers-reduced-motion: reduce) { .form-control { -webkit-transition: none; -o-transition: none; transition: none; } } .form-control::-ms-expand { background-color: transparent; border: 0; } .form-control:focus { color: #495057; background-color: #fff; border-color: #80bdff; outline: 0; -webkit-box-shadow: 0 0 0 0.2rem rgba(0, 123, 255, 0.25); box-shadow: 0 0 0 0.2rem rgba(0, 123, 255, 0.25); } .form-control::-webkit-input-placeholder { color: #6c757d; opacity: 1; } .form-control::-moz-placeholder { color: #6c757d; opacity: 1; } .form-control:-ms-input-placeholder { color: #6c757d; opacity: 1; } .form-control::-ms-input-placeholder { color: #6c757d; opacity: 1; } .form-control::placeholder { color: #6c757d; opacity: 1; } .form-control:disabled, .form-control[readonly] { background-color: #e9ecef; opacity: 1; } select.form-control:not([size]):not([multiple]) { height: calc(2.25rem + 2px); } select.form-control:focus::-ms-value { color: #495057; background-color: #fff; } .form-control-file, .form-control-range { display: block; width: 100%; } .col-form-label { padding-top: calc(0.375rem + 1px); padding-bottom: calc(0.375rem + 1px); margin-bottom: 0; font-size: inherit; line-height: 1.5; } .col-form-label-lg { padding-top: calc(0.5rem + 1px); padding-bottom: calc(0.5rem + 1px); font-size: 1.25rem; line-height: 1.5; } .col-form-label-sm { padding-top: calc(0.25rem + 1px); padding-bottom: calc(0.25rem + 1px); font-size: 0.875rem; line-height: 1.5; } .form-control-plaintext { display: block; width: 100%; padding-top: 0.375rem; padding-bottom: 0.375rem; margin-bottom: 0; line-height: 1.5; color: #212529; background-color: transparent; border: solid transparent; border-width: 1px 0; } .form-control-plaintext.form-control-sm, .input-group-sm > .form-control-plaintext.form-control, .input-group-sm > .input-group-prepend > .form-control-plaintext.input-group-text, .input-group-sm > .input-group-append > .form-control-plaintext.input-group-text, .input-group-sm > .input-group-prepend > .form-control-plaintext.btn, .input-group-sm > .input-group-append > .form-control-plaintext.btn, .form-control-plaintext.form-control-lg, .input-group-lg > .form-control-plaintext.form-control, .input-group-lg > .input-group-prepend > .form-control-plaintext.input-group-text, .input-group-lg > .input-group-append > .form-control-plaintext.input-group-text, .input-group-lg > .input-group-prepend > .form-control-plaintext.btn, .input-group-lg > .input-group-append > .form-control-plaintext.btn { padding-right: 0; padding-left: 0; } .form-control-sm, .input-group-sm > .form-control, .input-group-sm > .input-group-prepend > .input-group-text, .input-group-sm > .input-group-append > .input-group-text, .input-group-sm > .input-group-prepend > .btn, .input-group-sm > .input-group-append > .btn { padding: 0.25rem 0.5rem; font-size: 0.875rem; line-height: 1.5; border-radius: 0.2rem; } select.form-control-sm:not([size]):not([multiple]), .input-group-sm > select.form-control:not([size]):not([multiple]), .input-group-sm > .input-group-prepend > select.input-group-text:not([size]):not([multiple]), .input-group-sm > .input-group-append > select.input-group-text:not([size]):not([multiple]), .input-group-sm > .input-group-prepend > select.btn:not([size]):not([multiple]), .input-group-sm > .input-group-append > select.btn:not([size]):not([multiple]) { height: calc(1.8125rem + 2px); } .form-control-lg, .input-group-lg > .form-control, .input-group-lg > .input-group-prepend > .input-group-text, .input-group-lg > .input-group-append > .input-group-text, .input-group-lg > .input-group-prepend > .btn, .input-group-lg > .input-group-append > .btn { padding: 0.5rem 1rem; font-size: 1.25rem; line-height: 1.5; border-radius: 0.3rem; } select.form-control-lg:not([size]):not([multiple]), .input-group-lg > select.form-control:not([size]):not([multiple]), .input-group-lg > .input-group-prepend > select.input-group-text:not([size]):not([multiple]), .input-group-lg > .input-group-append > select.input-group-text:not([size]):not([multiple]), .input-group-lg > .input-group-prepend > select.btn:not([size]):not([multiple]), .input-group-lg > .input-group-append > select.btn:not([size]):not([multiple]) { height: calc(2.875rem + 2px); } .form-group { margin-bottom: 1rem; } .form-text { display: block; margin-top: 0.25rem; } .form-row { display: -webkit-box; display: -ms-flexbox; display: flex; -ms-flex-wrap: wrap; flex-wrap: wrap; margin-right: -5px; margin-left: -5px; } .form-row > .col, .form-row > [class*=col-] { padding-right: 5px; padding-left: 5px; } .form-check { position: relative; display: block; padding-left: 1.25rem; } .form-check-input { position: absolute; margin-top: 0.3rem; margin-left: -1.25rem; } .form-check-input:disabled ~ .form-check-label { color: #6c757d; } .form-check-label { margin-bottom: 0; } .form-check-inline { display: -webkit-inline-box; display: -ms-inline-flexbox; display: inline-flex; -webkit-box-align: center; -ms-flex-align: center; align-items: center; padding-left: 0; margin-right: 0.75rem; } .form-check-inline .form-check-input { position: static; margin-top: 0; margin-right: 0.3125rem; margin-left: 0; } .valid-feedback { display: none; width: 100%; margin-top: 0.25rem; font-size: 80%; color: #28a745; } .valid-tooltip { position: absolute; top: 100%; z-index: 5; display: none; max-width: 100%; padding: 0.5rem; margin-top: 0.1rem; font-size: 0.875rem; line-height: 1; color: #fff; background-color: rgba(40, 167, 69, 0.8); border-radius: 0.2rem; } .was-validated .form-control:valid, .form-control.is-valid, .was-validated .custom-select:valid, .custom-select.is-valid { border-color: #28a745; } .was-validated .form-control:valid:focus, .form-control.is-valid:focus, .was-validated .custom-select:valid:focus, .custom-select.is-valid:focus { border-color: #28a745; -webkit-box-shadow: 0 0 0 0.2rem rgba(40, 167, 69, 0.25); box-shadow: 0 0 0 0.2rem rgba(40, 167, 69, 0.25); } .was-validated .form-control:valid ~ .valid-feedback, .was-validated .form-control:valid ~ .valid-tooltip, .form-control.is-valid ~ .valid-feedback, .form-control.is-valid ~ .valid-tooltip, .was-validated .custom-select:valid ~ .valid-feedback, .was-validated .custom-select:valid ~ .valid-tooltip, .custom-select.is-valid ~ .valid-feedback, .custom-select.is-valid ~ .valid-tooltip { display: block; } .was-validated .form-control-file:valid ~ .valid-feedback, .was-validated .form-control-file:valid ~ .valid-tooltip, .form-control-file.is-valid ~ .valid-feedback, .form-control-file.is-valid ~ .valid-tooltip { display: block; } .was-validated .form-check-input:valid ~ .form-check-label, .form-check-input.is-valid ~ .form-check-label { color: #28a745; } .was-validated .form-check-input:valid ~ .valid-feedback, .was-validated .form-check-input:valid ~ .valid-tooltip, .form-check-input.is-valid ~ .valid-feedback, .form-check-input.is-valid ~ .valid-tooltip { display: block; } .was-validated .custom-control-input:valid ~ .custom-control-label, .custom-control-input.is-valid ~ .custom-control-label { color: #28a745; } .was-validated .custom-control-input:valid ~ .custom-control-label::before, .custom-control-input.is-valid ~ .custom-control-label::before { background-color: #71dd8a; } .was-validated .custom-control-input:valid ~ .valid-feedback, .was-validated .custom-control-input:valid ~ .valid-tooltip, .custom-control-input.is-valid ~ .valid-feedback, .custom-control-input.is-valid ~ .valid-tooltip { display: block; } .was-validated .custom-control-input:valid:checked ~ .custom-control-label::before, .custom-control-input.is-valid:checked ~ .custom-control-label::before { background-color: #34ce57; } .was-validated .custom-control-input:valid:focus ~ .custom-control-label::before, .custom-control-input.is-valid:focus ~ .custom-control-label::before { -webkit-box-shadow: 0 0 0 1px #fff, 0 0 0 0.2rem rgba(40, 167, 69, 0.25); box-shadow: 0 0 0 1px #fff, 0 0 0 0.2rem rgba(40, 167, 69, 0.25); } .was-validated .custom-file-input:valid ~ .custom-file-label, .custom-file-input.is-valid ~ .custom-file-label { border-color: #28a745; } .was-validated .custom-file-input:valid ~ .custom-file-label::before, .custom-file-input.is-valid ~ .custom-file-label::before { border-color: inherit; } .was-validated .custom-file-input:valid ~ .valid-feedback, .was-validated .custom-file-input:valid ~ .valid-tooltip, .custom-file-input.is-valid ~ .valid-feedback, .custom-file-input.is-valid ~ .valid-tooltip { display: block; } .was-validated .custom-file-input:valid:focus ~ .custom-file-label, .custom-file-input.is-valid:focus ~ .custom-file-label { -webkit-box-shadow: 0 0 0 0.2rem rgba(40, 167, 69, 0.25); box-shadow: 0 0 0 0.2rem rgba(40, 167, 69, 0.25); } .invalid-feedback { display: none; width: 100%; margin-top: 0.25rem; font-size: 80%; color: #dc3545; } .invalid-tooltip { position: absolute; top: 100%; z-index: 5; display: none; max-width: 100%; padding: 0.5rem; margin-top: 0.1rem; font-size: 0.875rem; line-height: 1; color: #fff; background-color: rgba(220, 53, 69, 0.8); border-radius: 0.2rem; } .was-validated .form-control:invalid, .form-control.is-invalid, .was-validated .custom-select:invalid, .custom-select.is-invalid { border-color: #dc3545; } .was-validated .form-control:invalid:focus, .form-control.is-invalid:focus, .was-validated .custom-select:invalid:focus, .custom-select.is-invalid:focus { border-color: #dc3545; -webkit-box-shadow: 0 0 0 0.2rem rgba(220, 53, 69, 0.25); box-shadow: 0 0 0 0.2rem rgba(220, 53, 69, 0.25); } .was-validated .form-control:invalid ~ .invalid-feedback, .was-validated .form-control:invalid ~ .invalid-tooltip, .form-control.is-invalid ~ .invalid-feedback, .form-control.is-invalid ~ .invalid-tooltip, .was-validated .custom-select:invalid ~ .invalid-feedback, .was-validated .custom-select:invalid ~ .invalid-tooltip, .custom-select.is-invalid ~ .invalid-feedback, .custom-select.is-invalid ~ .invalid-tooltip { display: block; } .was-validated .form-control-file:invalid ~ .invalid-feedback, .was-validated .form-control-file:invalid ~ .invalid-tooltip, .form-control-file.is-invalid ~ .invalid-feedback, .form-control-file.is-invalid ~ .invalid-tooltip { display: block; } .was-validated .form-check-input:invalid ~ .form-check-label, .form-check-input.is-invalid ~ .form-check-label { color: #dc3545; } .was-validated .form-check-input:invalid ~ .invalid-feedback, .was-validated .form-check-input:invalid ~ .invalid-tooltip, .form-check-input.is-invalid ~ .invalid-feedback, .form-check-input.is-invalid ~ .invalid-tooltip { display: block; } .was-validated .custom-control-input:invalid ~ .custom-control-label, .custom-control-input.is-invalid ~ .custom-control-label { color: #dc3545; } .was-validated .custom-control-input:invalid ~ .custom-control-label::before, .custom-control-input.is-invalid ~ .custom-control-label::before { background-color: #efa2a9; } .was-validated .custom-control-input:invalid ~ .invalid-feedback, .was-validated .custom-control-input:invalid ~ .invalid-tooltip, .custom-control-input.is-invalid ~ .invalid-feedback, .custom-control-input.is-invalid ~ .invalid-tooltip { display: block; } .was-validated .custom-control-input:invalid:checked ~ .custom-control-label::before, .custom-control-input.is-invalid:checked ~ .custom-control-label::before { background-color: #e4606d; } .was-validated .custom-control-input:invalid:focus ~ .custom-control-label::before, .custom-control-input.is-invalid:focus ~ .custom-control-label::before { -webkit-box-shadow: 0 0 0 1px #fff, 0 0 0 0.2rem rgba(220, 53, 69, 0.25); box-shadow: 0 0 0 1px #fff, 0 0 0 0.2rem rgba(220, 53, 69, 0.25); } .was-validated .custom-file-input:invalid ~ .custom-file-label, .custom-file-input.is-invalid ~ .custom-file-label { border-color: #dc3545; } .was-validated .custom-file-input:invalid ~ .custom-file-label::before, .custom-file-input.is-invalid ~ .custom-file-label::before { border-color: inherit; } .was-validated .custom-file-input:invalid ~ .invalid-feedback, .was-validated .custom-file-input:invalid ~ .invalid-tooltip, .custom-file-input.is-invalid ~ .invalid-feedback, .custom-file-input.is-invalid ~ .invalid-tooltip { display: block; } .was-validated .custom-file-input:invalid:focus ~ .custom-file-label, .custom-file-input.is-invalid:focus ~ .custom-file-label { -webkit-box-shadow: 0 0 0 0.2rem rgba(220, 53, 69, 0.25); box-shadow: 0 0 0 0.2rem rgba(220, 53, 69, 0.25); } .form-inline { display: -webkit-box; display: -ms-flexbox; display: flex; -webkit-box-orient: horizontal; -webkit-box-direction: normal; -ms-flex-flow: row wrap; flex-flow: row wrap; -webkit-box-align: center; -ms-flex-align: center; align-items: center; } .form-inline .form-check { width: 100%; } @media (min-width: 576px) { .form-inline label { display: -webkit-box; display: -ms-flexbox; display: flex; -webkit-box-align: center; -ms-flex-align: center; align-items: center; -webkit-box-pack: center; -ms-flex-pack: center; justify-content: center; margin-bottom: 0; } .form-inline .form-group { display: -webkit-box; display: -ms-flexbox; display: flex; -webkit-box-flex: 0; -ms-flex: 0 0 auto; flex: 0 0 auto; -webkit-box-orient: horizontal; -webkit-box-direction: normal; -ms-flex-flow: row wrap; flex-flow: row wrap; -webkit-box-align: center; -ms-flex-align: center; align-items: center; margin-bottom: 0; } .form-inline .form-control { display: inline-block; width: auto; vertical-align: middle; } .form-inline .form-control-plaintext { display: inline-block; } .form-inline .input-group, .form-inline .custom-select { width: auto; } .form-inline .form-check { display: -webkit-box; display: -ms-flexbox; display: flex; -webkit-box-align: center; -ms-flex-align: center; align-items: center; -webkit-box-pack: center; -ms-flex-pack: center; justify-content: center; width: auto; padding-left: 0; } .form-inline .form-check-input { position: relative; margin-top: 0; margin-right: 0.25rem; margin-left: 0; } .form-inline .custom-control { -webkit-box-align: center; -ms-flex-align: center; align-items: center; -webkit-box-pack: center; -ms-flex-pack: center; justify-content: center; } .form-inline .custom-control-label { margin-bottom: 0; } } .btn { display: inline-block; font-weight: 400; text-align: center; white-space: nowrap; vertical-align: middle; -webkit-user-select: none; -moz-user-select: none; -ms-user-select: none; user-select: none; border: 1px solid transparent; padding: 0.375rem 0.75rem; font-size: 1rem; line-height: 1.5; border-radius: 0.25rem; -webkit-transition: color 0.15s ease-in-out, background-color 0.15s ease-in-out, border-color 0.15s ease-in-out, -webkit-box-shadow 0.15s ease-in-out; transition: color 0.15s ease-in-out, background-color 0.15s ease-in-out, border-color 0.15s ease-in-out, -webkit-box-shadow 0.15s ease-in-out; -o-transition: color 0.15s ease-in-out, background-color 0.15s ease-in-out, border-color 0.15s ease-in-out, box-shadow 0.15s ease-in-out; transition: color 0.15s ease-in-out, background-color 0.15s ease-in-out, border-color 0.15s ease-in-out, box-shadow 0.15s ease-in-out; transition: color 0.15s ease-in-out, background-color 0.15s ease-in-out, border-color 0.15s ease-in-out, box-shadow 0.15s ease-in-out, -webkit-box-shadow 0.15s ease-in-out; } @media screen and (prefers-reduced-motion: reduce) { .btn { -webkit-transition: none; -o-transition: none; transition: none; } } .btn:hover, .btn:focus { text-decoration: none; } .btn:focus, .btn.focus { outline: 0; -webkit-box-shadow: 0 0 0 0.2rem rgba(0, 123, 255, 0.25); box-shadow: 0 0 0 0.2rem rgba(0, 123, 255, 0.25); } .btn.disabled, .btn:disabled { opacity: 0.65; } .btn:not(:disabled):not(.disabled) { cursor: pointer; } .btn:not(:disabled):not(.disabled):active, .btn:not(:disabled):not(.disabled).active { background-image: none; } a.btn.disabled, fieldset:disabled a.btn { pointer-events: none; } .btn-primary { color: #fff; background-color: #007bff; border-color: #007bff; } .btn-primary:hover { color: #fff; background-color: #0069d9; border-color: #0062cc; } .btn-primary:focus, .btn-primary.focus { -webkit-box-shadow: 0 0 0 0.2rem rgba(0, 123, 255, 0.5); box-shadow: 0 0 0 0.2rem rgba(0, 123, 255, 0.5); } .btn-primary.disabled, .btn-primary:disabled { color: #fff; background-color: #007bff; border-color: #007bff; } .btn-primary:not(:disabled):not(.disabled):active, .btn-primary:not(:disabled):not(.disabled).active, .show > .btn-primary.dropdown-toggle { color: #fff; background-color: #0062cc; border-color: #005cbf; } .btn-primary:not(:disabled):not(.disabled):active:focus, .btn-primary:not(:disabled):not(.disabled).active:focus, .show > .btn-primary.dropdown-toggle:focus { -webkit-box-shadow: 0 0 0 0.2rem rgba(0, 123, 255, 0.5); box-shadow: 0 0 0 0.2rem rgba(0, 123, 255, 0.5); } .btn-secondary { color: #fff; background-color: #6c757d; border-color: #6c757d; } .btn-secondary:hover { color: #fff; background-color: #5a6268; border-color: #545b62; } .btn-secondary:focus, .btn-secondary.focus { -webkit-box-shadow: 0 0 0 0.2rem rgba(108, 117, 125, 0.5); box-shadow: 0 0 0 0.2rem rgba(108, 117, 125, 0.5); } .btn-secondary.disabled, .btn-secondary:disabled { color: #fff; background-color: #6c757d; border-color: #6c757d; } .btn-secondary:not(:disabled):not(.disabled):active, .btn-secondary:not(:disabled):not(.disabled).active, .show > .btn-secondary.dropdown-toggle { color: #fff; background-color: #545b62; border-color: #4e555b; } .btn-secondary:not(:disabled):not(.disabled):active:focus, .btn-secondary:not(:disabled):not(.disabled).active:focus, .show > .btn-secondary.dropdown-toggle:focus { -webkit-box-shadow: 0 0 0 0.2rem rgba(108, 117, 125, 0.5); box-shadow: 0 0 0 0.2rem rgba(108, 117, 125, 0.5); } .btn-success { color: #fff; background-color: #28a745; border-color: #28a745; } .btn-success:hover { color: #fff; background-color: #218838; border-color: #1e7e34; } .btn-success:focus, .btn-success.focus { -webkit-box-shadow: 0 0 0 0.2rem rgba(40, 167, 69, 0.5); box-shadow: 0 0 0 0.2rem rgba(40, 167, 69, 0.5); } .btn-success.disabled, .btn-success:disabled { color: #fff; background-color: #28a745; border-color: #28a745; } .btn-success:not(:disabled):not(.disabled):active, .btn-success:not(:disabled):not(.disabled).active, .show > .btn-success.dropdown-toggle { color: #fff; background-color: #1e7e34; border-color: #1c7430; } .btn-success:not(:disabled):not(.disabled):active:focus, .btn-success:not(:disabled):not(.disabled).active:focus, .show > .btn-success.dropdown-toggle:focus { -webkit-box-shadow: 0 0 0 0.2rem rgba(40, 167, 69, 0.5); box-shadow: 0 0 0 0.2rem rgba(40, 167, 69, 0.5); } .btn-info { color: #fff; background-color: #17a2b8; border-color: #17a2b8; } .btn-info:hover { color: #fff; background-color: #138496; border-color: #117a8b; } .btn-info:focus, .btn-info.focus { -webkit-box-shadow: 0 0 0 0.2rem rgba(23, 162, 184, 0.5); box-shadow: 0 0 0 0.2rem rgba(23, 162, 184, 0.5); } .btn-info.disabled, .btn-info:disabled { color: #fff; background-color: #17a2b8; border-color: #17a2b8; } .btn-info:not(:disabled):not(.disabled):active, .btn-info:not(:disabled):not(.disabled).active, .show > .btn-info.dropdown-toggle { color: #fff; background-color: #117a8b; border-color: #10707f; } .btn-info:not(:disabled):not(.disabled):active:focus, .btn-info:not(:disabled):not(.disabled).active:focus, .show > .btn-info.dropdown-toggle:focus { -webkit-box-shadow: 0 0 0 0.2rem rgba(23, 162, 184, 0.5); box-shadow: 0 0 0 0.2rem rgba(23, 162, 184, 0.5); } .btn-warning { color: #212529; background-color: #ffc107; border-color: #ffc107; } .btn-warning:hover { color: #212529; background-color: #e0a800; border-color: #d39e00; } .btn-warning:focus, .btn-warning.focus { -webkit-box-shadow: 0 0 0 0.2rem rgba(255, 193, 7, 0.5); box-shadow: 0 0 0 0.2rem rgba(255, 193, 7, 0.5); } .btn-warning.disabled, .btn-warning:disabled { color: #212529; background-color: #ffc107; border-color: #ffc107; } .btn-warning:not(:disabled):not(.disabled):active, .btn-warning:not(:disabled):not(.disabled).active, .show > .btn-warning.dropdown-toggle { color: #212529; background-color: #d39e00; border-color: #c69500; } .btn-warning:not(:disabled):not(.disabled):active:focus, .btn-warning:not(:disabled):not(.disabled).active:focus, .show > .btn-warning.dropdown-toggle:focus { -webkit-box-shadow: 0 0 0 0.2rem rgba(255, 193, 7, 0.5); box-shadow: 0 0 0 0.2rem rgba(255, 193, 7, 0.5); } .btn-danger { color: #fff; background-color: #dc3545; border-color: #dc3545; } .btn-danger:hover { color: #fff; background-color: #c82333; border-color: #bd2130; } .btn-danger:focus, .btn-danger.focus { -webkit-box-shadow: 0 0 0 0.2rem rgba(220, 53, 69, 0.5); box-shadow: 0 0 0 0.2rem rgba(220, 53, 69, 0.5); } .btn-danger.disabled, .btn-danger:disabled { color: #fff; background-color: #dc3545; border-color: #dc3545; } .btn-danger:not(:disabled):not(.disabled):active, .btn-danger:not(:disabled):not(.disabled).active, .show > .btn-danger.dropdown-toggle { color: #fff; background-color: #bd2130; border-color: #b21f2d; } .btn-danger:not(:disabled):not(.disabled):active:focus, .btn-danger:not(:disabled):not(.disabled).active:focus, .show > .btn-danger.dropdown-toggle:focus { -webkit-box-shadow: 0 0 0 0.2rem rgba(220, 53, 69, 0.5); box-shadow: 0 0 0 0.2rem rgba(220, 53, 69, 0.5); } .btn-light { color: #212529; background-color: #f8f9fa; border-color: #f8f9fa; } .btn-light:hover { color: #212529; background-color: #e2e6ea; border-color: #dae0e5; } .btn-light:focus, .btn-light.focus { -webkit-box-shadow: 0 0 0 0.2rem rgba(248, 249, 250, 0.5); box-shadow: 0 0 0 0.2rem rgba(248, 249, 250, 0.5); } .btn-light.disabled, .btn-light:disabled { color: #212529; background-color: #f8f9fa; border-color: #f8f9fa; } .btn-light:not(:disabled):not(.disabled):active, .btn-light:not(:disabled):not(.disabled).active, .show > .btn-light.dropdown-toggle { color: #212529; background-color: #dae0e5; border-color: #d3d9df; } .btn-light:not(:disabled):not(.disabled):active:focus, .btn-light:not(:disabled):not(.disabled).active:focus, .show > .btn-light.dropdown-toggle:focus { -webkit-box-shadow: 0 0 0 0.2rem rgba(248, 249, 250, 0.5); box-shadow: 0 0 0 0.2rem rgba(248, 249, 250, 0.5); } .btn-dark { color: #fff; background-color: #343a40; border-color: #343a40; } .btn-dark:hover { color: #fff; background-color: #23272b; border-color: #1d2124; } .btn-dark:focus, .btn-dark.focus { -webkit-box-shadow: 0 0 0 0.2rem rgba(52, 58, 64, 0.5); box-shadow: 0 0 0 0.2rem rgba(52, 58, 64, 0.5); } .btn-dark.disabled, .btn-dark:disabled { color: #fff; background-color: #343a40; border-color: #343a40; } .btn-dark:not(:disabled):not(.disabled):active, .btn-dark:not(:disabled):not(.disabled).active, .show > .btn-dark.dropdown-toggle { color: #fff; background-color: #1d2124; border-color: #171a1d; } .btn-dark:not(:disabled):not(.disabled):active:focus, .btn-dark:not(:disabled):not(.disabled).active:focus, .show > .btn-dark.dropdown-toggle:focus { -webkit-box-shadow: 0 0 0 0.2rem rgba(52, 58, 64, 0.5); box-shadow: 0 0 0 0.2rem rgba(52, 58, 64, 0.5); } .btn-outline-primary { color: #007bff; background-color: transparent; background-image: none; border-color: #007bff; } .btn-outline-primary:hover { color: #fff; background-color: #007bff; border-color: #007bff; } .btn-outline-primary:focus, .btn-outline-primary.focus { -webkit-box-shadow: 0 0 0 0.2rem rgba(0, 123, 255, 0.5); box-shadow: 0 0 0 0.2rem rgba(0, 123, 255, 0.5); } .btn-outline-primary.disabled, .btn-outline-primary:disabled { color: #007bff; background-color: transparent; } .btn-outline-primary:not(:disabled):not(.disabled):active, .btn-outline-primary:not(:disabled):not(.disabled).active, .show > .btn-outline-primary.dropdown-toggle { color: #fff; background-color: #007bff; border-color: #007bff; } .btn-outline-primary:not(:disabled):not(.disabled):active:focus, .btn-outline-primary:not(:disabled):not(.disabled).active:focus, .show > .btn-outline-primary.dropdown-toggle:focus { -webkit-box-shadow: 0 0 0 0.2rem rgba(0, 123, 255, 0.5); box-shadow: 0 0 0 0.2rem rgba(0, 123, 255, 0.5); } .btn-outline-secondary { color: #6c757d; background-color: transparent; background-image: none; border-color: #6c757d; } .btn-outline-secondary:hover { color: #fff; background-color: #6c757d; border-color: #6c757d; } .btn-outline-secondary:focus, .btn-outline-secondary.focus { -webkit-box-shadow: 0 0 0 0.2rem rgba(108, 117, 125, 0.5); box-shadow: 0 0 0 0.2rem rgba(108, 117, 125, 0.5); } .btn-outline-secondary.disabled, .btn-outline-secondary:disabled { color: #6c757d; background-color: transparent; } .btn-outline-secondary:not(:disabled):not(.disabled):active, .btn-outline-secondary:not(:disabled):not(.disabled).active, .show > .btn-outline-secondary.dropdown-toggle { color: #fff; background-color: #6c757d; border-color: #6c757d; } .btn-outline-secondary:not(:disabled):not(.disabled):active:focus, .btn-outline-secondary:not(:disabled):not(.disabled).active:focus, .show > .btn-outline-secondary.dropdown-toggle:focus { -webkit-box-shadow: 0 0 0 0.2rem rgba(108, 117, 125, 0.5); box-shadow: 0 0 0 0.2rem rgba(108, 117, 125, 0.5); } .btn-outline-success { color: #28a745; background-color: transparent; background-image: none; border-color: #28a745; } .btn-outline-success:hover { color: #fff; background-color: #28a745; border-color: #28a745; } .btn-outline-success:focus, .btn-outline-success.focus { -webkit-box-shadow: 0 0 0 0.2rem rgba(40, 167, 69, 0.5); box-shadow: 0 0 0 0.2rem rgba(40, 167, 69, 0.5); } .btn-outline-success.disabled, .btn-outline-success:disabled { color: #28a745; background-color: transparent; } .btn-outline-success:not(:disabled):not(.disabled):active, .btn-outline-success:not(:disabled):not(.disabled).active, .show > .btn-outline-success.dropdown-toggle { color: #fff; background-color: #28a745; border-color: #28a745; } .btn-outline-success:not(:disabled):not(.disabled):active:focus, .btn-outline-success:not(:disabled):not(.disabled).active:focus, .show > .btn-outline-success.dropdown-toggle:focus { -webkit-box-shadow: 0 0 0 0.2rem rgba(40, 167, 69, 0.5); box-shadow: 0 0 0 0.2rem rgba(40, 167, 69, 0.5); } .btn-outline-info { color: #17a2b8; background-color: transparent; background-image: none; border-color: #17a2b8; } .btn-outline-info:hover { color: #fff; background-color: #17a2b8; border-color: #17a2b8; } .btn-outline-info:focus, .btn-outline-info.focus { -webkit-box-shadow: 0 0 0 0.2rem rgba(23, 162, 184, 0.5); box-shadow: 0 0 0 0.2rem rgba(23, 162, 184, 0.5); } .btn-outline-info.disabled, .btn-outline-info:disabled { color: #17a2b8; background-color: transparent; } .btn-outline-info:not(:disabled):not(.disabled):active, .btn-outline-info:not(:disabled):not(.disabled).active, .show > .btn-outline-info.dropdown-toggle { color: #fff; background-color: #17a2b8; border-color: #17a2b8; } .btn-outline-info:not(:disabled):not(.disabled):active:focus, .btn-outline-info:not(:disabled):not(.disabled).active:focus, .show > .btn-outline-info.dropdown-toggle:focus { -webkit-box-shadow: 0 0 0 0.2rem rgba(23, 162, 184, 0.5); box-shadow: 0 0 0 0.2rem rgba(23, 162, 184, 0.5); } .btn-outline-warning { color: #ffc107; background-color: transparent; background-image: none; border-color: #ffc107; } .btn-outline-warning:hover { color: #212529; background-color: #ffc107; border-color: #ffc107; } .btn-outline-warning:focus, .btn-outline-warning.focus { -webkit-box-shadow: 0 0 0 0.2rem rgba(255, 193, 7, 0.5); box-shadow: 0 0 0 0.2rem rgba(255, 193, 7, 0.5); } .btn-outline-warning.disabled, .btn-outline-warning:disabled { color: #ffc107; background-color: transparent; } .btn-outline-warning:not(:disabled):not(.disabled):active, .btn-outline-warning:not(:disabled):not(.disabled).active, .show > .btn-outline-warning.dropdown-toggle { color: #212529; background-color: #ffc107; border-color: #ffc107; } .btn-outline-warning:not(:disabled):not(.disabled):active:focus, .btn-outline-warning:not(:disabled):not(.disabled).active:focus, .show > .btn-outline-warning.dropdown-toggle:focus { -webkit-box-shadow: 0 0 0 0.2rem rgba(255, 193, 7, 0.5); box-shadow: 0 0 0 0.2rem rgba(255, 193, 7, 0.5); } .btn-outline-danger { color: #dc3545; background-color: transparent; background-image: none; border-color: #dc3545; } .btn-outline-danger:hover { color: #fff; background-color: #dc3545; border-color: #dc3545; } .btn-outline-danger:focus, .btn-outline-danger.focus { -webkit-box-shadow: 0 0 0 0.2rem rgba(220, 53, 69, 0.5); box-shadow: 0 0 0 0.2rem rgba(220, 53, 69, 0.5); } .btn-outline-danger.disabled, .btn-outline-danger:disabled { color: #dc3545; background-color: transparent; } .btn-outline-danger:not(:disabled):not(.disabled):active, .btn-outline-danger:not(:disabled):not(.disabled).active, .show > .btn-outline-danger.dropdown-toggle { color: #fff; background-color: #dc3545; border-color: #dc3545; } .btn-outline-danger:not(:disabled):not(.disabled):active:focus, .btn-outline-danger:not(:disabled):not(.disabled).active:focus, .show > .btn-outline-danger.dropdown-toggle:focus { -webkit-box-shadow: 0 0 0 0.2rem rgba(220, 53, 69, 0.5); box-shadow: 0 0 0 0.2rem rgba(220, 53, 69, 0.5); } .btn-outline-light { color: #f8f9fa; background-color: transparent; background-image: none; border-color: #f8f9fa; } .btn-outline-light:hover { color: #212529; background-color: #f8f9fa; border-color: #f8f9fa; } .btn-outline-light:focus, .btn-outline-light.focus { -webkit-box-shadow: 0 0 0 0.2rem rgba(248, 249, 250, 0.5); box-shadow: 0 0 0 0.2rem rgba(248, 249, 250, 0.5); } .btn-outline-light.disabled, .btn-outline-light:disabled { color: #f8f9fa; background-color: transparent; } .btn-outline-light:not(:disabled):not(.disabled):active, .btn-outline-light:not(:disabled):not(.disabled).active, .show > .btn-outline-light.dropdown-toggle { color: #212529; background-color: #f8f9fa; border-color: #f8f9fa; } .btn-outline-light:not(:disabled):not(.disabled):active:focus, .btn-outline-light:not(:disabled):not(.disabled).active:focus, .show > .btn-outline-light.dropdown-toggle:focus { -webkit-box-shadow: 0 0 0 0.2rem rgba(248, 249, 250, 0.5); box-shadow: 0 0 0 0.2rem rgba(248, 249, 250, 0.5); } .btn-outline-dark { color: #343a40; background-color: transparent; background-image: none; border-color: #343a40; } .btn-outline-dark:hover { color: #fff; background-color: #343a40; border-color: #343a40; } .btn-outline-dark:focus, .btn-outline-dark.focus { -webkit-box-shadow: 0 0 0 0.2rem rgba(52, 58, 64, 0.5); box-shadow: 0 0 0 0.2rem rgba(52, 58, 64, 0.5); } .btn-outline-dark.disabled, .btn-outline-dark:disabled { color: #343a40; background-color: transparent; } .btn-outline-dark:not(:disabled):not(.disabled):active, .btn-outline-dark:not(:disabled):not(.disabled).active, .show > .btn-outline-dark.dropdown-toggle { color: #fff; background-color: #343a40; border-color: #343a40; } .btn-outline-dark:not(:disabled):not(.disabled):active:focus, .btn-outline-dark:not(:disabled):not(.disabled).active:focus, .show > .btn-outline-dark.dropdown-toggle:focus { -webkit-box-shadow: 0 0 0 0.2rem rgba(52, 58, 64, 0.5); box-shadow: 0 0 0 0.2rem rgba(52, 58, 64, 0.5); } .btn-link { font-weight: 400; color: #007bff; background-color: transparent; } .btn-link:hover { color: #0056b3; text-decoration: underline; background-color: transparent; border-color: transparent; } .btn-link:focus, .btn-link.focus { text-decoration: underline; border-color: transparent; -webkit-box-shadow: none; box-shadow: none; } .btn-link:disabled, .btn-link.disabled { color: #6c757d; pointer-events: none; } .btn-lg, .btn-group-lg > .btn { padding: 0.5rem 1rem; font-size: 1.25rem; line-height: 1.5; border-radius: 0.3rem; } .btn-sm, .btn-group-sm > .btn { padding: 0.25rem 0.5rem; font-size: 0.875rem; line-height: 1.5; border-radius: 0.2rem; } .btn-block { display: block; width: 100%; } .btn-block + .btn-block { margin-top: 0.5rem; } input[type=submit].btn-block, input[type=reset].btn-block, input[type=button].btn-block { width: 100%; } .fade { -webkit-transition: opacity 0.15s linear; -o-transition: opacity 0.15s linear; transition: opacity 0.15s linear; } @media screen and (prefers-reduced-motion: reduce) { .fade { -webkit-transition: none; -o-transition: none; transition: none; } } .fade:not(.show) { opacity: 0; } .collapse:not(.show) { display: none; } .collapsing { position: relative; height: 0; overflow: hidden; -webkit-transition: height 0.35s ease; -o-transition: height 0.35s ease; transition: height 0.35s ease; } @media screen and (prefers-reduced-motion: reduce) { .collapsing { -webkit-transition: none; -o-transition: none; transition: none; } } .dropup, .dropright, .dropdown, .dropleft { position: relative; } .dropdown-toggle::after { display: inline-block; width: 0; height: 0; margin-left: 0.255em; vertical-align: 0.255em; content: ""; border-top: 0.3em solid; border-right: 0.3em solid transparent; border-bottom: 0; border-left: 0.3em solid transparent; } .dropdown-toggle:empty::after { margin-left: 0; } .dropdown-menu { position: absolute; top: 100%; left: 0; z-index: 1000; display: none; float: left; min-width: 10rem; padding: 0.5rem 0; margin: 0.125rem 0 0; font-size: 1rem; color: #212529; text-align: left; list-style: none; background-color: #fff; background-clip: padding-box; border: 1px solid rgba(0, 0, 0, 0.15); border-radius: 0.25rem; } .dropdown-menu-right { right: 0; left: auto; } .dropup .dropdown-menu { top: auto; bottom: 100%; margin-top: 0; margin-bottom: 0.125rem; } .dropup .dropdown-toggle::after { display: inline-block; width: 0; height: 0; margin-left: 0.255em; vertical-align: 0.255em; content: ""; border-top: 0; border-right: 0.3em solid transparent; border-bottom: 0.3em solid; border-left: 0.3em solid transparent; } .dropup .dropdown-toggle:empty::after { margin-left: 0; } .dropright .dropdown-menu { top: 0; right: auto; left: 100%; margin-top: 0; margin-left: 0.125rem; } .dropright .dropdown-toggle::after { display: inline-block; width: 0; height: 0; margin-left: 0.255em; vertical-align: 0.255em; content: ""; border-top: 0.3em solid transparent; border-right: 0; border-bottom: 0.3em solid transparent; border-left: 0.3em solid; } .dropright .dropdown-toggle:empty::after { margin-left: 0; } .dropright .dropdown-toggle::after { vertical-align: 0; } .dropleft .dropdown-menu { top: 0; right: 100%; left: auto; margin-top: 0; margin-right: 0.125rem; } .dropleft .dropdown-toggle::after { display: inline-block; width: 0; height: 0; margin-left: 0.255em; vertical-align: 0.255em; content: ""; } .dropleft .dropdown-toggle::after { display: none; } .dropleft .dropdown-toggle::before { display: inline-block; width: 0; height: 0; margin-right: 0.255em; vertical-align: 0.255em; content: ""; border-top: 0.3em solid transparent; border-right: 0.3em solid; border-bottom: 0.3em solid transparent; } .dropleft .dropdown-toggle:empty::after { margin-left: 0; } .dropleft .dropdown-toggle::before { vertical-align: 0; } .dropdown-menu[x-placement^=top], .dropdown-menu[x-placement^=right], .dropdown-menu[x-placement^=bottom], .dropdown-menu[x-placement^=left] { right: auto; bottom: auto; } .dropdown-divider { height: 0; margin: 2rem 0; overflow: hidden; border-top: 1px solid #e9ecef; } .dropdown-item { display: block; width: 100%; padding: 0.25rem 1.5rem; clear: both; font-weight: 400; color: #212529; text-align: inherit; white-space: nowrap; background-color: transparent; border: 0; } .dropdown-item:hover, .dropdown-item:focus { color: #16181b; text-decoration: none; background-color: #f8f9fa; } .dropdown-item.active, .dropdown-item:active { color: #fff; text-decoration: none; background-color: #007bff; } .dropdown-item.disabled, .dropdown-item:disabled { color: #6c757d; background-color: transparent; } .dropdown-menu.show { display: block; } .dropdown-header { display: block; padding: 0.5rem 1.5rem; margin-bottom: 0; font-size: 0.875rem; color: #6c757d; white-space: nowrap; } .dropdown-item-text { display: block; padding: 0.25rem 1.5rem; color: #212529; } .btn-group, .btn-group-vertical { position: relative; display: -webkit-inline-box; display: -ms-inline-flexbox; display: inline-flex; vertical-align: middle; } .btn-group > .btn, .btn-group-vertical > .btn { position: relative; -webkit-box-flex: 0; -ms-flex: 0 1 auto; flex: 0 1 auto; } .btn-group > .btn:hover, .btn-group-vertical > .btn:hover { z-index: 1; } .btn-group > .btn:focus, .btn-group > .btn:active, .btn-group > .btn.active, .btn-group-vertical > .btn:focus, .btn-group-vertical > .btn:active, .btn-group-vertical > .btn.active { z-index: 1; } .btn-group .btn + .btn, .btn-group .btn + .btn-group, .btn-group .btn-group + .btn, .btn-group .btn-group + .btn-group, .btn-group-vertical .btn + .btn, .btn-group-vertical .btn + .btn-group, .btn-group-vertical .btn-group + .btn, .btn-group-vertical .btn-group + .btn-group { margin-left: -1px; } .btn-toolbar { display: -webkit-box; display: -ms-flexbox; display: flex; -ms-flex-wrap: wrap; flex-wrap: wrap; -webkit-box-pack: start; -ms-flex-pack: start; justify-content: flex-start; } .btn-toolbar .input-group { width: auto; } .btn-group > .btn:first-child { margin-left: 0; } .btn-group > .btn:not(:last-child):not(.dropdown-toggle), .btn-group > .btn-group:not(:last-child) > .btn { border-top-right-radius: 0; border-bottom-right-radius: 0; } .btn-group > .btn:not(:first-child), .btn-group > .btn-group:not(:first-child) > .btn { border-top-left-radius: 0; border-bottom-left-radius: 0; } .dropdown-toggle-split { padding-right: 0.5625rem; padding-left: 0.5625rem; } .dropdown-toggle-split::after, .dropup .dropdown-toggle-split::after, .dropright .dropdown-toggle-split::after { margin-left: 0; } .dropleft .dropdown-toggle-split::before { margin-right: 0; } .btn-sm + .dropdown-toggle-split, .btn-group-sm > .btn + .dropdown-toggle-split { padding-right: 0.375rem; padding-left: 0.375rem; } .btn-lg + .dropdown-toggle-split, .btn-group-lg > .btn + .dropdown-toggle-split { padding-right: 0.75rem; padding-left: 0.75rem; } .btn-group-vertical { -webkit-box-orient: vertical; -webkit-box-direction: normal; -ms-flex-direction: column; flex-direction: column; -webkit-box-align: start; -ms-flex-align: start; align-items: flex-start; -webkit-box-pack: center; -ms-flex-pack: center; justify-content: center; } .btn-group-vertical .btn, .btn-group-vertical .btn-group { width: 100%; } .btn-group-vertical > .btn + .btn, .btn-group-vertical > .btn + .btn-group, .btn-group-vertical > .btn-group + .btn, .btn-group-vertical > .btn-group + .btn-group { margin-top: -1px; margin-left: 0; } .btn-group-vertical > .btn:not(:last-child):not(.dropdown-toggle), .btn-group-vertical > .btn-group:not(:last-child) > .btn { border-bottom-right-radius: 0; border-bottom-left-radius: 0; } .btn-group-vertical > .btn:not(:first-child), .btn-group-vertical > .btn-group:not(:first-child) > .btn { border-top-left-radius: 0; border-top-right-radius: 0; } .btn-group-toggle > .btn, .btn-group-toggle > .btn-group > .btn { margin-bottom: 0; } .btn-group-toggle > .btn input[type=radio], .btn-group-toggle > .btn input[type=checkbox], .btn-group-toggle > .btn-group > .btn input[type=radio], .btn-group-toggle > .btn-group > .btn input[type=checkbox] { position: absolute; clip: rect(0, 0, 0, 0); pointer-events: none; } .input-group { position: relative; display: -webkit-box; display: -ms-flexbox; display: flex; -ms-flex-wrap: wrap; flex-wrap: wrap; -webkit-box-align: stretch; -ms-flex-align: stretch; align-items: stretch; width: 100%; } .input-group > .form-control, .input-group > .custom-select, .input-group > .custom-file { position: relative; -webkit-box-flex: 1; -ms-flex: 1 1 auto; flex: 1 1 auto; width: 1%; margin-bottom: 0; } .input-group > .form-control:focus, .input-group > .custom-select:focus, .input-group > .custom-file:focus { z-index: 3; } .input-group > .form-control + .form-control, .input-group > .form-control + .custom-select, .input-group > .form-control + .custom-file, .input-group > .custom-select + .form-control, .input-group > .custom-select + .custom-select, .input-group > .custom-select + .custom-file, .input-group > .custom-file + .form-control, .input-group > .custom-file + .custom-select, .input-group > .custom-file + .custom-file { margin-left: -1px; } .input-group > .form-control:not(:last-child), .input-group > .custom-select:not(:last-child) { border-top-right-radius: 0; border-bottom-right-radius: 0; } .input-group > .form-control:not(:first-child), .input-group > .custom-select:not(:first-child) { border-top-left-radius: 0; border-bottom-left-radius: 0; } .input-group > .custom-file { display: -webkit-box; display: -ms-flexbox; display: flex; -webkit-box-align: center; -ms-flex-align: center; align-items: center; } .input-group > .custom-file:not(:last-child) .custom-file-label, .input-group > .custom-file:not(:last-child) .custom-file-label::after { border-top-right-radius: 0; border-bottom-right-radius: 0; } .input-group > .custom-file:not(:first-child) .custom-file-label { border-top-left-radius: 0; border-bottom-left-radius: 0; } .input-group-prepend, .input-group-append { display: -webkit-box; display: -ms-flexbox; display: flex; } .input-group-prepend .btn, .input-group-append .btn { position: relative; z-index: 2; } .input-group-prepend .btn + .btn, .input-group-prepend .btn + .input-group-text, .input-group-prepend .input-group-text + .input-group-text, .input-group-prepend .input-group-text + .btn, .input-group-append .btn + .btn, .input-group-append .btn + .input-group-text, .input-group-append .input-group-text + .input-group-text, .input-group-append .input-group-text + .btn { margin-left: -1px; } .input-group-prepend { margin-right: -1px; } .input-group-append { margin-left: -1px; } .input-group-text { display: -webkit-box; display: -ms-flexbox; display: flex; -webkit-box-align: center; -ms-flex-align: center; align-items: center; padding: 0.375rem 0.75rem; margin-bottom: 0; font-size: 1rem; font-weight: 400; line-height: 1.5; color: #495057; text-align: center; white-space: nowrap; background-color: #e9ecef; border: 1px solid #ced4da; border-radius: 0.25rem; } .input-group-text input[type=radio], .input-group-text input[type=checkbox] { margin-top: 0; } .input-group > .input-group-prepend > .btn, .input-group > .input-group-prepend > .input-group-text, .input-group > .input-group-append:not(:last-child) > .btn, .input-group > .input-group-append:not(:last-child) > .input-group-text, .input-group > .input-group-append:last-child > .btn:not(:last-child):not(.dropdown-toggle), .input-group > .input-group-append:last-child > .input-group-text:not(:last-child) { border-top-right-radius: 0; border-bottom-right-radius: 0; } .input-group > .input-group-append > .btn, .input-group > .input-group-append > .input-group-text, .input-group > .input-group-prepend:not(:first-child) > .btn, .input-group > .input-group-prepend:not(:first-child) > .input-group-text, .input-group > .input-group-prepend:first-child > .btn:not(:first-child), .input-group > .input-group-prepend:first-child > .input-group-text:not(:first-child) { border-top-left-radius: 0; border-bottom-left-radius: 0; } .custom-control { position: relative; display: block; min-height: 1.5rem; padding-left: 1.5rem; } .custom-control-inline { display: -webkit-inline-box; display: -ms-inline-flexbox; display: inline-flex; margin-right: 1rem; } .custom-control-input { position: absolute; z-index: -1; opacity: 0; } .custom-control-input:checked ~ .custom-control-label::before { color: #fff; background-color: #007bff; } .custom-control-input:focus ~ .custom-control-label::before { -webkit-box-shadow: 0 0 0 1px #fff, 0 0 0 0.2rem rgba(0, 123, 255, 0.25); box-shadow: 0 0 0 1px #fff, 0 0 0 0.2rem rgba(0, 123, 255, 0.25); } .custom-control-input:active ~ .custom-control-label::before { color: #fff; background-color: #b3d7ff; } .custom-control-input:disabled ~ .custom-control-label { color: #6c757d; } .custom-control-input:disabled ~ .custom-control-label::before { background-color: #e9ecef; } .custom-control-label { position: relative; margin-bottom: 0; } .custom-control-label::before { position: absolute; top: 0.25rem; left: -1.5rem; display: block; width: 1rem; height: 1rem; pointer-events: none; content: ""; -webkit-user-select: none; -moz-user-select: none; -ms-user-select: none; user-select: none; background-color: #dee2e6; } .custom-control-label::after { position: absolute; top: 0.25rem; left: -1.5rem; display: block; width: 1rem; height: 1rem; content: ""; background-repeat: no-repeat; background-position: center center; background-size: 50% 50%; } .custom-checkbox .custom-control-label::before { border-radius: 0.25rem; } .custom-checkbox .custom-control-input:checked ~ .custom-control-label::before { background-color: #007bff; } .custom-checkbox .custom-control-input:checked ~ .custom-control-label::after { background-image: url("data:image/svg+xml;charset=utf8,%3Csvg xmlns='http://www.w3.org/2000/svg' viewBox='0 0 8 8'%3E%3Cpath fill='%23fff' d='M6.564.75l-3.59 3.612-1.538-1.55L0 4.26 2.974 7.25 8 2.193z'/%3E%3C/svg%3E"); } .custom-checkbox .custom-control-input:indeterminate ~ .custom-control-label::before { background-color: #007bff; } .custom-checkbox .custom-control-input:indeterminate ~ .custom-control-label::after { background-image: url("data:image/svg+xml;charset=utf8,%3Csvg xmlns='http://www.w3.org/2000/svg' viewBox='0 0 4 4'%3E%3Cpath stroke='%23fff' d='M0 2h4'/%3E%3C/svg%3E"); } .custom-checkbox .custom-control-input:disabled:checked ~ .custom-control-label::before { background-color: rgba(0, 123, 255, 0.5); } .custom-checkbox .custom-control-input:disabled:indeterminate ~ .custom-control-label::before { background-color: rgba(0, 123, 255, 0.5); } .custom-radio .custom-control-label::before { border-radius: 50%; } .custom-radio .custom-control-input:checked ~ .custom-control-label::before { background-color: #007bff; } .custom-radio .custom-control-input:checked ~ .custom-control-label::after { background-image: url("data:image/svg+xml;charset=utf8,%3Csvg xmlns='http://www.w3.org/2000/svg' viewBox='-4 -4 8 8'%3E%3Ccircle r='3' fill='%23fff'/%3E%3C/svg%3E"); } .custom-radio .custom-control-input:disabled:checked ~ .custom-control-label::before { background-color: rgba(0, 123, 255, 0.5); } .custom-select { display: inline-block; width: 100%; height: calc(2.25rem + 2px); padding: 0.375rem 1.75rem 0.375rem 0.75rem; line-height: 1.5; color: #495057; vertical-align: middle; background: #fff url("data:image/svg+xml;charset=utf8,%3Csvg xmlns='http://www.w3.org/2000/svg' viewBox='0 0 4 5'%3E%3Cpath fill='%23343a40' d='M2 0L0 2h4zm0 5L0 3h4z'/%3E%3C/svg%3E") no-repeat right 0.75rem center; background-size: 8px 10px; border: 1px solid #ced4da; border-radius: 0.25rem; -webkit-appearance: none; -moz-appearance: none; appearance: none; } .custom-select:focus { border-color: #80bdff; outline: 0; -webkit-box-shadow: inset 0 1px 2px rgba(0, 0, 0, 0.075), 0 0 5px rgba(128, 189, 255, 0.5); box-shadow: inset 0 1px 2px rgba(0, 0, 0, 0.075), 0 0 5px rgba(128, 189, 255, 0.5); } .custom-select:focus::-ms-value { color: #495057; background-color: #fff; } .custom-select[multiple], .custom-select[size]:not([size="1"]) { height: auto; padding-right: 0.75rem; background-image: none; } .custom-select:disabled { color: #6c757d; background-color: #e9ecef; } .custom-select::-ms-expand { opacity: 0; } .custom-select-sm { height: calc(1.8125rem + 2px); padding-top: 0.375rem; padding-bottom: 0.375rem; font-size: 75%; } .custom-select-lg { height: calc(2.875rem + 2px); padding-top: 0.375rem; padding-bottom: 0.375rem; font-size: 125%; } .custom-file { position: relative; display: inline-block; width: 100%; height: calc(2.25rem + 2px); margin-bottom: 0; } .custom-file-input { position: relative; z-index: 2; width: 100%; height: calc(2.25rem + 2px); margin: 0; opacity: 0; } .custom-file-input:focus ~ .custom-file-label { border-color: #80bdff; -webkit-box-shadow: 0 0 0 0.2rem rgba(0, 123, 255, 0.25); box-shadow: 0 0 0 0.2rem rgba(0, 123, 255, 0.25); } .custom-file-input:focus ~ .custom-file-label::after { border-color: #80bdff; } .custom-file-input:lang(en) ~ .custom-file-label::after { content: "Browse"; } .custom-file-label { position: absolute; top: 0; right: 0; left: 0; z-index: 1; height: calc(2.25rem + 2px); padding: 0.375rem 0.75rem; line-height: 1.5; color: #495057; background-color: #fff; border: 1px solid #ced4da; border-radius: 0.25rem; } .custom-file-label::after { position: absolute; top: 0; right: 0; bottom: 0; z-index: 3; display: block; height: 2.25rem; padding: 0.375rem 0.75rem; line-height: 1.5; color: #495057; content: "Browse"; background-color: #e9ecef; border-left: 1px solid #ced4da; border-radius: 0 0.25rem 0.25rem 0; } .custom-range { width: 100%; padding-left: 0; background-color: transparent; -webkit-appearance: none; -moz-appearance: none; appearance: none; } .custom-range:focus { outline: none; } .custom-range::-moz-focus-outer { border: 0; } .custom-range::-webkit-slider-thumb { width: 1rem; height: 1rem; margin-top: -0.25rem; background-color: #007bff; border: 0; border-radius: 1rem; -webkit-appearance: none; appearance: none; } .custom-range::-webkit-slider-thumb:focus { outline: none; -webkit-box-shadow: 0 0 0 1px #fff, 0 0 0 0.2rem rgba(0, 123, 255, 0.25); box-shadow: 0 0 0 1px #fff, 0 0 0 0.2rem rgba(0, 123, 255, 0.25); } .custom-range::-webkit-slider-thumb:active { background-color: #b3d7ff; } .custom-range::-webkit-slider-runnable-track { width: 100%; height: 0.5rem; color: transparent; cursor: pointer; background-color: #dee2e6; border-color: transparent; border-radius: 1rem; } .custom-range::-moz-range-thumb { width: 1rem; height: 1rem; background-color: #007bff; border: 0; border-radius: 1rem; -moz-appearance: none; appearance: none; } .custom-range::-moz-range-thumb:focus { outline: none; box-shadow: 0 0 0 1px #fff, 0 0 0 0.2rem rgba(0, 123, 255, 0.25); } .custom-range::-moz-range-thumb:active { background-color: #b3d7ff; } .custom-range::-moz-range-track { width: 100%; height: 0.5rem; color: transparent; cursor: pointer; background-color: #dee2e6; border-color: transparent; border-radius: 1rem; } .custom-range::-ms-thumb { width: 1rem; height: 1rem; background-color: #007bff; border: 0; border-radius: 1rem; appearance: none; } .custom-range::-ms-thumb:focus { outline: none; box-shadow: 0 0 0 1px #fff, 0 0 0 0.2rem rgba(0, 123, 255, 0.25); } .custom-range::-ms-thumb:active { background-color: #b3d7ff; } .custom-range::-ms-track { width: 100%; height: 0.5rem; color: transparent; cursor: pointer; background-color: transparent; border-color: transparent; border-width: 0.5rem; } .custom-range::-ms-fill-lower { background-color: #dee2e6; border-radius: 1rem; } .custom-range::-ms-fill-upper { margin-right: 15px; background-color: #dee2e6; border-radius: 1rem; } .nav { display: -webkit-box; display: -ms-flexbox; display: flex; -ms-flex-wrap: wrap; flex-wrap: wrap; padding-left: 0; margin-bottom: 0; list-style: none; } .nav-link { display: block; padding: 0.5rem 1rem; } .nav-link:hover, .nav-link:focus { text-decoration: none; } .nav-link.disabled { color: #6c757d; } .nav-tabs { border-bottom: 1px solid #dee2e6; } .nav-tabs .nav-item { margin-bottom: -1px; } .nav-tabs .nav-link { border: 1px solid transparent; border-top-left-radius: 0.25rem; border-top-right-radius: 0.25rem; } .nav-tabs .nav-link:hover, .nav-tabs .nav-link:focus { border-color: #e9ecef #e9ecef #dee2e6; } .nav-tabs .nav-link.disabled { color: #6c757d; background-color: transparent; border-color: transparent; } .nav-tabs .nav-link.active, .nav-tabs .nav-item.show .nav-link { color: #495057; background-color: #fff; border-color: #dee2e6 #dee2e6 #fff; } .nav-tabs .dropdown-menu { margin-top: -1px; border-top-left-radius: 0; border-top-right-radius: 0; } .nav-pills .nav-link { border-radius: 0.25rem; } .nav-pills .nav-link.active, .nav-pills .show > .nav-link { color: #fff; background-color: #007bff; } .nav-fill .nav-item { -webkit-box-flex: 1; -ms-flex: 1 1 auto; flex: 1 1 auto; text-align: center; } .nav-justified .nav-item { -ms-flex-preferred-size: 0; flex-basis: 0; -webkit-box-flex: 1; -ms-flex-positive: 1; flex-grow: 1; text-align: center; } .tab-content > .tab-pane { display: none; } .tab-content > .active { display: block; } .navbar { position: relative; display: -webkit-box; display: -ms-flexbox; display: flex; -ms-flex-wrap: wrap; flex-wrap: wrap; -webkit-box-align: center; -ms-flex-align: center; align-items: center; -webkit-box-pack: justify; -ms-flex-pack: justify; justify-content: space-between; padding: 2rem 4rem; } .navbar > .container, .navbar > .container-fluid { display: -webkit-box; display: -ms-flexbox; display: flex; -ms-flex-wrap: wrap; flex-wrap: wrap; -webkit-box-align: center; -ms-flex-align: center; align-items: center; -webkit-box-pack: justify; -ms-flex-pack: justify; justify-content: space-between; } .navbar-brand { display: inline-block; padding-top: 0.3125rem; padding-bottom: 0.3125rem; margin-right: 4rem; font-size: 1.25rem; line-height: inherit; white-space: nowrap; } .navbar-brand:hover, .navbar-brand:focus { text-decoration: none; } .navbar-nav { display: -webkit-box; display: -ms-flexbox; display: flex; -webkit-box-orient: vertical; -webkit-box-direction: normal; -ms-flex-direction: column; flex-direction: column; padding-left: 0; margin-bottom: 0; list-style: none; } .navbar-nav .nav-link { padding-right: 0; padding-left: 0; } .navbar-nav .dropdown-menu { position: static; float: none; } .navbar-text { display: inline-block; padding-top: 0.5rem; padding-bottom: 0.5rem; } .navbar-collapse { -ms-flex-preferred-size: 100%; flex-basis: 100%; -webkit-box-flex: 1; -ms-flex-positive: 1; flex-grow: 1; -webkit-box-align: center; -ms-flex-align: center; align-items: center; } .navbar-toggler { padding: 0.25rem 0.75rem; font-size: 1.25rem; line-height: 1; background-color: transparent; border: 1px solid transparent; border-radius: 0.25rem; } .navbar-toggler:hover, .navbar-toggler:focus { text-decoration: none; } .navbar-toggler:not(:disabled):not(.disabled) { cursor: pointer; } .navbar-toggler-icon { display: inline-block; width: 1.5em; height: 1.5em; vertical-align: middle; content: ""; background: no-repeat center center; background-size: 100% 100%; } @media (max-width: 575.98px) { .navbar-expand-sm > .container, .navbar-expand-sm > .container-fluid { padding-right: 0; padding-left: 0; } } @media (min-width: 576px) { .navbar-expand-sm { -webkit-box-orient: horizontal; -webkit-box-direction: normal; -ms-flex-flow: row nowrap; flex-flow: row nowrap; -webkit-box-pack: start; -ms-flex-pack: start; justify-content: flex-start; } .navbar-expand-sm .navbar-nav { -webkit-box-orient: horizontal; -webkit-box-direction: normal; -ms-flex-direction: row; flex-direction: row; } .navbar-expand-sm .navbar-nav .dropdown-menu { position: absolute; } .navbar-expand-sm .navbar-nav .nav-link { padding-right: 0.5rem; padding-left: 0.5rem; } .navbar-expand-sm > .container, .navbar-expand-sm > .container-fluid { -ms-flex-wrap: nowrap; flex-wrap: nowrap; } .navbar-expand-sm .navbar-collapse { display: -webkit-box !important; display: -ms-flexbox !important; display: flex !important; -ms-flex-preferred-size: auto; flex-basis: auto; } .navbar-expand-sm .navbar-toggler { display: none; } } @media (max-width: 767.98px) { .navbar-expand-md > .container, .navbar-expand-md > .container-fluid { padding-right: 0; padding-left: 0; } } @media (min-width: 768px) { .navbar-expand-md { -webkit-box-orient: horizontal; -webkit-box-direction: normal; -ms-flex-flow: row nowrap; flex-flow: row nowrap; -webkit-box-pack: start; -ms-flex-pack: start; justify-content: flex-start; } .navbar-expand-md .navbar-nav { -webkit-box-orient: horizontal; -webkit-box-direction: normal; -ms-flex-direction: row; flex-direction: row; } .navbar-expand-md .navbar-nav .dropdown-menu { position: absolute; } .navbar-expand-md .navbar-nav .nav-link { padding-right: 0.5rem; padding-left: 0.5rem; } .navbar-expand-md > .container, .navbar-expand-md > .container-fluid { -ms-flex-wrap: nowrap; flex-wrap: nowrap; } .navbar-expand-md .navbar-collapse { display: -webkit-box !important; display: -ms-flexbox !important; display: flex !important; -ms-flex-preferred-size: auto; flex-basis: auto; } .navbar-expand-md .navbar-toggler { display: none; } } @media (max-width: 991.98px) { .navbar-expand-lg > .container, .navbar-expand-lg > .container-fluid { padding-right: 0; padding-left: 0; } } @media (min-width: 992px) { .navbar-expand-lg { -webkit-box-orient: horizontal; -webkit-box-direction: normal; -ms-flex-flow: row nowrap; flex-flow: row nowrap; -webkit-box-pack: start; -ms-flex-pack: start; justify-content: flex-start; } .navbar-expand-lg .navbar-nav { -webkit-box-orient: horizontal; -webkit-box-direction: normal; -ms-flex-direction: row; flex-direction: row; } .navbar-expand-lg .navbar-nav .dropdown-menu { position: absolute; } .navbar-expand-lg .navbar-nav .nav-link { padding-right: 0.5rem; padding-left: 0.5rem; } .navbar-expand-lg > .container, .navbar-expand-lg > .container-fluid { -ms-flex-wrap: nowrap; flex-wrap: nowrap; } .navbar-expand-lg .navbar-collapse { display: -webkit-box !important; display: -ms-flexbox !important; display: flex !important; -ms-flex-preferred-size: auto; flex-basis: auto; } .navbar-expand-lg .navbar-toggler { display: none; } } @media (max-width: 1199.98px) { .navbar-expand-xl > .container, .navbar-expand-xl > .container-fluid { padding-right: 0; padding-left: 0; } } @media (min-width: 1200px) { .navbar-expand-xl { -webkit-box-orient: horizontal; -webkit-box-direction: normal; -ms-flex-flow: row nowrap; flex-flow: row nowrap; -webkit-box-pack: start; -ms-flex-pack: start; justify-content: flex-start; } .navbar-expand-xl .navbar-nav { -webkit-box-orient: horizontal; -webkit-box-direction: normal; -ms-flex-direction: row; flex-direction: row; } .navbar-expand-xl .navbar-nav .dropdown-menu { position: absolute; } .navbar-expand-xl .navbar-nav .nav-link { padding-right: 0.5rem; padding-left: 0.5rem; } .navbar-expand-xl > .container, .navbar-expand-xl > .container-fluid { -ms-flex-wrap: nowrap; flex-wrap: nowrap; } .navbar-expand-xl .navbar-collapse { display: -webkit-box !important; display: -ms-flexbox !important; display: flex !important; -ms-flex-preferred-size: auto; flex-basis: auto; } .navbar-expand-xl .navbar-toggler { display: none; } } .navbar-expand { -webkit-box-orient: horizontal; -webkit-box-direction: normal; -ms-flex-flow: row nowrap; flex-flow: row nowrap; -webkit-box-pack: start; -ms-flex-pack: start; justify-content: flex-start; } .navbar-expand > .container, .navbar-expand > .container-fluid { padding-right: 0; padding-left: 0; } .navbar-expand .navbar-nav { -webkit-box-orient: horizontal; -webkit-box-direction: normal; -ms-flex-direction: row; flex-direction: row; } .navbar-expand .navbar-nav .dropdown-menu { position: absolute; } .navbar-expand .navbar-nav .nav-link { padding-right: 0.5rem; padding-left: 0.5rem; } .navbar-expand > .container, .navbar-expand > .container-fluid { -ms-flex-wrap: nowrap; flex-wrap: nowrap; } .navbar-expand .navbar-collapse { display: -webkit-box !important; display: -ms-flexbox !important; display: flex !important; -ms-flex-preferred-size: auto; flex-basis: auto; } .navbar-expand .navbar-toggler { display: none; } .navbar-light .navbar-brand { color: rgba(0, 0, 0, 0.9); } .navbar-light .navbar-brand:hover, .navbar-light .navbar-brand:focus { color: rgba(0, 0, 0, 0.9); } .navbar-light .navbar-nav .nav-link { color: rgba(0, 0, 0, 0.5); } .navbar-light .navbar-nav .nav-link:hover, .navbar-light .navbar-nav .nav-link:focus { color: rgba(0, 0, 0, 0.7); } .navbar-light .navbar-nav .nav-link.disabled { color: rgba(0, 0, 0, 0.3); } .navbar-light .navbar-nav .show > .nav-link, .navbar-light .navbar-nav .active > .nav-link, .navbar-light .navbar-nav .nav-link.show, .navbar-light .navbar-nav .nav-link.active { color: rgba(0, 0, 0, 0.9); } .navbar-light .navbar-toggler { color: rgba(0, 0, 0, 0.5); border-color: rgba(0, 0, 0, 0.1); } .navbar-light .navbar-toggler-icon { background-image: url("data:image/svg+xml;charset=utf8,%3Csvg viewBox='0 0 30 30' xmlns='http://www.w3.org/2000/svg'%3E%3Cpath stroke='rgba(0, 0, 0, 0.5)' stroke-width='2' stroke-linecap='round' stroke-miterlimit='10' d='M4 7h22M4 15h22M4 23h22'/%3E%3C/svg%3E"); } .navbar-light .navbar-text { color: rgba(0, 0, 0, 0.5); } .navbar-light .navbar-text a { color: rgba(0, 0, 0, 0.9); } .navbar-light .navbar-text a:hover, .navbar-light .navbar-text a:focus { color: rgba(0, 0, 0, 0.9); } .navbar-dark .navbar-brand { color: #fff; } .navbar-dark .navbar-brand:hover, .navbar-dark .navbar-brand:focus { color: #fff; } .navbar-dark .navbar-nav .nav-link { color: rgba(255, 255, 255, 0.5); } .navbar-dark .navbar-nav .nav-link:hover, .navbar-dark .navbar-nav .nav-link:focus { color: rgba(255, 255, 255, 0.75); } .navbar-dark .navbar-nav .nav-link.disabled { color: rgba(255, 255, 255, 0.25); } .navbar-dark .navbar-nav .show > .nav-link, .navbar-dark .navbar-nav .active > .nav-link, .navbar-dark .navbar-nav .nav-link.show, .navbar-dark .navbar-nav .nav-link.active { color: #fff; } .navbar-dark .navbar-toggler { color: rgba(255, 255, 255, 0.5); border-color: rgba(255, 255, 255, 0.1); } .navbar-dark .navbar-toggler-icon { background-image: url("data:image/svg+xml;charset=utf8,%3Csvg viewBox='0 0 30 30' xmlns='http://www.w3.org/2000/svg'%3E%3Cpath stroke='rgba(255, 255, 255, 0.5)' stroke-width='2' stroke-linecap='round' stroke-miterlimit='10' d='M4 7h22M4 15h22M4 23h22'/%3E%3C/svg%3E"); } .navbar-dark .navbar-text { color: rgba(255, 255, 255, 0.5); } .navbar-dark .navbar-text a { color: #fff; } .navbar-dark .navbar-text a:hover, .navbar-dark .navbar-text a:focus { color: #fff; } .card { position: relative; display: -webkit-box; display: -ms-flexbox; display: flex; -webkit-box-orient: vertical; -webkit-box-direction: normal; -ms-flex-direction: column; flex-direction: column; min-width: 0; word-wrap: break-word; background-color: #fff; background-clip: border-box; border: 1px solid rgba(0, 0, 0, 0.125); border-radius: 0.25rem; } .card > hr { margin-right: 0; margin-left: 0; } .card > .list-group:first-child .list-group-item:first-child { border-top-left-radius: 0.25rem; border-top-right-radius: 0.25rem; } .card > .list-group:last-child .list-group-item:last-child { border-bottom-right-radius: 0.25rem; border-bottom-left-radius: 0.25rem; } .card-body { -webkit-box-flex: 1; -ms-flex: 1 1 auto; flex: 1 1 auto; padding: 1.25rem; } .card-title { margin-bottom: 0.75rem; } .card-subtitle { margin-top: -0.375rem; margin-bottom: 0; } .card-text:last-child { margin-bottom: 0; } .card-link:hover { text-decoration: none; } .card-link + .card-link { margin-left: 1.25rem; } .card-header { padding: 0.75rem 1.25rem; margin-bottom: 0; background-color: rgba(0, 0, 0, 0.03); border-bottom: 1px solid rgba(0, 0, 0, 0.125); } .card-header:first-child { border-radius: calc(0.25rem - 1px) calc(0.25rem - 1px) 0 0; } .card-header + .list-group .list-group-item:first-child { border-top: 0; } .card-footer { padding: 0.75rem 1.25rem; background-color: rgba(0, 0, 0, 0.03); border-top: 1px solid rgba(0, 0, 0, 0.125); } .card-footer:last-child { border-radius: 0 0 calc(0.25rem - 1px) calc(0.25rem - 1px); } .card-header-tabs { margin-right: -0.625rem; margin-bottom: -0.75rem; margin-left: -0.625rem; border-bottom: 0; } .card-header-pills { margin-right: -0.625rem; margin-left: -0.625rem; } .card-img-overlay { position: absolute; top: 0; right: 0; bottom: 0; left: 0; padding: 1.25rem; } .card-img { width: 100%; border-radius: calc(0.25rem - 1px); } .card-img-top { width: 100%; border-top-left-radius: calc(0.25rem - 1px); border-top-right-radius: calc(0.25rem - 1px); } .card-img-bottom { width: 100%; border-bottom-right-radius: calc(0.25rem - 1px); border-bottom-left-radius: calc(0.25rem - 1px); } .card-deck { display: -webkit-box; display: -ms-flexbox; display: flex; -webkit-box-orient: vertical; -webkit-box-direction: normal; -ms-flex-direction: column; flex-direction: column; } .card-deck .card { margin-bottom: 15px; } @media (min-width: 576px) { .card-deck { -webkit-box-orient: horizontal; -webkit-box-direction: normal; -ms-flex-flow: row wrap; flex-flow: row wrap; margin-right: -15px; margin-left: -15px; } .card-deck .card { display: -webkit-box; display: -ms-flexbox; display: flex; -webkit-box-flex: 1; -ms-flex: 1 0 0%; flex: 1 0 0%; -webkit-box-orient: vertical; -webkit-box-direction: normal; -ms-flex-direction: column; flex-direction: column; margin-right: 15px; margin-bottom: 0; margin-left: 15px; } } .card-group { display: -webkit-box; display: -ms-flexbox; display: flex; -webkit-box-orient: vertical; -webkit-box-direction: normal; -ms-flex-direction: column; flex-direction: column; } .card-group > .card { margin-bottom: 15px; } @media (min-width: 576px) { .card-group { -webkit-box-orient: horizontal; -webkit-box-direction: normal; -ms-flex-flow: row wrap; flex-flow: row wrap; } .card-group > .card { -webkit-box-flex: 1; -ms-flex: 1 0 0%; flex: 1 0 0%; margin-bottom: 0; } .card-group > .card + .card { margin-left: 0; border-left: 0; } .card-group > .card:first-child { border-top-right-radius: 0; border-bottom-right-radius: 0; } .card-group > .card:first-child .card-img-top, .card-group > .card:first-child .card-header { border-top-right-radius: 0; } .card-group > .card:first-child .card-img-bottom, .card-group > .card:first-child .card-footer { border-bottom-right-radius: 0; } .card-group > .card:last-child { border-top-left-radius: 0; border-bottom-left-radius: 0; } .card-group > .card:last-child .card-img-top, .card-group > .card:last-child .card-header { border-top-left-radius: 0; } .card-group > .card:last-child .card-img-bottom, .card-group > .card:last-child .card-footer { border-bottom-left-radius: 0; } .card-group > .card:only-child { border-radius: 0.25rem; } .card-group > .card:only-child .card-img-top, .card-group > .card:only-child .card-header { border-top-left-radius: 0.25rem; border-top-right-radius: 0.25rem; } .card-group > .card:only-child .card-img-bottom, .card-group > .card:only-child .card-footer { border-bottom-right-radius: 0.25rem; border-bottom-left-radius: 0.25rem; } .card-group > .card:not(:first-child):not(:last-child):not(:only-child) { border-radius: 0; } .card-group > .card:not(:first-child):not(:last-child):not(:only-child) .card-img-top, .card-group > .card:not(:first-child):not(:last-child):not(:only-child) .card-img-bottom, .card-group > .card:not(:first-child):not(:last-child):not(:only-child) .card-header, .card-group > .card:not(:first-child):not(:last-child):not(:only-child) .card-footer { border-radius: 0; } } .card-columns .card { margin-bottom: 0.75rem; } @media (min-width: 576px) { .card-columns { -webkit-column-count: 3; -moz-column-count: 3; column-count: 3; -webkit-column-gap: 1.25rem; -moz-column-gap: 1.25rem; column-gap: 1.25rem; orphans: 1; widows: 1; } .card-columns .card { display: inline-block; width: 100%; } } .accordion .card:not(:first-of-type):not(:last-of-type) { border-bottom: 0; border-radius: 0; } .accordion .card:not(:first-of-type) .card-header:first-child { border-radius: 0; } .accordion .card:first-of-type { border-bottom: 0; border-bottom-right-radius: 0; border-bottom-left-radius: 0; } .accordion .card:last-of-type { border-top-left-radius: 0; border-top-right-radius: 0; } .breadcrumb { display: -webkit-box; display: -ms-flexbox; display: flex; -ms-flex-wrap: wrap; flex-wrap: wrap; padding: 0.75rem 1rem; margin-bottom: 1rem; list-style: none; background-color: #e9ecef; border-radius: 0.25rem; } .breadcrumb-item + .breadcrumb-item { padding-left: 0.5rem; } .breadcrumb-item + .breadcrumb-item::before { display: inline-block; padding-right: 0.5rem; color: #6c757d; content: "/"; } .breadcrumb-item + .breadcrumb-item:hover::before { text-decoration: underline; } .breadcrumb-item + .breadcrumb-item:hover::before { text-decoration: none; } .breadcrumb-item.active { color: #6c757d; } .pagination { display: -webkit-box; display: -ms-flexbox; display: flex; padding-left: 0; list-style: none; border-radius: 0.25rem; } .page-link { position: relative; display: block; padding: 0.5rem 0.75rem; margin-left: -1px; line-height: 1.25; color: #007bff; background-color: #fff; border: 1px solid #dee2e6; } .page-link:hover { z-index: 2; color: #0056b3; text-decoration: none; background-color: #e9ecef; border-color: #dee2e6; } .page-link:focus { z-index: 2; outline: 0; -webkit-box-shadow: 0 0 0 0.2rem rgba(0, 123, 255, 0.25); box-shadow: 0 0 0 0.2rem rgba(0, 123, 255, 0.25); } .page-link:not(:disabled):not(.disabled) { cursor: pointer; } .page-item:first-child .page-link { margin-left: 0; border-top-left-radius: 0.25rem; border-bottom-left-radius: 0.25rem; } .page-item:last-child .page-link { border-top-right-radius: 0.25rem; border-bottom-right-radius: 0.25rem; } .page-item.active .page-link { z-index: 1; color: #fff; background-color: #007bff; border-color: #007bff; } .page-item.disabled .page-link { color: #6c757d; pointer-events: none; cursor: auto; background-color: #fff; border-color: #dee2e6; } .pagination-lg .page-link { padding: 0.75rem 1.5rem; font-size: 1.25rem; line-height: 1.5; } .pagination-lg .page-item:first-child .page-link { border-top-left-radius: 0.3rem; border-bottom-left-radius: 0.3rem; } .pagination-lg .page-item:last-child .page-link { border-top-right-radius: 0.3rem; border-bottom-right-radius: 0.3rem; } .pagination-sm .page-link { padding: 0.25rem 0.5rem; font-size: 0.875rem; line-height: 1.5; } .pagination-sm .page-item:first-child .page-link { border-top-left-radius: 0.2rem; border-bottom-left-radius: 0.2rem; } .pagination-sm .page-item:last-child .page-link { border-top-right-radius: 0.2rem; border-bottom-right-radius: 0.2rem; } .badge { display: inline-block; padding: 0.25em 0.4em; font-size: 75%; font-weight: 700; line-height: 1; text-align: center; white-space: nowrap; vertical-align: baseline; border-radius: 0.25rem; } .badge:empty { display: none; } .btn .badge { position: relative; top: -1px; } .badge-pill { padding-right: 0.6em; padding-left: 0.6em; border-radius: 10rem; } .badge-primary { color: #fff; background-color: #007bff; } .badge-primary[href]:hover, .badge-primary[href]:focus { color: #fff; text-decoration: none; background-color: #0062cc; } .badge-secondary { color: #fff; background-color: #6c757d; } .badge-secondary[href]:hover, .badge-secondary[href]:focus { color: #fff; text-decoration: none; background-color: #545b62; } .badge-success { color: #fff; background-color: #28a745; } .badge-success[href]:hover, .badge-success[href]:focus { color: #fff; text-decoration: none; background-color: #1e7e34; } .badge-info { color: #fff; background-color: #17a2b8; } .badge-info[href]:hover, .badge-info[href]:focus { color: #fff; text-decoration: none; background-color: #117a8b; } .badge-warning { color: #212529; background-color: #ffc107; } .badge-warning[href]:hover, .badge-warning[href]:focus { color: #212529; text-decoration: none; background-color: #d39e00; } .badge-danger { color: #fff; background-color: #dc3545; } .badge-danger[href]:hover, .badge-danger[href]:focus { color: #fff; text-decoration: none; background-color: #bd2130; } .badge-light { color: #212529; background-color: #f8f9fa; } .badge-light[href]:hover, .badge-light[href]:focus { color: #212529; text-decoration: none; background-color: #dae0e5; } .badge-dark { color: #fff; background-color: #343a40; } .badge-dark[href]:hover, .badge-dark[href]:focus { color: #fff; text-decoration: none; background-color: #1d2124; } .jumbotron { padding: 2rem 1rem; margin-bottom: 2rem; background-color: #e9ecef; border-radius: 0.3rem; } @media (min-width: 576px) { .jumbotron { padding: 4rem 2rem; } } .jumbotron-fluid { padding-right: 0; padding-left: 0; border-radius: 0; } .alert { position: relative; padding: 0.75rem 1.25rem; margin-bottom: 1rem; border: 1px solid transparent; border-radius: 0.25rem; } .alert-heading { color: inherit; } .alert-link { font-weight: 700; } .alert-dismissible { padding-right: 4rem; } .alert-dismissible .close { position: absolute; top: 0; right: 0; padding: 0.75rem 1.25rem; color: inherit; } .alert-primary { color: #004085; background-color: #cce5ff; border-color: #b8daff; } .alert-primary hr { border-top-color: #9fcdff; } .alert-primary .alert-link { color: #002752; } .alert-secondary { color: #383d41; background-color: #e2e3e5; border-color: #d6d8db; } .alert-secondary hr { border-top-color: #c8cbcf; } .alert-secondary .alert-link { color: #202326; } .alert-success { color: #155724; background-color: #d4edda; border-color: #c3e6cb; } .alert-success hr { border-top-color: #b1dfbb; } .alert-success .alert-link { color: #0b2e13; } .alert-info { color: #0c5460; background-color: #d1ecf1; border-color: #bee5eb; } .alert-info hr { border-top-color: #abdde5; } .alert-info .alert-link { color: #062c33; } .alert-warning { color: #856404; background-color: #fff3cd; border-color: #ffeeba; } .alert-warning hr { border-top-color: #ffe8a1; } .alert-warning .alert-link { color: #533f03; } .alert-danger { color: #721c24; background-color: #f8d7da; border-color: #f5c6cb; } .alert-danger hr { border-top-color: #f1b0b7; } .alert-danger .alert-link { color: #491217; } .alert-light { color: #818182; background-color: #fefefe; border-color: #fdfdfe; } .alert-light hr { border-top-color: #ececf6; } .alert-light .alert-link { color: #686868; } .alert-dark { color: #1b1e21; background-color: #d6d8d9; border-color: #c6c8ca; } .alert-dark hr { border-top-color: #b9bbbe; } .alert-dark .alert-link { color: #040505; } @-webkit-keyframes progress-bar-stripes { from { background-position: 1rem 0; } to { background-position: 0 0; } } @keyframes progress-bar-stripes { from { background-position: 1rem 0; } to { background-position: 0 0; } } .progress { display: -webkit-box; display: -ms-flexbox; display: flex; height: 1rem; overflow: hidden; font-size: 0.75rem; background-color: #e9ecef; border-radius: 0.25rem; } .progress-bar { display: -webkit-box; display: -ms-flexbox; display: flex; -webkit-box-orient: vertical; -webkit-box-direction: normal; -ms-flex-direction: column; flex-direction: column; -webkit-box-pack: center; -ms-flex-pack: center; justify-content: center; color: #fff; text-align: center; white-space: nowrap; background-color: #007bff; -webkit-transition: width 0.6s ease; -o-transition: width 0.6s ease; transition: width 0.6s ease; } @media screen and (prefers-reduced-motion: reduce) { .progress-bar { -webkit-transition: none; -o-transition: none; transition: none; } } .progress-bar-striped { background-image: -o-linear-gradient(45deg, rgba(255, 255, 255, 0.15) 25%, transparent 25%, transparent 50%, rgba(255, 255, 255, 0.15) 50%, rgba(255, 255, 255, 0.15) 75%, transparent 75%, transparent); background-image: linear-gradient(45deg, rgba(255, 255, 255, 0.15) 25%, transparent 25%, transparent 50%, rgba(255, 255, 255, 0.15) 50%, rgba(255, 255, 255, 0.15) 75%, transparent 75%, transparent); background-size: 1rem 1rem; } .progress-bar-animated { -webkit-animation: progress-bar-stripes 1s linear infinite; animation: progress-bar-stripes 1s linear infinite; } .media { display: -webkit-box; display: -ms-flexbox; display: flex; -webkit-box-align: start; -ms-flex-align: start; align-items: flex-start; } .media-body { -webkit-box-flex: 1; -ms-flex: 1; flex: 1; } .list-group { display: -webkit-box; display: -ms-flexbox; display: flex; -webkit-box-orient: vertical; -webkit-box-direction: normal; -ms-flex-direction: column; flex-direction: column; padding-left: 0; margin-bottom: 0; } .list-group-item-action { width: 100%; color: #495057; text-align: inherit; } .list-group-item-action:hover, .list-group-item-action:focus { color: #495057; text-decoration: none; background-color: #f8f9fa; } .list-group-item-action:active { color: #212529; background-color: #e9ecef; } .list-group-item { position: relative; display: block; padding: 0.75rem 1.25rem; margin-bottom: -1px; background-color: #fff; border: 1px solid rgba(0, 0, 0, 0.125); } .list-group-item:first-child { border-top-left-radius: 0.25rem; border-top-right-radius: 0.25rem; } .list-group-item:last-child { margin-bottom: 0; border-bottom-right-radius: 0.25rem; border-bottom-left-radius: 0.25rem; } .list-group-item:hover, .list-group-item:focus { z-index: 1; text-decoration: none; } .list-group-item.disabled, .list-group-item:disabled { color: #6c757d; background-color: #fff; } .list-group-item.active { z-index: 2; color: #fff; background-color: #007bff; border-color: #007bff; } .list-group-flush .list-group-item { border-right: 0; border-left: 0; border-radius: 0; } .list-group-flush:first-child .list-group-item:first-child { border-top: 0; } .list-group-flush:last-child .list-group-item:last-child { border-bottom: 0; } .list-group-item-primary { color: #004085; background-color: #b8daff; } .list-group-item-primary.list-group-item-action:hover, .list-group-item-primary.list-group-item-action:focus { color: #004085; background-color: #9fcdff; } .list-group-item-primary.list-group-item-action.active { color: #fff; background-color: #004085; border-color: #004085; } .list-group-item-secondary { color: #383d41; background-color: #d6d8db; } .list-group-item-secondary.list-group-item-action:hover, .list-group-item-secondary.list-group-item-action:focus { color: #383d41; background-color: #c8cbcf; } .list-group-item-secondary.list-group-item-action.active { color: #fff; background-color: #383d41; border-color: #383d41; } .list-group-item-success { color: #155724; background-color: #c3e6cb; } .list-group-item-success.list-group-item-action:hover, .list-group-item-success.list-group-item-action:focus { color: #155724; background-color: #b1dfbb; } .list-group-item-success.list-group-item-action.active { color: #fff; background-color: #155724; border-color: #155724; } .list-group-item-info { color: #0c5460; background-color: #bee5eb; } .list-group-item-info.list-group-item-action:hover, .list-group-item-info.list-group-item-action:focus { color: #0c5460; background-color: #abdde5; } .list-group-item-info.list-group-item-action.active { color: #fff; background-color: #0c5460; border-color: #0c5460; } .list-group-item-warning { color: #856404; background-color: #ffeeba; } .list-group-item-warning.list-group-item-action:hover, .list-group-item-warning.list-group-item-action:focus { color: #856404; background-color: #ffe8a1; } .list-group-item-warning.list-group-item-action.active { color: #fff; background-color: #856404; border-color: #856404; } .list-group-item-danger { color: #721c24; background-color: #f5c6cb; } .list-group-item-danger.list-group-item-action:hover, .list-group-item-danger.list-group-item-action:focus { color: #721c24; background-color: #f1b0b7; } .list-group-item-danger.list-group-item-action.active { color: #fff; background-color: #721c24; border-color: #721c24; } .list-group-item-light { color: #818182; background-color: #fdfdfe; } .list-group-item-light.list-group-item-action:hover, .list-group-item-light.list-group-item-action:focus { color: #818182; background-color: #ececf6; } .list-group-item-light.list-group-item-action.active { color: #fff; background-color: #818182; border-color: #818182; } .list-group-item-dark { color: #1b1e21; background-color: #c6c8ca; } .list-group-item-dark.list-group-item-action:hover, .list-group-item-dark.list-group-item-action:focus { color: #1b1e21; background-color: #b9bbbe; } .list-group-item-dark.list-group-item-action.active { color: #fff; background-color: #1b1e21; border-color: #1b1e21; } .close { float: right; font-size: 1.5rem; font-weight: 700; line-height: 1; color: #000; text-shadow: 0 1px 0 #fff; opacity: 0.5; } .close:hover, .close:focus { color: #000; text-decoration: none; opacity: 0.75; } .close:not(:disabled):not(.disabled) { cursor: pointer; } button.close { padding: 0; background-color: transparent; border: 0; -webkit-appearance: none; } .modal-open { overflow: hidden; } .modal { position: fixed; top: 0; right: 0; bottom: 0; left: 0; z-index: 1050; display: none; overflow: hidden; outline: 0; } .modal-open .modal { overflow-x: hidden; overflow-y: auto; } .modal-dialog { position: relative; width: auto; margin: 0.5rem; pointer-events: none; } .modal.fade .modal-dialog { -webkit-transition: -webkit-transform 0.3s ease-out; transition: -webkit-transform 0.3s ease-out; -o-transition: transform 0.3s ease-out; transition: transform 0.3s ease-out; transition: transform 0.3s ease-out, -webkit-transform 0.3s ease-out; -webkit-transform: translate(0, -25%); -ms-transform: translate(0, -25%); transform: translate(0, -25%); } @media screen and (prefers-reduced-motion: reduce) { .modal.fade .modal-dialog { -webkit-transition: none; -o-transition: none; transition: none; } } .modal.show .modal-dialog { -webkit-transform: translate(0, 0); -ms-transform: translate(0, 0); transform: translate(0, 0); } .modal-dialog-centered { display: -webkit-box; display: -ms-flexbox; display: flex; -webkit-box-align: center; -ms-flex-align: center; align-items: center; min-height: calc(100% - (0.5rem * 2)); } .modal-content { position: relative; display: -webkit-box; display: -ms-flexbox; display: flex; -webkit-box-orient: vertical; -webkit-box-direction: normal; -ms-flex-direction: column; flex-direction: column; width: 100%; pointer-events: auto; background-color: #fff; background-clip: padding-box; border: 1px solid rgba(0, 0, 0, 0.2); border-radius: 0.3rem; outline: 0; } .modal-backdrop { position: fixed; top: 0; right: 0; bottom: 0; left: 0; z-index: 1040; background-color: #000; } .modal-backdrop.fade { opacity: 0; } .modal-backdrop.show { opacity: 0.5; } .modal-header { display: -webkit-box; display: -ms-flexbox; display: flex; -webkit-box-align: start; -ms-flex-align: start; align-items: flex-start; -webkit-box-pack: justify; -ms-flex-pack: justify; justify-content: space-between; padding: 1rem; border-bottom: 1px solid #e9ecef; border-top-left-radius: 0.3rem; border-top-right-radius: 0.3rem; } .modal-header .close { padding: 1rem; margin: -1rem -1rem -1rem auto; } .modal-title { margin-bottom: 0; line-height: 1.5; } .modal-body { position: relative; -webkit-box-flex: 1; -ms-flex: 1 1 auto; flex: 1 1 auto; padding: 1rem; } .modal-footer { display: -webkit-box; display: -ms-flexbox; display: flex; -webkit-box-align: center; -ms-flex-align: center; align-items: center; -webkit-box-pack: end; -ms-flex-pack: end; justify-content: flex-end; padding: 1rem; border-top: 1px solid #e9ecef; } .modal-footer > :not(:first-child) { margin-left: 0.25rem; } .modal-footer > :not(:last-child) { margin-right: 0.25rem; } .modal-scrollbar-measure { position: absolute; top: -9999px; width: 50px; height: 50px; overflow: scroll; } @media (min-width: 576px) { .modal-dialog { max-width: 500px; margin: 1.75rem auto; } .modal-dialog-centered { min-height: calc(100% - (1.75rem * 2)); } .modal-sm { max-width: 300px; } } @media (min-width: 992px) { .modal-lg { max-width: 800px; } } .tooltip { position: absolute; z-index: 1070; display: block; margin: 0; font-family: -apple-system, BlinkMacSystemFont, "Segoe UI", Roboto, "Helvetica Neue", Arial, sans-serif, "Apple Color Emoji", "Segoe UI Emoji", "Segoe UI Symbol"; font-style: normal; font-weight: 400; line-height: 1.5; text-align: left; text-align: start; text-decoration: none; text-shadow: none; text-transform: none; letter-spacing: normal; word-break: normal; word-spacing: normal; white-space: normal; line-break: auto; font-size: 0.875rem; word-wrap: break-word; opacity: 0; } .tooltip.show { opacity: 0.9; } .tooltip .arrow { position: absolute; display: block; width: 0.8rem; height: 0.4rem; } .tooltip .arrow::before { position: absolute; content: ""; border-color: transparent; border-style: solid; } .bs-tooltip-top, .bs-tooltip-auto[x-placement^=top] { padding: 0.4rem 0; } .bs-tooltip-top .arrow, .bs-tooltip-auto[x-placement^=top] .arrow { bottom: 0; } .bs-tooltip-top .arrow::before, .bs-tooltip-auto[x-placement^=top] .arrow::before { top: 0; border-width: 0.4rem 0.4rem 0; border-top-color: #000; } .bs-tooltip-right, .bs-tooltip-auto[x-placement^=right] { padding: 0 0.4rem; } .bs-tooltip-right .arrow, .bs-tooltip-auto[x-placement^=right] .arrow { left: 0; width: 0.4rem; height: 0.8rem; } .bs-tooltip-right .arrow::before, .bs-tooltip-auto[x-placement^=right] .arrow::before { right: 0; border-width: 0.4rem 0.4rem 0.4rem 0; border-right-color: #000; } .bs-tooltip-bottom, .bs-tooltip-auto[x-placement^=bottom] { padding: 0.4rem 0; } .bs-tooltip-bottom .arrow, .bs-tooltip-auto[x-placement^=bottom] .arrow { top: 0; } .bs-tooltip-bottom .arrow::before, .bs-tooltip-auto[x-placement^=bottom] .arrow::before { bottom: 0; border-width: 0 0.4rem 0.4rem; border-bottom-color: #000; } .bs-tooltip-left, .bs-tooltip-auto[x-placement^=left] { padding: 0 0.4rem; } .bs-tooltip-left .arrow, .bs-tooltip-auto[x-placement^=left] .arrow { right: 0; width: 0.4rem; height: 0.8rem; } .bs-tooltip-left .arrow::before, .bs-tooltip-auto[x-placement^=left] .arrow::before { left: 0; border-width: 0.4rem 0 0.4rem 0.4rem; border-left-color: #000; } .tooltip-inner { max-width: 200px; padding: 0.25rem 0.5rem; color: #fff; text-align: center; background-color: #000; border-radius: 0.25rem; } .popover { position: absolute; top: 0; left: 0; z-index: 1060; display: block; max-width: 276px; font-family: -apple-system, BlinkMacSystemFont, "Segoe UI", Roboto, "Helvetica Neue", Arial, sans-serif, "Apple Color Emoji", "Segoe UI Emoji", "Segoe UI Symbol"; font-style: normal; font-weight: 400; line-height: 1.5; text-align: left; text-align: start; text-decoration: none; text-shadow: none; text-transform: none; letter-spacing: normal; word-break: normal; word-spacing: normal; white-space: normal; line-break: auto; font-size: 0.875rem; word-wrap: break-word; background-color: #fff; background-clip: padding-box; border: 1px solid rgba(0, 0, 0, 0.2); border-radius: 0.3rem; } .popover .arrow { position: absolute; display: block; width: 1rem; height: 0.5rem; margin: 0 0.3rem; } .popover .arrow::before, .popover .arrow::after { position: absolute; display: block; content: ""; border-color: transparent; border-style: solid; } .bs-popover-top, .bs-popover-auto[x-placement^=top] { margin-bottom: 0.5rem; } .bs-popover-top .arrow, .bs-popover-auto[x-placement^=top] .arrow { bottom: calc((0.5rem + 1px) * -1); } .bs-popover-top .arrow::before, .bs-popover-auto[x-placement^=top] .arrow::before, .bs-popover-top .arrow::after, .bs-popover-auto[x-placement^=top] .arrow::after { border-width: 0.5rem 0.5rem 0; } .bs-popover-top .arrow::before, .bs-popover-auto[x-placement^=top] .arrow::before { bottom: 0; border-top-color: rgba(0, 0, 0, 0.25); } .bs-popover-top .arrow::after, .bs-popover-auto[x-placement^=top] .arrow::after { bottom: 1px; border-top-color: #fff; } .bs-popover-right, .bs-popover-auto[x-placement^=right] { margin-left: 0.5rem; } .bs-popover-right .arrow, .bs-popover-auto[x-placement^=right] .arrow { left: calc((0.5rem + 1px) * -1); width: 0.5rem; height: 1rem; margin: 0.3rem 0; } .bs-popover-right .arrow::before, .bs-popover-auto[x-placement^=right] .arrow::before, .bs-popover-right .arrow::after, .bs-popover-auto[x-placement^=right] .arrow::after { border-width: 0.5rem 0.5rem 0.5rem 0; } .bs-popover-right .arrow::before, .bs-popover-auto[x-placement^=right] .arrow::before { left: 0; border-right-color: rgba(0, 0, 0, 0.25); } .bs-popover-right .arrow::after, .bs-popover-auto[x-placement^=right] .arrow::after { left: 1px; border-right-color: #fff; } .bs-popover-bottom, .bs-popover-auto[x-placement^=bottom] { margin-top: 0.5rem; } .bs-popover-bottom .arrow, .bs-popover-auto[x-placement^=bottom] .arrow { top: calc((0.5rem + 1px) * -1); } .bs-popover-bottom .arrow::before, .bs-popover-auto[x-placement^=bottom] .arrow::before, .bs-popover-bottom .arrow::after, .bs-popover-auto[x-placement^=bottom] .arrow::after { border-width: 0 0.5rem 0.5rem 0.5rem; } .bs-popover-bottom .arrow::before, .bs-popover-auto[x-placement^=bottom] .arrow::before { top: 0; border-bottom-color: rgba(0, 0, 0, 0.25); } .bs-popover-bottom .arrow::after, .bs-popover-auto[x-placement^=bottom] .arrow::after { top: 1px; border-bottom-color: #fff; } .bs-popover-bottom .popover-header::before, .bs-popover-auto[x-placement^=bottom] .popover-header::before { position: absolute; top: 0; left: 50%; display: block; width: 1rem; margin-left: -0.5rem; content: ""; border-bottom: 1px solid #f7f7f7; } .bs-popover-left, .bs-popover-auto[x-placement^=left] { margin-right: 0.5rem; } .bs-popover-left .arrow, .bs-popover-auto[x-placement^=left] .arrow { right: calc((0.5rem + 1px) * -1); width: 0.5rem; height: 1rem; margin: 0.3rem 0; } .bs-popover-left .arrow::before, .bs-popover-auto[x-placement^=left] .arrow::before, .bs-popover-left .arrow::after, .bs-popover-auto[x-placement^=left] .arrow::after { border-width: 0.5rem 0 0.5rem 0.5rem; } .bs-popover-left .arrow::before, .bs-popover-auto[x-placement^=left] .arrow::before { right: 0; border-left-color: rgba(0, 0, 0, 0.25); } .bs-popover-left .arrow::after, .bs-popover-auto[x-placement^=left] .arrow::after { right: 1px; border-left-color: #fff; } .popover-header { padding: 0.5rem 0.75rem; margin-bottom: 0; font-size: 1rem; color: inherit; background-color: #f7f7f7; border-bottom: 1px solid #ebebeb; border-top-left-radius: calc(0.3rem - 1px); border-top-right-radius: calc(0.3rem - 1px); } .popover-header:empty { display: none; } .popover-body { padding: 0.5rem 0.75rem; color: #212529; } .carousel { position: relative; } .carousel-inner { position: relative; width: 100%; overflow: hidden; } .carousel-item { position: relative; display: none; -webkit-box-align: center; -ms-flex-align: center; align-items: center; width: 100%; -webkit-transition: -webkit-transform 0.6s ease; transition: -webkit-transform 0.6s ease; -o-transition: transform 0.6s ease; transition: transform 0.6s ease; transition: transform 0.6s ease, -webkit-transform 0.6s ease; -webkit-backface-visibility: hidden; backface-visibility: hidden; -webkit-perspective: 1000px; perspective: 1000px; } @media screen and (prefers-reduced-motion: reduce) { .carousel-item { -webkit-transition: none; -o-transition: none; transition: none; } } .carousel-item.active, .carousel-item-next, .carousel-item-prev { display: block; } .carousel-item-next, .carousel-item-prev { position: absolute; top: 0; } .carousel-item-next.carousel-item-left, .carousel-item-prev.carousel-item-right { -webkit-transform: translateX(0); -ms-transform: translateX(0); transform: translateX(0); } @supports (transform-style: preserve-3d) { .carousel-item-next.carousel-item-left, .carousel-item-prev.carousel-item-right { -webkit-transform: translate3d(0, 0, 0); transform: translate3d(0, 0, 0); } } .carousel-item-next, .active.carousel-item-right { -webkit-transform: translateX(100%); -ms-transform: translateX(100%); transform: translateX(100%); } @supports (transform-style: preserve-3d) { .carousel-item-next, .active.carousel-item-right { -webkit-transform: translate3d(100%, 0, 0); transform: translate3d(100%, 0, 0); } } .carousel-item-prev, .active.carousel-item-left { -webkit-transform: translateX(-100%); -ms-transform: translateX(-100%); transform: translateX(-100%); } @supports (transform-style: preserve-3d) { .carousel-item-prev, .active.carousel-item-left { -webkit-transform: translate3d(-100%, 0, 0); transform: translate3d(-100%, 0, 0); } } .carousel-fade .carousel-item { opacity: 0; -webkit-transition-duration: 0.6s; -o-transition-duration: 0.6s; transition-duration: 0.6s; -webkit-transition-property: opacity; -o-transition-property: opacity; transition-property: opacity; } .carousel-fade .carousel-item.active, .carousel-fade .carousel-item-next.carousel-item-left, .carousel-fade .carousel-item-prev.carousel-item-right { opacity: 1; } .carousel-fade .active.carousel-item-left, .carousel-fade .active.carousel-item-right { opacity: 0; } .carousel-fade .carousel-item-next, .carousel-fade .carousel-item-prev, .carousel-fade .carousel-item.active, .carousel-fade .active.carousel-item-left, .carousel-fade .active.carousel-item-prev { -webkit-transform: translateX(0); -ms-transform: translateX(0); transform: translateX(0); } @supports (transform-style: preserve-3d) { .carousel-fade .carousel-item-next, .carousel-fade .carousel-item-prev, .carousel-fade .carousel-item.active, .carousel-fade .active.carousel-item-left, .carousel-fade .active.carousel-item-prev { -webkit-transform: translate3d(0, 0, 0); transform: translate3d(0, 0, 0); } } .carousel-control-prev, .carousel-control-next { position: absolute; top: 0; bottom: 0; display: -webkit-box; display: -ms-flexbox; display: flex; -webkit-box-align: center; -ms-flex-align: center; align-items: center; -webkit-box-pack: center; -ms-flex-pack: center; justify-content: center; width: 15%; color: #fff; text-align: center; opacity: 0.5; } .carousel-control-prev:hover, .carousel-control-prev:focus, .carousel-control-next:hover, .carousel-control-next:focus { color: #fff; text-decoration: none; outline: 0; opacity: 0.9; } .carousel-control-prev { left: 0; } .carousel-control-next { right: 0; } .carousel-control-prev-icon, .carousel-control-next-icon { display: inline-block; width: 20px; height: 20px; background: transparent no-repeat center center; background-size: 100% 100%; } .carousel-control-prev-icon { background-image: url("data:image/svg+xml;charset=utf8,%3Csvg xmlns='http://www.w3.org/2000/svg' fill='%23fff' viewBox='0 0 8 8'%3E%3Cpath d='M5.25 0l-4 4 4 4 1.5-1.5-2.5-2.5 2.5-2.5-1.5-1.5z'/%3E%3C/svg%3E"); } .carousel-control-next-icon { background-image: url("data:image/svg+xml;charset=utf8,%3Csvg xmlns='http://www.w3.org/2000/svg' fill='%23fff' viewBox='0 0 8 8'%3E%3Cpath d='M2.75 0l-1.5 1.5 2.5 2.5-2.5 2.5 1.5 1.5 4-4-4-4z'/%3E%3C/svg%3E"); } .carousel-indicators { position: absolute; right: 0; bottom: 10px; left: 0; z-index: 15; display: -webkit-box; display: -ms-flexbox; display: flex; -webkit-box-pack: center; -ms-flex-pack: center; justify-content: center; padding-left: 0; margin-right: 15%; margin-left: 15%; list-style: none; } .carousel-indicators li { position: relative; -webkit-box-flex: 0; -ms-flex: 0 1 auto; flex: 0 1 auto; width: 30px; height: 3px; margin-right: 3px; margin-left: 3px; text-indent: -999px; cursor: pointer; background-color: rgba(255, 255, 255, 0.5); } .carousel-indicators li::before { position: absolute; top: -10px; left: 0; display: inline-block; width: 100%; height: 10px; content: ""; } .carousel-indicators li::after { position: absolute; bottom: -10px; left: 0; display: inline-block; width: 100%; height: 10px; content: ""; } .carousel-indicators .active { background-color: #fff; } .carousel-caption { position: absolute; right: 15%; bottom: 20px; left: 15%; z-index: 10; padding-top: 20px; padding-bottom: 20px; color: #fff; text-align: center; } .align-baseline { vertical-align: baseline !important; } .align-top { vertical-align: top !important; } .align-middle { vertical-align: middle !important; } .align-bottom { vertical-align: bottom !important; } .align-text-bottom { vertical-align: text-bottom !important; } .align-text-top { vertical-align: text-top !important; } .bg-primary { background-color: #007bff !important; } a.bg-primary:hover, a.bg-primary:focus, button.bg-primary:hover, button.bg-primary:focus { background-color: #0062cc !important; } .bg-secondary { background-color: #6c757d !important; } a.bg-secondary:hover, a.bg-secondary:focus, button.bg-secondary:hover, button.bg-secondary:focus { background-color: #545b62 !important; } .bg-success { background-color: #28a745 !important; } a.bg-success:hover, a.bg-success:focus, button.bg-success:hover, button.bg-success:focus { background-color: #1e7e34 !important; } .bg-info { background-color: #17a2b8 !important; } a.bg-info:hover, a.bg-info:focus, button.bg-info:hover, button.bg-info:focus { background-color: #117a8b !important; } .bg-warning { background-color: #ffc107 !important; } a.bg-warning:hover, a.bg-warning:focus, button.bg-warning:hover, button.bg-warning:focus { background-color: #d39e00 !important; } .bg-danger { background-color: #dc3545 !important; } a.bg-danger:hover, a.bg-danger:focus, button.bg-danger:hover, button.bg-danger:focus { background-color: #bd2130 !important; } .bg-light { background-color: #f8f9fa !important; } a.bg-light:hover, a.bg-light:focus, button.bg-light:hover, button.bg-light:focus { background-color: #dae0e5 !important; } .bg-dark { background-color: #343a40 !important; } a.bg-dark:hover, a.bg-dark:focus, button.bg-dark:hover, button.bg-dark:focus { background-color: #1d2124 !important; } .bg-white { background-color: #fff !important; } .bg-transparent { background-color: transparent !important; } .border { border: 1px solid #dee2e6 !important; } .border-top { border-top: 1px solid #dee2e6 !important; } .border-right { border-right: 1px solid #dee2e6 !important; } .border-bottom { border-bottom: 1px solid #dee2e6 !important; } .border-left { border-left: 1px solid #dee2e6 !important; } .border-0 { border: 0 !important; } .border-top-0 { border-top: 0 !important; } .border-right-0 { border-right: 0 !important; } .border-bottom-0 { border-bottom: 0 !important; } .border-left-0 { border-left: 0 !important; } .border-primary { border-color: #007bff !important; } .border-secondary { border-color: #6c757d !important; } .border-success { border-color: #28a745 !important; } .border-info { border-color: #17a2b8 !important; } .border-warning { border-color: #ffc107 !important; } .border-danger { border-color: #dc3545 !important; } .border-light { border-color: #f8f9fa !important; } .border-dark { border-color: #343a40 !important; } .border-white { border-color: #fff !important; } .rounded { border-radius: 0.25rem !important; } .rounded-top { border-top-left-radius: 0.25rem !important; border-top-right-radius: 0.25rem !important; } .rounded-right { border-top-right-radius: 0.25rem !important; border-bottom-right-radius: 0.25rem !important; } .rounded-bottom { border-bottom-right-radius: 0.25rem !important; border-bottom-left-radius: 0.25rem !important; } .rounded-left { border-top-left-radius: 0.25rem !important; border-bottom-left-radius: 0.25rem !important; } .rounded-circle { border-radius: 50% !important; } .rounded-0 { border-radius: 0 !important; } .clearfix::after { display: block; clear: both; content: ""; } .d-none { display: none !important; } .d-inline { display: inline !important; } .d-inline-block { display: inline-block !important; } .d-block { display: block !important; } .d-table { display: table !important; } .d-table-row { display: table-row !important; } .d-table-cell { display: table-cell !important; } .d-flex { display: -webkit-box !important; display: -ms-flexbox !important; display: flex !important; } .d-inline-flex { display: -webkit-inline-box !important; display: -ms-inline-flexbox !important; display: inline-flex !important; } @media (min-width: 576px) { .d-sm-none { display: none !important; } .d-sm-inline { display: inline !important; } .d-sm-inline-block { display: inline-block !important; } .d-sm-block { display: block !important; } .d-sm-table { display: table !important; } .d-sm-table-row { display: table-row !important; } .d-sm-table-cell { display: table-cell !important; } .d-sm-flex { display: -webkit-box !important; display: -ms-flexbox !important; display: flex !important; } .d-sm-inline-flex { display: -webkit-inline-box !important; display: -ms-inline-flexbox !important; display: inline-flex !important; } } @media (min-width: 768px) { .d-md-none { display: none !important; } .d-md-inline { display: inline !important; } .d-md-inline-block { display: inline-block !important; } .d-md-block { display: block !important; } .d-md-table { display: table !important; } .d-md-table-row { display: table-row !important; } .d-md-table-cell { display: table-cell !important; } .d-md-flex { display: -webkit-box !important; display: -ms-flexbox !important; display: flex !important; } .d-md-inline-flex { display: -webkit-inline-box !important; display: -ms-inline-flexbox !important; display: inline-flex !important; } } @media (min-width: 992px) { .d-lg-none { display: none !important; } .d-lg-inline { display: inline !important; } .d-lg-inline-block { display: inline-block !important; } .d-lg-block { display: block !important; } .d-lg-table { display: table !important; } .d-lg-table-row { display: table-row !important; } .d-lg-table-cell { display: table-cell !important; } .d-lg-flex { display: -webkit-box !important; display: -ms-flexbox !important; display: flex !important; } .d-lg-inline-flex { display: -webkit-inline-box !important; display: -ms-inline-flexbox !important; display: inline-flex !important; } } @media (min-width: 1200px) { .d-xl-none { display: none !important; } .d-xl-inline { display: inline !important; } .d-xl-inline-block { display: inline-block !important; } .d-xl-block { display: block !important; } .d-xl-table { display: table !important; } .d-xl-table-row { display: table-row !important; } .d-xl-table-cell { display: table-cell !important; } .d-xl-flex { display: -webkit-box !important; display: -ms-flexbox !important; display: flex !important; } .d-xl-inline-flex { display: -webkit-inline-box !important; display: -ms-inline-flexbox !important; display: inline-flex !important; } } @media print { .d-print-none { display: none !important; } .d-print-inline { display: inline !important; } .d-print-inline-block { display: inline-block !important; } .d-print-block { display: block !important; } .d-print-table { display: table !important; } .d-print-table-row { display: table-row !important; } .d-print-table-cell { display: table-cell !important; } .d-print-flex { display: -webkit-box !important; display: -ms-flexbox !important; display: flex !important; } .d-print-inline-flex { display: -webkit-inline-box !important; display: -ms-inline-flexbox !important; display: inline-flex !important; } } .embed-responsive { position: relative; display: block; width: 100%; padding: 0; overflow: hidden; } .embed-responsive::before { display: block; content: ""; } .embed-responsive .embed-responsive-item, .embed-responsive iframe, .embed-responsive embed, .embed-responsive object, .embed-responsive video { position: absolute; top: 0; bottom: 0; left: 0; width: 100%; height: 100%; border: 0; } .embed-responsive-21by9::before { padding-top: 42.8571428571%; } .embed-responsive-16by9::before { padding-top: 56.25%; } .embed-responsive-4by3::before { padding-top: 75%; } .embed-responsive-1by1::before { padding-top: 100%; } .flex-row { -webkit-box-orient: horizontal !important; -webkit-box-direction: normal !important; -ms-flex-direction: row !important; flex-direction: row !important; } .flex-column { -webkit-box-orient: vertical !important; -webkit-box-direction: normal !important; -ms-flex-direction: column !important; flex-direction: column !important; } .flex-row-reverse { -webkit-box-orient: horizontal !important; -webkit-box-direction: reverse !important; -ms-flex-direction: row-reverse !important; flex-direction: row-reverse !important; } .flex-column-reverse { -webkit-box-orient: vertical !important; -webkit-box-direction: reverse !important; -ms-flex-direction: column-reverse !important; flex-direction: column-reverse !important; } .flex-wrap { -ms-flex-wrap: wrap !important; flex-wrap: wrap !important; } .flex-nowrap { -ms-flex-wrap: nowrap !important; flex-wrap: nowrap !important; } .flex-wrap-reverse { -ms-flex-wrap: wrap-reverse !important; flex-wrap: wrap-reverse !important; } .flex-fill { -webkit-box-flex: 1 !important; -ms-flex: 1 1 auto !important; flex: 1 1 auto !important; } .flex-grow-0 { -webkit-box-flex: 0 !important; -ms-flex-positive: 0 !important; flex-grow: 0 !important; } .flex-grow-1 { -webkit-box-flex: 1 !important; -ms-flex-positive: 1 !important; flex-grow: 1 !important; } .flex-shrink-0 { -ms-flex-negative: 0 !important; flex-shrink: 0 !important; } .flex-shrink-1 { -ms-flex-negative: 1 !important; flex-shrink: 1 !important; } .justify-content-start { -webkit-box-pack: start !important; -ms-flex-pack: start !important; justify-content: flex-start !important; } .justify-content-end { -webkit-box-pack: end !important; -ms-flex-pack: end !important; justify-content: flex-end !important; } .justify-content-center { -webkit-box-pack: center !important; -ms-flex-pack: center !important; justify-content: center !important; } .justify-content-between { -webkit-box-pack: justify !important; -ms-flex-pack: justify !important; justify-content: space-between !important; } .justify-content-around { -ms-flex-pack: distribute !important; justify-content: space-around !important; } .align-items-start { -webkit-box-align: start !important; -ms-flex-align: start !important; align-items: flex-start !important; } .align-items-end { -webkit-box-align: end !important; -ms-flex-align: end !important; align-items: flex-end !important; } .align-items-center { -webkit-box-align: center !important; -ms-flex-align: center !important; align-items: center !important; } .align-items-baseline { -webkit-box-align: baseline !important; -ms-flex-align: baseline !important; align-items: baseline !important; } .align-items-stretch { -webkit-box-align: stretch !important; -ms-flex-align: stretch !important; align-items: stretch !important; } .align-content-start { -ms-flex-line-pack: start !important; align-content: flex-start !important; } .align-content-end { -ms-flex-line-pack: end !important; align-content: flex-end !important; } .align-content-center { -ms-flex-line-pack: center !important; align-content: center !important; } .align-content-between { -ms-flex-line-pack: justify !important; align-content: space-between !important; } .align-content-around { -ms-flex-line-pack: distribute !important; align-content: space-around !important; } .align-content-stretch { -ms-flex-line-pack: stretch !important; align-content: stretch !important; } .align-self-auto { -ms-flex-item-align: auto !important; -ms-grid-row-align: auto !important; align-self: auto !important; } .align-self-start { -ms-flex-item-align: start !important; align-self: flex-start !important; } .align-self-end { -ms-flex-item-align: end !important; align-self: flex-end !important; } .align-self-center { -ms-flex-item-align: center !important; -ms-grid-row-align: center !important; align-self: center !important; } .align-self-baseline { -ms-flex-item-align: baseline !important; align-self: baseline !important; } .align-self-stretch { -ms-flex-item-align: stretch !important; -ms-grid-row-align: stretch !important; align-self: stretch !important; } @media (min-width: 576px) { .flex-sm-row { -webkit-box-orient: horizontal !important; -webkit-box-direction: normal !important; -ms-flex-direction: row !important; flex-direction: row !important; } .flex-sm-column { -webkit-box-orient: vertical !important; -webkit-box-direction: normal !important; -ms-flex-direction: column !important; flex-direction: column !important; } .flex-sm-row-reverse { -webkit-box-orient: horizontal !important; -webkit-box-direction: reverse !important; -ms-flex-direction: row-reverse !important; flex-direction: row-reverse !important; } .flex-sm-column-reverse { -webkit-box-orient: vertical !important; -webkit-box-direction: reverse !important; -ms-flex-direction: column-reverse !important; flex-direction: column-reverse !important; } .flex-sm-wrap { -ms-flex-wrap: wrap !important; flex-wrap: wrap !important; } .flex-sm-nowrap { -ms-flex-wrap: nowrap !important; flex-wrap: nowrap !important; } .flex-sm-wrap-reverse { -ms-flex-wrap: wrap-reverse !important; flex-wrap: wrap-reverse !important; } .flex-sm-fill { -webkit-box-flex: 1 !important; -ms-flex: 1 1 auto !important; flex: 1 1 auto !important; } .flex-sm-grow-0 { -webkit-box-flex: 0 !important; -ms-flex-positive: 0 !important; flex-grow: 0 !important; } .flex-sm-grow-1 { -webkit-box-flex: 1 !important; -ms-flex-positive: 1 !important; flex-grow: 1 !important; } .flex-sm-shrink-0 { -ms-flex-negative: 0 !important; flex-shrink: 0 !important; } .flex-sm-shrink-1 { -ms-flex-negative: 1 !important; flex-shrink: 1 !important; } .justify-content-sm-start { -webkit-box-pack: start !important; -ms-flex-pack: start !important; justify-content: flex-start !important; } .justify-content-sm-end { -webkit-box-pack: end !important; -ms-flex-pack: end !important; justify-content: flex-end !important; } .justify-content-sm-center { -webkit-box-pack: center !important; -ms-flex-pack: center !important; justify-content: center !important; } .justify-content-sm-between { -webkit-box-pack: justify !important; -ms-flex-pack: justify !important; justify-content: space-between !important; } .justify-content-sm-around { -ms-flex-pack: distribute !important; justify-content: space-around !important; } .align-items-sm-start { -webkit-box-align: start !important; -ms-flex-align: start !important; align-items: flex-start !important; } .align-items-sm-end { -webkit-box-align: end !important; -ms-flex-align: end !important; align-items: flex-end !important; } .align-items-sm-center { -webkit-box-align: center !important; -ms-flex-align: center !important; align-items: center !important; } .align-items-sm-baseline { -webkit-box-align: baseline !important; -ms-flex-align: baseline !important; align-items: baseline !important; } .align-items-sm-stretch { -webkit-box-align: stretch !important; -ms-flex-align: stretch !important; align-items: stretch !important; } .align-content-sm-start { -ms-flex-line-pack: start !important; align-content: flex-start !important; } .align-content-sm-end { -ms-flex-line-pack: end !important; align-content: flex-end !important; } .align-content-sm-center { -ms-flex-line-pack: center !important; align-content: center !important; } .align-content-sm-between { -ms-flex-line-pack: justify !important; align-content: space-between !important; } .align-content-sm-around { -ms-flex-line-pack: distribute !important; align-content: space-around !important; } .align-content-sm-stretch { -ms-flex-line-pack: stretch !important; align-content: stretch !important; } .align-self-sm-auto { -ms-flex-item-align: auto !important; -ms-grid-row-align: auto !important; align-self: auto !important; } .align-self-sm-start { -ms-flex-item-align: start !important; align-self: flex-start !important; } .align-self-sm-end { -ms-flex-item-align: end !important; align-self: flex-end !important; } .align-self-sm-center { -ms-flex-item-align: center !important; -ms-grid-row-align: center !important; align-self: center !important; } .align-self-sm-baseline { -ms-flex-item-align: baseline !important; align-self: baseline !important; } .align-self-sm-stretch { -ms-flex-item-align: stretch !important; -ms-grid-row-align: stretch !important; align-self: stretch !important; } } @media (min-width: 768px) { .flex-md-row { -webkit-box-orient: horizontal !important; -webkit-box-direction: normal !important; -ms-flex-direction: row !important; flex-direction: row !important; } .flex-md-column { -webkit-box-orient: vertical !important; -webkit-box-direction: normal !important; -ms-flex-direction: column !important; flex-direction: column !important; } .flex-md-row-reverse { -webkit-box-orient: horizontal !important; -webkit-box-direction: reverse !important; -ms-flex-direction: row-reverse !important; flex-direction: row-reverse !important; } .flex-md-column-reverse { -webkit-box-orient: vertical !important; -webkit-box-direction: reverse !important; -ms-flex-direction: column-reverse !important; flex-direction: column-reverse !important; } .flex-md-wrap { -ms-flex-wrap: wrap !important; flex-wrap: wrap !important; } .flex-md-nowrap { -ms-flex-wrap: nowrap !important; flex-wrap: nowrap !important; } .flex-md-wrap-reverse { -ms-flex-wrap: wrap-reverse !important; flex-wrap: wrap-reverse !important; } .flex-md-fill { -webkit-box-flex: 1 !important; -ms-flex: 1 1 auto !important; flex: 1 1 auto !important; } .flex-md-grow-0 { -webkit-box-flex: 0 !important; -ms-flex-positive: 0 !important; flex-grow: 0 !important; } .flex-md-grow-1 { -webkit-box-flex: 1 !important; -ms-flex-positive: 1 !important; flex-grow: 1 !important; } .flex-md-shrink-0 { -ms-flex-negative: 0 !important; flex-shrink: 0 !important; } .flex-md-shrink-1 { -ms-flex-negative: 1 !important; flex-shrink: 1 !important; } .justify-content-md-start { -webkit-box-pack: start !important; -ms-flex-pack: start !important; justify-content: flex-start !important; } .justify-content-md-end { -webkit-box-pack: end !important; -ms-flex-pack: end !important; justify-content: flex-end !important; } .justify-content-md-center { -webkit-box-pack: center !important; -ms-flex-pack: center !important; justify-content: center !important; } .justify-content-md-between { -webkit-box-pack: justify !important; -ms-flex-pack: justify !important; justify-content: space-between !important; } .justify-content-md-around { -ms-flex-pack: distribute !important; justify-content: space-around !important; } .align-items-md-start { -webkit-box-align: start !important; -ms-flex-align: start !important; align-items: flex-start !important; } .align-items-md-end { -webkit-box-align: end !important; -ms-flex-align: end !important; align-items: flex-end !important; } .align-items-md-center { -webkit-box-align: center !important; -ms-flex-align: center !important; align-items: center !important; } .align-items-md-baseline { -webkit-box-align: baseline !important; -ms-flex-align: baseline !important; align-items: baseline !important; } .align-items-md-stretch { -webkit-box-align: stretch !important; -ms-flex-align: stretch !important; align-items: stretch !important; } .align-content-md-start { -ms-flex-line-pack: start !important; align-content: flex-start !important; } .align-content-md-end { -ms-flex-line-pack: end !important; align-content: flex-end !important; } .align-content-md-center { -ms-flex-line-pack: center !important; align-content: center !important; } .align-content-md-between { -ms-flex-line-pack: justify !important; align-content: space-between !important; } .align-content-md-around { -ms-flex-line-pack: distribute !important; align-content: space-around !important; } .align-content-md-stretch { -ms-flex-line-pack: stretch !important; align-content: stretch !important; } .align-self-md-auto { -ms-flex-item-align: auto !important; -ms-grid-row-align: auto !important; align-self: auto !important; } .align-self-md-start { -ms-flex-item-align: start !important; align-self: flex-start !important; } .align-self-md-end { -ms-flex-item-align: end !important; align-self: flex-end !important; } .align-self-md-center { -ms-flex-item-align: center !important; -ms-grid-row-align: center !important; align-self: center !important; } .align-self-md-baseline { -ms-flex-item-align: baseline !important; align-self: baseline !important; } .align-self-md-stretch { -ms-flex-item-align: stretch !important; -ms-grid-row-align: stretch !important; align-self: stretch !important; } } @media (min-width: 992px) { .flex-lg-row { -webkit-box-orient: horizontal !important; -webkit-box-direction: normal !important; -ms-flex-direction: row !important; flex-direction: row !important; } .flex-lg-column { -webkit-box-orient: vertical !important; -webkit-box-direction: normal !important; -ms-flex-direction: column !important; flex-direction: column !important; } .flex-lg-row-reverse { -webkit-box-orient: horizontal !important; -webkit-box-direction: reverse !important; -ms-flex-direction: row-reverse !important; flex-direction: row-reverse !important; } .flex-lg-column-reverse { -webkit-box-orient: vertical !important; -webkit-box-direction: reverse !important; -ms-flex-direction: column-reverse !important; flex-direction: column-reverse !important; } .flex-lg-wrap { -ms-flex-wrap: wrap !important; flex-wrap: wrap !important; } .flex-lg-nowrap { -ms-flex-wrap: nowrap !important; flex-wrap: nowrap !important; } .flex-lg-wrap-reverse { -ms-flex-wrap: wrap-reverse !important; flex-wrap: wrap-reverse !important; } .flex-lg-fill { -webkit-box-flex: 1 !important; -ms-flex: 1 1 auto !important; flex: 1 1 auto !important; } .flex-lg-grow-0 { -webkit-box-flex: 0 !important; -ms-flex-positive: 0 !important; flex-grow: 0 !important; } .flex-lg-grow-1 { -webkit-box-flex: 1 !important; -ms-flex-positive: 1 !important; flex-grow: 1 !important; } .flex-lg-shrink-0 { -ms-flex-negative: 0 !important; flex-shrink: 0 !important; } .flex-lg-shrink-1 { -ms-flex-negative: 1 !important; flex-shrink: 1 !important; } .justify-content-lg-start { -webkit-box-pack: start !important; -ms-flex-pack: start !important; justify-content: flex-start !important; } .justify-content-lg-end { -webkit-box-pack: end !important; -ms-flex-pack: end !important; justify-content: flex-end !important; } .justify-content-lg-center { -webkit-box-pack: center !important; -ms-flex-pack: center !important; justify-content: center !important; } .justify-content-lg-between { -webkit-box-pack: justify !important; -ms-flex-pack: justify !important; justify-content: space-between !important; } .justify-content-lg-around { -ms-flex-pack: distribute !important; justify-content: space-around !important; } .align-items-lg-start { -webkit-box-align: start !important; -ms-flex-align: start !important; align-items: flex-start !important; } .align-items-lg-end { -webkit-box-align: end !important; -ms-flex-align: end !important; align-items: flex-end !important; } .align-items-lg-center { -webkit-box-align: center !important; -ms-flex-align: center !important; align-items: center !important; } .align-items-lg-baseline { -webkit-box-align: baseline !important; -ms-flex-align: baseline !important; align-items: baseline !important; } .align-items-lg-stretch { -webkit-box-align: stretch !important; -ms-flex-align: stretch !important; align-items: stretch !important; } .align-content-lg-start { -ms-flex-line-pack: start !important; align-content: flex-start !important; } .align-content-lg-end { -ms-flex-line-pack: end !important; align-content: flex-end !important; } .align-content-lg-center { -ms-flex-line-pack: center !important; align-content: center !important; } .align-content-lg-between { -ms-flex-line-pack: justify !important; align-content: space-between !important; } .align-content-lg-around { -ms-flex-line-pack: distribute !important; align-content: space-around !important; } .align-content-lg-stretch { -ms-flex-line-pack: stretch !important; align-content: stretch !important; } .align-self-lg-auto { -ms-flex-item-align: auto !important; -ms-grid-row-align: auto !important; align-self: auto !important; } .align-self-lg-start { -ms-flex-item-align: start !important; align-self: flex-start !important; } .align-self-lg-end { -ms-flex-item-align: end !important; align-self: flex-end !important; } .align-self-lg-center { -ms-flex-item-align: center !important; -ms-grid-row-align: center !important; align-self: center !important; } .align-self-lg-baseline { -ms-flex-item-align: baseline !important; align-self: baseline !important; } .align-self-lg-stretch { -ms-flex-item-align: stretch !important; -ms-grid-row-align: stretch !important; align-self: stretch !important; } } @media (min-width: 1200px) { .flex-xl-row { -webkit-box-orient: horizontal !important; -webkit-box-direction: normal !important; -ms-flex-direction: row !important; flex-direction: row !important; } .flex-xl-column { -webkit-box-orient: vertical !important; -webkit-box-direction: normal !important; -ms-flex-direction: column !important; flex-direction: column !important; } .flex-xl-row-reverse { -webkit-box-orient: horizontal !important; -webkit-box-direction: reverse !important; -ms-flex-direction: row-reverse !important; flex-direction: row-reverse !important; } .flex-xl-column-reverse { -webkit-box-orient: vertical !important; -webkit-box-direction: reverse !important; -ms-flex-direction: column-reverse !important; flex-direction: column-reverse !important; } .flex-xl-wrap { -ms-flex-wrap: wrap !important; flex-wrap: wrap !important; } .flex-xl-nowrap { -ms-flex-wrap: nowrap !important; flex-wrap: nowrap !important; } .flex-xl-wrap-reverse { -ms-flex-wrap: wrap-reverse !important; flex-wrap: wrap-reverse !important; } .flex-xl-fill { -webkit-box-flex: 1 !important; -ms-flex: 1 1 auto !important; flex: 1 1 auto !important; } .flex-xl-grow-0 { -webkit-box-flex: 0 !important; -ms-flex-positive: 0 !important; flex-grow: 0 !important; } .flex-xl-grow-1 { -webkit-box-flex: 1 !important; -ms-flex-positive: 1 !important; flex-grow: 1 !important; } .flex-xl-shrink-0 { -ms-flex-negative: 0 !important; flex-shrink: 0 !important; } .flex-xl-shrink-1 { -ms-flex-negative: 1 !important; flex-shrink: 1 !important; } .justify-content-xl-start { -webkit-box-pack: start !important; -ms-flex-pack: start !important; justify-content: flex-start !important; } .justify-content-xl-end { -webkit-box-pack: end !important; -ms-flex-pack: end !important; justify-content: flex-end !important; } .justify-content-xl-center { -webkit-box-pack: center !important; -ms-flex-pack: center !important; justify-content: center !important; } .justify-content-xl-between { -webkit-box-pack: justify !important; -ms-flex-pack: justify !important; justify-content: space-between !important; } .justify-content-xl-around { -ms-flex-pack: distribute !important; justify-content: space-around !important; } .align-items-xl-start { -webkit-box-align: start !important; -ms-flex-align: start !important; align-items: flex-start !important; } .align-items-xl-end { -webkit-box-align: end !important; -ms-flex-align: end !important; align-items: flex-end !important; } .align-items-xl-center { -webkit-box-align: center !important; -ms-flex-align: center !important; align-items: center !important; } .align-items-xl-baseline { -webkit-box-align: baseline !important; -ms-flex-align: baseline !important; align-items: baseline !important; } .align-items-xl-stretch { -webkit-box-align: stretch !important; -ms-flex-align: stretch !important; align-items: stretch !important; } .align-content-xl-start { -ms-flex-line-pack: start !important; align-content: flex-start !important; } .align-content-xl-end { -ms-flex-line-pack: end !important; align-content: flex-end !important; } .align-content-xl-center { -ms-flex-line-pack: center !important; align-content: center !important; } .align-content-xl-between { -ms-flex-line-pack: justify !important; align-content: space-between !important; } .align-content-xl-around { -ms-flex-line-pack: distribute !important; align-content: space-around !important; } .align-content-xl-stretch { -ms-flex-line-pack: stretch !important; align-content: stretch !important; } .align-self-xl-auto { -ms-flex-item-align: auto !important; -ms-grid-row-align: auto !important; align-self: auto !important; } .align-self-xl-start { -ms-flex-item-align: start !important; align-self: flex-start !important; } .align-self-xl-end { -ms-flex-item-align: end !important; align-self: flex-end !important; } .align-self-xl-center { -ms-flex-item-align: center !important; -ms-grid-row-align: center !important; align-self: center !important; } .align-self-xl-baseline { -ms-flex-item-align: baseline !important; align-self: baseline !important; } .align-self-xl-stretch { -ms-flex-item-align: stretch !important; -ms-grid-row-align: stretch !important; align-self: stretch !important; } } .float-left { float: left !important; } .float-right { float: right !important; } .float-none { float: none !important; } @media (min-width: 576px) { .float-sm-left { float: left !important; } .float-sm-right { float: right !important; } .float-sm-none { float: none !important; } } @media (min-width: 768px) { .float-md-left { float: left !important; } .float-md-right { float: right !important; } .float-md-none { float: none !important; } } @media (min-width: 992px) { .float-lg-left { float: left !important; } .float-lg-right { float: right !important; } .float-lg-none { float: none !important; } } @media (min-width: 1200px) { .float-xl-left { float: left !important; } .float-xl-right { float: right !important; } .float-xl-none { float: none !important; } } .position-static { position: static !important; } .position-relative { position: relative !important; } .position-absolute { position: absolute !important; } .position-fixed { position: fixed !important; } .position-sticky { position: -webkit-sticky !important; position: sticky !important; } .fixed-top { position: fixed; top: 0; right: 0; left: 0; z-index: 1030; } .fixed-bottom { position: fixed; right: 0; bottom: 0; left: 0; z-index: 1030; } @supports ((position: -webkit-sticky) or (position: sticky)) { .sticky-top { position: -webkit-sticky; position: sticky; top: 0; z-index: 1020; } } .sr-only { position: absolute; width: 1px; height: 1px; padding: 0; overflow: hidden; clip: rect(0, 0, 0, 0); white-space: nowrap; border: 0; } .sr-only-focusable:active, .sr-only-focusable:focus { position: static; width: auto; height: auto; overflow: visible; clip: auto; white-space: normal; } .shadow-sm { -webkit-box-shadow: 0 0.125rem 0.25rem rgba(0, 0, 0, 0.075) !important; box-shadow: 0 0.125rem 0.25rem rgba(0, 0, 0, 0.075) !important; } .shadow { -webkit-box-shadow: 0 0.5rem 1rem rgba(0, 0, 0, 0.15) !important; box-shadow: 0 0.5rem 1rem rgba(0, 0, 0, 0.15) !important; } .shadow-lg { -webkit-box-shadow: 0 1rem 3rem rgba(0, 0, 0, 0.175) !important; box-shadow: 0 1rem 3rem rgba(0, 0, 0, 0.175) !important; } .shadow-none { -webkit-box-shadow: none !important; box-shadow: none !important; } .w-25 { width: 25% !important; } .w-50 { width: 50% !important; } .w-75 { width: 75% !important; } .w-100 { width: 100% !important; } .w-auto { width: auto !important; } .h-25 { height: 25% !important; } .h-50 { height: 50% !important; } .h-75 { height: 75% !important; } .h-100 { height: 100% !important; } .h-auto { height: auto !important; } .mw-100 { max-width: 100% !important; } .mh-100 { max-height: 100% !important; } .m-0 { margin: 0 !important; } .mt-0, .my-0 { margin-top: 0 !important; } .mr-0, .mx-0 { margin-right: 0 !important; } .mb-0, .my-0 { margin-bottom: 0 !important; } .ml-0, .mx-0 { margin-left: 0 !important; } .m-1 { margin: 1rem !important; } .mt-1, .my-1 { margin-top: 1rem !important; } .mr-1, .mx-1 { margin-right: 1rem !important; } .mb-1, .my-1 { margin-bottom: 1rem !important; } .ml-1, .mx-1 { margin-left: 1rem !important; } .m-2 { margin: 2rem !important; } .mt-2, .my-2 { margin-top: 2rem !important; } .mr-2, .mx-2 { margin-right: 2rem !important; } .mb-2, .my-2 { margin-bottom: 2rem !important; } .ml-2, .mx-2 { margin-left: 2rem !important; } .m-3 { margin: 4rem !important; } .mt-3, .my-3 { margin-top: 4rem !important; } .mr-3, .mx-3 { margin-right: 4rem !important; } .mb-3, .my-3 { margin-bottom: 4rem !important; } .ml-3, .mx-3 { margin-left: 4rem !important; } .m-4 { margin: 6rem !important; } .mt-4, .my-4 { margin-top: 6rem !important; } .mr-4, .mx-4 { margin-right: 6rem !important; } .mb-4, .my-4 { margin-bottom: 6rem !important; } .ml-4, .mx-4 { margin-left: 6rem !important; } .m-5 { margin: 12rem !important; } .mt-5, .my-5 { margin-top: 12rem !important; } .mr-5, .mx-5 { margin-right: 12rem !important; } .mb-5, .my-5 { margin-bottom: 12rem !important; } .ml-5, .mx-5 { margin-left: 12rem !important; } .p-0 { padding: 0 !important; } .pt-0, .py-0 { padding-top: 0 !important; } .pr-0, .px-0 { padding-right: 0 !important; } .pb-0, .py-0 { padding-bottom: 0 !important; } .pl-0, .px-0 { padding-left: 0 !important; } .p-1 { padding: 1rem !important; } .pt-1, .py-1 { padding-top: 1rem !important; } .pr-1, .px-1 { padding-right: 1rem !important; } .pb-1, .py-1 { padding-bottom: 1rem !important; } .pl-1, .px-1 { padding-left: 1rem !important; } .p-2 { padding: 2rem !important; } .pt-2, .py-2 { padding-top: 2rem !important; } .pr-2, .px-2 { padding-right: 2rem !important; } .pb-2, .py-2 { padding-bottom: 2rem !important; } .pl-2, .px-2 { padding-left: 2rem !important; } .p-3 { padding: 4rem !important; } .pt-3, .py-3 { padding-top: 4rem !important; } .pr-3, .px-3 { padding-right: 4rem !important; } .pb-3, .py-3 { padding-bottom: 4rem !important; } .pl-3, .px-3 { padding-left: 4rem !important; } .p-4 { padding: 6rem !important; } .pt-4, .py-4 { padding-top: 6rem !important; } .pr-4, .px-4 { padding-right: 6rem !important; } .pb-4, .py-4 { padding-bottom: 6rem !important; } .pl-4, .px-4 { padding-left: 6rem !important; } .p-5 { padding: 12rem !important; } .pt-5, .py-5 { padding-top: 12rem !important; } .pr-5, .px-5 { padding-right: 12rem !important; } .pb-5, .py-5 { padding-bottom: 12rem !important; } .pl-5, .px-5 { padding-left: 12rem !important; } .m-auto { margin: auto !important; } .mt-auto, .my-auto { margin-top: auto !important; } .mr-auto, .mx-auto { margin-right: auto !important; } .mb-auto, .my-auto { margin-bottom: auto !important; } .ml-auto, .mx-auto { margin-left: auto !important; } @media (min-width: 576px) { .m-sm-0 { margin: 0 !important; } .mt-sm-0, .my-sm-0 { margin-top: 0 !important; } .mr-sm-0, .mx-sm-0 { margin-right: 0 !important; } .mb-sm-0, .my-sm-0 { margin-bottom: 0 !important; } .ml-sm-0, .mx-sm-0 { margin-left: 0 !important; } .m-sm-1 { margin: 1rem !important; } .mt-sm-1, .my-sm-1 { margin-top: 1rem !important; } .mr-sm-1, .mx-sm-1 { margin-right: 1rem !important; } .mb-sm-1, .my-sm-1 { margin-bottom: 1rem !important; } .ml-sm-1, .mx-sm-1 { margin-left: 1rem !important; } .m-sm-2 { margin: 2rem !important; } .mt-sm-2, .my-sm-2 { margin-top: 2rem !important; } .mr-sm-2, .mx-sm-2 { margin-right: 2rem !important; } .mb-sm-2, .my-sm-2 { margin-bottom: 2rem !important; } .ml-sm-2, .mx-sm-2 { margin-left: 2rem !important; } .m-sm-3 { margin: 4rem !important; } .mt-sm-3, .my-sm-3 { margin-top: 4rem !important; } .mr-sm-3, .mx-sm-3 { margin-right: 4rem !important; } .mb-sm-3, .my-sm-3 { margin-bottom: 4rem !important; } .ml-sm-3, .mx-sm-3 { margin-left: 4rem !important; } .m-sm-4 { margin: 6rem !important; } .mt-sm-4, .my-sm-4 { margin-top: 6rem !important; } .mr-sm-4, .mx-sm-4 { margin-right: 6rem !important; } .mb-sm-4, .my-sm-4 { margin-bottom: 6rem !important; } .ml-sm-4, .mx-sm-4 { margin-left: 6rem !important; } .m-sm-5 { margin: 12rem !important; } .mt-sm-5, .my-sm-5 { margin-top: 12rem !important; } .mr-sm-5, .mx-sm-5 { margin-right: 12rem !important; } .mb-sm-5, .my-sm-5 { margin-bottom: 12rem !important; } .ml-sm-5, .mx-sm-5 { margin-left: 12rem !important; } .p-sm-0 { padding: 0 !important; } .pt-sm-0, .py-sm-0 { padding-top: 0 !important; } .pr-sm-0, .px-sm-0 { padding-right: 0 !important; } .pb-sm-0, .py-sm-0 { padding-bottom: 0 !important; } .pl-sm-0, .px-sm-0 { padding-left: 0 !important; } .p-sm-1 { padding: 1rem !important; } .pt-sm-1, .py-sm-1 { padding-top: 1rem !important; } .pr-sm-1, .px-sm-1 { padding-right: 1rem !important; } .pb-sm-1, .py-sm-1 { padding-bottom: 1rem !important; } .pl-sm-1, .px-sm-1 { padding-left: 1rem !important; } .p-sm-2 { padding: 2rem !important; } .pt-sm-2, .py-sm-2 { padding-top: 2rem !important; } .pr-sm-2, .px-sm-2 { padding-right: 2rem !important; } .pb-sm-2, .py-sm-2 { padding-bottom: 2rem !important; } .pl-sm-2, .px-sm-2 { padding-left: 2rem !important; } .p-sm-3 { padding: 4rem !important; } .pt-sm-3, .py-sm-3 { padding-top: 4rem !important; } .pr-sm-3, .px-sm-3 { padding-right: 4rem !important; } .pb-sm-3, .py-sm-3 { padding-bottom: 4rem !important; } .pl-sm-3, .px-sm-3 { padding-left: 4rem !important; } .p-sm-4 { padding: 6rem !important; } .pt-sm-4, .py-sm-4 { padding-top: 6rem !important; } .pr-sm-4, .px-sm-4 { padding-right: 6rem !important; } .pb-sm-4, .py-sm-4 { padding-bottom: 6rem !important; } .pl-sm-4, .px-sm-4 { padding-left: 6rem !important; } .p-sm-5 { padding: 12rem !important; } .pt-sm-5, .py-sm-5 { padding-top: 12rem !important; } .pr-sm-5, .px-sm-5 { padding-right: 12rem !important; } .pb-sm-5, .py-sm-5 { padding-bottom: 12rem !important; } .pl-sm-5, .px-sm-5 { padding-left: 12rem !important; } .m-sm-auto { margin: auto !important; } .mt-sm-auto, .my-sm-auto { margin-top: auto !important; } .mr-sm-auto, .mx-sm-auto { margin-right: auto !important; } .mb-sm-auto, .my-sm-auto { margin-bottom: auto !important; } .ml-sm-auto, .mx-sm-auto { margin-left: auto !important; } } @media (min-width: 768px) { .m-md-0 { margin: 0 !important; } .mt-md-0, .my-md-0 { margin-top: 0 !important; } .mr-md-0, .mx-md-0 { margin-right: 0 !important; } .mb-md-0, .my-md-0 { margin-bottom: 0 !important; } .ml-md-0, .mx-md-0 { margin-left: 0 !important; } .m-md-1 { margin: 1rem !important; } .mt-md-1, .my-md-1 { margin-top: 1rem !important; } .mr-md-1, .mx-md-1 { margin-right: 1rem !important; } .mb-md-1, .my-md-1 { margin-bottom: 1rem !important; } .ml-md-1, .mx-md-1 { margin-left: 1rem !important; } .m-md-2 { margin: 2rem !important; } .mt-md-2, .my-md-2 { margin-top: 2rem !important; } .mr-md-2, .mx-md-2 { margin-right: 2rem !important; } .mb-md-2, .my-md-2 { margin-bottom: 2rem !important; } .ml-md-2, .mx-md-2 { margin-left: 2rem !important; } .m-md-3 { margin: 4rem !important; } .mt-md-3, .my-md-3 { margin-top: 4rem !important; } .mr-md-3, .mx-md-3 { margin-right: 4rem !important; } .mb-md-3, .my-md-3 { margin-bottom: 4rem !important; } .ml-md-3, .mx-md-3 { margin-left: 4rem !important; } .m-md-4 { margin: 6rem !important; } .mt-md-4, .my-md-4 { margin-top: 6rem !important; } .mr-md-4, .mx-md-4 { margin-right: 6rem !important; } .mb-md-4, .my-md-4 { margin-bottom: 6rem !important; } .ml-md-4, .mx-md-4 { margin-left: 6rem !important; } .m-md-5 { margin: 12rem !important; } .mt-md-5, .my-md-5 { margin-top: 12rem !important; } .mr-md-5, .mx-md-5 { margin-right: 12rem !important; } .mb-md-5, .my-md-5 { margin-bottom: 12rem !important; } .ml-md-5, .mx-md-5 { margin-left: 12rem !important; } .p-md-0 { padding: 0 !important; } .pt-md-0, .py-md-0 { padding-top: 0 !important; } .pr-md-0, .px-md-0 { padding-right: 0 !important; } .pb-md-0, .py-md-0 { padding-bottom: 0 !important; } .pl-md-0, .px-md-0 { padding-left: 0 !important; } .p-md-1 { padding: 1rem !important; } .pt-md-1, .py-md-1 { padding-top: 1rem !important; } .pr-md-1, .px-md-1 { padding-right: 1rem !important; } .pb-md-1, .py-md-1 { padding-bottom: 1rem !important; } .pl-md-1, .px-md-1 { padding-left: 1rem !important; } .p-md-2 { padding: 2rem !important; } .pt-md-2, .py-md-2 { padding-top: 2rem !important; } .pr-md-2, .px-md-2 { padding-right: 2rem !important; } .pb-md-2, .py-md-2 { padding-bottom: 2rem !important; } .pl-md-2, .px-md-2 { padding-left: 2rem !important; } .p-md-3 { padding: 4rem !important; } .pt-md-3, .py-md-3 { padding-top: 4rem !important; } .pr-md-3, .px-md-3 { padding-right: 4rem !important; } .pb-md-3, .py-md-3 { padding-bottom: 4rem !important; } .pl-md-3, .px-md-3 { padding-left: 4rem !important; } .p-md-4 { padding: 6rem !important; } .pt-md-4, .py-md-4 { padding-top: 6rem !important; } .pr-md-4, .px-md-4 { padding-right: 6rem !important; } .pb-md-4, .py-md-4 { padding-bottom: 6rem !important; } .pl-md-4, .px-md-4 { padding-left: 6rem !important; } .p-md-5 { padding: 12rem !important; } .pt-md-5, .py-md-5 { padding-top: 12rem !important; } .pr-md-5, .px-md-5 { padding-right: 12rem !important; } .pb-md-5, .py-md-5 { padding-bottom: 12rem !important; } .pl-md-5, .px-md-5 { padding-left: 12rem !important; } .m-md-auto { margin: auto !important; } .mt-md-auto, .my-md-auto { margin-top: auto !important; } .mr-md-auto, .mx-md-auto { margin-right: auto !important; } .mb-md-auto, .my-md-auto { margin-bottom: auto !important; } .ml-md-auto, .mx-md-auto { margin-left: auto !important; } } @media (min-width: 992px) { .m-lg-0 { margin: 0 !important; } .mt-lg-0, .my-lg-0 { margin-top: 0 !important; } .mr-lg-0, .mx-lg-0 { margin-right: 0 !important; } .mb-lg-0, .my-lg-0 { margin-bottom: 0 !important; } .ml-lg-0, .mx-lg-0 { margin-left: 0 !important; } .m-lg-1 { margin: 1rem !important; } .mt-lg-1, .my-lg-1 { margin-top: 1rem !important; } .mr-lg-1, .mx-lg-1 { margin-right: 1rem !important; } .mb-lg-1, .my-lg-1 { margin-bottom: 1rem !important; } .ml-lg-1, .mx-lg-1 { margin-left: 1rem !important; } .m-lg-2 { margin: 2rem !important; } .mt-lg-2, .my-lg-2 { margin-top: 2rem !important; } .mr-lg-2, .mx-lg-2 { margin-right: 2rem !important; } .mb-lg-2, .my-lg-2 { margin-bottom: 2rem !important; } .ml-lg-2, .mx-lg-2 { margin-left: 2rem !important; } .m-lg-3 { margin: 4rem !important; } .mt-lg-3, .my-lg-3 { margin-top: 4rem !important; } .mr-lg-3, .mx-lg-3 { margin-right: 4rem !important; } .mb-lg-3, .my-lg-3 { margin-bottom: 4rem !important; } .ml-lg-3, .mx-lg-3 { margin-left: 4rem !important; } .m-lg-4 { margin: 6rem !important; } .mt-lg-4, .my-lg-4 { margin-top: 6rem !important; } .mr-lg-4, .mx-lg-4 { margin-right: 6rem !important; } .mb-lg-4, .my-lg-4 { margin-bottom: 6rem !important; } .ml-lg-4, .mx-lg-4 { margin-left: 6rem !important; } .m-lg-5 { margin: 12rem !important; } .mt-lg-5, .my-lg-5 { margin-top: 12rem !important; } .mr-lg-5, .mx-lg-5 { margin-right: 12rem !important; } .mb-lg-5, .my-lg-5 { margin-bottom: 12rem !important; } .ml-lg-5, .mx-lg-5 { margin-left: 12rem !important; } .p-lg-0 { padding: 0 !important; } .pt-lg-0, .py-lg-0 { padding-top: 0 !important; } .pr-lg-0, .px-lg-0 { padding-right: 0 !important; } .pb-lg-0, .py-lg-0 { padding-bottom: 0 !important; } .pl-lg-0, .px-lg-0 { padding-left: 0 !important; } .p-lg-1 { padding: 1rem !important; } .pt-lg-1, .py-lg-1 { padding-top: 1rem !important; } .pr-lg-1, .px-lg-1 { padding-right: 1rem !important; } .pb-lg-1, .py-lg-1 { padding-bottom: 1rem !important; } .pl-lg-1, .px-lg-1 { padding-left: 1rem !important; } .p-lg-2 { padding: 2rem !important; } .pt-lg-2, .py-lg-2 { padding-top: 2rem !important; } .pr-lg-2, .px-lg-2 { padding-right: 2rem !important; } .pb-lg-2, .py-lg-2 { padding-bottom: 2rem !important; } .pl-lg-2, .px-lg-2 { padding-left: 2rem !important; } .p-lg-3 { padding: 4rem !important; } .pt-lg-3, .py-lg-3 { padding-top: 4rem !important; } .pr-lg-3, .px-lg-3 { padding-right: 4rem !important; } .pb-lg-3, .py-lg-3 { padding-bottom: 4rem !important; } .pl-lg-3, .px-lg-3 { padding-left: 4rem !important; } .p-lg-4 { padding: 6rem !important; } .pt-lg-4, .py-lg-4 { padding-top: 6rem !important; } .pr-lg-4, .px-lg-4 { padding-right: 6rem !important; } .pb-lg-4, .py-lg-4 { padding-bottom: 6rem !important; } .pl-lg-4, .px-lg-4 { padding-left: 6rem !important; } .p-lg-5 { padding: 12rem !important; } .pt-lg-5, .py-lg-5 { padding-top: 12rem !important; } .pr-lg-5, .px-lg-5 { padding-right: 12rem !important; } .pb-lg-5, .py-lg-5 { padding-bottom: 12rem !important; } .pl-lg-5, .px-lg-5 { padding-left: 12rem !important; } .m-lg-auto { margin: auto !important; } .mt-lg-auto, .my-lg-auto { margin-top: auto !important; } .mr-lg-auto, .mx-lg-auto { margin-right: auto !important; } .mb-lg-auto, .my-lg-auto { margin-bottom: auto !important; } .ml-lg-auto, .mx-lg-auto { margin-left: auto !important; } } @media (min-width: 1200px) { .m-xl-0 { margin: 0 !important; } .mt-xl-0, .my-xl-0 { margin-top: 0 !important; } .mr-xl-0, .mx-xl-0 { margin-right: 0 !important; } .mb-xl-0, .my-xl-0 { margin-bottom: 0 !important; } .ml-xl-0, .mx-xl-0 { margin-left: 0 !important; } .m-xl-1 { margin: 1rem !important; } .mt-xl-1, .my-xl-1 { margin-top: 1rem !important; } .mr-xl-1, .mx-xl-1 { margin-right: 1rem !important; } .mb-xl-1, .my-xl-1 { margin-bottom: 1rem !important; } .ml-xl-1, .mx-xl-1 { margin-left: 1rem !important; } .m-xl-2 { margin: 2rem !important; } .mt-xl-2, .my-xl-2 { margin-top: 2rem !important; } .mr-xl-2, .mx-xl-2 { margin-right: 2rem !important; } .mb-xl-2, .my-xl-2 { margin-bottom: 2rem !important; } .ml-xl-2, .mx-xl-2 { margin-left: 2rem !important; } .m-xl-3 { margin: 4rem !important; } .mt-xl-3, .my-xl-3 { margin-top: 4rem !important; } .mr-xl-3, .mx-xl-3 { margin-right: 4rem !important; } .mb-xl-3, .my-xl-3 { margin-bottom: 4rem !important; } .ml-xl-3, .mx-xl-3 { margin-left: 4rem !important; } .m-xl-4 { margin: 6rem !important; } .mt-xl-4, .my-xl-4 { margin-top: 6rem !important; } .mr-xl-4, .mx-xl-4 { margin-right: 6rem !important; } .mb-xl-4, .my-xl-4 { margin-bottom: 6rem !important; } .ml-xl-4, .mx-xl-4 { margin-left: 6rem !important; } .m-xl-5 { margin: 12rem !important; } .mt-xl-5, .my-xl-5 { margin-top: 12rem !important; } .mr-xl-5, .mx-xl-5 { margin-right: 12rem !important; } .mb-xl-5, .my-xl-5 { margin-bottom: 12rem !important; } .ml-xl-5, .mx-xl-5 { margin-left: 12rem !important; } .p-xl-0 { padding: 0 !important; } .pt-xl-0, .py-xl-0 { padding-top: 0 !important; } .pr-xl-0, .px-xl-0 { padding-right: 0 !important; } .pb-xl-0, .py-xl-0 { padding-bottom: 0 !important; } .pl-xl-0, .px-xl-0 { padding-left: 0 !important; } .p-xl-1 { padding: 1rem !important; } .pt-xl-1, .py-xl-1 { padding-top: 1rem !important; } .pr-xl-1, .px-xl-1 { padding-right: 1rem !important; } .pb-xl-1, .py-xl-1 { padding-bottom: 1rem !important; } .pl-xl-1, .px-xl-1 { padding-left: 1rem !important; } .p-xl-2 { padding: 2rem !important; } .pt-xl-2, .py-xl-2 { padding-top: 2rem !important; } .pr-xl-2, .px-xl-2 { padding-right: 2rem !important; } .pb-xl-2, .py-xl-2 { padding-bottom: 2rem !important; } .pl-xl-2, .px-xl-2 { padding-left: 2rem !important; } .p-xl-3 { padding: 4rem !important; } .pt-xl-3, .py-xl-3 { padding-top: 4rem !important; } .pr-xl-3, .px-xl-3 { padding-right: 4rem !important; } .pb-xl-3, .py-xl-3 { padding-bottom: 4rem !important; } .pl-xl-3, .px-xl-3 { padding-left: 4rem !important; } .p-xl-4 { padding: 6rem !important; } .pt-xl-4, .py-xl-4 { padding-top: 6rem !important; } .pr-xl-4, .px-xl-4 { padding-right: 6rem !important; } .pb-xl-4, .py-xl-4 { padding-bottom: 6rem !important; } .pl-xl-4, .px-xl-4 { padding-left: 6rem !important; } .p-xl-5 { padding: 12rem !important; } .pt-xl-5, .py-xl-5 { padding-top: 12rem !important; } .pr-xl-5, .px-xl-5 { padding-right: 12rem !important; } .pb-xl-5, .py-xl-5 { padding-bottom: 12rem !important; } .pl-xl-5, .px-xl-5 { padding-left: 12rem !important; } .m-xl-auto { margin: auto !important; } .mt-xl-auto, .my-xl-auto { margin-top: auto !important; } .mr-xl-auto, .mx-xl-auto { margin-right: auto !important; } .mb-xl-auto, .my-xl-auto { margin-bottom: auto !important; } .ml-xl-auto, .mx-xl-auto { margin-left: auto !important; } } .text-monospace { font-family: SFMono-Regular, Menlo, Monaco, Consolas, "Liberation Mono", "Courier New", monospace; } .text-justify { text-align: justify !important; } .text-nowrap { white-space: nowrap !important; } .text-truncate { overflow: hidden; -o-text-overflow: ellipsis; text-overflow: ellipsis; white-space: nowrap; } .text-left { text-align: left !important; } .text-right { text-align: right !important; } .text-center { text-align: center !important; } @media (min-width: 576px) { .text-sm-left { text-align: left !important; } .text-sm-right { text-align: right !important; } .text-sm-center { text-align: center !important; } } @media (min-width: 768px) { .text-md-left { text-align: left !important; } .text-md-right { text-align: right !important; } .text-md-center { text-align: center !important; } } @media (min-width: 992px) { .text-lg-left { text-align: left !important; } .text-lg-right { text-align: right !important; } .text-lg-center { text-align: center !important; } } @media (min-width: 1200px) { .text-xl-left { text-align: left !important; } .text-xl-right { text-align: right !important; } .text-xl-center { text-align: center !important; } } .text-lowercase { text-transform: lowercase !important; } .text-uppercase { text-transform: uppercase !important; } .text-capitalize { text-transform: capitalize !important; } .font-weight-light { font-weight: 300 !important; } .font-weight-normal { font-weight: 400 !important; } .font-weight-bold { font-weight: 700 !important; } .font-italic { font-style: italic !important; } .text-white { color: #fff !important; } .text-primary { color: #007bff !important; } a.text-primary:hover, a.text-primary:focus { color: #0062cc !important; } .text-secondary { color: #6c757d !important; } a.text-secondary:hover, a.text-secondary:focus { color: #545b62 !important; } .text-success { color: #28a745 !important; } a.text-success:hover, a.text-success:focus { color: #1e7e34 !important; } .text-info { color: #17a2b8 !important; } a.text-info:hover, a.text-info:focus { color: #117a8b !important; } .text-warning { color: #ffc107 !important; } a.text-warning:hover, a.text-warning:focus { color: #d39e00 !important; } .text-danger { color: #dc3545 !important; } a.text-danger:hover, a.text-danger:focus { color: #bd2130 !important; } .text-light { color: #f8f9fa !important; } a.text-light:hover, a.text-light:focus { color: #dae0e5 !important; } .text-dark { color: #343a40 !important; } a.text-dark:hover, a.text-dark:focus { color: #1d2124 !important; } .text-body { color: #212529 !important; } .text-muted { color: #6c757d !important; } .text-black-50 { color: rgba(0, 0, 0, 0.5) !important; } .text-white-50 { color: rgba(255, 255, 255, 0.5) !important; } .text-hide { font: 0/0 a; color: transparent; text-shadow: none; background-color: transparent; border: 0; } .visible { visibility: visible !important; } .invisible { visibility: hidden !important; } @media print { *, *::before, *::after { text-shadow: none !important; -webkit-box-shadow: none !important; box-shadow: none !important; } a:not(.btn) { text-decoration: underline; } abbr[title]::after { content: " (" attr(title) ")"; } pre { white-space: pre-wrap !important; } pre, blockquote { border: 1px solid #adb5bd; page-break-inside: avoid; } thead { display: table-header-group; } tr, img { page-break-inside: avoid; } p, h2, h3 { orphans: 3; widows: 3; } h2, h3 { page-break-after: avoid; } @page { size: a3; } body { min-width: 992px !important; } .container { min-width: 992px !important; } .navbar { display: none; } .badge { border: 1px solid #000; } .table { border-collapse: collapse !important; } .table td, .table th { background-color: #fff !important; } .table-bordered th, .table-bordered td { border: 1px solid #dee2e6 !important; } .table-dark { color: inherit; } .table-dark th, .table-dark td, .table-dark thead th, .table-dark tbody + tbody { border-color: #dee2e6; } .table .thead-dark th { color: inherit; border-color: #dee2e6; } } /*! * Bootstrap Grid v4.1.1 (https://getbootstrap.com/) * Copyright 2011-2018 The Bootstrap Authors * Copyright 2011-2018 Twitter, Inc. * Licensed under MIT (https://github.com/twbs/bootstrap/blob/master/LICENSE) */ @-ms-viewport { width: device-width; } html { -webkit-box-sizing: border-box; box-sizing: border-box; -ms-overflow-style: scrollbar; } *, *::before, *::after { -webkit-box-sizing: inherit; box-sizing: inherit; } .container { width: 100%; padding-right: 15px; padding-left: 15px; margin-right: auto; margin-left: auto; } @media (min-width: 576px) { .container { max-width: 540px; } } @media (min-width: 768px) { .container { max-width: 720px; } } @media (min-width: 992px) { .container { max-width: 960px; } } @media (min-width: 1200px) { .container { max-width: 1140px; } } .container-fluid { width: 100%; padding-right: 15px; padding-left: 15px; margin-right: auto; margin-left: auto; } .row { display: -webkit-box; display: -ms-flexbox; display: flex; -ms-flex-wrap: wrap; flex-wrap: wrap; margin-right: -15px; margin-left: -15px; } .no-gutters { margin-right: 0; margin-left: 0; } .no-gutters > .col, .no-gutters > [class*=col-] { padding-right: 0; padding-left: 0; } .col-1, .col-2, .col-3, .col-4, .col-5, .col-6, .col-7, .col-8, .col-9, .col-10, .col-11, .col-12, .col, .col-auto, .col-sm-1, .col-sm-2, .col-sm-3, .col-sm-4, .col-sm-5, .col-sm-6, .col-sm-7, .col-sm-8, .col-sm-9, .col-sm-10, .col-sm-11, .col-sm-12, .col-sm, .col-sm-auto, .col-md-1, .col-md-2, .col-md-3, .col-md-4, .col-md-5, .col-md-6, .col-md-7, .col-md-8, .col-md-9, .col-md-10, .col-md-11, .col-md-12, .col-md, .col-md-auto, .col-lg-1, .col-lg-2, .col-lg-3, .col-lg-4, .col-lg-5, .col-lg-6, .col-lg-7, .col-lg-8, .col-lg-9, .col-lg-10, .col-lg-11, .col-lg-12, .col-lg, .col-lg-auto, .col-xl-1, .col-xl-2, .col-xl-3, .col-xl-4, .col-xl-5, .col-xl-6, .col-xl-7, .col-xl-8, .col-xl-9, .col-xl-10, .col-xl-11, .col-xl-12, .col-xl, .col-xl-auto { position: relative; width: 100%; min-height: 1px; padding-right: 15px; padding-left: 15px; } .col { -ms-flex-preferred-size: 0; flex-basis: 0; -webkit-box-flex: 1; -ms-flex-positive: 1; flex-grow: 1; max-width: 100%; } .col-auto { -webkit-box-flex: 0; -ms-flex: 0 0 auto; flex: 0 0 auto; width: auto; max-width: none; } .col-1 { -webkit-box-flex: 0; -ms-flex: 0 0 8.3333333333%; flex: 0 0 8.3333333333%; max-width: 8.3333333333%; } .col-2 { -webkit-box-flex: 0; -ms-flex: 0 0 16.6666666667%; flex: 0 0 16.6666666667%; max-width: 16.6666666667%; } .col-3 { -webkit-box-flex: 0; -ms-flex: 0 0 25%; flex: 0 0 25%; max-width: 25%; } .col-4 { -webkit-box-flex: 0; -ms-flex: 0 0 33.3333333333%; flex: 0 0 33.3333333333%; max-width: 33.3333333333%; } .col-5 { -webkit-box-flex: 0; -ms-flex: 0 0 41.6666666667%; flex: 0 0 41.6666666667%; max-width: 41.6666666667%; } .col-6 { -webkit-box-flex: 0; -ms-flex: 0 0 50%; flex: 0 0 50%; max-width: 50%; } .col-7 { -webkit-box-flex: 0; -ms-flex: 0 0 58.3333333333%; flex: 0 0 58.3333333333%; max-width: 58.3333333333%; } .col-8 { -webkit-box-flex: 0; -ms-flex: 0 0 66.6666666667%; flex: 0 0 66.6666666667%; max-width: 66.6666666667%; } .col-9 { -webkit-box-flex: 0; -ms-flex: 0 0 75%; flex: 0 0 75%; max-width: 75%; } .col-10 { -webkit-box-flex: 0; -ms-flex: 0 0 83.3333333333%; flex: 0 0 83.3333333333%; max-width: 83.3333333333%; } .col-11 { -webkit-box-flex: 0; -ms-flex: 0 0 91.6666666667%; flex: 0 0 91.6666666667%; max-width: 91.6666666667%; } .col-12 { -webkit-box-flex: 0; -ms-flex: 0 0 100%; flex: 0 0 100%; max-width: 100%; } .order-first { -webkit-box-ordinal-group: 0; -ms-flex-order: -1; order: -1; } .order-last { -webkit-box-ordinal-group: 14; -ms-flex-order: 13; order: 13; } .order-0 { -webkit-box-ordinal-group: 1; -ms-flex-order: 0; order: 0; } .order-1 { -webkit-box-ordinal-group: 2; -ms-flex-order: 1; order: 1; } .order-2 { -webkit-box-ordinal-group: 3; -ms-flex-order: 2; order: 2; } .order-3 { -webkit-box-ordinal-group: 4; -ms-flex-order: 3; order: 3; } .order-4 { -webkit-box-ordinal-group: 5; -ms-flex-order: 4; order: 4; } .order-5 { -webkit-box-ordinal-group: 6; -ms-flex-order: 5; order: 5; } .order-6 { -webkit-box-ordinal-group: 7; -ms-flex-order: 6; order: 6; } .order-7 { -webkit-box-ordinal-group: 8; -ms-flex-order: 7; order: 7; } .order-8 { -webkit-box-ordinal-group: 9; -ms-flex-order: 8; order: 8; } .order-9 { -webkit-box-ordinal-group: 10; -ms-flex-order: 9; order: 9; } .order-10 { -webkit-box-ordinal-group: 11; -ms-flex-order: 10; order: 10; } .order-11 { -webkit-box-ordinal-group: 12; -ms-flex-order: 11; order: 11; } .order-12 { -webkit-box-ordinal-group: 13; -ms-flex-order: 12; order: 12; } .offset-1 { margin-left: 8.3333333333%; } .offset-2 { margin-left: 16.6666666667%; } .offset-3 { margin-left: 25%; } .offset-4 { margin-left: 33.3333333333%; } .offset-5 { margin-left: 41.6666666667%; } .offset-6 { margin-left: 50%; } .offset-7 { margin-left: 58.3333333333%; } .offset-8 { margin-left: 66.6666666667%; } .offset-9 { margin-left: 75%; } .offset-10 { margin-left: 83.3333333333%; } .offset-11 { margin-left: 91.6666666667%; } @media (min-width: 576px) { .col-sm { -ms-flex-preferred-size: 0; flex-basis: 0; -webkit-box-flex: 1; -ms-flex-positive: 1; flex-grow: 1; max-width: 100%; } .col-sm-auto { -webkit-box-flex: 0; -ms-flex: 0 0 auto; flex: 0 0 auto; width: auto; max-width: none; } .col-sm-1 { -webkit-box-flex: 0; -ms-flex: 0 0 8.3333333333%; flex: 0 0 8.3333333333%; max-width: 8.3333333333%; } .col-sm-2 { -webkit-box-flex: 0; -ms-flex: 0 0 16.6666666667%; flex: 0 0 16.6666666667%; max-width: 16.6666666667%; } .col-sm-3 { -webkit-box-flex: 0; -ms-flex: 0 0 25%; flex: 0 0 25%; max-width: 25%; } .col-sm-4 { -webkit-box-flex: 0; -ms-flex: 0 0 33.3333333333%; flex: 0 0 33.3333333333%; max-width: 33.3333333333%; } .col-sm-5 { -webkit-box-flex: 0; -ms-flex: 0 0 41.6666666667%; flex: 0 0 41.6666666667%; max-width: 41.6666666667%; } .col-sm-6 { -webkit-box-flex: 0; -ms-flex: 0 0 50%; flex: 0 0 50%; max-width: 50%; } .col-sm-7 { -webkit-box-flex: 0; -ms-flex: 0 0 58.3333333333%; flex: 0 0 58.3333333333%; max-width: 58.3333333333%; } .col-sm-8 { -webkit-box-flex: 0; -ms-flex: 0 0 66.6666666667%; flex: 0 0 66.6666666667%; max-width: 66.6666666667%; } .col-sm-9 { -webkit-box-flex: 0; -ms-flex: 0 0 75%; flex: 0 0 75%; max-width: 75%; } .col-sm-10 { -webkit-box-flex: 0; -ms-flex: 0 0 83.3333333333%; flex: 0 0 83.3333333333%; max-width: 83.3333333333%; } .col-sm-11 { -webkit-box-flex: 0; -ms-flex: 0 0 91.6666666667%; flex: 0 0 91.6666666667%; max-width: 91.6666666667%; } .col-sm-12 { -webkit-box-flex: 0; -ms-flex: 0 0 100%; flex: 0 0 100%; max-width: 100%; } .order-sm-first { -webkit-box-ordinal-group: 0; -ms-flex-order: -1; order: -1; } .order-sm-last { -webkit-box-ordinal-group: 14; -ms-flex-order: 13; order: 13; } .order-sm-0 { -webkit-box-ordinal-group: 1; -ms-flex-order: 0; order: 0; } .order-sm-1 { -webkit-box-ordinal-group: 2; -ms-flex-order: 1; order: 1; } .order-sm-2 { -webkit-box-ordinal-group: 3; -ms-flex-order: 2; order: 2; } .order-sm-3 { -webkit-box-ordinal-group: 4; -ms-flex-order: 3; order: 3; } .order-sm-4 { -webkit-box-ordinal-group: 5; -ms-flex-order: 4; order: 4; } .order-sm-5 { -webkit-box-ordinal-group: 6; -ms-flex-order: 5; order: 5; } .order-sm-6 { -webkit-box-ordinal-group: 7; -ms-flex-order: 6; order: 6; } .order-sm-7 { -webkit-box-ordinal-group: 8; -ms-flex-order: 7; order: 7; } .order-sm-8 { -webkit-box-ordinal-group: 9; -ms-flex-order: 8; order: 8; } .order-sm-9 { -webkit-box-ordinal-group: 10; -ms-flex-order: 9; order: 9; } .order-sm-10 { -webkit-box-ordinal-group: 11; -ms-flex-order: 10; order: 10; } .order-sm-11 { -webkit-box-ordinal-group: 12; -ms-flex-order: 11; order: 11; } .order-sm-12 { -webkit-box-ordinal-group: 13; -ms-flex-order: 12; order: 12; } .offset-sm-0 { margin-left: 0; } .offset-sm-1 { margin-left: 8.3333333333%; } .offset-sm-2 { margin-left: 16.6666666667%; } .offset-sm-3 { margin-left: 25%; } .offset-sm-4 { margin-left: 33.3333333333%; } .offset-sm-5 { margin-left: 41.6666666667%; } .offset-sm-6 { margin-left: 50%; } .offset-sm-7 { margin-left: 58.3333333333%; } .offset-sm-8 { margin-left: 66.6666666667%; } .offset-sm-9 { margin-left: 75%; } .offset-sm-10 { margin-left: 83.3333333333%; } .offset-sm-11 { margin-left: 91.6666666667%; } } @media (min-width: 768px) { .col-md { -ms-flex-preferred-size: 0; flex-basis: 0; -webkit-box-flex: 1; -ms-flex-positive: 1; flex-grow: 1; max-width: 100%; } .col-md-auto { -webkit-box-flex: 0; -ms-flex: 0 0 auto; flex: 0 0 auto; width: auto; max-width: none; } .col-md-1 { -webkit-box-flex: 0; -ms-flex: 0 0 8.3333333333%; flex: 0 0 8.3333333333%; max-width: 8.3333333333%; } .col-md-2 { -webkit-box-flex: 0; -ms-flex: 0 0 16.6666666667%; flex: 0 0 16.6666666667%; max-width: 16.6666666667%; } .col-md-3 { -webkit-box-flex: 0; -ms-flex: 0 0 25%; flex: 0 0 25%; max-width: 25%; } .col-md-4 { -webkit-box-flex: 0; -ms-flex: 0 0 33.3333333333%; flex: 0 0 33.3333333333%; max-width: 33.3333333333%; } .col-md-5 { -webkit-box-flex: 0; -ms-flex: 0 0 41.6666666667%; flex: 0 0 41.6666666667%; max-width: 41.6666666667%; } .col-md-6 { -webkit-box-flex: 0; -ms-flex: 0 0 50%; flex: 0 0 50%; max-width: 50%; } .col-md-7 { -webkit-box-flex: 0; -ms-flex: 0 0 58.3333333333%; flex: 0 0 58.3333333333%; max-width: 58.3333333333%; } .col-md-8 { -webkit-box-flex: 0; -ms-flex: 0 0 66.6666666667%; flex: 0 0 66.6666666667%; max-width: 66.6666666667%; } .col-md-9 { -webkit-box-flex: 0; -ms-flex: 0 0 75%; flex: 0 0 75%; max-width: 75%; } .col-md-10 { -webkit-box-flex: 0; -ms-flex: 0 0 83.3333333333%; flex: 0 0 83.3333333333%; max-width: 83.3333333333%; } .col-md-11 { -webkit-box-flex: 0; -ms-flex: 0 0 91.6666666667%; flex: 0 0 91.6666666667%; max-width: 91.6666666667%; } .col-md-12 { -webkit-box-flex: 0; -ms-flex: 0 0 100%; flex: 0 0 100%; max-width: 100%; } .order-md-first { -webkit-box-ordinal-group: 0; -ms-flex-order: -1; order: -1; } .order-md-last { -webkit-box-ordinal-group: 14; -ms-flex-order: 13; order: 13; } .order-md-0 { -webkit-box-ordinal-group: 1; -ms-flex-order: 0; order: 0; } .order-md-1 { -webkit-box-ordinal-group: 2; -ms-flex-order: 1; order: 1; } .order-md-2 { -webkit-box-ordinal-group: 3; -ms-flex-order: 2; order: 2; } .order-md-3 { -webkit-box-ordinal-group: 4; -ms-flex-order: 3; order: 3; } .order-md-4 { -webkit-box-ordinal-group: 5; -ms-flex-order: 4; order: 4; } .order-md-5 { -webkit-box-ordinal-group: 6; -ms-flex-order: 5; order: 5; } .order-md-6 { -webkit-box-ordinal-group: 7; -ms-flex-order: 6; order: 6; } .order-md-7 { -webkit-box-ordinal-group: 8; -ms-flex-order: 7; order: 7; } .order-md-8 { -webkit-box-ordinal-group: 9; -ms-flex-order: 8; order: 8; } .order-md-9 { -webkit-box-ordinal-group: 10; -ms-flex-order: 9; order: 9; } .order-md-10 { -webkit-box-ordinal-group: 11; -ms-flex-order: 10; order: 10; } .order-md-11 { -webkit-box-ordinal-group: 12; -ms-flex-order: 11; order: 11; } .order-md-12 { -webkit-box-ordinal-group: 13; -ms-flex-order: 12; order: 12; } .offset-md-0 { margin-left: 0; } .offset-md-1 { margin-left: 8.3333333333%; } .offset-md-2 { margin-left: 16.6666666667%; } .offset-md-3 { margin-left: 25%; } .offset-md-4 { margin-left: 33.3333333333%; } .offset-md-5 { margin-left: 41.6666666667%; } .offset-md-6 { margin-left: 50%; } .offset-md-7 { margin-left: 58.3333333333%; } .offset-md-8 { margin-left: 66.6666666667%; } .offset-md-9 { margin-left: 75%; } .offset-md-10 { margin-left: 83.3333333333%; } .offset-md-11 { margin-left: 91.6666666667%; } } @media (min-width: 992px) { .col-lg { -ms-flex-preferred-size: 0; flex-basis: 0; -webkit-box-flex: 1; -ms-flex-positive: 1; flex-grow: 1; max-width: 100%; } .col-lg-auto { -webkit-box-flex: 0; -ms-flex: 0 0 auto; flex: 0 0 auto; width: auto; max-width: none; } .col-lg-1 { -webkit-box-flex: 0; -ms-flex: 0 0 8.3333333333%; flex: 0 0 8.3333333333%; max-width: 8.3333333333%; } .col-lg-2 { -webkit-box-flex: 0; -ms-flex: 0 0 16.6666666667%; flex: 0 0 16.6666666667%; max-width: 16.6666666667%; } .col-lg-3 { -webkit-box-flex: 0; -ms-flex: 0 0 25%; flex: 0 0 25%; max-width: 25%; } .col-lg-4 { -webkit-box-flex: 0; -ms-flex: 0 0 33.3333333333%; flex: 0 0 33.3333333333%; max-width: 33.3333333333%; } .col-lg-5 { -webkit-box-flex: 0; -ms-flex: 0 0 41.6666666667%; flex: 0 0 41.6666666667%; max-width: 41.6666666667%; } .col-lg-6 { -webkit-box-flex: 0; -ms-flex: 0 0 50%; flex: 0 0 50%; max-width: 50%; } .col-lg-7 { -webkit-box-flex: 0; -ms-flex: 0 0 58.3333333333%; flex: 0 0 58.3333333333%; max-width: 58.3333333333%; } .col-lg-8 { -webkit-box-flex: 0; -ms-flex: 0 0 66.6666666667%; flex: 0 0 66.6666666667%; max-width: 66.6666666667%; } .col-lg-9 { -webkit-box-flex: 0; -ms-flex: 0 0 75%; flex: 0 0 75%; max-width: 75%; } .col-lg-10 { -webkit-box-flex: 0; -ms-flex: 0 0 83.3333333333%; flex: 0 0 83.3333333333%; max-width: 83.3333333333%; } .col-lg-11 { -webkit-box-flex: 0; -ms-flex: 0 0 91.6666666667%; flex: 0 0 91.6666666667%; max-width: 91.6666666667%; } .col-lg-12 { -webkit-box-flex: 0; -ms-flex: 0 0 100%; flex: 0 0 100%; max-width: 100%; } .order-lg-first { -webkit-box-ordinal-group: 0; -ms-flex-order: -1; order: -1; } .order-lg-last { -webkit-box-ordinal-group: 14; -ms-flex-order: 13; order: 13; } .order-lg-0 { -webkit-box-ordinal-group: 1; -ms-flex-order: 0; order: 0; } .order-lg-1 { -webkit-box-ordinal-group: 2; -ms-flex-order: 1; order: 1; } .order-lg-2 { -webkit-box-ordinal-group: 3; -ms-flex-order: 2; order: 2; } .order-lg-3 { -webkit-box-ordinal-group: 4; -ms-flex-order: 3; order: 3; } .order-lg-4 { -webkit-box-ordinal-group: 5; -ms-flex-order: 4; order: 4; } .order-lg-5 { -webkit-box-ordinal-group: 6; -ms-flex-order: 5; order: 5; } .order-lg-6 { -webkit-box-ordinal-group: 7; -ms-flex-order: 6; order: 6; } .order-lg-7 { -webkit-box-ordinal-group: 8; -ms-flex-order: 7; order: 7; } .order-lg-8 { -webkit-box-ordinal-group: 9; -ms-flex-order: 8; order: 8; } .order-lg-9 { -webkit-box-ordinal-group: 10; -ms-flex-order: 9; order: 9; } .order-lg-10 { -webkit-box-ordinal-group: 11; -ms-flex-order: 10; order: 10; } .order-lg-11 { -webkit-box-ordinal-group: 12; -ms-flex-order: 11; order: 11; } .order-lg-12 { -webkit-box-ordinal-group: 13; -ms-flex-order: 12; order: 12; } .offset-lg-0 { margin-left: 0; } .offset-lg-1 { margin-left: 8.3333333333%; } .offset-lg-2 { margin-left: 16.6666666667%; } .offset-lg-3 { margin-left: 25%; } .offset-lg-4 { margin-left: 33.3333333333%; } .offset-lg-5 { margin-left: 41.6666666667%; } .offset-lg-6 { margin-left: 50%; } .offset-lg-7 { margin-left: 58.3333333333%; } .offset-lg-8 { margin-left: 66.6666666667%; } .offset-lg-9 { margin-left: 75%; } .offset-lg-10 { margin-left: 83.3333333333%; } .offset-lg-11 { margin-left: 91.6666666667%; } } @media (min-width: 1200px) { .col-xl { -ms-flex-preferred-size: 0; flex-basis: 0; -webkit-box-flex: 1; -ms-flex-positive: 1; flex-grow: 1; max-width: 100%; } .col-xl-auto { -webkit-box-flex: 0; -ms-flex: 0 0 auto; flex: 0 0 auto; width: auto; max-width: none; } .col-xl-1 { -webkit-box-flex: 0; -ms-flex: 0 0 8.3333333333%; flex: 0 0 8.3333333333%; max-width: 8.3333333333%; } .col-xl-2 { -webkit-box-flex: 0; -ms-flex: 0 0 16.6666666667%; flex: 0 0 16.6666666667%; max-width: 16.6666666667%; } .col-xl-3 { -webkit-box-flex: 0; -ms-flex: 0 0 25%; flex: 0 0 25%; max-width: 25%; } .col-xl-4 { -webkit-box-flex: 0; -ms-flex: 0 0 33.3333333333%; flex: 0 0 33.3333333333%; max-width: 33.3333333333%; } .col-xl-5 { -webkit-box-flex: 0; -ms-flex: 0 0 41.6666666667%; flex: 0 0 41.6666666667%; max-width: 41.6666666667%; } .col-xl-6 { -webkit-box-flex: 0; -ms-flex: 0 0 50%; flex: 0 0 50%; max-width: 50%; } .col-xl-7 { -webkit-box-flex: 0; -ms-flex: 0 0 58.3333333333%; flex: 0 0 58.3333333333%; max-width: 58.3333333333%; } .col-xl-8 { -webkit-box-flex: 0; -ms-flex: 0 0 66.6666666667%; flex: 0 0 66.6666666667%; max-width: 66.6666666667%; } .col-xl-9 { -webkit-box-flex: 0; -ms-flex: 0 0 75%; flex: 0 0 75%; max-width: 75%; } .col-xl-10 { -webkit-box-flex: 0; -ms-flex: 0 0 83.3333333333%; flex: 0 0 83.3333333333%; max-width: 83.3333333333%; } .col-xl-11 { -webkit-box-flex: 0; -ms-flex: 0 0 91.6666666667%; flex: 0 0 91.6666666667%; max-width: 91.6666666667%; } .col-xl-12 { -webkit-box-flex: 0; -ms-flex: 0 0 100%; flex: 0 0 100%; max-width: 100%; } .order-xl-first { -webkit-box-ordinal-group: 0; -ms-flex-order: -1; order: -1; } .order-xl-last { -webkit-box-ordinal-group: 14; -ms-flex-order: 13; order: 13; } .order-xl-0 { -webkit-box-ordinal-group: 1; -ms-flex-order: 0; order: 0; } .order-xl-1 { -webkit-box-ordinal-group: 2; -ms-flex-order: 1; order: 1; } .order-xl-2 { -webkit-box-ordinal-group: 3; -ms-flex-order: 2; order: 2; } .order-xl-3 { -webkit-box-ordinal-group: 4; -ms-flex-order: 3; order: 3; } .order-xl-4 { -webkit-box-ordinal-group: 5; -ms-flex-order: 4; order: 4; } .order-xl-5 { -webkit-box-ordinal-group: 6; -ms-flex-order: 5; order: 5; } .order-xl-6 { -webkit-box-ordinal-group: 7; -ms-flex-order: 6; order: 6; } .order-xl-7 { -webkit-box-ordinal-group: 8; -ms-flex-order: 7; order: 7; } .order-xl-8 { -webkit-box-ordinal-group: 9; -ms-flex-order: 8; order: 8; } .order-xl-9 { -webkit-box-ordinal-group: 10; -ms-flex-order: 9; order: 9; } .order-xl-10 { -webkit-box-ordinal-group: 11; -ms-flex-order: 10; order: 10; } .order-xl-11 { -webkit-box-ordinal-group: 12; -ms-flex-order: 11; order: 11; } .order-xl-12 { -webkit-box-ordinal-group: 13; -ms-flex-order: 12; order: 12; } .offset-xl-0 { margin-left: 0; } .offset-xl-1 { margin-left: 8.3333333333%; } .offset-xl-2 { margin-left: 16.6666666667%; } .offset-xl-3 { margin-left: 25%; } .offset-xl-4 { margin-left: 33.3333333333%; } .offset-xl-5 { margin-left: 41.6666666667%; } .offset-xl-6 { margin-left: 50%; } .offset-xl-7 { margin-left: 58.3333333333%; } .offset-xl-8 { margin-left: 66.6666666667%; } .offset-xl-9 { margin-left: 75%; } .offset-xl-10 { margin-left: 83.3333333333%; } .offset-xl-11 { margin-left: 91.6666666667%; } } .d-none { display: none !important; } .d-inline { display: inline !important; } .d-inline-block { display: inline-block !important; } .d-block { display: block !important; } .d-table { display: table !important; } .d-table-row { display: table-row !important; } .d-table-cell { display: table-cell !important; } .d-flex { display: -webkit-box !important; display: -ms-flexbox !important; display: flex !important; } .d-inline-flex { display: -webkit-inline-box !important; display: -ms-inline-flexbox !important; display: inline-flex !important; } @media (min-width: 576px) { .d-sm-none { display: none !important; } .d-sm-inline { display: inline !important; } .d-sm-inline-block { display: inline-block !important; } .d-sm-block { display: block !important; } .d-sm-table { display: table !important; } .d-sm-table-row { display: table-row !important; } .d-sm-table-cell { display: table-cell !important; } .d-sm-flex { display: -webkit-box !important; display: -ms-flexbox !important; display: flex !important; } .d-sm-inline-flex { display: -webkit-inline-box !important; display: -ms-inline-flexbox !important; display: inline-flex !important; } } @media (min-width: 768px) { .d-md-none { display: none !important; } .d-md-inline { display: inline !important; } .d-md-inline-block { display: inline-block !important; } .d-md-block { display: block !important; } .d-md-table { display: table !important; } .d-md-table-row { display: table-row !important; } .d-md-table-cell { display: table-cell !important; } .d-md-flex { display: -webkit-box !important; display: -ms-flexbox !important; display: flex !important; } .d-md-inline-flex { display: -webkit-inline-box !important; display: -ms-inline-flexbox !important; display: inline-flex !important; } } @media (min-width: 992px) { .d-lg-none { display: none !important; } .d-lg-inline { display: inline !important; } .d-lg-inline-block { display: inline-block !important; } .d-lg-block { display: block !important; } .d-lg-table { display: table !important; } .d-lg-table-row { display: table-row !important; } .d-lg-table-cell { display: table-cell !important; } .d-lg-flex { display: -webkit-box !important; display: -ms-flexbox !important; display: flex !important; } .d-lg-inline-flex { display: -webkit-inline-box !important; display: -ms-inline-flexbox !important; display: inline-flex !important; } } @media (min-width: 1200px) { .d-xl-none { display: none !important; } .d-xl-inline { display: inline !important; } .d-xl-inline-block { display: inline-block !important; } .d-xl-block { display: block !important; } .d-xl-table { display: table !important; } .d-xl-table-row { display: table-row !important; } .d-xl-table-cell { display: table-cell !important; } .d-xl-flex { display: -webkit-box !important; display: -ms-flexbox !important; display: flex !important; } .d-xl-inline-flex { display: -webkit-inline-box !important; display: -ms-inline-flexbox !important; display: inline-flex !important; } } @media print { .d-print-none { display: none !important; } .d-print-inline { display: inline !important; } .d-print-inline-block { display: inline-block !important; } .d-print-block { display: block !important; } .d-print-table { display: table !important; } .d-print-table-row { display: table-row !important; } .d-print-table-cell { display: table-cell !important; } .d-print-flex { display: -webkit-box !important; display: -ms-flexbox !important; display: flex !important; } .d-print-inline-flex { display: -webkit-inline-box !important; display: -ms-inline-flexbox !important; display: inline-flex !important; } } .flex-row { -webkit-box-orient: horizontal !important; -webkit-box-direction: normal !important; -ms-flex-direction: row !important; flex-direction: row !important; } .flex-column { -webkit-box-orient: vertical !important; -webkit-box-direction: normal !important; -ms-flex-direction: column !important; flex-direction: column !important; } .flex-row-reverse { -webkit-box-orient: horizontal !important; -webkit-box-direction: reverse !important; -ms-flex-direction: row-reverse !important; flex-direction: row-reverse !important; } .flex-column-reverse { -webkit-box-orient: vertical !important; -webkit-box-direction: reverse !important; -ms-flex-direction: column-reverse !important; flex-direction: column-reverse !important; } .flex-wrap { -ms-flex-wrap: wrap !important; flex-wrap: wrap !important; } .flex-nowrap { -ms-flex-wrap: nowrap !important; flex-wrap: nowrap !important; } .flex-wrap-reverse { -ms-flex-wrap: wrap-reverse !important; flex-wrap: wrap-reverse !important; } .flex-fill { -webkit-box-flex: 1 !important; -ms-flex: 1 1 auto !important; flex: 1 1 auto !important; } .flex-grow-0 { -webkit-box-flex: 0 !important; -ms-flex-positive: 0 !important; flex-grow: 0 !important; } .flex-grow-1 { -webkit-box-flex: 1 !important; -ms-flex-positive: 1 !important; flex-grow: 1 !important; } .flex-shrink-0 { -ms-flex-negative: 0 !important; flex-shrink: 0 !important; } .flex-shrink-1 { -ms-flex-negative: 1 !important; flex-shrink: 1 !important; } .justify-content-start { -webkit-box-pack: start !important; -ms-flex-pack: start !important; justify-content: flex-start !important; } .justify-content-end { -webkit-box-pack: end !important; -ms-flex-pack: end !important; justify-content: flex-end !important; } .justify-content-center { -webkit-box-pack: center !important; -ms-flex-pack: center !important; justify-content: center !important; } .justify-content-between { -webkit-box-pack: justify !important; -ms-flex-pack: justify !important; justify-content: space-between !important; } .justify-content-around { -ms-flex-pack: distribute !important; justify-content: space-around !important; } .align-items-start { -webkit-box-align: start !important; -ms-flex-align: start !important; align-items: flex-start !important; } .align-items-end { -webkit-box-align: end !important; -ms-flex-align: end !important; align-items: flex-end !important; } .align-items-center { -webkit-box-align: center !important; -ms-flex-align: center !important; align-items: center !important; } .align-items-baseline { -webkit-box-align: baseline !important; -ms-flex-align: baseline !important; align-items: baseline !important; } .align-items-stretch { -webkit-box-align: stretch !important; -ms-flex-align: stretch !important; align-items: stretch !important; } .align-content-start { -ms-flex-line-pack: start !important; align-content: flex-start !important; } .align-content-end { -ms-flex-line-pack: end !important; align-content: flex-end !important; } .align-content-center { -ms-flex-line-pack: center !important; align-content: center !important; } .align-content-between { -ms-flex-line-pack: justify !important; align-content: space-between !important; } .align-content-around { -ms-flex-line-pack: distribute !important; align-content: space-around !important; } .align-content-stretch { -ms-flex-line-pack: stretch !important; align-content: stretch !important; } .align-self-auto { -ms-flex-item-align: auto !important; -ms-grid-row-align: auto !important; align-self: auto !important; } .align-self-start { -ms-flex-item-align: start !important; align-self: flex-start !important; } .align-self-end { -ms-flex-item-align: end !important; align-self: flex-end !important; } .align-self-center { -ms-flex-item-align: center !important; -ms-grid-row-align: center !important; align-self: center !important; } .align-self-baseline { -ms-flex-item-align: baseline !important; align-self: baseline !important; } .align-self-stretch { -ms-flex-item-align: stretch !important; -ms-grid-row-align: stretch !important; align-self: stretch !important; } @media (min-width: 576px) { .flex-sm-row { -webkit-box-orient: horizontal !important; -webkit-box-direction: normal !important; -ms-flex-direction: row !important; flex-direction: row !important; } .flex-sm-column { -webkit-box-orient: vertical !important; -webkit-box-direction: normal !important; -ms-flex-direction: column !important; flex-direction: column !important; } .flex-sm-row-reverse { -webkit-box-orient: horizontal !important; -webkit-box-direction: reverse !important; -ms-flex-direction: row-reverse !important; flex-direction: row-reverse !important; } .flex-sm-column-reverse { -webkit-box-orient: vertical !important; -webkit-box-direction: reverse !important; -ms-flex-direction: column-reverse !important; flex-direction: column-reverse !important; } .flex-sm-wrap { -ms-flex-wrap: wrap !important; flex-wrap: wrap !important; } .flex-sm-nowrap { -ms-flex-wrap: nowrap !important; flex-wrap: nowrap !important; } .flex-sm-wrap-reverse { -ms-flex-wrap: wrap-reverse !important; flex-wrap: wrap-reverse !important; } .flex-sm-fill { -webkit-box-flex: 1 !important; -ms-flex: 1 1 auto !important; flex: 1 1 auto !important; } .flex-sm-grow-0 { -webkit-box-flex: 0 !important; -ms-flex-positive: 0 !important; flex-grow: 0 !important; } .flex-sm-grow-1 { -webkit-box-flex: 1 !important; -ms-flex-positive: 1 !important; flex-grow: 1 !important; } .flex-sm-shrink-0 { -ms-flex-negative: 0 !important; flex-shrink: 0 !important; } .flex-sm-shrink-1 { -ms-flex-negative: 1 !important; flex-shrink: 1 !important; } .justify-content-sm-start { -webkit-box-pack: start !important; -ms-flex-pack: start !important; justify-content: flex-start !important; } .justify-content-sm-end { -webkit-box-pack: end !important; -ms-flex-pack: end !important; justify-content: flex-end !important; } .justify-content-sm-center { -webkit-box-pack: center !important; -ms-flex-pack: center !important; justify-content: center !important; } .justify-content-sm-between { -webkit-box-pack: justify !important; -ms-flex-pack: justify !important; justify-content: space-between !important; } .justify-content-sm-around { -ms-flex-pack: distribute !important; justify-content: space-around !important; } .align-items-sm-start { -webkit-box-align: start !important; -ms-flex-align: start !important; align-items: flex-start !important; } .align-items-sm-end { -webkit-box-align: end !important; -ms-flex-align: end !important; align-items: flex-end !important; } .align-items-sm-center { -webkit-box-align: center !important; -ms-flex-align: center !important; align-items: center !important; } .align-items-sm-baseline { -webkit-box-align: baseline !important; -ms-flex-align: baseline !important; align-items: baseline !important; } .align-items-sm-stretch { -webkit-box-align: stretch !important; -ms-flex-align: stretch !important; align-items: stretch !important; } .align-content-sm-start { -ms-flex-line-pack: start !important; align-content: flex-start !important; } .align-content-sm-end { -ms-flex-line-pack: end !important; align-content: flex-end !important; } .align-content-sm-center { -ms-flex-line-pack: center !important; align-content: center !important; } .align-content-sm-between { -ms-flex-line-pack: justify !important; align-content: space-between !important; } .align-content-sm-around { -ms-flex-line-pack: distribute !important; align-content: space-around !important; } .align-content-sm-stretch { -ms-flex-line-pack: stretch !important; align-content: stretch !important; } .align-self-sm-auto { -ms-flex-item-align: auto !important; -ms-grid-row-align: auto !important; align-self: auto !important; } .align-self-sm-start { -ms-flex-item-align: start !important; align-self: flex-start !important; } .align-self-sm-end { -ms-flex-item-align: end !important; align-self: flex-end !important; } .align-self-sm-center { -ms-flex-item-align: center !important; -ms-grid-row-align: center !important; align-self: center !important; } .align-self-sm-baseline { -ms-flex-item-align: baseline !important; align-self: baseline !important; } .align-self-sm-stretch { -ms-flex-item-align: stretch !important; -ms-grid-row-align: stretch !important; align-self: stretch !important; } } @media (min-width: 768px) { .flex-md-row { -webkit-box-orient: horizontal !important; -webkit-box-direction: normal !important; -ms-flex-direction: row !important; flex-direction: row !important; } .flex-md-column { -webkit-box-orient: vertical !important; -webkit-box-direction: normal !important; -ms-flex-direction: column !important; flex-direction: column !important; } .flex-md-row-reverse { -webkit-box-orient: horizontal !important; -webkit-box-direction: reverse !important; -ms-flex-direction: row-reverse !important; flex-direction: row-reverse !important; } .flex-md-column-reverse { -webkit-box-orient: vertical !important; -webkit-box-direction: reverse !important; -ms-flex-direction: column-reverse !important; flex-direction: column-reverse !important; } .flex-md-wrap { -ms-flex-wrap: wrap !important; flex-wrap: wrap !important; } .flex-md-nowrap { -ms-flex-wrap: nowrap !important; flex-wrap: nowrap !important; } .flex-md-wrap-reverse { -ms-flex-wrap: wrap-reverse !important; flex-wrap: wrap-reverse !important; } .flex-md-fill { -webkit-box-flex: 1 !important; -ms-flex: 1 1 auto !important; flex: 1 1 auto !important; } .flex-md-grow-0 { -webkit-box-flex: 0 !important; -ms-flex-positive: 0 !important; flex-grow: 0 !important; } .flex-md-grow-1 { -webkit-box-flex: 1 !important; -ms-flex-positive: 1 !important; flex-grow: 1 !important; } .flex-md-shrink-0 { -ms-flex-negative: 0 !important; flex-shrink: 0 !important; } .flex-md-shrink-1 { -ms-flex-negative: 1 !important; flex-shrink: 1 !important; } .justify-content-md-start { -webkit-box-pack: start !important; -ms-flex-pack: start !important; justify-content: flex-start !important; } .justify-content-md-end { -webkit-box-pack: end !important; -ms-flex-pack: end !important; justify-content: flex-end !important; } .justify-content-md-center { -webkit-box-pack: center !important; -ms-flex-pack: center !important; justify-content: center !important; } .justify-content-md-between { -webkit-box-pack: justify !important; -ms-flex-pack: justify !important; justify-content: space-between !important; } .justify-content-md-around { -ms-flex-pack: distribute !important; justify-content: space-around !important; } .align-items-md-start { -webkit-box-align: start !important; -ms-flex-align: start !important; align-items: flex-start !important; } .align-items-md-end { -webkit-box-align: end !important; -ms-flex-align: end !important; align-items: flex-end !important; } .align-items-md-center { -webkit-box-align: center !important; -ms-flex-align: center !important; align-items: center !important; } .align-items-md-baseline { -webkit-box-align: baseline !important; -ms-flex-align: baseline !important; align-items: baseline !important; } .align-items-md-stretch { -webkit-box-align: stretch !important; -ms-flex-align: stretch !important; align-items: stretch !important; } .align-content-md-start { -ms-flex-line-pack: start !important; align-content: flex-start !important; } .align-content-md-end { -ms-flex-line-pack: end !important; align-content: flex-end !important; } .align-content-md-center { -ms-flex-line-pack: center !important; align-content: center !important; } .align-content-md-between { -ms-flex-line-pack: justify !important; align-content: space-between !important; } .align-content-md-around { -ms-flex-line-pack: distribute !important; align-content: space-around !important; } .align-content-md-stretch { -ms-flex-line-pack: stretch !important; align-content: stretch !important; } .align-self-md-auto { -ms-flex-item-align: auto !important; -ms-grid-row-align: auto !important; align-self: auto !important; } .align-self-md-start { -ms-flex-item-align: start !important; align-self: flex-start !important; } .align-self-md-end { -ms-flex-item-align: end !important; align-self: flex-end !important; } .align-self-md-center { -ms-flex-item-align: center !important; -ms-grid-row-align: center !important; align-self: center !important; } .align-self-md-baseline { -ms-flex-item-align: baseline !important; align-self: baseline !important; } .align-self-md-stretch { -ms-flex-item-align: stretch !important; -ms-grid-row-align: stretch !important; align-self: stretch !important; } } @media (min-width: 992px) { .flex-lg-row { -webkit-box-orient: horizontal !important; -webkit-box-direction: normal !important; -ms-flex-direction: row !important; flex-direction: row !important; } .flex-lg-column { -webkit-box-orient: vertical !important; -webkit-box-direction: normal !important; -ms-flex-direction: column !important; flex-direction: column !important; } .flex-lg-row-reverse { -webkit-box-orient: horizontal !important; -webkit-box-direction: reverse !important; -ms-flex-direction: row-reverse !important; flex-direction: row-reverse !important; } .flex-lg-column-reverse { -webkit-box-orient: vertical !important; -webkit-box-direction: reverse !important; -ms-flex-direction: column-reverse !important; flex-direction: column-reverse !important; } .flex-lg-wrap { -ms-flex-wrap: wrap !important; flex-wrap: wrap !important; } .flex-lg-nowrap { -ms-flex-wrap: nowrap !important; flex-wrap: nowrap !important; } .flex-lg-wrap-reverse { -ms-flex-wrap: wrap-reverse !important; flex-wrap: wrap-reverse !important; } .flex-lg-fill { -webkit-box-flex: 1 !important; -ms-flex: 1 1 auto !important; flex: 1 1 auto !important; } .flex-lg-grow-0 { -webkit-box-flex: 0 !important; -ms-flex-positive: 0 !important; flex-grow: 0 !important; } .flex-lg-grow-1 { -webkit-box-flex: 1 !important; -ms-flex-positive: 1 !important; flex-grow: 1 !important; } .flex-lg-shrink-0 { -ms-flex-negative: 0 !important; flex-shrink: 0 !important; } .flex-lg-shrink-1 { -ms-flex-negative: 1 !important; flex-shrink: 1 !important; } .justify-content-lg-start { -webkit-box-pack: start !important; -ms-flex-pack: start !important; justify-content: flex-start !important; } .justify-content-lg-end { -webkit-box-pack: end !important; -ms-flex-pack: end !important; justify-content: flex-end !important; } .justify-content-lg-center { -webkit-box-pack: center !important; -ms-flex-pack: center !important; justify-content: center !important; } .justify-content-lg-between { -webkit-box-pack: justify !important; -ms-flex-pack: justify !important; justify-content: space-between !important; } .justify-content-lg-around { -ms-flex-pack: distribute !important; justify-content: space-around !important; } .align-items-lg-start { -webkit-box-align: start !important; -ms-flex-align: start !important; align-items: flex-start !important; } .align-items-lg-end { -webkit-box-align: end !important; -ms-flex-align: end !important; align-items: flex-end !important; } .align-items-lg-center { -webkit-box-align: center !important; -ms-flex-align: center !important; align-items: center !important; } .align-items-lg-baseline { -webkit-box-align: baseline !important; -ms-flex-align: baseline !important; align-items: baseline !important; } .align-items-lg-stretch { -webkit-box-align: stretch !important; -ms-flex-align: stretch !important; align-items: stretch !important; } .align-content-lg-start { -ms-flex-line-pack: start !important; align-content: flex-start !important; } .align-content-lg-end { -ms-flex-line-pack: end !important; align-content: flex-end !important; } .align-content-lg-center { -ms-flex-line-pack: center !important; align-content: center !important; } .align-content-lg-between { -ms-flex-line-pack: justify !important; align-content: space-between !important; } .align-content-lg-around { -ms-flex-line-pack: distribute !important; align-content: space-around !important; } .align-content-lg-stretch { -ms-flex-line-pack: stretch !important; align-content: stretch !important; } .align-self-lg-auto { -ms-flex-item-align: auto !important; -ms-grid-row-align: auto !important; align-self: auto !important; } .align-self-lg-start { -ms-flex-item-align: start !important; align-self: flex-start !important; } .align-self-lg-end { -ms-flex-item-align: end !important; align-self: flex-end !important; } .align-self-lg-center { -ms-flex-item-align: center !important; -ms-grid-row-align: center !important; align-self: center !important; } .align-self-lg-baseline { -ms-flex-item-align: baseline !important; align-self: baseline !important; } .align-self-lg-stretch { -ms-flex-item-align: stretch !important; -ms-grid-row-align: stretch !important; align-self: stretch !important; } } @media (min-width: 1200px) { .flex-xl-row { -webkit-box-orient: horizontal !important; -webkit-box-direction: normal !important; -ms-flex-direction: row !important; flex-direction: row !important; } .flex-xl-column { -webkit-box-orient: vertical !important; -webkit-box-direction: normal !important; -ms-flex-direction: column !important; flex-direction: column !important; } .flex-xl-row-reverse { -webkit-box-orient: horizontal !important; -webkit-box-direction: reverse !important; -ms-flex-direction: row-reverse !important; flex-direction: row-reverse !important; } .flex-xl-column-reverse { -webkit-box-orient: vertical !important; -webkit-box-direction: reverse !important; -ms-flex-direction: column-reverse !important; flex-direction: column-reverse !important; } .flex-xl-wrap { -ms-flex-wrap: wrap !important; flex-wrap: wrap !important; } .flex-xl-nowrap { -ms-flex-wrap: nowrap !important; flex-wrap: nowrap !important; } .flex-xl-wrap-reverse { -ms-flex-wrap: wrap-reverse !important; flex-wrap: wrap-reverse !important; } .flex-xl-fill { -webkit-box-flex: 1 !important; -ms-flex: 1 1 auto !important; flex: 1 1 auto !important; } .flex-xl-grow-0 { -webkit-box-flex: 0 !important; -ms-flex-positive: 0 !important; flex-grow: 0 !important; } .flex-xl-grow-1 { -webkit-box-flex: 1 !important; -ms-flex-positive: 1 !important; flex-grow: 1 !important; } .flex-xl-shrink-0 { -ms-flex-negative: 0 !important; flex-shrink: 0 !important; } .flex-xl-shrink-1 { -ms-flex-negative: 1 !important; flex-shrink: 1 !important; } .justify-content-xl-start { -webkit-box-pack: start !important; -ms-flex-pack: start !important; justify-content: flex-start !important; } .justify-content-xl-end { -webkit-box-pack: end !important; -ms-flex-pack: end !important; justify-content: flex-end !important; } .justify-content-xl-center { -webkit-box-pack: center !important; -ms-flex-pack: center !important; justify-content: center !important; } .justify-content-xl-between { -webkit-box-pack: justify !important; -ms-flex-pack: justify !important; justify-content: space-between !important; } .justify-content-xl-around { -ms-flex-pack: distribute !important; justify-content: space-around !important; } .align-items-xl-start { -webkit-box-align: start !important; -ms-flex-align: start !important; align-items: flex-start !important; } .align-items-xl-end { -webkit-box-align: end !important; -ms-flex-align: end !important; align-items: flex-end !important; } .align-items-xl-center { -webkit-box-align: center !important; -ms-flex-align: center !important; align-items: center !important; } .align-items-xl-baseline { -webkit-box-align: baseline !important; -ms-flex-align: baseline !important; align-items: baseline !important; } .align-items-xl-stretch { -webkit-box-align: stretch !important; -ms-flex-align: stretch !important; align-items: stretch !important; } .align-content-xl-start { -ms-flex-line-pack: start !important; align-content: flex-start !important; } .align-content-xl-end { -ms-flex-line-pack: end !important; align-content: flex-end !important; } .align-content-xl-center { -ms-flex-line-pack: center !important; align-content: center !important; } .align-content-xl-between { -ms-flex-line-pack: justify !important; align-content: space-between !important; } .align-content-xl-around { -ms-flex-line-pack: distribute !important; align-content: space-around !important; } .align-content-xl-stretch { -ms-flex-line-pack: stretch !important; align-content: stretch !important; } .align-self-xl-auto { -ms-flex-item-align: auto !important; -ms-grid-row-align: auto !important; align-self: auto !important; } .align-self-xl-start { -ms-flex-item-align: start !important; align-self: flex-start !important; } .align-self-xl-end { -ms-flex-item-align: end !important; align-self: flex-end !important; } .align-self-xl-center { -ms-flex-item-align: center !important; -ms-grid-row-align: center !important; align-self: center !important; } .align-self-xl-baseline { -ms-flex-item-align: baseline !important; align-self: baseline !important; } .align-self-xl-stretch { -ms-flex-item-align: stretch !important; -ms-grid-row-align: stretch !important; align-self: stretch !important; } } /* Slider */ .slick-slider { position: relative; display: block; -webkit-box-sizing: border-box; box-sizing: border-box; -webkit-touch-callout: none; -webkit-user-select: none; -moz-user-select: none; -ms-user-select: none; user-select: none; -ms-touch-action: pan-y; touch-action: pan-y; -webkit-tap-highlight-color: transparent; } .slick-list { position: relative; overflow: hidden; display: block; margin: 0; padding: 0; } .slick-list:focus { outline: none; } .slick-list.dragging { cursor: pointer; cursor: hand; } .slick-slider .slick-track, .slick-slider .slick-list { -webkit-transform: translate3d(0, 0, 0); -ms-transform: translate3d(0, 0, 0); transform: translate3d(0, 0, 0); } .slick-track { position: relative; left: 0; top: 0; display: block; margin-left: auto; margin-right: auto; } .slick-track:before, .slick-track:after { content: ""; display: table; } .slick-track:after { clear: both; } .slick-loading .slick-track { visibility: hidden; } .slick-slide { float: left; height: 100%; min-height: 1px; display: none; } [dir=rtl] .slick-slide { float: right; } .slick-slide img { display: block; } .slick-slide.slick-loading img { display: none; } .slick-slide.dragging img { pointer-events: none; } .slick-initialized .slick-slide { display: block; } .slick-loading .slick-slide { visibility: hidden; } .slick-vertical .slick-slide { display: block; height: auto; border: 1px solid transparent; } .slick-arrow.slick-hidden { display: none; } /*! * Font Awesome Free 5.11.2 by @fontawesome - https://fontawesome.com * License - https://fontawesome.com/license/free (Icons: CC BY 4.0, Fonts: SIL OFL 1.1, Code: MIT License) */ .fa, .fas, .far, .fal, .fad, .fab { -moz-osx-font-smoothing: grayscale; -webkit-font-smoothing: antialiased; display: inline-block; font-style: normal; font-variant: normal; text-rendering: auto; line-height: 1; } .fa-lg { font-size: 1.3333333333em; line-height: 0.75em; vertical-align: -0.0667em; } .fa-xs { font-size: 0.75em; } .fa-sm { font-size: 0.875em; } .fa-1x { font-size: 1em; } .fa-2x { font-size: 2em; } .fa-3x { font-size: 3em; } .fa-4x { font-size: 4em; } .fa-5x { font-size: 5em; } .fa-6x { font-size: 6em; } .fa-7x { font-size: 7em; } .fa-8x { font-size: 8em; } .fa-9x { font-size: 9em; } .fa-10x { font-size: 10em; } .fa-fw { text-align: center; width: 1.25em; } .fa-ul { list-style-type: none; margin-left: 2.5em; padding-left: 0; } .fa-ul > li { position: relative; } .fa-li { left: -2em; position: absolute; text-align: center; width: 2em; line-height: inherit; } .fa-border { border: solid 0.08em #eee; border-radius: 0.1em; padding: 0.2em 0.25em 0.15em; } .fa-pull-left { float: left; } .fa-pull-right { float: right; } .fa.fa-pull-left, .fas.fa-pull-left, .far.fa-pull-left, .fal.fa-pull-left, .fab.fa-pull-left { margin-right: 0.3em; } .fa.fa-pull-right, .fas.fa-pull-right, .far.fa-pull-right, .fal.fa-pull-right, .fab.fa-pull-right { margin-left: 0.3em; } .fa-spin { -webkit-animation: fa-spin 2s infinite linear; animation: fa-spin 2s infinite linear; } .fa-pulse { -webkit-animation: fa-spin 1s infinite steps(8); animation: fa-spin 1s infinite steps(8); } @-webkit-keyframes fa-spin { 0% { -webkit-transform: rotate(0deg); transform: rotate(0deg); } 100% { -webkit-transform: rotate(360deg); transform: rotate(360deg); } } @keyframes fa-spin { 0% { -webkit-transform: rotate(0deg); transform: rotate(0deg); } 100% { -webkit-transform: rotate(360deg); transform: rotate(360deg); } } .fa-rotate-90 { -ms-filter: "progid:DXImageTransform.Microsoft.BasicImage(rotation=1)"; -webkit-transform: rotate(90deg); -ms-transform: rotate(90deg); transform: rotate(90deg); } .fa-rotate-180 { -ms-filter: "progid:DXImageTransform.Microsoft.BasicImage(rotation=2)"; -webkit-transform: rotate(180deg); -ms-transform: rotate(180deg); transform: rotate(180deg); } .fa-rotate-270 { -ms-filter: "progid:DXImageTransform.Microsoft.BasicImage(rotation=3)"; -webkit-transform: rotate(270deg); -ms-transform: rotate(270deg); transform: rotate(270deg); } .fa-flip-horizontal { -ms-filter: "progid:DXImageTransform.Microsoft.BasicImage(rotation=0, mirror=1)"; -webkit-transform: scale(-1, 1); -ms-transform: scale(-1, 1); transform: scale(-1, 1); } .fa-flip-vertical { -ms-filter: "progid:DXImageTransform.Microsoft.BasicImage(rotation=2, mirror=1)"; -webkit-transform: scale(1, -1); -ms-transform: scale(1, -1); transform: scale(1, -1); } .fa-flip-both, .fa-flip-horizontal.fa-flip-vertical { -ms-filter: "progid:DXImageTransform.Microsoft.BasicImage(rotation=2, mirror=1)"; -webkit-transform: scale(-1, -1); -ms-transform: scale(-1, -1); transform: scale(-1, -1); } :root .fa-rotate-90, :root .fa-rotate-180, :root .fa-rotate-270, :root .fa-flip-horizontal, :root .fa-flip-vertical, :root .fa-flip-both { -webkit-filter: none; filter: none; } .fa-stack { display: inline-block; height: 2em; line-height: 2em; position: relative; vertical-align: middle; width: 2.5em; } .fa-stack-1x, .fa-stack-2x { left: 0; position: absolute; text-align: center; width: 100%; } .fa-stack-1x { line-height: inherit; } .fa-stack-2x { font-size: 2em; } .fa-inverse { color: #fff; } /* Font Awesome uses the Unicode Private Use Area (PUA) to ensure screen readers do not read off random characters that represent icons */ .fa-500px:before { content: ""; } .fa-accessible-icon:before { content: ""; } .fa-accusoft:before { content: ""; } .fa-acquisitions-incorporated:before { content: ""; } .fa-ad:before { content: ""; } .fa-address-book:before { content: ""; } .fa-address-card:before { content: ""; } .fa-adjust:before { content: ""; } .fa-adn:before { content: ""; } .fa-adobe:before { content: ""; } .fa-adversal:before { content: ""; } .fa-affiliatetheme:before { content: ""; } .fa-air-freshener:before { content: ""; } .fa-airbnb:before { content: ""; } .fa-algolia:before { content: ""; } .fa-align-center:before { content: ""; } .fa-align-justify:before { content: ""; } .fa-align-left:before { content: ""; } .fa-align-right:before { content: ""; } .fa-alipay:before { content: ""; } .fa-allergies:before { content: ""; } .fa-amazon:before { content: ""; } .fa-amazon-pay:before { content: ""; } .fa-ambulance:before { content: ""; } .fa-american-sign-language-interpreting:before { content: ""; } .fa-amilia:before { content: ""; } .fa-anchor:before { content: ""; } .fa-android:before { content: ""; } .fa-angellist:before { content: ""; } .fa-angle-double-down:before { content: ""; } .fa-angle-double-left:before { content: ""; } .fa-angle-double-right:before { content: ""; } .fa-angle-double-up:before { content: ""; } .fa-angle-down:before { content: ""; } .fa-angle-left:before { content: ""; } .fa-angle-right:before { content: ""; } .fa-angle-up:before { content: ""; } .fa-angry:before { content: ""; } .fa-angrycreative:before { content: ""; } .fa-angular:before { content: ""; } .fa-ankh:before { content: ""; } .fa-app-store:before { content: ""; } .fa-app-store-ios:before { content: ""; } .fa-apper:before { content: ""; } .fa-apple:before { content: ""; } .fa-apple-alt:before { content: ""; } .fa-apple-pay:before { content: ""; } .fa-archive:before { content: ""; } .fa-archway:before { content: ""; } .fa-arrow-alt-circle-down:before { content: ""; } .fa-arrow-alt-circle-left:before { content: ""; } .fa-arrow-alt-circle-right:before { content: ""; } .fa-arrow-alt-circle-up:before { content: ""; } .fa-arrow-circle-down:before { content: ""; } .fa-arrow-circle-left:before { content: ""; } .fa-arrow-circle-right:before { content: ""; } .fa-arrow-circle-up:before { content: ""; } .fa-arrow-down:before { content: ""; } .fa-arrow-left:before { content: ""; } .fa-arrow-right:before { content: ""; } .fa-arrow-up:before { content: ""; } .fa-arrows-alt:before { content: ""; } .fa-arrows-alt-h:before { content: ""; } .fa-arrows-alt-v:before { content: ""; } .fa-artstation:before { content: ""; } .fa-assistive-listening-systems:before { content: ""; } .fa-asterisk:before { content: ""; } .fa-asymmetrik:before { content: ""; } .fa-at:before { content: ""; } .fa-atlas:before { content: ""; } .fa-atlassian:before { content: ""; } .fa-atom:before { content: ""; } .fa-audible:before { content: ""; } .fa-audio-description:before { content: ""; } .fa-autoprefixer:before { content: ""; } .fa-avianex:before { content: ""; } .fa-aviato:before { content: ""; } .fa-award:before { content: ""; } .fa-aws:before { content: ""; } .fa-baby:before { content: ""; } .fa-baby-carriage:before { content: ""; } .fa-backspace:before { content: ""; } .fa-backward:before { content: ""; } .fa-bacon:before { content: ""; } .fa-balance-scale:before { content: ""; } .fa-balance-scale-left:before { content: ""; } .fa-balance-scale-right:before { content: ""; } .fa-ban:before { content: ""; } .fa-band-aid:before { content: ""; } .fa-bandcamp:before { content: ""; } .fa-barcode:before { content: ""; } .fa-bars:before { content: ""; } .fa-baseball-ball:before { content: ""; } .fa-basketball-ball:before { content: ""; } .fa-bath:before { content: ""; } .fa-battery-empty:before { content: ""; } .fa-battery-full:before { content: ""; } .fa-battery-half:before { content: ""; } .fa-battery-quarter:before { content: ""; } .fa-battery-three-quarters:before { content: ""; } .fa-battle-net:before { content: ""; } .fa-bed:before { content: ""; } .fa-beer:before { content: ""; } .fa-behance:before { content: ""; } .fa-behance-square:before { content: ""; } .fa-bell:before { content: ""; } .fa-bell-slash:before { content: ""; } .fa-bezier-curve:before { content: ""; } .fa-bible:before { content: ""; } .fa-bicycle:before { content: ""; } .fa-biking:before { content: ""; } .fa-bimobject:before { content: ""; } .fa-binoculars:before { content: ""; } .fa-biohazard:before { content: ""; } .fa-birthday-cake:before { content: ""; } .fa-bitbucket:before { content: ""; } .fa-bitcoin:before { content: ""; } .fa-bity:before { content: ""; } .fa-black-tie:before { content: ""; } .fa-blackberry:before { content: ""; } .fa-blender:before { content: ""; } .fa-blender-phone:before { content: ""; } .fa-blind:before { content: ""; } .fa-blog:before { content: ""; } .fa-blogger:before { content: ""; } .fa-blogger-b:before { content: ""; } .fa-bluetooth:before { content: ""; } .fa-bluetooth-b:before { content: ""; } .fa-bold:before { content: ""; } .fa-bolt:before { content: ""; } .fa-bomb:before { content: ""; } .fa-bone:before { content: ""; } .fa-bong:before { content: ""; } .fa-book:before { content: ""; } .fa-book-dead:before { content: ""; } .fa-book-medical:before { content: ""; } .fa-book-open:before { content: ""; } .fa-book-reader:before { content: ""; } .fa-bookmark:before { content: ""; } .fa-bootstrap:before { content: ""; } .fa-border-all:before { content: ""; } .fa-border-none:before { content: ""; } .fa-border-style:before { content: ""; } .fa-bowling-ball:before { content: ""; } .fa-box:before { content: ""; } .fa-box-open:before { content: ""; } .fa-boxes:before { content: ""; } .fa-braille:before { content: ""; } .fa-brain:before { content: ""; } .fa-bread-slice:before { content: ""; } .fa-briefcase:before { content: ""; } .fa-briefcase-medical:before { content: ""; } .fa-broadcast-tower:before { content: ""; } .fa-broom:before { content: ""; } .fa-brush:before { content: ""; } .fa-btc:before { content: ""; } .fa-buffer:before { content: ""; } .fa-bug:before { content: ""; } .fa-building:before { content: ""; } .fa-bullhorn:before { content: ""; } .fa-bullseye:before { content: ""; } .fa-burn:before { content: ""; } .fa-buromobelexperte:before { content: ""; } .fa-bus:before { content: ""; } .fa-bus-alt:before { content: ""; } .fa-business-time:before { content: ""; } .fa-buy-n-large:before { content: ""; } .fa-buysellads:before { content: ""; } .fa-calculator:before { content: ""; } .fa-calendar:before { content: ""; } .fa-calendar-alt:before { content: ""; } .fa-calendar-check:before { content: ""; } .fa-calendar-day:before { content: ""; } .fa-calendar-minus:before { content: ""; } .fa-calendar-plus:before { content: ""; } .fa-calendar-times:before { content: ""; } .fa-calendar-week:before { content: ""; } .fa-camera:before { content: ""; } .fa-camera-retro:before { content: ""; } .fa-campground:before { content: ""; } .fa-canadian-maple-leaf:before { content: ""; } .fa-candy-cane:before { content: ""; } .fa-cannabis:before { content: ""; } .fa-capsules:before { content: ""; } .fa-car:before { content: ""; } .fa-car-alt:before { content: ""; } .fa-car-battery:before { content: ""; } .fa-car-crash:before { content: ""; } .fa-car-side:before { content: ""; } .fa-caret-down:before { content: ""; } .fa-caret-left:before { content: ""; } .fa-caret-right:before { content: ""; } .fa-caret-square-down:before { content: ""; } .fa-caret-square-left:before { content: ""; } .fa-caret-square-right:before { content: ""; } .fa-caret-square-up:before { content: ""; } .fa-caret-up:before { content: ""; } .fa-carrot:before { content: ""; } .fa-cart-arrow-down:before { content: ""; } .fa-cart-plus:before { content: ""; } .fa-cash-register:before { content: ""; } .fa-cat:before { content: ""; } .fa-cc-amazon-pay:before { content: ""; } .fa-cc-amex:before { content: ""; } .fa-cc-apple-pay:before { content: ""; } .fa-cc-diners-club:before { content: ""; } .fa-cc-discover:before { content: ""; } .fa-cc-jcb:before { content: ""; } .fa-cc-mastercard:before { content: ""; } .fa-cc-paypal:before { content: ""; } .fa-cc-stripe:before { content: ""; } .fa-cc-visa:before { content: ""; } .fa-centercode:before { content: ""; } .fa-centos:before { content: ""; } .fa-certificate:before { content: ""; } .fa-chair:before { content: ""; } .fa-chalkboard:before { content: ""; } .fa-chalkboard-teacher:before { content: ""; } .fa-charging-station:before { content: ""; } .fa-chart-area:before { content: ""; } .fa-chart-bar:before { content: ""; } .fa-chart-line:before { content: ""; } .fa-chart-pie:before { content: ""; } .fa-check:before { content: ""; } .fa-check-circle:before { content: ""; } .fa-check-double:before { content: ""; } .fa-check-square:before { content: ""; } .fa-cheese:before { content: ""; } .fa-chess:before { content: ""; } .fa-chess-bishop:before { content: ""; } .fa-chess-board:before { content: ""; } .fa-chess-king:before { content: ""; } .fa-chess-knight:before { content: ""; } .fa-chess-pawn:before { content: ""; } .fa-chess-queen:before { content: ""; } .fa-chess-rook:before { content: ""; } .fa-chevron-circle-down:before { content: ""; } .fa-chevron-circle-left:before { content: ""; } .fa-chevron-circle-right:before { content: ""; } .fa-chevron-circle-up:before { content: ""; } .fa-chevron-down:before { content: ""; } .fa-chevron-left:before { content: ""; } .fa-chevron-right:before { content: ""; } .fa-chevron-up:before { content: ""; } .fa-child:before { content: ""; } .fa-chrome:before { content: ""; } .fa-chromecast:before { content: ""; } .fa-church:before { content: ""; } .fa-circle:before { content: ""; } .fa-circle-notch:before { content: ""; } .fa-city:before { content: ""; } .fa-clinic-medical:before { content: ""; } .fa-clipboard:before { content: ""; } .fa-clipboard-check:before { content: ""; } .fa-clipboard-list:before { content: ""; } .fa-clock:before { content: ""; } .fa-clone:before { content: ""; } .fa-closed-captioning:before { content: ""; } .fa-cloud:before { content: ""; } .fa-cloud-download-alt:before { content: ""; } .fa-cloud-meatball:before { content: ""; } .fa-cloud-moon:before { content: ""; } .fa-cloud-moon-rain:before { content: ""; } .fa-cloud-rain:before { content: ""; } .fa-cloud-showers-heavy:before { content: ""; } .fa-cloud-sun:before { content: ""; } .fa-cloud-sun-rain:before { content: ""; } .fa-cloud-upload-alt:before { content: ""; } .fa-cloudscale:before { content: ""; } .fa-cloudsmith:before { content: ""; } .fa-cloudversify:before { content: ""; } .fa-cocktail:before { content: ""; } .fa-code:before { content: ""; } .fa-code-branch:before { content: ""; } .fa-codepen:before { content: ""; } .fa-codiepie:before { content: ""; } .fa-coffee:before { content: ""; } .fa-cog:before { content: ""; } .fa-cogs:before { content: ""; } .fa-coins:before { content: ""; } .fa-columns:before { content: ""; } .fa-comment:before { content: ""; } .fa-comment-alt:before { content: ""; } .fa-comment-dollar:before { content: ""; } .fa-comment-dots:before { content: ""; } .fa-comment-medical:before { content: ""; } .fa-comment-slash:before { content: ""; } .fa-comments:before { content: ""; } .fa-comments-dollar:before { content: ""; } .fa-compact-disc:before { content: ""; } .fa-compass:before { content: ""; } .fa-compress:before { content: ""; } .fa-compress-arrows-alt:before { content: ""; } .fa-concierge-bell:before { content: ""; } .fa-confluence:before { content: ""; } .fa-connectdevelop:before { content: ""; } .fa-contao:before { content: ""; } .fa-cookie:before { content: ""; } .fa-cookie-bite:before { content: ""; } .fa-copy:before { content: ""; } .fa-copyright:before { content: ""; } .fa-cotton-bureau:before { content: ""; } .fa-couch:before { content: ""; } .fa-cpanel:before { content: ""; } .fa-creative-commons:before { content: ""; } .fa-creative-commons-by:before { content: ""; } .fa-creative-commons-nc:before { content: ""; } .fa-creative-commons-nc-eu:before { content: ""; } .fa-creative-commons-nc-jp:before { content: ""; } .fa-creative-commons-nd:before { content: ""; } .fa-creative-commons-pd:before { content: ""; } .fa-creative-commons-pd-alt:before { content: ""; } .fa-creative-commons-remix:before { content: ""; } .fa-creative-commons-sa:before { content: ""; } .fa-creative-commons-sampling:before { content: ""; } .fa-creative-commons-sampling-plus:before { content: ""; } .fa-creative-commons-share:before { content: ""; } .fa-creative-commons-zero:before { content: ""; } .fa-credit-card:before { content: ""; } .fa-critical-role:before { content: ""; } .fa-crop:before { content: ""; } .fa-crop-alt:before { content: ""; } .fa-cross:before { content: ""; } .fa-crosshairs:before { content: ""; } .fa-crow:before { content: ""; } .fa-crown:before { content: ""; } .fa-crutch:before { content: ""; } .fa-css3:before { content: ""; } .fa-css3-alt:before { content: ""; } .fa-cube:before { content: ""; } .fa-cubes:before { content: ""; } .fa-cut:before { content: ""; } .fa-cuttlefish:before { content: ""; } .fa-d-and-d:before { content: ""; } .fa-d-and-d-beyond:before { content: ""; } .fa-dashcube:before { content: ""; } .fa-database:before { content: ""; } .fa-deaf:before { content: ""; } .fa-delicious:before { content: ""; } .fa-democrat:before { content: ""; } .fa-deploydog:before { content: ""; } .fa-deskpro:before { content: ""; } .fa-desktop:before { content: ""; } .fa-dev:before { content: ""; } .fa-deviantart:before { content: ""; } .fa-dharmachakra:before { content: ""; } .fa-dhl:before { content: ""; } .fa-diagnoses:before { content: ""; } .fa-diaspora:before { content: ""; } .fa-dice:before { content: ""; } .fa-dice-d20:before { content: ""; } .fa-dice-d6:before { content: ""; } .fa-dice-five:before { content: ""; } .fa-dice-four:before { content: ""; } .fa-dice-one:before { content: ""; } .fa-dice-six:before { content: ""; } .fa-dice-three:before { content: ""; } .fa-dice-two:before { content: ""; } .fa-digg:before { content: ""; } .fa-digital-ocean:before { content: ""; } .fa-digital-tachograph:before { content: ""; } .fa-directions:before { content: ""; } .fa-discord:before { content: ""; } .fa-discourse:before { content: ""; } .fa-divide:before { content: ""; } .fa-dizzy:before { content: ""; } .fa-dna:before { content: ""; } .fa-dochub:before { content: ""; } .fa-docker:before { content: ""; } .fa-dog:before { content: ""; } .fa-dollar-sign:before { content: ""; } .fa-dolly:before { content: ""; } .fa-dolly-flatbed:before { content: ""; } .fa-donate:before { content: ""; } .fa-door-closed:before { content: ""; } .fa-door-open:before { content: ""; } .fa-dot-circle:before { content: ""; } .fa-dove:before { content: ""; } .fa-download:before { content: ""; } .fa-draft2digital:before { content: ""; } .fa-drafting-compass:before { content: ""; } .fa-dragon:before { content: ""; } .fa-draw-polygon:before { content: ""; } .fa-dribbble:before { content: ""; } .fa-dribbble-square:before { content: ""; } .fa-dropbox:before { content: ""; } .fa-drum:before { content: ""; } .fa-drum-steelpan:before { content: ""; } .fa-drumstick-bite:before { content: ""; } .fa-drupal:before { content: ""; } .fa-dumbbell:before { content: ""; } .fa-dumpster:before { content: ""; } .fa-dumpster-fire:before { content: ""; } .fa-dungeon:before { content: ""; } .fa-dyalog:before { content: ""; } .fa-earlybirds:before { content: ""; } .fa-ebay:before { content: ""; } .fa-edge:before { content: ""; } .fa-edit:before { content: ""; } .fa-egg:before { content: ""; } .fa-eject:before { content: ""; } .fa-elementor:before { content: ""; } .fa-ellipsis-h:before { content: ""; } .fa-ellipsis-v:before { content: ""; } .fa-ello:before { content: ""; } .fa-ember:before { content: ""; } .fa-empire:before { content: ""; } .fa-envelope:before { content: ""; } .fa-envelope-open:before { content: ""; } .fa-envelope-open-text:before { content: ""; } .fa-envelope-square:before { content: ""; } .fa-envira:before { content: ""; } .fa-equals:before { content: ""; } .fa-eraser:before { content: ""; } .fa-erlang:before { content: ""; } .fa-ethereum:before { content: ""; } .fa-ethernet:before { content: ""; } .fa-etsy:before { content: ""; } .fa-euro-sign:before { content: ""; } .fa-evernote:before { content: ""; } .fa-exchange-alt:before { content: ""; } .fa-exclamation:before { content: ""; } .fa-exclamation-circle:before { content: ""; } .fa-exclamation-triangle:before { content: ""; } .fa-expand:before { content: ""; } .fa-expand-arrows-alt:before { content: ""; } .fa-expeditedssl:before { content: ""; } .fa-external-link-alt:before { content: ""; } .fa-external-link-square-alt:before { content: ""; } .fa-eye:before { content: ""; } .fa-eye-dropper:before { content: ""; } .fa-eye-slash:before { content: ""; } .fa-facebook:before { content: ""; } .fa-facebook-f:before { content: ""; } .fa-facebook-messenger:before { content: ""; } .fa-facebook-square:before { content: ""; } .fa-fan:before { content: ""; } .fa-fantasy-flight-games:before { content: ""; } .fa-fast-backward:before { content: ""; } .fa-fast-forward:before { content: ""; } .fa-fax:before { content: ""; } .fa-feather:before { content: ""; } .fa-feather-alt:before { content: ""; } .fa-fedex:before { content: ""; } .fa-fedora:before { content: ""; } .fa-female:before { content: ""; } .fa-fighter-jet:before { content: ""; } .fa-figma:before { content: ""; } .fa-file:before { content: ""; } .fa-file-alt:before { content: ""; } .fa-file-archive:before { content: ""; } .fa-file-audio:before { content: ""; } .fa-file-code:before { content: ""; } .fa-file-contract:before { content: ""; } .fa-file-csv:before { content: ""; } .fa-file-download:before { content: ""; } .fa-file-excel:before { content: ""; } .fa-file-export:before { content: ""; } .fa-file-image:before { content: ""; } .fa-file-import:before { content: ""; } .fa-file-invoice:before { content: ""; } .fa-file-invoice-dollar:before { content: ""; } .fa-file-medical:before { content: ""; } .fa-file-medical-alt:before { content: ""; } .fa-file-pdf:before { content: ""; } .fa-file-powerpoint:before { content: ""; } .fa-file-prescription:before { content: ""; } .fa-file-signature:before { content: ""; } .fa-file-upload:before { content: ""; } .fa-file-video:before { content: ""; } .fa-file-word:before { content: ""; } .fa-fill:before { content: ""; } .fa-fill-drip:before { content: ""; } .fa-film:before { content: ""; } .fa-filter:before { content: ""; } .fa-fingerprint:before { content: ""; } .fa-fire:before { content: ""; } .fa-fire-alt:before { content: ""; } .fa-fire-extinguisher:before { content: ""; } .fa-firefox:before { content: ""; } .fa-first-aid:before { content: ""; } .fa-first-order:before { content: ""; } .fa-first-order-alt:before { content: ""; } .fa-firstdraft:before { content: ""; } .fa-fish:before { content: ""; } .fa-fist-raised:before { content: ""; } .fa-flag:before { content: ""; } .fa-flag-checkered:before { content: ""; } .fa-flag-usa:before { content: ""; } .fa-flask:before { content: ""; } .fa-flickr:before { content: ""; } .fa-flipboard:before { content: ""; } .fa-flushed:before { content: ""; } .fa-fly:before { content: ""; } .fa-folder:before { content: ""; } .fa-folder-minus:before { content: ""; } .fa-folder-open:before { content: ""; } .fa-folder-plus:before { content: ""; } .fa-font:before { content: ""; } .fa-font-awesome:before { content: ""; } .fa-font-awesome-alt:before { content: ""; } .fa-font-awesome-flag:before { content: ""; } .fa-font-awesome-logo-full:before { content: ""; } .fa-fonticons:before { content: ""; } .fa-fonticons-fi:before { content: ""; } .fa-football-ball:before { content: ""; } .fa-fort-awesome:before { content: ""; } .fa-fort-awesome-alt:before { content: ""; } .fa-forumbee:before { content: ""; } .fa-forward:before { content: ""; } .fa-foursquare:before { content: ""; } .fa-free-code-camp:before { content: ""; } .fa-freebsd:before { content: ""; } .fa-frog:before { content: ""; } .fa-frown:before { content: ""; } .fa-frown-open:before { content: ""; } .fa-fulcrum:before { content: ""; } .fa-funnel-dollar:before { content: ""; } .fa-futbol:before { content: ""; } .fa-galactic-republic:before { content: ""; } .fa-galactic-senate:before { content: ""; } .fa-gamepad:before { content: ""; } .fa-gas-pump:before { content: ""; } .fa-gavel:before { content: ""; } .fa-gem:before { content: ""; } .fa-genderless:before { content: ""; } .fa-get-pocket:before { content: ""; } .fa-gg:before { content: ""; } .fa-gg-circle:before { content: ""; } .fa-ghost:before { content: ""; } .fa-gift:before { content: ""; } .fa-gifts:before { content: ""; } .fa-git:before { content: ""; } .fa-git-alt:before { content: ""; } .fa-git-square:before { content: ""; } .fa-github:before { content: ""; } .fa-github-alt:before { content: ""; } .fa-github-square:before { content: ""; } .fa-gitkraken:before { content: ""; } .fa-gitlab:before { content: ""; } .fa-gitter:before { content: ""; } .fa-glass-cheers:before { content: ""; } .fa-glass-martini:before { content: ""; } .fa-glass-martini-alt:before { content: ""; } .fa-glass-whiskey:before { content: ""; } .fa-glasses:before { content: ""; } .fa-glide:before { content: ""; } .fa-glide-g:before { content: ""; } .fa-globe:before { content: ""; } .fa-globe-africa:before { content: ""; } .fa-globe-americas:before { content: ""; } .fa-globe-asia:before { content: ""; } .fa-globe-europe:before { content: ""; } .fa-gofore:before { content: ""; } .fa-golf-ball:before { content: ""; } .fa-goodreads:before { content: ""; } .fa-goodreads-g:before { content: ""; } .fa-google:before { content: ""; } .fa-google-drive:before { content: ""; } .fa-google-play:before { content: ""; } .fa-google-plus:before { content: ""; } .fa-google-plus-g:before { content: ""; } .fa-google-plus-square:before { content: ""; } .fa-google-wallet:before { content: ""; } .fa-gopuram:before { content: ""; } .fa-graduation-cap:before { content: ""; } .fa-gratipay:before { content: ""; } .fa-grav:before { content: ""; } .fa-greater-than:before { content: ""; } .fa-greater-than-equal:before { content: ""; } .fa-grimace:before { content: ""; } .fa-grin:before { content: ""; } .fa-grin-alt:before { content: ""; } .fa-grin-beam:before { content: ""; } .fa-grin-beam-sweat:before { content: ""; } .fa-grin-hearts:before { content: ""; } .fa-grin-squint:before { content: ""; } .fa-grin-squint-tears:before { content: ""; } .fa-grin-stars:before { content: ""; } .fa-grin-tears:before { content: ""; } .fa-grin-tongue:before { content: ""; } .fa-grin-tongue-squint:before { content: ""; } .fa-grin-tongue-wink:before { content: ""; } .fa-grin-wink:before { content: ""; } .fa-grip-horizontal:before { content: ""; } .fa-grip-lines:before { content: ""; } .fa-grip-lines-vertical:before { content: ""; } .fa-grip-vertical:before { content: ""; } .fa-gripfire:before { content: ""; } .fa-grunt:before { content: ""; } .fa-guitar:before { content: ""; } .fa-gulp:before { content: ""; } .fa-h-square:before { content: ""; } .fa-hacker-news:before { content: ""; } .fa-hacker-news-square:before { content: ""; } .fa-hackerrank:before { content: ""; } .fa-hamburger:before { content: ""; } .fa-hammer:before { content: ""; } .fa-hamsa:before { content: ""; } .fa-hand-holding:before { content: ""; } .fa-hand-holding-heart:before { content: ""; } .fa-hand-holding-usd:before { content: ""; } .fa-hand-lizard:before { content: ""; } .fa-hand-middle-finger:before { content: ""; } .fa-hand-paper:before { content: ""; } .fa-hand-peace:before { content: ""; } .fa-hand-point-down:before { content: ""; } .fa-hand-point-left:before { content: ""; } .fa-hand-point-right:before { content: ""; } .fa-hand-point-up:before { content: ""; } .fa-hand-pointer:before { content: ""; } .fa-hand-rock:before { content: ""; } .fa-hand-scissors:before { content: ""; } .fa-hand-spock:before { content: ""; } .fa-hands:before { content: ""; } .fa-hands-helping:before { content: ""; } .fa-handshake:before { content: ""; } .fa-hanukiah:before { content: ""; } .fa-hard-hat:before { content: ""; } .fa-hashtag:before { content: ""; } .fa-hat-cowboy:before { content: ""; } .fa-hat-cowboy-side:before { content: ""; } .fa-hat-wizard:before { content: ""; } .fa-haykal:before { content: ""; } .fa-hdd:before { content: ""; } .fa-heading:before { content: ""; } .fa-headphones:before { content: ""; } .fa-headphones-alt:before { content: ""; } .fa-headset:before { content: ""; } .fa-heart:before { content: ""; } .fa-heart-broken:before { content: ""; } .fa-heartbeat:before { content: ""; } .fa-helicopter:before { content: ""; } .fa-highlighter:before { content: ""; } .fa-hiking:before { content: ""; } .fa-hippo:before { content: ""; } .fa-hips:before { content: ""; } .fa-hire-a-helper:before { content: ""; } .fa-history:before { content: ""; } .fa-hockey-puck:before { content: ""; } .fa-holly-berry:before { content: ""; } .fa-home:before { content: ""; } .fa-hooli:before { content: ""; } .fa-hornbill:before { content: ""; } .fa-horse:before { content: ""; } .fa-horse-head:before { content: ""; } .fa-hospital:before { content: ""; } .fa-hospital-alt:before { content: ""; } .fa-hospital-symbol:before { content: ""; } .fa-hot-tub:before { content: ""; } .fa-hotdog:before { content: ""; } .fa-hotel:before { content: ""; } .fa-hotjar:before { content: ""; } .fa-hourglass:before { content: ""; } .fa-hourglass-end:before { content: ""; } .fa-hourglass-half:before { content: ""; } .fa-hourglass-start:before { content: ""; } .fa-house-damage:before { content: ""; } .fa-houzz:before { content: ""; } .fa-hryvnia:before { content: ""; } .fa-html5:before { content: ""; } .fa-hubspot:before { content: ""; } .fa-i-cursor:before { content: ""; } .fa-ice-cream:before { content: ""; } .fa-icicles:before { content: ""; } .fa-icons:before { content: ""; } .fa-id-badge:before { content: ""; } .fa-id-card:before { content: ""; } .fa-id-card-alt:before { content: ""; } .fa-igloo:before { content: ""; } .fa-image:before { content: ""; } .fa-images:before { content: ""; } .fa-imdb:before { content: ""; } .fa-inbox:before { content: ""; } .fa-indent:before { content: ""; } .fa-industry:before { content: ""; } .fa-infinity:before { content: ""; } .fa-info:before { content: ""; } .fa-info-circle:before { content: ""; } .fa-instagram:before { content: ""; } .fa-intercom:before { content: ""; } .fa-internet-explorer:before { content: ""; } .fa-invision:before { content: ""; } .fa-ioxhost:before { content: ""; } .fa-italic:before { content: ""; } .fa-itch-io:before { content: ""; } .fa-itunes:before { content: ""; } .fa-itunes-note:before { content: ""; } .fa-java:before { content: ""; } .fa-jedi:before { content: ""; } .fa-jedi-order:before { content: ""; } .fa-jenkins:before { content: ""; } .fa-jira:before { content: ""; } .fa-joget:before { content: ""; } .fa-joint:before { content: ""; } .fa-joomla:before { content: ""; } .fa-journal-whills:before { content: ""; } .fa-js:before { content: ""; } .fa-js-square:before { content: ""; } .fa-jsfiddle:before { content: ""; } .fa-kaaba:before { content: ""; } .fa-kaggle:before { content: ""; } .fa-key:before { content: ""; } .fa-keybase:before { content: ""; } .fa-keyboard:before { content: ""; } .fa-keycdn:before { content: ""; } .fa-khanda:before { content: ""; } .fa-kickstarter:before { content: ""; } .fa-kickstarter-k:before { content: ""; } .fa-kiss:before { content: ""; } .fa-kiss-beam:before { content: ""; } .fa-kiss-wink-heart:before { content: ""; } .fa-kiwi-bird:before { content: ""; } .fa-korvue:before { content: ""; } .fa-landmark:before { content: ""; } .fa-language:before { content: ""; } .fa-laptop:before { content: ""; } .fa-laptop-code:before { content: ""; } .fa-laptop-medical:before { content: ""; } .fa-laravel:before { content: ""; } .fa-lastfm:before { content: ""; } .fa-lastfm-square:before { content: ""; } .fa-laugh:before { content: ""; } .fa-laugh-beam:before { content: ""; } .fa-laugh-squint:before { content: ""; } .fa-laugh-wink:before { content: ""; } .fa-layer-group:before { content: ""; } .fa-leaf:before { content: ""; } .fa-leanpub:before { content: ""; } .fa-lemon:before { content: ""; } .fa-less:before { content: ""; } .fa-less-than:before { content: ""; } .fa-less-than-equal:before { content: ""; } .fa-level-down-alt:before { content: ""; } .fa-level-up-alt:before { content: ""; } .fa-life-ring:before { content: ""; } .fa-lightbulb:before { content: ""; } .fa-line:before { content: ""; } .fa-link:before { content: ""; } .fa-linkedin:before { content: ""; } .fa-linkedin-in:before { content: ""; } .fa-linode:before { content: ""; } .fa-linux:before { content: ""; } .fa-lira-sign:before { content: ""; } .fa-list:before { content: ""; } .fa-list-alt:before { content: ""; } .fa-list-ol:before { content: ""; } .fa-list-ul:before { content: ""; } .fa-location-arrow:before { content: ""; } .fa-lock:before { content: ""; } .fa-lock-open:before { content: ""; } .fa-long-arrow-alt-down:before { content: ""; } .fa-long-arrow-alt-left:before { content: ""; } .fa-long-arrow-alt-right:before { content: ""; } .fa-long-arrow-alt-up:before { content: ""; } .fa-low-vision:before { content: ""; } .fa-luggage-cart:before { content: ""; } .fa-lyft:before { content: ""; } .fa-magento:before { content: ""; } .fa-magic:before { content: ""; } .fa-magnet:before { content: ""; } .fa-mail-bulk:before { content: ""; } .fa-mailchimp:before { content: ""; } .fa-male:before { content: ""; } .fa-mandalorian:before { content: ""; } .fa-map:before { content: ""; } .fa-map-marked:before { content: ""; } .fa-map-marked-alt:before { content: ""; } .fa-map-marker:before { content: ""; } .fa-map-marker-alt:before { content: ""; } .fa-map-pin:before { content: ""; } .fa-map-signs:before { content: ""; } .fa-markdown:before { content: ""; } .fa-marker:before { content: ""; } .fa-mars:before { content: ""; } .fa-mars-double:before { content: ""; } .fa-mars-stroke:before { content: ""; } .fa-mars-stroke-h:before { content: ""; } .fa-mars-stroke-v:before { content: ""; } .fa-mask:before { content: ""; } .fa-mastodon:before { content: ""; } .fa-maxcdn:before { content: ""; } .fa-mdb:before { content: ""; } .fa-medal:before { content: ""; } .fa-medapps:before { content: ""; } .fa-medium:before { content: ""; } .fa-medium-m:before { content: ""; } .fa-medkit:before { content: ""; } .fa-medrt:before { content: ""; } .fa-meetup:before { content: ""; } .fa-megaport:before { content: ""; } .fa-meh:before { content: ""; } .fa-meh-blank:before { content: ""; } .fa-meh-rolling-eyes:before { content: ""; } .fa-memory:before { content: ""; } .fa-mendeley:before { content: ""; } .fa-menorah:before { content: ""; } .fa-mercury:before { content: ""; } .fa-meteor:before { content: ""; } .fa-microchip:before { content: ""; } .fa-microphone:before { content: ""; } .fa-microphone-alt:before { content: ""; } .fa-microphone-alt-slash:before { content: ""; } .fa-microphone-slash:before { content: ""; } .fa-microscope:before { content: ""; } .fa-microsoft:before { content: ""; } .fa-minus:before { content: ""; } .fa-minus-circle:before { content: ""; } .fa-minus-square:before { content: ""; } .fa-mitten:before { content: ""; } .fa-mix:before { content: ""; } .fa-mixcloud:before { content: ""; } .fa-mizuni:before { content: ""; } .fa-mobile:before { content: ""; } .fa-mobile-alt:before { content: ""; } .fa-modx:before { content: ""; } .fa-monero:before { content: ""; } .fa-money-bill:before { content: ""; } .fa-money-bill-alt:before { content: ""; } .fa-money-bill-wave:before { content: ""; } .fa-money-bill-wave-alt:before { content: ""; } .fa-money-check:before { content: ""; } .fa-money-check-alt:before { content: ""; } .fa-monument:before { content: ""; } .fa-moon:before { content: ""; } .fa-mortar-pestle:before { content: ""; } .fa-mosque:before { content: ""; } .fa-motorcycle:before { content: ""; } .fa-mountain:before { content: ""; } .fa-mouse:before { content: ""; } .fa-mouse-pointer:before { content: ""; } .fa-mug-hot:before { content: ""; } .fa-music:before { content: ""; } .fa-napster:before { content: ""; } .fa-neos:before { content: ""; } .fa-network-wired:before { content: ""; } .fa-neuter:before { content: ""; } .fa-newspaper:before { content: ""; } .fa-nimblr:before { content: ""; } .fa-node:before { content: ""; } .fa-node-js:before { content: ""; } .fa-not-equal:before { content: ""; } .fa-notes-medical:before { content: ""; } .fa-npm:before { content: ""; } .fa-ns8:before { content: ""; } .fa-nutritionix:before { content: ""; } .fa-object-group:before { content: ""; } .fa-object-ungroup:before { content: ""; } .fa-odnoklassniki:before { content: ""; } .fa-odnoklassniki-square:before { content: ""; } .fa-oil-can:before { content: ""; } .fa-old-republic:before { content: ""; } .fa-om:before { content: ""; } .fa-opencart:before { content: ""; } .fa-openid:before { content: ""; } .fa-opera:before { content: ""; } .fa-optin-monster:before { content: ""; } .fa-orcid:before { content: ""; } .fa-osi:before { content: ""; } .fa-otter:before { content: ""; } .fa-outdent:before { content: ""; } .fa-page4:before { content: ""; } .fa-pagelines:before { content: ""; } .fa-pager:before { content: ""; } .fa-paint-brush:before { content: ""; } .fa-paint-roller:before { content: ""; } .fa-palette:before { content: ""; } .fa-palfed:before { content: ""; } .fa-pallet:before { content: ""; } .fa-paper-plane:before { content: ""; } .fa-paperclip:before { content: ""; } .fa-parachute-box:before { content: ""; } .fa-paragraph:before { content: ""; } .fa-parking:before { content: ""; } .fa-passport:before { content: ""; } .fa-pastafarianism:before { content: ""; } .fa-paste:before { content: ""; } .fa-patreon:before { content: ""; } .fa-pause:before { content: ""; } .fa-pause-circle:before { content: ""; } .fa-paw:before { content: ""; } .fa-paypal:before { content: ""; } .fa-peace:before { content: ""; } .fa-pen:before { content: ""; } .fa-pen-alt:before { content: ""; } .fa-pen-fancy:before { content: ""; } .fa-pen-nib:before { content: ""; } .fa-pen-square:before { content: ""; } .fa-pencil-alt:before { content: ""; } .fa-pencil-ruler:before { content: ""; } .fa-penny-arcade:before { content: ""; } .fa-people-carry:before { content: ""; } .fa-pepper-hot:before { content: ""; } .fa-percent:before { content: ""; } .fa-percentage:before { content: ""; } .fa-periscope:before { content: ""; } .fa-person-booth:before { content: ""; } .fa-phabricator:before { content: ""; } .fa-phoenix-framework:before { content: ""; } .fa-phoenix-squadron:before { content: ""; } .fa-phone:before { content: ""; } .fa-phone-alt:before { content: ""; } .fa-phone-slash:before { content: ""; } .fa-phone-square:before { content: ""; } .fa-phone-square-alt:before { content: ""; } .fa-phone-volume:before { content: ""; } .fa-photo-video:before { content: ""; } .fa-php:before { content: ""; } .fa-pied-piper:before { content: ""; } .fa-pied-piper-alt:before { content: ""; } .fa-pied-piper-hat:before { content: ""; } .fa-pied-piper-pp:before { content: ""; } .fa-piggy-bank:before { content: ""; } .fa-pills:before { content: ""; } .fa-pinterest:before { content: ""; } .fa-pinterest-p:before { content: ""; } .fa-pinterest-square:before { content: ""; } .fa-pizza-slice:before { content: ""; } .fa-place-of-worship:before { content: ""; } .fa-plane:before { content: ""; } .fa-plane-arrival:before { content: ""; } .fa-plane-departure:before { content: ""; } .fa-play:before { content: ""; } .fa-play-circle:before { content: ""; } .fa-playstation:before { content: ""; } .fa-plug:before { content: ""; } .fa-plus:before { content: ""; } .fa-plus-circle:before { content: ""; } .fa-plus-square:before { content: ""; } .fa-podcast:before { content: ""; } .fa-poll:before { content: ""; } .fa-poll-h:before { content: ""; } .fa-poo:before { content: ""; } .fa-poo-storm:before { content: ""; } .fa-poop:before { content: ""; } .fa-portrait:before { content: ""; } .fa-pound-sign:before { content: ""; } .fa-power-off:before { content: ""; } .fa-pray:before { content: ""; } .fa-praying-hands:before { content: ""; } .fa-prescription:before { content: ""; } .fa-prescription-bottle:before { content: ""; } .fa-prescription-bottle-alt:before { content: ""; } .fa-print:before { content: ""; } .fa-procedures:before { content: ""; } .fa-product-hunt:before { content: ""; } .fa-project-diagram:before { content: ""; } .fa-pushed:before { content: ""; } .fa-puzzle-piece:before { content: ""; } .fa-python:before { content: ""; } .fa-qq:before { content: ""; } .fa-qrcode:before { content: ""; } .fa-question:before { content: ""; } .fa-question-circle:before { content: ""; } .fa-quidditch:before { content: ""; } .fa-quinscape:before { content: ""; } .fa-quora:before { content: ""; } .fa-quote-left:before { content: ""; } .fa-quote-right:before { content: ""; } .fa-quran:before { content: ""; } .fa-r-project:before { content: ""; } .fa-radiation:before { content: ""; } .fa-radiation-alt:before { content: ""; } .fa-rainbow:before { content: ""; } .fa-random:before { content: ""; } .fa-raspberry-pi:before { content: ""; } .fa-ravelry:before { content: ""; } .fa-react:before { content: ""; } .fa-reacteurope:before { content: ""; } .fa-readme:before { content: ""; } .fa-rebel:before { content: ""; } .fa-receipt:before { content: ""; } .fa-record-vinyl:before { content: ""; } .fa-recycle:before { content: ""; } .fa-red-river:before { content: ""; } .fa-reddit:before { content: ""; } .fa-reddit-alien:before { content: ""; } .fa-reddit-square:before { content: ""; } .fa-redhat:before { content: ""; } .fa-redo:before { content: ""; } .fa-redo-alt:before { content: ""; } .fa-registered:before { content: ""; } .fa-remove-format:before { content: ""; } .fa-renren:before { content: ""; } .fa-reply:before { content: ""; } .fa-reply-all:before { content: ""; } .fa-replyd:before { content: ""; } .fa-republican:before { content: ""; } .fa-researchgate:before { content: ""; } .fa-resolving:before { content: ""; } .fa-restroom:before { content: ""; } .fa-retweet:before { content: ""; } .fa-rev:before { content: ""; } .fa-ribbon:before { content: ""; } .fa-ring:before { content: ""; } .fa-road:before { content: ""; } .fa-robot:before { content: ""; } .fa-rocket:before { content: ""; } .fa-rocketchat:before { content: ""; } .fa-rockrms:before { content: ""; } .fa-route:before { content: ""; } .fa-rss:before { content: ""; } .fa-rss-square:before { content: ""; } .fa-ruble-sign:before { content: ""; } .fa-ruler:before { content: ""; } .fa-ruler-combined:before { content: ""; } .fa-ruler-horizontal:before { content: ""; } .fa-ruler-vertical:before { content: ""; } .fa-running:before { content: ""; } .fa-rupee-sign:before { content: ""; } .fa-sad-cry:before { content: ""; } .fa-sad-tear:before { content: ""; } .fa-safari:before { content: ""; } .fa-salesforce:before { content: ""; } .fa-sass:before { content: ""; } .fa-satellite:before { content: ""; } .fa-satellite-dish:before { content: ""; } .fa-save:before { content: ""; } .fa-schlix:before { content: ""; } .fa-school:before { content: ""; } .fa-screwdriver:before { content: ""; } .fa-scribd:before { content: ""; } .fa-scroll:before { content: ""; } .fa-sd-card:before { content: ""; } .fa-search:before { content: ""; } .fa-search-dollar:before { content: ""; } .fa-search-location:before { content: ""; } .fa-search-minus:before { content: ""; } .fa-search-plus:before { content: ""; } .fa-searchengin:before { content: ""; } .fa-seedling:before { content: ""; } .fa-sellcast:before { content: ""; } .fa-sellsy:before { content: ""; } .fa-server:before { content: ""; } .fa-servicestack:before { content: ""; } .fa-shapes:before { content: ""; } .fa-share:before { content: ""; } .fa-share-alt:before { content: ""; } .fa-share-alt-square:before { content: ""; } .fa-share-square:before { content: ""; } .fa-shekel-sign:before { content: ""; } .fa-shield-alt:before { content: ""; } .fa-ship:before { content: ""; } .fa-shipping-fast:before { content: ""; } .fa-shirtsinbulk:before { content: ""; } .fa-shoe-prints:before { content: ""; } .fa-shopping-bag:before { content: ""; } .fa-shopping-basket:before { content: ""; } .fa-shopping-cart:before { content: ""; } .fa-shopware:before { content: ""; } .fa-shower:before { content: ""; } .fa-shuttle-van:before { content: ""; } .fa-sign:before { content: ""; } .fa-sign-in-alt:before { content: ""; } .fa-sign-language:before { content: ""; } .fa-sign-out-alt:before { content: ""; } .fa-signal:before { content: ""; } .fa-signature:before { content: ""; } .fa-sim-card:before { content: ""; } .fa-simplybuilt:before { content: ""; } .fa-sistrix:before { content: ""; } .fa-sitemap:before { content: ""; } .fa-sith:before { content: ""; } .fa-skating:before { content: ""; } .fa-sketch:before { content: ""; } .fa-skiing:before { content: ""; } .fa-skiing-nordic:before { content: ""; } .fa-skull:before { content: ""; } .fa-skull-crossbones:before { content: ""; } .fa-skyatlas:before { content: ""; } .fa-skype:before { content: ""; } .fa-slack:before { content: ""; } .fa-slack-hash:before { content: ""; } .fa-slash:before { content: ""; } .fa-sleigh:before { content: ""; } .fa-sliders-h:before { content: ""; } .fa-slideshare:before { content: ""; } .fa-smile:before { content: ""; } .fa-smile-beam:before { content: ""; } .fa-smile-wink:before { content: ""; } .fa-smog:before { content: ""; } .fa-smoking:before { content: ""; } .fa-smoking-ban:before { content: ""; } .fa-sms:before { content: ""; } .fa-snapchat:before { content: ""; } .fa-snapchat-ghost:before { content: ""; } .fa-snapchat-square:before { content: ""; } .fa-snowboarding:before { content: ""; } .fa-snowflake:before { content: ""; } .fa-snowman:before { content: ""; } .fa-snowplow:before { content: ""; } .fa-socks:before { content: ""; } .fa-solar-panel:before { content: ""; } .fa-sort:before { content: ""; } .fa-sort-alpha-down:before { content: ""; } .fa-sort-alpha-down-alt:before { content: ""; } .fa-sort-alpha-up:before { content: ""; } .fa-sort-alpha-up-alt:before { content: ""; } .fa-sort-amount-down:before { content: ""; } .fa-sort-amount-down-alt:before { content: ""; } .fa-sort-amount-up:before { content: ""; } .fa-sort-amount-up-alt:before { content: ""; } .fa-sort-down:before { content: ""; } .fa-sort-numeric-down:before { content: ""; } .fa-sort-numeric-down-alt:before { content: ""; } .fa-sort-numeric-up:before { content: ""; } .fa-sort-numeric-up-alt:before { content: ""; } .fa-sort-up:before { content: ""; } .fa-soundcloud:before { content: ""; } .fa-sourcetree:before { content: ""; } .fa-spa:before { content: ""; } .fa-space-shuttle:before { content: ""; } .fa-speakap:before { content: ""; } .fa-speaker-deck:before { content: ""; } .fa-spell-check:before { content: ""; } .fa-spider:before { content: ""; } .fa-spinner:before { content: ""; } .fa-splotch:before { content: ""; } .fa-spotify:before { content: ""; } .fa-spray-can:before { content: ""; } .fa-square:before { content: ""; } .fa-square-full:before { content: ""; } .fa-square-root-alt:before { content: ""; } .fa-squarespace:before { content: ""; } .fa-stack-exchange:before { content: ""; } .fa-stack-overflow:before { content: ""; } .fa-stackpath:before { content: ""; } .fa-stamp:before { content: ""; } .fa-star:before { content: ""; } .fa-star-and-crescent:before { content: ""; } .fa-star-half:before { content: ""; } .fa-star-half-alt:before { content: ""; } .fa-star-of-david:before { content: ""; } .fa-star-of-life:before { content: ""; } .fa-staylinked:before { content: ""; } .fa-steam:before { content: ""; } .fa-steam-square:before { content: ""; } .fa-steam-symbol:before { content: ""; } .fa-step-backward:before { content: ""; } .fa-step-forward:before { content: ""; } .fa-stethoscope:before { content: ""; } .fa-sticker-mule:before { content: ""; } .fa-sticky-note:before { content: ""; } .fa-stop:before { content: ""; } .fa-stop-circle:before { content: ""; } .fa-stopwatch:before { content: ""; } .fa-store:before { content: ""; } .fa-store-alt:before { content: ""; } .fa-strava:before { content: ""; } .fa-stream:before { content: ""; } .fa-street-view:before { content: ""; } .fa-strikethrough:before { content: ""; } .fa-stripe:before { content: ""; } .fa-stripe-s:before { content: ""; } .fa-stroopwafel:before { content: ""; } .fa-studiovinari:before { content: ""; } .fa-stumbleupon:before { content: ""; } .fa-stumbleupon-circle:before { content: ""; } .fa-subscript:before { content: ""; } .fa-subway:before { content: ""; } .fa-suitcase:before { content: ""; } .fa-suitcase-rolling:before { content: ""; } .fa-sun:before { content: ""; } .fa-superpowers:before { content: ""; } .fa-superscript:before { content: ""; } .fa-supple:before { content: ""; } .fa-surprise:before { content: ""; } .fa-suse:before { content: ""; } .fa-swatchbook:before { content: ""; } .fa-swift:before { content: ""; } .fa-swimmer:before { content: ""; } .fa-swimming-pool:before { content: ""; } .fa-symfony:before { content: ""; } .fa-synagogue:before { content: ""; } .fa-sync:before { content: ""; } .fa-sync-alt:before { content: ""; } .fa-syringe:before { content: ""; } .fa-table:before { content: ""; } .fa-table-tennis:before { content: ""; } .fa-tablet:before { content: ""; } .fa-tablet-alt:before { content: ""; } .fa-tablets:before { content: ""; } .fa-tachometer-alt:before { content: ""; } .fa-tag:before { content: ""; } .fa-tags:before { content: ""; } .fa-tape:before { content: ""; } .fa-tasks:before { content: ""; } .fa-taxi:before { content: ""; } .fa-teamspeak:before { content: ""; } .fa-teeth:before { content: ""; } .fa-teeth-open:before { content: ""; } .fa-telegram:before { content: ""; } .fa-telegram-plane:before { content: ""; } .fa-temperature-high:before { content: ""; } .fa-temperature-low:before { content: ""; } .fa-tencent-weibo:before { content: ""; } .fa-tenge:before { content: ""; } .fa-terminal:before { content: ""; } .fa-text-height:before { content: ""; } .fa-text-width:before { content: ""; } .fa-th:before { content: ""; } .fa-th-large:before { content: ""; } .fa-th-list:before { content: ""; } .fa-the-red-yeti:before { content: ""; } .fa-theater-masks:before { content: ""; } .fa-themeco:before { content: ""; } .fa-themeisle:before { content: ""; } .fa-thermometer:before { content: ""; } .fa-thermometer-empty:before { content: ""; } .fa-thermometer-full:before { content: ""; } .fa-thermometer-half:before { content: ""; } .fa-thermometer-quarter:before { content: ""; } .fa-thermometer-three-quarters:before { content: ""; } .fa-think-peaks:before { content: ""; } .fa-thumbs-down:before { content: ""; } .fa-thumbs-up:before { content: ""; } .fa-thumbtack:before { content: ""; } .fa-ticket-alt:before { content: ""; } .fa-times:before { content: ""; } .fa-times-circle:before { content: ""; } .fa-tint:before { content: ""; } .fa-tint-slash:before { content: ""; } .fa-tired:before { content: ""; } .fa-toggle-off:before { content: ""; } .fa-toggle-on:before { content: ""; } .fa-toilet:before { content: ""; } .fa-toilet-paper:before { content: ""; } .fa-toolbox:before { content: ""; } .fa-tools:before { content: ""; } .fa-tooth:before { content: ""; } .fa-torah:before { content: ""; } .fa-torii-gate:before { content: ""; } .fa-tractor:before { content: ""; } .fa-trade-federation:before { content: ""; } .fa-trademark:before { content: ""; } .fa-traffic-light:before { content: ""; } .fa-train:before { content: ""; } .fa-tram:before { content: ""; } .fa-transgender:before { content: ""; } .fa-transgender-alt:before { content: ""; } .fa-trash:before { content: ""; } .fa-trash-alt:before { content: ""; } .fa-trash-restore:before { content: ""; } .fa-trash-restore-alt:before { content: ""; } .fa-tree:before { content: ""; } .fa-trello:before { content: ""; } .fa-tripadvisor:before { content: ""; } .fa-trophy:before { content: ""; } .fa-truck:before { content: ""; } .fa-truck-loading:before { content: ""; } .fa-truck-monster:before { content: ""; } .fa-truck-moving:before { content: ""; } .fa-truck-pickup:before { content: ""; } .fa-tshirt:before { content: ""; } .fa-tty:before { content: ""; } .fa-tumblr:before { content: ""; } .fa-tumblr-square:before { content: ""; } .fa-tv:before { content: ""; } .fa-twitch:before { content: ""; } .fa-twitter:before { content: ""; } .fa-twitter-square:before { content: ""; } .fa-typo3:before { content: ""; } .fa-uber:before { content: ""; } .fa-ubuntu:before { content: ""; } .fa-uikit:before { content: ""; } .fa-umbraco:before { content: ""; } .fa-umbrella:before { content: ""; } .fa-umbrella-beach:before { content: ""; } .fa-underline:before { content: ""; } .fa-undo:before { content: ""; } .fa-undo-alt:before { content: ""; } .fa-uniregistry:before { content: ""; } .fa-universal-access:before { content: ""; } .fa-university:before { content: ""; } .fa-unlink:before { content: ""; } .fa-unlock:before { content: ""; } .fa-unlock-alt:before { content: ""; } .fa-untappd:before { content: ""; } .fa-upload:before { content: ""; } .fa-ups:before { content: ""; } .fa-usb:before { content: ""; } .fa-user:before { content: ""; } .fa-user-alt:before { content: ""; } .fa-user-alt-slash:before { content: ""; } .fa-user-astronaut:before { content: ""; } .fa-user-check:before { content: ""; } .fa-user-circle:before { content: ""; } .fa-user-clock:before { content: ""; } .fa-user-cog:before { content: ""; } .fa-user-edit:before { content: ""; } .fa-user-friends:before { content: ""; } .fa-user-graduate:before { content: ""; } .fa-user-injured:before { content: ""; } .fa-user-lock:before { content: ""; } .fa-user-md:before { content: ""; } .fa-user-minus:before { content: ""; } .fa-user-ninja:before { content: ""; } .fa-user-nurse:before { content: ""; } .fa-user-plus:before { content: ""; } .fa-user-secret:before { content: ""; } .fa-user-shield:before { content: ""; } .fa-user-slash:before { content: ""; } .fa-user-tag:before { content: ""; } .fa-user-tie:before { content: ""; } .fa-user-times:before { content: ""; } .fa-users:before { content: ""; } .fa-users-cog:before { content: ""; } .fa-usps:before { content: ""; } .fa-ussunnah:before { content: ""; } .fa-utensil-spoon:before { content: ""; } .fa-utensils:before { content: ""; } .fa-vaadin:before { content: ""; } .fa-vector-square:before { content: ""; } .fa-venus:before { content: ""; } .fa-venus-double:before { content: ""; } .fa-venus-mars:before { content: ""; } .fa-viacoin:before { content: ""; } .fa-viadeo:before { content: ""; } .fa-viadeo-square:before { content: ""; } .fa-vial:before { content: ""; } .fa-vials:before { content: ""; } .fa-viber:before { content: ""; } .fa-video:before { content: ""; } .fa-video-slash:before { content: ""; } .fa-vihara:before { content: ""; } .fa-vimeo:before { content: ""; } .fa-vimeo-square:before { content: ""; } .fa-vimeo-v:before { content: ""; } .fa-vine:before { content: ""; } .fa-vk:before { content: ""; } .fa-vnv:before { content: ""; } .fa-voicemail:before { content: ""; } .fa-volleyball-ball:before { content: ""; } .fa-volume-down:before { content: ""; } .fa-volume-mute:before { content: ""; } .fa-volume-off:before { content: ""; } .fa-volume-up:before { content: ""; } .fa-vote-yea:before { content: ""; } .fa-vr-cardboard:before { content: ""; } .fa-vuejs:before { content: ""; } .fa-walking:before { content: ""; } .fa-wallet:before { content: ""; } .fa-warehouse:before { content: ""; } .fa-water:before { content: ""; } .fa-wave-square:before { content: ""; } .fa-waze:before { content: ""; } .fa-weebly:before { content: ""; } .fa-weibo:before { content: ""; } .fa-weight:before { content: ""; } .fa-weight-hanging:before { content: ""; } .fa-weixin:before { content: ""; } .fa-whatsapp:before { content: ""; } .fa-whatsapp-square:before { content: ""; } .fa-wheelchair:before { content: ""; } .fa-whmcs:before { content: ""; } .fa-wifi:before { content: ""; } .fa-wikipedia-w:before { content: ""; } .fa-wind:before { content: ""; } .fa-window-close:before { content: ""; } .fa-window-maximize:before { content: ""; } .fa-window-minimize:before { content: ""; } .fa-window-restore:before { content: ""; } .fa-windows:before { content: ""; } .fa-wine-bottle:before { content: ""; } .fa-wine-glass:before { content: ""; } .fa-wine-glass-alt:before { content: ""; } .fa-wix:before { content: ""; } .fa-wizards-of-the-coast:before { content: ""; } .fa-wolf-pack-battalion:before { content: ""; } .fa-won-sign:before { content: ""; } .fa-wordpress:before { content: ""; } .fa-wordpress-simple:before { content: ""; } .fa-wpbeginner:before { content: ""; } .fa-wpexplorer:before { content: ""; } .fa-wpforms:before { content: ""; } .fa-wpressr:before { content: ""; } .fa-wrench:before { content: ""; } .fa-x-ray:before { content: ""; } .fa-xbox:before { content: ""; } .fa-xing:before { content: ""; } .fa-xing-square:before { content: ""; } .fa-y-combinator:before { content: ""; } .fa-yahoo:before { content: ""; } .fa-yammer:before { content: ""; } .fa-yandex:before { content: ""; } .fa-yandex-international:before { content: ""; } .fa-yarn:before { content: ""; } .fa-yelp:before { content: ""; } .fa-yen-sign:before { content: ""; } .fa-yin-yang:before { content: ""; } .fa-yoast:before { content: ""; } .fa-youtube:before { content: ""; } .fa-youtube-square:before { content: ""; } .fa-zhihu:before { content: ""; } .sr-only { border: 0; clip: rect(0, 0, 0, 0); height: 1px; margin: -1px; overflow: hidden; padding: 0; position: absolute; width: 1px; } .sr-only-focusable:active, .sr-only-focusable:focus { clip: auto; height: auto; margin: 0; overflow: visible; position: static; width: auto; } /*! * Font Awesome Free 5.11.2 by @fontawesome - https://fontawesome.com * License - https://fontawesome.com/license/free (Icons: CC BY 4.0, Fonts: SIL OFL 1.1, Code: MIT License) */ @font-face { font-family: "Font Awesome 5 Free"; font-style: normal; font-weight: 900; font-display: auto; src: url(//www.corporatesuites.com/wp-content/themes/corporate-suites/assets/css/../webfonts/fa-solid-900.eot); src: url(//www.corporatesuites.com/wp-content/themes/corporate-suites/assets/css/../webfonts/fa-solid-900.eot?#iefix) format("embedded-opentype"), url(//www.corporatesuites.com/wp-content/themes/corporate-suites/assets/css/../webfonts/fa-solid-900.woff2) format("woff2"), url(//www.corporatesuites.com/wp-content/themes/corporate-suites/assets/css/../webfonts/fa-solid-900.woff) format("woff"), url(//www.corporatesuites.com/wp-content/themes/corporate-suites/assets/css/../webfonts/fa-solid-900.ttf) format("truetype"), url(//www.corporatesuites.com/wp-content/themes/corporate-suites/assets/css/../webfonts/fa-solid-900.svg#fontawesome) format("svg"); font-display: swap; } .fa, .fas { font-family: "Font Awesome 5 Free"; font-weight: 900; } /*! * Font Awesome Free 5.11.2 by @fontawesome - https://fontawesome.com * License - https://fontawesome.com/license/free (Icons: CC BY 4.0, Fonts: SIL OFL 1.1, Code: MIT License) */ @font-face { font-family: "Font Awesome 5 Free"; font-style: normal; font-weight: 400; font-display: auto; src: url(//www.corporatesuites.com/wp-content/themes/corporate-suites/assets/css/../webfonts/fa-regular-400.eot); src: url(//www.corporatesuites.com/wp-content/themes/corporate-suites/assets/css/../webfonts/fa-regular-400.eot?#iefix) format("embedded-opentype"), url(//www.corporatesuites.com/wp-content/themes/corporate-suites/assets/css/../webfonts/fa-regular-400.woff2) format("woff2"), url(//www.corporatesuites.com/wp-content/themes/corporate-suites/assets/css/../webfonts/fa-regular-400.woff) format("woff"), url(//www.corporatesuites.com/wp-content/themes/corporate-suites/assets/css/../webfonts/fa-regular-400.ttf) format("truetype"), url(//www.corporatesuites.com/wp-content/themes/corporate-suites/assets/css/../webfonts/fa-regular-400.svg#fontawesome) format("svg"); font-display: swap; } .far { font-family: "Font Awesome 5 Free"; font-weight: 400; } /*! * Font Awesome Free 5.11.2 by @fontawesome - https://fontawesome.com * License - https://fontawesome.com/license/free (Icons: CC BY 4.0, Fonts: SIL OFL 1.1, Code: MIT License) */ @font-face { font-family: "Font Awesome 5 Brands"; font-style: normal; font-weight: normal; font-display: auto; src: url(//www.corporatesuites.com/wp-content/themes/corporate-suites/assets/css/../webfonts/fa-brands-400.eot); src: url(//www.corporatesuites.com/wp-content/themes/corporate-suites/assets/css/../webfonts/fa-brands-400.eot?#iefix) format("embedded-opentype"), url(//www.corporatesuites.com/wp-content/themes/corporate-suites/assets/css/../webfonts/fa-brands-400.woff2) format("woff2"), url(//www.corporatesuites.com/wp-content/themes/corporate-suites/assets/css/../webfonts/fa-brands-400.woff) format("woff"), url(//www.corporatesuites.com/wp-content/themes/corporate-suites/assets/css/../webfonts/fa-brands-400.ttf) format("truetype"), url(//www.corporatesuites.com/wp-content/themes/corporate-suites/assets/css/../webfonts/fa-brands-400.svg#fontawesome) format("svg"); } .fab { font-family: "Font Awesome 5 Brands"; } body[data-aos-duration="50"] [data-aos], [data-aos][data-aos][data-aos-duration="50"] { -webkit-transition-duration: 50ms; -o-transition-duration: 50ms; transition-duration: 50ms; } body[data-aos-delay="50"] [data-aos], [data-aos][data-aos][data-aos-delay="50"] { -webkit-transition-delay: 0s; -o-transition-delay: 0s; transition-delay: 0s; } body[data-aos-delay="50"] [data-aos].aos-animate, [data-aos][data-aos][data-aos-delay="50"].aos-animate { -webkit-transition-delay: 50ms; -o-transition-delay: 50ms; transition-delay: 50ms; } body[data-aos-duration="100"] [data-aos], [data-aos][data-aos][data-aos-duration="100"] { -webkit-transition-duration: 100ms; -o-transition-duration: 100ms; transition-duration: 100ms; } body[data-aos-delay="100"] [data-aos], [data-aos][data-aos][data-aos-delay="100"] { -webkit-transition-delay: 0s; -o-transition-delay: 0s; transition-delay: 0s; } body[data-aos-delay="100"] [data-aos].aos-animate, [data-aos][data-aos][data-aos-delay="100"].aos-animate { -webkit-transition-delay: 100ms; -o-transition-delay: 100ms; transition-delay: 100ms; } body[data-aos-duration="150"] [data-aos], [data-aos][data-aos][data-aos-duration="150"] { -webkit-transition-duration: 150ms; -o-transition-duration: 150ms; transition-duration: 150ms; } body[data-aos-delay="150"] [data-aos], [data-aos][data-aos][data-aos-delay="150"] { -webkit-transition-delay: 0s; -o-transition-delay: 0s; transition-delay: 0s; } body[data-aos-delay="150"] [data-aos].aos-animate, [data-aos][data-aos][data-aos-delay="150"].aos-animate { -webkit-transition-delay: 150ms; -o-transition-delay: 150ms; transition-delay: 150ms; } body[data-aos-duration="200"] [data-aos], [data-aos][data-aos][data-aos-duration="200"] { -webkit-transition-duration: 200ms; -o-transition-duration: 200ms; transition-duration: 200ms; } body[data-aos-delay="200"] [data-aos], [data-aos][data-aos][data-aos-delay="200"] { -webkit-transition-delay: 0s; -o-transition-delay: 0s; transition-delay: 0s; } body[data-aos-delay="200"] [data-aos].aos-animate, [data-aos][data-aos][data-aos-delay="200"].aos-animate { -webkit-transition-delay: 200ms; -o-transition-delay: 200ms; transition-delay: 200ms; } body[data-aos-duration="250"] [data-aos], [data-aos][data-aos][data-aos-duration="250"] { -webkit-transition-duration: 250ms; -o-transition-duration: 250ms; transition-duration: 250ms; } body[data-aos-delay="250"] [data-aos], [data-aos][data-aos][data-aos-delay="250"] { -webkit-transition-delay: 0s; -o-transition-delay: 0s; transition-delay: 0s; } body[data-aos-delay="250"] [data-aos].aos-animate, [data-aos][data-aos][data-aos-delay="250"].aos-animate { -webkit-transition-delay: 250ms; -o-transition-delay: 250ms; transition-delay: 250ms; } body[data-aos-duration="300"] [data-aos], [data-aos][data-aos][data-aos-duration="300"] { -webkit-transition-duration: 300ms; -o-transition-duration: 300ms; transition-duration: 300ms; } body[data-aos-delay="300"] [data-aos], [data-aos][data-aos][data-aos-delay="300"] { -webkit-transition-delay: 0s; -o-transition-delay: 0s; transition-delay: 0s; } body[data-aos-delay="300"] [data-aos].aos-animate, [data-aos][data-aos][data-aos-delay="300"].aos-animate { -webkit-transition-delay: 300ms; -o-transition-delay: 300ms; transition-delay: 300ms; } body[data-aos-duration="350"] [data-aos], [data-aos][data-aos][data-aos-duration="350"] { -webkit-transition-duration: 350ms; -o-transition-duration: 350ms; transition-duration: 350ms; } body[data-aos-delay="350"] [data-aos], [data-aos][data-aos][data-aos-delay="350"] { -webkit-transition-delay: 0s; -o-transition-delay: 0s; transition-delay: 0s; } body[data-aos-delay="350"] [data-aos].aos-animate, [data-aos][data-aos][data-aos-delay="350"].aos-animate { -webkit-transition-delay: 350ms; -o-transition-delay: 350ms; transition-delay: 350ms; } body[data-aos-duration="400"] [data-aos], [data-aos][data-aos][data-aos-duration="400"] { -webkit-transition-duration: 400ms; -o-transition-duration: 400ms; transition-duration: 400ms; } body[data-aos-delay="400"] [data-aos], [data-aos][data-aos][data-aos-delay="400"] { -webkit-transition-delay: 0s; -o-transition-delay: 0s; transition-delay: 0s; } body[data-aos-delay="400"] [data-aos].aos-animate, [data-aos][data-aos][data-aos-delay="400"].aos-animate { -webkit-transition-delay: 400ms; -o-transition-delay: 400ms; transition-delay: 400ms; } body[data-aos-duration="450"] [data-aos], [data-aos][data-aos][data-aos-duration="450"] { -webkit-transition-duration: 450ms; -o-transition-duration: 450ms; transition-duration: 450ms; } body[data-aos-delay="450"] [data-aos], [data-aos][data-aos][data-aos-delay="450"] { -webkit-transition-delay: 0s; -o-transition-delay: 0s; transition-delay: 0s; } body[data-aos-delay="450"] [data-aos].aos-animate, [data-aos][data-aos][data-aos-delay="450"].aos-animate { -webkit-transition-delay: 450ms; -o-transition-delay: 450ms; transition-delay: 450ms; } body[data-aos-duration="500"] [data-aos], [data-aos][data-aos][data-aos-duration="500"] { -webkit-transition-duration: 500ms; -o-transition-duration: 500ms; transition-duration: 500ms; } body[data-aos-delay="500"] [data-aos], [data-aos][data-aos][data-aos-delay="500"] { -webkit-transition-delay: 0s; -o-transition-delay: 0s; transition-delay: 0s; } body[data-aos-delay="500"] [data-aos].aos-animate, [data-aos][data-aos][data-aos-delay="500"].aos-animate { -webkit-transition-delay: 500ms; -o-transition-delay: 500ms; transition-delay: 500ms; } body[data-aos-duration="550"] [data-aos], [data-aos][data-aos][data-aos-duration="550"] { -webkit-transition-duration: 550ms; -o-transition-duration: 550ms; transition-duration: 550ms; } body[data-aos-delay="550"] [data-aos], [data-aos][data-aos][data-aos-delay="550"] { -webkit-transition-delay: 0s; -o-transition-delay: 0s; transition-delay: 0s; } body[data-aos-delay="550"] [data-aos].aos-animate, [data-aos][data-aos][data-aos-delay="550"].aos-animate { -webkit-transition-delay: 550ms; -o-transition-delay: 550ms; transition-delay: 550ms; } body[data-aos-duration="600"] [data-aos], [data-aos][data-aos][data-aos-duration="600"] { -webkit-transition-duration: 600ms; -o-transition-duration: 600ms; transition-duration: 600ms; } body[data-aos-delay="600"] [data-aos], [data-aos][data-aos][data-aos-delay="600"] { -webkit-transition-delay: 0s; -o-transition-delay: 0s; transition-delay: 0s; } body[data-aos-delay="600"] [data-aos].aos-animate, [data-aos][data-aos][data-aos-delay="600"].aos-animate { -webkit-transition-delay: 600ms; -o-transition-delay: 600ms; transition-delay: 600ms; } body[data-aos-duration="650"] [data-aos], [data-aos][data-aos][data-aos-duration="650"] { -webkit-transition-duration: 650ms; -o-transition-duration: 650ms; transition-duration: 650ms; } body[data-aos-delay="650"] [data-aos], [data-aos][data-aos][data-aos-delay="650"] { -webkit-transition-delay: 0s; -o-transition-delay: 0s; transition-delay: 0s; } body[data-aos-delay="650"] [data-aos].aos-animate, [data-aos][data-aos][data-aos-delay="650"].aos-animate { -webkit-transition-delay: 650ms; -o-transition-delay: 650ms; transition-delay: 650ms; } body[data-aos-duration="700"] [data-aos], [data-aos][data-aos][data-aos-duration="700"] { -webkit-transition-duration: 700ms; -o-transition-duration: 700ms; transition-duration: 700ms; } body[data-aos-delay="700"] [data-aos], [data-aos][data-aos][data-aos-delay="700"] { -webkit-transition-delay: 0s; -o-transition-delay: 0s; transition-delay: 0s; } body[data-aos-delay="700"] [data-aos].aos-animate, [data-aos][data-aos][data-aos-delay="700"].aos-animate { -webkit-transition-delay: 700ms; -o-transition-delay: 700ms; transition-delay: 700ms; } body[data-aos-duration="750"] [data-aos], [data-aos][data-aos][data-aos-duration="750"] { -webkit-transition-duration: 750ms; -o-transition-duration: 750ms; transition-duration: 750ms; } body[data-aos-delay="750"] [data-aos], [data-aos][data-aos][data-aos-delay="750"] { -webkit-transition-delay: 0s; -o-transition-delay: 0s; transition-delay: 0s; } body[data-aos-delay="750"] [data-aos].aos-animate, [data-aos][data-aos][data-aos-delay="750"].aos-animate { -webkit-transition-delay: 750ms; -o-transition-delay: 750ms; transition-delay: 750ms; } body[data-aos-duration="800"] [data-aos], [data-aos][data-aos][data-aos-duration="800"] { -webkit-transition-duration: 800ms; -o-transition-duration: 800ms; transition-duration: 800ms; } body[data-aos-delay="800"] [data-aos], [data-aos][data-aos][data-aos-delay="800"] { -webkit-transition-delay: 0s; -o-transition-delay: 0s; transition-delay: 0s; } body[data-aos-delay="800"] [data-aos].aos-animate, [data-aos][data-aos][data-aos-delay="800"].aos-animate { -webkit-transition-delay: 800ms; -o-transition-delay: 800ms; transition-delay: 800ms; } body[data-aos-duration="850"] [data-aos], [data-aos][data-aos][data-aos-duration="850"] { -webkit-transition-duration: 850ms; -o-transition-duration: 850ms; transition-duration: 850ms; } body[data-aos-delay="850"] [data-aos], [data-aos][data-aos][data-aos-delay="850"] { -webkit-transition-delay: 0s; -o-transition-delay: 0s; transition-delay: 0s; } body[data-aos-delay="850"] [data-aos].aos-animate, [data-aos][data-aos][data-aos-delay="850"].aos-animate { -webkit-transition-delay: 850ms; -o-transition-delay: 850ms; transition-delay: 850ms; } body[data-aos-duration="900"] [data-aos], [data-aos][data-aos][data-aos-duration="900"] { -webkit-transition-duration: 900ms; -o-transition-duration: 900ms; transition-duration: 900ms; } body[data-aos-delay="900"] [data-aos], [data-aos][data-aos][data-aos-delay="900"] { -webkit-transition-delay: 0s; -o-transition-delay: 0s; transition-delay: 0s; } body[data-aos-delay="900"] [data-aos].aos-animate, [data-aos][data-aos][data-aos-delay="900"].aos-animate { -webkit-transition-delay: 900ms; -o-transition-delay: 900ms; transition-delay: 900ms; } body[data-aos-duration="950"] [data-aos], [data-aos][data-aos][data-aos-duration="950"] { -webkit-transition-duration: 950ms; -o-transition-duration: 950ms; transition-duration: 950ms; } body[data-aos-delay="950"] [data-aos], [data-aos][data-aos][data-aos-delay="950"] { -webkit-transition-delay: 0s; -o-transition-delay: 0s; transition-delay: 0s; } body[data-aos-delay="950"] [data-aos].aos-animate, [data-aos][data-aos][data-aos-delay="950"].aos-animate { -webkit-transition-delay: 950ms; -o-transition-delay: 950ms; transition-delay: 950ms; } body[data-aos-duration="1000"] [data-aos], [data-aos][data-aos][data-aos-duration="1000"] { -webkit-transition-duration: 1000ms; -o-transition-duration: 1000ms; transition-duration: 1000ms; } body[data-aos-delay="1000"] [data-aos], [data-aos][data-aos][data-aos-delay="1000"] { -webkit-transition-delay: 0s; -o-transition-delay: 0s; transition-delay: 0s; } body[data-aos-delay="1000"] [data-aos].aos-animate, [data-aos][data-aos][data-aos-delay="1000"].aos-animate { -webkit-transition-delay: 1000ms; -o-transition-delay: 1000ms; transition-delay: 1000ms; } body[data-aos-duration="1050"] [data-aos], [data-aos][data-aos][data-aos-duration="1050"] { -webkit-transition-duration: 1050ms; -o-transition-duration: 1050ms; transition-duration: 1050ms; } body[data-aos-delay="1050"] [data-aos], [data-aos][data-aos][data-aos-delay="1050"] { -webkit-transition-delay: 0s; -o-transition-delay: 0s; transition-delay: 0s; } body[data-aos-delay="1050"] [data-aos].aos-animate, [data-aos][data-aos][data-aos-delay="1050"].aos-animate { -webkit-transition-delay: 1050ms; -o-transition-delay: 1050ms; transition-delay: 1050ms; } body[data-aos-duration="1100"] [data-aos], [data-aos][data-aos][data-aos-duration="1100"] { -webkit-transition-duration: 1100ms; -o-transition-duration: 1100ms; transition-duration: 1100ms; } body[data-aos-delay="1100"] [data-aos], [data-aos][data-aos][data-aos-delay="1100"] { -webkit-transition-delay: 0s; -o-transition-delay: 0s; transition-delay: 0s; } body[data-aos-delay="1100"] [data-aos].aos-animate, [data-aos][data-aos][data-aos-delay="1100"].aos-animate { -webkit-transition-delay: 1100ms; -o-transition-delay: 1100ms; transition-delay: 1100ms; } body[data-aos-duration="1150"] [data-aos], [data-aos][data-aos][data-aos-duration="1150"] { -webkit-transition-duration: 1150ms; -o-transition-duration: 1150ms; transition-duration: 1150ms; } body[data-aos-delay="1150"] [data-aos], [data-aos][data-aos][data-aos-delay="1150"] { -webkit-transition-delay: 0s; -o-transition-delay: 0s; transition-delay: 0s; } body[data-aos-delay="1150"] [data-aos].aos-animate, [data-aos][data-aos][data-aos-delay="1150"].aos-animate { -webkit-transition-delay: 1150ms; -o-transition-delay: 1150ms; transition-delay: 1150ms; } body[data-aos-duration="1200"] [data-aos], [data-aos][data-aos][data-aos-duration="1200"] { -webkit-transition-duration: 1200ms; -o-transition-duration: 1200ms; transition-duration: 1200ms; } body[data-aos-delay="1200"] [data-aos], [data-aos][data-aos][data-aos-delay="1200"] { -webkit-transition-delay: 0s; -o-transition-delay: 0s; transition-delay: 0s; } body[data-aos-delay="1200"] [data-aos].aos-animate, [data-aos][data-aos][data-aos-delay="1200"].aos-animate { -webkit-transition-delay: 1200ms; -o-transition-delay: 1200ms; transition-delay: 1200ms; } body[data-aos-duration="1250"] [data-aos], [data-aos][data-aos][data-aos-duration="1250"] { -webkit-transition-duration: 1250ms; -o-transition-duration: 1250ms; transition-duration: 1250ms; } body[data-aos-delay="1250"] [data-aos], [data-aos][data-aos][data-aos-delay="1250"] { -webkit-transition-delay: 0s; -o-transition-delay: 0s; transition-delay: 0s; } body[data-aos-delay="1250"] [data-aos].aos-animate, [data-aos][data-aos][data-aos-delay="1250"].aos-animate { -webkit-transition-delay: 1250ms; -o-transition-delay: 1250ms; transition-delay: 1250ms; } body[data-aos-duration="1300"] [data-aos], [data-aos][data-aos][data-aos-duration="1300"] { -webkit-transition-duration: 1300ms; -o-transition-duration: 1300ms; transition-duration: 1300ms; } body[data-aos-delay="1300"] [data-aos], [data-aos][data-aos][data-aos-delay="1300"] { -webkit-transition-delay: 0s; -o-transition-delay: 0s; transition-delay: 0s; } body[data-aos-delay="1300"] [data-aos].aos-animate, [data-aos][data-aos][data-aos-delay="1300"].aos-animate { -webkit-transition-delay: 1300ms; -o-transition-delay: 1300ms; transition-delay: 1300ms; } body[data-aos-duration="1350"] [data-aos], [data-aos][data-aos][data-aos-duration="1350"] { -webkit-transition-duration: 1350ms; -o-transition-duration: 1350ms; transition-duration: 1350ms; } body[data-aos-delay="1350"] [data-aos], [data-aos][data-aos][data-aos-delay="1350"] { -webkit-transition-delay: 0s; -o-transition-delay: 0s; transition-delay: 0s; } body[data-aos-delay="1350"] [data-aos].aos-animate, [data-aos][data-aos][data-aos-delay="1350"].aos-animate { -webkit-transition-delay: 1350ms; -o-transition-delay: 1350ms; transition-delay: 1350ms; } body[data-aos-duration="1400"] [data-aos], [data-aos][data-aos][data-aos-duration="1400"] { -webkit-transition-duration: 1400ms; -o-transition-duration: 1400ms; transition-duration: 1400ms; } body[data-aos-delay="1400"] [data-aos], [data-aos][data-aos][data-aos-delay="1400"] { -webkit-transition-delay: 0s; -o-transition-delay: 0s; transition-delay: 0s; } body[data-aos-delay="1400"] [data-aos].aos-animate, [data-aos][data-aos][data-aos-delay="1400"].aos-animate { -webkit-transition-delay: 1400ms; -o-transition-delay: 1400ms; transition-delay: 1400ms; } body[data-aos-duration="1450"] [data-aos], [data-aos][data-aos][data-aos-duration="1450"] { -webkit-transition-duration: 1450ms; -o-transition-duration: 1450ms; transition-duration: 1450ms; } body[data-aos-delay="1450"] [data-aos], [data-aos][data-aos][data-aos-delay="1450"] { -webkit-transition-delay: 0s; -o-transition-delay: 0s; transition-delay: 0s; } body[data-aos-delay="1450"] [data-aos].aos-animate, [data-aos][data-aos][data-aos-delay="1450"].aos-animate { -webkit-transition-delay: 1450ms; -o-transition-delay: 1450ms; transition-delay: 1450ms; } body[data-aos-duration="1500"] [data-aos], [data-aos][data-aos][data-aos-duration="1500"] { -webkit-transition-duration: 1500ms; -o-transition-duration: 1500ms; transition-duration: 1500ms; } body[data-aos-delay="1500"] [data-aos], [data-aos][data-aos][data-aos-delay="1500"] { -webkit-transition-delay: 0s; -o-transition-delay: 0s; transition-delay: 0s; } body[data-aos-delay="1500"] [data-aos].aos-animate, [data-aos][data-aos][data-aos-delay="1500"].aos-animate { -webkit-transition-delay: 1500ms; -o-transition-delay: 1500ms; transition-delay: 1500ms; } body[data-aos-duration="1550"] [data-aos], [data-aos][data-aos][data-aos-duration="1550"] { -webkit-transition-duration: 1550ms; -o-transition-duration: 1550ms; transition-duration: 1550ms; } body[data-aos-delay="1550"] [data-aos], [data-aos][data-aos][data-aos-delay="1550"] { -webkit-transition-delay: 0s; -o-transition-delay: 0s; transition-delay: 0s; } body[data-aos-delay="1550"] [data-aos].aos-animate, [data-aos][data-aos][data-aos-delay="1550"].aos-animate { -webkit-transition-delay: 1550ms; -o-transition-delay: 1550ms; transition-delay: 1550ms; } body[data-aos-duration="1600"] [data-aos], [data-aos][data-aos][data-aos-duration="1600"] { -webkit-transition-duration: 1600ms; -o-transition-duration: 1600ms; transition-duration: 1600ms; } body[data-aos-delay="1600"] [data-aos], [data-aos][data-aos][data-aos-delay="1600"] { -webkit-transition-delay: 0s; -o-transition-delay: 0s; transition-delay: 0s; } body[data-aos-delay="1600"] [data-aos].aos-animate, [data-aos][data-aos][data-aos-delay="1600"].aos-animate { -webkit-transition-delay: 1600ms; -o-transition-delay: 1600ms; transition-delay: 1600ms; } body[data-aos-duration="1650"] [data-aos], [data-aos][data-aos][data-aos-duration="1650"] { -webkit-transition-duration: 1650ms; -o-transition-duration: 1650ms; transition-duration: 1650ms; } body[data-aos-delay="1650"] [data-aos], [data-aos][data-aos][data-aos-delay="1650"] { -webkit-transition-delay: 0s; -o-transition-delay: 0s; transition-delay: 0s; } body[data-aos-delay="1650"] [data-aos].aos-animate, [data-aos][data-aos][data-aos-delay="1650"].aos-animate { -webkit-transition-delay: 1650ms; -o-transition-delay: 1650ms; transition-delay: 1650ms; } body[data-aos-duration="1700"] [data-aos], [data-aos][data-aos][data-aos-duration="1700"] { -webkit-transition-duration: 1700ms; -o-transition-duration: 1700ms; transition-duration: 1700ms; } body[data-aos-delay="1700"] [data-aos], [data-aos][data-aos][data-aos-delay="1700"] { -webkit-transition-delay: 0s; -o-transition-delay: 0s; transition-delay: 0s; } body[data-aos-delay="1700"] [data-aos].aos-animate, [data-aos][data-aos][data-aos-delay="1700"].aos-animate { -webkit-transition-delay: 1700ms; -o-transition-delay: 1700ms; transition-delay: 1700ms; } body[data-aos-duration="1750"] [data-aos], [data-aos][data-aos][data-aos-duration="1750"] { -webkit-transition-duration: 1750ms; -o-transition-duration: 1750ms; transition-duration: 1750ms; } body[data-aos-delay="1750"] [data-aos], [data-aos][data-aos][data-aos-delay="1750"] { -webkit-transition-delay: 0s; -o-transition-delay: 0s; transition-delay: 0s; } body[data-aos-delay="1750"] [data-aos].aos-animate, [data-aos][data-aos][data-aos-delay="1750"].aos-animate { -webkit-transition-delay: 1750ms; -o-transition-delay: 1750ms; transition-delay: 1750ms; } body[data-aos-duration="1800"] [data-aos], [data-aos][data-aos][data-aos-duration="1800"] { -webkit-transition-duration: 1800ms; -o-transition-duration: 1800ms; transition-duration: 1800ms; } body[data-aos-delay="1800"] [data-aos], [data-aos][data-aos][data-aos-delay="1800"] { -webkit-transition-delay: 0s; -o-transition-delay: 0s; transition-delay: 0s; } body[data-aos-delay="1800"] [data-aos].aos-animate, [data-aos][data-aos][data-aos-delay="1800"].aos-animate { -webkit-transition-delay: 1800ms; -o-transition-delay: 1800ms; transition-delay: 1800ms; } body[data-aos-duration="1850"] [data-aos], [data-aos][data-aos][data-aos-duration="1850"] { -webkit-transition-duration: 1850ms; -o-transition-duration: 1850ms; transition-duration: 1850ms; } body[data-aos-delay="1850"] [data-aos], [data-aos][data-aos][data-aos-delay="1850"] { -webkit-transition-delay: 0s; -o-transition-delay: 0s; transition-delay: 0s; } body[data-aos-delay="1850"] [data-aos].aos-animate, [data-aos][data-aos][data-aos-delay="1850"].aos-animate { -webkit-transition-delay: 1850ms; -o-transition-delay: 1850ms; transition-delay: 1850ms; } body[data-aos-duration="1900"] [data-aos], [data-aos][data-aos][data-aos-duration="1900"] { -webkit-transition-duration: 1900ms; -o-transition-duration: 1900ms; transition-duration: 1900ms; } body[data-aos-delay="1900"] [data-aos], [data-aos][data-aos][data-aos-delay="1900"] { -webkit-transition-delay: 0s; -o-transition-delay: 0s; transition-delay: 0s; } body[data-aos-delay="1900"] [data-aos].aos-animate, [data-aos][data-aos][data-aos-delay="1900"].aos-animate { -webkit-transition-delay: 1900ms; -o-transition-delay: 1900ms; transition-delay: 1900ms; } body[data-aos-duration="1950"] [data-aos], [data-aos][data-aos][data-aos-duration="1950"] { -webkit-transition-duration: 1950ms; -o-transition-duration: 1950ms; transition-duration: 1950ms; } body[data-aos-delay="1950"] [data-aos], [data-aos][data-aos][data-aos-delay="1950"] { -webkit-transition-delay: 0s; -o-transition-delay: 0s; transition-delay: 0s; } body[data-aos-delay="1950"] [data-aos].aos-animate, [data-aos][data-aos][data-aos-delay="1950"].aos-animate { -webkit-transition-delay: 1950ms; -o-transition-delay: 1950ms; transition-delay: 1950ms; } body[data-aos-duration="2000"] [data-aos], [data-aos][data-aos][data-aos-duration="2000"] { -webkit-transition-duration: 2000ms; -o-transition-duration: 2000ms; transition-duration: 2000ms; } body[data-aos-delay="2000"] [data-aos], [data-aos][data-aos][data-aos-delay="2000"] { -webkit-transition-delay: 0s; -o-transition-delay: 0s; transition-delay: 0s; } body[data-aos-delay="2000"] [data-aos].aos-animate, [data-aos][data-aos][data-aos-delay="2000"].aos-animate { -webkit-transition-delay: 2000ms; -o-transition-delay: 2000ms; transition-delay: 2000ms; } body[data-aos-duration="2050"] [data-aos], [data-aos][data-aos][data-aos-duration="2050"] { -webkit-transition-duration: 2050ms; -o-transition-duration: 2050ms; transition-duration: 2050ms; } body[data-aos-delay="2050"] [data-aos], [data-aos][data-aos][data-aos-delay="2050"] { -webkit-transition-delay: 0s; -o-transition-delay: 0s; transition-delay: 0s; } body[data-aos-delay="2050"] [data-aos].aos-animate, [data-aos][data-aos][data-aos-delay="2050"].aos-animate { -webkit-transition-delay: 2050ms; -o-transition-delay: 2050ms; transition-delay: 2050ms; } body[data-aos-duration="2100"] [data-aos], [data-aos][data-aos][data-aos-duration="2100"] { -webkit-transition-duration: 2100ms; -o-transition-duration: 2100ms; transition-duration: 2100ms; } body[data-aos-delay="2100"] [data-aos], [data-aos][data-aos][data-aos-delay="2100"] { -webkit-transition-delay: 0s; -o-transition-delay: 0s; transition-delay: 0s; } body[data-aos-delay="2100"] [data-aos].aos-animate, [data-aos][data-aos][data-aos-delay="2100"].aos-animate { -webkit-transition-delay: 2100ms; -o-transition-delay: 2100ms; transition-delay: 2100ms; } body[data-aos-duration="2150"] [data-aos], [data-aos][data-aos][data-aos-duration="2150"] { -webkit-transition-duration: 2150ms; -o-transition-duration: 2150ms; transition-duration: 2150ms; } body[data-aos-delay="2150"] [data-aos], [data-aos][data-aos][data-aos-delay="2150"] { -webkit-transition-delay: 0s; -o-transition-delay: 0s; transition-delay: 0s; } body[data-aos-delay="2150"] [data-aos].aos-animate, [data-aos][data-aos][data-aos-delay="2150"].aos-animate { -webkit-transition-delay: 2150ms; -o-transition-delay: 2150ms; transition-delay: 2150ms; } body[data-aos-duration="2200"] [data-aos], [data-aos][data-aos][data-aos-duration="2200"] { -webkit-transition-duration: 2200ms; -o-transition-duration: 2200ms; transition-duration: 2200ms; } body[data-aos-delay="2200"] [data-aos], [data-aos][data-aos][data-aos-delay="2200"] { -webkit-transition-delay: 0s; -o-transition-delay: 0s; transition-delay: 0s; } body[data-aos-delay="2200"] [data-aos].aos-animate, [data-aos][data-aos][data-aos-delay="2200"].aos-animate { -webkit-transition-delay: 2200ms; -o-transition-delay: 2200ms; transition-delay: 2200ms; } body[data-aos-duration="2250"] [data-aos], [data-aos][data-aos][data-aos-duration="2250"] { -webkit-transition-duration: 2250ms; -o-transition-duration: 2250ms; transition-duration: 2250ms; } body[data-aos-delay="2250"] [data-aos], [data-aos][data-aos][data-aos-delay="2250"] { -webkit-transition-delay: 0s; -o-transition-delay: 0s; transition-delay: 0s; } body[data-aos-delay="2250"] [data-aos].aos-animate, [data-aos][data-aos][data-aos-delay="2250"].aos-animate { -webkit-transition-delay: 2250ms; -o-transition-delay: 2250ms; transition-delay: 2250ms; } body[data-aos-duration="2300"] [data-aos], [data-aos][data-aos][data-aos-duration="2300"] { -webkit-transition-duration: 2300ms; -o-transition-duration: 2300ms; transition-duration: 2300ms; } body[data-aos-delay="2300"] [data-aos], [data-aos][data-aos][data-aos-delay="2300"] { -webkit-transition-delay: 0s; -o-transition-delay: 0s; transition-delay: 0s; } body[data-aos-delay="2300"] [data-aos].aos-animate, [data-aos][data-aos][data-aos-delay="2300"].aos-animate { -webkit-transition-delay: 2300ms; -o-transition-delay: 2300ms; transition-delay: 2300ms; } body[data-aos-duration="2350"] [data-aos], [data-aos][data-aos][data-aos-duration="2350"] { -webkit-transition-duration: 2350ms; -o-transition-duration: 2350ms; transition-duration: 2350ms; } body[data-aos-delay="2350"] [data-aos], [data-aos][data-aos][data-aos-delay="2350"] { -webkit-transition-delay: 0s; -o-transition-delay: 0s; transition-delay: 0s; } body[data-aos-delay="2350"] [data-aos].aos-animate, [data-aos][data-aos][data-aos-delay="2350"].aos-animate { -webkit-transition-delay: 2350ms; -o-transition-delay: 2350ms; transition-delay: 2350ms; } body[data-aos-duration="2400"] [data-aos], [data-aos][data-aos][data-aos-duration="2400"] { -webkit-transition-duration: 2400ms; -o-transition-duration: 2400ms; transition-duration: 2400ms; } body[data-aos-delay="2400"] [data-aos], [data-aos][data-aos][data-aos-delay="2400"] { -webkit-transition-delay: 0s; -o-transition-delay: 0s; transition-delay: 0s; } body[data-aos-delay="2400"] [data-aos].aos-animate, [data-aos][data-aos][data-aos-delay="2400"].aos-animate { -webkit-transition-delay: 2400ms; -o-transition-delay: 2400ms; transition-delay: 2400ms; } body[data-aos-duration="2450"] [data-aos], [data-aos][data-aos][data-aos-duration="2450"] { -webkit-transition-duration: 2450ms; -o-transition-duration: 2450ms; transition-duration: 2450ms; } body[data-aos-delay="2450"] [data-aos], [data-aos][data-aos][data-aos-delay="2450"] { -webkit-transition-delay: 0s; -o-transition-delay: 0s; transition-delay: 0s; } body[data-aos-delay="2450"] [data-aos].aos-animate, [data-aos][data-aos][data-aos-delay="2450"].aos-animate { -webkit-transition-delay: 2450ms; -o-transition-delay: 2450ms; transition-delay: 2450ms; } body[data-aos-duration="2500"] [data-aos], [data-aos][data-aos][data-aos-duration="2500"] { -webkit-transition-duration: 2500ms; -o-transition-duration: 2500ms; transition-duration: 2500ms; } body[data-aos-delay="2500"] [data-aos], [data-aos][data-aos][data-aos-delay="2500"] { -webkit-transition-delay: 0s; -o-transition-delay: 0s; transition-delay: 0s; } body[data-aos-delay="2500"] [data-aos].aos-animate, [data-aos][data-aos][data-aos-delay="2500"].aos-animate { -webkit-transition-delay: 2500ms; -o-transition-delay: 2500ms; transition-delay: 2500ms; } body[data-aos-duration="2550"] [data-aos], [data-aos][data-aos][data-aos-duration="2550"] { -webkit-transition-duration: 2550ms; -o-transition-duration: 2550ms; transition-duration: 2550ms; } body[data-aos-delay="2550"] [data-aos], [data-aos][data-aos][data-aos-delay="2550"] { -webkit-transition-delay: 0s; -o-transition-delay: 0s; transition-delay: 0s; } body[data-aos-delay="2550"] [data-aos].aos-animate, [data-aos][data-aos][data-aos-delay="2550"].aos-animate { -webkit-transition-delay: 2550ms; -o-transition-delay: 2550ms; transition-delay: 2550ms; } body[data-aos-duration="2600"] [data-aos], [data-aos][data-aos][data-aos-duration="2600"] { -webkit-transition-duration: 2600ms; -o-transition-duration: 2600ms; transition-duration: 2600ms; } body[data-aos-delay="2600"] [data-aos], [data-aos][data-aos][data-aos-delay="2600"] { -webkit-transition-delay: 0s; -o-transition-delay: 0s; transition-delay: 0s; } body[data-aos-delay="2600"] [data-aos].aos-animate, [data-aos][data-aos][data-aos-delay="2600"].aos-animate { -webkit-transition-delay: 2600ms; -o-transition-delay: 2600ms; transition-delay: 2600ms; } body[data-aos-duration="2650"] [data-aos], [data-aos][data-aos][data-aos-duration="2650"] { -webkit-transition-duration: 2650ms; -o-transition-duration: 2650ms; transition-duration: 2650ms; } body[data-aos-delay="2650"] [data-aos], [data-aos][data-aos][data-aos-delay="2650"] { -webkit-transition-delay: 0s; -o-transition-delay: 0s; transition-delay: 0s; } body[data-aos-delay="2650"] [data-aos].aos-animate, [data-aos][data-aos][data-aos-delay="2650"].aos-animate { -webkit-transition-delay: 2650ms; -o-transition-delay: 2650ms; transition-delay: 2650ms; } body[data-aos-duration="2700"] [data-aos], [data-aos][data-aos][data-aos-duration="2700"] { -webkit-transition-duration: 2700ms; -o-transition-duration: 2700ms; transition-duration: 2700ms; } body[data-aos-delay="2700"] [data-aos], [data-aos][data-aos][data-aos-delay="2700"] { -webkit-transition-delay: 0s; -o-transition-delay: 0s; transition-delay: 0s; } body[data-aos-delay="2700"] [data-aos].aos-animate, [data-aos][data-aos][data-aos-delay="2700"].aos-animate { -webkit-transition-delay: 2700ms; -o-transition-delay: 2700ms; transition-delay: 2700ms; } body[data-aos-duration="2750"] [data-aos], [data-aos][data-aos][data-aos-duration="2750"] { -webkit-transition-duration: 2750ms; -o-transition-duration: 2750ms; transition-duration: 2750ms; } body[data-aos-delay="2750"] [data-aos], [data-aos][data-aos][data-aos-delay="2750"] { -webkit-transition-delay: 0s; -o-transition-delay: 0s; transition-delay: 0s; } body[data-aos-delay="2750"] [data-aos].aos-animate, [data-aos][data-aos][data-aos-delay="2750"].aos-animate { -webkit-transition-delay: 2750ms; -o-transition-delay: 2750ms; transition-delay: 2750ms; } body[data-aos-duration="2800"] [data-aos], [data-aos][data-aos][data-aos-duration="2800"] { -webkit-transition-duration: 2800ms; -o-transition-duration: 2800ms; transition-duration: 2800ms; } body[data-aos-delay="2800"] [data-aos], [data-aos][data-aos][data-aos-delay="2800"] { -webkit-transition-delay: 0s; -o-transition-delay: 0s; transition-delay: 0s; } body[data-aos-delay="2800"] [data-aos].aos-animate, [data-aos][data-aos][data-aos-delay="2800"].aos-animate { -webkit-transition-delay: 2800ms; -o-transition-delay: 2800ms; transition-delay: 2800ms; } body[data-aos-duration="2850"] [data-aos], [data-aos][data-aos][data-aos-duration="2850"] { -webkit-transition-duration: 2850ms; -o-transition-duration: 2850ms; transition-duration: 2850ms; } body[data-aos-delay="2850"] [data-aos], [data-aos][data-aos][data-aos-delay="2850"] { -webkit-transition-delay: 0s; -o-transition-delay: 0s; transition-delay: 0s; } body[data-aos-delay="2850"] [data-aos].aos-animate, [data-aos][data-aos][data-aos-delay="2850"].aos-animate { -webkit-transition-delay: 2850ms; -o-transition-delay: 2850ms; transition-delay: 2850ms; } body[data-aos-duration="2900"] [data-aos], [data-aos][data-aos][data-aos-duration="2900"] { -webkit-transition-duration: 2900ms; -o-transition-duration: 2900ms; transition-duration: 2900ms; } body[data-aos-delay="2900"] [data-aos], [data-aos][data-aos][data-aos-delay="2900"] { -webkit-transition-delay: 0s; -o-transition-delay: 0s; transition-delay: 0s; } body[data-aos-delay="2900"] [data-aos].aos-animate, [data-aos][data-aos][data-aos-delay="2900"].aos-animate { -webkit-transition-delay: 2900ms; -o-transition-delay: 2900ms; transition-delay: 2900ms; } body[data-aos-duration="2950"] [data-aos], [data-aos][data-aos][data-aos-duration="2950"] { -webkit-transition-duration: 2950ms; -o-transition-duration: 2950ms; transition-duration: 2950ms; } body[data-aos-delay="2950"] [data-aos], [data-aos][data-aos][data-aos-delay="2950"] { -webkit-transition-delay: 0s; -o-transition-delay: 0s; transition-delay: 0s; } body[data-aos-delay="2950"] [data-aos].aos-animate, [data-aos][data-aos][data-aos-delay="2950"].aos-animate { -webkit-transition-delay: 2950ms; -o-transition-delay: 2950ms; transition-delay: 2950ms; } body[data-aos-duration="3000"] [data-aos], [data-aos][data-aos][data-aos-duration="3000"] { -webkit-transition-duration: 3000ms; -o-transition-duration: 3000ms; transition-duration: 3000ms; } body[data-aos-delay="3000"] [data-aos], [data-aos][data-aos][data-aos-delay="3000"] { -webkit-transition-delay: 0s; -o-transition-delay: 0s; transition-delay: 0s; } body[data-aos-delay="3000"] [data-aos].aos-animate, [data-aos][data-aos][data-aos-delay="3000"].aos-animate { -webkit-transition-delay: 3000ms; -o-transition-delay: 3000ms; transition-delay: 3000ms; } [data-aos] { pointer-events: none; } [data-aos].aos-animate { pointer-events: auto; } body[data-aos-easing=linear] [data-aos], [data-aos][data-aos][data-aos-easing=linear] { -webkit-transition-timing-function: cubic-bezier(0.25, 0.25, 0.75, 0.75); -o-transition-timing-function: cubic-bezier(0.25, 0.25, 0.75, 0.75); transition-timing-function: cubic-bezier(0.25, 0.25, 0.75, 0.75); } body[data-aos-easing=ease] [data-aos], [data-aos][data-aos][data-aos-easing=ease] { -webkit-transition-timing-function: cubic-bezier(0.25, 0.1, 0.25, 1); -o-transition-timing-function: cubic-bezier(0.25, 0.1, 0.25, 1); transition-timing-function: cubic-bezier(0.25, 0.1, 0.25, 1); } body[data-aos-easing=ease-in] [data-aos], [data-aos][data-aos][data-aos-easing=ease-in] { -webkit-transition-timing-function: cubic-bezier(0.42, 0, 1, 1); -o-transition-timing-function: cubic-bezier(0.42, 0, 1, 1); transition-timing-function: cubic-bezier(0.42, 0, 1, 1); } body[data-aos-easing=ease-out] [data-aos], [data-aos][data-aos][data-aos-easing=ease-out] { -webkit-transition-timing-function: cubic-bezier(0, 0, 0.58, 1); -o-transition-timing-function: cubic-bezier(0, 0, 0.58, 1); transition-timing-function: cubic-bezier(0, 0, 0.58, 1); } body[data-aos-easing=ease-in-out] [data-aos], [data-aos][data-aos][data-aos-easing=ease-in-out] { -webkit-transition-timing-function: cubic-bezier(0.42, 0, 0.58, 1); -o-transition-timing-function: cubic-bezier(0.42, 0, 0.58, 1); transition-timing-function: cubic-bezier(0.42, 0, 0.58, 1); } body[data-aos-easing=ease-in-back] [data-aos], [data-aos][data-aos][data-aos-easing=ease-in-back] { -webkit-transition-timing-function: cubic-bezier(0.6, -0.28, 0.735, 0.045); -o-transition-timing-function: cubic-bezier(0.6, -0.28, 0.735, 0.045); transition-timing-function: cubic-bezier(0.6, -0.28, 0.735, 0.045); } body[data-aos-easing=ease-out-back] [data-aos], [data-aos][data-aos][data-aos-easing=ease-out-back] { -webkit-transition-timing-function: cubic-bezier(0.175, 0.885, 0.32, 1.275); -o-transition-timing-function: cubic-bezier(0.175, 0.885, 0.32, 1.275); transition-timing-function: cubic-bezier(0.175, 0.885, 0.32, 1.275); } body[data-aos-easing=ease-in-out-back] [data-aos], [data-aos][data-aos][data-aos-easing=ease-in-out-back] { -webkit-transition-timing-function: cubic-bezier(0.68, -0.55, 0.265, 1.55); -o-transition-timing-function: cubic-bezier(0.68, -0.55, 0.265, 1.55); transition-timing-function: cubic-bezier(0.68, -0.55, 0.265, 1.55); } body[data-aos-easing=ease-in-sine] [data-aos], [data-aos][data-aos][data-aos-easing=ease-in-sine] { -webkit-transition-timing-function: cubic-bezier(0.47, 0, 0.745, 0.715); -o-transition-timing-function: cubic-bezier(0.47, 0, 0.745, 0.715); transition-timing-function: cubic-bezier(0.47, 0, 0.745, 0.715); } body[data-aos-easing=ease-out-sine] [data-aos], [data-aos][data-aos][data-aos-easing=ease-out-sine] { -webkit-transition-timing-function: cubic-bezier(0.39, 0.575, 0.565, 1); -o-transition-timing-function: cubic-bezier(0.39, 0.575, 0.565, 1); transition-timing-function: cubic-bezier(0.39, 0.575, 0.565, 1); } body[data-aos-easing=ease-in-out-sine] [data-aos], [data-aos][data-aos][data-aos-easing=ease-in-out-sine] { -webkit-transition-timing-function: cubic-bezier(0.445, 0.05, 0.55, 0.95); -o-transition-timing-function: cubic-bezier(0.445, 0.05, 0.55, 0.95); transition-timing-function: cubic-bezier(0.445, 0.05, 0.55, 0.95); } body[data-aos-easing=ease-in-quad] [data-aos], [data-aos][data-aos][data-aos-easing=ease-in-quad] { -webkit-transition-timing-function: cubic-bezier(0.55, 0.085, 0.68, 0.53); -o-transition-timing-function: cubic-bezier(0.55, 0.085, 0.68, 0.53); transition-timing-function: cubic-bezier(0.55, 0.085, 0.68, 0.53); } body[data-aos-easing=ease-out-quad] [data-aos], [data-aos][data-aos][data-aos-easing=ease-out-quad] { -webkit-transition-timing-function: cubic-bezier(0.25, 0.46, 0.45, 0.94); -o-transition-timing-function: cubic-bezier(0.25, 0.46, 0.45, 0.94); transition-timing-function: cubic-bezier(0.25, 0.46, 0.45, 0.94); } body[data-aos-easing=ease-in-out-quad] [data-aos], [data-aos][data-aos][data-aos-easing=ease-in-out-quad] { -webkit-transition-timing-function: cubic-bezier(0.455, 0.03, 0.515, 0.955); -o-transition-timing-function: cubic-bezier(0.455, 0.03, 0.515, 0.955); transition-timing-function: cubic-bezier(0.455, 0.03, 0.515, 0.955); } body[data-aos-easing=ease-in-cubic] [data-aos], [data-aos][data-aos][data-aos-easing=ease-in-cubic] { -webkit-transition-timing-function: cubic-bezier(0.55, 0.085, 0.68, 0.53); -o-transition-timing-function: cubic-bezier(0.55, 0.085, 0.68, 0.53); transition-timing-function: cubic-bezier(0.55, 0.085, 0.68, 0.53); } body[data-aos-easing=ease-out-cubic] [data-aos], [data-aos][data-aos][data-aos-easing=ease-out-cubic] { -webkit-transition-timing-function: cubic-bezier(0.25, 0.46, 0.45, 0.94); -o-transition-timing-function: cubic-bezier(0.25, 0.46, 0.45, 0.94); transition-timing-function: cubic-bezier(0.25, 0.46, 0.45, 0.94); } body[data-aos-easing=ease-in-out-cubic] [data-aos], [data-aos][data-aos][data-aos-easing=ease-in-out-cubic] { -webkit-transition-timing-function: cubic-bezier(0.455, 0.03, 0.515, 0.955); -o-transition-timing-function: cubic-bezier(0.455, 0.03, 0.515, 0.955); transition-timing-function: cubic-bezier(0.455, 0.03, 0.515, 0.955); } body[data-aos-easing=ease-in-quart] [data-aos], [data-aos][data-aos][data-aos-easing=ease-in-quart] { -webkit-transition-timing-function: cubic-bezier(0.55, 0.085, 0.68, 0.53); -o-transition-timing-function: cubic-bezier(0.55, 0.085, 0.68, 0.53); transition-timing-function: cubic-bezier(0.55, 0.085, 0.68, 0.53); } body[data-aos-easing=ease-out-quart] [data-aos], [data-aos][data-aos][data-aos-easing=ease-out-quart] { -webkit-transition-timing-function: cubic-bezier(0.25, 0.46, 0.45, 0.94); -o-transition-timing-function: cubic-bezier(0.25, 0.46, 0.45, 0.94); transition-timing-function: cubic-bezier(0.25, 0.46, 0.45, 0.94); } body[data-aos-easing=ease-in-out-quart] [data-aos], [data-aos][data-aos][data-aos-easing=ease-in-out-quart] { -webkit-transition-timing-function: cubic-bezier(0.455, 0.03, 0.515, 0.955); -o-transition-timing-function: cubic-bezier(0.455, 0.03, 0.515, 0.955); transition-timing-function: cubic-bezier(0.455, 0.03, 0.515, 0.955); } @media screen { html:not(.no-js) { /** * Fade animations: * fade * fade-up, fade-down, fade-left, fade-right * fade-up-right, fade-up-left, fade-down-right, fade-down-left */ /** * Zoom animations: * zoom-in, zoom-in-up, zoom-in-down, zoom-in-left, zoom-in-right * zoom-out, zoom-out-up, zoom-out-down, zoom-out-left, zoom-out-right */ /** * Slide animations */ /** * Flip animations: * flip-left, flip-right, flip-up, flip-down */ } html:not(.no-js) [data-aos^=fade][data-aos^=fade] { opacity: 0; -webkit-transition-property: opacity, -webkit-transform; transition-property: opacity, -webkit-transform; -o-transition-property: opacity, transform; transition-property: opacity, transform; transition-property: opacity, transform, -webkit-transform; } html:not(.no-js) [data-aos^=fade][data-aos^=fade].aos-animate { opacity: 1; -webkit-transform: none; -ms-transform: none; transform: none; } html:not(.no-js) [data-aos=fade-up] { -webkit-transform: translate3d(0, 100px, 0); transform: translate3d(0, 100px, 0); } html:not(.no-js) [data-aos=fade-down] { -webkit-transform: translate3d(0, -100px, 0); transform: translate3d(0, -100px, 0); } html:not(.no-js) [data-aos=fade-right] { -webkit-transform: translate3d(-100px, 0, 0); transform: translate3d(-100px, 0, 0); } html:not(.no-js) [data-aos=fade-left] { -webkit-transform: translate3d(100px, 0, 0); transform: translate3d(100px, 0, 0); } html:not(.no-js) [data-aos=fade-up-right] { -webkit-transform: translate3d(-100px, 100px, 0); transform: translate3d(-100px, 100px, 0); } html:not(.no-js) [data-aos=fade-up-left] { -webkit-transform: translate3d(100px, 100px, 0); transform: translate3d(100px, 100px, 0); } html:not(.no-js) [data-aos=fade-down-right] { -webkit-transform: translate3d(-100px, -100px, 0); transform: translate3d(-100px, -100px, 0); } html:not(.no-js) [data-aos=fade-down-left] { -webkit-transform: translate3d(100px, -100px, 0); transform: translate3d(100px, -100px, 0); } html:not(.no-js) [data-aos^=zoom][data-aos^=zoom] { opacity: 0; -webkit-transition-property: opacity, -webkit-transform; transition-property: opacity, -webkit-transform; -o-transition-property: opacity, transform; transition-property: opacity, transform; transition-property: opacity, transform, -webkit-transform; } html:not(.no-js) [data-aos^=zoom][data-aos^=zoom].aos-animate { opacity: 1; -webkit-transform: translate3d(0, 0, 0) scale(1); transform: translate3d(0, 0, 0) scale(1); } html:not(.no-js) [data-aos=zoom-in] { -webkit-transform: scale(0.6); -ms-transform: scale(0.6); transform: scale(0.6); } html:not(.no-js) [data-aos=zoom-in-up] { -webkit-transform: translate3d(0, 100px, 0) scale(0.6); transform: translate3d(0, 100px, 0) scale(0.6); } html:not(.no-js) [data-aos=zoom-in-down] { -webkit-transform: translate3d(0, -100px, 0) scale(0.6); transform: translate3d(0, -100px, 0) scale(0.6); } html:not(.no-js) [data-aos=zoom-in-right] { -webkit-transform: translate3d(-100px, 0, 0) scale(0.6); transform: translate3d(-100px, 0, 0) scale(0.6); } html:not(.no-js) [data-aos=zoom-in-left] { -webkit-transform: translate3d(100px, 0, 0) scale(0.6); transform: translate3d(100px, 0, 0) scale(0.6); } html:not(.no-js) [data-aos=zoom-out] { -webkit-transform: scale(1.2); -ms-transform: scale(1.2); transform: scale(1.2); } html:not(.no-js) [data-aos=zoom-out-up] { -webkit-transform: translate3d(0, 100px, 0) scale(1.2); transform: translate3d(0, 100px, 0) scale(1.2); } html:not(.no-js) [data-aos=zoom-out-down] { -webkit-transform: translate3d(0, -100px, 0) scale(1.2); transform: translate3d(0, -100px, 0) scale(1.2); } html:not(.no-js) [data-aos=zoom-out-right] { -webkit-transform: translate3d(-100px, 0, 0) scale(1.2); transform: translate3d(-100px, 0, 0) scale(1.2); } html:not(.no-js) [data-aos=zoom-out-left] { -webkit-transform: translate3d(100px, 0, 0) scale(1.2); transform: translate3d(100px, 0, 0) scale(1.2); } html:not(.no-js) [data-aos^=slide][data-aos^=slide] { -webkit-transition-property: -webkit-transform; transition-property: -webkit-transform; -o-transition-property: transform; transition-property: transform; transition-property: transform, -webkit-transform; visibility: hidden; } html:not(.no-js) [data-aos^=slide][data-aos^=slide].aos-animate { visibility: visible; -webkit-transform: translate3d(0, 0, 0); transform: translate3d(0, 0, 0); } html:not(.no-js) [data-aos=slide-up] { -webkit-transform: translate3d(0, 100%, 0); transform: translate3d(0, 100%, 0); } html:not(.no-js) [data-aos=slide-down] { -webkit-transform: translate3d(0, -100%, 0); transform: translate3d(0, -100%, 0); } html:not(.no-js) [data-aos=slide-right] { -webkit-transform: translate3d(-100%, 0, 0); transform: translate3d(-100%, 0, 0); } html:not(.no-js) [data-aos=slide-left] { -webkit-transform: translate3d(100%, 0, 0); transform: translate3d(100%, 0, 0); } html:not(.no-js) [data-aos^=flip][data-aos^=flip] { -webkit-backface-visibility: hidden; backface-visibility: hidden; -webkit-transition-property: -webkit-transform; transition-property: -webkit-transform; -o-transition-property: transform; transition-property: transform; transition-property: transform, -webkit-transform; } html:not(.no-js) [data-aos=flip-left] { -webkit-transform: perspective(2500px) rotateY(-100deg); transform: perspective(2500px) rotateY(-100deg); } html:not(.no-js) [data-aos=flip-left].aos-animate { -webkit-transform: perspective(2500px) rotateY(0); transform: perspective(2500px) rotateY(0); } html:not(.no-js) [data-aos=flip-right] { -webkit-transform: perspective(2500px) rotateY(100deg); transform: perspective(2500px) rotateY(100deg); } html:not(.no-js) [data-aos=flip-right].aos-animate { -webkit-transform: perspective(2500px) rotateY(0); transform: perspective(2500px) rotateY(0); } html:not(.no-js) [data-aos=flip-up] { -webkit-transform: perspective(2500px) rotateX(-100deg); transform: perspective(2500px) rotateX(-100deg); } html:not(.no-js) [data-aos=flip-up].aos-animate { -webkit-transform: perspective(2500px) rotateX(0); transform: perspective(2500px) rotateX(0); } html:not(.no-js) [data-aos=flip-down] { -webkit-transform: perspective(2500px) rotateX(100deg); transform: perspective(2500px) rotateX(100deg); } html:not(.no-js) [data-aos=flip-down].aos-animate { -webkit-transform: perspective(2500px) rotateX(0); transform: perspective(2500px) rotateX(0); } } /*! * animate.css -http://daneden.me/animate * Version - 3.7.0 * Licensed under the MIT license - http://opensource.org/licenses/MIT * * Copyright (c) 2018 Daniel Eden */ @-webkit-keyframes bounce { from, 20%, 53%, 80%, to { -webkit-animation-timing-function: cubic-bezier(0.215, 0.61, 0.355, 1); animation-timing-function: cubic-bezier(0.215, 0.61, 0.355, 1); -webkit-transform: translate3d(0, 0, 0); transform: translate3d(0, 0, 0); } 40%, 43% { -webkit-animation-timing-function: cubic-bezier(0.755, 0.05, 0.855, 0.06); animation-timing-function: cubic-bezier(0.755, 0.05, 0.855, 0.06); -webkit-transform: translate3d(0, -30px, 0); transform: translate3d(0, -30px, 0); } 70% { -webkit-animation-timing-function: cubic-bezier(0.755, 0.05, 0.855, 0.06); animation-timing-function: cubic-bezier(0.755, 0.05, 0.855, 0.06); -webkit-transform: translate3d(0, -15px, 0); transform: translate3d(0, -15px, 0); } 90% { -webkit-transform: translate3d(0, -4px, 0); transform: translate3d(0, -4px, 0); } } @keyframes bounce { from, 20%, 53%, 80%, to { -webkit-animation-timing-function: cubic-bezier(0.215, 0.61, 0.355, 1); animation-timing-function: cubic-bezier(0.215, 0.61, 0.355, 1); -webkit-transform: translate3d(0, 0, 0); transform: translate3d(0, 0, 0); } 40%, 43% { -webkit-animation-timing-function: cubic-bezier(0.755, 0.05, 0.855, 0.06); animation-timing-function: cubic-bezier(0.755, 0.05, 0.855, 0.06); -webkit-transform: translate3d(0, -30px, 0); transform: translate3d(0, -30px, 0); } 70% { -webkit-animation-timing-function: cubic-bezier(0.755, 0.05, 0.855, 0.06); animation-timing-function: cubic-bezier(0.755, 0.05, 0.855, 0.06); -webkit-transform: translate3d(0, -15px, 0); transform: translate3d(0, -15px, 0); } 90% { -webkit-transform: translate3d(0, -4px, 0); transform: translate3d(0, -4px, 0); } } .bounce { -webkit-animation-name: bounce; animation-name: bounce; -webkit-transform-origin: center bottom; -ms-transform-origin: center bottom; transform-origin: center bottom; } @-webkit-keyframes flash { from, 50%, to { opacity: 1; } 25%, 75% { opacity: 0; } } @keyframes flash { from, 50%, to { opacity: 1; } 25%, 75% { opacity: 0; } } .flash { -webkit-animation-name: flash; animation-name: flash; } /* originally authored by Nick Pettit - https://github.com/nickpettit/glide */ @-webkit-keyframes pulse { from { -webkit-transform: scale3d(1, 1, 1); transform: scale3d(1, 1, 1); } 50% { -webkit-transform: scale3d(1.05, 1.05, 1.05); transform: scale3d(1.05, 1.05, 1.05); } to { -webkit-transform: scale3d(1, 1, 1); transform: scale3d(1, 1, 1); } } @keyframes pulse { from { -webkit-transform: scale3d(1, 1, 1); transform: scale3d(1, 1, 1); } 50% { -webkit-transform: scale3d(1.05, 1.05, 1.05); transform: scale3d(1.05, 1.05, 1.05); } to { -webkit-transform: scale3d(1, 1, 1); transform: scale3d(1, 1, 1); } } .pulse { -webkit-animation-name: pulse; animation-name: pulse; } @-webkit-keyframes rubberBand { from { -webkit-transform: scale3d(1, 1, 1); transform: scale3d(1, 1, 1); } 30% { -webkit-transform: scale3d(1.25, 0.75, 1); transform: scale3d(1.25, 0.75, 1); } 40% { -webkit-transform: scale3d(0.75, 1.25, 1); transform: scale3d(0.75, 1.25, 1); } 50% { -webkit-transform: scale3d(1.15, 0.85, 1); transform: scale3d(1.15, 0.85, 1); } 65% { -webkit-transform: scale3d(0.95, 1.05, 1); transform: scale3d(0.95, 1.05, 1); } 75% { -webkit-transform: scale3d(1.05, 0.95, 1); transform: scale3d(1.05, 0.95, 1); } to { -webkit-transform: scale3d(1, 1, 1); transform: scale3d(1, 1, 1); } } @keyframes rubberBand { from { -webkit-transform: scale3d(1, 1, 1); transform: scale3d(1, 1, 1); } 30% { -webkit-transform: scale3d(1.25, 0.75, 1); transform: scale3d(1.25, 0.75, 1); } 40% { -webkit-transform: scale3d(0.75, 1.25, 1); transform: scale3d(0.75, 1.25, 1); } 50% { -webkit-transform: scale3d(1.15, 0.85, 1); transform: scale3d(1.15, 0.85, 1); } 65% { -webkit-transform: scale3d(0.95, 1.05, 1); transform: scale3d(0.95, 1.05, 1); } 75% { -webkit-transform: scale3d(1.05, 0.95, 1); transform: scale3d(1.05, 0.95, 1); } to { -webkit-transform: scale3d(1, 1, 1); transform: scale3d(1, 1, 1); } } .rubberBand { -webkit-animation-name: rubberBand; animation-name: rubberBand; } @-webkit-keyframes shake { from, to { -webkit-transform: translate3d(0, 0, 0); transform: translate3d(0, 0, 0); } 10%, 30%, 50%, 70%, 90% { -webkit-transform: translate3d(-10px, 0, 0); transform: translate3d(-10px, 0, 0); } 20%, 40%, 60%, 80% { -webkit-transform: translate3d(10px, 0, 0); transform: translate3d(10px, 0, 0); } } @keyframes shake { from, to { -webkit-transform: translate3d(0, 0, 0); transform: translate3d(0, 0, 0); } 10%, 30%, 50%, 70%, 90% { -webkit-transform: translate3d(-10px, 0, 0); transform: translate3d(-10px, 0, 0); } 20%, 40%, 60%, 80% { -webkit-transform: translate3d(10px, 0, 0); transform: translate3d(10px, 0, 0); } } .shake { -webkit-animation-name: shake; animation-name: shake; } @-webkit-keyframes headShake { 0% { -webkit-transform: translateX(0); transform: translateX(0); } 6.5% { -webkit-transform: translateX(-6px) rotateY(-9deg); transform: translateX(-6px) rotateY(-9deg); } 18.5% { -webkit-transform: translateX(5px) rotateY(7deg); transform: translateX(5px) rotateY(7deg); } 31.5% { -webkit-transform: translateX(-3px) rotateY(-5deg); transform: translateX(-3px) rotateY(-5deg); } 43.5% { -webkit-transform: translateX(2px) rotateY(3deg); transform: translateX(2px) rotateY(3deg); } 50% { -webkit-transform: translateX(0); transform: translateX(0); } } @keyframes headShake { 0% { -webkit-transform: translateX(0); transform: translateX(0); } 6.5% { -webkit-transform: translateX(-6px) rotateY(-9deg); transform: translateX(-6px) rotateY(-9deg); } 18.5% { -webkit-transform: translateX(5px) rotateY(7deg); transform: translateX(5px) rotateY(7deg); } 31.5% { -webkit-transform: translateX(-3px) rotateY(-5deg); transform: translateX(-3px) rotateY(-5deg); } 43.5% { -webkit-transform: translateX(2px) rotateY(3deg); transform: translateX(2px) rotateY(3deg); } 50% { -webkit-transform: translateX(0); transform: translateX(0); } } .headShake { -webkit-animation-timing-function: ease-in-out; animation-timing-function: ease-in-out; -webkit-animation-name: headShake; animation-name: headShake; } @-webkit-keyframes swing { 20% { -webkit-transform: rotate3d(0, 0, 1, 15deg); transform: rotate3d(0, 0, 1, 15deg); } 40% { -webkit-transform: rotate3d(0, 0, 1, -10deg); transform: rotate3d(0, 0, 1, -10deg); } 60% { -webkit-transform: rotate3d(0, 0, 1, 5deg); transform: rotate3d(0, 0, 1, 5deg); } 80% { -webkit-transform: rotate3d(0, 0, 1, -5deg); transform: rotate3d(0, 0, 1, -5deg); } to { -webkit-transform: rotate3d(0, 0, 1, 0deg); transform: rotate3d(0, 0, 1, 0deg); } } @keyframes swing { 20% { -webkit-transform: rotate3d(0, 0, 1, 15deg); transform: rotate3d(0, 0, 1, 15deg); } 40% { -webkit-transform: rotate3d(0, 0, 1, -10deg); transform: rotate3d(0, 0, 1, -10deg); } 60% { -webkit-transform: rotate3d(0, 0, 1, 5deg); transform: rotate3d(0, 0, 1, 5deg); } 80% { -webkit-transform: rotate3d(0, 0, 1, -5deg); transform: rotate3d(0, 0, 1, -5deg); } to { -webkit-transform: rotate3d(0, 0, 1, 0deg); transform: rotate3d(0, 0, 1, 0deg); } } .swing { -webkit-transform-origin: top center; -ms-transform-origin: top center; transform-origin: top center; -webkit-animation-name: swing; animation-name: swing; } @-webkit-keyframes tada { from { -webkit-transform: scale3d(1, 1, 1); transform: scale3d(1, 1, 1); } 10%, 20% { -webkit-transform: scale3d(0.9, 0.9, 0.9) rotate3d(0, 0, 1, -3deg); transform: scale3d(0.9, 0.9, 0.9) rotate3d(0, 0, 1, -3deg); } 30%, 50%, 70%, 90% { -webkit-transform: scale3d(1.1, 1.1, 1.1) rotate3d(0, 0, 1, 3deg); transform: scale3d(1.1, 1.1, 1.1) rotate3d(0, 0, 1, 3deg); } 40%, 60%, 80% { -webkit-transform: scale3d(1.1, 1.1, 1.1) rotate3d(0, 0, 1, -3deg); transform: scale3d(1.1, 1.1, 1.1) rotate3d(0, 0, 1, -3deg); } to { -webkit-transform: scale3d(1, 1, 1); transform: scale3d(1, 1, 1); } } @keyframes tada { from { -webkit-transform: scale3d(1, 1, 1); transform: scale3d(1, 1, 1); } 10%, 20% { -webkit-transform: scale3d(0.9, 0.9, 0.9) rotate3d(0, 0, 1, -3deg); transform: scale3d(0.9, 0.9, 0.9) rotate3d(0, 0, 1, -3deg); } 30%, 50%, 70%, 90% { -webkit-transform: scale3d(1.1, 1.1, 1.1) rotate3d(0, 0, 1, 3deg); transform: scale3d(1.1, 1.1, 1.1) rotate3d(0, 0, 1, 3deg); } 40%, 60%, 80% { -webkit-transform: scale3d(1.1, 1.1, 1.1) rotate3d(0, 0, 1, -3deg); transform: scale3d(1.1, 1.1, 1.1) rotate3d(0, 0, 1, -3deg); } to { -webkit-transform: scale3d(1, 1, 1); transform: scale3d(1, 1, 1); } } .tada { -webkit-animation-name: tada; animation-name: tada; } /* originally authored by Nick Pettit - https://github.com/nickpettit/glide */ @-webkit-keyframes wobble { from { -webkit-transform: translate3d(0, 0, 0); transform: translate3d(0, 0, 0); } 15% { -webkit-transform: translate3d(-25%, 0, 0) rotate3d(0, 0, 1, -5deg); transform: translate3d(-25%, 0, 0) rotate3d(0, 0, 1, -5deg); } 30% { -webkit-transform: translate3d(20%, 0, 0) rotate3d(0, 0, 1, 3deg); transform: translate3d(20%, 0, 0) rotate3d(0, 0, 1, 3deg); } 45% { -webkit-transform: translate3d(-15%, 0, 0) rotate3d(0, 0, 1, -3deg); transform: translate3d(-15%, 0, 0) rotate3d(0, 0, 1, -3deg); } 60% { -webkit-transform: translate3d(10%, 0, 0) rotate3d(0, 0, 1, 2deg); transform: translate3d(10%, 0, 0) rotate3d(0, 0, 1, 2deg); } 75% { -webkit-transform: translate3d(-5%, 0, 0) rotate3d(0, 0, 1, -1deg); transform: translate3d(-5%, 0, 0) rotate3d(0, 0, 1, -1deg); } to { -webkit-transform: translate3d(0, 0, 0); transform: translate3d(0, 0, 0); } } @keyframes wobble { from { -webkit-transform: translate3d(0, 0, 0); transform: translate3d(0, 0, 0); } 15% { -webkit-transform: translate3d(-25%, 0, 0) rotate3d(0, 0, 1, -5deg); transform: translate3d(-25%, 0, 0) rotate3d(0, 0, 1, -5deg); } 30% { -webkit-transform: translate3d(20%, 0, 0) rotate3d(0, 0, 1, 3deg); transform: translate3d(20%, 0, 0) rotate3d(0, 0, 1, 3deg); } 45% { -webkit-transform: translate3d(-15%, 0, 0) rotate3d(0, 0, 1, -3deg); transform: translate3d(-15%, 0, 0) rotate3d(0, 0, 1, -3deg); } 60% { -webkit-transform: translate3d(10%, 0, 0) rotate3d(0, 0, 1, 2deg); transform: translate3d(10%, 0, 0) rotate3d(0, 0, 1, 2deg); } 75% { -webkit-transform: translate3d(-5%, 0, 0) rotate3d(0, 0, 1, -1deg); transform: translate3d(-5%, 0, 0) rotate3d(0, 0, 1, -1deg); } to { -webkit-transform: translate3d(0, 0, 0); transform: translate3d(0, 0, 0); } } .wobble { -webkit-animation-name: wobble; animation-name: wobble; } @-webkit-keyframes jello { from, 11.1%, to { -webkit-transform: translate3d(0, 0, 0); transform: translate3d(0, 0, 0); } 22.2% { -webkit-transform: skewX(-12.5deg) skewY(-12.5deg); transform: skewX(-12.5deg) skewY(-12.5deg); } 33.3% { -webkit-transform: skewX(6.25deg) skewY(6.25deg); transform: skewX(6.25deg) skewY(6.25deg); } 44.4% { -webkit-transform: skewX(-3.125deg) skewY(-3.125deg); transform: skewX(-3.125deg) skewY(-3.125deg); } 55.5% { -webkit-transform: skewX(1.5625deg) skewY(1.5625deg); transform: skewX(1.5625deg) skewY(1.5625deg); } 66.6% { -webkit-transform: skewX(-0.78125deg) skewY(-0.78125deg); transform: skewX(-0.78125deg) skewY(-0.78125deg); } 77.7% { -webkit-transform: skewX(0.390625deg) skewY(0.390625deg); transform: skewX(0.390625deg) skewY(0.390625deg); } 88.8% { -webkit-transform: skewX(-0.1953125deg) skewY(-0.1953125deg); transform: skewX(-0.1953125deg) skewY(-0.1953125deg); } } @keyframes jello { from, 11.1%, to { -webkit-transform: translate3d(0, 0, 0); transform: translate3d(0, 0, 0); } 22.2% { -webkit-transform: skewX(-12.5deg) skewY(-12.5deg); transform: skewX(-12.5deg) skewY(-12.5deg); } 33.3% { -webkit-transform: skewX(6.25deg) skewY(6.25deg); transform: skewX(6.25deg) skewY(6.25deg); } 44.4% { -webkit-transform: skewX(-3.125deg) skewY(-3.125deg); transform: skewX(-3.125deg) skewY(-3.125deg); } 55.5% { -webkit-transform: skewX(1.5625deg) skewY(1.5625deg); transform: skewX(1.5625deg) skewY(1.5625deg); } 66.6% { -webkit-transform: skewX(-0.78125deg) skewY(-0.78125deg); transform: skewX(-0.78125deg) skewY(-0.78125deg); } 77.7% { -webkit-transform: skewX(0.390625deg) skewY(0.390625deg); transform: skewX(0.390625deg) skewY(0.390625deg); } 88.8% { -webkit-transform: skewX(-0.1953125deg) skewY(-0.1953125deg); transform: skewX(-0.1953125deg) skewY(-0.1953125deg); } } .jello { -webkit-animation-name: jello; animation-name: jello; -webkit-transform-origin: center; -ms-transform-origin: center; transform-origin: center; } @-webkit-keyframes heartBeat { 0% { -webkit-transform: scale(1); transform: scale(1); } 14% { -webkit-transform: scale(1.3); transform: scale(1.3); } 28% { -webkit-transform: scale(1); transform: scale(1); } 42% { -webkit-transform: scale(1.3); transform: scale(1.3); } 70% { -webkit-transform: scale(1); transform: scale(1); } } @keyframes heartBeat { 0% { -webkit-transform: scale(1); transform: scale(1); } 14% { -webkit-transform: scale(1.3); transform: scale(1.3); } 28% { -webkit-transform: scale(1); transform: scale(1); } 42% { -webkit-transform: scale(1.3); transform: scale(1.3); } 70% { -webkit-transform: scale(1); transform: scale(1); } } .heartBeat { -webkit-animation-name: heartBeat; animation-name: heartBeat; -webkit-animation-duration: 1.3s; animation-duration: 1.3s; -webkit-animation-timing-function: ease-in-out; animation-timing-function: ease-in-out; } @-webkit-keyframes bounceIn { from, 20%, 40%, 60%, 80%, to { -webkit-animation-timing-function: cubic-bezier(0.215, 0.61, 0.355, 1); animation-timing-function: cubic-bezier(0.215, 0.61, 0.355, 1); } 0% { opacity: 0; -webkit-transform: scale3d(0.3, 0.3, 0.3); transform: scale3d(0.3, 0.3, 0.3); } 20% { -webkit-transform: scale3d(1.1, 1.1, 1.1); transform: scale3d(1.1, 1.1, 1.1); } 40% { -webkit-transform: scale3d(0.9, 0.9, 0.9); transform: scale3d(0.9, 0.9, 0.9); } 60% { opacity: 1; -webkit-transform: scale3d(1.03, 1.03, 1.03); transform: scale3d(1.03, 1.03, 1.03); } 80% { -webkit-transform: scale3d(0.97, 0.97, 0.97); transform: scale3d(0.97, 0.97, 0.97); } to { opacity: 1; -webkit-transform: scale3d(1, 1, 1); transform: scale3d(1, 1, 1); } } @keyframes bounceIn { from, 20%, 40%, 60%, 80%, to { -webkit-animation-timing-function: cubic-bezier(0.215, 0.61, 0.355, 1); animation-timing-function: cubic-bezier(0.215, 0.61, 0.355, 1); } 0% { opacity: 0; -webkit-transform: scale3d(0.3, 0.3, 0.3); transform: scale3d(0.3, 0.3, 0.3); } 20% { -webkit-transform: scale3d(1.1, 1.1, 1.1); transform: scale3d(1.1, 1.1, 1.1); } 40% { -webkit-transform: scale3d(0.9, 0.9, 0.9); transform: scale3d(0.9, 0.9, 0.9); } 60% { opacity: 1; -webkit-transform: scale3d(1.03, 1.03, 1.03); transform: scale3d(1.03, 1.03, 1.03); } 80% { -webkit-transform: scale3d(0.97, 0.97, 0.97); transform: scale3d(0.97, 0.97, 0.97); } to { opacity: 1; -webkit-transform: scale3d(1, 1, 1); transform: scale3d(1, 1, 1); } } .bounceIn { -webkit-animation-duration: 0.75s; animation-duration: 0.75s; -webkit-animation-name: bounceIn; animation-name: bounceIn; } @-webkit-keyframes bounceInDown { from, 60%, 75%, 90%, to { -webkit-animation-timing-function: cubic-bezier(0.215, 0.61, 0.355, 1); animation-timing-function: cubic-bezier(0.215, 0.61, 0.355, 1); } 0% { opacity: 0; -webkit-transform: translate3d(0, -3000px, 0); transform: translate3d(0, -3000px, 0); } 60% { opacity: 1; -webkit-transform: translate3d(0, 25px, 0); transform: translate3d(0, 25px, 0); } 75% { -webkit-transform: translate3d(0, -10px, 0); transform: translate3d(0, -10px, 0); } 90% { -webkit-transform: translate3d(0, 5px, 0); transform: translate3d(0, 5px, 0); } to { -webkit-transform: translate3d(0, 0, 0); transform: translate3d(0, 0, 0); } } @keyframes bounceInDown { from, 60%, 75%, 90%, to { -webkit-animation-timing-function: cubic-bezier(0.215, 0.61, 0.355, 1); animation-timing-function: cubic-bezier(0.215, 0.61, 0.355, 1); } 0% { opacity: 0; -webkit-transform: translate3d(0, -3000px, 0); transform: translate3d(0, -3000px, 0); } 60% { opacity: 1; -webkit-transform: translate3d(0, 25px, 0); transform: translate3d(0, 25px, 0); } 75% { -webkit-transform: translate3d(0, -10px, 0); transform: translate3d(0, -10px, 0); } 90% { -webkit-transform: translate3d(0, 5px, 0); transform: translate3d(0, 5px, 0); } to { -webkit-transform: translate3d(0, 0, 0); transform: translate3d(0, 0, 0); } } .bounceInDown { -webkit-animation-name: bounceInDown; animation-name: bounceInDown; } @-webkit-keyframes bounceInLeft { from, 60%, 75%, 90%, to { -webkit-animation-timing-function: cubic-bezier(0.215, 0.61, 0.355, 1); animation-timing-function: cubic-bezier(0.215, 0.61, 0.355, 1); } 0% { opacity: 0; -webkit-transform: translate3d(-3000px, 0, 0); transform: translate3d(-3000px, 0, 0); } 60% { opacity: 1; -webkit-transform: translate3d(25px, 0, 0); transform: translate3d(25px, 0, 0); } 75% { -webkit-transform: translate3d(-10px, 0, 0); transform: translate3d(-10px, 0, 0); } 90% { -webkit-transform: translate3d(5px, 0, 0); transform: translate3d(5px, 0, 0); } to { -webkit-transform: translate3d(0, 0, 0); transform: translate3d(0, 0, 0); } } @keyframes bounceInLeft { from, 60%, 75%, 90%, to { -webkit-animation-timing-function: cubic-bezier(0.215, 0.61, 0.355, 1); animation-timing-function: cubic-bezier(0.215, 0.61, 0.355, 1); } 0% { opacity: 0; -webkit-transform: translate3d(-3000px, 0, 0); transform: translate3d(-3000px, 0, 0); } 60% { opacity: 1; -webkit-transform: translate3d(25px, 0, 0); transform: translate3d(25px, 0, 0); } 75% { -webkit-transform: translate3d(-10px, 0, 0); transform: translate3d(-10px, 0, 0); } 90% { -webkit-transform: translate3d(5px, 0, 0); transform: translate3d(5px, 0, 0); } to { -webkit-transform: translate3d(0, 0, 0); transform: translate3d(0, 0, 0); } } .bounceInLeft { -webkit-animation-name: bounceInLeft; animation-name: bounceInLeft; } @-webkit-keyframes bounceInRight { from, 60%, 75%, 90%, to { -webkit-animation-timing-function: cubic-bezier(0.215, 0.61, 0.355, 1); animation-timing-function: cubic-bezier(0.215, 0.61, 0.355, 1); } from { opacity: 0; -webkit-transform: translate3d(3000px, 0, 0); transform: translate3d(3000px, 0, 0); } 60% { opacity: 1; -webkit-transform: translate3d(-25px, 0, 0); transform: translate3d(-25px, 0, 0); } 75% { -webkit-transform: translate3d(10px, 0, 0); transform: translate3d(10px, 0, 0); } 90% { -webkit-transform: translate3d(-5px, 0, 0); transform: translate3d(-5px, 0, 0); } to { -webkit-transform: translate3d(0, 0, 0); transform: translate3d(0, 0, 0); } } @keyframes bounceInRight { from, 60%, 75%, 90%, to { -webkit-animation-timing-function: cubic-bezier(0.215, 0.61, 0.355, 1); animation-timing-function: cubic-bezier(0.215, 0.61, 0.355, 1); } from { opacity: 0; -webkit-transform: translate3d(3000px, 0, 0); transform: translate3d(3000px, 0, 0); } 60% { opacity: 1; -webkit-transform: translate3d(-25px, 0, 0); transform: translate3d(-25px, 0, 0); } 75% { -webkit-transform: translate3d(10px, 0, 0); transform: translate3d(10px, 0, 0); } 90% { -webkit-transform: translate3d(-5px, 0, 0); transform: translate3d(-5px, 0, 0); } to { -webkit-transform: translate3d(0, 0, 0); transform: translate3d(0, 0, 0); } } .bounceInRight { -webkit-animation-name: bounceInRight; animation-name: bounceInRight; } @-webkit-keyframes bounceInUp { from, 60%, 75%, 90%, to { -webkit-animation-timing-function: cubic-bezier(0.215, 0.61, 0.355, 1); animation-timing-function: cubic-bezier(0.215, 0.61, 0.355, 1); } from { opacity: 0; -webkit-transform: translate3d(0, 3000px, 0); transform: translate3d(0, 3000px, 0); } 60% { opacity: 1; -webkit-transform: translate3d(0, -20px, 0); transform: translate3d(0, -20px, 0); } 75% { -webkit-transform: translate3d(0, 10px, 0); transform: translate3d(0, 10px, 0); } 90% { -webkit-transform: translate3d(0, -5px, 0); transform: translate3d(0, -5px, 0); } to { -webkit-transform: translate3d(0, 0, 0); transform: translate3d(0, 0, 0); } } @keyframes bounceInUp { from, 60%, 75%, 90%, to { -webkit-animation-timing-function: cubic-bezier(0.215, 0.61, 0.355, 1); animation-timing-function: cubic-bezier(0.215, 0.61, 0.355, 1); } from { opacity: 0; -webkit-transform: translate3d(0, 3000px, 0); transform: translate3d(0, 3000px, 0); } 60% { opacity: 1; -webkit-transform: translate3d(0, -20px, 0); transform: translate3d(0, -20px, 0); } 75% { -webkit-transform: translate3d(0, 10px, 0); transform: translate3d(0, 10px, 0); } 90% { -webkit-transform: translate3d(0, -5px, 0); transform: translate3d(0, -5px, 0); } to { -webkit-transform: translate3d(0, 0, 0); transform: translate3d(0, 0, 0); } } .bounceInUp { -webkit-animation-name: bounceInUp; animation-name: bounceInUp; } @-webkit-keyframes bounceOut { 20% { -webkit-transform: scale3d(0.9, 0.9, 0.9); transform: scale3d(0.9, 0.9, 0.9); } 50%, 55% { opacity: 1; -webkit-transform: scale3d(1.1, 1.1, 1.1); transform: scale3d(1.1, 1.1, 1.1); } to { opacity: 0; -webkit-transform: scale3d(0.3, 0.3, 0.3); transform: scale3d(0.3, 0.3, 0.3); } } @keyframes bounceOut { 20% { -webkit-transform: scale3d(0.9, 0.9, 0.9); transform: scale3d(0.9, 0.9, 0.9); } 50%, 55% { opacity: 1; -webkit-transform: scale3d(1.1, 1.1, 1.1); transform: scale3d(1.1, 1.1, 1.1); } to { opacity: 0; -webkit-transform: scale3d(0.3, 0.3, 0.3); transform: scale3d(0.3, 0.3, 0.3); } } .bounceOut { -webkit-animation-duration: 0.75s; animation-duration: 0.75s; -webkit-animation-name: bounceOut; animation-name: bounceOut; } @-webkit-keyframes bounceOutDown { 20% { -webkit-transform: translate3d(0, 10px, 0); transform: translate3d(0, 10px, 0); } 40%, 45% { opacity: 1; -webkit-transform: translate3d(0, -20px, 0); transform: translate3d(0, -20px, 0); } to { opacity: 0; -webkit-transform: translate3d(0, 2000px, 0); transform: translate3d(0, 2000px, 0); } } @keyframes bounceOutDown { 20% { -webkit-transform: translate3d(0, 10px, 0); transform: translate3d(0, 10px, 0); } 40%, 45% { opacity: 1; -webkit-transform: translate3d(0, -20px, 0); transform: translate3d(0, -20px, 0); } to { opacity: 0; -webkit-transform: translate3d(0, 2000px, 0); transform: translate3d(0, 2000px, 0); } } .bounceOutDown { -webkit-animation-name: bounceOutDown; animation-name: bounceOutDown; } @-webkit-keyframes bounceOutLeft { 20% { opacity: 1; -webkit-transform: translate3d(20px, 0, 0); transform: translate3d(20px, 0, 0); } to { opacity: 0; -webkit-transform: translate3d(-2000px, 0, 0); transform: translate3d(-2000px, 0, 0); } } @keyframes bounceOutLeft { 20% { opacity: 1; -webkit-transform: translate3d(20px, 0, 0); transform: translate3d(20px, 0, 0); } to { opacity: 0; -webkit-transform: translate3d(-2000px, 0, 0); transform: translate3d(-2000px, 0, 0); } } .bounceOutLeft { -webkit-animation-name: bounceOutLeft; animation-name: bounceOutLeft; } @-webkit-keyframes bounceOutRight { 20% { opacity: 1; -webkit-transform: translate3d(-20px, 0, 0); transform: translate3d(-20px, 0, 0); } to { opacity: 0; -webkit-transform: translate3d(2000px, 0, 0); transform: translate3d(2000px, 0, 0); } } @keyframes bounceOutRight { 20% { opacity: 1; -webkit-transform: translate3d(-20px, 0, 0); transform: translate3d(-20px, 0, 0); } to { opacity: 0; -webkit-transform: translate3d(2000px, 0, 0); transform: translate3d(2000px, 0, 0); } } .bounceOutRight { -webkit-animation-name: bounceOutRight; animation-name: bounceOutRight; } @-webkit-keyframes bounceOutUp { 20% { -webkit-transform: translate3d(0, -10px, 0); transform: translate3d(0, -10px, 0); } 40%, 45% { opacity: 1; -webkit-transform: translate3d(0, 20px, 0); transform: translate3d(0, 20px, 0); } to { opacity: 0; -webkit-transform: translate3d(0, -2000px, 0); transform: translate3d(0, -2000px, 0); } } @keyframes bounceOutUp { 20% { -webkit-transform: translate3d(0, -10px, 0); transform: translate3d(0, -10px, 0); } 40%, 45% { opacity: 1; -webkit-transform: translate3d(0, 20px, 0); transform: translate3d(0, 20px, 0); } to { opacity: 0; -webkit-transform: translate3d(0, -2000px, 0); transform: translate3d(0, -2000px, 0); } } .bounceOutUp { -webkit-animation-name: bounceOutUp; animation-name: bounceOutUp; } @-webkit-keyframes fadeIn { from { opacity: 0; } to { opacity: 1; } } @keyframes fadeIn { from { opacity: 0; } to { opacity: 1; } } .fadeIn { -webkit-animation-name: fadeIn; animation-name: fadeIn; } @-webkit-keyframes fadeInDown { from { opacity: 0; -webkit-transform: translate3d(0, -100%, 0); transform: translate3d(0, -100%, 0); } to { opacity: 1; -webkit-transform: translate3d(0, 0, 0); transform: translate3d(0, 0, 0); } } @keyframes fadeInDown { from { opacity: 0; -webkit-transform: translate3d(0, -100%, 0); transform: translate3d(0, -100%, 0); } to { opacity: 1; -webkit-transform: translate3d(0, 0, 0); transform: translate3d(0, 0, 0); } } .fadeInDown { -webkit-animation-name: fadeInDown; animation-name: fadeInDown; } @-webkit-keyframes fadeInDownBig { from { opacity: 0; -webkit-transform: translate3d(0, -2000px, 0); transform: translate3d(0, -2000px, 0); } to { opacity: 1; -webkit-transform: translate3d(0, 0, 0); transform: translate3d(0, 0, 0); } } @keyframes fadeInDownBig { from { opacity: 0; -webkit-transform: translate3d(0, -2000px, 0); transform: translate3d(0, -2000px, 0); } to { opacity: 1; -webkit-transform: translate3d(0, 0, 0); transform: translate3d(0, 0, 0); } } .fadeInDownBig { -webkit-animation-name: fadeInDownBig; animation-name: fadeInDownBig; } @-webkit-keyframes fadeInLeft { from { opacity: 0; -webkit-transform: translate3d(-100%, 0, 0); transform: translate3d(-100%, 0, 0); } to { opacity: 1; -webkit-transform: translate3d(0, 0, 0); transform: translate3d(0, 0, 0); } } @keyframes fadeInLeft { from { opacity: 0; -webkit-transform: translate3d(-100%, 0, 0); transform: translate3d(-100%, 0, 0); } to { opacity: 1; -webkit-transform: translate3d(0, 0, 0); transform: translate3d(0, 0, 0); } } .fadeInLeft { -webkit-animation-name: fadeInLeft; animation-name: fadeInLeft; } @-webkit-keyframes fadeInLeftBig { from { opacity: 0; -webkit-transform: translate3d(-2000px, 0, 0); transform: translate3d(-2000px, 0, 0); } to { opacity: 1; -webkit-transform: translate3d(0, 0, 0); transform: translate3d(0, 0, 0); } } @keyframes fadeInLeftBig { from { opacity: 0; -webkit-transform: translate3d(-2000px, 0, 0); transform: translate3d(-2000px, 0, 0); } to { opacity: 1; -webkit-transform: translate3d(0, 0, 0); transform: translate3d(0, 0, 0); } } .fadeInLeftBig { -webkit-animation-name: fadeInLeftBig; animation-name: fadeInLeftBig; } @-webkit-keyframes fadeInRight { from { opacity: 0; -webkit-transform: translate3d(100%, 0, 0); transform: translate3d(100%, 0, 0); } to { opacity: 1; -webkit-transform: translate3d(0, 0, 0); transform: translate3d(0, 0, 0); } } @keyframes fadeInRight { from { opacity: 0; -webkit-transform: translate3d(100%, 0, 0); transform: translate3d(100%, 0, 0); } to { opacity: 1; -webkit-transform: translate3d(0, 0, 0); transform: translate3d(0, 0, 0); } } .fadeInRight { -webkit-animation-name: fadeInRight; animation-name: fadeInRight; } @-webkit-keyframes fadeInRightBig { from { opacity: 0; -webkit-transform: translate3d(2000px, 0, 0); transform: translate3d(2000px, 0, 0); } to { opacity: 1; -webkit-transform: translate3d(0, 0, 0); transform: translate3d(0, 0, 0); } } @keyframes fadeInRightBig { from { opacity: 0; -webkit-transform: translate3d(2000px, 0, 0); transform: translate3d(2000px, 0, 0); } to { opacity: 1; -webkit-transform: translate3d(0, 0, 0); transform: translate3d(0, 0, 0); } } .fadeInRightBig { -webkit-animation-name: fadeInRightBig; animation-name: fadeInRightBig; } @-webkit-keyframes fadeInUp { from { opacity: 0; -webkit-transform: translate3d(0, 100%, 0); transform: translate3d(0, 100%, 0); } to { opacity: 1; -webkit-transform: translate3d(0, 0, 0); transform: translate3d(0, 0, 0); } } @keyframes fadeInUp { from { opacity: 0; -webkit-transform: translate3d(0, 100%, 0); transform: translate3d(0, 100%, 0); } to { opacity: 1; -webkit-transform: translate3d(0, 0, 0); transform: translate3d(0, 0, 0); } } .fadeInUp { -webkit-animation-name: fadeInUp; animation-name: fadeInUp; } @-webkit-keyframes fadeInUpBig { from { opacity: 0; -webkit-transform: translate3d(0, 2000px, 0); transform: translate3d(0, 2000px, 0); } to { opacity: 1; -webkit-transform: translate3d(0, 0, 0); transform: translate3d(0, 0, 0); } } @keyframes fadeInUpBig { from { opacity: 0; -webkit-transform: translate3d(0, 2000px, 0); transform: translate3d(0, 2000px, 0); } to { opacity: 1; -webkit-transform: translate3d(0, 0, 0); transform: translate3d(0, 0, 0); } } .fadeInUpBig { -webkit-animation-name: fadeInUpBig; animation-name: fadeInUpBig; } @-webkit-keyframes fadeOut { from { opacity: 1; } to { opacity: 0; } } @keyframes fadeOut { from { opacity: 1; } to { opacity: 0; } } .fadeOut { -webkit-animation-name: fadeOut; animation-name: fadeOut; } @-webkit-keyframes fadeOutDown { from { opacity: 1; } to { opacity: 0; -webkit-transform: translate3d(0, 100%, 0); transform: translate3d(0, 100%, 0); } } @keyframes fadeOutDown { from { opacity: 1; } to { opacity: 0; -webkit-transform: translate3d(0, 100%, 0); transform: translate3d(0, 100%, 0); } } .fadeOutDown { -webkit-animation-name: fadeOutDown; animation-name: fadeOutDown; } @-webkit-keyframes fadeOutDownBig { from { opacity: 1; } to { opacity: 0; -webkit-transform: translate3d(0, 2000px, 0); transform: translate3d(0, 2000px, 0); } } @keyframes fadeOutDownBig { from { opacity: 1; } to { opacity: 0; -webkit-transform: translate3d(0, 2000px, 0); transform: translate3d(0, 2000px, 0); } } .fadeOutDownBig { -webkit-animation-name: fadeOutDownBig; animation-name: fadeOutDownBig; } @-webkit-keyframes fadeOutLeft { from { opacity: 1; } to { opacity: 0; -webkit-transform: translate3d(-100%, 0, 0); transform: translate3d(-100%, 0, 0); } } @keyframes fadeOutLeft { from { opacity: 1; } to { opacity: 0; -webkit-transform: translate3d(-100%, 0, 0); transform: translate3d(-100%, 0, 0); } } .fadeOutLeft { -webkit-animation-name: fadeOutLeft; animation-name: fadeOutLeft; } @-webkit-keyframes fadeOutLeftBig { from { opacity: 1; } to { opacity: 0; -webkit-transform: translate3d(-2000px, 0, 0); transform: translate3d(-2000px, 0, 0); } } @keyframes fadeOutLeftBig { from { opacity: 1; } to { opacity: 0; -webkit-transform: translate3d(-2000px, 0, 0); transform: translate3d(-2000px, 0, 0); } } .fadeOutLeftBig { -webkit-animation-name: fadeOutLeftBig; animation-name: fadeOutLeftBig; } @-webkit-keyframes fadeOutRight { from { opacity: 1; } to { opacity: 0; -webkit-transform: translate3d(100%, 0, 0); transform: translate3d(100%, 0, 0); } } @keyframes fadeOutRight { from { opacity: 1; } to { opacity: 0; -webkit-transform: translate3d(100%, 0, 0); transform: translate3d(100%, 0, 0); } } .fadeOutRight { -webkit-animation-name: fadeOutRight; animation-name: fadeOutRight; } @-webkit-keyframes fadeOutRightBig { from { opacity: 1; } to { opacity: 0; -webkit-transform: translate3d(2000px, 0, 0); transform: translate3d(2000px, 0, 0); } } @keyframes fadeOutRightBig { from { opacity: 1; } to { opacity: 0; -webkit-transform: translate3d(2000px, 0, 0); transform: translate3d(2000px, 0, 0); } } .fadeOutRightBig { -webkit-animation-name: fadeOutRightBig; animation-name: fadeOutRightBig; } @-webkit-keyframes fadeOutUp { from { opacity: 1; } to { opacity: 0; -webkit-transform: translate3d(0, -100%, 0); transform: translate3d(0, -100%, 0); } } @keyframes fadeOutUp { from { opacity: 1; } to { opacity: 0; -webkit-transform: translate3d(0, -100%, 0); transform: translate3d(0, -100%, 0); } } .fadeOutUp { -webkit-animation-name: fadeOutUp; animation-name: fadeOutUp; } @-webkit-keyframes fadeOutUpBig { from { opacity: 1; } to { opacity: 0; -webkit-transform: translate3d(0, -2000px, 0); transform: translate3d(0, -2000px, 0); } } @keyframes fadeOutUpBig { from { opacity: 1; } to { opacity: 0; -webkit-transform: translate3d(0, -2000px, 0); transform: translate3d(0, -2000px, 0); } } .fadeOutUpBig { -webkit-animation-name: fadeOutUpBig; animation-name: fadeOutUpBig; } @-webkit-keyframes flip { from { -webkit-transform: perspective(400px) scale3d(1, 1, 1) translate3d(0, 0, 0) rotate3d(0, 1, 0, -360deg); transform: perspective(400px) scale3d(1, 1, 1) translate3d(0, 0, 0) rotate3d(0, 1, 0, -360deg); -webkit-animation-timing-function: ease-out; animation-timing-function: ease-out; } 40% { -webkit-transform: perspective(400px) scale3d(1, 1, 1) translate3d(0, 0, 150px) rotate3d(0, 1, 0, -190deg); transform: perspective(400px) scale3d(1, 1, 1) translate3d(0, 0, 150px) rotate3d(0, 1, 0, -190deg); -webkit-animation-timing-function: ease-out; animation-timing-function: ease-out; } 50% { -webkit-transform: perspective(400px) scale3d(1, 1, 1) translate3d(0, 0, 150px) rotate3d(0, 1, 0, -170deg); transform: perspective(400px) scale3d(1, 1, 1) translate3d(0, 0, 150px) rotate3d(0, 1, 0, -170deg); -webkit-animation-timing-function: ease-in; animation-timing-function: ease-in; } 80% { -webkit-transform: perspective(400px) scale3d(0.95, 0.95, 0.95) translate3d(0, 0, 0) rotate3d(0, 1, 0, 0deg); transform: perspective(400px) scale3d(0.95, 0.95, 0.95) translate3d(0, 0, 0) rotate3d(0, 1, 0, 0deg); -webkit-animation-timing-function: ease-in; animation-timing-function: ease-in; } to { -webkit-transform: perspective(400px) scale3d(1, 1, 1) translate3d(0, 0, 0) rotate3d(0, 1, 0, 0deg); transform: perspective(400px) scale3d(1, 1, 1) translate3d(0, 0, 0) rotate3d(0, 1, 0, 0deg); -webkit-animation-timing-function: ease-in; animation-timing-function: ease-in; } } @keyframes flip { from { -webkit-transform: perspective(400px) scale3d(1, 1, 1) translate3d(0, 0, 0) rotate3d(0, 1, 0, -360deg); transform: perspective(400px) scale3d(1, 1, 1) translate3d(0, 0, 0) rotate3d(0, 1, 0, -360deg); -webkit-animation-timing-function: ease-out; animation-timing-function: ease-out; } 40% { -webkit-transform: perspective(400px) scale3d(1, 1, 1) translate3d(0, 0, 150px) rotate3d(0, 1, 0, -190deg); transform: perspective(400px) scale3d(1, 1, 1) translate3d(0, 0, 150px) rotate3d(0, 1, 0, -190deg); -webkit-animation-timing-function: ease-out; animation-timing-function: ease-out; } 50% { -webkit-transform: perspective(400px) scale3d(1, 1, 1) translate3d(0, 0, 150px) rotate3d(0, 1, 0, -170deg); transform: perspective(400px) scale3d(1, 1, 1) translate3d(0, 0, 150px) rotate3d(0, 1, 0, -170deg); -webkit-animation-timing-function: ease-in; animation-timing-function: ease-in; } 80% { -webkit-transform: perspective(400px) scale3d(0.95, 0.95, 0.95) translate3d(0, 0, 0) rotate3d(0, 1, 0, 0deg); transform: perspective(400px) scale3d(0.95, 0.95, 0.95) translate3d(0, 0, 0) rotate3d(0, 1, 0, 0deg); -webkit-animation-timing-function: ease-in; animation-timing-function: ease-in; } to { -webkit-transform: perspective(400px) scale3d(1, 1, 1) translate3d(0, 0, 0) rotate3d(0, 1, 0, 0deg); transform: perspective(400px) scale3d(1, 1, 1) translate3d(0, 0, 0) rotate3d(0, 1, 0, 0deg); -webkit-animation-timing-function: ease-in; animation-timing-function: ease-in; } } .animated.flip { -webkit-backface-visibility: visible; backface-visibility: visible; -webkit-animation-name: flip; animation-name: flip; } @-webkit-keyframes flipInX { from { -webkit-transform: perspective(400px) rotate3d(1, 0, 0, 90deg); transform: perspective(400px) rotate3d(1, 0, 0, 90deg); -webkit-animation-timing-function: ease-in; animation-timing-function: ease-in; opacity: 0; } 40% { -webkit-transform: perspective(400px) rotate3d(1, 0, 0, -20deg); transform: perspective(400px) rotate3d(1, 0, 0, -20deg); -webkit-animation-timing-function: ease-in; animation-timing-function: ease-in; } 60% { -webkit-transform: perspective(400px) rotate3d(1, 0, 0, 10deg); transform: perspective(400px) rotate3d(1, 0, 0, 10deg); opacity: 1; } 80% { -webkit-transform: perspective(400px) rotate3d(1, 0, 0, -5deg); transform: perspective(400px) rotate3d(1, 0, 0, -5deg); } to { -webkit-transform: perspective(400px); transform: perspective(400px); } } @keyframes flipInX { from { -webkit-transform: perspective(400px) rotate3d(1, 0, 0, 90deg); transform: perspective(400px) rotate3d(1, 0, 0, 90deg); -webkit-animation-timing-function: ease-in; animation-timing-function: ease-in; opacity: 0; } 40% { -webkit-transform: perspective(400px) rotate3d(1, 0, 0, -20deg); transform: perspective(400px) rotate3d(1, 0, 0, -20deg); -webkit-animation-timing-function: ease-in; animation-timing-function: ease-in; } 60% { -webkit-transform: perspective(400px) rotate3d(1, 0, 0, 10deg); transform: perspective(400px) rotate3d(1, 0, 0, 10deg); opacity: 1; } 80% { -webkit-transform: perspective(400px) rotate3d(1, 0, 0, -5deg); transform: perspective(400px) rotate3d(1, 0, 0, -5deg); } to { -webkit-transform: perspective(400px); transform: perspective(400px); } } .flipInX { -webkit-backface-visibility: visible !important; backface-visibility: visible !important; -webkit-animation-name: flipInX; animation-name: flipInX; } @-webkit-keyframes flipInY { from { -webkit-transform: perspective(400px) rotate3d(0, 1, 0, 90deg); transform: perspective(400px) rotate3d(0, 1, 0, 90deg); -webkit-animation-timing-function: ease-in; animation-timing-function: ease-in; opacity: 0; } 40% { -webkit-transform: perspective(400px) rotate3d(0, 1, 0, -20deg); transform: perspective(400px) rotate3d(0, 1, 0, -20deg); -webkit-animation-timing-function: ease-in; animation-timing-function: ease-in; } 60% { -webkit-transform: perspective(400px) rotate3d(0, 1, 0, 10deg); transform: perspective(400px) rotate3d(0, 1, 0, 10deg); opacity: 1; } 80% { -webkit-transform: perspective(400px) rotate3d(0, 1, 0, -5deg); transform: perspective(400px) rotate3d(0, 1, 0, -5deg); } to { -webkit-transform: perspective(400px); transform: perspective(400px); } } @keyframes flipInY { from { -webkit-transform: perspective(400px) rotate3d(0, 1, 0, 90deg); transform: perspective(400px) rotate3d(0, 1, 0, 90deg); -webkit-animation-timing-function: ease-in; animation-timing-function: ease-in; opacity: 0; } 40% { -webkit-transform: perspective(400px) rotate3d(0, 1, 0, -20deg); transform: perspective(400px) rotate3d(0, 1, 0, -20deg); -webkit-animation-timing-function: ease-in; animation-timing-function: ease-in; } 60% { -webkit-transform: perspective(400px) rotate3d(0, 1, 0, 10deg); transform: perspective(400px) rotate3d(0, 1, 0, 10deg); opacity: 1; } 80% { -webkit-transform: perspective(400px) rotate3d(0, 1, 0, -5deg); transform: perspective(400px) rotate3d(0, 1, 0, -5deg); } to { -webkit-transform: perspective(400px); transform: perspective(400px); } } .flipInY { -webkit-backface-visibility: visible !important; backface-visibility: visible !important; -webkit-animation-name: flipInY; animation-name: flipInY; } @-webkit-keyframes flipOutX { from { -webkit-transform: perspective(400px); transform: perspective(400px); } 30% { -webkit-transform: perspective(400px) rotate3d(1, 0, 0, -20deg); transform: perspective(400px) rotate3d(1, 0, 0, -20deg); opacity: 1; } to { -webkit-transform: perspective(400px) rotate3d(1, 0, 0, 90deg); transform: perspective(400px) rotate3d(1, 0, 0, 90deg); opacity: 0; } } @keyframes flipOutX { from { -webkit-transform: perspective(400px); transform: perspective(400px); } 30% { -webkit-transform: perspective(400px) rotate3d(1, 0, 0, -20deg); transform: perspective(400px) rotate3d(1, 0, 0, -20deg); opacity: 1; } to { -webkit-transform: perspective(400px) rotate3d(1, 0, 0, 90deg); transform: perspective(400px) rotate3d(1, 0, 0, 90deg); opacity: 0; } } .flipOutX { -webkit-animation-duration: 0.75s; animation-duration: 0.75s; -webkit-animation-name: flipOutX; animation-name: flipOutX; -webkit-backface-visibility: visible !important; backface-visibility: visible !important; } @-webkit-keyframes flipOutY { from { -webkit-transform: perspective(400px); transform: perspective(400px); } 30% { -webkit-transform: perspective(400px) rotate3d(0, 1, 0, -15deg); transform: perspective(400px) rotate3d(0, 1, 0, -15deg); opacity: 1; } to { -webkit-transform: perspective(400px) rotate3d(0, 1, 0, 90deg); transform: perspective(400px) rotate3d(0, 1, 0, 90deg); opacity: 0; } } @keyframes flipOutY { from { -webkit-transform: perspective(400px); transform: perspective(400px); } 30% { -webkit-transform: perspective(400px) rotate3d(0, 1, 0, -15deg); transform: perspective(400px) rotate3d(0, 1, 0, -15deg); opacity: 1; } to { -webkit-transform: perspective(400px) rotate3d(0, 1, 0, 90deg); transform: perspective(400px) rotate3d(0, 1, 0, 90deg); opacity: 0; } } .flipOutY { -webkit-animation-duration: 0.75s; animation-duration: 0.75s; -webkit-backface-visibility: visible !important; backface-visibility: visible !important; -webkit-animation-name: flipOutY; animation-name: flipOutY; } @-webkit-keyframes lightSpeedIn { from { -webkit-transform: translate3d(100%, 0, 0) skewX(-30deg); transform: translate3d(100%, 0, 0) skewX(-30deg); opacity: 0; } 60% { -webkit-transform: skewX(20deg); transform: skewX(20deg); opacity: 1; } 80% { -webkit-transform: skewX(-5deg); transform: skewX(-5deg); } to { -webkit-transform: translate3d(0, 0, 0); transform: translate3d(0, 0, 0); } } @keyframes lightSpeedIn { from { -webkit-transform: translate3d(100%, 0, 0) skewX(-30deg); transform: translate3d(100%, 0, 0) skewX(-30deg); opacity: 0; } 60% { -webkit-transform: skewX(20deg); transform: skewX(20deg); opacity: 1; } 80% { -webkit-transform: skewX(-5deg); transform: skewX(-5deg); } to { -webkit-transform: translate3d(0, 0, 0); transform: translate3d(0, 0, 0); } } .lightSpeedIn { -webkit-animation-name: lightSpeedIn; animation-name: lightSpeedIn; -webkit-animation-timing-function: ease-out; animation-timing-function: ease-out; } @-webkit-keyframes lightSpeedOut { from { opacity: 1; } to { -webkit-transform: translate3d(100%, 0, 0) skewX(30deg); transform: translate3d(100%, 0, 0) skewX(30deg); opacity: 0; } } @keyframes lightSpeedOut { from { opacity: 1; } to { -webkit-transform: translate3d(100%, 0, 0) skewX(30deg); transform: translate3d(100%, 0, 0) skewX(30deg); opacity: 0; } } .lightSpeedOut { -webkit-animation-name: lightSpeedOut; animation-name: lightSpeedOut; -webkit-animation-timing-function: ease-in; animation-timing-function: ease-in; } @-webkit-keyframes rotateIn { from { -webkit-transform-origin: center; transform-origin: center; -webkit-transform: rotate3d(0, 0, 1, -200deg); transform: rotate3d(0, 0, 1, -200deg); opacity: 0; } to { -webkit-transform-origin: center; transform-origin: center; -webkit-transform: translate3d(0, 0, 0); transform: translate3d(0, 0, 0); opacity: 1; } } @keyframes rotateIn { from { -webkit-transform-origin: center; transform-origin: center; -webkit-transform: rotate3d(0, 0, 1, -200deg); transform: rotate3d(0, 0, 1, -200deg); opacity: 0; } to { -webkit-transform-origin: center; transform-origin: center; -webkit-transform: translate3d(0, 0, 0); transform: translate3d(0, 0, 0); opacity: 1; } } .rotateIn { -webkit-animation-name: rotateIn; animation-name: rotateIn; } @-webkit-keyframes rotateInDownLeft { from { -webkit-transform-origin: left bottom; transform-origin: left bottom; -webkit-transform: rotate3d(0, 0, 1, -45deg); transform: rotate3d(0, 0, 1, -45deg); opacity: 0; } to { -webkit-transform-origin: left bottom; transform-origin: left bottom; -webkit-transform: translate3d(0, 0, 0); transform: translate3d(0, 0, 0); opacity: 1; } } @keyframes rotateInDownLeft { from { -webkit-transform-origin: left bottom; transform-origin: left bottom; -webkit-transform: rotate3d(0, 0, 1, -45deg); transform: rotate3d(0, 0, 1, -45deg); opacity: 0; } to { -webkit-transform-origin: left bottom; transform-origin: left bottom; -webkit-transform: translate3d(0, 0, 0); transform: translate3d(0, 0, 0); opacity: 1; } } .rotateInDownLeft { -webkit-animation-name: rotateInDownLeft; animation-name: rotateInDownLeft; } @-webkit-keyframes rotateInDownRight { from { -webkit-transform-origin: right bottom; transform-origin: right bottom; -webkit-transform: rotate3d(0, 0, 1, 45deg); transform: rotate3d(0, 0, 1, 45deg); opacity: 0; } to { -webkit-transform-origin: right bottom; transform-origin: right bottom; -webkit-transform: translate3d(0, 0, 0); transform: translate3d(0, 0, 0); opacity: 1; } } @keyframes rotateInDownRight { from { -webkit-transform-origin: right bottom; transform-origin: right bottom; -webkit-transform: rotate3d(0, 0, 1, 45deg); transform: rotate3d(0, 0, 1, 45deg); opacity: 0; } to { -webkit-transform-origin: right bottom; transform-origin: right bottom; -webkit-transform: translate3d(0, 0, 0); transform: translate3d(0, 0, 0); opacity: 1; } } .rotateInDownRight { -webkit-animation-name: rotateInDownRight; animation-name: rotateInDownRight; } @-webkit-keyframes rotateInUpLeft { from { -webkit-transform-origin: left bottom; transform-origin: left bottom; -webkit-transform: rotate3d(0, 0, 1, 45deg); transform: rotate3d(0, 0, 1, 45deg); opacity: 0; } to { -webkit-transform-origin: left bottom; transform-origin: left bottom; -webkit-transform: translate3d(0, 0, 0); transform: translate3d(0, 0, 0); opacity: 1; } } @keyframes rotateInUpLeft { from { -webkit-transform-origin: left bottom; transform-origin: left bottom; -webkit-transform: rotate3d(0, 0, 1, 45deg); transform: rotate3d(0, 0, 1, 45deg); opacity: 0; } to { -webkit-transform-origin: left bottom; transform-origin: left bottom; -webkit-transform: translate3d(0, 0, 0); transform: translate3d(0, 0, 0); opacity: 1; } } .rotateInUpLeft { -webkit-animation-name: rotateInUpLeft; animation-name: rotateInUpLeft; } @-webkit-keyframes rotateInUpRight { from { -webkit-transform-origin: right bottom; transform-origin: right bottom; -webkit-transform: rotate3d(0, 0, 1, -90deg); transform: rotate3d(0, 0, 1, -90deg); opacity: 0; } to { -webkit-transform-origin: right bottom; transform-origin: right bottom; -webkit-transform: translate3d(0, 0, 0); transform: translate3d(0, 0, 0); opacity: 1; } } @keyframes rotateInUpRight { from { -webkit-transform-origin: right bottom; transform-origin: right bottom; -webkit-transform: rotate3d(0, 0, 1, -90deg); transform: rotate3d(0, 0, 1, -90deg); opacity: 0; } to { -webkit-transform-origin: right bottom; transform-origin: right bottom; -webkit-transform: translate3d(0, 0, 0); transform: translate3d(0, 0, 0); opacity: 1; } } .rotateInUpRight { -webkit-animation-name: rotateInUpRight; animation-name: rotateInUpRight; } @-webkit-keyframes rotateOut { from { -webkit-transform-origin: center; transform-origin: center; opacity: 1; } to { -webkit-transform-origin: center; transform-origin: center; -webkit-transform: rotate3d(0, 0, 1, 200deg); transform: rotate3d(0, 0, 1, 200deg); opacity: 0; } } @keyframes rotateOut { from { -webkit-transform-origin: center; transform-origin: center; opacity: 1; } to { -webkit-transform-origin: center; transform-origin: center; -webkit-transform: rotate3d(0, 0, 1, 200deg); transform: rotate3d(0, 0, 1, 200deg); opacity: 0; } } .rotateOut { -webkit-animation-name: rotateOut; animation-name: rotateOut; } @-webkit-keyframes rotateOutDownLeft { from { -webkit-transform-origin: left bottom; transform-origin: left bottom; opacity: 1; } to { -webkit-transform-origin: left bottom; transform-origin: left bottom; -webkit-transform: rotate3d(0, 0, 1, 45deg); transform: rotate3d(0, 0, 1, 45deg); opacity: 0; } } @keyframes rotateOutDownLeft { from { -webkit-transform-origin: left bottom; transform-origin: left bottom; opacity: 1; } to { -webkit-transform-origin: left bottom; transform-origin: left bottom; -webkit-transform: rotate3d(0, 0, 1, 45deg); transform: rotate3d(0, 0, 1, 45deg); opacity: 0; } } .rotateOutDownLeft { -webkit-animation-name: rotateOutDownLeft; animation-name: rotateOutDownLeft; } @-webkit-keyframes rotateOutDownRight { from { -webkit-transform-origin: right bottom; transform-origin: right bottom; opacity: 1; } to { -webkit-transform-origin: right bottom; transform-origin: right bottom; -webkit-transform: rotate3d(0, 0, 1, -45deg); transform: rotate3d(0, 0, 1, -45deg); opacity: 0; } } @keyframes rotateOutDownRight { from { -webkit-transform-origin: right bottom; transform-origin: right bottom; opacity: 1; } to { -webkit-transform-origin: right bottom; transform-origin: right bottom; -webkit-transform: rotate3d(0, 0, 1, -45deg); transform: rotate3d(0, 0, 1, -45deg); opacity: 0; } } .rotateOutDownRight { -webkit-animation-name: rotateOutDownRight; animation-name: rotateOutDownRight; } @-webkit-keyframes rotateOutUpLeft { from { -webkit-transform-origin: left bottom; transform-origin: left bottom; opacity: 1; } to { -webkit-transform-origin: left bottom; transform-origin: left bottom; -webkit-transform: rotate3d(0, 0, 1, -45deg); transform: rotate3d(0, 0, 1, -45deg); opacity: 0; } } @keyframes rotateOutUpLeft { from { -webkit-transform-origin: left bottom; transform-origin: left bottom; opacity: 1; } to { -webkit-transform-origin: left bottom; transform-origin: left bottom; -webkit-transform: rotate3d(0, 0, 1, -45deg); transform: rotate3d(0, 0, 1, -45deg); opacity: 0; } } .rotateOutUpLeft { -webkit-animation-name: rotateOutUpLeft; animation-name: rotateOutUpLeft; } @-webkit-keyframes rotateOutUpRight { from { -webkit-transform-origin: right bottom; transform-origin: right bottom; opacity: 1; } to { -webkit-transform-origin: right bottom; transform-origin: right bottom; -webkit-transform: rotate3d(0, 0, 1, 90deg); transform: rotate3d(0, 0, 1, 90deg); opacity: 0; } } @keyframes rotateOutUpRight { from { -webkit-transform-origin: right bottom; transform-origin: right bottom; opacity: 1; } to { -webkit-transform-origin: right bottom; transform-origin: right bottom; -webkit-transform: rotate3d(0, 0, 1, 90deg); transform: rotate3d(0, 0, 1, 90deg); opacity: 0; } } .rotateOutUpRight { -webkit-animation-name: rotateOutUpRight; animation-name: rotateOutUpRight; } @-webkit-keyframes hinge { 0% { -webkit-transform-origin: top left; transform-origin: top left; -webkit-animation-timing-function: ease-in-out; animation-timing-function: ease-in-out; } 20%, 60% { -webkit-transform: rotate3d(0, 0, 1, 80deg); transform: rotate3d(0, 0, 1, 80deg); -webkit-transform-origin: top left; transform-origin: top left; -webkit-animation-timing-function: ease-in-out; animation-timing-function: ease-in-out; } 40%, 80% { -webkit-transform: rotate3d(0, 0, 1, 60deg); transform: rotate3d(0, 0, 1, 60deg); -webkit-transform-origin: top left; transform-origin: top left; -webkit-animation-timing-function: ease-in-out; animation-timing-function: ease-in-out; opacity: 1; } to { -webkit-transform: translate3d(0, 700px, 0); transform: translate3d(0, 700px, 0); opacity: 0; } } @keyframes hinge { 0% { -webkit-transform-origin: top left; transform-origin: top left; -webkit-animation-timing-function: ease-in-out; animation-timing-function: ease-in-out; } 20%, 60% { -webkit-transform: rotate3d(0, 0, 1, 80deg); transform: rotate3d(0, 0, 1, 80deg); -webkit-transform-origin: top left; transform-origin: top left; -webkit-animation-timing-function: ease-in-out; animation-timing-function: ease-in-out; } 40%, 80% { -webkit-transform: rotate3d(0, 0, 1, 60deg); transform: rotate3d(0, 0, 1, 60deg); -webkit-transform-origin: top left; transform-origin: top left; -webkit-animation-timing-function: ease-in-out; animation-timing-function: ease-in-out; opacity: 1; } to { -webkit-transform: translate3d(0, 700px, 0); transform: translate3d(0, 700px, 0); opacity: 0; } } .hinge { -webkit-animation-duration: 2s; animation-duration: 2s; -webkit-animation-name: hinge; animation-name: hinge; } @-webkit-keyframes jackInTheBox { from { opacity: 0; -webkit-transform: scale(0.1) rotate(30deg); transform: scale(0.1) rotate(30deg); -webkit-transform-origin: center bottom; transform-origin: center bottom; } 50% { -webkit-transform: rotate(-10deg); transform: rotate(-10deg); } 70% { -webkit-transform: rotate(3deg); transform: rotate(3deg); } to { opacity: 1; -webkit-transform: scale(1); transform: scale(1); } } @keyframes jackInTheBox { from { opacity: 0; -webkit-transform: scale(0.1) rotate(30deg); transform: scale(0.1) rotate(30deg); -webkit-transform-origin: center bottom; transform-origin: center bottom; } 50% { -webkit-transform: rotate(-10deg); transform: rotate(-10deg); } 70% { -webkit-transform: rotate(3deg); transform: rotate(3deg); } to { opacity: 1; -webkit-transform: scale(1); transform: scale(1); } } .jackInTheBox { -webkit-animation-name: jackInTheBox; animation-name: jackInTheBox; } /* originally authored by Nick Pettit - https://github.com/nickpettit/glide */ @-webkit-keyframes rollIn { from { opacity: 0; -webkit-transform: translate3d(-100%, 0, 0) rotate3d(0, 0, 1, -120deg); transform: translate3d(-100%, 0, 0) rotate3d(0, 0, 1, -120deg); } to { opacity: 1; -webkit-transform: translate3d(0, 0, 0); transform: translate3d(0, 0, 0); } } @keyframes rollIn { from { opacity: 0; -webkit-transform: translate3d(-100%, 0, 0) rotate3d(0, 0, 1, -120deg); transform: translate3d(-100%, 0, 0) rotate3d(0, 0, 1, -120deg); } to { opacity: 1; -webkit-transform: translate3d(0, 0, 0); transform: translate3d(0, 0, 0); } } .rollIn { -webkit-animation-name: rollIn; animation-name: rollIn; } /* originally authored by Nick Pettit - https://github.com/nickpettit/glide */ @-webkit-keyframes rollOut { from { opacity: 1; } to { opacity: 0; -webkit-transform: translate3d(100%, 0, 0) rotate3d(0, 0, 1, 120deg); transform: translate3d(100%, 0, 0) rotate3d(0, 0, 1, 120deg); } } @keyframes rollOut { from { opacity: 1; } to { opacity: 0; -webkit-transform: translate3d(100%, 0, 0) rotate3d(0, 0, 1, 120deg); transform: translate3d(100%, 0, 0) rotate3d(0, 0, 1, 120deg); } } .rollOut { -webkit-animation-name: rollOut; animation-name: rollOut; } @-webkit-keyframes zoomIn { from { opacity: 0; -webkit-transform: scale3d(0.3, 0.3, 0.3); transform: scale3d(0.3, 0.3, 0.3); } 50% { opacity: 1; } } @keyframes zoomIn { from { opacity: 0; -webkit-transform: scale3d(0.3, 0.3, 0.3); transform: scale3d(0.3, 0.3, 0.3); } 50% { opacity: 1; } } .zoomIn { -webkit-animation-name: zoomIn; animation-name: zoomIn; } @-webkit-keyframes zoomInDown { from { opacity: 0; -webkit-transform: scale3d(0.1, 0.1, 0.1) translate3d(0, -1000px, 0); transform: scale3d(0.1, 0.1, 0.1) translate3d(0, -1000px, 0); -webkit-animation-timing-function: cubic-bezier(0.55, 0.055, 0.675, 0.19); animation-timing-function: cubic-bezier(0.55, 0.055, 0.675, 0.19); } 60% { opacity: 1; -webkit-transform: scale3d(0.475, 0.475, 0.475) translate3d(0, 60px, 0); transform: scale3d(0.475, 0.475, 0.475) translate3d(0, 60px, 0); -webkit-animation-timing-function: cubic-bezier(0.175, 0.885, 0.32, 1); animation-timing-function: cubic-bezier(0.175, 0.885, 0.32, 1); } } @keyframes zoomInDown { from { opacity: 0; -webkit-transform: scale3d(0.1, 0.1, 0.1) translate3d(0, -1000px, 0); transform: scale3d(0.1, 0.1, 0.1) translate3d(0, -1000px, 0); -webkit-animation-timing-function: cubic-bezier(0.55, 0.055, 0.675, 0.19); animation-timing-function: cubic-bezier(0.55, 0.055, 0.675, 0.19); } 60% { opacity: 1; -webkit-transform: scale3d(0.475, 0.475, 0.475) translate3d(0, 60px, 0); transform: scale3d(0.475, 0.475, 0.475) translate3d(0, 60px, 0); -webkit-animation-timing-function: cubic-bezier(0.175, 0.885, 0.32, 1); animation-timing-function: cubic-bezier(0.175, 0.885, 0.32, 1); } } .zoomInDown { -webkit-animation-name: zoomInDown; animation-name: zoomInDown; } @-webkit-keyframes zoomInLeft { from { opacity: 0; -webkit-transform: scale3d(0.1, 0.1, 0.1) translate3d(-1000px, 0, 0); transform: scale3d(0.1, 0.1, 0.1) translate3d(-1000px, 0, 0); -webkit-animation-timing-function: cubic-bezier(0.55, 0.055, 0.675, 0.19); animation-timing-function: cubic-bezier(0.55, 0.055, 0.675, 0.19); } 60% { opacity: 1; -webkit-transform: scale3d(0.475, 0.475, 0.475) translate3d(10px, 0, 0); transform: scale3d(0.475, 0.475, 0.475) translate3d(10px, 0, 0); -webkit-animation-timing-function: cubic-bezier(0.175, 0.885, 0.32, 1); animation-timing-function: cubic-bezier(0.175, 0.885, 0.32, 1); } } @keyframes zoomInLeft { from { opacity: 0; -webkit-transform: scale3d(0.1, 0.1, 0.1) translate3d(-1000px, 0, 0); transform: scale3d(0.1, 0.1, 0.1) translate3d(-1000px, 0, 0); -webkit-animation-timing-function: cubic-bezier(0.55, 0.055, 0.675, 0.19); animation-timing-function: cubic-bezier(0.55, 0.055, 0.675, 0.19); } 60% { opacity: 1; -webkit-transform: scale3d(0.475, 0.475, 0.475) translate3d(10px, 0, 0); transform: scale3d(0.475, 0.475, 0.475) translate3d(10px, 0, 0); -webkit-animation-timing-function: cubic-bezier(0.175, 0.885, 0.32, 1); animation-timing-function: cubic-bezier(0.175, 0.885, 0.32, 1); } } .zoomInLeft { -webkit-animation-name: zoomInLeft; animation-name: zoomInLeft; } @-webkit-keyframes zoomInRight { from { opacity: 0; -webkit-transform: scale3d(0.1, 0.1, 0.1) translate3d(1000px, 0, 0); transform: scale3d(0.1, 0.1, 0.1) translate3d(1000px, 0, 0); -webkit-animation-timing-function: cubic-bezier(0.55, 0.055, 0.675, 0.19); animation-timing-function: cubic-bezier(0.55, 0.055, 0.675, 0.19); } 60% { opacity: 1; -webkit-transform: scale3d(0.475, 0.475, 0.475) translate3d(-10px, 0, 0); transform: scale3d(0.475, 0.475, 0.475) translate3d(-10px, 0, 0); -webkit-animation-timing-function: cubic-bezier(0.175, 0.885, 0.32, 1); animation-timing-function: cubic-bezier(0.175, 0.885, 0.32, 1); } } @keyframes zoomInRight { from { opacity: 0; -webkit-transform: scale3d(0.1, 0.1, 0.1) translate3d(1000px, 0, 0); transform: scale3d(0.1, 0.1, 0.1) translate3d(1000px, 0, 0); -webkit-animation-timing-function: cubic-bezier(0.55, 0.055, 0.675, 0.19); animation-timing-function: cubic-bezier(0.55, 0.055, 0.675, 0.19); } 60% { opacity: 1; -webkit-transform: scale3d(0.475, 0.475, 0.475) translate3d(-10px, 0, 0); transform: scale3d(0.475, 0.475, 0.475) translate3d(-10px, 0, 0); -webkit-animation-timing-function: cubic-bezier(0.175, 0.885, 0.32, 1); animation-timing-function: cubic-bezier(0.175, 0.885, 0.32, 1); } } .zoomInRight { -webkit-animation-name: zoomInRight; animation-name: zoomInRight; } @-webkit-keyframes zoomInUp { from { opacity: 0; -webkit-transform: scale3d(0.1, 0.1, 0.1) translate3d(0, 1000px, 0); transform: scale3d(0.1, 0.1, 0.1) translate3d(0, 1000px, 0); -webkit-animation-timing-function: cubic-bezier(0.55, 0.055, 0.675, 0.19); animation-timing-function: cubic-bezier(0.55, 0.055, 0.675, 0.19); } 60% { opacity: 1; -webkit-transform: scale3d(0.475, 0.475, 0.475) translate3d(0, -60px, 0); transform: scale3d(0.475, 0.475, 0.475) translate3d(0, -60px, 0); -webkit-animation-timing-function: cubic-bezier(0.175, 0.885, 0.32, 1); animation-timing-function: cubic-bezier(0.175, 0.885, 0.32, 1); } } @keyframes zoomInUp { from { opacity: 0; -webkit-transform: scale3d(0.1, 0.1, 0.1) translate3d(0, 1000px, 0); transform: scale3d(0.1, 0.1, 0.1) translate3d(0, 1000px, 0); -webkit-animation-timing-function: cubic-bezier(0.55, 0.055, 0.675, 0.19); animation-timing-function: cubic-bezier(0.55, 0.055, 0.675, 0.19); } 60% { opacity: 1; -webkit-transform: scale3d(0.475, 0.475, 0.475) translate3d(0, -60px, 0); transform: scale3d(0.475, 0.475, 0.475) translate3d(0, -60px, 0); -webkit-animation-timing-function: cubic-bezier(0.175, 0.885, 0.32, 1); animation-timing-function: cubic-bezier(0.175, 0.885, 0.32, 1); } } .zoomInUp { -webkit-animation-name: zoomInUp; animation-name: zoomInUp; } @-webkit-keyframes zoomOut { from { opacity: 1; } 50% { opacity: 0; -webkit-transform: scale3d(0.3, 0.3, 0.3); transform: scale3d(0.3, 0.3, 0.3); } to { opacity: 0; } } @keyframes zoomOut { from { opacity: 1; } 50% { opacity: 0; -webkit-transform: scale3d(0.3, 0.3, 0.3); transform: scale3d(0.3, 0.3, 0.3); } to { opacity: 0; } } .zoomOut { -webkit-animation-name: zoomOut; animation-name: zoomOut; } @-webkit-keyframes zoomOutDown { 40% { opacity: 1; -webkit-transform: scale3d(0.475, 0.475, 0.475) translate3d(0, -60px, 0); transform: scale3d(0.475, 0.475, 0.475) translate3d(0, -60px, 0); -webkit-animation-timing-function: cubic-bezier(0.55, 0.055, 0.675, 0.19); animation-timing-function: cubic-bezier(0.55, 0.055, 0.675, 0.19); } to { opacity: 0; -webkit-transform: scale3d(0.1, 0.1, 0.1) translate3d(0, 2000px, 0); transform: scale3d(0.1, 0.1, 0.1) translate3d(0, 2000px, 0); -webkit-transform-origin: center bottom; transform-origin: center bottom; -webkit-animation-timing-function: cubic-bezier(0.175, 0.885, 0.32, 1); animation-timing-function: cubic-bezier(0.175, 0.885, 0.32, 1); } } @keyframes zoomOutDown { 40% { opacity: 1; -webkit-transform: scale3d(0.475, 0.475, 0.475) translate3d(0, -60px, 0); transform: scale3d(0.475, 0.475, 0.475) translate3d(0, -60px, 0); -webkit-animation-timing-function: cubic-bezier(0.55, 0.055, 0.675, 0.19); animation-timing-function: cubic-bezier(0.55, 0.055, 0.675, 0.19); } to { opacity: 0; -webkit-transform: scale3d(0.1, 0.1, 0.1) translate3d(0, 2000px, 0); transform: scale3d(0.1, 0.1, 0.1) translate3d(0, 2000px, 0); -webkit-transform-origin: center bottom; transform-origin: center bottom; -webkit-animation-timing-function: cubic-bezier(0.175, 0.885, 0.32, 1); animation-timing-function: cubic-bezier(0.175, 0.885, 0.32, 1); } } .zoomOutDown { -webkit-animation-name: zoomOutDown; animation-name: zoomOutDown; } @-webkit-keyframes zoomOutLeft { 40% { opacity: 1; -webkit-transform: scale3d(0.475, 0.475, 0.475) translate3d(42px, 0, 0); transform: scale3d(0.475, 0.475, 0.475) translate3d(42px, 0, 0); } to { opacity: 0; -webkit-transform: scale(0.1) translate3d(-2000px, 0, 0); transform: scale(0.1) translate3d(-2000px, 0, 0); -webkit-transform-origin: left center; transform-origin: left center; } } @keyframes zoomOutLeft { 40% { opacity: 1; -webkit-transform: scale3d(0.475, 0.475, 0.475) translate3d(42px, 0, 0); transform: scale3d(0.475, 0.475, 0.475) translate3d(42px, 0, 0); } to { opacity: 0; -webkit-transform: scale(0.1) translate3d(-2000px, 0, 0); transform: scale(0.1) translate3d(-2000px, 0, 0); -webkit-transform-origin: left center; transform-origin: left center; } } .zoomOutLeft { -webkit-animation-name: zoomOutLeft; animation-name: zoomOutLeft; } @-webkit-keyframes zoomOutRight { 40% { opacity: 1; -webkit-transform: scale3d(0.475, 0.475, 0.475) translate3d(-42px, 0, 0); transform: scale3d(0.475, 0.475, 0.475) translate3d(-42px, 0, 0); } to { opacity: 0; -webkit-transform: scale(0.1) translate3d(2000px, 0, 0); transform: scale(0.1) translate3d(2000px, 0, 0); -webkit-transform-origin: right center; transform-origin: right center; } } @keyframes zoomOutRight { 40% { opacity: 1; -webkit-transform: scale3d(0.475, 0.475, 0.475) translate3d(-42px, 0, 0); transform: scale3d(0.475, 0.475, 0.475) translate3d(-42px, 0, 0); } to { opacity: 0; -webkit-transform: scale(0.1) translate3d(2000px, 0, 0); transform: scale(0.1) translate3d(2000px, 0, 0); -webkit-transform-origin: right center; transform-origin: right center; } } .zoomOutRight { -webkit-animation-name: zoomOutRight; animation-name: zoomOutRight; } @-webkit-keyframes zoomOutUp { 40% { opacity: 1; -webkit-transform: scale3d(0.475, 0.475, 0.475) translate3d(0, 60px, 0); transform: scale3d(0.475, 0.475, 0.475) translate3d(0, 60px, 0); -webkit-animation-timing-function: cubic-bezier(0.55, 0.055, 0.675, 0.19); animation-timing-function: cubic-bezier(0.55, 0.055, 0.675, 0.19); } to { opacity: 0; -webkit-transform: scale3d(0.1, 0.1, 0.1) translate3d(0, -2000px, 0); transform: scale3d(0.1, 0.1, 0.1) translate3d(0, -2000px, 0); -webkit-transform-origin: center bottom; transform-origin: center bottom; -webkit-animation-timing-function: cubic-bezier(0.175, 0.885, 0.32, 1); animation-timing-function: cubic-bezier(0.175, 0.885, 0.32, 1); } } @keyframes zoomOutUp { 40% { opacity: 1; -webkit-transform: scale3d(0.475, 0.475, 0.475) translate3d(0, 60px, 0); transform: scale3d(0.475, 0.475, 0.475) translate3d(0, 60px, 0); -webkit-animation-timing-function: cubic-bezier(0.55, 0.055, 0.675, 0.19); animation-timing-function: cubic-bezier(0.55, 0.055, 0.675, 0.19); } to { opacity: 0; -webkit-transform: scale3d(0.1, 0.1, 0.1) translate3d(0, -2000px, 0); transform: scale3d(0.1, 0.1, 0.1) translate3d(0, -2000px, 0); -webkit-transform-origin: center bottom; transform-origin: center bottom; -webkit-animation-timing-function: cubic-bezier(0.175, 0.885, 0.32, 1); animation-timing-function: cubic-bezier(0.175, 0.885, 0.32, 1); } } .zoomOutUp { -webkit-animation-name: zoomOutUp; animation-name: zoomOutUp; } @-webkit-keyframes slideInDown { from { -webkit-transform: translate3d(0, -100%, 0); transform: translate3d(0, -100%, 0); visibility: visible; } to { -webkit-transform: translate3d(0, 0, 0); transform: translate3d(0, 0, 0); } } @keyframes slideInDown { from { -webkit-transform: translate3d(0, -100%, 0); transform: translate3d(0, -100%, 0); visibility: visible; } to { -webkit-transform: translate3d(0, 0, 0); transform: translate3d(0, 0, 0); } } .slideInDown { -webkit-animation-name: slideInDown; animation-name: slideInDown; } @-webkit-keyframes slideInLeft { from { -webkit-transform: translate3d(-100%, 0, 0); transform: translate3d(-100%, 0, 0); visibility: visible; } to { -webkit-transform: translate3d(0, 0, 0); transform: translate3d(0, 0, 0); } } @keyframes slideInLeft { from { -webkit-transform: translate3d(-100%, 0, 0); transform: translate3d(-100%, 0, 0); visibility: visible; } to { -webkit-transform: translate3d(0, 0, 0); transform: translate3d(0, 0, 0); } } .slideInLeft { -webkit-animation-name: slideInLeft; animation-name: slideInLeft; } @-webkit-keyframes slideInRight { from { -webkit-transform: translate3d(100%, 0, 0); transform: translate3d(100%, 0, 0); visibility: visible; } to { -webkit-transform: translate3d(0, 0, 0); transform: translate3d(0, 0, 0); } } @keyframes slideInRight { from { -webkit-transform: translate3d(100%, 0, 0); transform: translate3d(100%, 0, 0); visibility: visible; } to { -webkit-transform: translate3d(0, 0, 0); transform: translate3d(0, 0, 0); } } .slideInRight { -webkit-animation-name: slideInRight; animation-name: slideInRight; } @-webkit-keyframes slideInUp { from { -webkit-transform: translate3d(0, 100%, 0); transform: translate3d(0, 100%, 0); visibility: visible; } to { -webkit-transform: translate3d(0, 0, 0); transform: translate3d(0, 0, 0); } } @keyframes slideInUp { from { -webkit-transform: translate3d(0, 100%, 0); transform: translate3d(0, 100%, 0); visibility: visible; } to { -webkit-transform: translate3d(0, 0, 0); transform: translate3d(0, 0, 0); } } .slideInUp { -webkit-animation-name: slideInUp; animation-name: slideInUp; } @-webkit-keyframes slideOutDown { from { -webkit-transform: translate3d(0, 0, 0); transform: translate3d(0, 0, 0); } to { visibility: hidden; -webkit-transform: translate3d(0, 100%, 0); transform: translate3d(0, 100%, 0); } } @keyframes slideOutDown { from { -webkit-transform: translate3d(0, 0, 0); transform: translate3d(0, 0, 0); } to { visibility: hidden; -webkit-transform: translate3d(0, 100%, 0); transform: translate3d(0, 100%, 0); } } .slideOutDown { -webkit-animation-name: slideOutDown; animation-name: slideOutDown; } @-webkit-keyframes slideOutLeft { from { -webkit-transform: translate3d(0, 0, 0); transform: translate3d(0, 0, 0); } to { visibility: hidden; -webkit-transform: translate3d(-100%, 0, 0); transform: translate3d(-100%, 0, 0); } } @keyframes slideOutLeft { from { -webkit-transform: translate3d(0, 0, 0); transform: translate3d(0, 0, 0); } to { visibility: hidden; -webkit-transform: translate3d(-100%, 0, 0); transform: translate3d(-100%, 0, 0); } } .slideOutLeft { -webkit-animation-name: slideOutLeft; animation-name: slideOutLeft; } @-webkit-keyframes slideOutRight { from { -webkit-transform: translate3d(0, 0, 0); transform: translate3d(0, 0, 0); } to { visibility: hidden; -webkit-transform: translate3d(100%, 0, 0); transform: translate3d(100%, 0, 0); } } @keyframes slideOutRight { from { -webkit-transform: translate3d(0, 0, 0); transform: translate3d(0, 0, 0); } to { visibility: hidden; -webkit-transform: translate3d(100%, 0, 0); transform: translate3d(100%, 0, 0); } } .slideOutRight { -webkit-animation-name: slideOutRight; animation-name: slideOutRight; } @-webkit-keyframes slideOutUp { from { -webkit-transform: translate3d(0, 0, 0); transform: translate3d(0, 0, 0); } to { visibility: hidden; -webkit-transform: translate3d(0, -100%, 0); transform: translate3d(0, -100%, 0); } } @keyframes slideOutUp { from { -webkit-transform: translate3d(0, 0, 0); transform: translate3d(0, 0, 0); } to { visibility: hidden; -webkit-transform: translate3d(0, -100%, 0); transform: translate3d(0, -100%, 0); } } .slideOutUp { -webkit-animation-name: slideOutUp; animation-name: slideOutUp; } .animated { -webkit-animation-duration: 1s; animation-duration: 1s; -webkit-animation-fill-mode: both; animation-fill-mode: both; } .animated.infinite { -webkit-animation-iteration-count: infinite; animation-iteration-count: infinite; } .animated.delay-1s { -webkit-animation-delay: 1s; animation-delay: 1s; } .animated.delay-2s { -webkit-animation-delay: 2s; animation-delay: 2s; } .animated.delay-3s { -webkit-animation-delay: 3s; animation-delay: 3s; } .animated.delay-4s { -webkit-animation-delay: 4s; animation-delay: 4s; } .animated.delay-5s { -webkit-animation-delay: 5s; animation-delay: 5s; } .animated.fast { -webkit-animation-duration: 800ms; animation-duration: 800ms; } .animated.faster { -webkit-animation-duration: 500ms; animation-duration: 500ms; } .animated.slow { -webkit-animation-duration: 2s; animation-duration: 2s; } .animated.slower { -webkit-animation-duration: 3s; animation-duration: 3s; } @media (prefers-reduced-motion) { .animated { -webkit-animation: unset !important; animation: unset !important; -webkit-transition: none !important; -o-transition: none !important; transition: none !important; } } .mCustomScrollbar { -ms-touch-action: pinch-zoom; touch-action: pinch-zoom; } .mCustomScrollbar.mCS_no_scrollbar, .mCustomScrollbar.mCS_touch_action { -ms-touch-action: auto; touch-action: auto; } .mCustomScrollBox { position: relative; overflow: hidden; height: 100%; max-width: 100%; outline: 0; direction: ltr; } .mCSB_container { overflow: hidden; width: auto; height: auto; } .mCSB_inside > .mCSB_container { margin-right: 30px; } .mCSB_container.mCS_no_scrollbar_y.mCS_y_hidden { margin-right: 0; } .mCS-dir-rtl > .mCSB_inside > .mCSB_container { margin-right: 0; margin-left: 30px; } .mCS-dir-rtl > .mCSB_inside > .mCSB_container.mCS_no_scrollbar_y.mCS_y_hidden { margin-left: 0; } .mCSB_scrollTools { position: absolute; width: 16px; height: auto; left: auto; top: 0; right: 0; bottom: 0; opacity: 0.75; filter: "alpha(opacity=75)"; -ms-filter: "alpha(opacity=75)"; } .mCSB_outside + .mCSB_scrollTools { right: -26px; } .mCS-dir-rtl > .mCSB_inside > .mCSB_scrollTools, .mCS-dir-rtl > .mCSB_outside + .mCSB_scrollTools { right: auto; left: 0; } .mCS-dir-rtl > .mCSB_outside + .mCSB_scrollTools { left: -26px; } .mCSB_scrollTools .mCSB_draggerContainer { position: absolute; top: 0; left: 0; bottom: 0; right: 0; height: auto; } .mCSB_scrollTools a + .mCSB_draggerContainer { margin: 20px 0; } .mCSB_scrollTools .mCSB_draggerRail { width: 2px; height: 100%; margin: 0 auto; border-radius: 16px; } .mCSB_scrollTools .mCSB_dragger { cursor: pointer; width: 100%; height: 30px; z-index: 1; } .mCSB_scrollTools .mCSB_dragger .mCSB_dragger_bar { position: relative; width: 4px; height: 100%; margin: 0 auto; border-radius: 16px; text-align: center; } .mCSB_scrollTools_vertical.mCSB_scrollTools_onDrag_expand .mCSB_dragger.mCSB_dragger_onDrag_expanded .mCSB_dragger_bar, .mCSB_scrollTools_vertical.mCSB_scrollTools_onDrag_expand .mCSB_draggerContainer:hover .mCSB_dragger .mCSB_dragger_bar { width: 12px; } .mCSB_scrollTools_vertical.mCSB_scrollTools_onDrag_expand .mCSB_dragger.mCSB_dragger_onDrag_expanded + .mCSB_draggerRail, .mCSB_scrollTools_vertical.mCSB_scrollTools_onDrag_expand .mCSB_draggerContainer:hover .mCSB_draggerRail { width: 8px; } .mCSB_scrollTools .mCSB_buttonDown, .mCSB_scrollTools .mCSB_buttonUp { display: block; position: absolute; height: 20px; width: 100%; overflow: hidden; margin: 0 auto; cursor: pointer; } .mCSB_scrollTools .mCSB_buttonDown { bottom: 0; } .mCSB_horizontal.mCSB_inside > .mCSB_container { margin-right: 0; margin-bottom: 30px; } .mCSB_horizontal.mCSB_outside > .mCSB_container { min-height: 100%; } .mCSB_horizontal > .mCSB_container.mCS_no_scrollbar_x.mCS_x_hidden { margin-bottom: 0; } .mCSB_scrollTools.mCSB_scrollTools_horizontal { width: auto; height: 16px; top: auto; right: 0; bottom: 0; left: 0; } .mCustomScrollBox + .mCSB_scrollTools + .mCSB_scrollTools.mCSB_scrollTools_horizontal, .mCustomScrollBox + .mCSB_scrollTools.mCSB_scrollTools_horizontal { bottom: -26px; } .mCSB_scrollTools.mCSB_scrollTools_horizontal a + .mCSB_draggerContainer { margin: 0 20px; } .mCSB_scrollTools.mCSB_scrollTools_horizontal .mCSB_draggerRail { width: 100%; height: 2px; margin: 7px 0; } .mCSB_scrollTools.mCSB_scrollTools_horizontal .mCSB_dragger { width: 30px; height: 100%; left: 0; } .mCSB_scrollTools.mCSB_scrollTools_horizontal .mCSB_dragger .mCSB_dragger_bar { width: 100%; height: 4px; margin: 6px auto; } .mCSB_scrollTools_horizontal.mCSB_scrollTools_onDrag_expand .mCSB_dragger.mCSB_dragger_onDrag_expanded .mCSB_dragger_bar, .mCSB_scrollTools_horizontal.mCSB_scrollTools_onDrag_expand .mCSB_draggerContainer:hover .mCSB_dragger .mCSB_dragger_bar { height: 12px; margin: 2px auto; } .mCSB_scrollTools_horizontal.mCSB_scrollTools_onDrag_expand .mCSB_dragger.mCSB_dragger_onDrag_expanded + .mCSB_draggerRail, .mCSB_scrollTools_horizontal.mCSB_scrollTools_onDrag_expand .mCSB_draggerContainer:hover .mCSB_draggerRail { height: 8px; margin: 4px 0; } .mCSB_scrollTools.mCSB_scrollTools_horizontal .mCSB_buttonLeft, .mCSB_scrollTools.mCSB_scrollTools_horizontal .mCSB_buttonRight { display: block; position: absolute; width: 20px; height: 100%; overflow: hidden; margin: 0 auto; cursor: pointer; } .mCSB_scrollTools.mCSB_scrollTools_horizontal .mCSB_buttonLeft { left: 0; } .mCSB_scrollTools.mCSB_scrollTools_horizontal .mCSB_buttonRight { right: 0; } .mCSB_container_wrapper { position: absolute; height: auto; width: auto; overflow: hidden; top: 0; left: 0; right: 0; bottom: 0; margin-right: 30px; margin-bottom: 30px; } .mCSB_container_wrapper > .mCSB_container { padding-right: 30px; padding-bottom: 30px; -webkit-box-sizing: border-box; box-sizing: border-box; } .mCSB_vertical_horizontal > .mCSB_scrollTools.mCSB_scrollTools_vertical { bottom: 20px; } .mCSB_vertical_horizontal > .mCSB_scrollTools.mCSB_scrollTools_horizontal { right: 20px; } .mCSB_container_wrapper.mCS_no_scrollbar_x.mCS_x_hidden + .mCSB_scrollTools.mCSB_scrollTools_vertical { bottom: 0; } .mCS-dir-rtl > .mCustomScrollBox.mCSB_vertical_horizontal.mCSB_inside > .mCSB_scrollTools.mCSB_scrollTools_horizontal, .mCSB_container_wrapper.mCS_no_scrollbar_y.mCS_y_hidden + .mCSB_scrollTools ~ .mCSB_scrollTools.mCSB_scrollTools_horizontal { right: 0; } .mCS-dir-rtl > .mCustomScrollBox.mCSB_vertical_horizontal.mCSB_inside > .mCSB_scrollTools.mCSB_scrollTools_horizontal { left: 20px; } .mCS-dir-rtl > .mCustomScrollBox.mCSB_vertical_horizontal.mCSB_inside > .mCSB_container_wrapper.mCS_no_scrollbar_y.mCS_y_hidden + .mCSB_scrollTools ~ .mCSB_scrollTools.mCSB_scrollTools_horizontal { left: 0; } .mCS-dir-rtl > .mCSB_inside > .mCSB_container_wrapper { margin-right: 0; margin-left: 30px; } .mCSB_container_wrapper.mCS_no_scrollbar_y.mCS_y_hidden > .mCSB_container { padding-right: 0; } .mCSB_container_wrapper.mCS_no_scrollbar_x.mCS_x_hidden > .mCSB_container { padding-bottom: 0; } .mCustomScrollBox.mCSB_vertical_horizontal.mCSB_inside > .mCSB_container_wrapper.mCS_no_scrollbar_y.mCS_y_hidden { margin-right: 0; margin-left: 0; } .mCustomScrollBox.mCSB_vertical_horizontal.mCSB_inside > .mCSB_container_wrapper.mCS_no_scrollbar_x.mCS_x_hidden { margin-bottom: 0; } .mCSB_scrollTools, .mCSB_scrollTools .mCSB_buttonDown, .mCSB_scrollTools .mCSB_buttonLeft, .mCSB_scrollTools .mCSB_buttonRight, .mCSB_scrollTools .mCSB_buttonUp, .mCSB_scrollTools .mCSB_dragger .mCSB_dragger_bar { -webkit-transition: opacity 0.2s ease-in-out, background-color 0.2s ease-in-out; -o-transition: opacity 0.2s ease-in-out, background-color 0.2s ease-in-out; transition: opacity 0.2s ease-in-out, background-color 0.2s ease-in-out; } .mCSB_scrollTools_horizontal.mCSB_scrollTools_onDrag_expand .mCSB_draggerRail, .mCSB_scrollTools_horizontal.mCSB_scrollTools_onDrag_expand .mCSB_dragger_bar, .mCSB_scrollTools_vertical.mCSB_scrollTools_onDrag_expand .mCSB_draggerRail, .mCSB_scrollTools_vertical.mCSB_scrollTools_onDrag_expand .mCSB_dragger_bar { -webkit-transition: width 0.2s ease-out 0.2s, height 0.2s ease-out 0.2s, margin-left 0.2s ease-out 0.2s, margin-right 0.2s ease-out 0.2s, margin-top 0.2s ease-out 0.2s, margin-bottom 0.2s ease-out 0.2s, opacity 0.2s ease-in-out, background-color 0.2s ease-in-out; -o-transition: width 0.2s ease-out 0.2s, height 0.2s ease-out 0.2s, margin-left 0.2s ease-out 0.2s, margin-right 0.2s ease-out 0.2s, margin-top 0.2s ease-out 0.2s, margin-bottom 0.2s ease-out 0.2s, opacity 0.2s ease-in-out, background-color 0.2s ease-in-out; transition: width 0.2s ease-out 0.2s, height 0.2s ease-out 0.2s, margin-left 0.2s ease-out 0.2s, margin-right 0.2s ease-out 0.2s, margin-top 0.2s ease-out 0.2s, margin-bottom 0.2s ease-out 0.2s, opacity 0.2s ease-in-out, background-color 0.2s ease-in-out; } .mCS-autoHide > .mCustomScrollBox > .mCSB_scrollTools, .mCS-autoHide > .mCustomScrollBox ~ .mCSB_scrollTools { opacity: 0; filter: "alpha(opacity=0)"; -ms-filter: "alpha(opacity=0)"; } .mCS-autoHide:hover > .mCustomScrollBox > .mCSB_scrollTools, .mCS-autoHide:hover > .mCustomScrollBox ~ .mCSB_scrollTools, .mCustomScrollBox:hover > .mCSB_scrollTools, .mCustomScrollBox:hover ~ .mCSB_scrollTools, .mCustomScrollbar > .mCustomScrollBox > .mCSB_scrollTools.mCSB_scrollTools_onDrag, .mCustomScrollbar > .mCustomScrollBox ~ .mCSB_scrollTools.mCSB_scrollTools_onDrag { opacity: 1; filter: "alpha(opacity=100)"; -ms-filter: "alpha(opacity=100)"; } .mCSB_scrollTools .mCSB_draggerRail { background-color: #000; background-color: rgba(0, 0, 0, 0.4); filter: "alpha(opacity=40)"; -ms-filter: "alpha(opacity=40)"; } .mCSB_scrollTools .mCSB_dragger .mCSB_dragger_bar { background-color: #fff; background-color: rgba(255, 255, 255, 0.75); filter: "alpha(opacity=75)"; -ms-filter: "alpha(opacity=75)"; } .mCSB_scrollTools .mCSB_dragger:hover .mCSB_dragger_bar { background-color: #fff; background-color: rgba(255, 255, 255, 0.85); filter: "alpha(opacity=85)"; -ms-filter: "alpha(opacity=85)"; } .mCSB_scrollTools .mCSB_dragger.mCSB_dragger_onDrag .mCSB_dragger_bar, .mCSB_scrollTools .mCSB_dragger:active .mCSB_dragger_bar { background-color: #fff; background-color: rgba(255, 255, 255, 0.9); filter: "alpha(opacity=90)"; -ms-filter: "alpha(opacity=90)"; } .mCSB_scrollTools .mCSB_buttonDown, .mCSB_scrollTools .mCSB_buttonLeft, .mCSB_scrollTools .mCSB_buttonRight, .mCSB_scrollTools .mCSB_buttonUp { background-image: url(//www.corporatesuites.com/wp-content/themes/corporate-suites/assets/css/mCSB_buttons.png); background-repeat: no-repeat; opacity: 0.4; filter: "alpha(opacity=40)"; -ms-filter: "alpha(opacity=40)"; } .mCSB_scrollTools .mCSB_buttonUp { background-position: 0 0; } .mCSB_scrollTools .mCSB_buttonDown { background-position: 0 -20px; } .mCSB_scrollTools .mCSB_buttonLeft { background-position: 0 -40px; } .mCSB_scrollTools .mCSB_buttonRight { background-position: 0 -56px; } .mCSB_scrollTools .mCSB_buttonDown:hover, .mCSB_scrollTools .mCSB_buttonLeft:hover, .mCSB_scrollTools .mCSB_buttonRight:hover, .mCSB_scrollTools .mCSB_buttonUp:hover { opacity: 0.75; filter: "alpha(opacity=75)"; -ms-filter: "alpha(opacity=75)"; } .mCSB_scrollTools .mCSB_buttonDown:active, .mCSB_scrollTools .mCSB_buttonLeft:active, .mCSB_scrollTools .mCSB_buttonRight:active, .mCSB_scrollTools .mCSB_buttonUp:active { opacity: 0.9; filter: "alpha(opacity=90)"; -ms-filter: "alpha(opacity=90)"; } .mCS-dark.mCSB_scrollTools .mCSB_draggerRail { background-color: #000; background-color: rgba(0, 0, 0, 0.15); } .mCS-dark.mCSB_scrollTools .mCSB_dragger .mCSB_dragger_bar { background-color: #000; background-color: rgba(0, 0, 0, 0.75); } .mCS-dark.mCSB_scrollTools .mCSB_dragger:hover .mCSB_dragger_bar { background-color: rgba(0, 0, 0, 0.85); } .mCS-dark.mCSB_scrollTools .mCSB_dragger.mCSB_dragger_onDrag .mCSB_dragger_bar, .mCS-dark.mCSB_scrollTools .mCSB_dragger:active .mCSB_dragger_bar { background-color: rgba(0, 0, 0, 0.9); } .mCS-dark.mCSB_scrollTools .mCSB_buttonUp { background-position: -80px 0; } .mCS-dark.mCSB_scrollTools .mCSB_buttonDown { background-position: -80px -20px; } .mCS-dark.mCSB_scrollTools .mCSB_buttonLeft { background-position: -80px -40px; } .mCS-dark.mCSB_scrollTools .mCSB_buttonRight { background-position: -80px -56px; } .mCS-dark-2.mCSB_scrollTools .mCSB_draggerRail, .mCS-light-2.mCSB_scrollTools .mCSB_draggerRail { width: 4px; background-color: #fff; background-color: rgba(255, 255, 255, 0.1); border-radius: 1px; } .mCS-dark-2.mCSB_scrollTools .mCSB_dragger .mCSB_dragger_bar, .mCS-light-2.mCSB_scrollTools .mCSB_dragger .mCSB_dragger_bar { width: 4px; background-color: #fff; background-color: rgba(255, 255, 255, 0.75); border-radius: 1px; } .mCS-dark-2.mCSB_scrollTools_horizontal .mCSB_dragger .mCSB_dragger_bar, .mCS-dark-2.mCSB_scrollTools_horizontal .mCSB_draggerRail, .mCS-light-2.mCSB_scrollTools_horizontal .mCSB_dragger .mCSB_dragger_bar, .mCS-light-2.mCSB_scrollTools_horizontal .mCSB_draggerRail { width: 100%; height: 4px; margin: 6px auto; } .mCS-light-2.mCSB_scrollTools .mCSB_dragger:hover .mCSB_dragger_bar { background-color: #fff; background-color: rgba(255, 255, 255, 0.85); } .mCS-light-2.mCSB_scrollTools .mCSB_dragger.mCSB_dragger_onDrag .mCSB_dragger_bar, .mCS-light-2.mCSB_scrollTools .mCSB_dragger:active .mCSB_dragger_bar { background-color: #fff; background-color: rgba(255, 255, 255, 0.9); } .mCS-light-2.mCSB_scrollTools .mCSB_buttonUp { background-position: -32px 0; } .mCS-light-2.mCSB_scrollTools .mCSB_buttonDown { background-position: -32px -20px; } .mCS-light-2.mCSB_scrollTools .mCSB_buttonLeft { background-position: -40px -40px; } .mCS-light-2.mCSB_scrollTools .mCSB_buttonRight { background-position: -40px -56px; } .mCS-dark-2.mCSB_scrollTools .mCSB_draggerRail { background-color: #000; background-color: rgba(0, 0, 0, 0.1); border-radius: 1px; } .mCS-dark-2.mCSB_scrollTools .mCSB_dragger .mCSB_dragger_bar { background-color: #000; background-color: rgba(0, 0, 0, 0.75); border-radius: 1px; } .mCS-dark-2.mCSB_scrollTools .mCSB_dragger:hover .mCSB_dragger_bar { background-color: #000; background-color: rgba(0, 0, 0, 0.85); } .mCS-dark-2.mCSB_scrollTools .mCSB_dragger.mCSB_dragger_onDrag .mCSB_dragger_bar, .mCS-dark-2.mCSB_scrollTools .mCSB_dragger:active .mCSB_dragger_bar { background-color: #000; background-color: rgba(0, 0, 0, 0.9); } .mCS-dark-2.mCSB_scrollTools .mCSB_buttonUp { background-position: -112px 0; } .mCS-dark-2.mCSB_scrollTools .mCSB_buttonDown { background-position: -112px -20px; } .mCS-dark-2.mCSB_scrollTools .mCSB_buttonLeft { background-position: -120px -40px; } .mCS-dark-2.mCSB_scrollTools .mCSB_buttonRight { background-position: -120px -56px; } .mCS-dark-thick.mCSB_scrollTools .mCSB_draggerRail, .mCS-light-thick.mCSB_scrollTools .mCSB_draggerRail { width: 4px; background-color: #fff; background-color: rgba(255, 255, 255, 0.1); border-radius: 2px; } .mCS-dark-thick.mCSB_scrollTools .mCSB_dragger .mCSB_dragger_bar, .mCS-light-thick.mCSB_scrollTools .mCSB_dragger .mCSB_dragger_bar { width: 6px; background-color: #fff; background-color: rgba(255, 255, 255, 0.75); border-radius: 2px; } .mCS-dark-thick.mCSB_scrollTools_horizontal .mCSB_draggerRail, .mCS-light-thick.mCSB_scrollTools_horizontal .mCSB_draggerRail { width: 100%; height: 4px; margin: 6px 0; } .mCS-dark-thick.mCSB_scrollTools_horizontal .mCSB_dragger .mCSB_dragger_bar, .mCS-light-thick.mCSB_scrollTools_horizontal .mCSB_dragger .mCSB_dragger_bar { width: 100%; height: 6px; margin: 5px auto; } .mCS-light-thick.mCSB_scrollTools .mCSB_dragger:hover .mCSB_dragger_bar { background-color: #fff; background-color: rgba(255, 255, 255, 0.85); } .mCS-light-thick.mCSB_scrollTools .mCSB_dragger.mCSB_dragger_onDrag .mCSB_dragger_bar, .mCS-light-thick.mCSB_scrollTools .mCSB_dragger:active .mCSB_dragger_bar { background-color: #fff; background-color: rgba(255, 255, 255, 0.9); } .mCS-light-thick.mCSB_scrollTools .mCSB_buttonUp { background-position: -16px 0; } .mCS-light-thick.mCSB_scrollTools .mCSB_buttonDown { background-position: -16px -20px; } .mCS-light-thick.mCSB_scrollTools .mCSB_buttonLeft { background-position: -20px -40px; } .mCS-light-thick.mCSB_scrollTools .mCSB_buttonRight { background-position: -20px -56px; } .mCS-dark-thick.mCSB_scrollTools .mCSB_draggerRail { background-color: #000; background-color: rgba(0, 0, 0, 0.1); border-radius: 2px; } .mCS-dark-thick.mCSB_scrollTools .mCSB_dragger .mCSB_dragger_bar { background-color: #000; background-color: rgba(0, 0, 0, 0.75); border-radius: 2px; } .mCS-dark-thick.mCSB_scrollTools .mCSB_dragger:hover .mCSB_dragger_bar { background-color: #000; background-color: rgba(0, 0, 0, 0.85); } .mCS-dark-thick.mCSB_scrollTools .mCSB_dragger.mCSB_dragger_onDrag .mCSB_dragger_bar, .mCS-dark-thick.mCSB_scrollTools .mCSB_dragger:active .mCSB_dragger_bar { background-color: #000; background-color: rgba(0, 0, 0, 0.9); } .mCS-dark-thick.mCSB_scrollTools .mCSB_buttonUp { background-position: -96px 0; } .mCS-dark-thick.mCSB_scrollTools .mCSB_buttonDown { background-position: -96px -20px; } .mCS-dark-thick.mCSB_scrollTools .mCSB_buttonLeft { background-position: -100px -40px; } .mCS-dark-thick.mCSB_scrollTools .mCSB_buttonRight { background-position: -100px -56px; } .mCS-light-thin.mCSB_scrollTools .mCSB_draggerRail { background-color: #fff; background-color: rgba(255, 255, 255, 0.1); } .mCS-dark-thin.mCSB_scrollTools .mCSB_dragger .mCSB_dragger_bar, .mCS-light-thin.mCSB_scrollTools .mCSB_dragger .mCSB_dragger_bar { width: 2px; } .mCS-dark-thin.mCSB_scrollTools_horizontal .mCSB_draggerRail, .mCS-light-thin.mCSB_scrollTools_horizontal .mCSB_draggerRail { width: 100%; } .mCS-dark-thin.mCSB_scrollTools_horizontal .mCSB_dragger .mCSB_dragger_bar, .mCS-light-thin.mCSB_scrollTools_horizontal .mCSB_dragger .mCSB_dragger_bar { width: 100%; height: 2px; margin: 7px auto; } .mCS-dark-thin.mCSB_scrollTools .mCSB_draggerRail { background-color: #000; background-color: rgba(0, 0, 0, 0.15); } .mCS-dark-thin.mCSB_scrollTools .mCSB_dragger .mCSB_dragger_bar { background-color: #000; background-color: rgba(0, 0, 0, 0.75); } .mCS-dark-thin.mCSB_scrollTools .mCSB_dragger:hover .mCSB_dragger_bar { background-color: #000; background-color: rgba(0, 0, 0, 0.85); } .mCS-dark-thin.mCSB_scrollTools .mCSB_dragger.mCSB_dragger_onDrag .mCSB_dragger_bar, .mCS-dark-thin.mCSB_scrollTools .mCSB_dragger:active .mCSB_dragger_bar { background-color: #000; background-color: rgba(0, 0, 0, 0.9); } .mCS-dark-thin.mCSB_scrollTools .mCSB_buttonUp { background-position: -80px 0; } .mCS-dark-thin.mCSB_scrollTools .mCSB_buttonDown { background-position: -80px -20px; } .mCS-dark-thin.mCSB_scrollTools .mCSB_buttonLeft { background-position: -80px -40px; } .mCS-dark-thin.mCSB_scrollTools .mCSB_buttonRight { background-position: -80px -56px; } .mCS-rounded.mCSB_scrollTools .mCSB_draggerRail { background-color: #fff; background-color: rgba(255, 255, 255, 0.15); } .mCS-rounded-dark.mCSB_scrollTools .mCSB_dragger, .mCS-rounded-dots-dark.mCSB_scrollTools .mCSB_dragger, .mCS-rounded-dots.mCSB_scrollTools .mCSB_dragger, .mCS-rounded.mCSB_scrollTools .mCSB_dragger { height: 14px; } .mCS-rounded-dark.mCSB_scrollTools .mCSB_dragger .mCSB_dragger_bar, .mCS-rounded-dots-dark.mCSB_scrollTools .mCSB_dragger .mCSB_dragger_bar, .mCS-rounded-dots.mCSB_scrollTools .mCSB_dragger .mCSB_dragger_bar, .mCS-rounded.mCSB_scrollTools .mCSB_dragger .mCSB_dragger_bar { width: 14px; margin: 0 1px; } .mCS-rounded-dark.mCSB_scrollTools_horizontal .mCSB_dragger, .mCS-rounded-dots-dark.mCSB_scrollTools_horizontal .mCSB_dragger, .mCS-rounded-dots.mCSB_scrollTools_horizontal .mCSB_dragger, .mCS-rounded.mCSB_scrollTools_horizontal .mCSB_dragger { width: 14px; } .mCS-rounded-dark.mCSB_scrollTools_horizontal .mCSB_dragger .mCSB_dragger_bar, .mCS-rounded-dots-dark.mCSB_scrollTools_horizontal .mCSB_dragger .mCSB_dragger_bar, .mCS-rounded-dots.mCSB_scrollTools_horizontal .mCSB_dragger .mCSB_dragger_bar, .mCS-rounded.mCSB_scrollTools_horizontal .mCSB_dragger .mCSB_dragger_bar { height: 14px; margin: 1px 0; } .mCS-rounded-dark.mCSB_scrollTools_vertical.mCSB_scrollTools_onDrag_expand .mCSB_dragger.mCSB_dragger_onDrag_expanded .mCSB_dragger_bar, .mCS-rounded-dark.mCSB_scrollTools_vertical.mCSB_scrollTools_onDrag_expand .mCSB_draggerContainer:hover .mCSB_dragger .mCSB_dragger_bar, .mCS-rounded.mCSB_scrollTools_vertical.mCSB_scrollTools_onDrag_expand .mCSB_dragger.mCSB_dragger_onDrag_expanded .mCSB_dragger_bar, .mCS-rounded.mCSB_scrollTools_vertical.mCSB_scrollTools_onDrag_expand .mCSB_draggerContainer:hover .mCSB_dragger .mCSB_dragger_bar { width: 16px; height: 16px; margin: -1px 0; } .mCS-rounded-dark.mCSB_scrollTools_vertical.mCSB_scrollTools_onDrag_expand .mCSB_dragger.mCSB_dragger_onDrag_expanded + .mCSB_draggerRail, .mCS-rounded-dark.mCSB_scrollTools_vertical.mCSB_scrollTools_onDrag_expand .mCSB_draggerContainer:hover .mCSB_draggerRail, .mCS-rounded.mCSB_scrollTools_vertical.mCSB_scrollTools_onDrag_expand .mCSB_dragger.mCSB_dragger_onDrag_expanded + .mCSB_draggerRail, .mCS-rounded.mCSB_scrollTools_vertical.mCSB_scrollTools_onDrag_expand .mCSB_draggerContainer:hover .mCSB_draggerRail { width: 4px; } .mCS-rounded-dark.mCSB_scrollTools_horizontal.mCSB_scrollTools_onDrag_expand .mCSB_dragger.mCSB_dragger_onDrag_expanded .mCSB_dragger_bar, .mCS-rounded-dark.mCSB_scrollTools_horizontal.mCSB_scrollTools_onDrag_expand .mCSB_draggerContainer:hover .mCSB_dragger .mCSB_dragger_bar, .mCS-rounded.mCSB_scrollTools_horizontal.mCSB_scrollTools_onDrag_expand .mCSB_dragger.mCSB_dragger_onDrag_expanded .mCSB_dragger_bar, .mCS-rounded.mCSB_scrollTools_horizontal.mCSB_scrollTools_onDrag_expand .mCSB_draggerContainer:hover .mCSB_dragger .mCSB_dragger_bar { height: 16px; width: 16px; margin: 0 -1px; } .mCS-rounded-dark.mCSB_scrollTools_horizontal.mCSB_scrollTools_onDrag_expand .mCSB_dragger.mCSB_dragger_onDrag_expanded + .mCSB_draggerRail, .mCS-rounded-dark.mCSB_scrollTools_horizontal.mCSB_scrollTools_onDrag_expand .mCSB_draggerContainer:hover .mCSB_draggerRail, .mCS-rounded.mCSB_scrollTools_horizontal.mCSB_scrollTools_onDrag_expand .mCSB_dragger.mCSB_dragger_onDrag_expanded + .mCSB_draggerRail, .mCS-rounded.mCSB_scrollTools_horizontal.mCSB_scrollTools_onDrag_expand .mCSB_draggerContainer:hover .mCSB_draggerRail { height: 4px; margin: 6px 0; } .mCS-rounded.mCSB_scrollTools .mCSB_buttonUp { background-position: 0 -72px; } .mCS-rounded.mCSB_scrollTools .mCSB_buttonDown { background-position: 0 -92px; } .mCS-rounded.mCSB_scrollTools .mCSB_buttonLeft { background-position: 0 -112px; } .mCS-rounded.mCSB_scrollTools .mCSB_buttonRight { background-position: 0 -128px; } .mCS-rounded-dark.mCSB_scrollTools .mCSB_dragger .mCSB_dragger_bar, .mCS-rounded-dots-dark.mCSB_scrollTools .mCSB_dragger .mCSB_dragger_bar { background-color: #000; background-color: rgba(0, 0, 0, 0.75); } .mCS-rounded-dark.mCSB_scrollTools .mCSB_draggerRail { background-color: #000; background-color: rgba(0, 0, 0, 0.15); } .mCS-rounded-dark.mCSB_scrollTools .mCSB_dragger:hover .mCSB_dragger_bar, .mCS-rounded-dots-dark.mCSB_scrollTools .mCSB_dragger:hover .mCSB_dragger_bar { background-color: #000; background-color: rgba(0, 0, 0, 0.85); } .mCS-rounded-dark.mCSB_scrollTools .mCSB_dragger.mCSB_dragger_onDrag .mCSB_dragger_bar, .mCS-rounded-dark.mCSB_scrollTools .mCSB_dragger:active .mCSB_dragger_bar, .mCS-rounded-dots-dark.mCSB_scrollTools .mCSB_dragger.mCSB_dragger_onDrag .mCSB_dragger_bar, .mCS-rounded-dots-dark.mCSB_scrollTools .mCSB_dragger:active .mCSB_dragger_bar { background-color: #000; background-color: rgba(0, 0, 0, 0.9); } .mCS-rounded-dark.mCSB_scrollTools .mCSB_buttonUp { background-position: -80px -72px; } .mCS-rounded-dark.mCSB_scrollTools .mCSB_buttonDown { background-position: -80px -92px; } .mCS-rounded-dark.mCSB_scrollTools .mCSB_buttonLeft { background-position: -80px -112px; } .mCS-rounded-dark.mCSB_scrollTools .mCSB_buttonRight { background-position: -80px -128px; } .mCS-rounded-dots-dark.mCSB_scrollTools_vertical .mCSB_draggerRail, .mCS-rounded-dots.mCSB_scrollTools_vertical .mCSB_draggerRail { width: 4px; } .mCS-rounded-dots-dark.mCSB_scrollTools .mCSB_draggerRail, .mCS-rounded-dots-dark.mCSB_scrollTools_horizontal .mCSB_draggerRail, .mCS-rounded-dots.mCSB_scrollTools .mCSB_draggerRail, .mCS-rounded-dots.mCSB_scrollTools_horizontal .mCSB_draggerRail { background-color: transparent; background-position: center; } .mCS-rounded-dots-dark.mCSB_scrollTools .mCSB_draggerRail, .mCS-rounded-dots.mCSB_scrollTools .mCSB_draggerRail { background-image: url(data:image/png;base64,iVBORw0KGgoAAAANSUhEUgAAAAgAAAAICAYAAADED76LAAAANElEQVQYV2NkIAAYiVbw//9/Y6DiM1ANJoyMjGdBbLgJQAX/kU0DKgDLkaQAvxW4HEvQFwCRcxIJK1XznAAAAABJRU5ErkJggg==); background-repeat: repeat-y; opacity: 0.3; filter: "alpha(opacity=30)"; -ms-filter: "alpha(opacity=30)"; } .mCS-rounded-dots-dark.mCSB_scrollTools_horizontal .mCSB_draggerRail, .mCS-rounded-dots.mCSB_scrollTools_horizontal .mCSB_draggerRail { height: 4px; margin: 6px 0; background-repeat: repeat-x; } .mCS-rounded-dots.mCSB_scrollTools .mCSB_buttonUp { background-position: -16px -72px; } .mCS-rounded-dots.mCSB_scrollTools .mCSB_buttonDown { background-position: -16px -92px; } .mCS-rounded-dots.mCSB_scrollTools .mCSB_buttonLeft { background-position: -20px -112px; } .mCS-rounded-dots.mCSB_scrollTools .mCSB_buttonRight { background-position: -20px -128px; } .mCS-rounded-dots-dark.mCSB_scrollTools .mCSB_draggerRail { background-image: url(data:image/png;base64,iVBORw0KGgoAAAANSUhEUgAAAAgAAAAICAYAAADED76LAAAALElEQVQYV2NkIAAYSVFgDFR8BqrBBEifBbGRTfiPZhpYjiQFBK3A6l6CvgAAE9kGCd1mvgEAAAAASUVORK5CYII=); } .mCS-rounded-dots-dark.mCSB_scrollTools .mCSB_buttonUp { background-position: -96px -72px; } .mCS-rounded-dots-dark.mCSB_scrollTools .mCSB_buttonDown { background-position: -96px -92px; } .mCS-rounded-dots-dark.mCSB_scrollTools .mCSB_buttonLeft { background-position: -100px -112px; } .mCS-rounded-dots-dark.mCSB_scrollTools .mCSB_buttonRight { background-position: -100px -128px; } .mCS-3d-dark.mCSB_scrollTools .mCSB_dragger .mCSB_dragger_bar, .mCS-3d-thick-dark.mCSB_scrollTools .mCSB_dragger .mCSB_dragger_bar, .mCS-3d-thick.mCSB_scrollTools .mCSB_dragger .mCSB_dragger_bar, .mCS-3d.mCSB_scrollTools .mCSB_dragger .mCSB_dragger_bar { background-repeat: repeat-y; background-image: -o-linear-gradient(left, rgba(255, 255, 255, 0.5) 0, rgba(255, 255, 255, 0) 100%); background-image: -webkit-gradient(linear, left top, right top, color-stop(0, rgba(255, 255, 255, 0.5)), to(rgba(255, 255, 255, 0))); background-image: linear-gradient(to right, rgba(255, 255, 255, 0.5) 0, rgba(255, 255, 255, 0) 100%); } .mCS-3d-dark.mCSB_scrollTools_horizontal .mCSB_dragger .mCSB_dragger_bar, .mCS-3d-thick-dark.mCSB_scrollTools_horizontal .mCSB_dragger .mCSB_dragger_bar, .mCS-3d-thick.mCSB_scrollTools_horizontal .mCSB_dragger .mCSB_dragger_bar, .mCS-3d.mCSB_scrollTools_horizontal .mCSB_dragger .mCSB_dragger_bar { background-repeat: repeat-x; background-image: -o-linear-gradient(top, rgba(255, 255, 255, 0.5) 0, rgba(255, 255, 255, 0) 100%); background-image: -webkit-gradient(linear, left top, left bottom, color-stop(0, rgba(255, 255, 255, 0.5)), to(rgba(255, 255, 255, 0))); background-image: linear-gradient(to bottom, rgba(255, 255, 255, 0.5) 0, rgba(255, 255, 255, 0) 100%); } .mCS-3d-dark.mCSB_scrollTools_vertical .mCSB_dragger, .mCS-3d.mCSB_scrollTools_vertical .mCSB_dragger { height: 70px; } .mCS-3d-dark.mCSB_scrollTools_horizontal .mCSB_dragger, .mCS-3d.mCSB_scrollTools_horizontal .mCSB_dragger { width: 70px; } .mCS-3d-dark.mCSB_scrollTools, .mCS-3d.mCSB_scrollTools { opacity: 1; filter: "alpha(opacity=30)"; -ms-filter: "alpha(opacity=30)"; } .mCS-3d-dark.mCSB_scrollTools .mCSB_dragger .mCSB_dragger_bar, .mCS-3d-dark.mCSB_scrollTools .mCSB_draggerRail, .mCS-3d.mCSB_scrollTools .mCSB_dragger .mCSB_dragger_bar, .mCS-3d.mCSB_scrollTools .mCSB_draggerRail { border-radius: 16px; } .mCS-3d-dark.mCSB_scrollTools .mCSB_draggerRail, .mCS-3d.mCSB_scrollTools .mCSB_draggerRail { width: 8px; background-color: #000; background-color: rgba(0, 0, 0, 0.2); -webkit-box-shadow: inset 1px 0 1px rgba(0, 0, 0, 0.5), inset -1px 0 1px rgba(255, 255, 255, 0.2); box-shadow: inset 1px 0 1px rgba(0, 0, 0, 0.5), inset -1px 0 1px rgba(255, 255, 255, 0.2); } .mCS-3d-dark.mCSB_scrollTools .mCSB_dragger .mCSB_dragger_bar, .mCS-3d-dark.mCSB_scrollTools .mCSB_dragger.mCSB_dragger_onDrag .mCSB_dragger_bar, .mCS-3d-dark.mCSB_scrollTools .mCSB_dragger:active .mCSB_dragger_bar, .mCS-3d-dark.mCSB_scrollTools .mCSB_dragger:hover .mCSB_dragger_bar, .mCS-3d.mCSB_scrollTools .mCSB_dragger .mCSB_dragger_bar, .mCS-3d.mCSB_scrollTools .mCSB_dragger.mCSB_dragger_onDrag .mCSB_dragger_bar, .mCS-3d.mCSB_scrollTools .mCSB_dragger:active .mCSB_dragger_bar, .mCS-3d.mCSB_scrollTools .mCSB_dragger:hover .mCSB_dragger_bar { background-color: #555; } .mCS-3d-dark.mCSB_scrollTools .mCSB_dragger .mCSB_dragger_bar, .mCS-3d.mCSB_scrollTools .mCSB_dragger .mCSB_dragger_bar { width: 8px; } .mCS-3d-dark.mCSB_scrollTools_horizontal .mCSB_draggerRail, .mCS-3d.mCSB_scrollTools_horizontal .mCSB_draggerRail { width: 100%; height: 8px; margin: 4px 0; -webkit-box-shadow: inset 0 1px 1px rgba(0, 0, 0, 0.5), inset 0 -1px 1px rgba(255, 255, 255, 0.2); box-shadow: inset 0 1px 1px rgba(0, 0, 0, 0.5), inset 0 -1px 1px rgba(255, 255, 255, 0.2); } .mCS-3d-dark.mCSB_scrollTools_horizontal .mCSB_dragger .mCSB_dragger_bar, .mCS-3d.mCSB_scrollTools_horizontal .mCSB_dragger .mCSB_dragger_bar { width: 100%; height: 8px; margin: 4px auto; } .mCS-3d.mCSB_scrollTools .mCSB_buttonUp { background-position: -32px -72px; } .mCS-3d.mCSB_scrollTools .mCSB_buttonDown { background-position: -32px -92px; } .mCS-3d.mCSB_scrollTools .mCSB_buttonLeft { background-position: -40px -112px; } .mCS-3d.mCSB_scrollTools .mCSB_buttonRight { background-position: -40px -128px; } .mCS-3d-dark.mCSB_scrollTools .mCSB_draggerRail { background-color: #000; background-color: rgba(0, 0, 0, 0.1); -webkit-box-shadow: inset 1px 0 1px rgba(0, 0, 0, 0.1); box-shadow: inset 1px 0 1px rgba(0, 0, 0, 0.1); } .mCS-3d-dark.mCSB_scrollTools_horizontal .mCSB_draggerRail { -webkit-box-shadow: inset 0 1px 1px rgba(0, 0, 0, 0.1); box-shadow: inset 0 1px 1px rgba(0, 0, 0, 0.1); } .mCS-3d-dark.mCSB_scrollTools .mCSB_buttonUp { background-position: -112px -72px; } .mCS-3d-dark.mCSB_scrollTools .mCSB_buttonDown { background-position: -112px -92px; } .mCS-3d-dark.mCSB_scrollTools .mCSB_buttonLeft { background-position: -120px -112px; } .mCS-3d-dark.mCSB_scrollTools .mCSB_buttonRight { background-position: -120px -128px; } .mCS-3d-thick-dark.mCSB_scrollTools, .mCS-3d-thick.mCSB_scrollTools { opacity: 1; filter: "alpha(opacity=30)"; -ms-filter: "alpha(opacity=30)"; } .mCS-3d-thick-dark.mCSB_scrollTools, .mCS-3d-thick-dark.mCSB_scrollTools .mCSB_draggerContainer, .mCS-3d-thick.mCSB_scrollTools, .mCS-3d-thick.mCSB_scrollTools .mCSB_draggerContainer { border-radius: 7px; } .mCSB_inside + .mCS-3d-thick-dark.mCSB_scrollTools_vertical, .mCSB_inside + .mCS-3d-thick.mCSB_scrollTools_vertical { right: 1px; } .mCS-3d-thick-dark.mCSB_scrollTools_vertical, .mCS-3d-thick.mCSB_scrollTools_vertical { -webkit-box-shadow: inset 1px 0 1px rgba(0, 0, 0, 0.1), inset 0 0 14px rgba(0, 0, 0, 0.5); box-shadow: inset 1px 0 1px rgba(0, 0, 0, 0.1), inset 0 0 14px rgba(0, 0, 0, 0.5); } .mCS-3d-thick-dark.mCSB_scrollTools_horizontal, .mCS-3d-thick.mCSB_scrollTools_horizontal { bottom: 1px; -webkit-box-shadow: inset 0 1px 1px rgba(0, 0, 0, 0.1), inset 0 0 14px rgba(0, 0, 0, 0.5); box-shadow: inset 0 1px 1px rgba(0, 0, 0, 0.1), inset 0 0 14px rgba(0, 0, 0, 0.5); } .mCS-3d-thick-dark.mCSB_scrollTools .mCSB_dragger .mCSB_dragger_bar, .mCS-3d-thick.mCSB_scrollTools .mCSB_dragger .mCSB_dragger_bar { border-radius: 5px; -webkit-box-shadow: inset 1px 0 0 rgba(255, 255, 255, 0.4); box-shadow: inset 1px 0 0 rgba(255, 255, 255, 0.4); width: 12px; margin: 2px; position: absolute; height: auto; top: 0; bottom: 0; left: 0; right: 0; } .mCS-3d-thick-dark.mCSB_scrollTools_horizontal .mCSB_dragger .mCSB_dragger_bar, .mCS-3d-thick.mCSB_scrollTools_horizontal .mCSB_dragger .mCSB_dragger_bar { -webkit-box-shadow: inset 0 1px 0 rgba(255, 255, 255, 0.4); box-shadow: inset 0 1px 0 rgba(255, 255, 255, 0.4); height: 12px; width: auto; } .mCS-3d-thick.mCSB_scrollTools .mCSB_dragger .mCSB_dragger_bar, .mCS-3d-thick.mCSB_scrollTools .mCSB_dragger.mCSB_dragger_onDrag .mCSB_dragger_bar, .mCS-3d-thick.mCSB_scrollTools .mCSB_dragger:active .mCSB_dragger_bar, .mCS-3d-thick.mCSB_scrollTools .mCSB_dragger:hover .mCSB_dragger_bar { background-color: #555; } .mCS-3d-thick.mCSB_scrollTools .mCSB_draggerContainer { background-color: #000; background-color: rgba(0, 0, 0, 0.05); -webkit-box-shadow: inset 1px 1px 16px rgba(0, 0, 0, 0.1); box-shadow: inset 1px 1px 16px rgba(0, 0, 0, 0.1); } .mCS-3d-thick.mCSB_scrollTools .mCSB_draggerRail { background-color: transparent; } .mCS-3d-thick.mCSB_scrollTools .mCSB_buttonUp { background-position: -32px -72px; } .mCS-3d-thick.mCSB_scrollTools .mCSB_buttonDown { background-position: -32px -92px; } .mCS-3d-thick.mCSB_scrollTools .mCSB_buttonLeft { background-position: -40px -112px; } .mCS-3d-thick.mCSB_scrollTools .mCSB_buttonRight { background-position: -40px -128px; } .mCS-3d-thick-dark.mCSB_scrollTools { -webkit-box-shadow: inset 0 0 14px rgba(0, 0, 0, 0.2); box-shadow: inset 0 0 14px rgba(0, 0, 0, 0.2); } .mCS-3d-thick-dark.mCSB_scrollTools_horizontal { -webkit-box-shadow: inset 0 1px 1px rgba(0, 0, 0, 0.1), inset 0 0 14px rgba(0, 0, 0, 0.2); box-shadow: inset 0 1px 1px rgba(0, 0, 0, 0.1), inset 0 0 14px rgba(0, 0, 0, 0.2); } .mCS-3d-thick-dark.mCSB_scrollTools .mCSB_dragger .mCSB_dragger_bar { -webkit-box-shadow: inset 1px 0 0 rgba(255, 255, 255, 0.4), inset -1px 0 0 rgba(0, 0, 0, 0.2); box-shadow: inset 1px 0 0 rgba(255, 255, 255, 0.4), inset -1px 0 0 rgba(0, 0, 0, 0.2); } .mCS-3d-thick-dark.mCSB_scrollTools_horizontal .mCSB_dragger .mCSB_dragger_bar { -webkit-box-shadow: inset 0 1px 0 rgba(255, 255, 255, 0.4), inset 0 -1px 0 rgba(0, 0, 0, 0.2); box-shadow: inset 0 1px 0 rgba(255, 255, 255, 0.4), inset 0 -1px 0 rgba(0, 0, 0, 0.2); } .mCS-3d-thick-dark.mCSB_scrollTools .mCSB_dragger .mCSB_dragger_bar, .mCS-3d-thick-dark.mCSB_scrollTools .mCSB_dragger.mCSB_dragger_onDrag .mCSB_dragger_bar, .mCS-3d-thick-dark.mCSB_scrollTools .mCSB_dragger:active .mCSB_dragger_bar, .mCS-3d-thick-dark.mCSB_scrollTools .mCSB_dragger:hover .mCSB_dragger_bar { background-color: #777; } .mCS-3d-thick-dark.mCSB_scrollTools .mCSB_draggerContainer { background-color: #fff; background-color: rgba(0, 0, 0, 0.05); -webkit-box-shadow: inset 1px 1px 16px rgba(0, 0, 0, 0.1); box-shadow: inset 1px 1px 16px rgba(0, 0, 0, 0.1); } .mCS-3d-thick-dark.mCSB_scrollTools .mCSB_draggerRail, .mCS-minimal-dark.mCSB_scrollTools .mCSB_draggerRail, .mCS-minimal.mCSB_scrollTools .mCSB_draggerRail { background-color: transparent; } .mCS-3d-thick-dark.mCSB_scrollTools .mCSB_buttonUp { background-position: -112px -72px; } .mCS-3d-thick-dark.mCSB_scrollTools .mCSB_buttonDown { background-position: -112px -92px; } .mCS-3d-thick-dark.mCSB_scrollTools .mCSB_buttonLeft { background-position: -120px -112px; } .mCS-3d-thick-dark.mCSB_scrollTools .mCSB_buttonRight { background-position: -120px -128px; } .mCSB_outside + .mCS-minimal-dark.mCSB_scrollTools_vertical, .mCSB_outside + .mCS-minimal.mCSB_scrollTools_vertical { right: 0; margin: 12px 0; } .mCustomScrollBox.mCS-minimal + .mCSB_scrollTools + .mCSB_scrollTools.mCSB_scrollTools_horizontal, .mCustomScrollBox.mCS-minimal + .mCSB_scrollTools.mCSB_scrollTools_horizontal, .mCustomScrollBox.mCS-minimal-dark + .mCSB_scrollTools + .mCSB_scrollTools.mCSB_scrollTools_horizontal, .mCustomScrollBox.mCS-minimal-dark + .mCSB_scrollTools.mCSB_scrollTools_horizontal { bottom: 0; margin: 0 12px; } .mCS-dir-rtl > .mCSB_outside + .mCS-minimal-dark.mCSB_scrollTools_vertical, .mCS-dir-rtl > .mCSB_outside + .mCS-minimal.mCSB_scrollTools_vertical { left: 0; right: auto; } .mCS-minimal-dark.mCSB_scrollTools_vertical .mCSB_dragger, .mCS-minimal.mCSB_scrollTools_vertical .mCSB_dragger { height: 50px; } .mCS-minimal-dark.mCSB_scrollTools_horizontal .mCSB_dragger, .mCS-minimal.mCSB_scrollTools_horizontal .mCSB_dragger { width: 50px; } .mCS-minimal.mCSB_scrollTools .mCSB_dragger .mCSB_dragger_bar { background-color: #fff; background-color: rgba(255, 255, 255, 0.2); filter: "alpha(opacity=20)"; -ms-filter: "alpha(opacity=20)"; } .mCS-minimal.mCSB_scrollTools .mCSB_dragger.mCSB_dragger_onDrag .mCSB_dragger_bar, .mCS-minimal.mCSB_scrollTools .mCSB_dragger:active .mCSB_dragger_bar { background-color: #fff; background-color: rgba(255, 255, 255, 0.5); filter: "alpha(opacity=50)"; -ms-filter: "alpha(opacity=50)"; } .mCS-minimal-dark.mCSB_scrollTools .mCSB_dragger .mCSB_dragger_bar { background-color: #000; background-color: rgba(0, 0, 0, 0.2); filter: "alpha(opacity=20)"; -ms-filter: "alpha(opacity=20)"; } .mCS-minimal-dark.mCSB_scrollTools .mCSB_dragger.mCSB_dragger_onDrag .mCSB_dragger_bar, .mCS-minimal-dark.mCSB_scrollTools .mCSB_dragger:active .mCSB_dragger_bar { background-color: #000; background-color: rgba(0, 0, 0, 0.5); filter: "alpha(opacity=50)"; -ms-filter: "alpha(opacity=50)"; } .mCS-dark-3.mCSB_scrollTools .mCSB_draggerRail, .mCS-light-3.mCSB_scrollTools .mCSB_draggerRail { width: 6px; background-color: #000; background-color: rgba(0, 0, 0, 0.2); } .mCS-dark-3.mCSB_scrollTools .mCSB_dragger .mCSB_dragger_bar, .mCS-light-3.mCSB_scrollTools .mCSB_dragger .mCSB_dragger_bar { width: 6px; } .mCS-dark-3.mCSB_scrollTools_horizontal .mCSB_dragger .mCSB_dragger_bar, .mCS-dark-3.mCSB_scrollTools_horizontal .mCSB_draggerRail, .mCS-light-3.mCSB_scrollTools_horizontal .mCSB_dragger .mCSB_dragger_bar, .mCS-light-3.mCSB_scrollTools_horizontal .mCSB_draggerRail { width: 100%; height: 6px; margin: 5px 0; } .mCS-dark-3.mCSB_scrollTools_vertical.mCSB_scrollTools_onDrag_expand .mCSB_dragger.mCSB_dragger_onDrag_expanded + .mCSB_draggerRail, .mCS-dark-3.mCSB_scrollTools_vertical.mCSB_scrollTools_onDrag_expand .mCSB_draggerContainer:hover .mCSB_draggerRail, .mCS-light-3.mCSB_scrollTools_vertical.mCSB_scrollTools_onDrag_expand .mCSB_dragger.mCSB_dragger_onDrag_expanded + .mCSB_draggerRail, .mCS-light-3.mCSB_scrollTools_vertical.mCSB_scrollTools_onDrag_expand .mCSB_draggerContainer:hover .mCSB_draggerRail { width: 12px; } .mCS-dark-3.mCSB_scrollTools_horizontal.mCSB_scrollTools_onDrag_expand .mCSB_dragger.mCSB_dragger_onDrag_expanded + .mCSB_draggerRail, .mCS-dark-3.mCSB_scrollTools_horizontal.mCSB_scrollTools_onDrag_expand .mCSB_draggerContainer:hover .mCSB_draggerRail, .mCS-light-3.mCSB_scrollTools_horizontal.mCSB_scrollTools_onDrag_expand .mCSB_dragger.mCSB_dragger_onDrag_expanded + .mCSB_draggerRail, .mCS-light-3.mCSB_scrollTools_horizontal.mCSB_scrollTools_onDrag_expand .mCSB_draggerContainer:hover .mCSB_draggerRail { height: 12px; margin: 2px 0; } .mCS-light-3.mCSB_scrollTools .mCSB_buttonUp { background-position: -32px -72px; } .mCS-light-3.mCSB_scrollTools .mCSB_buttonDown { background-position: -32px -92px; } .mCS-light-3.mCSB_scrollTools .mCSB_buttonLeft { background-position: -40px -112px; } .mCS-light-3.mCSB_scrollTools .mCSB_buttonRight { background-position: -40px -128px; } .mCS-dark-3.mCSB_scrollTools .mCSB_dragger .mCSB_dragger_bar { background-color: #000; background-color: rgba(0, 0, 0, 0.75); } .mCS-dark-3.mCSB_scrollTools .mCSB_dragger:hover .mCSB_dragger_bar { background-color: #000; background-color: rgba(0, 0, 0, 0.85); } .mCS-dark-3.mCSB_scrollTools .mCSB_dragger.mCSB_dragger_onDrag .mCSB_dragger_bar, .mCS-dark-3.mCSB_scrollTools .mCSB_dragger:active .mCSB_dragger_bar { background-color: #000; background-color: rgba(0, 0, 0, 0.9); } .mCS-dark-3.mCSB_scrollTools .mCSB_draggerRail { background-color: #000; background-color: rgba(0, 0, 0, 0.1); } .mCS-dark-3.mCSB_scrollTools .mCSB_buttonUp { background-position: -112px -72px; } .mCS-dark-3.mCSB_scrollTools .mCSB_buttonDown { background-position: -112px -92px; } .mCS-dark-3.mCSB_scrollTools .mCSB_buttonLeft { background-position: -120px -112px; } .mCS-dark-3.mCSB_scrollTools .mCSB_buttonRight { background-position: -120px -128px; } .mCS-inset-2-dark.mCSB_scrollTools .mCSB_draggerRail, .mCS-inset-2.mCSB_scrollTools .mCSB_draggerRail, .mCS-inset-3-dark.mCSB_scrollTools .mCSB_draggerRail, .mCS-inset-3.mCSB_scrollTools .mCSB_draggerRail, .mCS-inset-dark.mCSB_scrollTools .mCSB_draggerRail, .mCS-inset.mCSB_scrollTools .mCSB_draggerRail { width: 12px; background-color: #000; background-color: rgba(0, 0, 0, 0.2); } .mCS-inset-2-dark.mCSB_scrollTools .mCSB_dragger .mCSB_dragger_bar, .mCS-inset-2.mCSB_scrollTools .mCSB_dragger .mCSB_dragger_bar, .mCS-inset-3-dark.mCSB_scrollTools .mCSB_dragger .mCSB_dragger_bar, .mCS-inset-3.mCSB_scrollTools .mCSB_dragger .mCSB_dragger_bar, .mCS-inset-dark.mCSB_scrollTools .mCSB_dragger .mCSB_dragger_bar, .mCS-inset.mCSB_scrollTools .mCSB_dragger .mCSB_dragger_bar { width: 6px; margin: 3px 5px; position: absolute; height: auto; top: 0; bottom: 0; left: 0; right: 0; } .mCS-inset-2-dark.mCSB_scrollTools_horizontal .mCSB_dragger .mCSB_dragger_bar, .mCS-inset-2.mCSB_scrollTools_horizontal .mCSB_dragger .mCSB_dragger_bar, .mCS-inset-3-dark.mCSB_scrollTools_horizontal .mCSB_dragger .mCSB_dragger_bar, .mCS-inset-3.mCSB_scrollTools_horizontal .mCSB_dragger .mCSB_dragger_bar, .mCS-inset-dark.mCSB_scrollTools_horizontal .mCSB_dragger .mCSB_dragger_bar, .mCS-inset.mCSB_scrollTools_horizontal .mCSB_dragger .mCSB_dragger_bar { height: 6px; margin: 5px 3px; position: absolute; width: auto; top: 0; bottom: 0; left: 0; right: 0; } .mCS-inset-2-dark.mCSB_scrollTools_horizontal .mCSB_draggerRail, .mCS-inset-2.mCSB_scrollTools_horizontal .mCSB_draggerRail, .mCS-inset-3-dark.mCSB_scrollTools_horizontal .mCSB_draggerRail, .mCS-inset-3.mCSB_scrollTools_horizontal .mCSB_draggerRail, .mCS-inset-dark.mCSB_scrollTools_horizontal .mCSB_draggerRail, .mCS-inset.mCSB_scrollTools_horizontal .mCSB_draggerRail { width: 100%; height: 12px; margin: 2px 0; } .mCS-inset-2.mCSB_scrollTools .mCSB_buttonUp, .mCS-inset-3.mCSB_scrollTools .mCSB_buttonUp, .mCS-inset.mCSB_scrollTools .mCSB_buttonUp { background-position: -32px -72px; } .mCS-inset-2.mCSB_scrollTools .mCSB_buttonDown, .mCS-inset-3.mCSB_scrollTools .mCSB_buttonDown, .mCS-inset.mCSB_scrollTools .mCSB_buttonDown { background-position: -32px -92px; } .mCS-inset-2.mCSB_scrollTools .mCSB_buttonLeft, .mCS-inset-3.mCSB_scrollTools .mCSB_buttonLeft, .mCS-inset.mCSB_scrollTools .mCSB_buttonLeft { background-position: -40px -112px; } .mCS-inset-2.mCSB_scrollTools .mCSB_buttonRight, .mCS-inset-3.mCSB_scrollTools .mCSB_buttonRight, .mCS-inset.mCSB_scrollTools .mCSB_buttonRight { background-position: -40px -128px; } .mCS-inset-2-dark.mCSB_scrollTools .mCSB_dragger .mCSB_dragger_bar, .mCS-inset-3-dark.mCSB_scrollTools .mCSB_dragger .mCSB_dragger_bar, .mCS-inset-dark.mCSB_scrollTools .mCSB_dragger .mCSB_dragger_bar { background-color: #000; background-color: rgba(0, 0, 0, 0.75); } .mCS-inset-2-dark.mCSB_scrollTools .mCSB_dragger:hover .mCSB_dragger_bar, .mCS-inset-3-dark.mCSB_scrollTools .mCSB_dragger:hover .mCSB_dragger_bar, .mCS-inset-dark.mCSB_scrollTools .mCSB_dragger:hover .mCSB_dragger_bar { background-color: #000; background-color: rgba(0, 0, 0, 0.85); } .mCS-inset-2-dark.mCSB_scrollTools .mCSB_dragger.mCSB_dragger_onDrag .mCSB_dragger_bar, .mCS-inset-2-dark.mCSB_scrollTools .mCSB_dragger:active .mCSB_dragger_bar, .mCS-inset-3-dark.mCSB_scrollTools .mCSB_dragger.mCSB_dragger_onDrag .mCSB_dragger_bar, .mCS-inset-3-dark.mCSB_scrollTools .mCSB_dragger:active .mCSB_dragger_bar, .mCS-inset-dark.mCSB_scrollTools .mCSB_dragger.mCSB_dragger_onDrag .mCSB_dragger_bar, .mCS-inset-dark.mCSB_scrollTools .mCSB_dragger:active .mCSB_dragger_bar { background-color: #000; background-color: rgba(0, 0, 0, 0.9); } .mCS-inset-2-dark.mCSB_scrollTools .mCSB_draggerRail, .mCS-inset-3-dark.mCSB_scrollTools .mCSB_draggerRail, .mCS-inset-dark.mCSB_scrollTools .mCSB_draggerRail { background-color: #000; background-color: rgba(0, 0, 0, 0.1); } .mCS-inset-2-dark.mCSB_scrollTools .mCSB_buttonUp, .mCS-inset-3-dark.mCSB_scrollTools .mCSB_buttonUp, .mCS-inset-dark.mCSB_scrollTools .mCSB_buttonUp { background-position: -112px -72px; } .mCS-inset-2-dark.mCSB_scrollTools .mCSB_buttonDown, .mCS-inset-3-dark.mCSB_scrollTools .mCSB_buttonDown, .mCS-inset-dark.mCSB_scrollTools .mCSB_buttonDown { background-position: -112px -92px; } .mCS-inset-2-dark.mCSB_scrollTools .mCSB_buttonLeft, .mCS-inset-3-dark.mCSB_scrollTools .mCSB_buttonLeft, .mCS-inset-dark.mCSB_scrollTools .mCSB_buttonLeft { background-position: -120px -112px; } .mCS-inset-2-dark.mCSB_scrollTools .mCSB_buttonRight, .mCS-inset-3-dark.mCSB_scrollTools .mCSB_buttonRight, .mCS-inset-dark.mCSB_scrollTools .mCSB_buttonRight { background-position: -120px -128px; } .mCS-inset-2-dark.mCSB_scrollTools .mCSB_draggerRail, .mCS-inset-2.mCSB_scrollTools .mCSB_draggerRail { background-color: transparent; border-width: 1px; border-style: solid; border-color: #fff; border-color: rgba(255, 255, 255, 0.2); -webkit-box-sizing: border-box; box-sizing: border-box; } .mCS-inset-2-dark.mCSB_scrollTools .mCSB_draggerRail { border-color: #000; border-color: rgba(0, 0, 0, 0.2); } .mCS-inset-3.mCSB_scrollTools .mCSB_draggerRail { background-color: #fff; background-color: rgba(255, 255, 255, 0.6); } .mCS-inset-3-dark.mCSB_scrollTools .mCSB_draggerRail { background-color: #000; background-color: rgba(0, 0, 0, 0.6); } .mCS-inset-3.mCSB_scrollTools .mCSB_dragger .mCSB_dragger_bar { background-color: #000; background-color: rgba(0, 0, 0, 0.75); } .mCS-inset-3.mCSB_scrollTools .mCSB_dragger:hover .mCSB_dragger_bar { background-color: #000; background-color: rgba(0, 0, 0, 0.85); } .mCS-inset-3.mCSB_scrollTools .mCSB_dragger.mCSB_dragger_onDrag .mCSB_dragger_bar, .mCS-inset-3.mCSB_scrollTools .mCSB_dragger:active .mCSB_dragger_bar { background-color: #000; background-color: rgba(0, 0, 0, 0.9); } .mCS-inset-3-dark.mCSB_scrollTools .mCSB_dragger .mCSB_dragger_bar { background-color: #fff; background-color: rgba(255, 255, 255, 0.75); } .mCS-inset-3-dark.mCSB_scrollTools .mCSB_dragger:hover .mCSB_dragger_bar { background-color: #fff; background-color: rgba(255, 255, 255, 0.85); } .mCS-inset-3-dark.mCSB_scrollTools .mCSB_dragger.mCSB_dragger_onDrag .mCSB_dragger_bar, .mCS-inset-3-dark.mCSB_scrollTools .mCSB_dragger:active .mCSB_dragger_bar { background-color: #fff; background-color: rgba(255, 255, 255, 0.9); } /* Custom Mixins -------------------- */ /*============================= = Align = =============================*/ /*===== End of Align ======*/ /*================================= = Animation = =================================*/ @keyframes shake { 10%, 90% { -webkit-transform: translate3d(-1px, 0, 0); transform: translate3d(-1px, 0, 0); } 20%, 80% { -webkit-transform: translate3d(2px, 0, 0); transform: translate3d(2px, 0, 0); } 30%, 50%, 70% { -webkit-transform: translate3d(-4px, 0, 0); transform: translate3d(-4px, 0, 0); } 40%, 60% { -webkit-transform: translate3d(4px, 0, 0); transform: translate3d(4px, 0, 0); } } /*===== End of Animation ======*/ /* Base Styles -------------------- */ @font-face { font-family: "AvantGarde"; src: url(//www.corporatesuites.com/wp-content/themes/corporate-suites/assets/css/../fonts/AvantGardeBookOblique.woff2) format("woff2"), url(//www.corporatesuites.com/wp-content/themes/corporate-suites/assets/css/../fonts/AvantGardeBookOblique.woff) format("woff"); font-weight: normal; font-style: italic; } @font-face { font-family: "AvantGarde"; src: url(//www.corporatesuites.com/wp-content/themes/corporate-suites/assets/css/../fonts/AvantGardeBook.woff2) format("woff2"), url(//www.corporatesuites.com/wp-content/themes/corporate-suites/assets/css/../fonts/AvantGardeBook.woff) format("woff"); font-weight: normal; font-style: normal; } @font-face { font-family: "AvantGarde"; src: url(//www.corporatesuites.com/wp-content/themes/corporate-suites/assets/css/../fonts/AvantGardeDemiOblique.woff2) format("woff2"), url(//www.corporatesuites.com/wp-content/themes/corporate-suites/assets/css/../fonts/AvantGardeDemiOblique.woff) format("woff"); font-weight: bold; font-style: italic; } @font-face { font-family: "AvantGarde Bk BT"; src: url(//www.corporatesuites.com/wp-content/themes/corporate-suites/assets/css/../fonts/AvantGardeITCbyBT-Demi.woff2) format("woff2"), url(//www.corporatesuites.com/wp-content/themes/corporate-suites/assets/css/../fonts/AvantGardeITCbyBT-Demi.woff) format("woff"); font-weight: bold; font-style: normal; } @font-face { font-family: "AvantGarde Bk BT"; src: url(//www.corporatesuites.com/wp-content/themes/corporate-suites/assets/css/../fonts/AvantGardeITCbyBT-BookOblique.woff2) format("woff2"), url(//www.corporatesuites.com/wp-content/themes/corporate-suites/assets/css/../fonts/AvantGardeITCbyBT-BookOblique.woff) format("woff"); font-weight: normal; font-style: italic; } @font-face { font-family: "AvantGarde Bk BT"; src: url(//www.corporatesuites.com/wp-content/themes/corporate-suites/assets/css/../fonts/AvantGardeITCbyBT-DemiOblique.woff2) format("woff2"), url(//www.corporatesuites.com/wp-content/themes/corporate-suites/assets/css/../fonts/AvantGardeITCbyBT-DemiOblique.woff) format("woff"); font-weight: bold; font-style: italic; } @font-face { font-family: "AvantGarde Bk BT"; src: url(//www.corporatesuites.com/wp-content/themes/corporate-suites/assets/css/../fonts/AvantGardeITCbyBT-Book.woff2) format("woff2"), url(//www.corporatesuites.com/wp-content/themes/corporate-suites/assets/css/../fonts/AvantGardeITCbyBT-Book.woff) format("woff"); font-weight: normal; font-style: normal; } @font-face { font-family: "AvantGarde Bk BT"; src: url(//www.corporatesuites.com/wp-content/themes/corporate-suites/assets/css/../fonts/AvantGardeITCbyBT-Book.woff2) format("woff2"), url(//www.corporatesuites.com/wp-content/themes/corporate-suites/assets/css/../fonts/AvantGardeITCbyBT-Book.woff) format("woff"); font-weight: normal; font-style: normal; } .button-shadow { font-size: 22px; color: white; background: #024959; padding: 7px 30px; font-weight: 600; display: inline-block; text-align: center; border-radius: 10px; -webkit-box-shadow: #ddd 4px 4px 10px; box-shadow: #ddd 4px 4px 10px; } ul.check { font-size: 22px; line-height: 22px; margin-left: 30px; margin-bottom: 30px; list-style-image: url(data:image/png;base64,iVBORw0KGgoAAAANSUhEUgAAABQAAAAUCAYAAACNiR0NAAAAGXRFWHRTb2Z0d2FyZQBBZG9iZSBJbWFnZVJlYWR5ccllPAAAAyJpVFh0WE1MOmNvbS5hZG9iZS54bXAAAAAAADw/eHBhY2tldCBiZWdpbj0i77u/IiBpZD0iVzVNME1wQ2VoaUh6cmVTek5UY3prYzlkIj8+IDx4OnhtcG1ldGEgeG1sbnM6eD0iYWRvYmU6bnM6bWV0YS8iIHg6eG1wdGs9IkFkb2JlIFhNUCBDb3JlIDUuMy1jMDExIDY2LjE0NTY2MSwgMjAxMi8wMi8wNi0xNDo1NjoyNyAgICAgICAgIj4gPHJkZjpSREYgeG1sbnM6cmRmPSJodHRwOi8vd3d3LnczLm9yZy8xOTk5LzAyLzIyLXJkZi1zeW50YXgtbnMjIj4gPHJkZjpEZXNjcmlwdGlvbiByZGY6YWJvdXQ9IiIgeG1sbnM6eG1wPSJodHRwOi8vbnMuYWRvYmUuY29tL3hhcC8xLjAvIiB4bWxuczp4bXBNTT0iaHR0cDovL25zLmFkb2JlLmNvbS94YXAvMS4wL21tLyIgeG1sbnM6c3RSZWY9Imh0dHA6Ly9ucy5hZG9iZS5jb20veGFwLzEuMC9zVHlwZS9SZXNvdXJjZVJlZiMiIHhtcDpDcmVhdG9yVG9vbD0iQWRvYmUgUGhvdG9zaG9wIENTNiAoV2luZG93cykiIHhtcE1NOkluc3RhbmNlSUQ9InhtcC5paWQ6OEQxNzU2RDk4QjU4MTFFOEIwRTBDMkJFQjg5MEJBQzUiIHhtcE1NOkRvY3VtZW50SUQ9InhtcC5kaWQ6OEQxNzU2REE4QjU4MTFFOEIwRTBDMkJFQjg5MEJBQzUiPiA8eG1wTU06RGVyaXZlZEZyb20gc3RSZWY6aW5zdGFuY2VJRD0ieG1wLmlpZDo4RDE3NTZENzhCNTgxMUU4QjBFMEMyQkVCODkwQkFDNSIgc3RSZWY6ZG9jdW1lbnRJRD0ieG1wLmRpZDo4RDE3NTZEODhCNTgxMUU4QjBFMEMyQkVCODkwQkFDNSIvPiA8L3JkZjpEZXNjcmlwdGlvbj4gPC9yZGY6UkRGPiA8L3g6eG1wbWV0YT4gPD94cGFja2V0IGVuZD0iciI/Pgqfal0AAAGiSURBVHjanJXPK0RRFMfvTFM2dhrSlJWtBaGQ/CgWamIjKSUWQ4koP2KFlVI21DQLzWJoQhEWajZ+Jc0oC7OR/8BslF42aHxPnVvH695nvFOfuufee76dd+659wWKszXKYm1gELSAKp57BffgCNyZggIGwWawAbqUt12CZZCVk0HXpmlwU4KY4j3XYAWUmTKcBHH1f3sH1eBDZljvU4xEolpMCu4ofzbMJSKrBeVBPsVWH2Kb4IzHFeAK9JLgiA+xY7Ao/EMQAT1BbhNpp+DCQ+wFjAqfWqybx40kGBaLe2AA9IFtg9gb6AcO+xNgSaxXuvvwU4xnuE7SKLNnnY3hMIskWBATY2BL+FSnVR6vg3MeR/hAQi7BQoivTpOYnAPfYIH9NfAkxMj2uZndlqUMU4aFebAr/BPwJXq2w3JgKRLMgVvD4rhLVNd1yiJGGjl9l+vAo6Emij81BjpB2iJG2TeAvD7lPAeZLMo1THv0Zow1fj1fSX5xHENA2CLkcEzS9h4mQDvIlHD9Mrw38deLrY1aaYiD5C+Ain8AHkxBPwIMANNFVzeqIlyDAAAAAElFTkSuQmCC); } ul.check li { padding: 10px 0px 10px 0px; } .text-blue { color: #024959; } .text-orange { color: #ff701e; } .block-parallax { width: 100%; height: 100%; position: relative; overflow: hidden; font-size: 16px; } .img-parallax { min-width: 100vmax; z-index: -1; position: absolute; top: 0; left: 50%; -webkit-transform: translate(-50%, 0); -ms-transform: translate(-50%, 0); transform: translate(-50%, 0); pointer-events: none; } body { background: #fff; font-family: "AvantGarde Bk BT", sans-serif; color: #08213f; } @media screen and (max-width: 767px) { body { font-size: 0.8rem; } } h1, h2, h3, h4, h5, h6 { font-weight: bold; } img { max-width: 100%; margin: 0 auto; width: auto; height: auto; } .block { margin-bottom: 40px; } ul { list-style: none; } ul li { position: relative; margin-bottom: 10px; } .bg-highlight { background: rgba(255, 255, 255, 0.8); } button[type=submit], input[type=submit], a.read-more { font-size: 24px; width: auto; margin: 0 auto; display: block; background-color: #ff701e; border-radius: 10px; color: #fff; cursor: pointer; border: none; -webkit-box-shadow: 0px 6px 8px 0px rgba(0, 1, 1, 0.27); box-shadow: 0px 6px 8px 0px rgba(0, 1, 1, 0.27); padding: 14px 27px; margin-top: 29px; } @media screen and (max-width: 576px) { button[type=submit], input[type=submit], a.read-more { font-size: 14px; padding: 5px 8px; text-align: center; font-weight: bold; } } .btn-orange { -webkit-box-shadow: 0px 5px 10px 0px rgba(0, 1, 1, 0.21); box-shadow: 0px 5px 10px 0px rgba(0, 1, 1, 0.21); background-color: #ff701e; color: #fff; display: block; text-align: center; padding: 13px; font-weight: bold; } .btn-orange:hover { color: #fff; } .btn-main-block { -webkit-box-shadow: -5.202px 4.684px 6.96px 1.04px rgba(0, 0, 0, 0.26); box-shadow: -5.202px 4.684px 6.96px 1.04px rgba(0, 0, 0, 0.26); border-radius: 10px; background-color: #024959; color: #fff; display: block; text-align: center; padding: 13px; margin-bottom: 24px; font-size: 22px; font-weight: bold; } .btn-main-block:hover { color: #fff; text-decoration: none; } @media screen and (max-width: 767px) { .btn-main-block { padding: 10px; margin-bottom: 15px; font-size: 18px; } } .sent-info { text-align: center; margin-top: 15px; } .form-error { color: red; margin-bottom: 0; } /** * * Breakpoints * */ .heading { background: rgba(27, 91, 105, 0.9); color: #fff; text-align: center; font-size: 28px; padding: 22px 15px; font-weight: 700; text-shadow: 0px 3px 7px rgba(0, 0, 0, 0.35); line-height: 1.2; font-family: "AvantGarde Bk BT"; } @media screen and (max-width: 767px) { .pb-3, .py-3 { padding-bottom: 1rem !important; } .pb-3, .py-3, .pt-3 { padding-top: 1rem !important; } } .services .container { padding-left: 40px; padding-right: 40px; font-size: 22px; padding-bottom: 4rem !important; padding-top: 4rem !important; } @media screen and (max-width: 576px) { .services .container { padding-bottom: 0.5rem !important; padding-top: 0.5rem !important; } } .services .container .buttons { margin-bottom: 70px; } @media screen and (max-width: 576px) { .services .container .buttons { display: block; margin-bottom: 30px; } } .services .container .buttons .col { padding: 10px 25px; } @media screen and (max-width: 767px) { .services .container .buttons .col { padding: 10px 15px; } } .services .container .buttons .col .btn-orange { height: 100%; padding: 13px 20px !important; } @media screen and (max-width: 576px) { .services .container .buttons .col .btn-orange { font-size: 16px; } } .services .container .row:not(.buttons) .col-lg-2.col-md-4.col-sm-12 { margin-left: 5.8%; } @media screen and (max-width: 991px) { .services .container .row:not(.buttons) .col-lg-2.col-md-4.col-sm-12 { margin-left: 0; } } .services .container .row:not(.buttons) .col-sm-12.col-md-8 { margin-left: 8%; padding-right: 35px; } @media screen and (max-width: 991px) { .services .container .row:not(.buttons) .col-sm-12.col-md-8 { margin-left: 0; padding-right: 15px; } } .services .container .row:not(.buttons) img { margin-bottom: 20px; } .services .container .row:not(.buttons) p { font-size: 23px; line-height: 1.3; } @media screen and (max-width: 576px) { .services .container .row:not(.buttons) p { font-size: 16px; } } .services .container .row:not(.buttons) ul li { padding-left: 15px; } .services .container .row:not(.buttons) ul li strong { line-height: 27px; } @media screen and (max-width: 576px) { .services .container .row:not(.buttons) ul li { font-size: 16px; } } .services .container .row:not(.buttons) ul li :before { content: ""; width: 27px; height: 27px; display: inline-block; position: absolute; left: -25px; background: url(data:image/png;base64,iVBORw0KGgoAAAANSUhEUgAAABsAAAAbCAYAAACN1PRVAAAAGXRFWHRTb2Z0d2FyZQBBZG9iZSBJbWFnZVJlYWR5ccllPAAABNVJREFUeNqkVg1M1GUcfu7PgfcheKAIXEgNloAoUNGaW2xaSnlAUCMIkA4aG2qpUQwmRSVbJTPxA5GkUSFMJRzECELQ0lZt2ayA4lDpw5IrCPE4Pk4+7uj3/q/7hAPEd3e72/vxe9739zy/D8H09DTmHLd6fdDe/BRUXyqg7g7H6KA3pg0uADcJqXsffFZ3IGhDC8IVDVh+759zmRI4BGMg549l48fGVAz1ySEQkH0hfZ0se6YNgH7S+Ou6sh9hihps2nEAK+67vnCwS58ko37vAR5widQIMt8w6IHxUcDN8yZi8/MQmV4xP1jjO4Vofq8AzksAJxfc8WAvndQBG7NKEF+wBy7S0dnBGt8txGdFBRC70gqHRQ/9BDtvQP6FQHjd32Oatvjn+zNJaN5/90Ds8lP0OmVpmjUQG0arQ/94oe7NEt51dwPExm0tELVrHx5JOmm/ZLR8rjSHxOC5KI7MhAiMQGHRjYh7Pd9m7UZnCD2ZnsFe9UODklfd4pGMSpSvUSHtiJK8YxFC94XHcCThPPp/DeAoYOMJ0HNB8p5LEGI3LTLeT8LS5bfM8wPX/VC1qwoatRfaP48XouuLmBk8GaZIvuMkfWeS0DyuNQV2SlkGfNd1mucnxkSo3H6a6JHzXuu++CQHtSocnLNtnEhkgwiPboBXwFU6NI8ghgFFzlt4MK7OZr4mrxTXvl0PEamb2e/rCRFi5KYXOM6SBSTLbuLF0xvolj9jTOOGyh0nyNVxEC+byZNuCIh4phbRuXttllia+6b6Bf4MCwVmf0yzgiM3WJ41Ra7zC7/MA7EhkWmR+WEiHk6ooc22ypsgQfiFdSDlYCYPbBq/nIvCp4X7IZLau1vIEV9T5gnGj1q1lgTjbZ5zFk0gvSwV65NPQKe1XErqMYiM44nkCa15b19PAKp2VhO4E/vYeULPUZno50nmo44UqVHLcTytkYi1ADo566EsUyJSWU4lhtxN+7ceeh4+gVesuJPi42010P7ryScHexERPUI60AHN33II/9/gIgF+vxyBY8+dxfZTMfDw/cvsutSDWXwMybzVCN3SZGPwVE45nXuIjBp5sk/OKwNUHII3NptfZsptYjegVxWKkoRW9Pf424gipXgbFLmFNsZaivfgu5oU/txsJUtPTAVGtnIk8ToqfIO8Eq0BRUsZB0EoTW4jHoMcSr+9KZYqxdu8xB3FoUSmwwOxtRzcfXsJ8CSfbuyzNwMc+MMfRxNbKb+FzjCkVgWj+uVKkrbAYQJndtduqqMKcM24Y/NLRVRhNbxv7QFZ9Gv7VqGUOPztUoR5jcXgR1ksJNzNfM9WvUWuOjyRXWjJ+h6rbiCu4BVM6BjCTEAmmuEBb5QrW/B1ZSY6WxX4IL0BvV3r+Ms46mNYdonJzScRXp1Zqc+8Voy2o9m8oqwD1aRGvuSPG/8zt7mIHQDR3BhlF9aHbD2c6bgHqc0/ROlmN/UOFF+LqAQsid8eISBlBWWXLOrG9HN3Vxcrsqgf2Ud5U2bsrpwW0A4YjGIQu41iy6tvYPPO4oX3jSz1tB7OQ+fZZzEyKONfyUqOtepM5YXFkUQ2jJDH6xG1uwj3rOm6sybVGvSnpqdx5asoCvAQ4sLTmLwFU8TtADz9VVj9aBuFTz3kwd1zmfpPgAEAjBXw4N+yAt8AAAAASUVORK5CYII=) center left; } .locations .container { border-top: 2px solid #024959; padding-bottom: 4rem !important; padding-top: 4rem !important; } @media screen and (max-width: 767px) { .locations .container { padding-bottom: 1rem !important; padding-top: 1rem !important; } } .locations .container .col-lg-3 { padding: 0 25px; -ms-flex-pack: distribute; justify-content: space-around; } @media screen and (max-width: 991px) { .locations .container .col-lg-3.flex-column { -webkit-box-orient: horizontal !important; -webkit-box-direction: normal !important; -ms-flex-direction: row !important; flex-direction: row !important; margin-top: 20px; } } .locations .container h2 { margin-bottom: 5px; text-align: left; } @media screen and (max-width: 576px) { .locations .container h2 { font-size: 20px; } } .locations .container p { text-align: left; font-size: 18px; } @media screen and (max-width: 576px) { .locations .container p { font-size: 14px; } } .locations .container .map { max-width: 922px; height: 465px; background-color: #fff; } .locations .container .map .gm-style-iw + div { display: none; } .locations .container .map .gm-style-iw { text-align: center; } .locations .container .map .gm-style { font-family: "AvantGarde Bk BT", sans-serif; } .locations .container .map .location-info { -webkit-box-shadow: 0px 3px 7px 0px rgba(0, 0, 0, 0.3); box-shadow: 0px 3px 7px 0px rgba(0, 0, 0, 0.3); } .locations .container .map .info_content { color: #024959; margin: 14px 0 6px; } .locations .container .map .info_content a.read-more { font-size: 20px; padding: 8px; display: block; margin-top: 13px; -webkit-box-shadow: 0px 3px 7px 0px rgba(0, 0, 0, 0.3); box-shadow: 0px 3px 7px 0px rgba(0, 0, 0, 0.3); } .locations .container .map .info_content .col-sm-5 { text-align: center; padding: 0; } .locations .container .map .info_content .col-sm-5 img { display: block; margin: 0 auto; } @media screen and (max-width: 576px) { .locations .container .map .info_content .col-12 { padding: 0; } } .locations .container .map .info_content .col-sm-7 { -ms-flex-item-align: center; -ms-grid-row-align: center; align-self: center; text-align: left; } .locations .container .map .info_content .col-sm-7 h3 { font-size: 22px; margin-bottom: 10px; font-weight: bold; } @media screen and (max-width: 576px) { .locations .container .map .info_content .col-sm-7 h3 { font-size: 18px; } } .locations .container .map .info_content .col-sm-7 p { font-size: 14px; font-weight: normal; } .locations .container .map-link { font-size: 26px; font-weight: bold; line-height: 1.2; cursor: pointer; } @media screen and (max-width: 991px) { .locations .container .map-link { display: inline-block; float: left; width: 50%; font-size: 22px; } } @media screen and (max-width: 576px) { .locations .container .map-link { font-size: 20px; width: 100%; } } .locations .container .map-link.active { color: #ff701e; } .corporate { padding-bottom: 4rem !important; padding-top: 4rem !important; } @media screen and (max-width: 767px) { .corporate { padding-bottom: 1rem !important; padding-top: 1rem !important; } } .corporate .heading { margin-bottom: 4rem; } @media screen and (max-width: 767px) { .corporate .heading { margin-bottom: 1rem !important; } } @media screen and (max-width: 576px) { .corporate .heading { font-size: 20px; } } @media screen and (max-width: 576px) { .corporate .row { display: block; } } .corporate .row .col { margin-bottom: 20px; } .corporate-box { height: 100%; display: -webkit-box; display: -ms-flexbox; display: flex; -webkit-box-orient: vertical; -webkit-box-direction: normal; -ms-flex-direction: column; flex-direction: column; -webkit-box-align: stretch; -ms-flex-align: stretch; align-items: stretch; } @media screen and (max-width: 576px) { .corporate-box { display: block; } } .corporate-box a { display: block; } #testimonials { padding-bottom: 4rem !important; padding-top: 4rem !important; } @media screen and (max-width: 767px) { #testimonials { padding-bottom: 1rem !important; padding-top: 1rem !important; } } #testimonials .cite { font-size: 18px; } @media screen and (max-width: 576px) { #testimonials .cite { font-size: 14px; } } #testimonials .name { color: #ff701e; font-size: 21px; padding-top: 20px; text-align: right; font-weight: bold; } @media screen and (max-width: 576px) { #testimonials .name { font-size: 17px; } } #testimonials .testimonials-carousel { width: 70%; margin: 0 auto; } #testimonials .testimonials-nav { position: relative; top: -80px; } #testimonials .testimonials-item { overflow: auto; } #testimonials .testimonials-next { position: absolute; right: -100px; font-size: 50px; top: 0px; height: 90px; width: 45px; -webkit-box-sizing: border-box; box-sizing: border-box; line-height: 30px; display: inline-block; cursor: pointer; } @media screen and (max-width: 576px) { #testimonials .testimonials-next { top: 30px; right: -60px; } } #testimonials .testimonials-next:before { -webkit-transform: rotate(-45deg); -ms-transform: rotate(-45deg); transform: rotate(-45deg); content: ""; position: absolute; top: 50px; left: 0px; margin-top: 0px; margin-left: 0px; display: block; height: 2px; width: 45px; background-color: #ff701e; -webkit-transition: all 0.2s ease-out; -o-transition: all 0.2s ease-out; transition: all 0.2s ease-out; } @media screen and (max-width: 576px) { #testimonials .testimonials-next:before { width: 25px; top: 45px; } } #testimonials .testimonials-next:after { -webkit-transform: rotate(-45deg); -ms-transform: rotate(-45deg); transform: rotate(-45deg); content: ""; position: absolute; top: 20px; left: 0px; margin-top: 0px; margin-left: 0px; display: block; height: 2px; width: 45px; background-color: #ff701e; -webkit-transition: all 0.2s ease-out; -o-transition: all 0.2s ease-out; transition: all 0.2s ease-out; } @media screen and (max-width: 576px) { #testimonials .testimonials-next:after { width: 25px; top: 28px; } } #testimonials .testimonials-next:after { -webkit-transform: rotate(45deg); -ms-transform: rotate(45deg); transform: rotate(45deg); } #testimonials .testimonials-prev { position: absolute; left: -100px; font-size: 50px; top: 0px; height: 90px; width: 45px; -webkit-box-sizing: border-box; box-sizing: border-box; line-height: 30px; display: inline-block; cursor: pointer; } @media screen and (max-width: 576px) { #testimonials .testimonials-prev { top: 30px; left: -60px; } } #testimonials .testimonials-prev:before { -webkit-transform: rotate(45deg); -ms-transform: rotate(45deg); transform: rotate(45deg); content: ""; position: absolute; top: 50px; left: 0px; margin-top: 0px; margin-left: 0px; display: block; height: 2px; width: 45px; background-color: #ff701e; -webkit-transition: all 0.2s ease-out; -o-transition: all 0.2s ease-out; transition: all 0.2s ease-out; } @media screen and (max-width: 576px) { #testimonials .testimonials-prev:before { width: 25px; top: 45px; } } #testimonials .testimonials-prev:after { -webkit-transform: rotate(-45deg); -ms-transform: rotate(-45deg); transform: rotate(-45deg); content: ""; position: absolute; top: 20px; left: 0px; margin-top: 0px; margin-left: 0px; display: block; height: 2px; width: 45px; background-color: #ff701e; -webkit-transition: all 0.2s ease-out; -o-transition: all 0.2s ease-out; transition: all 0.2s ease-out; } @media screen and (max-width: 576px) { #testimonials .testimonials-prev:after { width: 25px; top: 28px; } } #testimonials .testimonials-prev:after { -webkit-transform: rotate(-45deg); -ms-transform: rotate(-45deg); transform: rotate(-45deg); } .corporate-box h2 { font-size: 20px; padding: 0px 20px; } .corporate-box .button { background: #024959; } .corporate-box .description { font-size: 14px; } .corporate-box a:link, .corporate-box a:active, .corporate-box a:visited { color: #fff; font-size: 16px; } .corporate-box a:hover { background: #ff701e; text-decoration: underline; } .white { background: #fff; } .popmake-content .form-control:not([type=submit]) { color: #024959; font-size: 14px; border-radius: 0px; max-width: 400px; margin: 0 auto; border: none; height: auto !important; line-height: 22px; padding: 0.375rem 0.45rem; } .popup-dialog { max-width: 396px; } .contact-popup { position: relative; width: auto; } .popup-content { background-color: #024959; color: #fff; font-size: 24px; padding-left: 32px; padding-right: 32px; border-radius: 0px; margin-bottom: 30px; } .popup-content .form-group { margin-bottom: 10px !important; } .popup-content .form-group input, .popup-content .form-group select { width: 100% !important; } .popup-content.open .popup-header { padding: 1rem 1rem 1.7rem; } .popup-content.open .popup-header h5, .popup-content.open .popup-header .h5 { max-height: none; } .popup-content.open .popup-header .close img { -ms-transform: rotate(180deg); /* IE 9 */ -webkit-transform: rotate(180deg); /* Safari 3-8 */ transform: rotate(180deg); } .popup-content.open .popup-body { max-height: 550px; border-top: 1px solid rgba(233, 236, 239, 0.5); padding-top: 1.7rem; padding-bottom: 1.1rem; } .popup-content.open .popup-body .form-group { margin-bottom: 1rem; } .popup-content .popup-header { -webkit-box-pack: center; -ms-flex-pack: center; justify-content: center; -webkit-box-align: center; -ms-flex-align: center; align-items: center; padding: 0.85rem 1rem; -webkit-transition: padding 0.3s ease-out; -o-transition: padding 0.3s ease-out; transition: padding 0.3s ease-out; } .popup-content .popup-header h5, .popup-content .popup-header .h5 { font-size: 24px; line-height: 26px; display: inline; max-height: 0; -webkit-transition: max-height 0.3s ease-out; -o-transition: max-height 0.3s ease-out; transition: max-height 0.3s ease-out; } .popup-content .popup-header .close { margin: 0; padding: 0 0.5rem; opacity: 1; outline: none; } .popup-content .popup-header .close img { margin-top: 5px; } .popup-content .popup-header .close:focus { outline: none; } .popup-content .popup-body { padding-top: 0; padding-bottom: 0; -webkit-transition: all 0.3s ease-out; -o-transition: all 0.3s ease-out; transition: all 0.3s ease-out; } .popup-content .form-group { margin-bottom: 0; -webkit-transition: all 0.2s ease-out; -o-transition: all 0.2s ease-out; transition: all 0.2s ease-out; } .popup-content .form-control:not([type=submit]) { color: #024959; font-size: 14px; border-radius: 0px; margin: 0 auto; border: none; height: auto !important; line-height: 22px; padding: 0.375rem 0.45rem; } .popup-content .form-control:not([type=submit]).placeholder { color: #024959; } .popup-content .form-control:not([type=submit]):-moz-placeholder { color: #024959; } .popup-content .form-control:not([type=submit])::-moz-placeholder { color: #024959; } .popup-content .form-control:not([type=submit]):-ms-input-placeholder { color: #024959; } .popup-content .form-control:not([type=submit])::-webkit-input-placeholder { color: #024959; } .popup-content select.form-control { padding-left: 4px; padding-top: 0.46rem; padding-bottom: 0.46rem; background: url(data:image/svg+xml;base64,PHN2ZyBpZD0iTGF5ZXJfMSIgZGF0YS1uYW1lPSJMYXllciAxIiB4bWxucz0iaHR0cDovL3d3dy53My5vcmcvMjAwMC9zdmciIHZpZXdCb3g9IjAgMCA0Ljk1IDEwIj48ZGVmcz48c3R5bGU+LmNscy0xe2ZpbGw6I2ZmZjt9LmNscy0ye2ZpbGw6IzQ0NDt9PC9zdHlsZT48L2RlZnM+PHRpdGxlPmFycm93czwvdGl0bGU+PHJlY3QgY2xhc3M9ImNscy0xIiB3aWR0aD0iNC45NSIgaGVpZ2h0PSIxMCIvPjxwb2x5Z29uIGNsYXNzPSJjbHMtMiIgcG9pbnRzPSIxLjQxIDQuNjcgMi40OCAzLjE4IDMuNTQgNC42NyAxLjQxIDQuNjciLz48cG9seWdvbiBjbGFzcz0iY2xzLTIiIHBvaW50cz0iMy41NCA1LjMzIDIuNDggNi44MiAxLjQxIDUuMzMgMy41NCA1LjMzIi8+PC9zdmc+) no-repeat 95% 50%; -moz-appearance: none; -webkit-appearance: none; appearance: none; background-color: #fff; } .popup-content textarea { padding-bottom: 3px; } .popup-content input[type=submit] { font-weight: bold; padding: 8px 23px; } .popup-content .form-error { font-size: 16px; text-align: center; margin-top: 5px; } @media screen and (max-width: 420px) { .contact-popup { width: 100%; } .popup-content { padding-left: 10px; padding-right: 10px; } .popup-content .popup-header { padding: 1rem 0 !important; } .popup-content .popup-header h5, .popup-content .popup-header .popup-content .popup-header .h5 { font-size: 20px; line-height: 22px; } } .hero.hero-locations { background-image: url(//www.corporatesuites.com/wp-content/themes/corporate-suites/assets/css/../img/locations-page.jpg); min-height: 500px; padding-bottom: 140px; } @media screen and (max-width: 768px) { .hero.hero-locations { padding: 20px 15px 20px 15px !important; min-height: auto !important; } } .hero.hero-locations .title { -ms-flex-item-align: end; align-self: flex-end; } @media screen and (max-width: 992px) { .hero.hero-locations .title { margin-top: 100px; -ms-flex-item-align: center; -ms-grid-row-align: center; align-self: center; } } #virtual-tour iframe { max-width: 100%; } .location-tabs { padding-top: 100px; padding-bottom: 14px; margin-bottom: 14px; } @media screen and (max-width: 991px) { .location-tabs { padding-top: 30px; } } @media screen and (min-width: 1200px) { .location-tabs .container { max-width: 1055px; } } .location-tabs .intro { color: #ff701e; margin-bottom: 60px; font-weight: bold; max-width: 70%; } @media screen and (max-width: 991px) { .location-tabs .intro { margin-bottom: 30px; max-width: 100%; } } @media screen and (max-width: 768px) { .location-tabs .intro { font-size: 20px; } } .location-tabs .col-md-3, .location-tabs .col-md-4 { padding-left: 7px; padding-right: 7px; margin-bottom: 14px; } .location-tabs .col-md-3 a, .location-tabs .col-md-4 a { display: -webkit-box; display: -ms-flexbox; display: flex; -webkit-box-orient: vertical; -webkit-box-direction: normal; -ms-flex-direction: column; flex-direction: column; background-color: #024959; text-align: center; padding: 15px; color: #fff; -webkit-box-pack: space-evenly; -ms-flex-pack: space-evenly; justify-content: space-evenly; } @media screen and (max-width: 576px) { .location-tabs .col-md-3 a, .location-tabs .col-md-4 a { -webkit-box-orient: horizontal; -webkit-box-direction: normal; -ms-flex-direction: row; flex-direction: row; min-height: auto; -webkit-box-align: center; -ms-flex-align: center; align-items: center; -webkit-box-pack: justify; -ms-flex-pack: justify; justify-content: space-between; } } .location-tabs .col-md-3 a.active, .location-tabs .col-md-4 a.active { background-color: #ff701e; } .location-tabs .col-md-3 a:hover, .location-tabs .col-md-4 a:hover { text-decoration: none; } .location-tabs .col-md-3 a img, .location-tabs .col-md-4 a img { margin-bottom: 15px; } @media screen and (max-width: 576px) { .location-tabs .col-md-3 a img, .location-tabs .col-md-4 a img { -webkit-box-ordinal-group: 3; -ms-flex-order: 2; order: 2; width: 170px; margin-bottom: 0px; padding: 0; margin: 0; } } .location-tabs .col-md-3 a .locations-tab-info, .location-tabs .col-md-4 a .locations-tab-info { height: 70px; } @media screen and (max-width: 576px) { .location-tabs .col-md-3 a .locations-tab-info, .location-tabs .col-md-4 a .locations-tab-info { text-align: left; height: auto; padding-right: 20px; } } .location-tabs .col-md-3 a .locations-tab-info h4, .location-tabs .col-md-4 a .locations-tab-info h4 { font-size: 20px; margin-bottom: 4px; text-transform: uppercase; } @media screen and (max-width: 1200px) { .location-tabs .col-md-3 a .locations-tab-info h4, .location-tabs .col-md-4 a .locations-tab-info h4 { font-size: 16px; } } @media screen and (max-width: 992px) { .location-tabs .col-md-3 a .locations-tab-info h4, .location-tabs .col-md-4 a .locations-tab-info h4 { font-size: 16px; } } @media screen and (max-width: 768px) { .location-tabs .col-md-3 a .locations-tab-info h4, .location-tabs .col-md-4 a .locations-tab-info h4 { font-size: 14px; } } @media screen and (max-width: 576px) { .location-tabs .col-md-3 a .locations-tab-info h4, .location-tabs .col-md-4 a .locations-tab-info h4 { font-size: 12px; } } .location-tabs .col-md-3 a .locations-tab-info p, .location-tabs .col-md-4 a .locations-tab-info p { line-height: 1; font-size: 15px; font-weight: bold; margin-bottom: 0; } .location-tabs .col-md-3 .small, .location-tabs .col-md-4 .small { min-height: 140px; } .location-tabs .col-md-3 .small .locations-tab-info, .location-tabs .col-md-4 .small .locations-tab-info { height: 10px !important; } .location-single { margin-top: 100px; margin-bottom: 50px; } @media screen and (max-width: 991px) { .location-single { margin-top: 0px; } } .location-single .maintitle { font-size: 36px; font-weight: 600; text-align: center; padding: 70px 0 20px 0; color: #08213f; } @media screen and (max-width: 576px) { .location-single .maintitle { font-size: 24px; padding: 30px 0 20px 0; } } .location-single .container { margin-top: 40px; } @media screen and (min-width: 1200px) { .location-single .container { max-width: 1180px; } } .location-single h2 { font-size: 36px; width: 100%; margin-bottom: 0; font-weight: bold; color: #024959; } @media screen and (max-width: 576px) { .location-single h2 { font-size: 20px; } } .location-single .address { padding-left: 20px; width: 100%; position: relative; margin-bottom: 36px; font-size: 18px; color: #024959; font-weight: bold; } @media screen and (max-width: 576px) { .location-single .address { font-size: 14px; } } .location-single .address:before { content: ""; display: inline-block; position: absolute; width: 14px; height: 21px; left: 0; background-image: url(data:image/png;base64,iVBORw0KGgoAAAANSUhEUgAAAA4AAAAVCAYAAAB2Wd+JAAAAGXRFWHRTb2Z0d2FyZQBBZG9iZSBJbWFnZVJlYWR5ccllPAAAArVJREFUeNqEU11I01EU/+2/ueFUNgvnV878ZEvRKC0CETUfQtKHUvC16MuoiLISnWEoak9S1FNR6Es0LAgjiYzsNfChtAc/Vpq1taltfsw1dTvde6dz5aQDBw7n/H733vM758qICEFzTqdj8MEljAxUwmXTs4wM2sQp5JT3oeT0XexI+bIBlQWJH1/WotfUBeePBEhygPzrCAnw+4DY5J+obruC/KNPNonD/TV4eNIMHgtQkhOJhmFWJ9hG89hhseIwbqce1SKv4inIZdVT895ZuhhPwp+Z7tOCPYkfKHzBkUTPm+8F66b8OcZJlbcc0rZg5E2ZuK34xGNUt5+FKmox2DePjaWv4J5Lwdehffi9EAmFkj21rWgS9olUqDUeNA0aEZMwhXC26EhBe/Eo3PORiM+Yktj79bwV6NIt25K4xeimocscZyIw9a16iaknEwW/T8L/TGAYnIhprUmwCskdlkz8+pa9Lck5ncVayhZYjc4micZ9q8DyvBJ9HR3bEnlt2aUUWENJP2jGYqQG4xJdTia6EEfUXWcm+1gukV8u3D6WQz3nzaLGMQ0GNzkm9gQW4HVXK160mhAZA3iXwRReRVzauLhpZjKL3RQBlRrwsClVNXXgyNXGAHHFrcHt8s+YnUyGQsWaZ9vDn8RNHsH0YFuz5gV26q248TYXqmhnQEll1Dwq6puxtiK2TAjAD+DOY57jtYr6m5zEKZsj2H+8B4biD1jxbBWG57KLhlBQ3b2RCp2dD5WN1yFXAKFfjccSy1U1XmPXr4UjArsL36OwxgyvW3xF4TwuPNaLtIPvQqGyvz4yN9f3DHQe/sQI6kD/ag8aBvIRqx8PhW1dM+0uC8rOdYmxcC89c+df0noLtNW9Sxq6dcBKLQU28i5qw2EUYdeLj6esrpN9AAnKaFc4yB8BBgCyb1RPZb14VwAAAABJRU5ErkJggg==); } .location-single .virtual_tour_slider { min-height: 140px; /* Dots */ } @media screen and (max-width: 1200px) { .location-single .virtual_tour_slider { min-height: auto !important; } } .location-single .virtual_tour_slider .iframe { text-align: center; background: black; } .location-single .virtual_tour_slider .title { text-align: center; color: black; font-size: 22px; padding: 20px; } .location-single .virtual_tour_slider .title a { color: black; } .location-single .virtual_tour_slider .slick-slide { padding: 0 20px !important; overflow: hidden; } @media screen and (max-width: 992px) { .location-single .virtual_tour_slider .slick-slide { padding: 0 5px !important; } } .location-single .virtual_tour_slider .slick-slide img { max-height: 136px; margin-bottom: 8px; margin-top: 8px; } .location-single .virtual_tour_slider .slick-slide.slick-current img { border: 8px solid #ff701e; -webkit-box-shadow: 0px 5px 10px 0px rgba(0, 1, 1, 0.21); box-shadow: 0px 5px 10px 0px rgba(0, 1, 1, 0.21); } @media screen and (max-width: 992px) { .location-single .virtual_tour_slider .slick-slide.slick-current img { border: 2px solid #ff701e; } } .location-single .virtual_tour_slider .slick-slide:focus { outline: none; } .location-single .virtual_tour_slider .slick-arrow { position: absolute; top: 50%; background-color: rgba(255, 112, 30, 0.8); padding: 0px 20px; z-index: 2; margin-top: -30px; border-radius: 3px; border: 1px solid rgba(35, 31, 32, 0.2); cursor: pointer; } @media screen and (max-width: 1200px) { .location-single .virtual_tour_slider .slick-arrow { margin-top: -25px; } } @media screen and (max-width: 768px) { .location-single .virtual_tour_slider .slick-arrow { padding: 0px 10px; } } @media screen and (max-width: 576px) { .location-single .virtual_tour_slider .slick-arrow { padding: 0px 5px; margin-top: -12px; } } .location-single .virtual_tour_slider .slick-arrow i { color: #fff; font-size: 36px; line-height: 52px; } @media screen and (max-width: 768px) { .location-single .virtual_tour_slider .slick-arrow i { font-size: 23px; line-height: 32px; } } @media screen and (max-width: 576px) { .location-single .virtual_tour_slider .slick-arrow i { font-size: 14px; line-height: 14px; } } .location-single .virtual_tour_slider .slick-arrow.arrow-next { right: -25px; } @media screen and (max-width: 576px) { .location-single .virtual_tour_slider .slick-arrow.arrow-next { right: -15px; } } .location-single .virtual_tour_slider .slick-arrow.arrow-prev { left: -25px; } @media screen and (max-width: 576px) { .location-single .virtual_tour_slider .slick-arrow.arrow-prev { left: -15px; } } .location-single .virtual_tour_slider .slick-dotted.slick-slider { margin-bottom: 30px; } .location-single .virtual_tour_slider .slick-dots { position: relative; display: block; width: 100%; padding: 0; margin: 0; list-style: none; text-align: center; } .location-single .virtual_tour_slider .slick-dots li { position: relative; display: inline-block; width: 20px; height: 20px; margin: 0 5px; padding: 0; cursor: pointer; } .location-single .virtual_tour_slider .slick-dots li button { font-size: 0; line-height: 0; display: block; width: 20px; height: 20px; padding: 5px; cursor: pointer; color: transparent; border: 0; outline: none; background: transparent; } .location-single .virtual_tour_slider .slick-dots li button:hover, .location-single .virtual_tour_slider .slick-dots li button:focus { outline: none; } .location-single .virtual_tour_slider .slick-dots li button:hover:before, .location-single .virtual_tour_slider .slick-dots li button:focus:before { opacity: 1; } .location-single .virtual_tour_slider .slick-dots li button:before { font-family: "slick"; font-size: 36px; line-height: 20px; position: absolute; top: 0; left: 0; width: 20px; height: 20px; content: "•"; text-align: center; color: #024959; -webkit-font-smoothing: antialiased; -moz-osx-font-smoothing: grayscale; } .location-single .virtual_tour_slider .slick-dots li.slick-active button:before { color: #ff701e; } .location-single .slider-location-thumbnails { min-height: 140px; } @media screen and (max-width: 1200px) { .location-single .slider-location-thumbnails { min-height: auto !important; } } .location-single .slider-location-thumbnails .slick-slide { padding: 0 20px !important; overflow: hidden; } @media screen and (max-width: 992px) { .location-single .slider-location-thumbnails .slick-slide { padding: 0 5px !important; } } .location-single .slider-location-thumbnails .slick-slide img { max-height: 136px; margin-bottom: 8px; margin-top: 8px; } .location-single .slider-location-thumbnails .slick-slide.slick-current img { border: 8px solid #ff701e; -webkit-box-shadow: 0px 5px 10px 0px rgba(0, 1, 1, 0.21); box-shadow: 0px 5px 10px 0px rgba(0, 1, 1, 0.21); } @media screen and (max-width: 992px) { .location-single .slider-location-thumbnails .slick-slide.slick-current img { border: 2px solid #ff701e; } } .location-single .slider-location-thumbnails .slick-slide:focus { outline: none; } .location-single .slider-location-thumbnails .slick-arrow { position: absolute; top: 50%; background-color: rgba(255, 112, 30, 0.8); padding: 0px 20px; z-index: 2; margin-top: -30px; border-radius: 3px; border: 1px solid rgba(35, 31, 32, 0.2); cursor: pointer; } @media screen and (max-width: 1200px) { .location-single .slider-location-thumbnails .slick-arrow { margin-top: -25px; } } @media screen and (max-width: 768px) { .location-single .slider-location-thumbnails .slick-arrow { padding: 0px 10px; } } @media screen and (max-width: 576px) { .location-single .slider-location-thumbnails .slick-arrow { padding: 0px 5px; margin-top: -12px; } } .location-single .slider-location-thumbnails .slick-arrow i { color: #fff; font-size: 36px; line-height: 52px; } @media screen and (max-width: 768px) { .location-single .slider-location-thumbnails .slick-arrow i { font-size: 23px; line-height: 32px; } } @media screen and (max-width: 576px) { .location-single .slider-location-thumbnails .slick-arrow i { font-size: 14px; line-height: 14px; } } .location-single .slider-location-thumbnails .slick-arrow.arrow-next { right: -25px; } @media screen and (max-width: 576px) { .location-single .slider-location-thumbnails .slick-arrow.arrow-next { right: -15px; } } .location-single .slider-location-thumbnails .slick-arrow.arrow-prev { left: -25px; } @media screen and (max-width: 576px) { .location-single .slider-location-thumbnails .slick-arrow.arrow-prev { left: -15px; } } .location-single .slider-location { min-height: 450px; margin-bottom: 15px; } @media screen and (max-width: 768px) { .location-single .slider-location { min-height: auto !important; } } .location-single .slider-location .slick-slide img { max-height: 434px; } .location-single .location-description { margin-top: 73px; } @media screen and (max-width: 991px) { .location-single .location-description { margin-top: 10px; } } .location-single .location-description > div { padding-top: 6px; } .location-single .location-description .col-md-7 { border-right: 2px solid #ff701e; padding-right: 90px; padding-left: 22px; } @media screen and (max-width: 991px) { .location-single .location-description .col-md-7 { padding-left: 15px; padding-right: 15px; } } @media screen and (max-width: 767px) { .location-single .location-description .col-md-7 { border-right: none; } } .location-single .location-description h3 { font-size: 30px; color: #ff701e; text-transform: uppercase; margin-bottom: 16px; text-align: left; } @media screen and (max-width: 576px) { .location-single .location-description h3 { font-size: 24px; } } .location-single .location-description .description { margin-bottom: 74px; max-width: 520px; font-size: 22px; text-align: left; } @media screen and (max-width: 991px) { .location-single .location-description .description { margin-bottom: 20px; } } @media screen and (max-width: 576px) { .location-single .location-description .description { font-size: 14px; } } .location-single .location-description .cta { text-align: center; margin: 0 auto 58px; max-width: 443px; font-weight: bold; color: #024959; font-size: 32px; display: -webkit-box; display: -ms-flexbox; display: flex; -webkit-box-pack: center; -ms-flex-pack: center; justify-content: center; -webkit-box-align: center; -ms-flex-align: center; align-items: center; line-height: 1.1; } @media screen and (max-width: 991px) { .location-single .location-description .cta { display: block; max-width: none; font-size: 28px; margin-bottom: 20px; } } .location-single .location-description .cta img { margin-right: 24px; margin-left: 0; } .location-single .location-description .cta span { color: #fd7e14; display: block; } .location-single .location-description .cta span.hours { font-size: 18px; color: #024959 !important; } .location-single .location-description .action-buttons { margin: 0 auto; max-width: 443px; } @media screen and (max-width: 991px) { .location-single .location-description .action-buttons { max-width: none; } } .location-single .location-description .amenities { margin-bottom: 60px; font-size: 20px; } @media screen and (max-width: 991px) { .location-single .location-description .amenities { margin-bottom: 30px; } } @media screen and (max-width: 576px) { .location-single .location-description .amenities { font-size: 14px; } } .location-single .location-description ul.check-mark li:before { content: ""; width: 27px; height: 27px; display: inline-block; position: absolute; left: -39px; background: url(data:image/png;base64,iVBORw0KGgoAAAANSUhEUgAAABIAAAAQCAYAAAAbBi9cAAAAGXRFWHRTb2Z0d2FyZQBBZG9iZSBJbWFnZVJlYWR5ccllPAAAAO5JREFUeNpi/F8gx0ABOADE9kD8jIkCQyKghoCAFCUGLUNi3yXXoE9AzAhl/wJiFXIM2g3EvEh8PRBBqkEhQOyCxE8H4pukGsQOxKuQ+JeAeBaMAzJICYhPQRXiA2/QwkUfWZIFiG8BMTMQfwZiNjzphQeJr4mugAlqCAiwQm1CBx5I6QUEkoH4HjaDQpH4IMN+I/H5gHgbEv8CEM/D5mSQQWuA2BPNuzCXPUcKlx9AbIgrAGGxtgOWHpBc9h+IuZDE8GZK5Oi/DMQaONSB0strYg1igCYuVzSxM8jphViDQGAPkjd/ArEpMakVIMAACzcl6BrVQdkAAAAASUVORK5CYII=) center left no-repeat; } .location-single .location-description .col-md-5 { padding-left: 68px; } @media screen and (max-width: 991px) { .location-single .location-description .col-md-5 { padding-left: 15px; padding-right: 15px; } } .location-single .location-description .floor-plans { max-width: 216px; margin-bottom: 53px; } @media screen and (max-width: 991px) { .location-single .location-description .floor-plans { margin-bottom: 30px; } } .location-single .location-description .floor-plans h3 { margin-bottom: 30px; } .location-single .location-description .floor-plans .plans-images { display: -webkit-box; display: -ms-flexbox; display: flex; -webkit-box-align: center; -ms-flex-align: center; align-items: center; } .location-single .location-description .transportation { margin-bottom: 50px; font-size: 20px; } @media screen and (max-width: 991px) { .location-single .location-description .transportation { margin-bottom: 30px; } } .location-single .location-description .transportation h3 { margin-bottom: 10px; } .location-single .location-description .transportation ul { padding-left: 0; } @media screen and (max-width: 991px) { .location-single .location-description .transportation span.station { display: block; } } @media screen and (max-width: 576px) { .location-single .location-description .transportation span.station { display: inline-block; font-size: 14px; padding-right: 10px; } } .location-single .location-description .transportation span:not(.station) { border-radius: 100%; color: white; font-weight: bold; margin-right: 5px; line-height: 23px; width: 23px; display: inline-block; height: 23px; text-align: center; } .location-single .location-description .transportation span:not(.station).green { background-color: #00933c; } .location-single .location-description .transportation span:not(.station).orange { background-color: #ff5d10; } .location-single .location-description .transportation span:not(.station).blue { background-color: #2850ad; } .location-single .location-description .transportation span:not(.station).yellow { background-color: #fccc0a; color: #000; } .location-single .location-description .transportation span:not(.station).purple { background-color: #b933ad; } .location-single .location-description .transportation span:not(.station).grey { background-color: #808183; } .location-single .location-description .transportation span:not(.station).red { background-color: #ee352e; } .location-single .location-description .transportation span:not(.station).violet-blue { background-color: #284db0; } .location-single .location-description .transportation span:not(.station).brown { background-color: #996633; } .location-single .map { min-height: 436px; background-color: #fff; } .location-single .map .gm-style-iw + div { display: none; } .location-single .map .gm-style-iw { text-align: center; } .location-single .map .gm-style { font-family: "AvantGarde Bk BT", sans-serif; } .location-single .map .location-info { -webkit-box-shadow: 0px 3px 7px 0px rgba(0, 0, 0, 0.3); box-shadow: 0px 3px 7px 0px rgba(0, 0, 0, 0.3); } .location-single .map .info_content { color: #024959; margin: 14px 0 6px; } .location-single .map .info_content .col-sm-5 { text-align: left; padding: 0; } .location-single .map .info_content .col-sm-5 img { display: block; margin: 0 auto; } .location-single .map .info_content .col-sm-5 a.read-more { font-size: 20px; padding: 8px; display: block; margin-top: 13px; -webkit-box-shadow: 0px 3px 7px 0px rgba(0, 0, 0, 0.3); box-shadow: 0px 3px 7px 0px rgba(0, 0, 0, 0.3); } .location-single .map .info_content .col-sm-7 { -ms-flex-item-align: center; -ms-grid-row-align: center; align-self: center; text-align: left; } .location-single .map .info_content .col-sm-7 h3 { font-size: 22px; margin-bottom: 10px; font-weight: bold; color: #024959; text-transform: none !important; } .location-single .map .info_content .col-sm-7 p { font-size: 14px; font-weight: normal; } .hero-case-study { background-image: url(//www.corporatesuites.com/wp-content/themes/corporate-suites/assets/css/../img/case-studies.png); min-height: 485px; } @media screen and (max-width: 768px) { .hero-case-study { padding: 20px !important; min-height: auto !important; } } .hero-case-study .title { padding: 44px 51px !important; } @media screen and (max-width: 768px) { .hero-case-study .title { min-height: auto !important; margin-top: 100px; padding: 2rem 1rem; } } .hero-case-study .title h1 { font-size: 38px; } @media screen and (max-width: 768px) { .hero-case-study .title h1 { font-size: 28px; } } .hero-case-study .title p { font-size: 24px; } @media screen and (min-width: 1200px) { .case-study .container { max-width: 1210px; } } .case-study p { font-size: 18px; } .case-study h3 { padding-top: 20px; font-size: 22px; } .case-study .showmore { color: #ff701e; font-weight: 600; font-size: 18px; padding-right: 20px; background: url(data:image/png;base64,iVBORw0KGgoAAAANSUhEUgAAAA0AAAAPCAYAAAA/I0V3AAAAGXRFWHRTb2Z0d2FyZQBBZG9iZSBJbWFnZVJlYWR5ccllPAAAAyJpVFh0WE1MOmNvbS5hZG9iZS54bXAAAAAAADw/eHBhY2tldCBiZWdpbj0i77u/IiBpZD0iVzVNME1wQ2VoaUh6cmVTek5UY3prYzlkIj8+IDx4OnhtcG1ldGEgeG1sbnM6eD0iYWRvYmU6bnM6bWV0YS8iIHg6eG1wdGs9IkFkb2JlIFhNUCBDb3JlIDUuMy1jMDExIDY2LjE0NTY2MSwgMjAxMi8wMi8wNi0xNDo1NjoyNyAgICAgICAgIj4gPHJkZjpSREYgeG1sbnM6cmRmPSJodHRwOi8vd3d3LnczLm9yZy8xOTk5LzAyLzIyLXJkZi1zeW50YXgtbnMjIj4gPHJkZjpEZXNjcmlwdGlvbiByZGY6YWJvdXQ9IiIgeG1sbnM6eG1wPSJodHRwOi8vbnMuYWRvYmUuY29tL3hhcC8xLjAvIiB4bWxuczp4bXBNTT0iaHR0cDovL25zLmFkb2JlLmNvbS94YXAvMS4wL21tLyIgeG1sbnM6c3RSZWY9Imh0dHA6Ly9ucy5hZG9iZS5jb20veGFwLzEuMC9zVHlwZS9SZXNvdXJjZVJlZiMiIHhtcDpDcmVhdG9yVG9vbD0iQWRvYmUgUGhvdG9zaG9wIENTNiAoV2luZG93cykiIHhtcE1NOkluc3RhbmNlSUQ9InhtcC5paWQ6ODBCMUIwMzU4QjgwMTFFODg3N0FCNzlFRjYwMUREOEEiIHhtcE1NOkRvY3VtZW50SUQ9InhtcC5kaWQ6ODBCMUIwMzY4QjgwMTFFODg3N0FCNzlFRjYwMUREOEEiPiA8eG1wTU06RGVyaXZlZEZyb20gc3RSZWY6aW5zdGFuY2VJRD0ieG1wLmlpZDo4MEIxQjAzMzhCODAxMUU4ODc3QUI3OUVGNjAxREQ4QSIgc3RSZWY6ZG9jdW1lbnRJRD0ieG1wLmRpZDo4MEIxQjAzNDhCODAxMUU4ODc3QUI3OUVGNjAxREQ4QSIvPiA8L3JkZjpEZXNjcmlwdGlvbj4gPC9yZGY6UkRGPiA8L3g6eG1wbWV0YT4gPD94cGFja2V0IGVuZD0iciI/PgM6OKsAAAFwSURBVHjaZNJNKARxGMfxmfFys8nLYnFwxMlh3dwk9uolNqRILeWtHB2wYShvV45yoKwcKHJxdSAXNQql7MlN2gPG99me3f67/vXZeXt+M888s7bTNRC0LKsHI1jD6c/54a9lrIJINMxmA/dYLuSnG2NowSju8GIEStgMoQ3N8Bx+ylCvNRHsUNiggQCbOMYhtRWotGmvlJ0ObCEEHwksIopZFCOFFbmp7fu+3NHRNndRjW+86Z2lvS+sw+V9U+mQ0X8vm03UGXP4xKoMKTMgR4uL0CiTwxTejUCcYmmrlppgOsSOvEcMZximIKHv8Spj5tilpp39CyyxXyODWOBgXnv/wAyFB/rkJ7RiD036dFfau8WlniiXKRIYJPiogX0j8IyHzPSqONhGv15ManEnwnrOwwQ3u85OT3rVYJ/1f0mbkwSustOTxYmkDuAoL+CZgZyQBmXUczg2AjEzICvn4xofWf5707ghcJJ//U+AAQDcNIOHjZpGiAAAAABJRU5ErkJggg==) no-repeat middle right; display: inline-block; } .case-study .showmore i { margin-left: 10px; } .case-study a.showmore:hover { text-decoration: none; } .case-study .tab-content { padding: 0 45px; } @media screen and (max-width: 992px) { .case-study .tab-content { padding: 0 0px; } } .case-study .tab-pane { position: relative; } .case-study .single-news { position: relative; margin: 50px 0px 0px 0px; } .case-study .single-news h2 { color: #ff701e; } @media screen and (max-width: 576px) { .case-study .single-news h2 { margin-bottom: 10px; } } .case-study .single-news .col-sm-8 { -ms-flex-item-align: center; -ms-grid-row-align: center; align-self: center; padding-left: 70px; padding-right: 57px; } @media screen and (max-width: 576px) { .case-study .single-news .col-sm-8 { padding-left: 0px !important; padding-right: 0px !important; } } .case-study .back-to-top { display: block; text-align: center; color: #024959; text-transform: uppercase; font-size: 25px; font-weight: bold; margin: 90px auto; } .case-study .back-to-top:before { border-style: solid; border-width: 0.05em 0.05em 0 0; content: ""; display: block; height: 1.9em; left: 50%; margin-left: -1em; margin-bottom: 2px; text-align: center; position: relative; top: 0.15em; -webkit-transform: rotate(-45deg); -ms-transform: rotate(-45deg); transform: rotate(-45deg); vertical-align: top; width: 1.9em; } .case-study .back-to-top:hover { text-decoration: none; } .case-study .news-body-right { padding: 30px 50px 12px 0; } .case-study .news-body-right img { -webkit-box-shadow: rgba(0, 0, 0, 0.34) 4px 6px 10px; box-shadow: rgba(0, 0, 0, 0.34) 4px 6px 10px; } @media screen and (max-width: 576px) { .case-study .news-body-right { padding: 30px; } } .case-study .news-body-left { padding: 30px 0px 12px 50px; } .case-study .news-body-left img { -webkit-box-shadow: rgba(0, 0, 0, 0.34) 4px 6px 10px; box-shadow: rgba(0, 0, 0, 0.34) 4px 6px 10px; } @media screen and (max-width: 576px) { .case-study .news-body-left { padding: 30px; } } .case-study #meeting .bluebox-right, .case-study #virtual .bluebox-right { border: 3px solid #024959; padding: 80px; position: absolute; height: 100%; width: 91%; right: 0; left: 0; margin: 0 auto; } @media screen and (max-width: 576px) { .case-study #meeting .bluebox-right, .case-study #virtual .bluebox-right { width: 100%; } } .case-study #meeting .bluebox-left, .case-study #virtual .bluebox-left { border: 3px solid #024959; padding: 80px; position: absolute; height: 100%; width: 91%; right: 0; left: 0; margin: 0 auto; } @media screen and (max-width: 576px) { .case-study #meeting .bluebox-left, .case-study #virtual .bluebox-left { width: 100%; } } .case-study #meeting .news-body-right, .case-study #virtual .news-body-right { padding: 17px 50px 30px 0; } @media screen and (max-width: 576px) { .case-study #meeting .news-body-right, .case-study #virtual .news-body-right { padding: 50px; } } .case-study #meeting .news-body-right .col-sm-8, .case-study #virtual .news-body-right .col-sm-8 { -ms-flex-item-align: center; -ms-grid-row-align: center; align-self: center; padding-right: 70px; padding-left: 57px; } .case-study #meeting .news-body-left, .case-study #virtual .news-body-left { padding: 17px 0px 30px 50px; } @media screen and (max-width: 576px) { .case-study #meeting .news-body-left, .case-study #virtual .news-body-left { padding: 50px; } } .case-study #meeting .news-body-left .col-sm-8, .case-study #virtual .news-body-left .col-sm-8 { -ms-flex-item-align: center; -ms-grid-row-align: center; align-self: center; padding-left: 70px; padding-right: 57px; } .case-study .bluebox-right { border: 3px solid #024959; padding: 80px; position: absolute; height: 100%; width: 90%; right: 0; } @media screen and (max-width: 576px) { .case-study .bluebox-right { width: 100% !important; padding: 20px !important; } } .case-study .bluebox-left { border: 3px solid #024959; padding: 80px; position: absolute; height: 100%; width: 90%; left: 0; } @media screen and (max-width: 576px) { .case-study .bluebox-left { width: 100% !important; padding: 20px !important; } } .case-study ul.check { font-size: 22px; line-height: 22px; margin-left: 30px; margin-bottom: 30px; list-style-image: url(data:image/png;base64,iVBORw0KGgoAAAANSUhEUgAAABQAAAAUCAYAAACNiR0NAAAAGXRFWHRTb2Z0d2FyZQBBZG9iZSBJbWFnZVJlYWR5ccllPAAAAyJpVFh0WE1MOmNvbS5hZG9iZS54bXAAAAAAADw/eHBhY2tldCBiZWdpbj0i77u/IiBpZD0iVzVNME1wQ2VoaUh6cmVTek5UY3prYzlkIj8+IDx4OnhtcG1ldGEgeG1sbnM6eD0iYWRvYmU6bnM6bWV0YS8iIHg6eG1wdGs9IkFkb2JlIFhNUCBDb3JlIDUuMy1jMDExIDY2LjE0NTY2MSwgMjAxMi8wMi8wNi0xNDo1NjoyNyAgICAgICAgIj4gPHJkZjpSREYgeG1sbnM6cmRmPSJodHRwOi8vd3d3LnczLm9yZy8xOTk5LzAyLzIyLXJkZi1zeW50YXgtbnMjIj4gPHJkZjpEZXNjcmlwdGlvbiByZGY6YWJvdXQ9IiIgeG1sbnM6eG1wPSJodHRwOi8vbnMuYWRvYmUuY29tL3hhcC8xLjAvIiB4bWxuczp4bXBNTT0iaHR0cDovL25zLmFkb2JlLmNvbS94YXAvMS4wL21tLyIgeG1sbnM6c3RSZWY9Imh0dHA6Ly9ucy5hZG9iZS5jb20veGFwLzEuMC9zVHlwZS9SZXNvdXJjZVJlZiMiIHhtcDpDcmVhdG9yVG9vbD0iQWRvYmUgUGhvdG9zaG9wIENTNiAoV2luZG93cykiIHhtcE1NOkluc3RhbmNlSUQ9InhtcC5paWQ6OEQxNzU2RDk4QjU4MTFFOEIwRTBDMkJFQjg5MEJBQzUiIHhtcE1NOkRvY3VtZW50SUQ9InhtcC5kaWQ6OEQxNzU2REE4QjU4MTFFOEIwRTBDMkJFQjg5MEJBQzUiPiA8eG1wTU06RGVyaXZlZEZyb20gc3RSZWY6aW5zdGFuY2VJRD0ieG1wLmlpZDo4RDE3NTZENzhCNTgxMUU4QjBFMEMyQkVCODkwQkFDNSIgc3RSZWY6ZG9jdW1lbnRJRD0ieG1wLmRpZDo4RDE3NTZEODhCNTgxMUU4QjBFMEMyQkVCODkwQkFDNSIvPiA8L3JkZjpEZXNjcmlwdGlvbj4gPC9yZGY6UkRGPiA8L3g6eG1wbWV0YT4gPD94cGFja2V0IGVuZD0iciI/Pgqfal0AAAGiSURBVHjanJXPK0RRFMfvTFM2dhrSlJWtBaGQ/CgWamIjKSUWQ4koP2KFlVI21DQLzWJoQhEWajZ+Jc0oC7OR/8BslF42aHxPnVvH695nvFOfuufee76dd+659wWKszXKYm1gELSAKp57BffgCNyZggIGwWawAbqUt12CZZCVk0HXpmlwU4KY4j3XYAWUmTKcBHH1f3sH1eBDZljvU4xEolpMCu4ofzbMJSKrBeVBPsVWH2Kb4IzHFeAK9JLgiA+xY7Ao/EMQAT1BbhNpp+DCQ+wFjAqfWqybx40kGBaLe2AA9IFtg9gb6AcO+xNgSaxXuvvwU4xnuE7SKLNnnY3hMIskWBATY2BL+FSnVR6vg3MeR/hAQi7BQoivTpOYnAPfYIH9NfAkxMj2uZndlqUMU4aFebAr/BPwJXq2w3JgKRLMgVvD4rhLVNd1yiJGGjl9l+vAo6Emij81BjpB2iJG2TeAvD7lPAeZLMo1THv0Zow1fj1fSX5xHENA2CLkcEzS9h4mQDvIlHD9Mrw38deLrY1aaYiD5C+Ain8AHkxBPwIMANNFVzeqIlyDAAAAAElFTkSuQmCC); } .case-study ul.check li { padding: 10px 0px 10px 0px; } .case-study .callus { color: #024959; font-family: "AvantGarde Bk BT"; font-weight: 600; font-size: 18px; } .case-study .phone { color: #ff701e; font-family: "AvantGarde Bk BT"; font-weight: 600; font-size: 18px; } .case-study .iconphone { max-width: 50px; margin-right: 20px; } .case-study .item { margin-bottom: 10px; } .case-study .masonry .col { padding: 0px 5px; } .case-study .nav-tabs:after { content: ""; height: 8px; width: 85%; background-color: #ff701e; } @media screen and (max-width: 1200px) { .case-study .nav-tabs:after { width: 100% !important; } } .case-study .nav-tabs { width: 80%; margin-left: auto; margin-right: auto; border-bottom: none; } @media screen and (max-width: 992px) { .case-study .nav-tabs { width: 100% !important; } } .case-study .nav-tabs .nav-link { border: 1px solid transparent; border-top-left-radius: 0; border-top-right-radius: 0; } .case-study .nav-tabs .nav-link.active, .case-study .nav-tabs .nav-item.show .nav-link { color: #495057; background-color: #ff701e; border: none; } @media screen and (max-width: 768px) { .case-study .nav-tabs .nav-item { width: 100%; } } .case-study .nav-item .nav-link { color: #08213f; font-family: "AvantGarde", sans-serif; font-weight: bold; font-size: 27px; height: 100%; padding: 15px 24px; } @media screen and (max-width: 1230px) { .case-study .nav-item .nav-link { padding: 18px; } } @media screen and (max-width: 991px) { .case-study .nav-item .nav-link { font-size: 20px; padding: 10px 15px; } } @media screen and (max-width: 767px) { .case-study .nav-item .nav-link { font-size: 18px; width: 100%; } } .case-study .nav-tabs .nav-link.active, .case-study .nav-tabs .nav-item.show .nav-link { color: #fff; } .orangebox { border: 1px solid #ff701e; padding-bottom: 20px; margin: 5px; } .orangebox .icon { text-align: center; display: block; padding: 20px 0 10px 0; } .orangebox h3 { font-size: 22px; font-family: "AvantGarde Bk BT"; font-weight: 600; text-align: center; margin: 0px 0px 20px 0px; } .orangebox p { padding: 2px 0px; margin: 0; font-size: 13px; } .slide-private-tab, .slide-team-tab, .slide-mini-tab, .slide-coworking-tab, .slide-managed-tab { position: relative; /* Dots */ } .slide-private-tab .slick-arrow, .slide-team-tab .slick-arrow, .slide-mini-tab .slick-arrow, .slide-coworking-tab .slick-arrow, .slide-managed-tab .slick-arrow { position: absolute; top: 50%; background-color: #ff701e; padding: 0px 12px; z-index: 2; margin-top: -21px; border-radius: 3px; -webkit-box-shadow: rgba(0, 0, 0, 0.2) 6px 4px 10px; box-shadow: rgba(0, 0, 0, 0.2) 6px 4px 10px; cursor: pointer; } .slide-private-tab .slick-arrow i, .slide-team-tab .slick-arrow i, .slide-mini-tab .slick-arrow i, .slide-coworking-tab .slick-arrow i, .slide-managed-tab .slick-arrow i { color: #fff; font-size: 36px; line-height: 42px; } .slide-private-tab .slick-arrow.arrow-next, .slide-team-tab .slick-arrow.arrow-next, .slide-mini-tab .slick-arrow.arrow-next, .slide-coworking-tab .slick-arrow.arrow-next, .slide-managed-tab .slick-arrow.arrow-next { right: 0px; } .slide-private-tab .slick-arrow.arrow-prev, .slide-team-tab .slick-arrow.arrow-prev, .slide-mini-tab .slick-arrow.arrow-prev, .slide-coworking-tab .slick-arrow.arrow-prev, .slide-managed-tab .slick-arrow.arrow-prev { left: 0px; } .slide-private-tab .slick-dotted.slick-slider, .slide-team-tab .slick-dotted.slick-slider, .slide-mini-tab .slick-dotted.slick-slider, .slide-coworking-tab .slick-dotted.slick-slider, .slide-managed-tab .slick-dotted.slick-slider { margin-bottom: 30px; } .slide-private-tab .slick-dots, .slide-team-tab .slick-dots, .slide-mini-tab .slick-dots, .slide-coworking-tab .slick-dots, .slide-managed-tab .slick-dots { position: relative; display: block; width: 100%; padding: 0; margin: 0; list-style: none; text-align: center; } .slide-private-tab .slick-dots li, .slide-team-tab .slick-dots li, .slide-mini-tab .slick-dots li, .slide-coworking-tab .slick-dots li, .slide-managed-tab .slick-dots li { position: relative; display: inline-block; width: 20px; height: 20px; margin: 0 5px; padding: 0; cursor: pointer; } .slide-private-tab .slick-dots li button, .slide-team-tab .slick-dots li button, .slide-mini-tab .slick-dots li button, .slide-coworking-tab .slick-dots li button, .slide-managed-tab .slick-dots li button { font-size: 0; line-height: 0; display: block; width: 20px; height: 20px; padding: 5px; cursor: pointer; color: transparent; border: 0; outline: none; background: transparent; } .slide-private-tab .slick-dots li button:hover, .slide-private-tab .slick-dots li button:focus, .slide-team-tab .slick-dots li button:hover, .slide-team-tab .slick-dots li button:focus, .slide-mini-tab .slick-dots li button:hover, .slide-mini-tab .slick-dots li button:focus, .slide-coworking-tab .slick-dots li button:hover, .slide-coworking-tab .slick-dots li button:focus, .slide-managed-tab .slick-dots li button:hover, .slide-managed-tab .slick-dots li button:focus { outline: none; } .slide-private-tab .slick-dots li button:hover:before, .slide-private-tab .slick-dots li button:focus:before, .slide-team-tab .slick-dots li button:hover:before, .slide-team-tab .slick-dots li button:focus:before, .slide-mini-tab .slick-dots li button:hover:before, .slide-mini-tab .slick-dots li button:focus:before, .slide-coworking-tab .slick-dots li button:hover:before, .slide-coworking-tab .slick-dots li button:focus:before, .slide-managed-tab .slick-dots li button:hover:before, .slide-managed-tab .slick-dots li button:focus:before { opacity: 1; } .slide-private-tab .slick-dots li button:before, .slide-team-tab .slick-dots li button:before, .slide-mini-tab .slick-dots li button:before, .slide-coworking-tab .slick-dots li button:before, .slide-managed-tab .slick-dots li button:before { font-family: "slick"; font-size: 36px; line-height: 20px; position: absolute; top: 0; left: 0; width: 20px; height: 20px; content: "•"; text-align: center; color: #024959; -webkit-font-smoothing: antialiased; -moz-osx-font-smoothing: grayscale; } .slide-private-tab .slick-dots li.slick-active button:before, .slide-team-tab .slick-dots li.slick-active button:before, .slide-mini-tab .slick-dots li.slick-active button:before, .slide-coworking-tab .slick-dots li.slick-active button:before, .slide-managed-tab .slick-dots li.slick-active button:before { color: #ff701e; } .hero.hero-office { background-image: url(//www.corporatesuites.com/wp-content/themes/corporate-suites/assets/css/../img/office-solutions.png); min-height: 485px; } @media screen and (max-width: 768px) { .hero.hero-office { padding: 40px 15px 20px 15px; min-height: auto !important; } } .hero.hero-office .title { padding: 2rem 6.43rem; max-width: 800px; } @media screen and (max-width: 992px) { .hero.hero-office .title { margin-top: 60px; padding: 2rem 1rem; } } .hero.hero-office .title h1 { font-size: 25px; margin-bottom: 20px; } @media screen and (max-width: 992px) { .hero.hero-office .title h1 { font-size: 20px; } } .hero.hero-office .title p { font-size: 18px; line-height: 1.2; } @media screen and (max-width: 992px) { .hero.hero-office .title p { font-size: 14px; } } .office-solutions { margin-bottom: 30px; } .office-solutions .box { padding-top: 50px; padding-left: 40px; } @media screen and (max-width: 576px) { .office-solutions .gallery-item { height: 60px; overflow: hidden; padding: 2px; } } .office-solutions .tab-content p { max-width: 480px; font-size: 18px; line-height: 1.2; padding-right: 40px; } .office-solutions .tab-content ul.check { list-style: none; margin-left: 10px; font-size: 18px; } .office-solutions .tab-content ul.check li { margin-bottom: 0; } .office-solutions .tab-content ul.check li:before { content: ""; width: 19px; height: 19px; display: inline-block; position: absolute; top: 50%; margin-top: -10px; left: -35px; background: url(data:image/png;base64,iVBORw0KGgoAAAANSUhEUgAAABsAAAAbCAYAAACN1PRVAAAAGXRFWHRTb2Z0d2FyZQBBZG9iZSBJbWFnZVJlYWR5ccllPAAABNVJREFUeNqkVg1M1GUcfu7PgfcheKAIXEgNloAoUNGaW2xaSnlAUCMIkA4aG2qpUQwmRSVbJTPxA5GkUSFMJRzECELQ0lZt2ayA4lDpw5IrCPE4Pk4+7uj3/q/7hAPEd3e72/vxe9739zy/D8H09DTmHLd6fdDe/BRUXyqg7g7H6KA3pg0uADcJqXsffFZ3IGhDC8IVDVh+759zmRI4BGMg549l48fGVAz1ySEQkH0hfZ0se6YNgH7S+Ou6sh9hihps2nEAK+67vnCwS58ko37vAR5widQIMt8w6IHxUcDN8yZi8/MQmV4xP1jjO4Vofq8AzksAJxfc8WAvndQBG7NKEF+wBy7S0dnBGt8txGdFBRC70gqHRQ/9BDtvQP6FQHjd32Oatvjn+zNJaN5/90Ds8lP0OmVpmjUQG0arQ/94oe7NEt51dwPExm0tELVrHx5JOmm/ZLR8rjSHxOC5KI7MhAiMQGHRjYh7Pd9m7UZnCD2ZnsFe9UODklfd4pGMSpSvUSHtiJK8YxFC94XHcCThPPp/DeAoYOMJ0HNB8p5LEGI3LTLeT8LS5bfM8wPX/VC1qwoatRfaP48XouuLmBk8GaZIvuMkfWeS0DyuNQV2SlkGfNd1mucnxkSo3H6a6JHzXuu++CQHtSocnLNtnEhkgwiPboBXwFU6NI8ghgFFzlt4MK7OZr4mrxTXvl0PEamb2e/rCRFi5KYXOM6SBSTLbuLF0xvolj9jTOOGyh0nyNVxEC+byZNuCIh4phbRuXttllia+6b6Bf4MCwVmf0yzgiM3WJ41Ra7zC7/MA7EhkWmR+WEiHk6ooc22ypsgQfiFdSDlYCYPbBq/nIvCp4X7IZLau1vIEV9T5gnGj1q1lgTjbZ5zFk0gvSwV65NPQKe1XErqMYiM44nkCa15b19PAKp2VhO4E/vYeULPUZno50nmo44UqVHLcTytkYi1ADo566EsUyJSWU4lhtxN+7ceeh4+gVesuJPi42010P7ryScHexERPUI60AHN33II/9/gIgF+vxyBY8+dxfZTMfDw/cvsutSDWXwMybzVCN3SZGPwVE45nXuIjBp5sk/OKwNUHII3NptfZsptYjegVxWKkoRW9Pf424gipXgbFLmFNsZaivfgu5oU/txsJUtPTAVGtnIk8ToqfIO8Eq0BRUsZB0EoTW4jHoMcSr+9KZYqxdu8xB3FoUSmwwOxtRzcfXsJ8CSfbuyzNwMc+MMfRxNbKb+FzjCkVgWj+uVKkrbAYQJndtduqqMKcM24Y/NLRVRhNbxv7QFZ9Gv7VqGUOPztUoR5jcXgR1ksJNzNfM9WvUWuOjyRXWjJ+h6rbiCu4BVM6BjCTEAmmuEBb5QrW/B1ZSY6WxX4IL0BvV3r+Ms46mNYdonJzScRXp1Zqc+8Voy2o9m8oqwD1aRGvuSPG/8zt7mIHQDR3BhlF9aHbD2c6bgHqc0/ROlmN/UOFF+LqAQsid8eISBlBWWXLOrG9HN3Vxcrsqgf2Ud5U2bsrpwW0A4YjGIQu41iy6tvYPPO4oX3jSz1tB7OQ+fZZzEyKONfyUqOtepM5YXFkUQ2jJDH6xG1uwj3rOm6sybVGvSnpqdx5asoCvAQ4sLTmLwFU8TtADz9VVj9aBuFTz3kwd1zmfpPgAEAjBXw4N+yAt8AAAAASUVORK5CYII=) center left; background-size: contain; } .office-solutions .tab-content .cta-location { margin-top: 40px; -webkit-box-align: center; -ms-flex-align: center; align-items: center; display: -webkit-box; display: -ms-flexbox; display: flex; } @media screen and (max-width: 1199px) { .office-solutions .tab-content .cta-location { display: block; } } @media screen and (max-width: 1199px) { .office-solutions .tab-content .cta-location > div { width: 100%; margin-bottom: 10px; } } .office-solutions .callus { color: #024959; font-family: "AvantGarde Bk BT"; font-weight: 600; font-size: 18px; } .office-solutions .phone { color: #ff701e; font-family: "AvantGarde Bk BT"; font-weight: 600; font-size: 18px; text-align: center; } .office-solutions .iconphone { height: 75px; margin: 0 20px 10px; width: auto; } .office-solutions .item { margin-bottom: 10px; } @media screen and (max-width: 576px) { .office-solutions .card-columns { -webkit-column-count: 1 !important; -moz-column-count: 1 !important; column-count: 1 !important; } } @media screen and (min-width: 576px) and (max-width: 768px) { .office-solutions .card-columns { -webkit-column-count: 2 !important; -moz-column-count: 2 !important; column-count: 2 !important; } } @media screen and (min-width: 768px) and (max-width: 992px) { .office-solutions .card-columns { -webkit-column-count: 3 !important; -moz-column-count: 3 !important; column-count: 3 !important; } } @media screen and (min-width: 1200px) { .office-solutions .card-columns { -webkit-column-count: 4 !important; -moz-column-count: 4 !important; column-count: 4 !important; } } .office-solutions .button-shadow { padding: 7px 43px; font-size: 19px; } @media screen and (max-width: 768px) { .office-solutions .button-shadow { width: 100%; } } .office-solutions .button-shadow:hover { color: #fff; } .office-solutions .masonry .col { padding: 0px 5px; } .office-solutions .nav-tabs { border-bottom: 8px solid #ff701e; -webkit-box-pack: justify; -ms-flex-pack: justify; justify-content: space-between; } .office-solutions .nav-tabs .nav-link { border: 1px solid transparent; border-top-left-radius: 0; border-top-right-radius: 0; } .office-solutions .nav-tabs .nav-link.active, .office-solutions .nav-tabs .nav-item.show .nav-link { color: #495057; background-color: #ff701e; border: none; } .office-solutions .nav-tabs .nav-item { margin-bottom: -2px; text-align: center; } @media screen and (max-width: 768px) { .office-solutions .nav-tabs .nav-item { width: 100%; } } .office-solutions .nav-tabs .nav-link.active, .office-solutions .nav-tabs .nav-item.show .nav-link { color: #fff; background-color: #ff701e; border: none; font-family: "AvantGarde Bk BT", sans-serif; font-weight: 600; font-size: 22px; } .office-solutions .nav-item a { color: black; font-family: "AvantGarde Bk BT", sans-serif; font-weight: 600; font-size: 22px; } .office-solutions .nav-item a h2 { font-family: "AvantGarde Bk BT", sans-serif; font-weight: 600 !important; font-size: 22px !important; padding-bottom: 7px !important; margin: 0 !important; } .office-solutions .nav-tabs .nav-link:hover, .office-solutions .nav-tabs .nav-link:focus { border-color: transparent; } .orangebox { border: 1px solid #ff701e; padding-bottom: 20px; margin: 5px; } .orangebox .icon { text-align: center; display: block; padding: 20px 0 10px 0; } .orangebox h3 { font-size: 22px; font-family: "AvantGarde Bk BT"; font-weight: 600; text-align: center; margin: 0px 0px 20px 0px; } .orangebox p { padding: 2px 0px; margin: 0; font-size: 13px; } @media screen and (max-width: 576px) { .row.intro .mb-3 { margin-bottom: 20px !important; } } @media screen and (max-width: 576px) { .row.intro .mt-4 { margin-top: 30px !important; } } .row.intro p { color: #024959; line-height: 1.2; } .row.intro h2 { width: 100%; color: #024959; } @media screen and (max-width: 576px) { .row.intro h2 { font-size: 20px; } } .slide-private-tab, .slide-team-tab, .slide-mini-tab, .slide-coworking-tab, .slide-managed-tab { position: relative; /* Dots */ } .slide-private-tab .slick-arrow, .slide-team-tab .slick-arrow, .slide-mini-tab .slick-arrow, .slide-coworking-tab .slick-arrow, .slide-managed-tab .slick-arrow { position: absolute; top: 50%; background-color: #ff701e; padding: 0px 12px; z-index: 2; margin-top: -21px; border-radius: 3px; -webkit-box-shadow: rgba(0, 0, 0, 0.2) 6px 4px 10px; box-shadow: rgba(0, 0, 0, 0.2) 6px 4px 10px; cursor: pointer; } .slide-private-tab .slick-arrow i, .slide-team-tab .slick-arrow i, .slide-mini-tab .slick-arrow i, .slide-coworking-tab .slick-arrow i, .slide-managed-tab .slick-arrow i { color: #fff; font-size: 36px; line-height: 42px; } .slide-private-tab .slick-arrow.arrow-next, .slide-team-tab .slick-arrow.arrow-next, .slide-mini-tab .slick-arrow.arrow-next, .slide-coworking-tab .slick-arrow.arrow-next, .slide-managed-tab .slick-arrow.arrow-next { right: 0px; } .slide-private-tab .slick-arrow.arrow-prev, .slide-team-tab .slick-arrow.arrow-prev, .slide-mini-tab .slick-arrow.arrow-prev, .slide-coworking-tab .slick-arrow.arrow-prev, .slide-managed-tab .slick-arrow.arrow-prev { left: 0px; } .slide-private-tab .slick-dotted.slick-slider, .slide-team-tab .slick-dotted.slick-slider, .slide-mini-tab .slick-dotted.slick-slider, .slide-coworking-tab .slick-dotted.slick-slider, .slide-managed-tab .slick-dotted.slick-slider { margin-bottom: 30px; } .slide-private-tab .slick-dots, .slide-team-tab .slick-dots, .slide-mini-tab .slick-dots, .slide-coworking-tab .slick-dots, .slide-managed-tab .slick-dots { position: relative; display: block; width: 100%; padding: 0; margin: 0; list-style: none; text-align: center; } .slide-private-tab .slick-dots li, .slide-team-tab .slick-dots li, .slide-mini-tab .slick-dots li, .slide-coworking-tab .slick-dots li, .slide-managed-tab .slick-dots li { position: relative; display: inline-block; width: 20px; height: 20px; margin: 0 5px; padding: 0; cursor: pointer; } .slide-private-tab .slick-dots li button, .slide-team-tab .slick-dots li button, .slide-mini-tab .slick-dots li button, .slide-coworking-tab .slick-dots li button, .slide-managed-tab .slick-dots li button { font-size: 0; line-height: 0; display: block; width: 20px; height: 20px; padding: 5px; cursor: pointer; color: transparent; border: 0; outline: none; background: transparent; } .slide-private-tab .slick-dots li button:hover, .slide-private-tab .slick-dots li button:focus, .slide-team-tab .slick-dots li button:hover, .slide-team-tab .slick-dots li button:focus, .slide-mini-tab .slick-dots li button:hover, .slide-mini-tab .slick-dots li button:focus, .slide-coworking-tab .slick-dots li button:hover, .slide-coworking-tab .slick-dots li button:focus, .slide-managed-tab .slick-dots li button:hover, .slide-managed-tab .slick-dots li button:focus { outline: none; } .slide-private-tab .slick-dots li button:hover:before, .slide-private-tab .slick-dots li button:focus:before, .slide-team-tab .slick-dots li button:hover:before, .slide-team-tab .slick-dots li button:focus:before, .slide-mini-tab .slick-dots li button:hover:before, .slide-mini-tab .slick-dots li button:focus:before, .slide-coworking-tab .slick-dots li button:hover:before, .slide-coworking-tab .slick-dots li button:focus:before, .slide-managed-tab .slick-dots li button:hover:before, .slide-managed-tab .slick-dots li button:focus:before { opacity: 1; } .slide-private-tab .slick-dots li button:before, .slide-team-tab .slick-dots li button:before, .slide-mini-tab .slick-dots li button:before, .slide-coworking-tab .slick-dots li button:before, .slide-managed-tab .slick-dots li button:before { font-family: "slick"; font-size: 36px; line-height: 20px; position: absolute; top: 0; left: 0; width: 20px; height: 20px; content: "•"; text-align: center; color: #024959; -webkit-font-smoothing: antialiased; -moz-osx-font-smoothing: grayscale; } .slide-private-tab .slick-dots li.slick-active button:before, .slide-team-tab .slick-dots li.slick-active button:before, .slide-mini-tab .slick-dots li.slick-active button:before, .slide-coworking-tab .slick-dots li.slick-active button:before, .slide-managed-tab .slick-dots li.slick-active button:before { color: #ff701e; } .hero-about-us { background-image: url(//www.corporatesuites.com/wp-content/themes/corporate-suites/assets/css/../img/A-group-of-young-professionals-united-and-smiling.png); min-height: 485px; } @media screen and (max-width: 768px) { .hero-about-us { padding: 160px 15px 20px 15px; min-height: auto !important; } } @media screen and (max-width: 768px) { .hero-about-us .title { min-width: auto !important; width: 100%; font-size: 24px !important; } } .hero-about-us .title h1 { font-size: 29px; } form.grey { background: #e4e4e4; padding: 30px; margin-bottom: 150px; -webkit-box-shadow: -5.202px 4.684px 7.68px 0.32px rgba(0, 0, 0, 0.3); box-shadow: -5.202px 4.684px 7.68px 0.32px rgba(0, 0, 0, 0.3); } @media screen and (max-width: 991px) { form.grey { padding: 20px; } } form.grey label { color: #024959; font-weight: 600; font-size: 17px; margin-bottom: 0; } form.grey input, form.grey textarea, form.grey select { border-radius: 0; border: none; padding: 10px; } form.grey input.form-control:focus, form.grey textarea.form-control:focus, form.grey select.form-control:focus { outline: none; } form.grey select { background: url(data:image/svg+xml;base64,PHN2ZyBpZD0iTGF5ZXJfMSIgZGF0YS1uYW1lPSJMYXllciAxIiB4bWxucz0iaHR0cDovL3d3dy53My5vcmcvMjAwMC9zdmciIHZpZXdCb3g9IjAgMCA0Ljk1IDEwIj48ZGVmcz48c3R5bGU+LmNscy0xe2ZpbGw6I2ZmZjt9LmNscy0ye2ZpbGw6IzQ0NDt9PC9zdHlsZT48L2RlZnM+PHRpdGxlPmFycm93czwvdGl0bGU+PHJlY3QgY2xhc3M9ImNscy0xIiB3aWR0aD0iNC45NSIgaGVpZ2h0PSIxMCIvPjxwb2x5Z29uIGNsYXNzPSJjbHMtMiIgcG9pbnRzPSIxLjQxIDQuNjcgMi40OCAzLjE4IDMuNTQgNC42NyAxLjQxIDQuNjciLz48cG9seWdvbiBjbGFzcz0iY2xzLTIiIHBvaW50cz0iMy41NCA1LjMzIDIuNDggNi44MiAxLjQxIDUuMzMgMy41NCA1LjMzIi8+PC9zdmc+) no-repeat 95% 50%; -moz-appearance: none; -webkit-appearance: none; appearance: none; background-color: #fff; height: 44px !important; } form.grey .btn-blue { background: #024959; -webkit-box-shadow: none; box-shadow: none; font-weight: 600; } .about-us .transparentbox, .contact-us .transparentbox { position: relative; padding: 50px; border: 2px solid rgba(2, 73, 89, 0.21); } @media screen and (max-width: 768px) { .about-us .transparentbox p:last-of-type, .contact-us .transparentbox p:last-of-type { margin-bottom: 60px; } } @media screen and (max-width: 768px) { .about-us .transparentbox, .contact-us .transparentbox { padding: 10px; } } .about-us .transparentbox .skyline, .contact-us .transparentbox .skyline { position: absolute; bottom: -2px; width: 339px; height: 70px; } .about-us .transparentbox .skyline.skyline-right, .contact-us .transparentbox .skyline.skyline-right { right: 0; } .about-us .leftbox, .contact-us .leftbox { padding-right: 50px; border-right: 2px solid #024959; } @media screen and (max-width: 992px) { .about-us .leftbox, .contact-us .leftbox { padding: 15px !important; border: none !important; } } .about-us .rightbox, .contact-us .rightbox { padding-left: 50px; } @media screen and (max-width: 992px) { .about-us .rightbox, .contact-us .rightbox { padding: 15px !important; } } .about-us p, .contact-us p { font-size: 22px; } @media screen and (max-width: 991px) { .about-us p, .contact-us p { font-size: 18px; } } .about-us h3, .contact-us h3 { padding-top: 20px; font-size: 22px; } .about-us h4, .contact-us h4 { font-size: 25px; text-align: center; } .about-us .col img, .contact-us .col img { display: block; } .about-us .showmore, .contact-us .showmore { color: #ff701e; font-weight: 600; font-size: 18px; padding-right: 20px; background: url(data:image/png;base64,iVBORw0KGgoAAAANSUhEUgAAAA0AAAAPCAYAAAA/I0V3AAAAGXRFWHRTb2Z0d2FyZQBBZG9iZSBJbWFnZVJlYWR5ccllPAAAAyJpVFh0WE1MOmNvbS5hZG9iZS54bXAAAAAAADw/eHBhY2tldCBiZWdpbj0i77u/IiBpZD0iVzVNME1wQ2VoaUh6cmVTek5UY3prYzlkIj8+IDx4OnhtcG1ldGEgeG1sbnM6eD0iYWRvYmU6bnM6bWV0YS8iIHg6eG1wdGs9IkFkb2JlIFhNUCBDb3JlIDUuMy1jMDExIDY2LjE0NTY2MSwgMjAxMi8wMi8wNi0xNDo1NjoyNyAgICAgICAgIj4gPHJkZjpSREYgeG1sbnM6cmRmPSJodHRwOi8vd3d3LnczLm9yZy8xOTk5LzAyLzIyLXJkZi1zeW50YXgtbnMjIj4gPHJkZjpEZXNjcmlwdGlvbiByZGY6YWJvdXQ9IiIgeG1sbnM6eG1wPSJodHRwOi8vbnMuYWRvYmUuY29tL3hhcC8xLjAvIiB4bWxuczp4bXBNTT0iaHR0cDovL25zLmFkb2JlLmNvbS94YXAvMS4wL21tLyIgeG1sbnM6c3RSZWY9Imh0dHA6Ly9ucy5hZG9iZS5jb20veGFwLzEuMC9zVHlwZS9SZXNvdXJjZVJlZiMiIHhtcDpDcmVhdG9yVG9vbD0iQWRvYmUgUGhvdG9zaG9wIENTNiAoV2luZG93cykiIHhtcE1NOkluc3RhbmNlSUQ9InhtcC5paWQ6ODBCMUIwMzU4QjgwMTFFODg3N0FCNzlFRjYwMUREOEEiIHhtcE1NOkRvY3VtZW50SUQ9InhtcC5kaWQ6ODBCMUIwMzY4QjgwMTFFODg3N0FCNzlFRjYwMUREOEEiPiA8eG1wTU06RGVyaXZlZEZyb20gc3RSZWY6aW5zdGFuY2VJRD0ieG1wLmlpZDo4MEIxQjAzMzhCODAxMUU4ODc3QUI3OUVGNjAxREQ4QSIgc3RSZWY6ZG9jdW1lbnRJRD0ieG1wLmRpZDo4MEIxQjAzNDhCODAxMUU4ODc3QUI3OUVGNjAxREQ4QSIvPiA8L3JkZjpEZXNjcmlwdGlvbj4gPC9yZGY6UkRGPiA8L3g6eG1wbWV0YT4gPD94cGFja2V0IGVuZD0iciI/PgM6OKsAAAFwSURBVHjaZNJNKARxGMfxmfFys8nLYnFwxMlh3dwk9uolNqRILeWtHB2wYShvV45yoKwcKHJxdSAXNQql7MlN2gPG99me3f67/vXZeXt+M888s7bTNRC0LKsHI1jD6c/54a9lrIJINMxmA/dYLuSnG2NowSju8GIEStgMoQ3N8Bx+ylCvNRHsUNiggQCbOMYhtRWotGmvlJ0ObCEEHwksIopZFCOFFbmp7fu+3NHRNndRjW+86Z2lvS+sw+V9U+mQ0X8vm03UGXP4xKoMKTMgR4uL0CiTwxTejUCcYmmrlppgOsSOvEcMZximIKHv8Spj5tilpp39CyyxXyODWOBgXnv/wAyFB/rkJ7RiD036dFfau8WlniiXKRIYJPiogX0j8IyHzPSqONhGv15ManEnwnrOwwQ3u85OT3rVYJ/1f0mbkwSustOTxYmkDuAoL+CZgZyQBmXUczg2AjEzICvn4xofWf5707ghcJJ//U+AAQDcNIOHjZpGiAAAAABJRU5ErkJggg==) no-repeat middle right; display: inline-block; } .about-us a.showmore:hover, .contact-us a.showmore:hover { text-decoration: none; } .about-us .tab-pane, .contact-us .tab-pane { position: relative; } .about-us .single-news, .contact-us .single-news { position: relative; margin: 50px 0px 0px 0px; } @media screen and (min-width: 992px) { .about-us .single-news, .contact-us .single-news { margin-left: 10px; margin-right: 10px; } } .about-us .single-news h2, .contact-us .single-news h2 { color: #024959; font-size: 32px; } @media screen and (max-width: 991px) { .about-us .single-news h2, .contact-us .single-news h2 { font-size: 28px; } } .about-us .news-body, .contact-us .news-body { padding: 74px 96px 62px 50px; } @media screen and (max-width: 576px) { .about-us .news-body, .contact-us .news-body { padding: 30px; } } @media screen and (min-width: 992px) { .about-us .news-body .col-lg-5.left, .contact-us .news-body .col-lg-5.left { padding-right: 8px; margin-right: 42px; } } @media screen and (min-width: 992px) { .about-us .news-body .col-lg-5.right, .contact-us .news-body .col-lg-5.right { padding-left: 8px; margin-left: 42px; } } @media screen and (max-width: 991px) { .about-us .news-body .col-lg-5, .contact-us .news-body .col-lg-5 { -webkit-box-ordinal-group: 2; -ms-flex-order: 1; order: 1; } } @media screen and (max-width: 991px) { .about-us .news-body .col, .contact-us .news-body .col { -webkit-box-ordinal-group: 3; -ms-flex-order: 2; order: 2; } } .about-us .news-body img, .contact-us .news-body img { -webkit-box-shadow: 0px 6px 9.6px 0.4px rgba(0, 0, 0, 0.21); box-shadow: 0px 6px 9.6px 0.4px rgba(0, 0, 0, 0.21); } @media screen and (max-width: 991px) { .about-us .news-body img, .contact-us .news-body img { margin-bottom: 20px; display: block; } } .about-us .bluebox, .contact-us .bluebox { border: 3px solid #024959; padding: 80px; position: absolute; height: 100%; width: 100%; left: 0; } .about-us ul.check, .contact-us ul.check { font-size: 22px; line-height: 22px; margin-left: 30px; margin-bottom: 30px; list-style-image: url(data:image/png;base64,iVBORw0KGgoAAAANSUhEUgAAABQAAAAUCAYAAACNiR0NAAAAGXRFWHRTb2Z0d2FyZQBBZG9iZSBJbWFnZVJlYWR5ccllPAAAAyJpVFh0WE1MOmNvbS5hZG9iZS54bXAAAAAAADw/eHBhY2tldCBiZWdpbj0i77u/IiBpZD0iVzVNME1wQ2VoaUh6cmVTek5UY3prYzlkIj8+IDx4OnhtcG1ldGEgeG1sbnM6eD0iYWRvYmU6bnM6bWV0YS8iIHg6eG1wdGs9IkFkb2JlIFhNUCBDb3JlIDUuMy1jMDExIDY2LjE0NTY2MSwgMjAxMi8wMi8wNi0xNDo1NjoyNyAgICAgICAgIj4gPHJkZjpSREYgeG1sbnM6cmRmPSJodHRwOi8vd3d3LnczLm9yZy8xOTk5LzAyLzIyLXJkZi1zeW50YXgtbnMjIj4gPHJkZjpEZXNjcmlwdGlvbiByZGY6YWJvdXQ9IiIgeG1sbnM6eG1wPSJodHRwOi8vbnMuYWRvYmUuY29tL3hhcC8xLjAvIiB4bWxuczp4bXBNTT0iaHR0cDovL25zLmFkb2JlLmNvbS94YXAvMS4wL21tLyIgeG1sbnM6c3RSZWY9Imh0dHA6Ly9ucy5hZG9iZS5jb20veGFwLzEuMC9zVHlwZS9SZXNvdXJjZVJlZiMiIHhtcDpDcmVhdG9yVG9vbD0iQWRvYmUgUGhvdG9zaG9wIENTNiAoV2luZG93cykiIHhtcE1NOkluc3RhbmNlSUQ9InhtcC5paWQ6OEQxNzU2RDk4QjU4MTFFOEIwRTBDMkJFQjg5MEJBQzUiIHhtcE1NOkRvY3VtZW50SUQ9InhtcC5kaWQ6OEQxNzU2REE4QjU4MTFFOEIwRTBDMkJFQjg5MEJBQzUiPiA8eG1wTU06RGVyaXZlZEZyb20gc3RSZWY6aW5zdGFuY2VJRD0ieG1wLmlpZDo4RDE3NTZENzhCNTgxMUU4QjBFMEMyQkVCODkwQkFDNSIgc3RSZWY6ZG9jdW1lbnRJRD0ieG1wLmRpZDo4RDE3NTZEODhCNTgxMUU4QjBFMEMyQkVCODkwQkFDNSIvPiA8L3JkZjpEZXNjcmlwdGlvbj4gPC9yZGY6UkRGPiA8L3g6eG1wbWV0YT4gPD94cGFja2V0IGVuZD0iciI/Pgqfal0AAAGiSURBVHjanJXPK0RRFMfvTFM2dhrSlJWtBaGQ/CgWamIjKSUWQ4koP2KFlVI21DQLzWJoQhEWajZ+Jc0oC7OR/8BslF42aHxPnVvH695nvFOfuufee76dd+659wWKszXKYm1gELSAKp57BffgCNyZggIGwWawAbqUt12CZZCVk0HXpmlwU4KY4j3XYAWUmTKcBHH1f3sH1eBDZljvU4xEolpMCu4ofzbMJSKrBeVBPsVWH2Kb4IzHFeAK9JLgiA+xY7Ao/EMQAT1BbhNpp+DCQ+wFjAqfWqybx40kGBaLe2AA9IFtg9gb6AcO+xNgSaxXuvvwU4xnuE7SKLNnnY3hMIskWBATY2BL+FSnVR6vg3MeR/hAQi7BQoivTpOYnAPfYIH9NfAkxMj2uZndlqUMU4aFebAr/BPwJXq2w3JgKRLMgVvD4rhLVNd1yiJGGjl9l+vAo6Emij81BjpB2iJG2TeAvD7lPAeZLMo1THv0Zow1fj1fSX5xHENA2CLkcEzS9h4mQDvIlHD9Mrw38deLrY1aaYiD5C+Ain8AHkxBPwIMANNFVzeqIlyDAAAAAElFTkSuQmCC); } .about-us ul.check li, .contact-us ul.check li { padding: 10px 0px 10px 0px; } .about-us .callus, .contact-us .callus { color: #024959; font-family: "AvantGarde Bk BT", sans-serif; font-weight: 600; font-size: 18px; } .about-us .phone, .contact-us .phone { color: #ff701e; font-family: "AvantGarde Bk BT", sans-serif; font-weight: 600; font-size: 18px; } .about-us .iconphone, .contact-us .iconphone { max-width: 50px; margin-right: 20px; } .about-us .item, .contact-us .item { margin-bottom: 10px; } .about-us .masonry .col, .contact-us .masonry .col { padding: 0px 5px; } .about-us .nav-tabs:after, .contact-us .nav-tabs:after { content: ""; height: 8px; width: 100%; background-color: #ff701e; -webkit-box-shadow: 0px 6px 9.6px 0.4px rgba(0, 0, 0, 0.21); box-shadow: 0px 6px 9.6px 0.4px rgba(0, 0, 0, 0.21); } .about-us .nav-tabs .nav-link, .contact-us .nav-tabs .nav-link { border: 1px solid transparent; border-top-left-radius: 0; border-top-right-radius: 0; } .about-us .nav-tabs .nav-link.active, .about-us .nav-tabs .nav-item.show .nav-link, .contact-us .nav-tabs .nav-link.active, .contact-us .nav-tabs .nav-item.show .nav-link { color: #495057; background-color: #ff701e; border: none; } .about-us .nav-tabs .nav-item, .contact-us .nav-tabs .nav-item { margin: 0 25px; } @media screen and (max-width: 768px) { .about-us .nav-tabs .nav-item, .contact-us .nav-tabs .nav-item { width: 100%; margin: 0 0px; } } .about-us .nav-item .nav-link, .contact-us .nav-item .nav-link { color: #08213f; font-family: "AvantGarde", sans-serif; font-weight: bold; font-size: 27px; height: 100%; padding: 18px 40px; } @media screen and (max-width: 1230px) { .about-us .nav-item .nav-link, .contact-us .nav-item .nav-link { padding: 18px; } } @media screen and (max-width: 991px) { .about-us .nav-item .nav-link, .contact-us .nav-item .nav-link { font-size: 20px; padding: 10px 15px; } } @media screen and (max-width: 767px) { .about-us .nav-item .nav-link, .contact-us .nav-item .nav-link { font-size: 18px; width: 100%; } } .about-us .nav-tabs .nav-link.active, .about-us .nav-tabs .nav-item.show .nav-link, .contact-us .nav-tabs .nav-link.active, .contact-us .nav-tabs .nav-item.show .nav-link { color: #fff; } .orangebox { border: 1px solid #ff701e; padding-bottom: 20px; margin: 5px; } .orangebox .icon { text-align: center; display: block; padding: 20px 0 10px 0; } .orangebox h3 { font-size: 22px; font-family: "AvantGarde Bk BT", sans-serif; font-weight: bold; text-align: center; margin: 0px 0px 20px; } .orangebox p { padding: 2px 0px; margin: 0; font-size: 13px; } .slide-private-tab, .slide-team-tab, .slide-mini-tab, .slide-coworking-tab, .slide-managed-tab { position: relative; /* Dots */ } .slide-private-tab .slick-arrow, .slide-team-tab .slick-arrow, .slide-mini-tab .slick-arrow, .slide-coworking-tab .slick-arrow, .slide-managed-tab .slick-arrow { position: absolute; top: 50%; background-color: #ff701e; padding: 0px 12px; z-index: 2; margin-top: -21px; border-radius: 3px; -webkit-box-shadow: rgba(0, 0, 0, 0.2) 6px 4px 10px; box-shadow: rgba(0, 0, 0, 0.2) 6px 4px 10px; cursor: pointer; } .slide-private-tab .slick-arrow i, .slide-team-tab .slick-arrow i, .slide-mini-tab .slick-arrow i, .slide-coworking-tab .slick-arrow i, .slide-managed-tab .slick-arrow i { color: #fff; font-size: 36px; line-height: 42px; } .slide-private-tab .slick-arrow.arrow-next, .slide-team-tab .slick-arrow.arrow-next, .slide-mini-tab .slick-arrow.arrow-next, .slide-coworking-tab .slick-arrow.arrow-next, .slide-managed-tab .slick-arrow.arrow-next { right: 0px; } .slide-private-tab .slick-arrow.arrow-prev, .slide-team-tab .slick-arrow.arrow-prev, .slide-mini-tab .slick-arrow.arrow-prev, .slide-coworking-tab .slick-arrow.arrow-prev, .slide-managed-tab .slick-arrow.arrow-prev { left: 0px; } .slide-private-tab .slick-dotted.slick-slider, .slide-team-tab .slick-dotted.slick-slider, .slide-mini-tab .slick-dotted.slick-slider, .slide-coworking-tab .slick-dotted.slick-slider, .slide-managed-tab .slick-dotted.slick-slider { margin-bottom: 30px; } .slide-private-tab .slick-dots, .slide-team-tab .slick-dots, .slide-mini-tab .slick-dots, .slide-coworking-tab .slick-dots, .slide-managed-tab .slick-dots { position: relative; display: block; width: 100%; padding: 0; margin: 0; list-style: none; text-align: center; } .slide-private-tab .slick-dots li, .slide-team-tab .slick-dots li, .slide-mini-tab .slick-dots li, .slide-coworking-tab .slick-dots li, .slide-managed-tab .slick-dots li { position: relative; display: inline-block; width: 20px; height: 20px; margin: 0 5px; padding: 0; cursor: pointer; } .slide-private-tab .slick-dots li button, .slide-team-tab .slick-dots li button, .slide-mini-tab .slick-dots li button, .slide-coworking-tab .slick-dots li button, .slide-managed-tab .slick-dots li button { font-size: 0; line-height: 0; display: block; width: 20px; height: 20px; padding: 5px; cursor: pointer; color: transparent; border: 0; outline: none; background: transparent; } .slide-private-tab .slick-dots li button:hover, .slide-private-tab .slick-dots li button:focus, .slide-team-tab .slick-dots li button:hover, .slide-team-tab .slick-dots li button:focus, .slide-mini-tab .slick-dots li button:hover, .slide-mini-tab .slick-dots li button:focus, .slide-coworking-tab .slick-dots li button:hover, .slide-coworking-tab .slick-dots li button:focus, .slide-managed-tab .slick-dots li button:hover, .slide-managed-tab .slick-dots li button:focus { outline: none; } .slide-private-tab .slick-dots li button:hover:before, .slide-private-tab .slick-dots li button:focus:before, .slide-team-tab .slick-dots li button:hover:before, .slide-team-tab .slick-dots li button:focus:before, .slide-mini-tab .slick-dots li button:hover:before, .slide-mini-tab .slick-dots li button:focus:before, .slide-coworking-tab .slick-dots li button:hover:before, .slide-coworking-tab .slick-dots li button:focus:before, .slide-managed-tab .slick-dots li button:hover:before, .slide-managed-tab .slick-dots li button:focus:before { opacity: 1; } .slide-private-tab .slick-dots li button:before, .slide-team-tab .slick-dots li button:before, .slide-mini-tab .slick-dots li button:before, .slide-coworking-tab .slick-dots li button:before, .slide-managed-tab .slick-dots li button:before { font-family: "slick"; font-size: 36px; line-height: 20px; position: absolute; top: 0; left: 0; width: 20px; height: 20px; content: "•"; text-align: center; color: #024959; -webkit-font-smoothing: antialiased; -moz-osx-font-smoothing: grayscale; } .slide-private-tab .slick-dots li.slick-active button:before, .slide-team-tab .slick-dots li.slick-active button:before, .slide-mini-tab .slick-dots li.slick-active button:before, .slide-coworking-tab .slick-dots li.slick-active button:before, .slide-managed-tab .slick-dots li.slick-active button:before { color: #ff701e; } @media screen and (min-width: 1200px) { .about-us .container { max-width: 1267px; } } @media screen and (min-width: 992px) { .about-us .tab-content { padding-right: 25px; padding-left: 35px; } } @media screen and (min-width: 992px) { .about-us .tab-content #resources { padding-right: 46px; padding-left: 35px; } } .hero-contact-us { background-image: url(//www.corporatesuites.com/wp-content/themes/corporate-suites/assets/css/../img/nyc-skyline.png); min-height: 485px; } @media screen and (min-width: 768px) { .contact-us .title { margin-top: 150px; } } @media screen and (max-width: 767px) { .contact-us .title { margin-top: 110px; } } @media screen and (max-width: 767px) { .contact-us .title h1 { font-size: 30px; } } .contact-us form.grey label { width: 100% !important; } .contact-us form.grey input, .contact-us form.grey select, .contact-us form.grey textarea { width: 100%; } .contact-us a.blue-underline { color: #024959; text-decoration: underline; font-weight: bold; font-size: 20px; } @media screen and (min-width: 992px) { .contact-us .col-sm-5 { padding-right: 0; } } .contact-us .orange-cloud { padding: 40px; position: relative; border-radius: 15px; background: #ff701e; margin-bottom: 30px; } @media screen and (max-width: 575px) { .contact-us .orange-cloud { text-align: center; } } .contact-us .orange-cloud p { padding: 0; margin: 0; color: white; line-height: 1.2; } .contact-us .orange-cloud h4 { font-size: 28px; padding: 0; margin: 0; text-align: left; color: white; } @media screen and (max-width: 991px) { .contact-us .orange-cloud h4 { font-size: 22px; } } @media screen and (max-width: 575px) { .contact-us .orange-cloud h4 { text-align: center; } } .contact-us .orange-cloud .right { padding: 0; } @media screen and (max-width: 575px) { .contact-us .orange-cloud img { display: block; margin-top: 20px; } } .contact-us .orange-cloud .extension-right { position: absolute; right: 30px; bottom: -24px; width: 53px; height: 25px; } .contact-us .blue-cloud { padding: 30px 40px 36px; position: relative; border-radius: 10px; background: #024959; margin-bottom: 75px; max-width: 257px; } .contact-us .blue-cloud .extension-left { position: absolute; left: 30px; bottom: -13px; width: 31px; height: 18px; } .contact-us .blue-cloud p { padding: 0; margin: 0; color: white; line-height: 1.2; } .contact-us .blue-cloud h4 { font-size: 28px; padding: 0; margin: 0 0 5px; color: white; text-align: left; } @media screen and (max-width: 991px) { .contact-us .blue-cloud h4 { font-size: 22px; } } .contact-us a.btn-bluebox { border: 3px solid #024959; padding: 20px; display: block; font-size: 20px; color: #024959; margin-bottom: 25px; text-align: center; max-width: 372px; font-weight: bold; } @media screen and (max-width: 767px) { .contact-us a.btn-bluebox { margin: 0 auto 25px; } } .contact-us .single-news h2 { font-size: 30px; } .contact-us .nav-item .nav-link { font-size: 24px; } .hero.hero-virtual-office { background-image: url(//www.corporatesuites.com/wp-content/themes/corporate-suites/assets/css/../img/collage-of-young-business-professionals.png); min-height: 485px; } @media screen and (max-width: 992px) { .hero.hero-virtual-office { min-height: 300px; } } .hero.hero-virtual-office .title { -ms-flex-item-align: end; align-self: flex-end; -webkit-box-shadow: none; box-shadow: none; padding: 20px 28px 5px 28px; } @media screen and (max-width: 992px) { .hero.hero-virtual-office .title { margin-top: 60px; } } .hero.hero-virtual-office .title h1 { font-size: 32px; } .hero.hero-virtual-office .title p { font-size: 40px; } .hero.hero-virtual-office .cta a { font-weight: 600; background: #ff701e; border-radius: 10px; padding: 10px 20px; text-align: center; margin: 20px 0; color: #fff; display: block; } .step-title { font-family: "AvantGarde Bk BT", sans-serif; font-weight: 600; text-align: center; font-size: 40px; color: #024959; border-bottom: 3px solid #024959; line-height: 0.1em; margin: 10px 0 50px 0; } .step-title span { background: white; padding: 30px; } .virtual-office h2 { font-size: 30px; } .virtual-office h2.text-orange { margin-bottom: 45px; } .virtual-office .rounded-orange-button { background: #ff701e; border-radius: 10px; padding: 20px; text-align: center; margin: 20px 0; } .virtual-office .rounded-orange-button a { color: white; font-size: 28px; line-height: 28px; font-weight: 600; } .virtual-office .check { list-style: none; padding-left: 35px; max-width: 72%; } .virtual-office .check li { font-size: 17px; line-height: 1; margin-bottom: 0; padding: 9px 0px; } .virtual-office .check li:before { content: ""; width: 30px; height: 30px; display: inline-block; position: absolute; left: -50px; top: 50%; margin-top: -15px; background: url(data:image/png;base64,iVBORw0KGgoAAAANSUhEUgAAABsAAAAbCAYAAACN1PRVAAAAGXRFWHRTb2Z0d2FyZQBBZG9iZSBJbWFnZVJlYWR5ccllPAAABNVJREFUeNqkVg1M1GUcfu7PgfcheKAIXEgNloAoUNGaW2xaSnlAUCMIkA4aG2qpUQwmRSVbJTPxA5GkUSFMJRzECELQ0lZt2ayA4lDpw5IrCPE4Pk4+7uj3/q/7hAPEd3e72/vxe9739zy/D8H09DTmHLd6fdDe/BRUXyqg7g7H6KA3pg0uADcJqXsffFZ3IGhDC8IVDVh+759zmRI4BGMg549l48fGVAz1ySEQkH0hfZ0se6YNgH7S+Ou6sh9hihps2nEAK+67vnCwS58ko37vAR5widQIMt8w6IHxUcDN8yZi8/MQmV4xP1jjO4Vofq8AzksAJxfc8WAvndQBG7NKEF+wBy7S0dnBGt8txGdFBRC70gqHRQ/9BDtvQP6FQHjd32Oatvjn+zNJaN5/90Ds8lP0OmVpmjUQG0arQ/94oe7NEt51dwPExm0tELVrHx5JOmm/ZLR8rjSHxOC5KI7MhAiMQGHRjYh7Pd9m7UZnCD2ZnsFe9UODklfd4pGMSpSvUSHtiJK8YxFC94XHcCThPPp/DeAoYOMJ0HNB8p5LEGI3LTLeT8LS5bfM8wPX/VC1qwoatRfaP48XouuLmBk8GaZIvuMkfWeS0DyuNQV2SlkGfNd1mucnxkSo3H6a6JHzXuu++CQHtSocnLNtnEhkgwiPboBXwFU6NI8ghgFFzlt4MK7OZr4mrxTXvl0PEamb2e/rCRFi5KYXOM6SBSTLbuLF0xvolj9jTOOGyh0nyNVxEC+byZNuCIh4phbRuXttllia+6b6Bf4MCwVmf0yzgiM3WJ41Ra7zC7/MA7EhkWmR+WEiHk6ooc22ypsgQfiFdSDlYCYPbBq/nIvCp4X7IZLau1vIEV9T5gnGj1q1lgTjbZ5zFk0gvSwV65NPQKe1XErqMYiM44nkCa15b19PAKp2VhO4E/vYeULPUZno50nmo44UqVHLcTytkYi1ADo566EsUyJSWU4lhtxN+7ceeh4+gVesuJPi42010P7ryScHexERPUI60AHN33II/9/gIgF+vxyBY8+dxfZTMfDw/cvsutSDWXwMybzVCN3SZGPwVE45nXuIjBp5sk/OKwNUHII3NptfZsptYjegVxWKkoRW9Pf424gipXgbFLmFNsZaivfgu5oU/txsJUtPTAVGtnIk8ToqfIO8Eq0BRUsZB0EoTW4jHoMcSr+9KZYqxdu8xB3FoUSmwwOxtRzcfXsJ8CSfbuyzNwMc+MMfRxNbKb+FzjCkVgWj+uVKkrbAYQJndtduqqMKcM24Y/NLRVRhNbxv7QFZ9Gv7VqGUOPztUoR5jcXgR1ksJNzNfM9WvUWuOjyRXWjJ+h6rbiCu4BVM6BjCTEAmmuEBb5QrW/B1ZSY6WxX4IL0BvV3r+Ms46mNYdonJzScRXp1Zqc+8Voy2o9m8oqwD1aRGvuSPG/8zt7mIHQDR3BhlF9aHbD2c6bgHqc0/ROlmN/UOFF+LqAQsid8eISBlBWWXLOrG9HN3Vxcrsqgf2Ud5U2bsrpwW0A4YjGIQu41iy6tvYPPO4oX3jSz1tB7OQ+fZZzEyKONfyUqOtepM5YXFkUQ2jJDH6xG1uwj3rOm6sybVGvSnpqdx5asoCvAQ4sLTmLwFU8TtADz9VVj9aBuFTz3kwd1zmfpPgAEAjBXw4N+yAt8AAAAASUVORK5CYII=) center left; background-repeat: no-repeat; background-size: cover; } .virtual-office #location h2 { margin-bottom: 0; } .virtual-office #location .current { font-size: 30px; } .virtual-office #location .current img { height: 34px; padding-bottom: 3px; vertical-align: middle; } .virtual-office .call-us .d-flex { -webkit-box-align: center; -ms-flex-align: center; align-items: center; } .virtual-office .call-us img { margin-right: 30px; } .virtual-office .call-us h2 { margin-bottom: 0px; line-height: 1.1; color: #024959; } .virtual-office .divider { height: 2px; background: #024959; max-width: 912px; margin-left: auto; margin-right: auto; } @media screen and (min-width: 768px) { .virtual-office .blue-clouds .col-md-4 { -webkit-box-flex: 0; -ms-flex: 0 0 37.66667%; flex: 0 0 37.66667%; max-width: 37.66667%; } } @media screen and (min-width: 768px) { .virtual-office .blue-clouds .col-md-6 { -webkit-box-flex: 0; -ms-flex: 0 0 44.66667%; flex: 0 0 44.66667%; max-width: 44.66667%; } } .virtual-office .blue-cloud { padding: 26px 29px; position: relative; border-radius: 10px; background: #024959; margin-bottom: 54px; font-size: 17px; width: 100%; } .virtual-office .blue-cloud .extension-left { position: absolute; left: 30px; bottom: -13px; width: 31px; height: 18px; } .virtual-office .blue-cloud .extension-right { position: absolute; right: 30px; bottom: -13px; width: 31px; height: 18px; } .virtual-office .blue-cloud p { padding: 0; margin: 0; color: white; } .virtual-office .blue-cloud .author { font-size: 18px; font-weight: 600; color: white; } .virtual-office .addon-table h3.text-orange { margin-bottom: 11px; } .virtual-office .addon-table table { border: 2px solid #08213f; } .virtual-office .addon-table table td { padding: 10px; border: 1px solid #08213f; } .virtual-office .addon-table table td:first-child { width: 36%; font-size: 20px; } @media screen and (max-width: 992px) { .virtual-office .addon-table table td:first-child { font-size: 18px; } } @media screen and (max-width: 768px) { .virtual-office .addon-table table td:first-child { font-size: 16px; } } @media screen and (max-width: 576px) { .virtual-office .addon-table table td:first-child { font-size: 14px; } } .virtual-office .addon-table table td:nth-child(2), .virtual-office .addon-table table td:nth-child(3), .virtual-office .addon-table table td:nth-child(4), .virtual-office .addon-table table td:nth-child(5) { text-align: center; width: 16%; vertical-align: middle !important; font-weight: 600; font-size: 28px; } @media screen and (max-width: 992px) { .virtual-office .addon-table table td:nth-child(2), .virtual-office .addon-table table td:nth-child(3), .virtual-office .addon-table table td:nth-child(4), .virtual-office .addon-table table td:nth-child(5) { font-size: 22px; } } @media screen and (max-width: 768px) { .virtual-office .addon-table table td:nth-child(2), .virtual-office .addon-table table td:nth-child(3), .virtual-office .addon-table table td:nth-child(4), .virtual-office .addon-table table td:nth-child(5) { font-size: 20px; } } @media screen and (max-width: 576px) { .virtual-office .addon-table table td:nth-child(2), .virtual-office .addon-table table td:nth-child(3), .virtual-office .addon-table table td:nth-child(4), .virtual-office .addon-table table td:nth-child(5) { font-size: 18px; } } .virtual-office .price-table table { border-bottom: 2px solid #08213f; border-left: 2px solid #08213f; border-right: 2px solid #08213f; position: relative; margin-bottom: 0; } .virtual-office .price-table table td { border: 1px solid #08213f; height: 50px; } @media screen and (max-width: 992px) { .virtual-office .price-table table td { padding: 5px; } } .virtual-office .price-table table td:first-child { background: #024959; color: white; font-size: 20px; width: 36%; } @media screen and (max-width: 992px) { .virtual-office .price-table table td:first-child { font-size: 18px; } } @media screen and (max-width: 768px) { .virtual-office .price-table table td:first-child { font-size: 16px; } } @media screen and (max-width: 576px) { .virtual-office .price-table table td:first-child { font-size: 14px; } } .virtual-office .price-table table td:nth-child(2), .virtual-office .price-table table td:nth-child(3), .virtual-office .price-table table td:nth-child(4), .virtual-office .price-table table td:nth-child(5) { text-align: center; width: 16%; vertical-align: middle !important; } @media screen and (max-width: 768px) { .virtual-office .price-table table td:nth-child(2), .virtual-office .price-table table td:nth-child(3), .virtual-office .price-table table td:nth-child(4), .virtual-office .price-table table td:nth-child(5) { width: 200px; } } .virtual-office .price-table table td:nth-child(3) { border-right: 1px solid transparent; } .virtual-office .price-table table td:nth-child(4) { text-align: center; vertical-align: middle !important; position: relative; border-right: 1px solid transparent; } .virtual-office .price-table table td { border: 1px solid #08213f; } .virtual-office .price-table table tr:first-child td { padding-top: 60px; border: 1px solid transparent; border-bottom: 2px solid #08213f; } @media screen and (max-width: 768px) { .virtual-office .price-table table tr:first-child td { padding-top: 80px; } } .virtual-office .price-table table tr:first-child td.shadow { border-bottom: 2px solid #e76821 !important; } .virtual-office .price-table table tr:first-child td:first-child { background: white; color: #ff701e; font-size: 26px; font-weight: 600; vertical-align: bottom; } @media screen and (max-width: 992px) { .virtual-office .price-table table tr:first-child td:first-child { font-size: 18px !important; } } @media screen and (max-width: 768px) { .virtual-office .price-table table tr:first-child td:first-child { font-size: 16px !important; } } @media screen and (max-width: 576px) { .virtual-office .price-table table tr:first-child td:first-child { font-size: 14px !important; } } .virtual-office .price-table table tr:first-child td:nth-child(5) { border-right: 2px solid transparent; } .virtual-office .price-table table tr:first-child td:nth-child(1) { border-left: 2px solid transparent; } .virtual-office .price-table table tr:nth-child(2) td { border-top: 2px solid #08213f; } .virtual-office .price-table table tr:last-child td { border-bottom: 2px solid #08213f; } .virtual-office .price-table table tr td:nth-child(5) { border-right: 2px solid #08213f; } .virtual-office .price-table table tr td:nth-child(1) { border-left: 2px solid #08213f; } .virtual-office .price-table h3 { font-size: 32px; margin-bottom: 0px; color: #024959; } @media screen and (max-width: 1200px) { .virtual-office .price-table h3 { font-size: 28px; } } @media screen and (max-width: 992px) { .virtual-office .price-table h3 { font-size: 20px; } } @media screen and (max-width: 768px) { .virtual-office .price-table h3 { font-size: 14px; } } @media screen and (max-width: 576px) { .virtual-office .price-table h3 { font-size: 12px; } } .virtual-office .price-table p { font-size: 24px; color: #024959; margin-bottom: 0; line-height: 1.1; } @media screen and (max-width: 1200px) { .virtual-office .price-table p { font-size: 20px; } } @media screen and (max-width: 992px) { .virtual-office .price-table p { font-size: 16px; } } @media screen and (max-width: 768px) { .virtual-office .price-table p { font-size: 12px; margin-bottom: 0px; } } @media screen and (max-width: 576px) { .virtual-office .price-table p { font-size: 10px; margin-bottom: 0px; } } .virtual-office .price-table .amount { color: #024959; font-size: 50px; font-weight: 600; } @media screen and (max-width: 1200px) { .virtual-office .price-table .amount { font-size: 32px; } } @media screen and (max-width: 992px) { .virtual-office .price-table .amount { font-size: 26px; } } @media screen and (max-width: 768px) { .virtual-office .price-table .amount { font-size: 14px; } } @media screen and (max-width: 576px) { .virtual-office .price-table .amount { font-size: 12px; } } .virtual-office .price-table .starting { min-width: 50px; margin-bottom: 0; } @media screen and (max-width: 1200px) { .virtual-office .price-table .month { font-size: 16px; } } @media screen and (max-width: 768px) { .virtual-office .price-table .month { font-size: 14px; } } @media screen and (max-width: 576px) { .virtual-office .price-table .month { font-size: 10px; } } .virtual-office .price-table .dolar { position: relative; top: -12px; font-size: 32px; font-weight: bold; } @media screen and (max-width: 1200px) { .virtual-office .price-table .dolar { top: -3px; font-size: 22px; } } @media screen and (max-width: 768px) { .virtual-office .price-table .dolar { font-size: 8px; } } .virtual-office .price-table .orange-button { background: #ff701e; border-radius: 0 0 10px 10px; padding: 20px; text-align: center; margin: 0 38px 0 7px; } @media screen and (max-width: 768px) { .virtual-office .price-table .orange-button { margin: 0 10px 0 10px; } } .virtual-office .price-table .orange-button a { color: white; font-size: 28px; line-height: 28px; font-weight: 600; } .virtual-office .price-table .orange-button a span { display: block; font-size: 32px; } .virtual-office .price-table table tr:first-child td:nth-child(4) h3, .virtual-office .price-table table tr:first-child td:nth-child(4) p, .virtual-office .price-table table tr:first-child td:nth-child(4) .amount, .virtual-office .price-table table tr:first-child td:nth-child(4) .dolar { color: white; } .virtual-office .shadow:before { -webkit-box-shadow: -2px 0 5px #ccc; box-shadow: -2px 0 5px #ccc; content: " "; height: 100%; left: 0; position: absolute; top: 0; width: 15px; z-index: -1; } .virtual-office .shadow:after { -webkit-box-shadow: 2px 0 5px #ccc; box-shadow: 2px 0 5px #ccc; content: " "; height: 100%; right: 0; position: absolute; top: 0; width: 15px; z-index: -1; } .virtual-office .shadow { height: 100px; margin: 50px; position: relative; width: 100px; background: rgba(255, 112, 30, 0.9); border-bottom: 1px solid #e76821 !important; } .virtual-office .most-popular { position: absolute; top: 10px; background: #024959; color: white; font-size: 16px; height: 40px; line-height: 40px; left: 0px; width: 100%; text-align: center; } .virtual-office .most-popular .right { position: absolute; top: 0px; width: 11px; right: -11px; height: 50px; background: url(data:image/png;base64,iVBORw0KGgoAAAANSUhEUgAAAAsAAAAyCAYAAACK2SFDAAAAGXRFWHRTb2Z0d2FyZQBBZG9iZSBJbWFnZVJlYWR5ccllPAAAAyJpVFh0WE1MOmNvbS5hZG9iZS54bXAAAAAAADw/eHBhY2tldCBiZWdpbj0i77u/IiBpZD0iVzVNME1wQ2VoaUh6cmVTek5UY3prYzlkIj8+IDx4OnhtcG1ldGEgeG1sbnM6eD0iYWRvYmU6bnM6bWV0YS8iIHg6eG1wdGs9IkFkb2JlIFhNUCBDb3JlIDUuMy1jMDExIDY2LjE0NTY2MSwgMjAxMi8wMi8wNi0xNDo1NjoyNyAgICAgICAgIj4gPHJkZjpSREYgeG1sbnM6cmRmPSJodHRwOi8vd3d3LnczLm9yZy8xOTk5LzAyLzIyLXJkZi1zeW50YXgtbnMjIj4gPHJkZjpEZXNjcmlwdGlvbiByZGY6YWJvdXQ9IiIgeG1sbnM6eG1wPSJodHRwOi8vbnMuYWRvYmUuY29tL3hhcC8xLjAvIiB4bWxuczp4bXBNTT0iaHR0cDovL25zLmFkb2JlLmNvbS94YXAvMS4wL21tLyIgeG1sbnM6c3RSZWY9Imh0dHA6Ly9ucy5hZG9iZS5jb20veGFwLzEuMC9zVHlwZS9SZXNvdXJjZVJlZiMiIHhtcDpDcmVhdG9yVG9vbD0iQWRvYmUgUGhvdG9zaG9wIENTNiAoV2luZG93cykiIHhtcE1NOkluc3RhbmNlSUQ9InhtcC5paWQ6RTRCQzU1RTI4REJEMTFFODkxMzA5QjQ0QkIzMUFGMTUiIHhtcE1NOkRvY3VtZW50SUQ9InhtcC5kaWQ6RTRCQzU1RTM4REJEMTFFODkxMzA5QjQ0QkIzMUFGMTUiPiA8eG1wTU06RGVyaXZlZEZyb20gc3RSZWY6aW5zdGFuY2VJRD0ieG1wLmlpZDpFNEJDNTVFMDhEQkQxMUU4OTEzMDlCNDRCQjMxQUYxNSIgc3RSZWY6ZG9jdW1lbnRJRD0ieG1wLmRpZDpFNEJDNTVFMThEQkQxMUU4OTEzMDlCNDRCQjMxQUYxNSIvPiA8L3JkZjpEZXNjcmlwdGlvbj4gPC9yZGY6UkRGPiA8L3g6eG1wbWV0YT4gPD94cGFja2V0IGVuZD0iciI/Pu+wLJEAAADKSURBVHja7M9RCoJAEAbg2WUv1xG6Ri9FEAQFHaOnThA9BB2hp0DBksIKCakgMkt0Z1rNwECxXmMHBnaWb392GK/VCb4sDj+UxhprrLHGGv8ZFmxnIACrenSBOO4K4EJZVs6IXAjDlrSMsaiAC/KvTVyv5skkSqGUUzp6HTy4WzVhOY6jEW7sHgWB/4ZFWNLjPkDLHKpzlMwZTlvk/udRcOujbU2S7AzmcZrMFVzS+dTAvWPm0EfqK1nKmVqirZbxsktZ0GnyU4ABAHE0crjMndHzAAAAAElFTkSuQmCC) no-repeat top right; } .virtual-office .most-popular .left { position: absolute; top: 0px; width: 11px; left: -11px; height: 50px; background: url(data:image/png;base64,iVBORw0KGgoAAAANSUhEUgAAAAsAAAAyCAYAAACK2SFDAAAAGXRFWHRTb2Z0d2FyZQBBZG9iZSBJbWFnZVJlYWR5ccllPAAAAyJpVFh0WE1MOmNvbS5hZG9iZS54bXAAAAAAADw/eHBhY2tldCBiZWdpbj0i77u/IiBpZD0iVzVNME1wQ2VoaUh6cmVTek5UY3prYzlkIj8+IDx4OnhtcG1ldGEgeG1sbnM6eD0iYWRvYmU6bnM6bWV0YS8iIHg6eG1wdGs9IkFkb2JlIFhNUCBDb3JlIDUuMy1jMDExIDY2LjE0NTY2MSwgMjAxMi8wMi8wNi0xNDo1NjoyNyAgICAgICAgIj4gPHJkZjpSREYgeG1sbnM6cmRmPSJodHRwOi8vd3d3LnczLm9yZy8xOTk5LzAyLzIyLXJkZi1zeW50YXgtbnMjIj4gPHJkZjpEZXNjcmlwdGlvbiByZGY6YWJvdXQ9IiIgeG1sbnM6eG1wPSJodHRwOi8vbnMuYWRvYmUuY29tL3hhcC8xLjAvIiB4bWxuczp4bXBNTT0iaHR0cDovL25zLmFkb2JlLmNvbS94YXAvMS4wL21tLyIgeG1sbnM6c3RSZWY9Imh0dHA6Ly9ucy5hZG9iZS5jb20veGFwLzEuMC9zVHlwZS9SZXNvdXJjZVJlZiMiIHhtcDpDcmVhdG9yVG9vbD0iQWRvYmUgUGhvdG9zaG9wIENTNiAoV2luZG93cykiIHhtcE1NOkluc3RhbmNlSUQ9InhtcC5paWQ6RDQ1MkI1MDY4REJEMTFFODgzMDRCNzRGNEFGOTYzMEMiIHhtcE1NOkRvY3VtZW50SUQ9InhtcC5kaWQ6RDQ1MkI1MDc4REJEMTFFODgzMDRCNzRGNEFGOTYzMEMiPiA8eG1wTU06RGVyaXZlZEZyb20gc3RSZWY6aW5zdGFuY2VJRD0ieG1wLmlpZDpENDUyQjUwNDhEQkQxMUU4ODMwNEI3NEY0QUY5NjMwQyIgc3RSZWY6ZG9jdW1lbnRJRD0ieG1wLmRpZDpENDUyQjUwNThEQkQxMUU4ODMwNEI3NEY0QUY5NjMwQyIvPiA8L3JkZjpEZXNjcmlwdGlvbj4gPC9yZGY6UkRGPiA8L3g6eG1wbWV0YT4gPD94cGFja2V0IGVuZD0iciI/PgIlqAoAAADnSURBVHja7NA7CsJAEAbg+TfZSHwHAnaCYG2jYOEJPILH8AZey0bQwsrKysJHrfGBD2xE1wkxwWIRbWUXBqb4ZnZmINodRV8+QT88gw022GCDDf4zbGM17ZJt9zgvfKbqYaltMBOevyApmySsHAn+TBcQyuKSlNoFS2SyEzhOjYCStjEQ4TBVh/0GwBBuusydqro5Quy8FoW6nK90OQ1QKHo8Uk2HZQiTuN0eKliPUPTOsGXr7WIaHAXxHlPk8ktIWed5MzG2NDgq2O/mkM4YrtvgAj/Gyc4xTAY9HQO63/t8rcpTgAEA83k7QCYdc4YAAAAASUVORK5CYII=) no-repeat bottom left; } @media screen and (max-width: 1200px) { .virtual-office .most-popular { font-size: 12px; } } @media screen and (max-width: 992px) { .virtual-office .most-popular { font-size: 9px; } } @media screen and (max-width: 768px) { .virtual-office .most-popular { font-size: 7px; } } @media screen and (max-width: 576px) { .virtual-office .most-popular { font-size: 10px; } } .virtual-office .col-sm-6 { -webkit-box-align: stretch; -ms-flex-align: stretch; align-items: stretch; padding-left: 7px; padding-right: 7px; margin-bottom: 14px; } .virtual-office .col-sm-6 a { display: -webkit-box; display: -ms-flexbox; display: flex; -webkit-box-orient: vertical; -webkit-box-direction: normal; -ms-flex-direction: column; flex-direction: column; background-color: #024959; text-align: center; padding: 15px; color: #fff; -webkit-box-pack: space-evenly; -ms-flex-pack: space-evenly; justify-content: space-evenly; } @media screen and (max-width: 576px) { .virtual-office .col-sm-6 a { -webkit-box-orient: horizontal; -webkit-box-direction: normal; -ms-flex-direction: row; flex-direction: row; min-height: auto; -webkit-box-align: center; -ms-flex-align: center; align-items: center; -webkit-box-pack: justify; -ms-flex-pack: justify; justify-content: space-between; } } .virtual-office .col-sm-6 a.active { background-color: #ff701e; } .virtual-office .col-sm-6 a:hover { text-decoration: none; } .virtual-office .col-sm-6 a img { margin-bottom: 15px; } @media screen and (max-width: 576px) { .virtual-office .col-sm-6 a img { -webkit-box-ordinal-group: 3; -ms-flex-order: 2; order: 2; width: 170px; margin-bottom: 0px; padding: 0; margin: 0; } } .virtual-office .col-sm-6 a .locations-tab-info { height: 70px; } @media screen and (max-width: 576px) { .virtual-office .col-sm-6 a .locations-tab-info { text-align: left; height: auto; padding-right: 20px; } } .virtual-office .col-sm-6 a .locations-tab-info h4 { font-size: 20px; margin-bottom: 4px; text-transform: uppercase; } @media screen and (max-width: 1200px) { .virtual-office .col-sm-6 a .locations-tab-info h4 { font-size: 16px; } } @media screen and (max-width: 992px) { .virtual-office .col-sm-6 a .locations-tab-info h4 { font-size: 16px; } } @media screen and (max-width: 768px) { .virtual-office .col-sm-6 a .locations-tab-info h4 { font-size: 14px; } } @media screen and (max-width: 576px) { .virtual-office .col-sm-6 a .locations-tab-info h4 { font-size: 12px; } } .virtual-office .col-sm-6 a .locations-tab-info p { line-height: 1.2; font-size: 15px; font-weight: bold; margin-bottom: 0; } .hero.hero-all-size-rooms { background-image: url(//www.corporatesuites.com/wp-content/themes/corporate-suites/assets/css/../img/men-shaking-hands.png); min-height: 485px; padding-top: 75px; } @media screen and (max-width: 768px) { .hero.hero-all-size-rooms { padding: 120px 15px 20px 15px; min-height: auto !important; } } .hero.hero-all-size-rooms .title { min-width: 581px; } @media screen and (max-width: 768px) { .hero.hero-all-size-rooms .title { min-width: auto !important; width: 100%; font-size: 24px !important; } } .hero.hero-all-size-rooms .title h1 { font-size: 29px; } .all-size-rooms { margin-bottom: 30px; } .all-size-rooms p.text-center { font-size: 22px; margin-bottom: 53px; } .all-size-rooms p.text-center span { display: block; } .all-size-rooms .cta { display: inline-block; background: #024959; padding: 15px 40px; color: white; border-radius: 10px; -webkit-box-shadow: 5px 5px 10px #ccc; box-shadow: 5px 5px 10px #ccc; font-weight: 600; margin: 0 auto; font-size: 22px; } .all-size-rooms #location { margin-left: 0px; margin-right: 0px; } .all-size-rooms #location h2 { margin-bottom: 0; } .all-size-rooms #location .current { font-size: 25px; font-weight: bold; color: #024959; } .all-size-rooms #location .current img { max-width: 30px; margin-bottom: 5px; height: auto; } .all-size-rooms .icons { font-size: 16px; font-weight: 600; } .all-size-rooms .icons .description { float: left !important; } .all-size-rooms .icons .icon { width: 100px; } @media screen and (max-width: 768px) { .all-size-rooms .icons { padding: 0 !important; } } .all-size-rooms .icons img { margin-right: 30px; } .all-size-rooms .result { background: #f4f2f0; padding: 20px; font-size: 28px; color: #024959; margin: 0 auto 15px; } .all-size-rooms .result strong { position: relative; top: -5px; } .all-size-rooms .result > .row { position: relative; } @media screen and (max-width: 768px) { .all-size-rooms .result { font-size: 16px; } } @media screen and (max-width: 992px) { .all-size-rooms .result { font-size: 18px; } } @media screen and (max-width: 576px) { .all-size-rooms .result { font-size: 14px; } } .all-size-rooms .result h2 { color: #024959; margin-top: 0px; margin-bottom: 0; } @media screen and (max-width: 768px) { .all-size-rooms .result h2 { font-size: 23px; margin: 10px 0px; } } .all-size-rooms .result p { margin: 0; line-height: 1.2; } .all-size-rooms .result .col-sm-7 { -ms-flex-item-align: center; -ms-grid-row-align: center; align-self: center; } @media screen and (min-width: 992px) { .all-size-rooms .result .col-sm-7 { padding-left: 50px; } } @media screen and (min-width: 992px) { .all-size-rooms .result .col-sm-7 .col-md-2 { padding-right: 0px; } } @media screen and (min-width: 992px) { .all-size-rooms .result .col-sm-7 .col-md-6 { padding-left: 0px; } } .all-size-rooms .result .button { display: -webkit-box; display: -ms-flexbox; display: flex; -webkit-box-orient: horizontal; -webkit-box-direction: normal; -ms-flex-flow: row wrap; flex-flow: row wrap; } .all-size-rooms .result .address img { width: 30px; margin-left: -5px; margin-bottom: 5px; } .all-size-rooms .result .offer { margin: 6px 0px 12px 0; } .all-size-rooms .result .btn-blue { -ms-flex-item-align: end; align-self: flex-end; text-align: center; background: #024959; font-weight: 600; font-size: 20px; border-radius: 8px; padding: 5px 38px; color: white; -webkit-box-align: stretch; -ms-flex-align: stretch; align-items: stretch; position: absolute; bottom: 0; right: 15px; } @media screen and (max-width: 992px) { .all-size-rooms .result .btn-blue { right: 0px; position: relative; width: 100%; margin: 20px 20px 0px 20px; } } .all-size-rooms a.black-box { display: block; min-height: 250px; border: 3px solid #08213f; text-align: center; color: black; padding: 20px; } @media screen and (max-width: 992px) { .all-size-rooms a.black-box { min-height: 200px; margin-bottom: 15px; } } .all-size-rooms a.black-box:hover { border: 3px solid #ff701e; text-decoration: none; } .all-size-rooms a.black-box .icon { margin-top: 20px; margin-bottom: 20px; } .all-size-rooms a.black-box h2 { color: #ff701e; font-size: 26px; margin-bottom: 0; } @media screen and (max-width: 992px) { .all-size-rooms a.black-box h2 { font-size: 16px !important; } } .all-size-rooms a.black-box .quantity { font-size: 20px; } @media screen and (max-width: 992px) { .all-size-rooms a.black-box .quantity { font-size: 12px !important; } } .all-size-rooms .active { border: 3px solid #ff701e !important; } .all-size-rooms .locationprice { display: none; } .all-size-rooms .call-us img { margin-right: 30px; } .all-size-rooms .call-us h2 { margin-bottom: 10px; } .all-size-rooms .divider { height: 1px; background: #024959; margin-left: auto; margin-right: auto; } .all-size-rooms .locationbox { -webkit-box-align: stretch; -ms-flex-align: stretch; align-items: stretch; padding-left: 7px; padding-right: 7px; margin-bottom: 14px; } .all-size-rooms .locationbox a { display: -webkit-box; display: -ms-flexbox; display: flex; -webkit-box-orient: vertical; -webkit-box-direction: normal; -ms-flex-direction: column; flex-direction: column; background-color: #024959; text-align: center; padding: 15px; color: #fff; -webkit-box-pack: space-evenly; -ms-flex-pack: space-evenly; justify-content: space-evenly; } @media screen and (max-width: 576px) { .all-size-rooms .locationbox a { -webkit-box-orient: horizontal; -webkit-box-direction: normal; -ms-flex-direction: row; flex-direction: row; min-height: auto; -webkit-box-align: center; -ms-flex-align: center; align-items: center; -webkit-box-pack: justify; -ms-flex-pack: justify; justify-content: space-between; } } .all-size-rooms .locationbox a.active { background-color: #ff701e; } .all-size-rooms .locationbox a:hover { text-decoration: none; background-color: #ff701e; } .all-size-rooms .locationbox a img { margin-bottom: 15px; } @media screen and (max-width: 576px) { .all-size-rooms .locationbox a img { -webkit-box-ordinal-group: 3; -ms-flex-order: 2; order: 2; width: 170px; margin-bottom: 0px; padding: 0; margin: 0; } } .all-size-rooms .locationbox a .locations-tab-info { height: 70px; } @media screen and (max-width: 576px) { .all-size-rooms .locationbox a .locations-tab-info { text-align: left; height: auto; padding-right: 20px; } } .all-size-rooms .locationbox a .locations-tab-info h4 { font-size: 20px; margin-bottom: 4px; text-transform: uppercase; } @media screen and (max-width: 1200px) { .all-size-rooms .locationbox a .locations-tab-info h4 { font-size: 16px; } } @media screen and (max-width: 992px) { .all-size-rooms .locationbox a .locations-tab-info h4 { font-size: 16px; } } @media screen and (max-width: 768px) { .all-size-rooms .locationbox a .locations-tab-info h4 { font-size: 14px; } } @media screen and (max-width: 576px) { .all-size-rooms .locationbox a .locations-tab-info h4 { font-size: 12px; } } .all-size-rooms .locationbox a .locations-tab-info p { line-height: 1.2; font-size: 15px; font-weight: bold; margin-bottom: 0; } .hero.hero-blog { background-image: url(//www.corporatesuites.com/wp-content/themes/corporate-suites/assets/css/../img/open-workspace-of-young-professionals-working.jpg); min-height: 485px; } .hero.hero-blog .title { min-width: 283px; padding: 1.8rem 2rem; text-align: center; font-size: 25px; font-weight: 600; } .hero.hero-blog .title h1 { font-size: 25px; } .blog { padding-bottom: 40px; } @media screen and (min-width: 992px) { .blog .col-sm-8 { padding-right: 112px; } } @media screen and (min-width: 576px) { .blog .col-sm-8 { border-right: 1px solid #ff701e; } } @media screen and (min-width: 992px) { .blog .col-sm-4 { padding-left: 130px; padding-right: 9px; } } .blog .col-sm-4 input[type=email], .blog .col-sm-4 input[type=search] { width: 100%; border: 1px solid #31363f; padding: 4px 15px; font-size: 12px; border-radius: 0; } .blog .col-sm-4 input[type=email]:focus, .blog .col-sm-4 input[type=search]:focus { outline: none; } .blog .col-sm-4 button[type=submit] { font-size: 22px; padding: 4px 15px; margin: 10px 0 33px auto; } .blog .col-sm-4 input[type=submit] { font-size: 15px; padding: 2px 31px; margin: 10px 0 33px auto; } .blog .col-sm-4 img { max-width: 52%; display: block; margin: 0 auto 44px; } .blog .col-sm-4 h3 { font-size: 16px; margin-bottom: 10px; } .blog .col-sm-4 ul li a { color: #08213f; } .blog .col-sm-4 ul li a.active { color: #ff701e; } .blog .single-blog { background-color: #024959; color: #fff; margin-bottom: 12px; } @media screen and (min-width: 992px) { .blog .single-blog .col-sm-6:first-child { max-width: 46%; } } @media screen and (max-width: 573px) { .blog .single-blog .col-sm-6:first-child { padding-left: 30px; padding-right: 30px; } } @media screen and (max-width: 575px) { .blog .single-blog .col-sm-6:first-child img { display: block; } } .blog .single-blog .col-sm-6 img { height: 200px; -o-object-fit: cover; object-fit: cover; } .blog .single-blog .col-sm-6:last-child { -ms-flex-item-align: center; -ms-grid-row-align: center; align-self: center; padding-top: 10px; padding-bottom: 10px; } @media screen and (min-width: 992px) { .blog .single-blog .col-sm-6:last-child { max-width: 54%; } } @media screen and (max-width: 575px) { .blog .single-blog .col-sm-6:last-child { padding-left: 30px; padding-right: 30px; } } .blog .single-blog h2, .blog .single-blog h2 a { font-size: 16px; margin-bottom: 19px; color: #fff; } .blog .single-blog p { font-size: 12px; } .blog .single-blog p.date { margin-bottom: 0; } .blog-single-content h1 { font-size: 26px; color: #024959; margin-bottom: 0; } .blog-single-content h2 { color: #024959; font-size: 15px; margin-bottom: 20px; } .blog-single-content p.date { margin-bottom: 9px; } .blog-single-content img { margin-bottom: 30px; display: block; } @media screen and (min-width: 768px) { .blog-single-content .content { padding-right: 51px; } } .blog-single-content .content p { font-size: 13px; color: #024959; line-height: 1.2; margin-bottom: 20px; } .single-blog { display: none; } button#load-posts { display: block; text-align: center; color: #024959; text-transform: uppercase; font-size: 25px; font-weight: 700; margin: 90px auto; background-color: transparent; border: none; cursor: pointer; outline: none; } .hero.hero-landing1 { background-image: url(//www.corporatesuites.com/wp-content/themes/corporate-suites/assets/css/../img/business-professional-working-on-a-laptop.jpg); min-height: 485px; -webkit-box-pack: end; -ms-flex-pack: end; justify-content: end; -webkit-box-orient: vertical; -webkit-box-direction: normal; -ms-flex-direction: column; flex-direction: column; padding: 140px 0 0 0; } .hero.hero-landing1 .showbuttons { padding: 20px 0 40px 0; width: 70%; } @media screen and (max-width: 992px) { .hero.hero-landing1 .showbuttons { width: 90%; } } .hero.hero-landing1 .showbuttons a { font-size: 22px; } @media screen and (max-width: 768px) { .hero.hero-landing1 .showbuttons a { margin: 10px; } } @media screen and (max-width: 768px) { .hero.hero-landing1 .showbuttons { width: 100%; } } @media screen and (max-width: 768px) { .hero.hero-landing1 { padding: 40px 15px 20px 15px; min-height: auto !important; } } .hero.hero-landing1 .title { padding: 2rem 2.43rem; max-width: 800px; } @media screen and (max-width: 992px) { .hero.hero-landing1 .title { margin-top: 60px; padding: 2rem 1rem; } } .hero.hero-landing1 .title h1 { font-size: 25px; margin-bottom: 20px; } @media screen and (max-width: 992px) { .hero.hero-landing1 .title h1 { font-size: 20px; } } .hero.hero-landing1 .title p { font-size: 22px; line-height: 1.2; } @media screen and (max-width: 992px) { .hero.hero-landing1 .title p { font-size: 14px; } } .contact-landing { background: white; padding: 10px 0 60px 0; } .contact-landing .blueborder { border: 2px solid #024959; } .contact-landing .bluebackground { background: #024959; display: -webkit-box; display: -ms-flexbox; display: flex; -ms-flex-pack: distribute; justify-content: space-around; -webkit-box-align: center; -ms-flex-align: center; align-items: center; } @media screen and (max-width: 576px) { .contact-landing .bluebackground { padding: 20px; } } .contact-landing .contact { text-align: center; } .contact-landing .title { color: #fff; font-size: 23px; font-weight: 600; } .contact-landing input, .contact-landing select { width: 100%; border-radius: 0; padding: 0 5px; } .contact-landing .fields { padding: 40px 30px 40px 60px; } @media screen and (max-width: 768px) { .contact-landing .fields { padding: 20px; } } .contact-landing .field { padding: 5px; } .contact-landing .field input, .contact-landing .field select { border: 2px solid #024959; } .contact-landing .field input:focus, .contact-landing .field select:focus { border: 2px solid #ff701e; } .contact-landing .submit { width: 100%; padding: 0 20px 0 0; } @media screen and (max-width: 768px) { .contact-landing .submit { padding: 0 10px 20px 10px; } } .contact-landing .submit .ajax-loader { position: absolute; } .contact-landing .submit .wpcf7-form-control.wpcf7-submit { margin: 0; padding: 8px; } @media screen and (max-width: 768px) { .contact-landing .submit .wpcf7-form-control.wpcf7-submit { margin-bottom: 0px; } } .contact-landing .wpcf7-response-output { margin: 0 0 10px 0; } .btn-locations { -webkit-box-shadow: -5.202px 4.684px 6.96px 1.04px rgba(0, 0, 0, 0.26); box-shadow: -5.202px 4.684px 6.96px 1.04px rgba(0, 0, 0, 0.26); border-radius: 0px; background-color: #024959; color: #fff; text-align: center; padding: 13px 100px; font-size: 22px; font-weight: bold; margin-top: 30px; display: inline-block; } @media screen and (max-width: 768px) { .btn-locations { display: block; width: 100%; padding: 10px; } } .btn-locations:hover { color: white; } .hero-covid { background-image: url(//www.corporatesuites.com/wp-content/themes/corporate-suites/assets/css/../img/covid-bg.jpg); min-height: 485px; background-position: center top !important; } @media screen and (max-width: 768px) { .hero-covid { padding: 160px 15px 20px 15px; min-height: 400px !important; } } .hero-covid .title { max-width: 728px; margin-top: 200px; } @media screen and (max-width: 768px) { .hero-covid .title { min-width: auto !important; width: 100%; font-size: 24px !important; margin-top: 0; } } .hero-covid .title h1 { font-size: 25px !important; } .covid19 .intro { text-align: center; max-width: 600px; margin: 30px 0 50px 0; line-height: 1.2; } .covid19 .icons { display: -webkit-box; display: -ms-flexbox; display: flex; -webkit-box-align: baseline; -ms-flex-align: baseline; align-items: baseline; -webkit-box-pack: center; -ms-flex-pack: center; justify-content: center; margin-bottom: 40px; } .covid19 .icons .box { padding: 15px; } .covid19 .icons .box .icon { text-align: center; } .covid19 .icons .box .title { font-family: "AvantGarde Bk BT"; font-weight: 600; color: #024959; padding: 5px; text-align: center; } .covid19 ul.list li { position: relative; padding: 0 0 0 25px; font-family: AvantGarde Bk BT; font-weight: 600; color: #024959; } .covid19 ul.list li:before { position: absolute; width: 15px; height: 25px; content: ""; background: url(data:image/png;base64,iVBORw0KGgoAAAANSUhEUgAAAA8AAAAPCAYAAAA71pVKAAAAGXRFWHRTb2Z0d2FyZQBBZG9iZSBJbWFnZVJlYWR5ccllPAAAAyZpVFh0WE1MOmNvbS5hZG9iZS54bXAAAAAAADw/eHBhY2tldCBiZWdpbj0i77u/IiBpZD0iVzVNME1wQ2VoaUh6cmVTek5UY3prYzlkIj8+IDx4OnhtcG1ldGEgeG1sbnM6eD0iYWRvYmU6bnM6bWV0YS8iIHg6eG1wdGs9IkFkb2JlIFhNUCBDb3JlIDUuNi1jMTM4IDc5LjE1OTgyNCwgMjAxNi8wOS8xNC0wMTowOTowMSAgICAgICAgIj4gPHJkZjpSREYgeG1sbnM6cmRmPSJodHRwOi8vd3d3LnczLm9yZy8xOTk5LzAyLzIyLXJkZi1zeW50YXgtbnMjIj4gPHJkZjpEZXNjcmlwdGlvbiByZGY6YWJvdXQ9IiIgeG1sbnM6eG1wPSJodHRwOi8vbnMuYWRvYmUuY29tL3hhcC8xLjAvIiB4bWxuczp4bXBNTT0iaHR0cDovL25zLmFkb2JlLmNvbS94YXAvMS4wL21tLyIgeG1sbnM6c3RSZWY9Imh0dHA6Ly9ucy5hZG9iZS5jb20veGFwLzEuMC9zVHlwZS9SZXNvdXJjZVJlZiMiIHhtcDpDcmVhdG9yVG9vbD0iQWRvYmUgUGhvdG9zaG9wIENDIDIwMTcgKFdpbmRvd3MpIiB4bXBNTTpJbnN0YW5jZUlEPSJ4bXAuaWlkOkYwQ0M5MEVFQ0IzQjExRUE5QzkzRUI4QkM0NzE4NTU1IiB4bXBNTTpEb2N1bWVudElEPSJ4bXAuZGlkOkYwQ0M5MEVGQ0IzQjExRUE5QzkzRUI4QkM0NzE4NTU1Ij4gPHhtcE1NOkRlcml2ZWRGcm9tIHN0UmVmOmluc3RhbmNlSUQ9InhtcC5paWQ6RjBDQzkwRUNDQjNCMTFFQTlDOTNFQjhCQzQ3MTg1NTUiIHN0UmVmOmRvY3VtZW50SUQ9InhtcC5kaWQ6RjBDQzkwRURDQjNCMTFFQTlDOTNFQjhCQzQ3MTg1NTUiLz4gPC9yZGY6RGVzY3JpcHRpb24+IDwvcmRmOlJERj4gPC94OnhtcG1ldGE+IDw/eHBhY2tldCBlbmQ9InIiPz5MpMb0AAABPUlEQVR42ozSPyjEYRzH8d/93CADSikphrOI1MlwCaWwGkRRMikjNxjsJoNBMinJwECGU2ShjokS6nS33a5ESd3A+1ufR09PdPetV7/neX7P9+n58018L3dEQSxgGn1owgcecYxdf2LCS+7EITLR/3GHFeStE2uwDQ9VEi0GsOU6LvkSzVH1+MSs6yQxh56othjHC4aQsuTFGhOzuPV2+mXb7tXAGzZw/0fiATbVPkI9KrGewyKHVV1K3ku0xebVXsOM2o2x3tFiAoNqD6Og9qi+Y1j3L8+Sn9VpxQ1G1M+oUGzxdpwHRynFYdUQ19rFO540doW6YN6eJe+jGPy4wCQacIau4H8ZO0nv/Qqa7OIUr2gJEis6/2+F2UpplagfYaLdT7+d11WYi6IWWMIUuu05dGFWVSfY9lf6EWAAJP89PC8PmPQAAAAASUVORK5CYII=) center center; left: 0px; background-repeat: no-repeat; } @media screen and (min-width: 1200px) { .about-us .container { max-width: 1267px; } } @media screen and (min-width: 992px) { .about-us .tab-content { padding-right: 25px; padding-left: 35px; } } @media screen and (min-width: 992px) { .about-us .tab-content #resources { padding-right: 46px; padding-left: 35px; } } .hero.hero-voip { min-height: 485px; } @media screen and (max-width: 992px) { .hero.hero-voip { min-height: 300px; } } .hero.hero-voip .title { -webkit-box-shadow: none; box-shadow: none; padding: 35px; margin-top: 160px; } @media screen and (max-width: 992px) { .hero.hero-voip .title { margin-top: 60px; } } .hero.hero-voip .title h1 { font-size: 25px; } .hero.hero-voip .title p { font-size: 16px; margin-top: 10px; } .hero.hero-voip .title .buttons { display: -webkit-box; display: -ms-flexbox; display: flex; -webkit-box-align: center; -ms-flex-align: center; align-items: center; -webkit-box-pack: center; -ms-flex-pack: center; justify-content: center; text-align: center; margin-top: 15px; } @media screen and (max-width: 992px) { .hero.hero-voip .title .buttons { -webkit-box-orient: vertical; -webkit-box-direction: normal; -ms-flex-direction: column; flex-direction: column; } } .hero.hero-voip .title .buttons a.cta { font-size: 25px; font-weight: 600; color: white; background: #ff701e; padding: 8px; border-radius: 15px; min-width: 210px; display: inline-block; text-align: center; margin: 0 8px; } @media screen and (max-width: 992px) { .hero.hero-voip .title .buttons a.cta { margin: 8px; } } .step-title { font-family: "AvantGarde Bk BT", sans-serif; font-weight: 600; text-align: center; font-size: 40px; color: #024959; border-bottom: 3px solid #024959; line-height: 0.1em; margin: 10px 0 50px 0; } .step-title span { background: white; padding: 30px; } .voip h2 { font-family: "AvantGarde Bk BT", sans-serif; font-size: 25px; color: #08213F; } .voip h2.orange-text { font-size: 25px; color: #ff701e; } .voip p { font-size: 16px; } .voip .line-divider { height: 3px; background: #024959; display: block; width: 100%; margin: 15px 0; } .voip .blue-box { background: #024959; padding: 30px 30px 0 30px; border-radius: 15px; color: white; font-size: 16px; } .voip .rounded-orange-button { background: #ff701e; border-radius: 10px; padding: 23px; text-align: center; margin: 20px 0; display: inline-block; color: white; font-size: 32px; font-weight: bold; line-height: 1; width: 100%; } .voip .check { list-style: none; padding-left: 0px; max-width: 72%; } .voip .check li { font-size: 16px; line-height: 1; margin-bottom: 0; padding: 6px 0px; font-weight: bold; color: #024959; } .voip .check li:before { content: ""; width: 15px; height: 15px; display: inline-block; position: absolute; left: -25px; top: 50%; margin-top: -8px; background: url(data:image/png;base64,iVBORw0KGgoAAAANSUhEUgAAAA8AAAAPCAYAAAA71pVKAAAAAXNSR0IArs4c6QAAAglJREFUKBWNUj1MU1EU/s7to9UoLCJQqDU6m5g4GCYdGo2TcdFG40DYGnywaZxcHVi0LQsLoQzWzZ+QOLAaHUiY1YQAtYZAm5CIfYW+d/zuxdYKMfqS++4953zfd8499wi6PvVHUjSzMGYMgnM8H+dqQLGGSOcRhS+k+G2tTZH2QXNDV5GIv6Q90PYd2VVraEVZKX5dsjFHdsR4/DWtviOEww6NVhBVRiWPpudKjcVsxv8g6jpaATOjaTU9rizX30u1KPup/kAYPpTi9if1h05DTMZzzTkI/+Ovj6RQLauPBEzPIm980vzqqlWuQaPH3Jf/UFFV+uZ4z1m9jRhMapqcSySkDYH2OSx5QZ5VniJs3KTIe9rq/NCPqO89sA3CcGocIjlmtUmPWXLDgUTu6OTgBSlsV7FTyRDwgQKrCPfvSWlzV6eSV+ib5oo5vCIwbgCsJZKExN+pP3BR5hCgvn4N+8F1KWyu8p595MwT8/tFRDaMmxwn5QSGYRKL6qcuSwm7MrP1Rcf7e2HOLEEl3Ya5XaOy6ETyLDxvmaqnuoI7QHQL+L4C7X1C/xTjnWlkg+qIgtGDCZsYyaDHvGLtJ7oE9giq0Zfs8tljA2ErK/nqm46aTiZvwHglgvsPgbtMZgzDMeSrb0nUDtkiNDd4Hl7sPkXu0krb52BDA5a8wecrQ5sL8nzrc1vtJ236w5zJuTHMAAAAAElFTkSuQmCC) center left; background-repeat: no-repeat; background-size: cover; } .voip .call-us .d-flex { -webkit-box-align: center; -ms-flex-align: center; align-items: center; } .voip .call-us img { margin-right: 30px; } .voip .call-us h2 { margin-bottom: 0px; line-height: 1.1; color: #024959; } .voip .divider { height: 2px; background: #024959; max-width: 912px; margin-left: auto; margin-right: auto; } @media screen and (min-width: 768px) { .voip .blue-clouds .col-md-4 { -webkit-box-flex: 0; -ms-flex: 0 0 37.66667%; flex: 0 0 37.66667%; max-width: 37.66667%; } } @media screen and (min-width: 768px) { .voip .blue-clouds .col-md-6 { -webkit-box-flex: 0; -ms-flex: 0 0 44.66667%; flex: 0 0 44.66667%; max-width: 44.66667%; } } .voip .blue-cloud { padding: 26px 29px; position: relative; border-radius: 10px; background: #024959; margin-bottom: 54px; font-size: 17px; width: 100%; } .voip .blue-cloud .extension-left { position: absolute; left: 30px; bottom: -13px; width: 31px; height: 18px; } .voip .blue-cloud .extension-right { position: absolute; right: 30px; bottom: -13px; width: 31px; height: 18px; } .voip .blue-cloud p { padding: 0; margin: 0; color: white; } .voip .blue-cloud .author { font-size: 18px; font-weight: 600; color: white; } .voip .shadow:before { -webkit-box-shadow: -2px 0 5px #ccc; box-shadow: -2px 0 5px #ccc; content: " "; height: 100%; left: 0; position: absolute; top: 0; width: 15px; z-index: -1; } .voip .shadow:after { -webkit-box-shadow: 2px 0 5px #ccc; box-shadow: 2px 0 5px #ccc; content: " "; height: 100%; right: 0; position: absolute; top: 0; width: 15px; z-index: -1; } .voip .shadow { height: 100px; margin: 50px; position: relative; width: 100px; background: rgba(255, 112, 30, 0.9); border-bottom: 1px solid #e76821 !important; } #top { background: rgba(255, 255, 255, 0.9); padding: 23px 0px; -webkit-box-shadow: 6px 8px 7px rgba(0, 0, 0, 0.13); box-shadow: 6px 8px 7px rgba(0, 0, 0, 0.13); } #top #corona { background: #ff0000c4; width: 100%; text-align: center; color: white; padding: 10px; position: fixed; top: 96px; } #top #corona a { color: white; } @media screen and (max-width: 992px) { #top { padding: 10px 0px; } #top #corona { top: 62px; } } @media screen and (max-width: 768px) { #top #corona { display: none; } } .navbar-dark .btn-main:last-child { margin-right: 80px; } @media screen and (max-width: 768px) { .navbar-dark .btn-main:last-child { margin-right: 20px; } } @media screen and (max-width: 576px) { .navbar-dark .btn-main:last-child { margin-right: 0px; } } .navbar-dark .navbar-toggler-icon { background-image: url("https://mdbootstrap.com/img/svg/hamburger7.svg?color=024959"); } .navbar-dark .container { max-width: 1465px; } .navbar-dark .navbar-brand { margin-right: 1.5rem; } @media screen and (max-width: 992px) { .navbar-dark .navbar-brand { max-width: 250px; } } .navbar-dark .login-buttons { margin-right: auto; } @media screen and (min-width: 1200px) { .navbar-dark .login-buttons .btn-main { padding: 0px 30px; margin-right: 15px; font-size: 20px; } .navbar-dark .login-buttons .btn-main:last-child { padding: 0px 41px; } } @media screen and (max-width: 992px) { .navbar-dark .login-buttons .btn-main { font-size: 12px; padding: 0px 10px; } } .navbar-dark .cta { font-size: 14px; margin-right: 60px; } @media screen and (min-width: 992px) { .navbar-dark .cta { font-size: 23px; margin-right: 20px; } } @media screen and (max-width: 700px) { .navbar-dark .cta { margin-right: 0px !important; } } .navbar-dark .cta a:hover { text-decoration: none; color: #ff701e; } .btn-main { background: #024959; color: #fff; padding: 0px 15px; } a.btn-main:hover { color: #fff; } .hamburger { width: 40px; height: 20px; position: relative; margin: 0px; } @media screen and (max-width: 992px) { #sidebarCollapse { position: absolute; top: 15px; right: 10px; } } #sidebarCollapse:focus { outline: none; } .navbar-toggler span { display: block; position: absolute; height: 5px; width: 100%; background: #024959; border-radius: 0px; opacity: 1; left: 0; } .navbar-toggler span:nth-child(1) { top: 0px; } .navbar-toggler span:nth-child(2) { top: 9px; } .navbar-toggler span:nth-child(3) { top: 18px; } .close-button { position: absolute; top: 0px; right: 0px; height: 45px; width: 45px; -webkit-box-sizing: border-box; box-sizing: border-box; line-height: 30px; display: inline-block; } .close-button:before, .close-button:after { -webkit-transform: rotate(-45deg); -ms-transform: rotate(-45deg); transform: rotate(-45deg); content: ""; position: absolute; top: 50%; left: 0px; margin-top: 0px; margin-left: 0px; display: block; height: 2px; width: 55px; background-color: #fff; -webkit-transition: all 0.2s ease-out; -o-transition: all 0.2s ease-out; transition: all 0.2s ease-out; } .close-button:after { -webkit-transform: rotate(45deg); -ms-transform: rotate(45deg); transform: rotate(45deg); } .close-button:hover:before, .close-button:hover:after { -webkit-transform: rotate(0deg); -ms-transform: rotate(0deg); transform: rotate(0deg); } #sidebar.active { top: 0; } .overlay { display: none; position: fixed; width: 100vw; height: 100vh; background: rgba(0, 0, 0, 0.7); z-index: 998; opacity: 0; -webkit-transition: all 0.5s ease-in-out; -o-transition: all 0.5s ease-in-out; transition: all 0.5s ease-in-out; } .overlay.active { display: block; opacity: 1; } a[data-toggle=collapse] { position: relative; } .dropdown-toggle::after { display: block; position: absolute; top: 50%; right: 20px; -webkit-transform: translateY(-50%); -ms-transform: translateY(-50%); transform: translateY(-50%); } ul ul a { font-size: 0.9em !important; } ul.CTAs { padding: 20px; } ul.CTAs a { text-align: center; font-size: 0.9em !important; display: block; border-radius: 5px; margin-bottom: 5px; } a.download { background: #fff; color: #7386D5; } a.article, a.article:hover { background: #6d7fcc !important; color: #fff !important; } header { /* Slider */ /* Icons */ /* Arrows */ /* Dots */ } header .slide { position: relative; } @media screen and (max-width: 576px) { header .transparent { margin-top: 100px; min-height: 250px; } } header h1 { font-size: 26px; padding: 0px 0px 0px 0px; font-weight: 600; margin-bottom: 15px; } header .text { padding: 20px 0px 30px 0px; font-size: 18px; line-height: 1.3; min-height: 170px; } header .text a { color: #ff701e !important; } header .divider { background: #024959; height: 2px; width: 40%; } header .button-left, header .button-right { font-size: 22px; color: white; background: #024959; padding: 7px 10px; width: 250px; display: inline-block; text-align: center; border-radius: 10px; bottom: -30px; position: absolute; } @media screen and (max-width: 1200px) { header .button-left, header .button-right { width: 220px; } } @media screen and (max-width: 992px) { header .button-left, header .button-right { width: 200px; } } header .button-left { left: 40px; } @media screen and (max-width: 992px) { header .button-left { left: 20px; } } @media screen and (max-width: 576px) { header .button-left { left: 50%; margin-left: -100px; bottom: -60px; } } header .button-right { right: 40px; } @media screen and (max-width: 992px) { header .button-right { right: 20px; } } @media screen and (max-width: 576px) { header .button-right { right: 50%; margin-right: -100px; bottom: 0px; } } header .slide { background-position: top; background-size: cover; background-repeat: no-repeat; padding: 120px 0px 50px 0px; min-height: 530px; } @media screen and (max-width: 576px) { header .slide h2 { font-size: 24px; } } @media screen and (max-width: 1200px) { header .slide { right: 0px; min-height: 600px; } } @media screen and (max-width: 992px) { header .slide { right: 0px; min-height: 650px; } } @media screen and (max-width: 576px) { header .slide { right: 0px; min-height: 600px; background-position: 20%; } } header #slider1 { background-image: url(//www.corporatesuites.com/wp-content/themes/corporate-suites/assets/css/../img/slide1.jpg); } header #slider2 { background-image: url(//www.corporatesuites.com/wp-content/themes/corporate-suites/assets/css/../img/slide2.jpg); } header #slider3 { background-image: url(//www.corporatesuites.com/wp-content/themes/corporate-suites/assets/css/../img/slide3.jpg); } header #slider4 { background-image: url(//www.corporatesuites.com/wp-content/themes/corporate-suites/assets/css/../img/slide4.jpg); } header .slick-loading .slick-list { background: #fff url(//www.corporatesuites.com/wp-content/themes/corporate-suites/assets/css/../img/ajax-loader.gif) center center no-repeat; } @font-face { header { font-family: "slick"; font-weight: normal; font-style: normal; src: url(//www.corporatesuites.com/wp-content/themes/corporate-suites/assets/css/../fonts/slick.eot); src: url(//www.corporatesuites.com/wp-content/themes/corporate-suites/assets/css/../fonts/slick.eot?#iefix) format("embedded-opentype"), url(//www.corporatesuites.com/wp-content/themes/corporate-suites/assets/css/../fonts/slick.woff) format("woff"), url(//www.corporatesuites.com/wp-content/themes/corporate-suites/assets/css/../fonts/slick.ttf) format("truetype"), url(//www.corporatesuites.com/wp-content/themes/corporate-suites/assets/css/../fonts/slick.svg#slick) format("svg"); } } header .slick-dots[data-current-slide="3"] { bottom: -20px; } header .slick-prev, header .slick-next { font-size: 50px; position: absolute; top: 50%; display: block; width: 40px; height: 40px; padding: 0; cursor: pointer; color: white !important; z-index: 10000; text-align: center; } @media screen and (max-width: 576px) { header .slick-prev, header .slick-next { font-size: 24px; } } header .slick-prev:hover, header .slick-prev:focus, header .slick-next:hover, header .slick-next:focus { color: #ff701e; outline: none; background: transparent; } header .slick-prev:hover:before, header .slick-prev:focus:before, header .slick-next:hover:before, header .slick-next:focus:before { opacity: 1; } header .slick-prev.slick-disabled:before, header .slick-next.slick-disabled:before { opacity: 0.25; } header .slick-prev { left: -50px; } @media screen and (max-width: 576px) { header .slick-prev { left: -40px; } } header .slick-next { right: -50px; } @media screen and (max-width: 576px) { header .slick-next { right: -40px; } } header .slick-dotted.slick-slider { /*margin-bottom: 30px;*/ } header .maindots { position: relative; top: -110px; } header .slick-dots { position: relative; display: block; width: 100%; padding: 0; margin: 0; list-style: none; text-align: center; } header .slick-dots li { position: relative; display: inline-block; width: 20px; height: 20px; margin: 0 5px; padding: 0; cursor: pointer; } header .slick-dots li button { font-size: 0; line-height: 0; display: block; width: 20px; height: 20px; padding: 5px; cursor: pointer; color: transparent; border: 0; outline: none; background: transparent; } header .slick-dots li button:hover, header .slick-dots li button:focus { outline: none; } header .slick-dots li button:hover:before, header .slick-dots li button:focus:before { opacity: 1; } header .slick-dots li button:before { font-family: "slick"; font-size: 36px; line-height: 20px; position: absolute; top: 0; left: 0; width: 20px; height: 20px; content: "•"; text-align: center; color: #024959; -webkit-font-smoothing: antialiased; -moz-osx-font-smoothing: grayscale; } header .slick-dots li.slick-active button:before { color: #ff701e; } .hero { background-position: center; background-size: cover; background-repeat: no-repeat; min-height: 485px; padding: 0px 30px; display: -webkit-box; display: -ms-flexbox; display: flex; -webkit-box-pack: center; -ms-flex-pack: center; justify-content: center; -webkit-box-align: center; -ms-flex-align: center; align-items: center; } .hero p { text-align: center; font-size: 27px; margin-bottom: 0; } .hero .cta { font-size: 46px; font-weight: 600; color: #ff701e; } .hero .title { background-color: rgba(255, 255, 255, 0.9); -webkit-box-shadow: -5.202px 4.684px 7.36px 0.64px rgba(0, 0, 0, 0.3); box-shadow: -5.202px 4.684px 7.36px 0.64px rgba(0, 0, 0, 0.3); padding: 2rem; min-width: 606px; color: #08213f; } @media screen and (max-width: 768px) { .hero .title { min-width: auto; } } .hero .title h1 { font-size: 40px; text-align: center; margin-top: 0; margin-bottom: 0; } @media screen and (max-width: 768px) { .hero .title h1 { font-size: 28px; margin: 0; } } #above-footer p { font-size: 14px; } footer { background: #024959; padding: 63px 0px 55px 0px; color: #fff; font-size: 20px; font-family: "AvantGarde", sans-serif; margin-top: 0px; } @media screen and (max-width: 768px) { footer .row { display: block; } } footer .title { text-transform: uppercase; font-size: 20px; color: #fff; font-weight: 700; } @media screen and (max-width: 576px) { footer .title { font-size: 16px; margin-left: 0px; } } footer .right { text-align: right; } @media screen and (max-width: 767px) { footer .right { text-align: left; margin-top: 20px; } } footer h2 { text-transform: uppercase; font-size: 20px; color: #fff; margin-bottom: 8px; } footer ul { list-style-type: none; margin: 0; padding: 0; } footer li { padding: 0; margin: 0; line-height: 1.3; } footer a:link, footer a:visited, footer a:active { color: #fff; } @media screen and (max-width: 576px) { footer a:link, footer a:visited, footer a:active { font-size: 16px; } } footer .block { margin-bottom: 13px; } footer .form-inline { -webkit-box-pack: end; -ms-flex-pack: end; justify-content: flex-end; margin-bottom: 22px; } @media screen and (max-width: 767px) { footer .form-inline { -webkit-box-pack: start; -ms-flex-pack: start; justify-content: flex-start; } } footer .form-inline input[type=email] { background-color: rgba(255, 255, 255, 0.451); -webkit-box-shadow: inset 0px 2px 6px 0px rgba(0, 1, 1, 0.7); box-shadow: inset 0px 2px 6px 0px rgba(0, 1, 1, 0.7); border: none; color: #fff; border-radius: 0; font-size: 20px; line-height: 1.6; max-width: 226px; } @media screen and (max-width: 1199px) { footer .form-inline input[type=email] { margin-bottom: 10px; } } footer .form-inline input[type=email].placeholder { color: #fff; } footer .form-inline input[type=email]:-moz-placeholder { color: #fff; } footer .form-inline input[type=email]::-moz-placeholder { color: #fff; } footer .form-inline input[type=email]:-ms-input-placeholder { color: #fff; } footer .form-inline input[type=email]::-webkit-input-placeholder { color: #fff; } footer .form-inline input[type=submit] { padding: 5px 20px; font-weight: bold; margin: 9px 0 10px 10px; } @media screen and (max-width: 768px) { footer .form-inline input[type=submit] { padding: 10px 20px; margin: 0 0 10px 10px; } } footer .footer-bottom { margin-top: 22px; text-align: center; color: #fff; font-size: 19px; -webkit-box-pack: center; -ms-flex-pack: center; justify-content: center; } @media screen and (max-width: 576px) { footer .footer-bottom a:link, footer .footer-bottom a:visited, footer .footer-bottom a:active { font-size: 14px; } } footer .footer-bottom .copyright { font-size: 16px; } @media screen and (max-width: 576px) { footer .footer-bottom .copyright { font-size: 14px; margin-bottom: 50px; } } footer .footer-bottom p { line-height: 1.1; } footer p { padding: 0px; margin: 0px 0px 8px !important; } footer .social { padding-right: 15px; display: inline-block; font-size: 32px; line-height: 1; margin-top: -4px; } footer .social:last-child { padding-right: 0; } .grecaptcha-badge { visibility: collapse !important; } /*==================================== = Menu Ovelray = ====================================*/ .menu-overlay { background: rgba(0, 0, 0, 0.6); position: fixed; top: 0; bottom: 0; left: 0; right: 0; z-index: 1000; opacity: 0; visibility: hidden; -webkit-transition: all 0.3s ease-in-out; -o-transition: all 0.3s ease-in-out; transition: all 0.3s ease-in-out; } .active-overlay { opacity: 1; visibility: visible; } .main-menu-sidebar { width: 400px; position: fixed; height: 100%; top: 0px; right: -400px; z-index: 1000; -webkit-transition: 0.45s ease-in-out; -o-transition: 0.45s ease-in-out; transition: 0.45s ease-in-out; padding-top: 130px; padding-left: 25px; padding-right: 25px; padding-bottom: 30px; background: rgba(2, 73, 89, 0.9); /* overflow-y:scroll; */ /* close menu */ /* main menu */ /* bottom menu */ /* header */ } @media only screen and (max-width: 750px) { .main-menu-sidebar { width: 300px; } } @media only screen and (min-width: 240px) and (max-width: 409px) { .main-menu-sidebar { width: 300px; } } @media only screen and (min-width: 240px) and (max-width: 409px) { .main-menu-sidebar #sidebar-menu-wrapper { padding-top: 0px; max-height: 400px; overflow: scroll; } } @media only screen and (max-width: 750px) { .main-menu-sidebar #sidebar-menu-wrapper { padding-top: 0px; max-height: 400px; overflow: scroll; } } @media only screen and (min-width: 750px) and (max-width: 970px) { .main-menu-sidebar #sidebar-menu-wrapper #menu { padding-top: 30px; } } @media only screen and (min-width: 970px) and (max-width: 1170px) { .main-menu-sidebar #sidebar-menu-wrapper #menu { padding-top: 30px; } } @media only screen and (max-width: 750px) { .main-menu-sidebar #sidebar-menu-wrapper #menu .nav-links { padding-left: 10px; } } .main-menu-sidebar #sidebar-menu-wrapper #menu .nav-links > li > a { font-size: 1.8em; color: #fff; display: block; letter-spacing: 2px; font-weight: 700; } @media only screen and (min-width: 240px) and (max-width: 409px) { .main-menu-sidebar #sidebar-menu-wrapper #menu .nav-links > li > a { padding-top: 0px; padding-bottom: 0px; } } @media only screen and (max-width: 750px) { .main-menu-sidebar #sidebar-menu-wrapper #menu .nav-links > li > a { padding-top: 0px; padding-bottom: 0px; } } .main-menu-sidebar #sidebar-menu-wrapper #menu .nav-links > li > a:hover { color: #007bff; } .main-menu-sidebar #sidebar-menu-wrapper #menu .nav-links li ul { padding-top: 10px; padding-bottom: 10px; padding-left: 0; } .main-menu-sidebar #sidebar-menu-wrapper #menu .nav-links li ul li a { display: block; font-size: 1.35em !important; padding-left: 0px; position: relative; color: #fff; opacity: 1; line-height: 1; letter-spacing: 1px; } .main-menu-sidebar #sidebar-menu-wrapper #menu .nav-links li ul li a:hover { color: #fff; } .main-menu-sidebar #sidebar-menu-wrapper #menu .nav-links li ul li a:hover:before { width: 10px; background-color: #007bff; } .main-menu-sidebar #sidebar-menu-wrapper #menu .nav-links .dropdown-menu { position: relative !important; background: transparent !important; border: none !important; } .main-menu-sidebar #sidebar-menu-wrapper #menu .nav-links .dropdown > a { position: relative; } .main-menu-sidebar #sidebar-menu-wrapper #menu .nav-links .dropdown > a:after { display: inline-block; font-family: "Font Awesome 5 Free"; font-size: inherit; text-rendering: auto; -webkit-font-smoothing: antialiased; -moz-osx-font-smoothing: grayscale; -webkit-transform: translate(0, 0); -ms-transform: translate(0, 0); transform: translate(0, 0); position: absolute; font-weight: 900; content: ""; font-size: 20px !important; margin-left: 10px; text-align: center; color: #fff; border-radius: 100%; padding: 7px 0 0 3px; } @media only screen and (max-width: 750px) { .main-menu-sidebar #sidebar-menu-wrapper #menu .nav-links .dropdown > a:after { padding: 3px 0 0 3px; } } .main-menu-sidebar #sidebar-menu-wrapper #menu .nav-links .dropdown > a.active:after { display: inline-block; font-family: "Font Awesome 5 Free"; font-size: inherit; text-rendering: auto; -webkit-font-smoothing: antialiased; -moz-osx-font-smoothing: grayscale; -webkit-transform: translate(0, 0); -ms-transform: translate(0, 0); transform: translate(0, 0); position: absolute; content: "" !important; margin-left: 10px; color: #fff; -webkit-transition: 0.25s ease-in-out; -o-transition: 0.25s ease-in-out; transition: 0.25s ease-in-out; } .main-menu-sidebar .bottom-menu { padding-top: 50px; } .main-menu-sidebar .bottom-menu ul li a { display: block; color: #fff; font-size: 0.75em; padding-top: 8px; text-transform: uppercase; padding-bottom: 8px; letter-spacing: 1px; } .main-menu-sidebar .bottom-menu ul li a:hover { opacity: 0.6; } .main-menu-sidebar header .apply-btn { width: 105px; height: 54px; border: 1px solid #fff; text-transform: uppercase; background: transparent; font-size: 0.923em; color: #fff; letter-spacing: 1px; display: inline-block; text-align: center; line-height: 54px; } .main-menu-sidebar header .apply-btn:hover { background: #fff; color: #007bff; } .main-menu-sidebar #sidebar-menu-wrapper #menu .nav-links > li > a:hover { color: #fff; } .body-scroll { overflow-y: hidden !important; } .menu-active { right: 0; } /*===== End of Mobile Navbar ======*/
Team Spaces
Corporate Suites offers a wide selection of fully-furnished, ready to use NYC Team Office Space Rentals. All of our NYC Team Office Space solutions are designed to provide flexibility to meet your specific team requirements whether you have a small or large workgroup.
Our NYC team office spaces are for business groups to work and collaborate together. Whether you are a team of 4 or 20 we can provide a customized team office space to meet your business needs.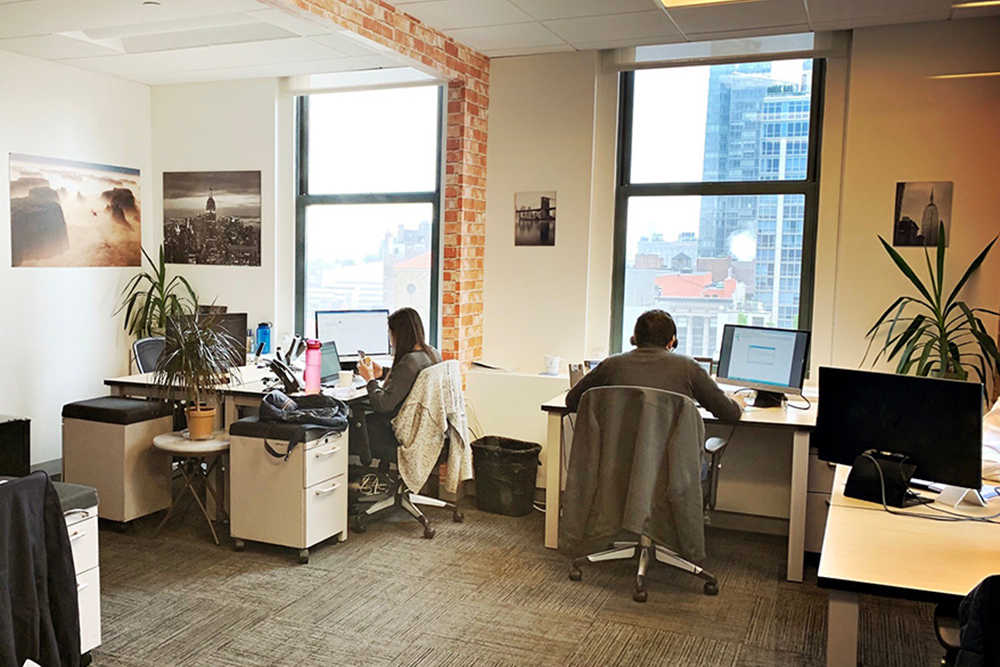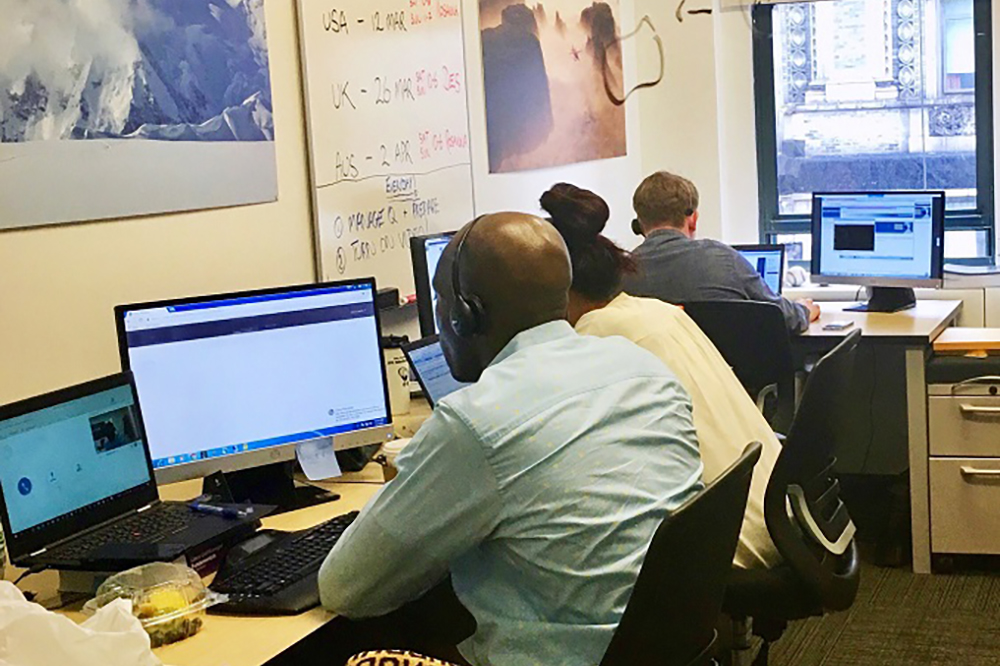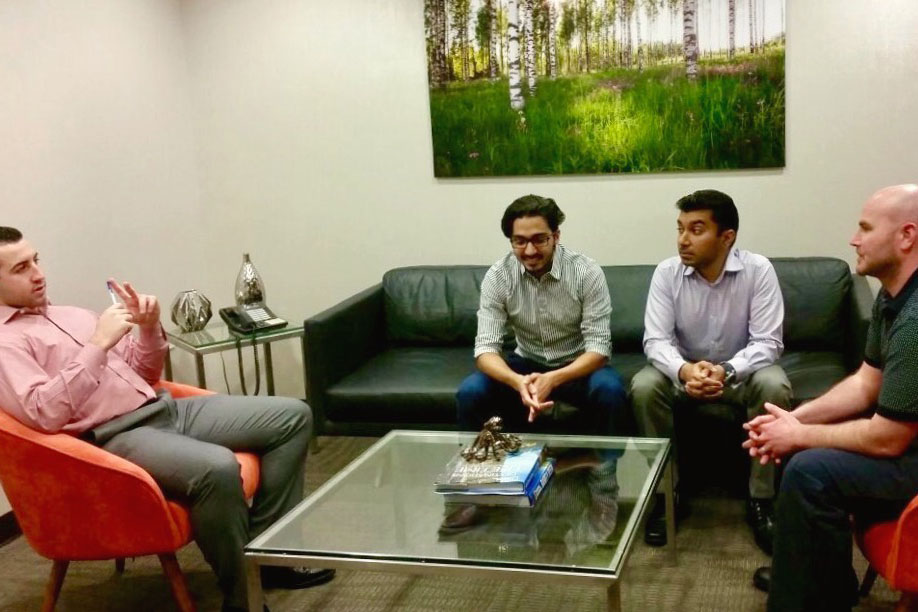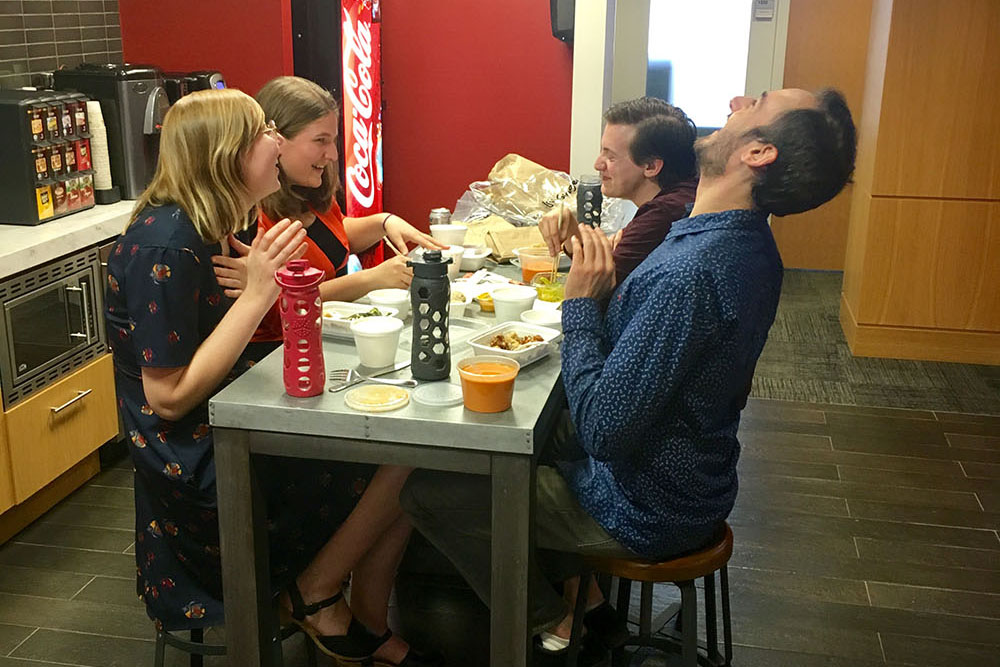 PRIME LOCATIONS
Midtown East
Grand Central
Rockefeller Center
Penn Station/ Garment District
Park Avenue South
World Trade Center

FLEXIBILITY
Immediate Availability
Flexible Terms
Minimal Capital Costs
Short-term Commitment
Customizable Options
AMENITIES
24/7 Access
All Utilities & Maintenance
Daily Cleaning Service
Daily Trash Collection
Mail & Package Handling
Reception Area
Doorman Secured

STAY CONNECTED
Digital Phone & Voicemail
Broadband Internet Access
Network Capability
In-House IT Support

COMPLETE OFFICE
Executive Desks
Fully Adjustable Seating
Guest Seating
Filing Cabinet or Credenza
Room Nameplate
Meet the Office Community!
Our community is diverse, friendly and always looking to grow. Just like you, our community members share their experiences and expertise to become stronger together. We arrange periodic get togethers and facilitate networking and sharing through introductions and special events. Very often, your next customer or collaborator is right down the hall.