For a large business looking to cut on costs, a freelancer on a budget, or a small business just starting out, saving on overhead is the determining factor in succeeding or going under. With a workspace to rent, outsourcing to do, and equipment to buy, it can be an insurmountable task.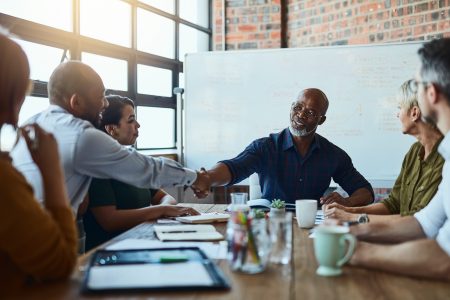 With coworking spaces, it doesn't have to be. Here are four ways it can not only help your overhead cost but even cut it in half.
Shared Expenses
Coworking offices work on a roommate style agreement by allowing businesses or freelance workers to share the expenses of space while also sharing the space itself, making it much more beneficial for small businesses looking to start out as well as a larger business looking to downsize their expenses.
Rent
Rather than paying for an entire floor to house your employees, or spending the ritzy cash on a private office for yourself, by utilizing a coworking space, you're sharing the cost of an entire building with the other employees or freelancer workers also using the coworking space. Often these office buildings are built for diversity and easy workflow, meaning you'll have several different styles to choose from without the burden of customizing your own office building. By cutting out this extra expense with rent, you can devote the funds to more pressing matters within your business.
Utilities
You've paid all your rent, you've covered your general expenses for the month, and then it hits you – utilities. Though often overlooked, these are expenses absolutely necessary to run your business. Anyone who's been caught without internet for a day knows from the hair-pulling that going without isn't an option. Rather than shouldering this expense on your own, a co-working space allows you to also split the cost of utilities among the others sharing the space. As an added bonus, should some error come about that leaves you high and dry (or muggy, if the AC goes out), you'll have the backing of a collection of businesses looking to see it fixed, rather than just yourself.
Available Partnerships
Every successful business knowns the value of outsourcing and solid connections. Even if you pride yourself as a jack of all trades, your web design may end up looking like elaborate finger paint without the right skills, and if LEGOs are your only experience in engineering, then you clearly need help. Finding and then making those connections with other businesses can be time-consuming, expensive, and exhausting. Once you've made them, remotely communicating or commuting for those business meetings cuts into the overhead funds. A coworking space eliminates both these issues in one.
Different Niches Nearby
A coworking space attracts all kinds of professionals from all sorts of businesses, and your employees will likely find themselves beside someone from a completely different field. This is an advantage. If you are in need of an engineering consultant to give insights on a new project, rather than sending a representative to handle the deal, your employees can simply lean over into the next section and ask a question or conduct an entire meeting in one. This saves significantly.
Easier Collaboration Among Employees
Saving money is also about making money, and allowing your employees to collaborate better among themselves can boost your profits substantially. Rather than spreading them out in secluded cubicles, a coworking space encourages collaboration, allowing your employees to communicate, brainstorm, and interact together with more efficiency and easy than before.
Save Money on Equipment
In the same way you'll be saving on the cost of rent, by taking advantage of a coworking space, you'll also be opening yourself up to other advantages at half the cost. Decorating an office is a pricy matter, and you may end up downgrading the quality of your equipment to make up for the cost. However, with a coworking space, you can have both in one – the lesser cost and the higher quality equipment.
Desks and Computers
No business of the modern age can manage without a proper computer and desk. While this may seem mundane, for a larger business with several employees, fully stocking a workspace can be a pricy venture. For a coworking space, their money is made by offering the greatest ease to their users, which means all of them are fully fitted with desks and chairs, and sometimes with the necessary technical equipment as well. This not only saves you the cost of buying these necessities, but also a salary to an employee for handling all of this personally.
Cubicles
Should you decide to go with the more traditional approach to working and outfit your employees with their own cubicles, you can save on the cost of buying them yourself and allow the coworking office to handle this problem – at half the cost. Since many workers, beyond your employees, will also be using the space, the rate they charge you for this equipment is significantly reduced, allowing you to devote that price to a different department.
Conference Rooms
Whether you're a freelancer or a business, everyone knows how embarrassing it can be to hold a meeting in a noisy café with people chatting, cars going by, and loud music playing. To set a professional tone, having a professional conference room is a must. Most coworking spaces come fully fitted with several, allowing you to easily rent the space at a reduced cost than anywhere else, and have it within easy walking distance of your usual place of work.
The Location You Want
Renting an office in the ritzy part of town to give a good impression of professionalism to your customers is an advantage for your business, showing that you are both successful and serious in your field. However, the price tag can severely harm your overhead. A coworking space allows you to have the best of both, as many are placed in the busy side of town where the majority of businesses seek to base themselves. Rather than paying the entire cost yourself, you can enjoy the price tag of a low-end location while staying in a high-end.
Coworking spaces have a range of advantages, but the most significant is how it affects your overhead. Why not save money as well as make it? With a coworking space, that's possible.