Those of us who have worked in the staffing industry know how tough a job it can be. Certain amenities can make a hard nut easier to crack. If you're looking for some wise advice to make the candidates come running, here's how shared office space in NYC can give your business a boost.
And so, incidentally, what are the major challenges faced by recruiting firms? With the online revolution, a big competitor has emerged, one that was dormant in years past in comparison: social media. With easy access to thousands of qualified candidates on Facebook and LinkedIn, recruiters are challenged by the risk of losing retained search opportunities when firms decide to do it themselves. It also makes searches harder to keep private than in the past, for companies that aren't interested in broadcasting their business to the whole world. And then there's the constant challenge of being able to win candidates who have numerous offers. Add into that the fact that most recruiters work on straight commission…not an easy nut to crack is the job of being a recruiter.
Prestige
All else equal, having your company hail from a Class A shared office space in NYC is going to do a lot more for the brand than in a lesser location. The reality of business is that appearances do matter.
Why does brand matter? In an intensely competitive market, building trust is a challenge. Showing that you are associated with a prestigious place can do a great deal for your corporate image. Brand matters for recruiting firms because many of the candidates are deciding between multiple offers. A positive first impression can give you that edge that can tip the scales.
Many Class A shared office spaces in NYC are centrally located close to transportation hubs that will make the commute to your office a breeze. This is a key part of being customer friendly and showing the candidate a great experience. For example, Corporate Suites' 1180 Avenue of the Americas location is conveniently located within a stone's throw of all major transportation hubs, including Penn Station, Port Authority and Grand Central, and has convenient access to 47th-50th Street Rockefeller Center (B, D, F, M) and 49th Street (N, Q, R) subway stations.
An Unforgettable Experience
When candidates are deciding between multiple offers at once, the interview is a pivotal factor. Give candidates a great experience to show them how enjoyable it can be to work with you.
To facilitate an unforgettable experience for each and every professional that our community members work with, Corporate Suites has a special policy when it comes to guests. We maintain a team of concierge professionals such as John, who heads up the front desk concierge at our 2 Park Avenue office center.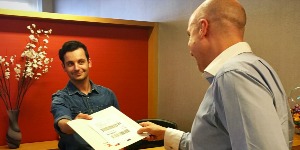 The staff of the shared office space in NYC is an often overlooked touch point. It is an incredible source of support. We view this as an important part of our commitment to our clients' growth. Especially in a cutthroat industry, it can make or break the deal!
Getting Tapped In
When you're in the people business, your physical location in a shared office space in NYC can be a critical factor.  You'll have access to a network of candidates as well as hiring managers who may need to retain you for a search.
Much of learning happens socially through the experiences we have with other people around us. Having a background in the industry that you are recruiting for is a huge advantage. Being in the presence of professionals who work directly in the industry in question is an educational opportunity.
The level of staff involvement at the shared office space in NYC makes a difference. Each Corporate Suites location, for example, has an inhouse community manager to facilitate more of the day to day community relations. Erin Lettera oversees the communities at all eight Corporate Suites office space locations across Manhattan serving over 700 private office and 400 virtual office in NYC clients.
To quote Erin on the importance of community:
"Community is about bringing people together and helping them networking for the benefit of their businesses. I consider myself a client cheerleader whose role is to facilitate successful business relationships."
Privacy
While not everyone will say so outright, keeping personnel matters discrete is a big concern that many business owners have.
Confidentiality is critical in the recruiting industry. If an employer finds out that one of their people is interviewing, it can lead to termination or awkward situations that make work an uncomfortable experience for everyone. On the other side of the coin, if companies are public about who they are trying to recruit, it can yield information about the internal going on at the company that aren't meant for strangers' ears. If this information gets into the hands of competitors or the company's staff, it can mean anything from lawsuits to loss of market share.
To facilitate a higher level of privacy, Corporate Suites offers soundproof walls so that conversations won't be overhead. Our onsite staff is skilled at constructing divider walls if a company feels that they are too close for comfort with the neighbors. So that you won't have to meet in an open coworking space or even worse a public environment such as Starbucks, we have numerous meeting rooms available with opaque walls so that it's won't be known to the world when you are meeting with someone.
The Wrap Up on Shared Office Space in NYC for recruiting firms
Recruiting is a tough enough profession without having to worry about all the behind-the-scenes factors that are having an impact. Take the unnecessary obstacles out of the equation by choosing a space that lends your company a prestigious brand, is centrally located, offers your clients a remarkable experience, opens up a great network, and last of all, is private enough so your business isn't compromised.
For more information about our 8 locations or to arrange your private tour, email info@corporatesuites.com. Or visit our Contact page.