We are proud to announce Corporate Suites was recently featured in The Real Deal, as the 5th largest provider of Shared Office Space in NYC. 
NYC's office sharing stars
By Janna Herron June 1, 2015
In New York City's shared-office world, there is WeWork and Regus, and then there is everybody else.
That's according to The Real Deal's ranking this month of the largest shared-office players in Manhattan, Brooklyn and Queens.
The two companies represent the two different wings of the shared office space world: the traditional executive-suite model that Regus specializes in, and the newer, hip WeWork-style co-working spaces that cater to freelancers and creative types. And while the WeWorks of the world clearly have the momentum, both office-sharing models are expanding.
The companies on TRD's ranking operate over 4.7 million square feet of space at 126 locations, ranging from sites at iconic office towers like the Empire State Building to converted industrial spaces.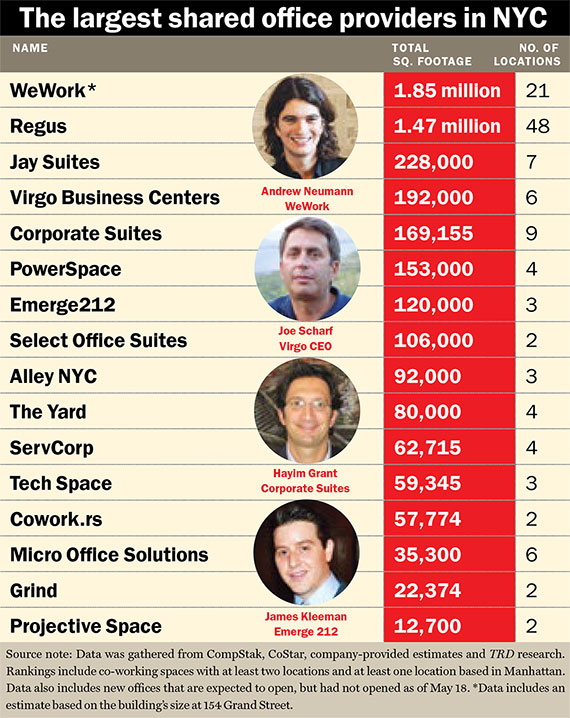 WeWork, which launched in 2010 and is said to have a market valuation of $5 billion, took the top spot with 1.85 million square feet at 21 locations. The company has, of course, made a huge splash in the industry during its short lifespan.
Regus, a public company launched in 1989 and based in Luxembourg, came in at No. 2. The firm, which has locations in 900 cities in 120 countries, quietly doubled its New York footprint in the last five years. It now has 1.47 million square feet at 48 locations, with four more on the way, including 23,000 square feet in Chelsea that it leased last month.
While most of its spaces are in Midtown or Downtown, Regus is also expanding to Harlem, said Maria Paitchel, regional vice president overseeing the company's New York market.
Jay Suites, Virgo Business Centers, and Corporate Suites rounded out the top five, but had far smaller footprints than WeWork and Regus. Nonetheless, many of the shared-space providers have either recently opened new locations or are prepping spots for debut this year. And despite the influx of new spaces coming on the market, the industry does not appear to be concerned about oversaturation in the sector.
Hayim Grant, the president of Corporate Suites, which has nine locations, all in Manhattan, said demand is growing in the sector, because the spaces provide "flexibility and little capital investment" for those who sign leases.
"The facilities are larger and nicer than anything a small company can lease on their own," said Grant, whose firm has roughly 169,000 square feet.
Plus, the growth of the office space rental industry has dispelled the idea that only makeshift operations need to share office space.
"The stigma that a company is not established in this kind of space is gone," he said.
The WeWork Effect
While Regus has long dominated in this industry, in the last five years, WeWork has shaken up the status quo. The company is opening new (and big) spaces at a rapid clip.
It also reportedly raised $362 million in venture capital from deep-pocketed investors like JPMorgan and billion-dollar real estate mogul and publisher Mort Zuckerman.
Company co-founder Adam Neumann has said he wants WeWork to be a place where start-ups and entrepreneurs collaborate on new business ideas, rather than just share reception areas and kitchens.
While WeWork declined to comment, the company has been generating buzz for a while, perhaps because of its free beer, stocked refrigerators, Foosball and Connect Four games that it provides. Commercial real estate players say the company has changed the office sharing game.
"Executive suites were never geared toward creative tenants, but that started to change when Midtown South became very trendy," said Jeff Nissani of Marcus & Millichap, who has represented several shared office providers in lease transactions. "WeWork became the dominator and took the business model to the next level."
That domination is clear from the quick pace of its expansion.
In December, WeWork inked a 125,000-square-foot lease at 205 East 42nd Street. In February, it signed a 240,000-square-foot lease at 85 Broad Street. In March, it inked an 180,000-square-foot deal at 1460 Broadway, and in April it took 136,000 square feet at 315 West 36th Street. In addition, the firm reportedly has several hundred thousand square feet in the pipeline at the Brooklyn Navy Yard.
The 1460 Broadway deal is WeWork's first foray into Times Square. "They have a fantastic business plan implementing a cool space for entrepreneurs," said Leslie Himmel, whose firm Himmel + Meringoff is the landlord there and at another WeWork space.
And the company does not appear to be slowing down.
Last year, WeWork told Forbes it plans to expand to 60 locations worldwide by the end of 2015. It now has about 45 locations in 15 cities, including Seattle, San Francisco, London and Tel Aviv. Soon to come are Miami and Portland, Oregon.
It recently announced another potentially game-changing business: WeLive, a shared-living concept for the same entrepreneurs it serves on the office side.
At the top of Rudin Management's 110 Wall Street, the company is reportedly planning to add micro apartments with shared kitchens and communal amenities like herb gardens and lounges. Some reports say the Brooklyn Navy Yard is also slated to be a WeLive location.
At least some of the company's competitors say the attention WeWork has generated is a good thing.
"WeWork has made a big splash recently and that has been good for the industry," said Joseph Scharf, CEO of Virgo Business Centers, which has been around since the late 1990s and sticks to a more conventional executive-suite model.
Last year, Virgo opened a roughly 41,000-square-foot flagship space at 1345 Avenue of Americas, bringing its total to 192,000 square feet.
"We're not a trendy company. We like to keep it meat and potatoes," Scharf said.
Scharf said the company's next move is to buy its own building and cut out the middleman.
"We'll be sticking with core properties in Manhattan," he said. "Nothing trendy, nothing side-street. Just corner offices on major avenues."
Old dog, new tricks
While some companies are sticking to their executive-suite model, others are looking to tap into the trendier side of the market or find a middle ground.
Corporate Suites, which has been in business since 1998, just opened a new 25,000-square-foot space at 2 Park Avenue in tech-popular Midtown South. Grant said the interior has modern, industrial feel with high ceilings, and can accommodate 40 people. In addition, the firm has tweeted mentions of its meditation room and a recreation space, along with photos of happy hours hosted at several locations.
"Some of what we're doing will appeal to the tech start-ups," Grant said. "But a lawyer or hedge fund would still be comfortable doing business there, versus a fraternity-type build-out that our competitors are doing."
Servcorp, a 37-year-old Australia-based provider that entered the NYC market in 2010, is outfitting its fourth Manhattan location, on the 85th floor of One World Trade Center. In addition to the firm's signature professional office suites and meeting rooms, the 34,775-square-foot office will also have a co-sharing workspace, dubbed the "space station."
The space station, which is under construction, will feature hardwood floors in a herringbone pattern to mimic the founder's living room. There will be a few glassed-in conference rooms and a keg of beer every day at 5 p.m.
The pilot program is also being implemented in London and Tokyo. But Marcus Moufarrige, Servcorp's chief operating officer, said that the program is not a response to WeWork. Instead, he said, it's designed to prompt more of the company's virtual office clients (those who only use the building's address and phone service), into taking actual space. Right now, only 12 percent to 15 percent of the company's 40,000 virtual clients make that switch.
"Which is okay, but not fantastic," Moufarrige said. "So, I think we can cover that gap in the market for premium-end clients with the space stations."
That said, Servcorp is waiting to see how One World Trade performs before making further expansion plans for New York.
Carving out niches
On the opposite end of the spectrum, some newer co-working providers are differentiating themselves by going after more targeted markets.
There's NeueHouse at 110 East 25th Street, which has a "different bent," said Himmel, who is also the landlord for the space.
"They have more an artistic space," she said. The company, which did not qualify for TRD's ranking because it only has one location, offers amenities like a recording and broadcast studio and a screening room.
Others include In Good Company, which caters to female entrepreneurs; Emerge212, a subsidiary of mega landlord and investor SL Green Realty; and Launchpads in St. George on Staten Island.
"We have a lot more variety in company cultures and the operators are taking their own spin," said James Kleeman, director of Emerge212, which has three Manhattan locations and is ranked No. 7, with 120,000 square feet.
Is it sustainable?
For the time being, the shared-office sector is surging in New York and nationally.
While local figures are not available, nationally the number of people who use shared-office space — whether co-working or executive-suite style — is expected to grow fivefold to 1 million by 2018, according to the Global Workspace Association, a trade group for shared office space providers and related businesses.
The co-working business model favored by WeWork was virtually non-existent in 2008. Last year, there were nearly 6,000 locations worldwide, according to online trade publication Deskmag.com.
Still, to protect against having too much space in a down market, Virgo's Scharf said his firm only leases space during down markets.
The company took its Empire State Building office in 2004, at what he said was a post-9/11 rate. In 2009, following the Lehman Brothers collapse, he locked in 40,000 square feet at 575 Lexington Avenue.
"Things can get bad very quickly," Scharf said, noting that shared office clients have shorter contracts, so they can respond rapidly to changing times.