While most people think of the stock market when they hear about the NYC Financial District, the country's third-largest business zone has much more in store. Get ready to be awed and inspired by the following five most breathtaking pieces of NYC Financial District architecture and artwork.
Balloon Flower (Red)
This glossy red balloon by Jeff Koons energizes the air amidst a backdrop of ubiquitous bleak concrete.
What it Symbolizes: NYC Resilience and Strength
This piece floated into the area surrounding 7 World Trade Center to celebrate the first building's construction after the tragedy of 9/11. ("A Red Jeff Koons," 2011) It was New York's way of declaring a victory of resilience and broadcasted to the world that, like the Phoenix rising from the ashes, we refuse to play the victim.
Red Cube
Balanced on one side, this stunning red cube makes a stunning presence in the plaza in front of the HSBC building.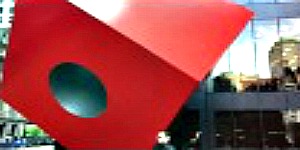 What it Symbolizes: The Genius of Entrepreneurship
The piece inspires movement. Its diagonal slant suggests an element of innovation and creativity in an almost precarious way. ("Red Cube," n.d.) The cube captures New York's entrepreneurial genius and ability to take a simple concept such as elementary geometry and twist it ever so slightly to create something amazing.
The Oculus Structure
Connecting the New Jersey Path train and the MTA, the construction of this transportation hub required an amount of steel equivalent to over 800 school buses. ("World Trade," n.d.)
What it Symbolizes: NYC Energy and Pulse
Grand Central, Penn Station, Port Authority, and the Oculus all convey the same message. NYC is the place to be and the center of the universe.  When we do it, we do it big.
Group of the Four Trees
This black and white sculpture of intertwined pine trees, planted in front of Chase Plaza, attempts to bring Wall Street a bit closer to its organic side. ("Group of Four Trees", n.d.)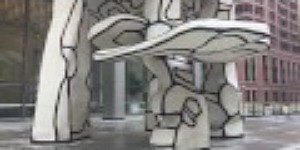 What it Symbolizes: Dynamic Unity
New York is a melting pot in a myriad of ways. This piece reminds us that even in the cold, hard world of business, at the end of the day we are all human beings.  The trees of varying heights not only manage to achieve cohesive unity with each other but also somehow harmonize with the edgy buildings that surround it.
Freedom Tower (One World Trade Center)
Constructed at the site of one of the worst crimes of humanity that New York has ever known, this skyscraper is the rebuilt apex of the World Trade Center.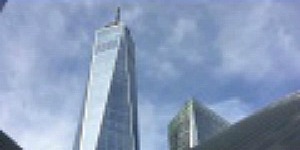 What it Symbolizes: The Triumph of Democracy
Just as the Statue of Liberty signaled to the world that we are a nation of acceptance and tolerance, this structure vibrantly proclaims that from every mountainside (or fruit stand, deli, or bodega, in our case), in our town freedom will always ring.
Inspiring Business Communities
As a top coworking space in the NYC Financial District, Corporate Suites' 22 Cortland Street is located at the heart of this inspiring business community. If you are looking to rent office space in downtown Manhattan, such as an NYC coworking space or a virtual office space in NYC, tweet to @corpsuitesnyc to arrange your personal tour.
Sources
"A Red Jeff Koons is Brightening Up the Financial District." (2011, December 11). Retrieved from http://www.artsobserver.com/2011/12/11/a-red-jeff-koons-is-brightening-up-the-financial-district/
"Group of Four Trees, 1969-72." (n.d.) Retrieved from http://www.blueofthesky.com/publicart/works/fourtrees.htm.
"Red Cube, 1968." (n.d.)  Retrieved from http://www.blueofthesky.com/publicart/works/redcube.htm.
"World Trade Center Transportation Hub." (n.d.)  Retrieved from http://www.panynj.gov/wtcprogress/transportation-hub.html.