Is Avenue of the Americas 6th Avenue?
Tue, 21 Feb 2017 | Written by Corporate Suites Staff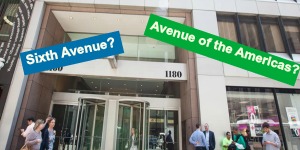 The avenue famous for being known by two names, Sixth Avenue in New York City is truly an enigma. This article will chronicle the origin of its dual nomenclature, walk you through its intriguing history, and spotlight its most charming location, 1180 Avenue of the Americas, a jewel of commercial real estate which houses some of the most sought after office space in NYC.
Schizophrenic Naming
So why is Sixth Avenue also called Avenue of the Americas?
In Old New York, the lampposts on Sixth Avenue were adorned with medallions displaying the national seals of the Western Hemisphere countries, aka "The Americas." (Gonzalez, 2008) Unfortunately, this historical factoid is little known to the New York City population of today as most signs have been removed or worn down from wear and tear.
The upper Manhattan segment of this avenue was originally named Lenox Avenue after collector James Lenox, and once again renamed Malcolm X Boulevard – yet another case of dual nomenclature! (Forgotten, 2016)
An Intriguing Twist
To say that Sixth Avenue is a New York City enigma is an understatement. Sixth Avenue extends above Central Park into Upper Manhattan, yet it also reaches further south than any other avenue. (Forgotten, 2016)
If you've ever heard anything "through the grapevine," you'll be fascinated to learn that this avenue's Old Grapevine Tavern was the inspiration for this song and hence the modern-day catchphrase. (Forgotten, 2016) Well, what can we say? As New Yorkers, we pride ourselves on being the first to know the buzz.
A Jewel of Commercial Real Estate
1180 Avenue of the Americas, a bustling commercial center, is home to a prestigious client roster. Not surprising, as this location houses some of the most centrally-located office space. This jewel of architecture suffers from no lack of charisma. The stunningly lustrous Romero Britto mural in the lobby adds vibrant energy to the air as you enter.
Most of all, you'll always be styled en vogue as there is a Dress Barn conveniently located in the building. But it's not all for show. This Class A building is equipped with 24/7 security and located within walking distance of all major New York City transportation hubs, including Penn Station, Port Authority and Grand Central.
Prime Location
Corporate Suites' 1180 Avenue of the Americas business center is truly a prime location for any type of business. Its convenient access to 47th-50th Street Rockefeller Center (B, D, F, M) and 49th Street (N, Q, R) subway stations makes it some of the most sought after office space for rent in NYC.
Your day will be flooded with natural light and provide exceptional views of Midtown Manhattan that will brighten the day for any of your guests. Enjoy the spacious lobby, sunlit kitchen with lounge, two copy centers, elegant meeting rooms, and a large training room for up to 30 guests. You'll have your pick of the litter of office space, from smaller NYC meeting rooms to NYC coworking spaces to large corner NYC office suites. These spaces are furnished and come equipped with high-speed internet and telephone services, and Corporate Suites' professionally trained staff will be available to assist you.
Ready to be illuminated by some of the best office space locations in NYC? For a personal tour, tweet to @corpsuitesnyc or contact us.
Sources
Forgotten New York. (2012) DEEP SIXTH: a walk up Avenue of the Americas. [Blog post] Retrieved from http://forgotten-ny.com/2003/04/deep-sixth-a-walk-up-avenue-of-the-americas/
Gonzalez, David. (2008, July 4) "Few Emblems of Americas Remain on Their Avenue." The New York Times. Retrieved from http://www.nytimes.com/2008/07/04/nyregion/04avenue.html