For solo entrepreneurs and freelancers looking to make an impression in the industry, the need to meet up with clients, partners, investors, and remote employees is ever more pressing. Sure, remote work is all about handling things from a distance, but when the need arises, you need a place you can trust to hold those meetings.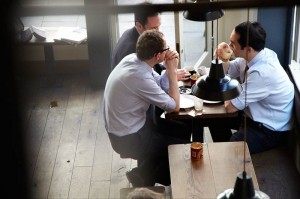 Inviting someone into your home with your loud dog and talkative toddler doesn't do much for a first impression, and with your love for working at home or in a small private office making it difficult to find an alternative, coffee shops become the solution. Cheap, simple, and effective, right? Not quite. They quickly wear thin on your nerves. Loud patrons, no overhead projectors, and the simple fact that you're in a coffee shop rather than in a professional setting can make the entire thing a disaster.
In cases like these, it's time to take your business approach to the next level and rent a conference room. While you may be concerned about the cost, the advantages it offers quickly outweigh the material cost. For that matter, you can even make money in the end. Here are a few ways using a conference room can be the solution to your coffee shop meeting dilemma.
1.    Fewer Distractions
The brilliance of a conference room is the complete, controlled privacy it offers. It can be difficult to stay on point while the lovebirds in the corner of the shop are cooing back and forth; when an unhappy customer is making the barista equally unhappy; and when general activity is causing a distraction. A conference room, on the other hand, allows you to close the door and enjoy the seclusion, cutting out the distractions that keep meetings from flowing smoothly.
2.    Privacy and Peace of Mind
Along with loud voices drawing away your attention, having a meeting in the middle of a strange crowd raises concerns about being overheard. Perhaps you've going over sensitive information or getting into details about finances; rather than worry about an eavesdropper overhearing important passwords and codes, security risks, and budget concerns, you can turn to a conference room. By closing the door, you can enjoy the privacy and feel more at ease speaking freely.
3.    Greater Professionalism
While many industries in the modern day understand the value of remote work, making coffee shops an acceptable option, those sites as a meeting point do send a message – and that message is unprofessional. By renting a conference room, you are showing people your level of commitment to efficiency, appearances, and progress, which will create a reputation for your services as professional and competent. In contrast to a rival that sets their meetings in coffee shops, by putting in this extra effort, you can establish a positive image that clients, investors, and partners can trust.
4.    Better Access to Equipment
If you succeed in finding enough electrical outlets in the coffee shop to keep your laptop, phone, and other equipment in running order, you'll be hard pressed to find projectors, larger screens, and especially spare equipment if you've forgotten something. Rather than doing the meeting only half way and ending up looking silly, a conference room can give you the freedom to get your message across as strongly as possible, with speakers, overhead projectors, graph boards, and more. In addition to this, if you've forgotten to bring along copies of documents or your larger device for a presentation, conference rooms often offer these amenities within the renting price. Now you can run over and get the things you need without postponing the flow of the meeting.
5.    More Space
When you have a larger meeting with several people involved, nothing's more embarrassing than having to rearrange half the coffee shop to accommodate the need for extra chairs and tables. You can rent a conference room in the size you need for each unique meeting, and trust that there will be enough desk-space and chairs for each person to feel valued, a part of the group, and able to voice their opinion without being shoulder-to-shoulder with a perfect stranger.  
6.    Get More Done
Without distractions, embarrassing equipment mishaps, and a sense of distain building in clients from the inconvenience, the fluffy details that often take away from a meeting's productivity can be eliminated. This allows for collaboration to flow more smoothly and a momentum to be built in the meeting, pushing on to see better conclusions decided on, new innovated ideas created, and better progress happening in a smaller amount of time. By renting a conference room, you can do more than simply use a space for a meeting – you can cultivate the perfect environment for better meetings than ever.
7.    You Can Actually Make Money
Conference rooms and their rent come in a variety of options, but with so many available, you're sure to find one that fits your budget. With the advantages listed above making your meetings go more smoothly, impressing your clients and investors, and allowing for bigger meetings in a single shot, you have a much higher chance of winning jobs, boosting productivity, and improving the success of your business. None of this would be possible without choosing a conference room, making it clear that your success is credit to that added edge – making you money in the long-run for a small expense.
Our environment plays a huge role in how we interact, create, and accomplish tasks, and a location for a meeting is not exempt from this fact. While working remotely has a huge list of advantages, these can be dampened by the struggle of finally meeting people face to face and touching base on how to go forward. A coffee shop may be the cheaper option, but with the disadvantages presented, they quickly outweigh the value – making it clear that when coffee shops just aren't cutting it, renting a conference room for the day is the key to success.
CoWork. Collaborate. Create.
The opportunities are endless! Book a tour today to see if CoWorking is the right choice for you.