With self-employment on the rise, many big law attorneys dream about striking out on their own. However, the challenge of going from having every resource at your fingertips to "bring your own everything" can prove too daunting.  If you're a lawyer itching to break into entrepreneurship, a legal coworking space in NYC may deliver much more than you plea-bargained for.
Here's the good news briefing, lawyers. Law is not an asset-intensive profession like airlines or manufacturing. It is asset-light, requiring only a basic office, computer, and telecommunication supplies.  You could run a law practice out of your home, but in a highly competitive market like NYC, it would detract from your professional credibility.  For tax and compliance reasons, blending home and office can complicate matters as well. Lastly, working from home creates a distraction from elements such as your refrigerator.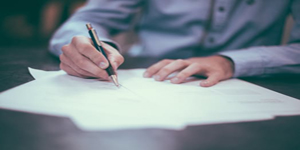 If you think that coworking space is just a desk and phone, you haven't reached the final verdict yet.  Housing your law practice in shared office space creates social opportunities that are invaluable to someone starting a law firm and aren't found in typical NYC office spaces.  Corporate Suites, for example, encourages clients to follow behavioral guidelines that promote privacy, confidentiality, and a work environment where employees won't be distracted. Said Hayim Grant, President,
"Corporate Suites was founded for serious, conservative-minded professionals who seek a like-minded community."
Coworking space in NYC benefits law firm start-ups by providing the opportunity to gain new clients by facilitating a referral network.  Most lawyers are prohibited from cold calling directly to consumers, and advertising is heavily regulated. Being able to improve your word of mouth prospecting is invaluable. Coworking space in NYC is ideal for lawyers because the more people see you, the more they trust you.  You're likely to meet other lawyers within the community who can be knowledge resources. Lastly, you never know when you'll need a service like transcription or a paralegal, and the center manager can play matchmaker and connect you with someone from the coworking community to get a rapid response.
It's clear that coworking space in NYC offers great potential to be that business partner every aspiring legal entrepreneur dreams of. For more information about how to join a community that knows how to inspire business excellence, contact info@corporatesuites.com.