Everyone is making the shift from traditional on-site work to working remotely, and those that haven't, wish they could. There are a few jobs which are prime and successful for remote work, and some that you may already be in a position to take on.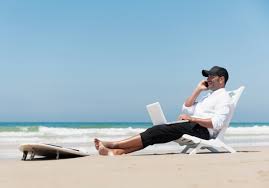 What is the market looking like, and could you make the switch? Here are four professions which are enjoying the freedom and flexibility:
Online Marketing
Though you wouldn't be able to tell from your collection of cat videos, the internet is used for a lot more than just entertaining yourself between breaks. Online marketing has become one of – if not the most – valuable marketing platforms for businesses everywhere, with most customers turning their backs on businesses if they don't have an online presence. This has created an entirely new kind of job for those who can harness the communication and the recreation value in one.
Marketing expert
For businesses to reach their customers, they need to know how they tick and the right way to present services and products. A marketing expert must be abreast with the latest developments in advertising via social media, newsletters, content, and sales. Since this is entirely internet-based, the experts of this field can carry out an extensive and impressive marketing campaign that rakes in huge profits while never leaving their couch. All it takes is the internet, a computer, and a notebook, and these experts are the determining factor in success or failure for businesses.
Social media manager
Businesses are expected to have a presence on multiple social media platforms, and even the lone professional trying to get their name out needs this influence on the public. When they can't handle all of the accounts themselves, or simply lack the skills to make it advantageous, a social media manager comes onto the scene. With the ability to coordinate content, represent a personality on the account, communicate with followers, time advertisement, and keep traffic high, a social media manager can keep the wheels turning from the comfort of their home or an internet café.
Writing
While years ago it took a typewriter and a dream, the career of writing has become widespread and in high demand, making it possible for countless professionals to get their laptops, their coffee, and their internet, and have a successful job remotely.
Copywriting
A website is nothing without content, and the brilliance of a product cannot be conveyed without someone weaving the words to appeal to a customer. Copywriters are tasked with writing those engaging About pages, product descriptions, and newsletters that turn a website, a marketing campaign, and a press release into a success. Anyone can create a webpage or write a newsletter, but ensuring that the words presented to readers are poignant and inviting is the determining factor for the online market – a task that can be done from the comfort of your home.
Content writing
People want more than a website advertising products or services; they want an added bonus that encourages them to visit your site again and again. Content such as articles, blog posts, and infographics are vital for educational marketing, where the viewer will trust your business as a byproduct of offering them this. A content writer is charged with researching these topics, weaving content that appeals to a range of specific audiences, and then delivering it for businesses to offer their viewers. For the right professional, a keyboard and internet is all that's needed.
Designer
People are visual creatures, and creating the aesthetics that not only catch our attention by keeping it in high demand for the technological age.
Web design
With experience in complex coding and knowledge in the latest trends and tastes of the public, a web designer's focus is creating the most appealing and functional website that suits you, your audience, and your services. A website that looks plain is prone to lag, or is too similar to another can put off visitors, making them click away. Their insights and skills give businesses the foothold in the internet that they need, and as it's entirely computer-based, it can be done from anywhere.
Graphic design
Be it logos, infographics, website backgrounds, an engaging video or presentation, or designs for your marketing campaign, graphic designers are the artists of the future. With knowledge in colors, designs, popular trends, and the psychology behind all of it, these professionals weave intricate and impressive graphics to reach out and grab viewers. With a handful of programs and the education necessary, a graphic designer can create elaborate results with only a computer and some time – from anywhere in the world.
Customer Service
In many ways, customer service has always been the same – but the internet has made it faster, easier, and now, it can be done remotely.
Telecommunication
While we all have images of packed call-houses with rows upon rows of desks, each professional with a headset chatting away, the telecommunication of customer service today can be carried out from the comfort of your home. Many freelancers and full-time employees have made the shift to working at home, conducting the same job with a phone, a computer, and the know-how to offer the best service possible.
Personal secretary
Enjoying the luxury of a personal secretary is no longer a luxury, and while you may miss out on a pin-stripe skirt following you around with a clipboard, you can instead enjoy a professional who can manage your schedule, handle phone calls or emails in your stead, and offer insights into your respective niche – all remotely.
Text-based communication
If you've ever had an error with a program and needed help, you've likely encountered the instant messaging platform most businesses offer at their help desk. Rather than speaking directly, it takes a few keystrokes to see you happy and on your way. While you may envision the professional on the other side in a button-up shirt in a large office space, they are most likely wearing their Saturday sweats and sitting at their home desk, offering high-quality service remotely.
With new fields opening up thanks to the internet, new ways of working are also coming along. These four careers allow their professionals to work anywhere in the world, and at any time.