3 Reasons Why Working From Home Can be Unproductive
Fri, 19 Jun 2015 | Written by Corporate Suites Staff
Workers are joining the ranks of telecommuters in order to save money and time on long commutes. Employers are also utilizing remote workers in order to save on office costs. Something that should be evaluated first before one considers working from home - Is if working from home is actually a productive working environment.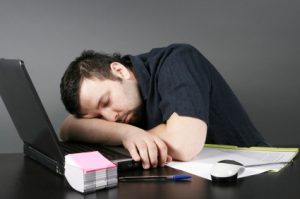 According to a 2013 American Community
Survey
, an estimated 29.6% of males, and 32.2% of women worked from home in some fashion or another that year. Telecommuting is nothing new in the modern American workplace, but neither are some of the negative downsides to working at home that some people have unwittingly encountered. Why working from home can be unproductive because of:
1.      Distractions: 
There is a long list of distractions that are possible from working at home or in a coffee shop environment when telecommuting. Not surprisingly, children are number one on the list of distractions, followed by spouses, pets, neighbors, telemarketers, and door to door solicitors, all diligently standing in line to interrupt your work on a daily basis. It is human nature, love, and natural curiosity that one's children feel the compulsion to ask you what you are doing every 15 minutes. Not to mention their spouses perceived obligation to vent about household duties that they feel are being overlooked, or seemingly pressing daily issues that cannot be put off to a more convenient time. Anyone who has worked at home and repeatedly tried to sit down with in-house family members and explain that, although you appear to be home instead of at work – You Really are at Work! – Can relate to this fact of life. For most people, this turns out to be a frustrating lesson in futility. Unfortunately, these distracting ongoing problems that most people encounter when trying to accomplish their work at home, happen regardless if one has a downstairs full office with all of the necessities, or just a desk and a laptop in the middle of their living room. Freelancers and telecommuters who choose a coffee shop environment to camp out in all day, find equally distracting detractors as well, in the form of noisy patrons, busy breakfast, lunch, and dinner rushes, all fraught with busy and chatty patrons. Plus lonely/crazies who come up to perfect strangers in a coffee shop and ask "what are you doing," or feel the need to sit at your table. On the flip-side, people who work at home and have no children, spouses, nor barking dogs, meowing cats, or merrily chirping caged birds, tend to find that the environment of working at home is entirely too quiet, lonely, and devoid of "good" distractions that working in an office environment provides the worker, not to mention positive human interactions that are known to enhance worker productivity.
2.      Lack of associate networking: 
One of the most recognized pitfalls and management misgivings about authorizing their employees to work remotely is the lack of team effort in a home working environment. This reality of working at home can be termed "Watercooler Loneliness." A worker's effectiveness on group tasks, interaction with fellow employees, clarifications with management and coworkers, proper decision making abilities on the fly, and resource capabilities can all be compromised by the isolationism induced from working at home. In 2013 Yahoo's CEO, Marissa Mayer, sent shock waves through the company and social media by decreeing a companywide ban on telecommuting; dismaying, blindsiding, and downright angering many employees in her working ranks, some of whom had liberal working agreements that specifically included the option of working remotely. Mayer stated the lack of
networking
with management and fellow employees as her main reasons for making the controversial and unpopular move of banning telecommuting for Yahoo employees.
3.      Lack of proper facilities and tools:
Lacking all the many productivity tools that are offered employees in the standard office environment can be a mitigating factor in causing unproductivity in a home office setting. This is why many people who telecommute choose coworking in
short-term rental facilities
which offer co-sharing working environments with all the common office amenities, such as high-speed internet, computer stations, communal copy rooms, meeting rooms, quiet spaces, and guest lounges. The downside of cosharing a work environment at one of these facilities, rather than working at home is, of course, the added expense of the rental plans. Coworking facilities are not cheap! One thing that working at home, or even renting a coworking space both lack, is the expensive computer programs and applications that are stored on company servers, and on-site office computers. These are some of the aspects of working at home, or at another location, which can severely affect a worker's productivity. Having the proper office tools at home one needs in order to properly do the task at hand, is going to be a major contributing factor in whether or not one can successfully pull off working at home, or whether it just isn't feasible or cost effective. Yahoo's internal Human Resources memo when banning telecommuting in 2013 stated that, "Face-to-face interaction among employees fosters a more collaborative culture." There have been numerous studies that both confirm this perception, and also refute it. Most acknowledge that people who work at home spend more time working on their projects than if they are chained to their desks at the office. Then again, many studies show that the lack of human interaction makes them less innovative and groundbreaking while doing so. The debate on working in a traditional office environment, vs. working at a home office, is still raging on today, just as it was in 2013 about the merits and pitfalls of telecommuting. The main factors in considering working from home will of course always depend on the type of work being done, the access to vital business tools and programs, security, and of course will include the number one complaint by telecommuters -
Home Distractions
. All these elements should be thoroughly considered before deciding to work from home. Or risk joining the ranks of lamenting home workers sitting in their basements or living rooms, who belatedly wish they had stayed at the company office with the rest of their fellow coworkers.
CoWork. Collaborate. Create. The opportunities are endless! Book a tour today to see if CoWorking is the right choice for you.