Book a Meeting or Conference Room
in Philadelphia.
For multiple days or rooms, please contact one of our
representatives at (888) 848-6960
Rooms Available at 123 South Broad: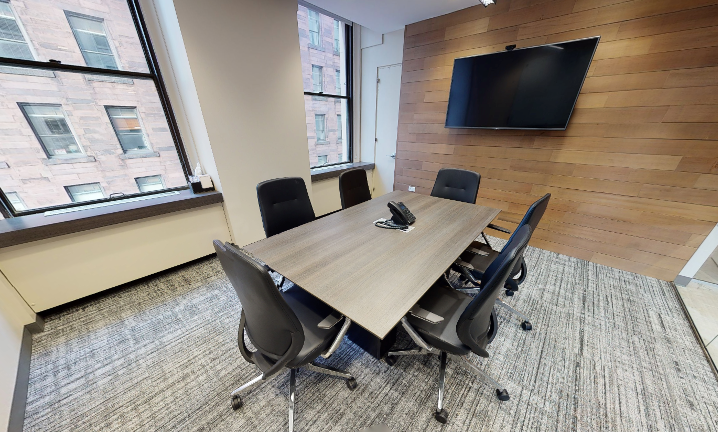 Conference Room 15A
Corporate Suites 123 South Broad Street
6 Person Conference Room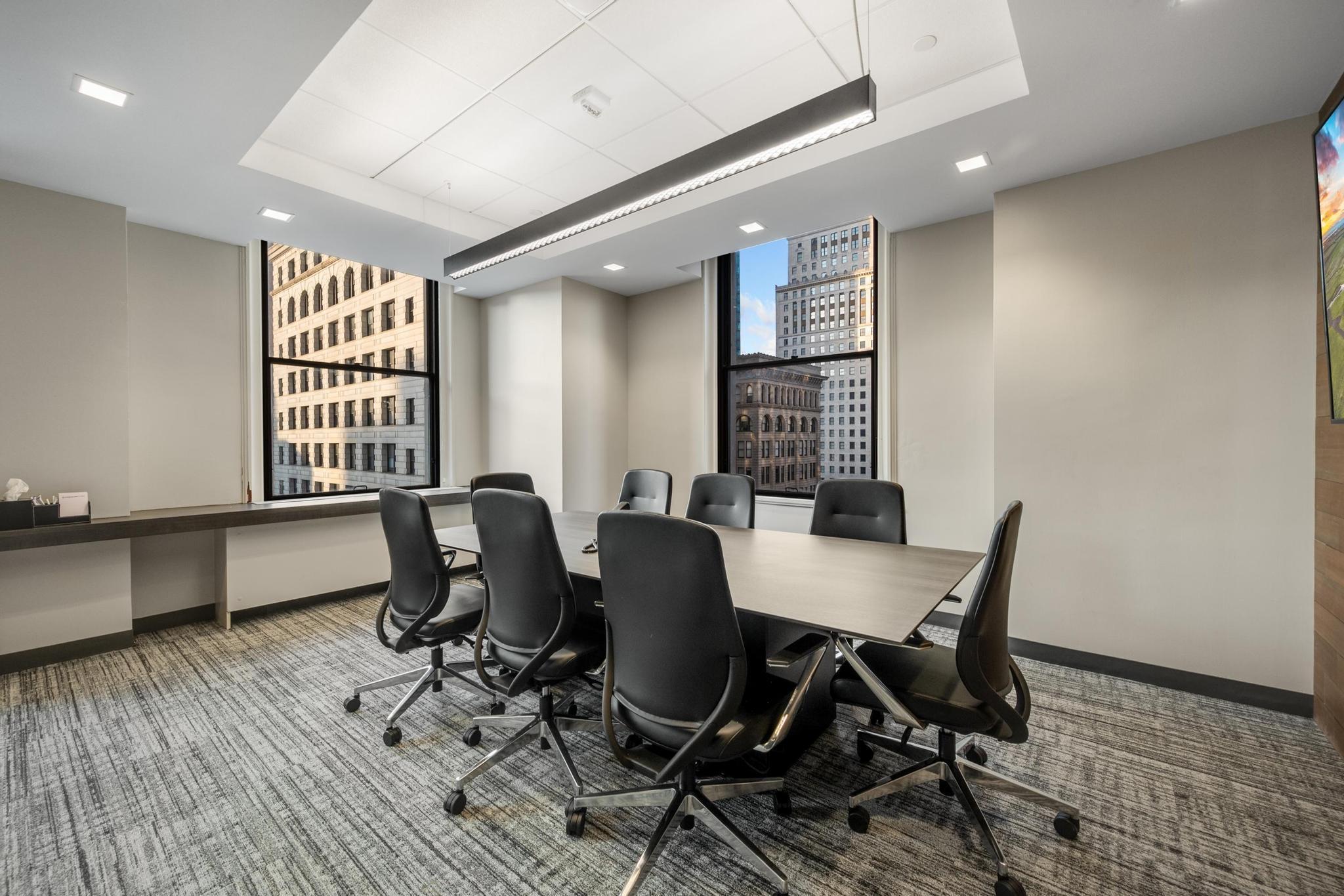 Conference Room 15B
Corporate Suites 123 South Broad Street
8 Person Conference Room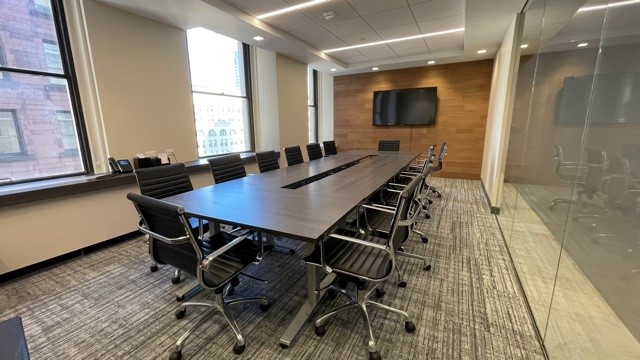 Training Room 15C
Corporate Suites 123 South Broad Street
16 Person Board / Training Room
Meeting Lounge 15D
Corporate Suites 123 South Broad Street
6 Person Meeting Lounge
Meeting Room Amenities
When professionalism counts, we've got you covered. With everything you need to put together a perfect presentation, you can make your pitch or point with confidence. You'll also find that the amenities we offer allow you to focus on the purpose of your meeting since you won't need to lug around heavy equipment. When you rent our space, you'll gain access to high-speed Wi-Fi and advanced telecom services.
Our meeting rooms are stocked with flat-screen televisions with Apple TV, projector screens along with an LCD project and conference phones. Do you prefer to write things out or encourage group participation? If so, you'll also be happy to know that you'll be able to use a dry erase board and easel with a notepad to jot down ideas and create charts. With customized catering services available as well, you can host working lunches and roll out the royal treatment to your employees or guests.
Professional Formal Entry Lounge with Staff to Greet your Guests
Technology including Flat Screens with Apple TV & Projector Screens with LCD Projector
Modern & Inspiring Furnished Conference Rooms
High Speed Wi-Fi & Advanced Telecom
Dry Erase Board & Easel with Notepad
Customized Catering Options
Call us today to find out more about our NYC Meeting Space and Conference Rooms or Book Online Today!
Sophisticated Philadelphia Meeting Rooms
In Philly, you may have already noticed that meeting at a crowded coffee shop isn't conducive to making major business decisions. Nor is it effective to try to conduct certain types of meetings completely online. You may also have run into the issue of finding affordable and available meeting rooms in a city that is practically brimming over with companies who are all in pursuit of limited property.
We've put serious effort into creating a dream space for business owners and others who need to host a meeting. At Corporate Suites, our goal is to help you make that grand first impression that lands deals and makes it easy to focus on your group event.
When your guests or employees arrive at our professional building, they'll be greeted by our staff in a formal lounge that sets the stage for success. Each of our Philadelphia meeting rooms is also outfitted with sleek and modern tables and chairs that emphasize your company's commitment to quality.
Rent Meeting or Conference Rooms in Philadelphia, PA
People use our meeting rooms for a wide range of purposes. Perhaps you've got a small start-up that you've been mostly operating remotely. If so, then gathering your team for in-person meetings a few times a month helps to keep everyone connected and on the same page.
Larger companies may prefer to use our meeting rooms if they've been downsizing their office space. In addition, hosting an annual company training event is convenient and easy when you have access to a large conference room with all of the equipment you need to make presentations.
Meeting Rooms & Conference Rooms in Philly—Where and Whenever You Want Them
Technology and the way that we do business has changed a lot over the years, but one thing hasn't – and that's the fact that meetings will always be an integral part of managing your company's needs.
Today businesses blend the benefits of being in-person with connecting virtually by holding hybrid meetings. Our meeting rooms in Philadelphia are designed to meet your company where you want them. And, whether you are making a pitch to a corporate investor or holding an in-person training with new hires, we offer amenities that help you hit your goals.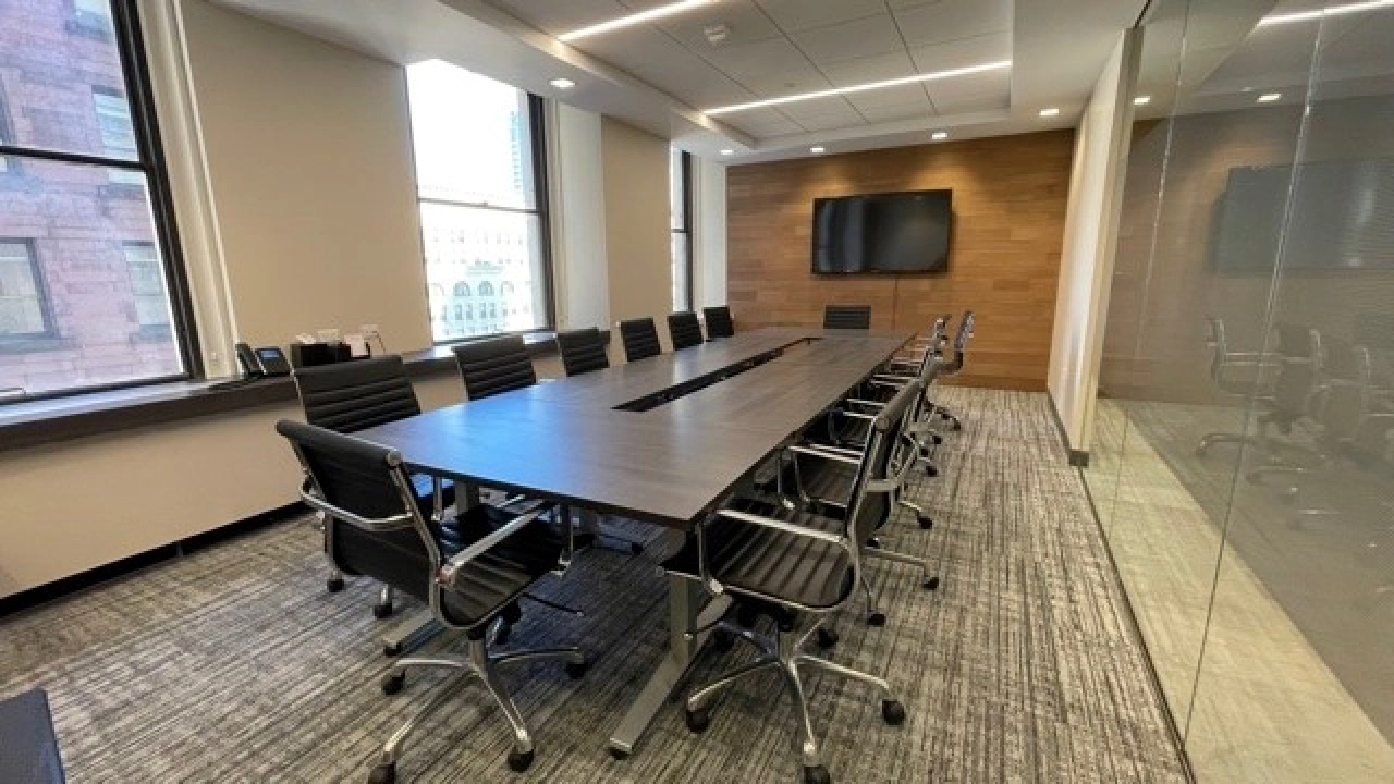 Find your perfect event or meeting space
We've designed our meeting and conference rooms with every possible type of gathering in mind. Do you need to meet one-on-one for a brief consultation or interview? If so, then we've got private offices that are designed for just one or two people. Or, you can rent a larger room that is meant for around seven to 12 people if your goal is to encourage your group to collaborate or need to generate some serious team energy.
For bigger events, such as sales meetings and training, we've also got large conference rooms available that will fit 30 people comfortably. Whatever you've got planned, you'll find that every room we have available is suited to help you host a successful meeting.
Meeting rooms for creative brainstorming in Philadelphia
Working alone remotely has some benefits, but there is still something amazing that happens when the world's most brilliant minds get together in the same room. People who work in collaborative environments are known to stay focused on a task for approximately 64% longer than people who are working alone.
Collaborative environments are also known for keeping people more engaged and helping to jumpstart their creative processes. Our group meeting rooms are built to facilitate both remote and in-person collaborations that generate the most innovative ideas.
Start planning your Philadelphia meeting or event
Is it time to get your team together in person again, or are you eager to start hosting hybrid meetings? Whether you've got a big crowd or just need to meet privately with an individual, we've got the space for you. Booking our meeting rooms is as easy as making a few clicks or a phone call. With flexible hourly, half-day and full-day options, you can set up a meeting anytime to fit your schedule.
If you've got questions, then our team is standing by to help. Give us a call or open up a chat online to start booking your meeting space today.
Our team is standing by, book your meeting or conference room rental from Corporate Suites today.
Need a long-term solution?
Corporate Suites has a wide selection of flexible, long-term office solutions for you to choose from. Private offices, team spaces, small office suites, coworking spaces, and even managed spaces—Corporate Suites can help you find the perfect solution for your team. When a temporary meeting space just isn't enough anymore, we can help.