How a Virtual Office Helps Companies in Transition
Sun, 14 May 2017 | Written by Corporate Suites Staff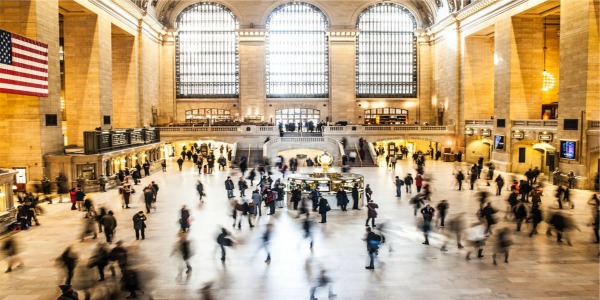 The company lifecycle can be as hard to predict as the weather. In a sense, every company is in a state of transition to some extent as the market is always in flux. There are certain times in a company's life which qualify as "in between" more than others: a downsizing, starting up a new enterprise or operation, or even making a foray into a new market geographically. Many companies use a
virtual office in NYC
as a valuable tool to make these rocky and unpredictable times go smoother. During these times, the service provided by virtual office staff at coworking centers plays an important role in making sure transitions go smoothly.
Virtual Offices Support NYC Companies in Transition
When a virtual office client visits Corporate Suites in NYC, for example, the office concierge automatically gives him or her a tour and an information packet with the company's name, phone codes assigned to the company, copy codes, and how to program the phone. Please meet our concierge professional John, who heads up the front desk concierge at our
2 Park Avenue
office center. Below he is featured presenting a client of ours with an introductory tour. Corporate Suites' service philosophy is that each and every touch point should offer clients support as if it were coming from an extended member of the company. We view this as an important part of our commitment to our clients' growth.
Although many virtual office clients are strictly in it for the use of virtual business address and remote answering service, they are provided information about with all the essentials upfront. Why is this done? Corporate Suites recognizes that companies in the midst of change are often confronted by immediate needs that emerge on a moment's notice. For example, if a virtual office client in a NYC suburb gets a sudden call from an investor who wants to put $50MM into her hedge fund, she's going to need an impressive place to hold the meeting. It has to be scheduled promptly and without appearance of disorganization. To maximize growth, a company must capitalize on opportunities each and every single time, and having to scramble for resources is not ideal in moments like these.
Upscale Branding
Higher activity levels are a sign that things are happening and that a company is on the move. Having an elegant, serviced meeting space that will reflect positively upon your company's image is a great way to get from Point A to Point B. As the saying goes, a touch of class never hurts! A virtual office client of Corporate Suites in NYC is treated the same as a private office client. Virtual office clients are given a choice of any of the meeting rooms in our eight locations. Some of our most elegant meeting spaces at 2 Park Avenue and
1180 Avenue of the Americas
are displayed below. [caption id="attachment_2524" align="alignnone" width="300"]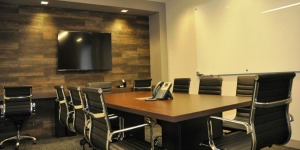 2 Park Avenue Meeting Room[/caption] [caption id="attachment_2525" align="alignnone" width="300"]
1180 Avenue of the Americas Meeting Room[/caption] Upon arrival, a client's guests are asked if they would like water and shown to the conference room if the client is unavailable. For late arriving guests, our concierge team won't just knock on the door; we ask you beforehand how you'd like your guest announced. Some clients prefer texting or intercom notification of new arrivals. Corporate Suites' staff ensures a quiet meeting environment by upholding a minimal noise policy throughout our offices. If and when a situation arises where one client is disrupting the work of others, our concierge staff is quick to address the issue. Theses policies apply to
NYC office space
clients as well as clients who have a virtual office package.
Phone Answering and Local NYC Area Code
Realizing that most work happens remotely for companies in the modern working world, Corporate Suites understands the critical importance of the telephone plays in the businesses of our virtual office clients with a Gold or Platinum Package, both of which include phone service. Business image matters, and providing these clients of our Virtual Office Gold and Platinum packages with "212" area code phone number has cache value for the brand. For our Platinum Package Virtual Office clients, the front desk concierge staff answers the phone in the client's name once it rings through. Calls are screened for solicitations as well. Our concierge service ensures that Platinum clients have the administrative back up and support they need so that they can run their business as if they had a dedicated receptionist to support only their needs.
Making the Switch from Virtual to Private Office
Skeptical that service matters for virtual office clients? Please read below the
review
of one Corporate Suites named Barry. As clear from his words, the level of support and professionalism that Corporate Suites provided has contributed to his success. As an indirect result, Barry was able to develop his business and move a step up on the ladder and helped him along in his transition. An internet marketer can't just work from home - it's distracting and not very professional, particularly if you have an address that's in the backwoods of New Jersey!  I had a virtual office with Corporate Suites, and after using the virtual office services to meet with new clients I switched to a full-time office space at this location. It's great - the receptionist, Barbara, is extremely friendly and handles all my mail and packages. The internet is fast, the meeting rooms are spacious with nice furniture, and my office fits my team and is a great place to work. It's a great location too - right near Grand Central and Bryant Park and 5 minutes from Times Square -- so it's exceptionally easy to get to regardless if you're coming from Metro North, LIRR, NJ or Brooklyn/Queens. (Barry D. , 2013) It's not hard to find examples of what has made Corporate Suites' virtual office clients in their NYC centers transition to full private office clients over time. Look no further than our front desk. As Center Manager John delivers an important piece of mail to a 2 Park Avenue client, it's clear that no task is too large or small for our concierge staff to handle. We've seen over time that our smile empowers clients to progress, and this is critical for any company in transition.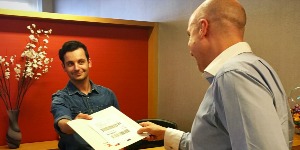 Virtual Office Options for the NYC Growing Business
Every client is different and no transition process is the same for any two companies. This is why Corporate Suites offers three levels of Virtual Office packages. Please visit our portal to review and choose from a range of options. You may opt for the Silver package, which includes only basic amenities, while Platinum incorporates a phone number, live call answering, and several hours of private and meeting room space. Email
info@corporatesuites.com
to arrange your private tour.
Sources
D., Barry. (2013, January 16). An internet marketer can't just work from home - it's distracting and not very professional, particularly if you have an address that's in the backwoods of New Jersey! I have a virtual office with Corporate Suites, and after using the virtual office services to meet with new clients I switched to a full-time office space at this location [Yelp post]. Retrieved on May 14, 2017 from https://www.yelp.com/not_recommended_reviews/corporate-suites-manhattan