3 Tips to Find the Best Office Rental in NYC
Wed, 08 Mar 2017 | Written by Corporate Suites Staff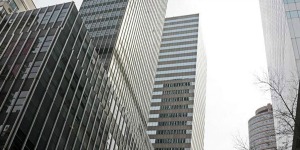 The world of New York City commercial real estate is one of the most competitive marketplaces out there, so tough that it's not uncommon for companies to renew their lease just to avoid having to venture forth onto this battlefield.  But done skillfully and with the correct strategy, it can be mastered – just like any game. Here are three tips you should know to get the best office rental in NYC for your company.
Office Rental in NYC
Get The Real Story
In order to formulate a strategy, you've got to get your head in the game. Know the market you're dealing with. Ask the
landlord
if you can speak directly to current tenants to find out the real story about office rental in NYC. And don't just talk to tenants of the particular floor, talk to tenants of all floors in that building, and even other tenants in the vicinity. This is especially critical if you are signing a long-term lease. You don't want to find out that the building has spotty Internet three days into your 10 year contract, or that there's noisy crowds gathering outside every summer Friday afternoon. It is suggested to reference the company's Facebook page, Yelp and Google reviews, and even their company page on LinkedIn. You will for sure find out what people are griping about. Remember that we live in the age of social learning, and testimonials about people's consumer experiences are never a secret if you want to do the digging.
Keep Timing in Mind
The season when you rent may impact your success finding the best office rental in NYC at any given timey.  From the end of November to mid January and the summer months tend to be slow times when demand for office property is low, and pricing concessions may be possible as a result. It is recommended to allow at least half a year lead time for the whole transition, start to finish.  Not only will you need to find and close on your space, but you'll also need to arrange for all the accoutrements that come with it, such as furniture, IT equipment, etc. As a last word about timing, it's wise to consider the duration of lease you are willing to sign.  Longer leases typically have more potential for concessions, but timing it this way may not work for companies who expect large changes in the amount of staff members they'll need to house.
Come Prepared to Fight the Battle
Although the landlord typically has the upper hand in any office rental in NYC, consider that tenants have much more flexibility than ever before. Before you enter into a negotiation, ask yourself how much flexibility your company is going to need in the future. You may anticipate needing additional space in the future due to growth of staff. If this is the case, you'd want to be mindful of the penalty fees that may exist for terminating a lease early and the provisions for subletting. Lastly, you'd want to consider contingency planning. What your options are in the case of a power outage or office flood? Will the company have other places you can go, or would you have to seek out temporary office space until the problem is resolved? For nearly two decades, Corporate Suites has served the needs of those companies seeking an office rental in NYC who have a need for flexibility. We give you the best of both worlds: you can take your pick of eight spectacular
Class A shared office spaces
in Manhattan, and at the same time you won't have to be locked into a long term lease. Our
workspaces
are furnished and serviced. We take care of everything from the IT support to the office furniture so that you can focus on running your business. Our offices are available in most locations without the six month lead time, and you won't have to lock horns with any landlord in a heated negotiation. Corporate Suites understands that as your company's needs evolve, your office space needs do too. As such we provide virtual offices,
meeting rooms
, and training rooms to accommodate whatever needs may arise as your business grows. For more information, email info@corporatesuites.com